How to Ask Someone to Be a Brand Ambassador (Ultimate Guide)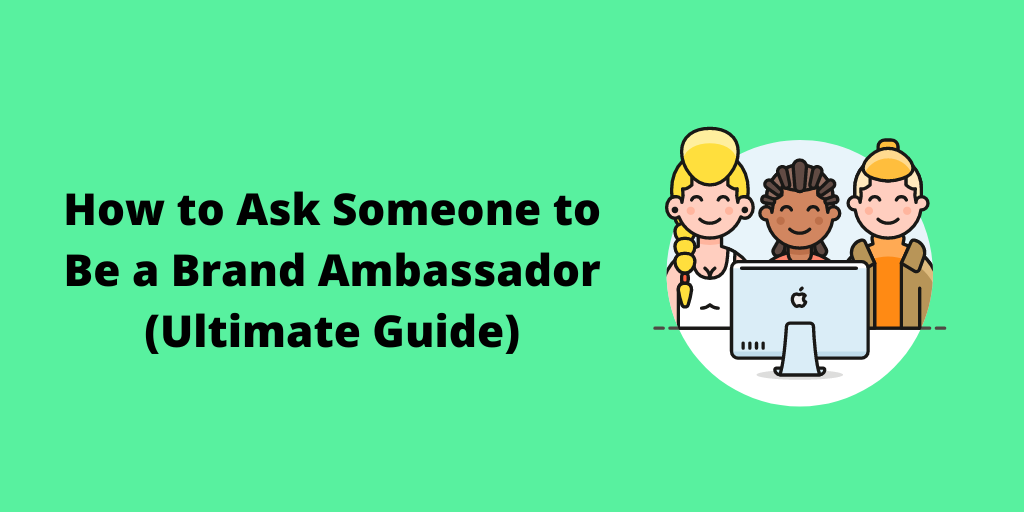 Trying to figure out how to ask someone to be a brand ambassador?
Brand ambassadors can be amazing partners for your business, but starting the relationship can be a little tricky.
Here's the ultimate guide on how to ask someone to be a brand ambassador.
What Makes a Great Ambassador?
Asking someone to be a brand ambassador means forming a close partnership.
The actions your brand ambassador takes reflect on your brand and vice-versa, so you've got to make sure you're working with the right people. If not, it could end up hurting both your brand awareness and your ambassador's reputation.
So, what makes a great ambassador?
It's tempting to start with the size of the audience, but in fact, we're going to begin with values.
Brand ambassadors and influencers are still incredibly effective, but they're highly scrutinized in today's world. Followers want to see authenticity and a commitment to good values.
It's no point asking people to be your brand ambassador if your values aren't aligned because it's just not going to come across as authentic. For example, when big companies with dubious environmental records team up with a green influencer, there's generally a backlash from consumers.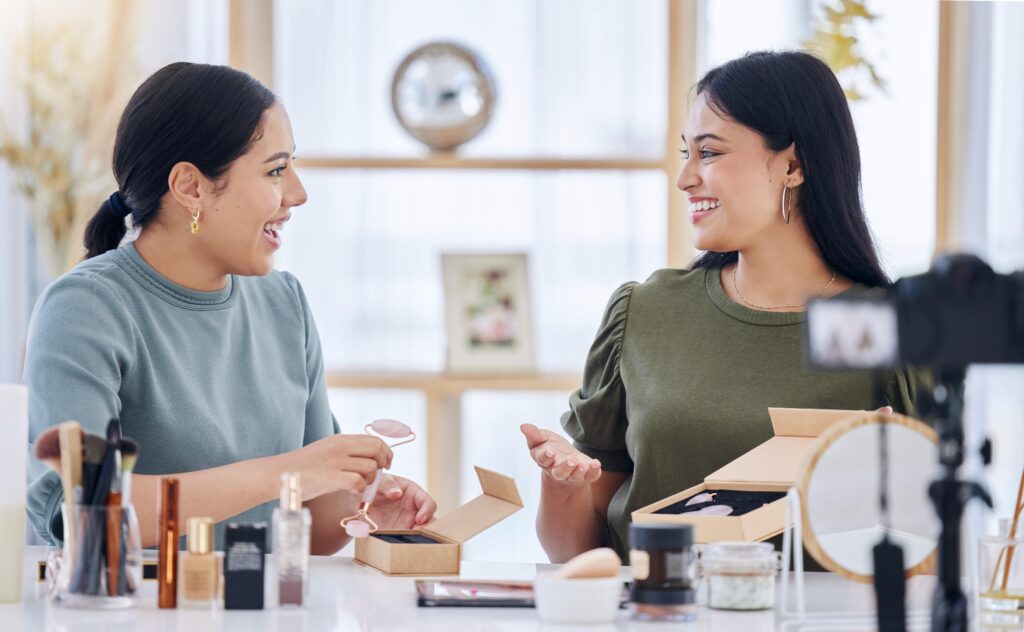 Of course, brand ambassadors can be high-profile people, and as humans, they will make mistakes, but at least if you're aligning with people whose values you believe in, there's less chance of reputational damage.
Good values, check, what's next?
Well, you want to consider a number of other things:
Audience: Do they have an engaged following (social media following, email list subscribers, blog readers, etc) that matches your target audience demographics? It's not just about the size of the audience, it's about being able to reach the right people.
High-quality content: Does your brand ambassador put out high-quality content that your brand would be proud of?
Authority and expertise: Your brand ambassador needs to be able to convince people into taking action. Do they have sufficient authority and expertise to achieve this?
Now you've got a better idea of what makes a good partner, let's look at how to ask someone to be a brand ambassador.
7 Steps to Asking Someone to Be a Brand Ambassador
Asking someone to be a brand ambassador can be a little daunting so let's break it down into 7 easy steps.
Here's how to ask someone to be a brand ambassador.
1. Put Reward Systems in Place
Before you start reaching out to potential brand ambassadors it's important to have a clear idea of how the relationship is going to work.
A big part of this is having a good rewards system in place.
Simply put, how are you going to incentivize brand ambassadors?
The best way to do this is with affiliate link tracking from AffiliateWP.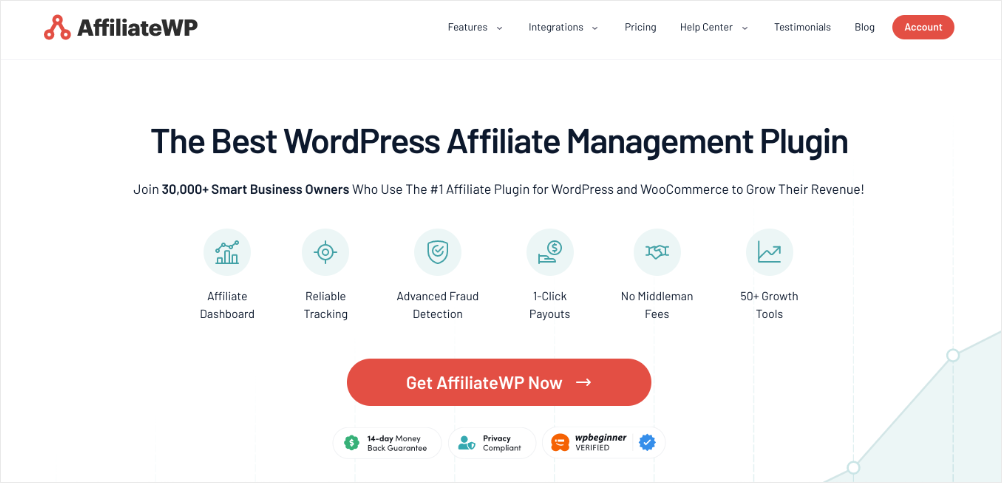 This allows you to set your brand ambassadors up as affiliates and track when their recommendations result in a sale. Your ambassadors will get a commission on any sale they make, incentivizing them to make even more referrals.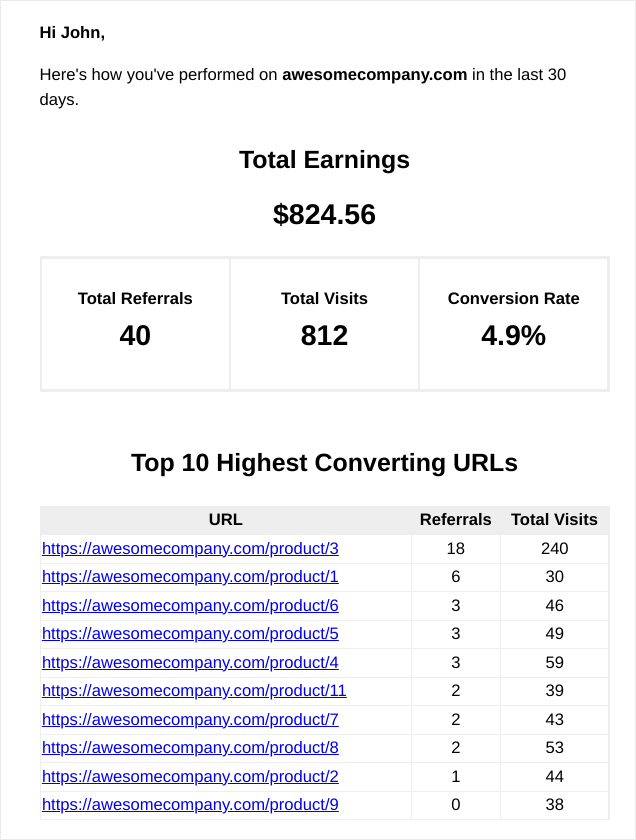 One of the reasons this is effective is because it makes it simple to track your return on investment.
Of course, there are other ways to reward brand ambassadors such as free products, early access to new products, branded experiences (perks), and upfront payment, but they don't offer the same level of accountability. With AffiliateWP, you can automate your tracking and commission payments, allowing ambassadors to earn uncapped rewards.
2. Build the Relationship
Once you've got a clear picture of how you want your brand ambassador program to work, then you can start reaching out to potential partners.
We mentioned that the best ambassadors are authentic, so your outreach needs to be equally organic. Reach out to people who have shown a genuine interest in your brand, and start by taking a real interest in what they do.
Cold outreach always works better when you focus on the person you're reaching out to, rather than on your own products, goals, and successes.
Use that first communication simply to start a conversation and build from there.
As you build the relationship, you can then start to talk more about what you do, and how a partnership could benefit your potential brand ambassador. Think about how you would build relationships in-person, and try to emulate this online.
3. Outline the Benefits of Becoming a Brand Ambassador
In a perfect world, people would promote your brand simply because they love it.
Indeed, this does happen sometimes, but it's not the rule.
Instead, you've got to create a transactional relationship in which both parties are rewarded.
You're growing your online presence and getting social proof, but what are the benefits for your brand ambassador?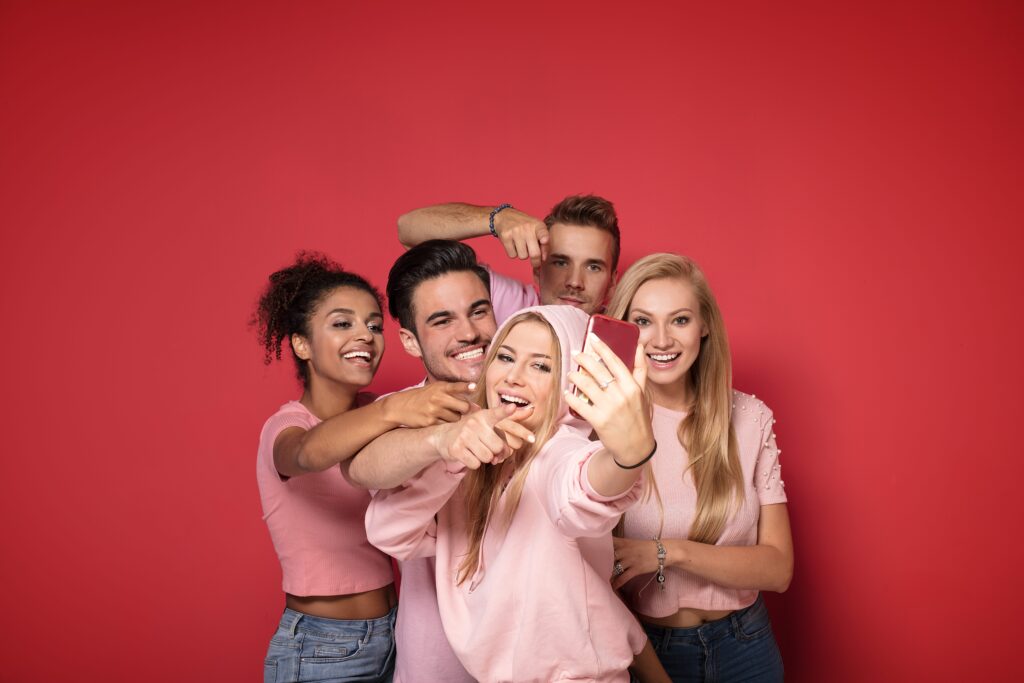 If you've set up your affiliate marketing program with AffiliateWP, then it's extremely easy to convey the benefits of becoming an ambassador. The more products they help sell, the more they earn.
Affiliate rewards aren't limited to commission though, and there are lots of other incentives you can use to attract successful brand ambassadors.
Sit down and list out all the benefits of partnering with your brand and then convey them concisely to your potential ambassador.
4. Ask Some Screening Questions
You're not going to ask just anyone to become a brand ambassador, so you will have to put some research in to find suitable people.
However, it's always worth asking some screening questions just to make sure you're teaming up with the right people.
You can do this as part of your outreach, or you can use AffiliateWP's customizable affiliate registration forms to screen affiliates as they sign up for your program.
You can ask any interview questions you like, but here are some you might want to ask a potential brand ambassador:
Why do you love our brand?
How will you promote our brand and its products?
How would you describe your audience?
What valuable skills do you offer as a brand ambassador?
You want people to demonstrate that they understand what it is you're trying to achieve, and these questions can help you get a good feel for this.
5. Talk About Roles and Responsibilities
A big part of learning how to ask someone to be a brand ambassador is setting clear expectations.
Both you and the affiliate need to understand what entering into this agreement means.
To ensure this happens you need to set out clear roles and responsibilities for each party. In affiliate marketing, we call this the affiliate terms and conditions, and it's a set of rules that govern the relationship.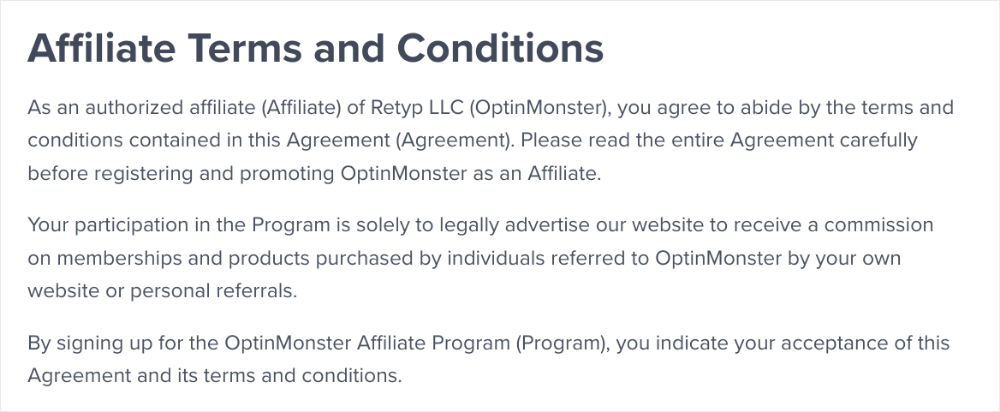 If people don't understand the nature of the agreement they're entering into it's not a great place to begin, so be very clear with the roles and responsibilities of your partnership.
6. Ask the Brand Ambassador What They Need
You're trying to build partnerships, and that means you give as much as you get.
A great way to ensure you're holding up your end of the deal is to find out what your brand ambassador hopes to achieve, and how you can help them do it. You may find there a lots of little things you can do to grow the partnership and the feedback you get can help you create stronger relationships going forward.
Show that you want to help your brand ambassador be successful (after all, when they succeed, so do you), and help them to achieve their goals.
7. Track the Results from Your Partnership
Your partnerships have to work for both you and your brand ambassadors, and you need a way of verifying this is the case.
Whatever word-of-mouth marketing strategy (brand ambassadors, affiliate marketing, influencer marketing, etc) you choose to implement, being able to track the results is vitally important.
Too many brand ambassador relationships are loosely-based and almost impossible to track the results. This is why affiliate link tracking is so useful when working with brand ambassadors.
Not only is it a great way to reward your ambassadors, but it automates the process of tracking results.
You'll have access to real-time metrics, so you'll know who referred each sale, and your brand ambassadors will receive the credit (and rewards) they deserve.
When asking someone to become an ambassador, make sure to highlight the systems you have in place to assign credit and ensure your partners get a great deal.
Now, Think About Your Rewards
Now you've got a system in place that allows you to track your brand ambassadors' performance, the next step is to design an attractive package of incentives.
There's a lot of competition to sign the best affiliates and influencers, so what can you offer that's going to make you stand out from the crowd?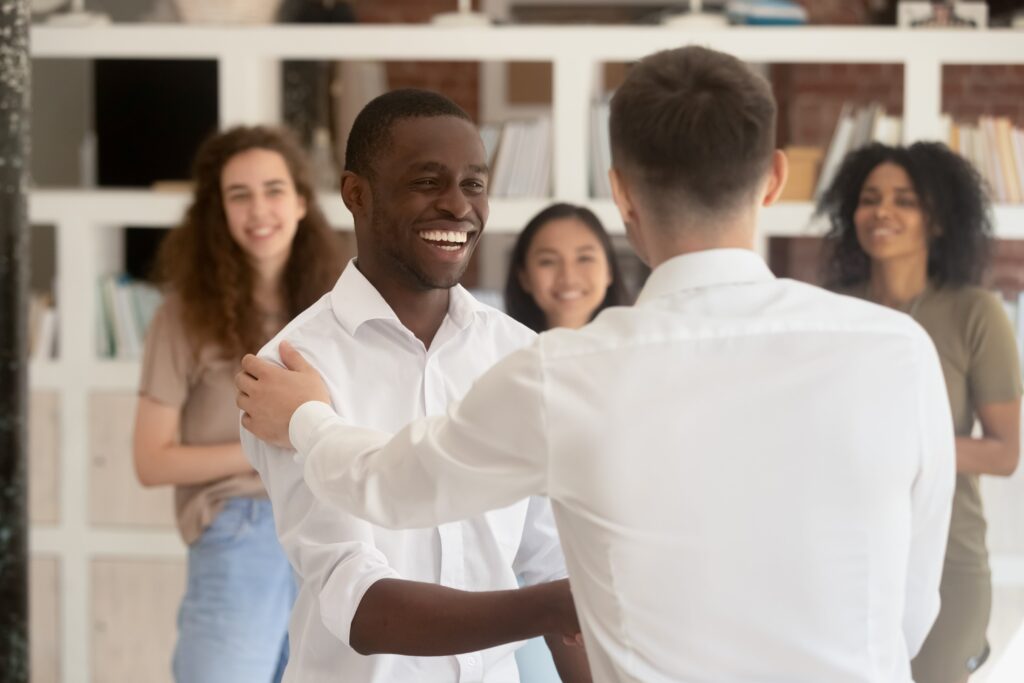 Obviously, commission is important, but it isn't everything (and there's only so much you can offer). To complement your commissions, you should look at other ways to engage with and reward your ambassadors.
Check out this great article on affiliate rewards for some inspiration.
When you're trying to figure out how to ask someone to be a brand ambassador, offering great rewards is going to be a huge advantage!
FAQs: Asking Someone to Be a Brand Ambassador
How do you get someone to be a brand ambassador?
Getting someone to be a brand ambassador is all about building the relationship. You should start by showing a genuine interest in the person before making your proposal. Engage with their social media posts, ask the right questions, and then, when you're ready, ask them to become a brand ambassador and work on your marketing campaigns.
How do you write a brand ambassador proposal?
Writing a brand ambassador proposal starts with having a system in place for your partnerships. You need a clear picture of the benefits you offer your ambassadors, how you will track results, and how you'll reward your partners. When you have this in place, you can then write a convincing brand ambassador proposal. You may follow a template, but it's often more effective to send a direct message that's personal to the brand ambassador. It's also important to remember to follow up!
How do you ask someone to be a brand ambassador on Instagram?
Asking someone to be a brand ambassador on Instagram is a case of being authentic. People tend not to like getting unsolicited requests on social media platforms, so you've got to work on building the relationship. Engage with the potential brand ambassador's content, and build the connection until you feel comfortable asking them to be a brand partner. LinkedIn is also a great place to build new ambassadorships.
Getting Brand Ambassadors for Your Brand
You want brand ambassadors who have an authentic connection with your company. However, this connection alone isn't enough to seal the deal.
The world runs on rewards, and affiliate partnerships are no different.
Before you approach people to become brand ambassadors, you've got to have a system in place to reward them for their hard work. There are many ways to do this, but the most effective is through referral tracking.
With AffiliateWP, this is incredibly easy to set up, which means you can get started with finding brand ambassadors more quickly and reach new customers.
We've also got some handy resources to help you get started:
Now there's only one thing left to do.