EasyAffiliate vs AffiliateWP (Comparison for 2023)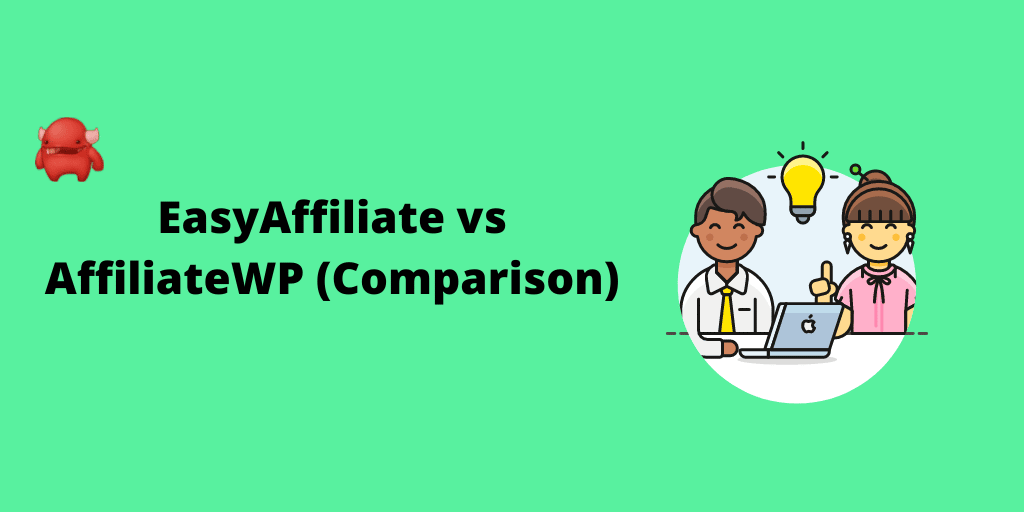 Trying to choose the best affiliate software and stuck between EasyAffiliate vs AffiliateWP?
Finding the right affiliate software for your needs is important, so we've put together a complete comparison.
Read on to find out everything you need to know about EasyAffiliate vs AffiliateWP.
What's the Best WordPress Affiliate Plugin?
If you've been researching the best WordPress affiliate plugins, then you may have narrowed your choices down to EasyAffiliate and AffiliateWP.
Your research wouldn't be wrong because they're both excellent options.
But we want to find you the very best affiliate software for your business, so we've done a complete EasyAffiliate vs AffiliateWP comparison.
Here's what we've looked at for this in-depth guide:
Range of integrations
Ease of setup
Advanced affiliate marketing features
Easy affiliate management
Affiliate payouts
Support
Overall comparison
Read on and you will find the best WordPress affiliate plugin for your needs.
Is EasyAffiliate the Best WordPress Affiliate Plugin?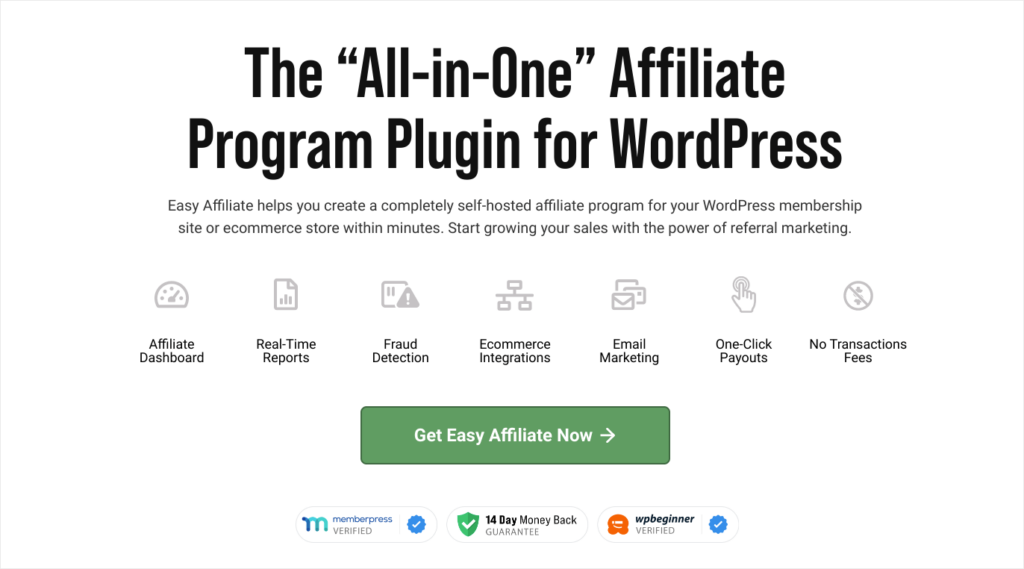 EasyAffiliate, formerly known as AffiliateRoyale is a well-established affiliate plugin with a lot of good features.
It integrates with some of the most popular WordPress plugins and helps you quickly set up an affiliate program.
But is it the best option for your business?
Let's start our EasyAffiliate vs AffiliateWP guide by taking an in-depth look at EasyAffiliate.
EasyAffiliate Integrations
Both EasyAffiliate and AffiliateWP connect to your website through plugins rather than your WordPress site itself. This means you need to check your website has the right integrations to successfully track links.
In the case of EasyAffiliate, it's got the basics covered, offering simple integrations with some of the most popular WordPress plugins:
WooCommerce
Easy Digital Downloads
MemberPress
WPForms
Formidable Forms
You'll see a number of other integrations listed on the site, but rather than providing link tracking capabilities, these add extra functionality such as enhanced analytics.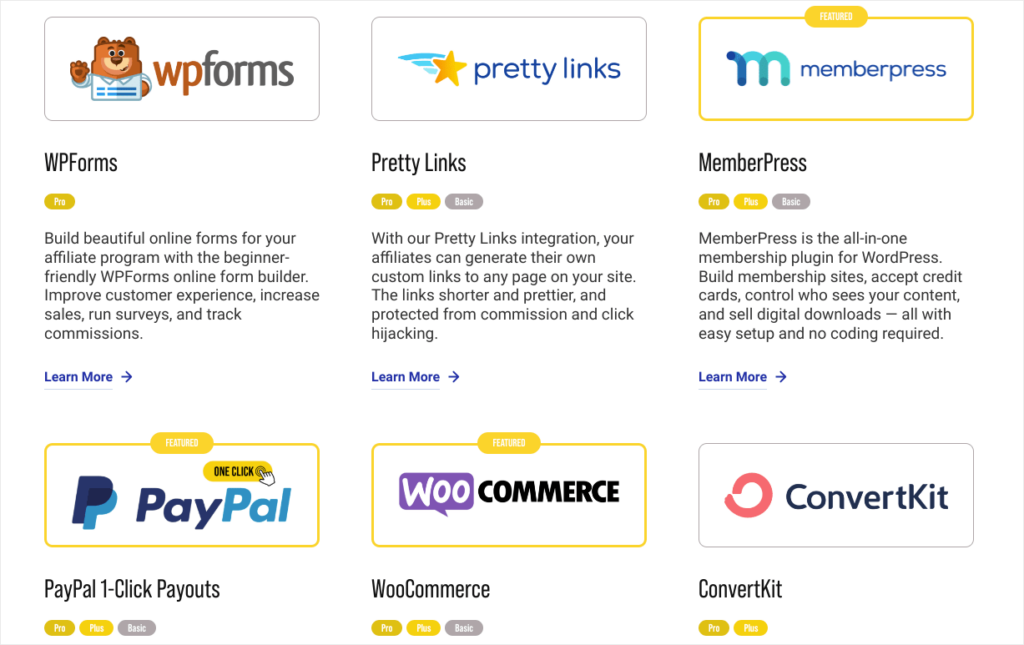 Together, these integrations cover a good chunk of WordPress websites, but it's not the most exhaustive list. In comparison, AffiliateWP has over 20 link-tracking integrations to choose from.
EasyAffiliate Ease of Setup
EasyAffiliate does a great job at making it easy to set up a referral program in WordPress.
You'll find lots of documentation to help you get started, and the integrations are particularly easy to use.
Once you've verified your license, all you have to do to start tracking referral links is go to your EasyAffiliate settings and click the eCommerce tab. Scroll down until you find your integration and click the toggle button to start tracking referrals.
You can then head back to your settings to decide on important information such as your commission type, commission rates, and cookie policies.
It's very easy to integrate your store and choose your settings with EasyAffiliate.
EasyAffiliate Marketing Features
When you add EasyAffiliate to your site you get a plugin that does the basics well.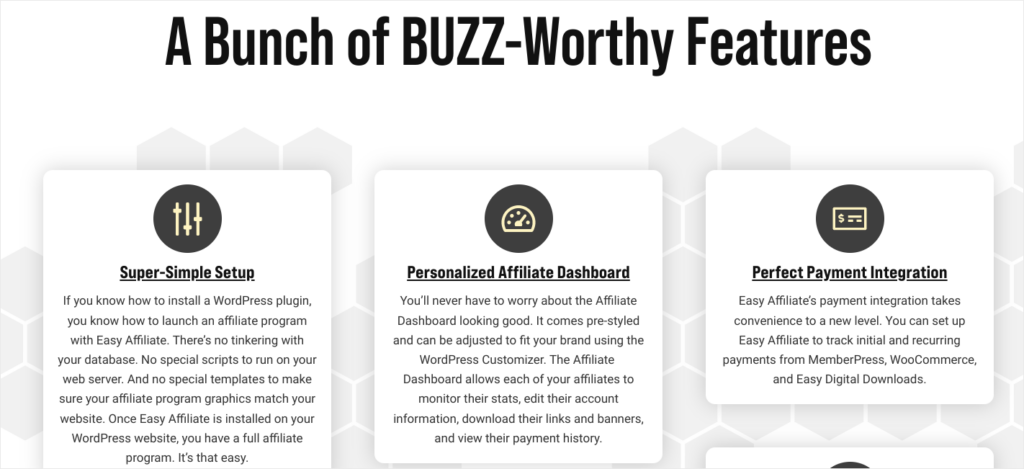 A quick look at its features page and you can see exactly what it does:
Simple Setup
Affiliate Dashboard
Affiliate Applications
Fraud Detection
Custom Link Generation
PayPal Payouts
This is everything you need to run an affiliate program, but these features are more standard than innovative. While integrations with plugins like MonsterInsights and email marketing software (ActiveCampaign, Mailchimp) add some more functionality, this is an area where EasyAffiliate falls behind.
Compare this to the huge list of advanced marketing features AffiliateWP offers and you'll see quite a big difference.
EasyAffiliate Affiliate Management
You want to ensure your affiliate program is easy to run and EasyAffiliate helps ensure this.
Like AffiliateWP, it allows you to do everything from within your WordPress dashboard and gives you good templates from which to start. Its interface is user-friendly and allows for basic customization to make it appealing to your affiliates.
You'll always be able to rely on accurate referral tracking, real-time reports, and easy affiliate payouts, all without transaction fees or restrictions on affiliate numbers or sales.
EasyAffiliate Affiliate Payouts
EasyAffiliate has a good integration with PayPal to facilitate one-click payments. This makes it easy for you to pay affiliates without ever leaving your WordPress dashboard.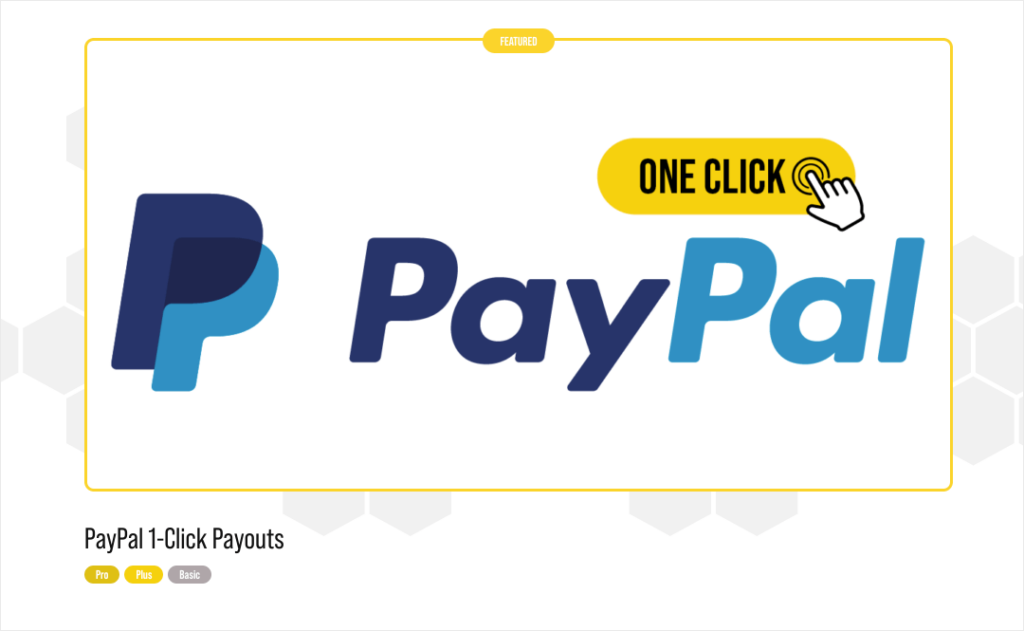 While not every affiliate loves using PayPal, it's a widely accepted payment form, and EasyAffiliate makes it extremely simple to make payments.
Again, AffiliateWP offers a little bit more functionality here as it has an integrated payouts service that allows you to pay affiliates directly into their bank accounts.
EasyAffiliate Support
One thing both these WordPress affiliate plugins have in common is excellent customer support.
If you can't find the information you need in EasyAffiliate's knowledge base (50+ documents), then you can easily create a support ticket and speak to a helpful team member.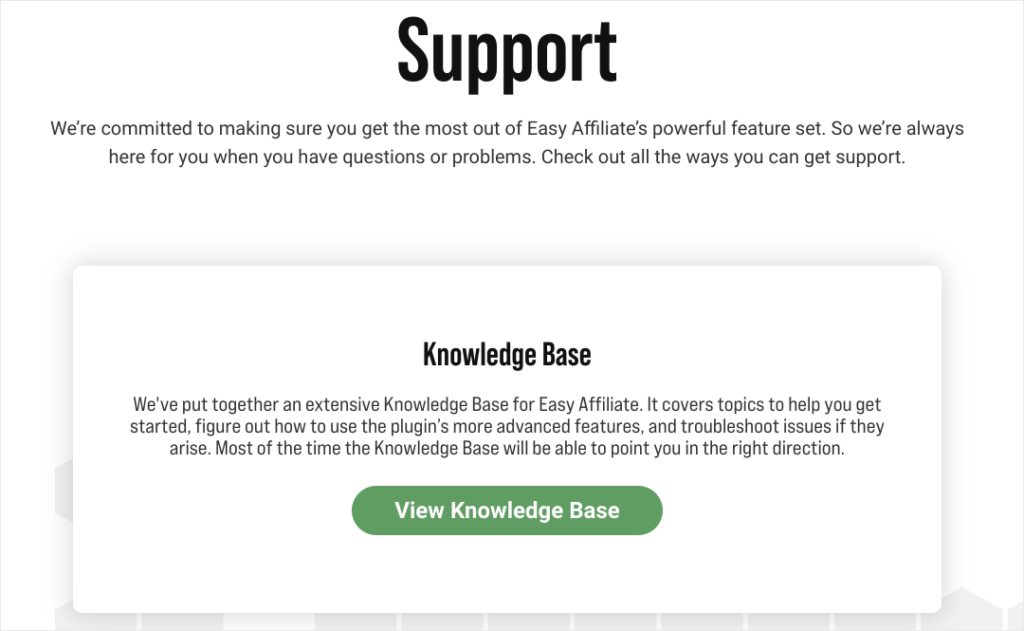 This is an essential consideration whenever you're choosing software, and it's an area where EasyAffiliate is strong.
EasyAffiliate Pricing
EasyAffiliate has 3 pricing plans, starting with the Basic plan from $99.50 a year. This is great value and can represent big savings versus affiliate networks that charge a fee on your sales.
If you want to upgrade and benefit from some of the extra marketing features (mainly the email integrations), then the Plus plan starts at $149.50, and to get the most out of your EasyAffiliate plan, the Pro plan starts at $199.50 a year.
You can't argue with these prices, and they allow you to start making a return on your investment quickly.
Is AffiliateWP the Best WordPress Affiliate Plugin?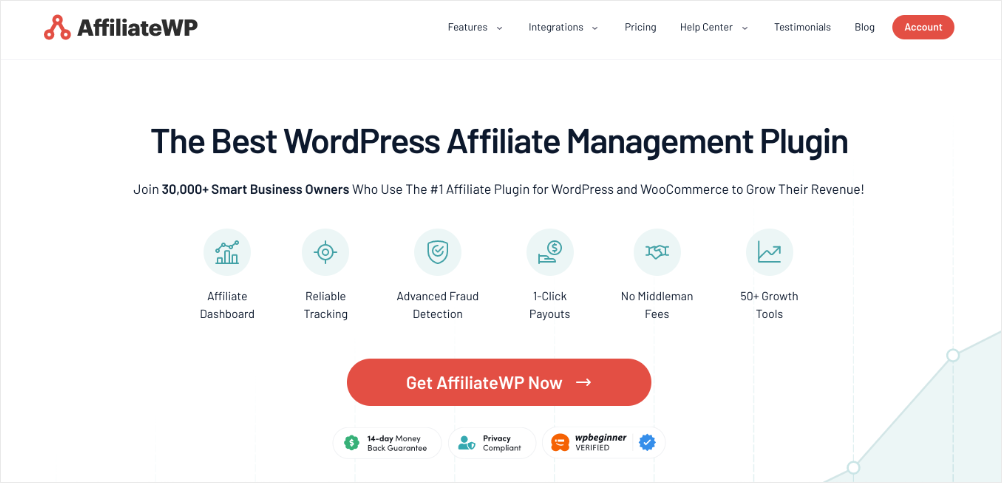 We've talked you through the ins and outs of EasyAffiliate, now it's time to look at AffiliateWP.
So far in our EasyAffiliate vs AffiliateWP debate, we've found that EasyAffiliate offers a simple but effective affiliate software solution, so what about AffiliateWP?
Like EasyAffiliate it allows you to set up your own affiliate program with unlimited affiliates, and it's perfect for small businesses.
But what about the finer details?
AffiliateWP Integrations
AffiliateWP offers a much more complete list of integrations, with over 20 one-click link tracking integrations. Here's a quick list of some of those integrations, but be sure to check out the complete rundown.
WooCommerce
Easy Digital Downloads
WP Simple Pay (Stripe)
PayPal
Restrict Content Pro
MemberPress
LifterLMS
WPForms
Gravity Forms
Formidable Forms
And more…
Specific integrations for individual plugins give you extra link tracking capabilities and make it incredibly easy to sync your store, membership program, or forms to AffiliateWP.
Together, these integrations help to make AffiliateWP a complete WordPress link-tracking software.
AffiliateWP Ease of Setup
You can get your AffiliateWP affiliate program set up in under 10 minutes.
The simple setup wizard will walk you through all the steps, and make sure you've taken care of everything. There's no coding involved, and no technical knowledge needed – just a few clicks and then your program is ready to go.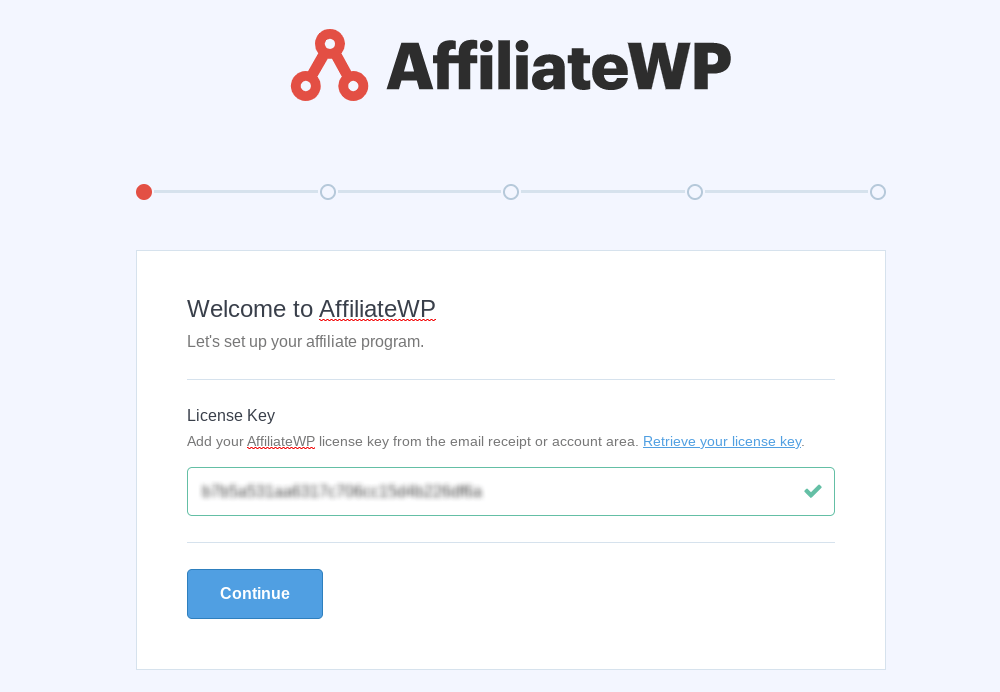 With one-click integrations, all you have to do is mark the check box next to your e-commerce plugins, membership software, or form builder, and AffiliateWP will start tracking referrals for you.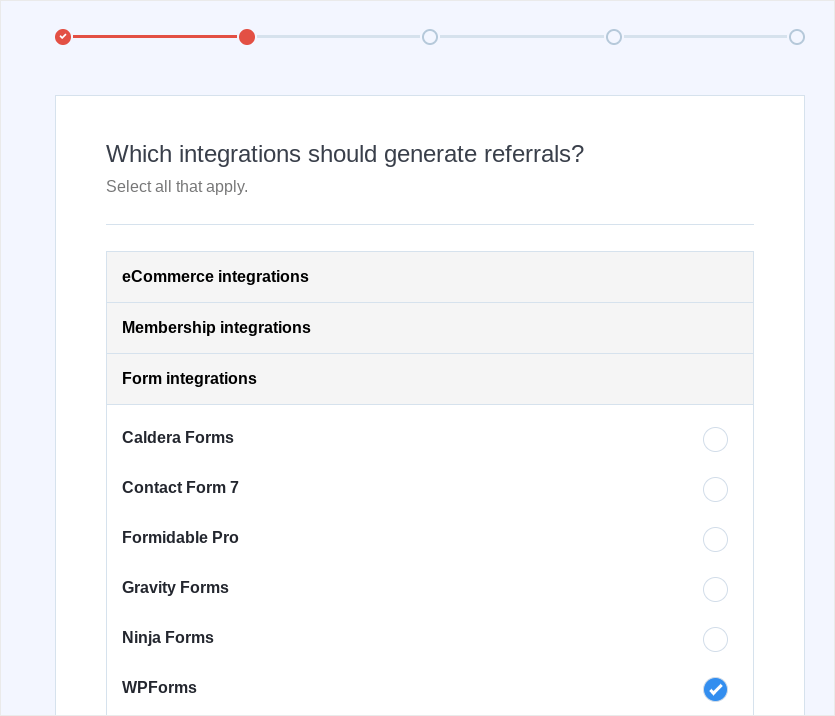 In the EasyAffiliate vs AffiliateWP debate, the setup wizard gives AffiliateWP a slight advantage.
AffiliateWP Marketing Features
AffiliateWP's marketing features are where it really starts to stand out from EasyAffiliate.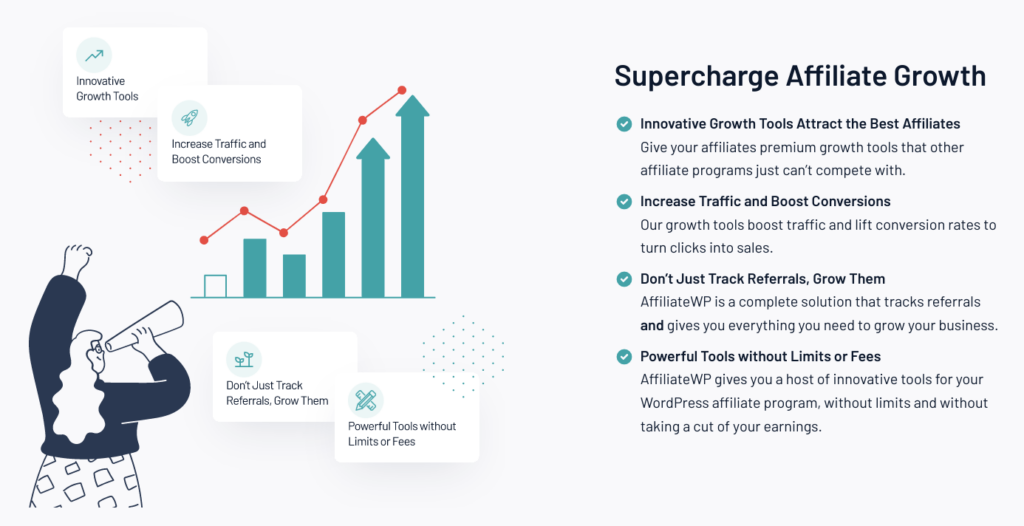 It comes with all the same basic functionality discussed in EasyAffiliate, but with a whole host of innovative tools:
Vanity Coupon Codes: Allow affiliates to create personalized affiliate coupon codes to improve conversion rates on affiliate coupon tracking.
Affiliate Portal: Provides an upgraded affiliate dashboard experience.
Affiliate Landing Pages: Create personalized landing pages for your top affiliates and boost conversions.
Direct Link Tracking: Eliminate the need for affiliate links altogether.
Easy Social Sharing: Make it simple for affiliates to share their links to social media.
Automated Notifications: Automated emails keep admins and affiliates up to date.
Unlimited Affiliate Creatives: Add as many affiliate creatives as you wish.
Tiered Affiliate Rates: Create different tiers to offer bigger affiliate commissions the more sales an affiliate makes.
Zapier Integration: Connect AffiliateWP with thousands of other apps with Zapier.
Lifetime Commissions: Affiliates can receive commissions on all future purchases from a customer.
Recurring Referrals: Affiliates receive a commission every time a customer makes a subscription payment.
And much more… AffiliateWP is constantly adding new features and add-ons to help affiliate managers grow their programs.
Ultimately, choosing between EasyAffiliate and AffiliateWP is about which one is going to offer you the best return. AffiliateWP has additional features that are highly conversion-focused, attracting higher quality affiliates and resulting in more sales.
AffiliateWP Affiliate Management
AffiliateWP's interface makes it incredibly easy to manage your affiliates from within the WordPress dashboard.
As soon as you complete the setup wizard, AffiliateWP will automatically create an Affiliate Area and dashboard, and there's even a terms of use generator to help you get started more quickly.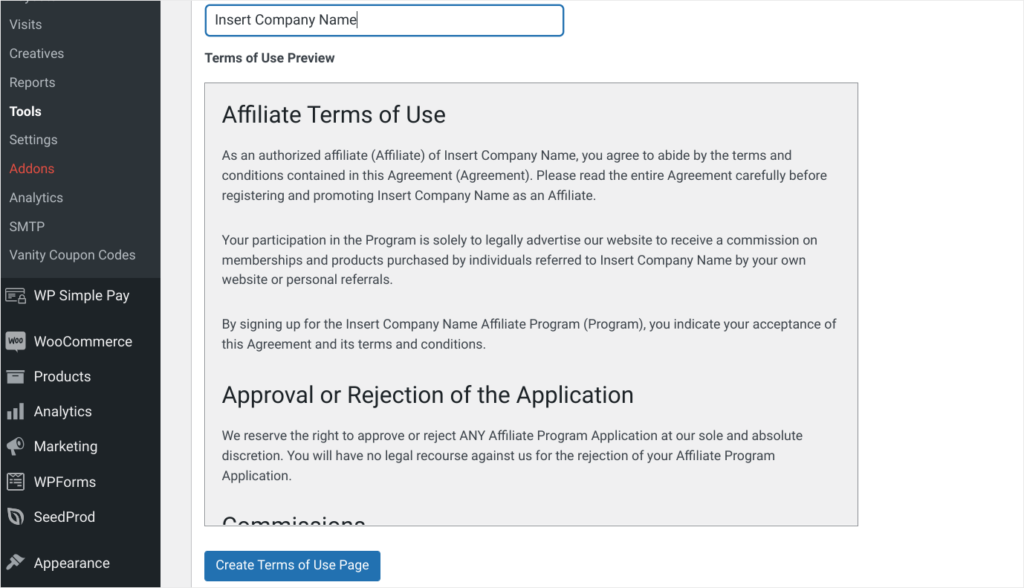 New affiliates can sign up for your program from the affiliate area (with customizable affiliate registration forms), and once you've approved them (an essential part of affiliate fraud detection), they'll be able to log in to their affiliate dashboard.
The dashboard is extremely customizable, allowing you to add custom tabs for things like affiliate onboarding, product descriptions, and other helpful information.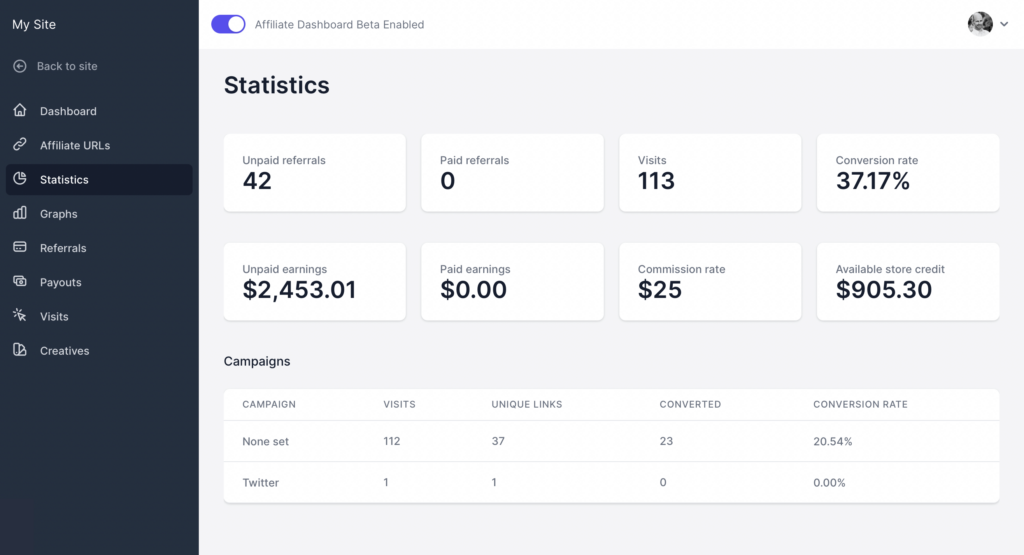 As soon as the affiliate clicks and sales start coming in, you'll be able to analyze them in great detail from the Reports tab. Dig even deeper into the data in the Affiliates and Referrals tabs.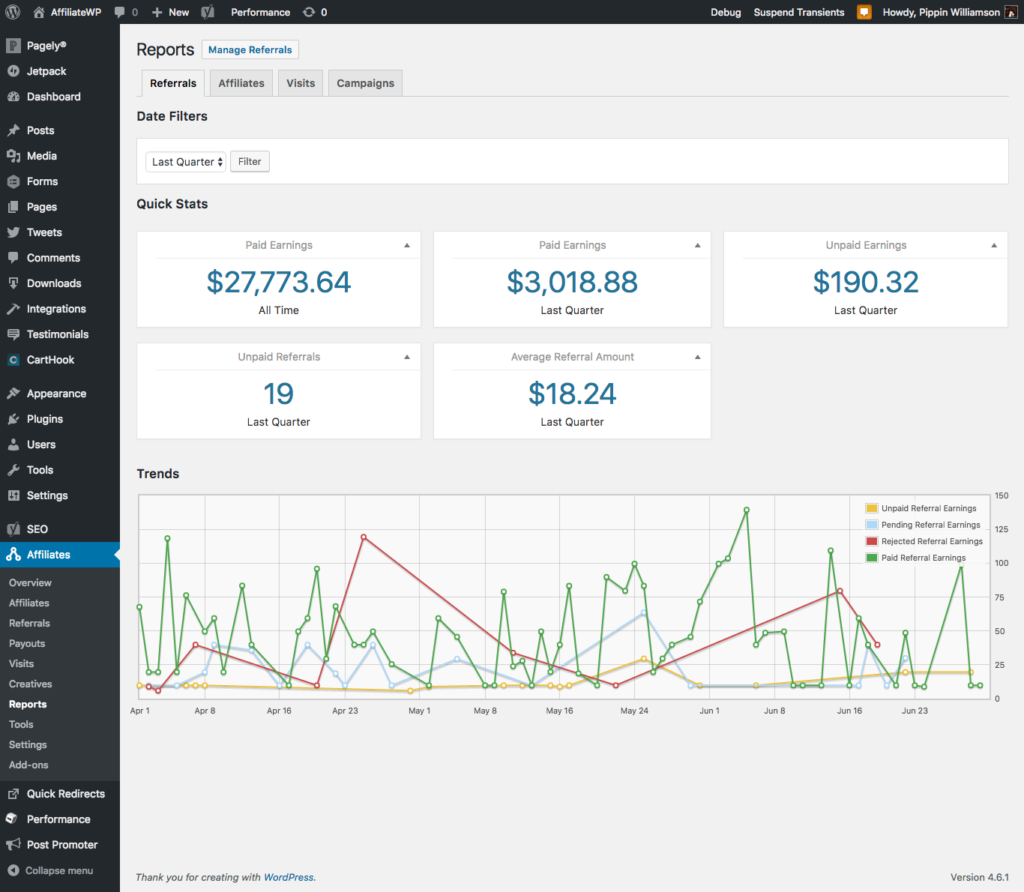 You've also got great options to integrate with email marketing software and CRMs, and with the Zapier integration, you can create intricate automations to help your program run on autopilot.
There's a reason why AffiliateWP is known as the best affiliate management plugin for WordPress!
AffiliateWP Payouts
Here we see another distinction between AffiliateWP vs EasyAffiliate.
While EasyAffiliate relies solely on its 1-click PayPal payouts integration, AffiliateWP offers more options.
For those people who enjoy Paypal, there's still a 1-click PayPal payouts integration, but there's also an integrated payouts service. This allows you to pay affiliates directly to their bank accounts or debit and credit cards in just a few clicks.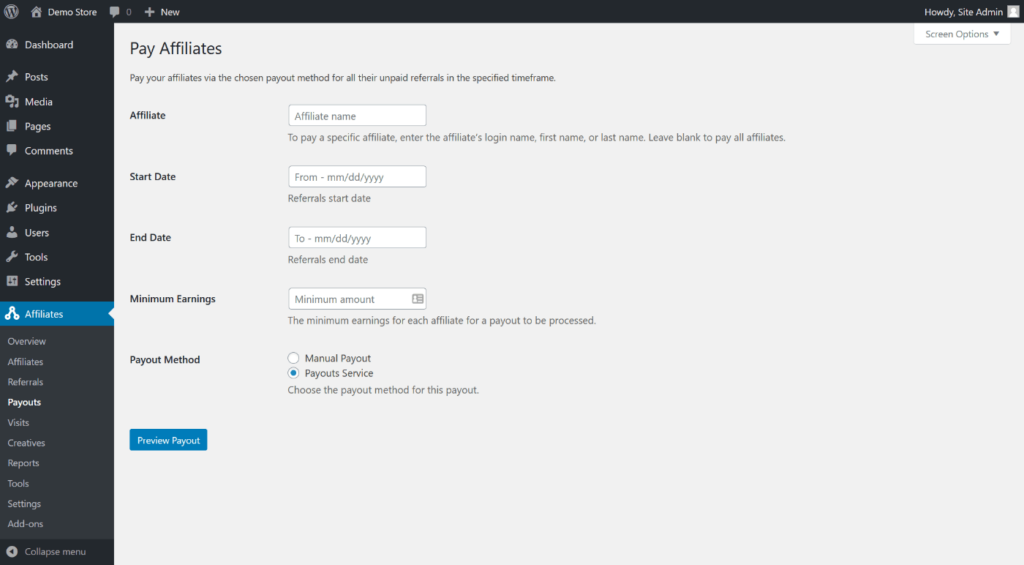 You won't have to leave your WordPress dashboard, and you'll be able to set up reliable direct payments to your affiliates around the world.
The integrated payouts service takes affiliate payouts to the next level, cutting out the middleman and giving your program a more professional feel.
AffiliateWP Support
A quick look at the AffiliateWP testimonials page and you can see how great the support is.

Although AffiliateWP is easy to use and makes it incredibly simple to set up, you want to know there's someone there to help if you encounter any problems. That's why on top of 100+ documentation articles and tutorials, AffiliateWP has a world-class support team.
This has led to a host of great reviews highlighting the support:
"Uncommonly good support."
"Great support, quick and efficient."
"Great technical support and great product."
Whatever question you have, the AffiliateWP support team is there to help.
AffiliateWP Pricing
Like EasyAffiliate, AffiliateWP has three pricing plans, all backed up by a 14-day money-back guarantee.
These begin with the Personal plan starting at $149.99 a year and go up to the Professional plan that starts at $299.50 a year.
This makes AffiliateWP slightly more expensive than EasyAffiliate, but much cheaper than comparable feature-rich products like Post Affiliate Pro (starting at $129 a month) or Tapfiliate (starting at $59 a month).
It's all about returns, and AffiliateWP's conversion-focused tools ensure it's well worth the extra $50-100 a year vs EasyAffiliate.
Check out AffiliateWP's plans!
EasyAffiliate vs AffiliateWP: The Verdict
EasyAffiliate and AffiliateWP are both great affiliate marketing plugins for WordPress, but there's only one winner.
AffiliateWP does everything EasyAffiliate does, but it also offers a lot more in terms of marketing, automation, and affiliate management tools. These help your affiliate system run more efficiently, attract better affiliates, and make more sales (or generate more leads).
Your affiliate marketing program needs to show a solid return on investment and the best way to make that happen is with AffiliateWP.
Next, Put AffiliateWP's Powerful Tools to Use
We've shown you why AffiliateWP is the best WordPress management plugin, now, let's show you how you can put its tools to best use.
Here are some great resources to help you get set up with affiliate marketing, attract the best affiliates, and grow your sales.
All that's left is to download AffiliateWP and let these tools do their work.