11 Best Push Notification Software for WordPress (2023)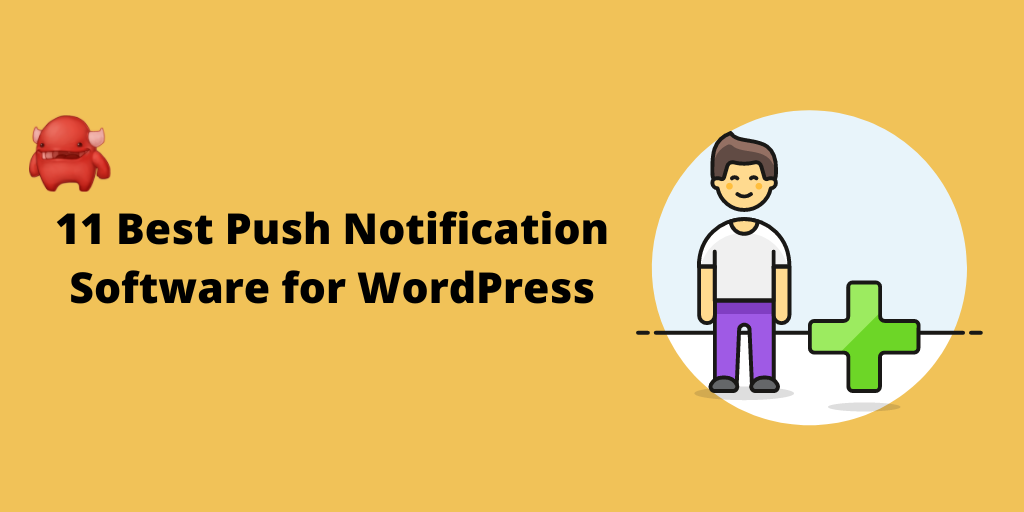 Are you looking for the best push notification software for your WordPress website?
The right push notification software can make a huge difference to your website's performance, so it's worth taking the time to make the right decision.
Here are the 11 best push notification software for WordPress.
What Goals Can Push Notification Software Help You Achieve?
Let's get right to the point and talk about benefits.
What will web push notifications help you achieve?
Quickly grow your subscriber list
Create more touchpoints with potential customers
Immediately reach a very targeted audience
Boost traffic
Understand what push messages resonate with your audience
Improve conversion rates
And much more…
In fact, push notifications can be a useful marketing tool at every point in the customer journey.
Now, the question you might have is how are they any different from my email marketing?
Here's the thing.
People don't like giving out their email addresses – they're protective of their inboxes. Why? Despite our protectiveness over our inbox, spam emails always seem to sneak in.
The same isn't true with push notifications and it plays out in the statistics:
Opt-in rates are 3x higher for push notifications than emails.
Push notifications have an open rate of 20% compared to an average of below 2% for emails.
Emails average a 1-2% click rate whereas the average for push notifications is 28%.
This is why many large businesses and social media platforms are increasingly turning to push notifications and mobile marketing.
So, the argument for using push notifications on your website is pretty strong, but what's the best push notification software for WordPress?
Best Push Notification Software for WordPress
We've done our research to find you the best push notification software for your WordPress website.
How did we come to our decision?
Simple, we looked at the following criteria:
Ease of use
Targeting capabilities
User engagement
Compatibility with a range of web browsers and mobile devices
Marketing automation
Analytics
GDPR compliant
When these things come together, it will allow you to grow your business. So, based on these criteria, here are the best push notification software for WordPress.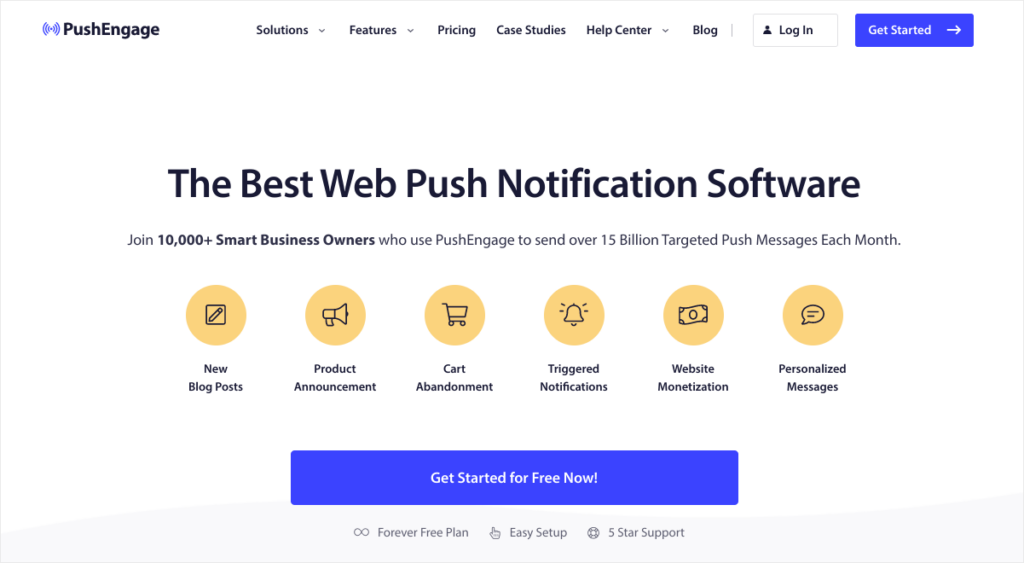 PushEngage is the best push notification software because it's incredibly easy to use and offers innovative growth tools.
The free plugin allows you to set up push notifications in seconds and syncs seamlessly with your WordPress website. In just a few minutes you can start collecting leads and reaching potential customers with your messaging.
While you get great basic functionality with the free plan, the true power of PushEngage is unlocked with the paid plans. This is where PushEngage's smart analytics and incredible automation tools come alive.
Triggered notifications
Dynamic segmentation
A/B testing
Automatic drip campaigns
Personalization
Goal tracking and analytics
And much more…
Marketing is about serving the right message to the right people at the right time, and that's exactly what PushEngage allows you to do. For example, you'll be able to set up an automatic push notification whenever someone looks at a certain product, leaves their cart, or even create a custom trigger.
This makes PushEngage a powerful marketing tool, and the best part is it couldn't be easier to use (for WordPress beginners and experienced users alike).
PushEngage Pros
Incredibly easy to set up no need for coding or technical knowledge
Customizable pop-up opt-ins to turn more website visitors into subscribers
Advanced user segmentation for improved user engagement and retention
Personalize messages based on geo-location, language, or timezone
Detailed analytics to help improve your performance
Unlimited subscribers + unlimited notifications with the enterprise plan
PushEngage Cons
There are so many great tools it can be difficult to know where to begin
Check out PushEngage's pricing!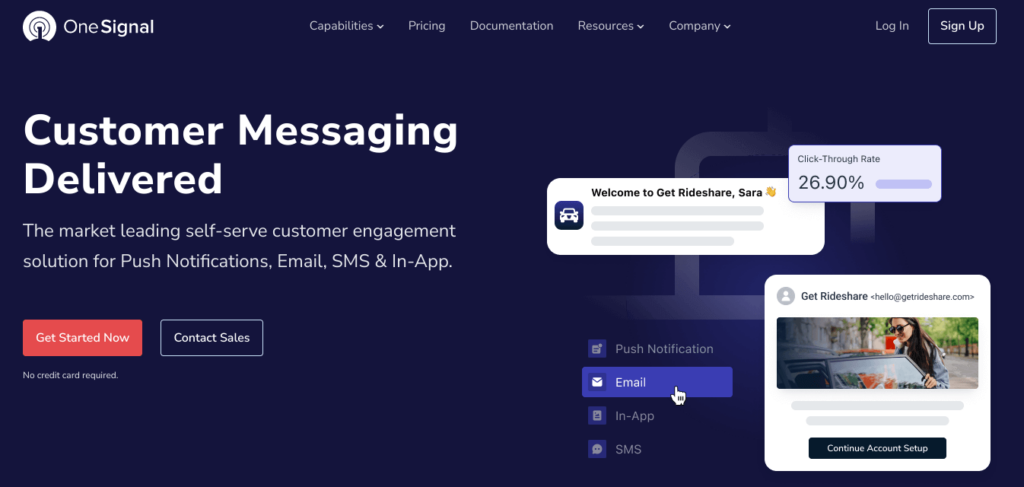 OneSignal offers a simple integration with WordPress that allows you to set up your push notification campaigns in 15-minutes.
It provides a powerful marketing suite that includes A/B testing, segmentation, and automated messaging. Just like PushEngage, it's designed to help you reach the right people with the right message at the right time, and it's very successful in achieving this.
There's no doubt OneSignal is a great way to reach your WordPress audience with push notifications.
OneSignal Pros
Easy 15-minute setup
Good A/B testing capabilities for optimization
Omnichannel with SMS messaging for ios and Android
OneSignal Cons
The dashboard experience and analytics could be improved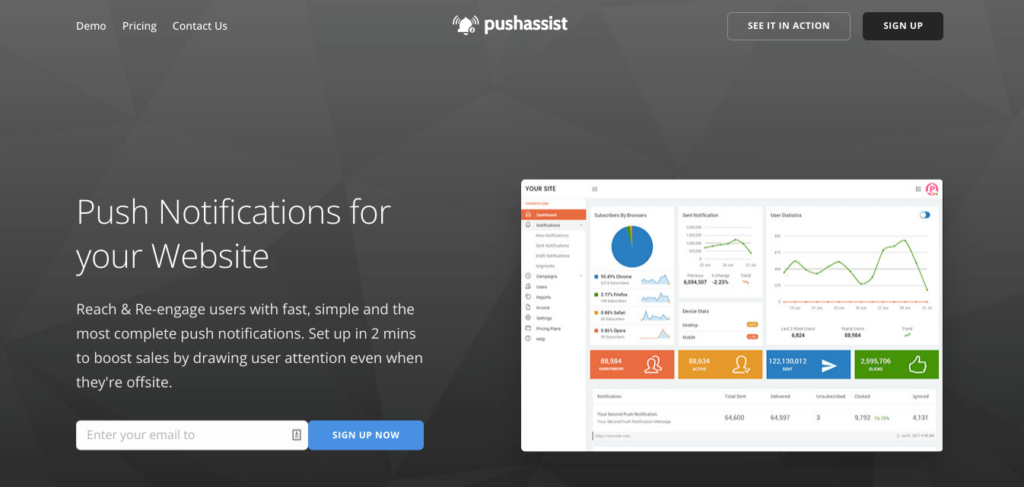 PushAssist is another top push notification service that offers incredibly easy setup.
Its WordPress plugin works seamlessly to help you start sending push notifications as quickly as possible and monetize your website. With multi-device, multi-channel messaging, and real-time tracking, it gives you the tools you need to get the most out of your push campaigns.
One drawback with PushAssist is the limit on subscribers. While the free plan offers a generous 3,000 subscribers, the paid plans are quite limited compared to PushEngage.
PushAssist Pros
Easy configuration
Good WordPress plugin
Great automation workflows
PushAssist Cons
Subscriber limits on paid plans are quite restrictive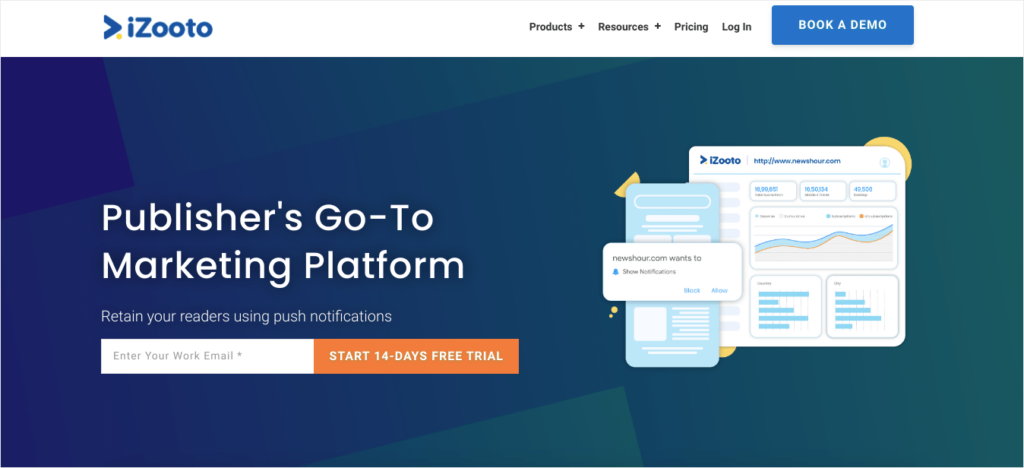 iZooto offers powerful push notification tools for businesses of all sizes.
With a variety of paid plans, it allows you to choose the best fit for your business, and it offers great customizability as well as easy targeting.
iZooto doesn't offer a free plan, and with its pricing starting at $85 a month, it's certainly aimed at more established businesses that will be able to earn an immediate return on investment.
However, if you need time to evaluate it, it does offer a free 14-day trial.
It's one of the best push notification marketing platforms, but possibly not the best option for small businesses.
iZooto Pros
Highly customizable
Easy-to-use targeting features
Mobile app push notifications
iZooto Cons
High pricing point for small businesses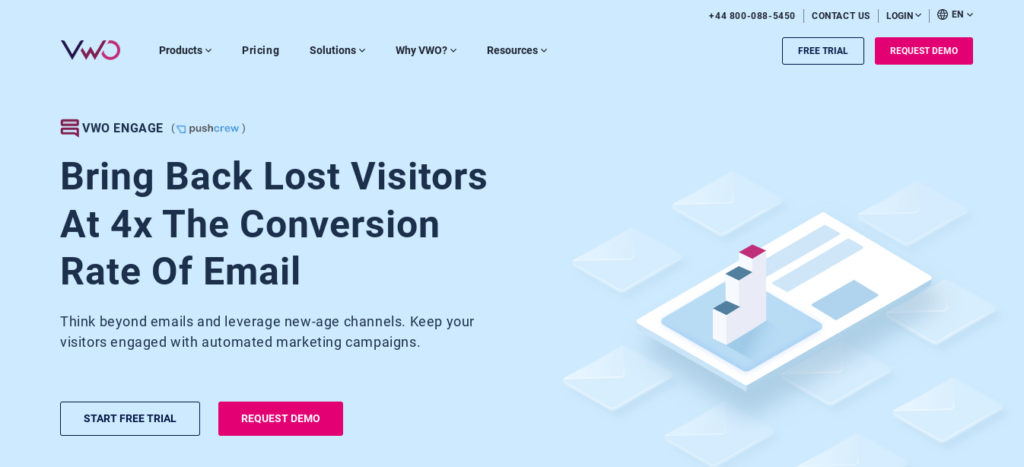 VWO Engage gives you easy-to-setup notifications as well as a host of website testing tools.
As well as serving push notifications to desktop and mobile users, it has a variety of entry and exit triggers as well as good a/b testing capabilities.
While it's easy to set up and allows you to effortlessly customize notifications, its user interface isn't the prettiest and could use a little facelift.
VWO Engage Pros
Easy setup
Good customization options for notifications
Entry and exit triggers
VWO Engage Cons
User interface isn't the most engaging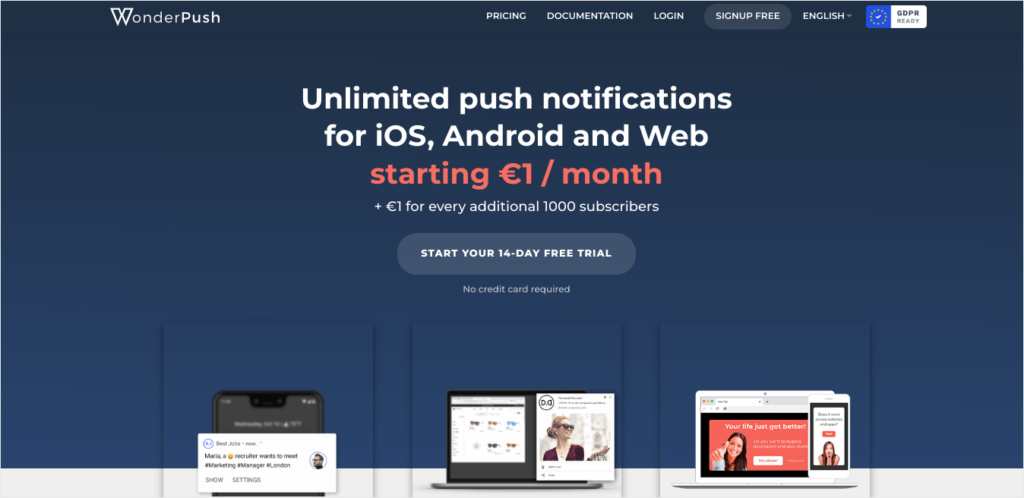 WonderPush is another push notification software that's easy to set up for WordPress.
It's got good segmentation and automation options, real-time analytics, and e-commerce options that make it an effective way to engage with your audience.
The pricing works out well for businesses with few subscribers, but as you grow your audience, the costs do start to go up more quickly, so it's worth keeping an eye on this.
WonderPush Pros
Easily segment your audience
Real-time metrics to optimize your marketing campaigns
E-commerce options and in-app messages
WonderPush Cons
Could be more customization options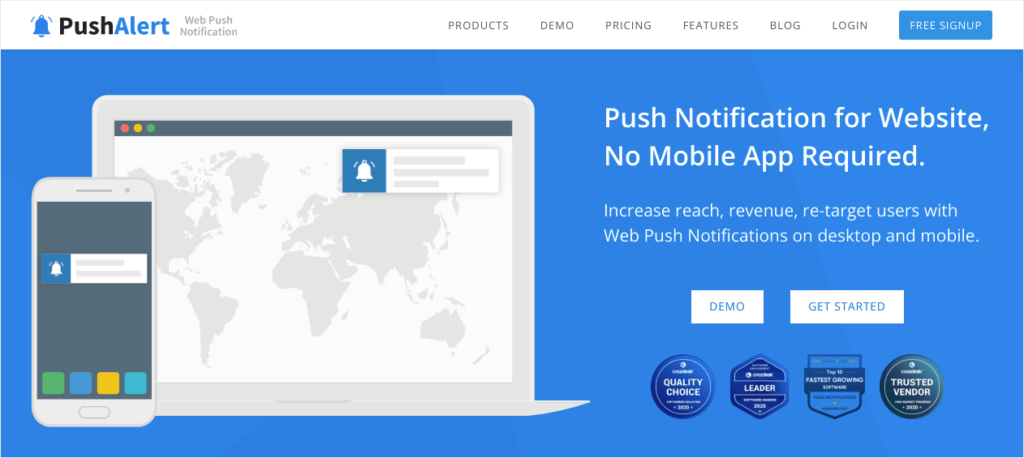 PushAlert is a great option if you're looking for good targeting, easy a/b testing, and in depth-analytics.
It offers a free plan for up to 3,000 subscribers, but to really benefit from its best features you need one of the paid packages. Although you do get some good features, these plans can be a little expensive compared to options like PushEngage, so you'll have to have a clear plan for how you're going to leverage the features to achieve a good return on investment.
The conversion funnel automation is a nice feature with PushAlert.
PushAlert Pros
Good targeting
Automated e-commerce notifications
Conversion funnel automation
PushAlert Cons
Got to go with the paid plans to access the best features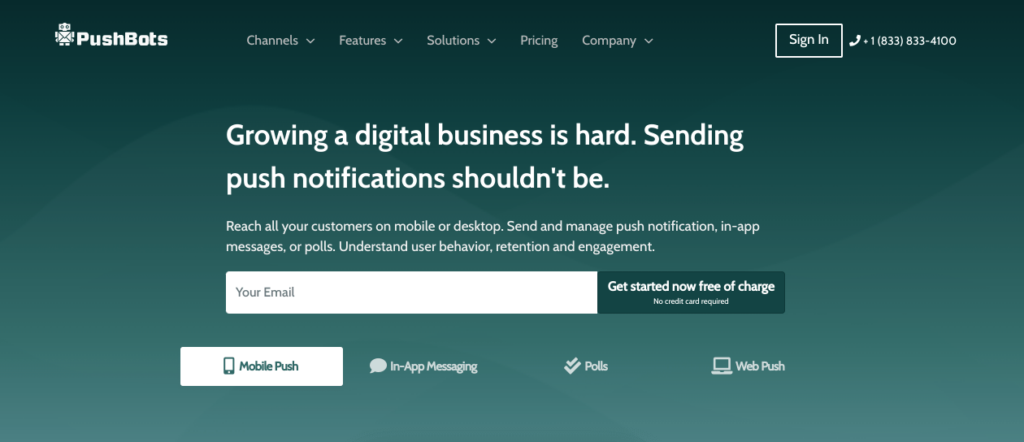 PushBots aims to make it as easy as possible to send push notifications and does a pretty good job at it.
With smart scheduling, good targeting options, events, and customer profiles (great for leveraging customer data), it's a solid way to better understand your audience and perfect your messaging. Specializing in mobile and in-app customer messaging, it offers some great tools like polling to help boost customer engagement.
Again though, with its pricing, it's certainly one of the push notification providers where you need a clear idea of how you're going to make a return on investment from day one.
PushBots Pros
Nice campaign wizard
Mobile push notifications
Very scalable
PushBots Cons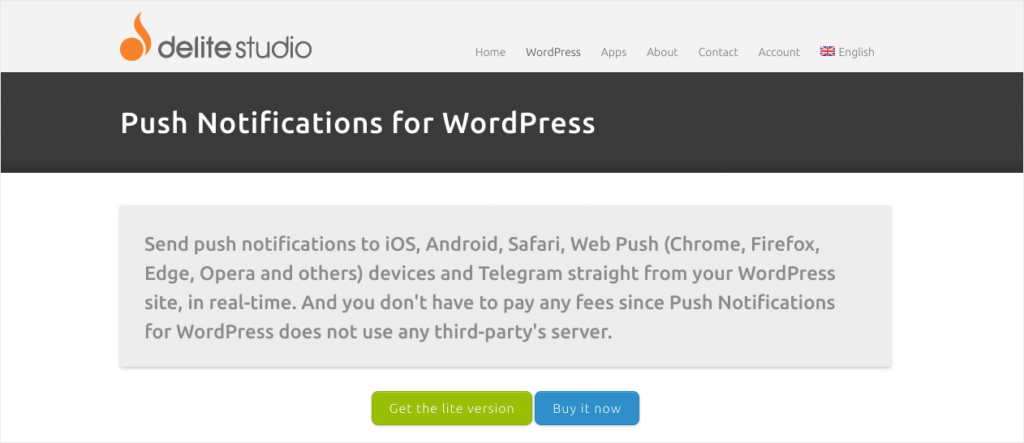 Push Notifications for WordPress gives you a basic Lite plugin that you can expand upon with the paid version.
It's still quite a simple push notifications plugin, but if you don't need all the bells and whistles, then it can be a good option. Push Notifications for WordPress makes it on this list of the best push notification software because of its simplicity, and that's something you can leverage.
It allows you to send push notifications directly from your WP dashboard, but it is fairly limited in terms of features.
Push Notifications for WordPress Pros
Send push notifications from your WordPress dashboard
Free lite version
User groups
Push Notifications for WordPress Cons
The one-time payment license only offers support and updates for 12 months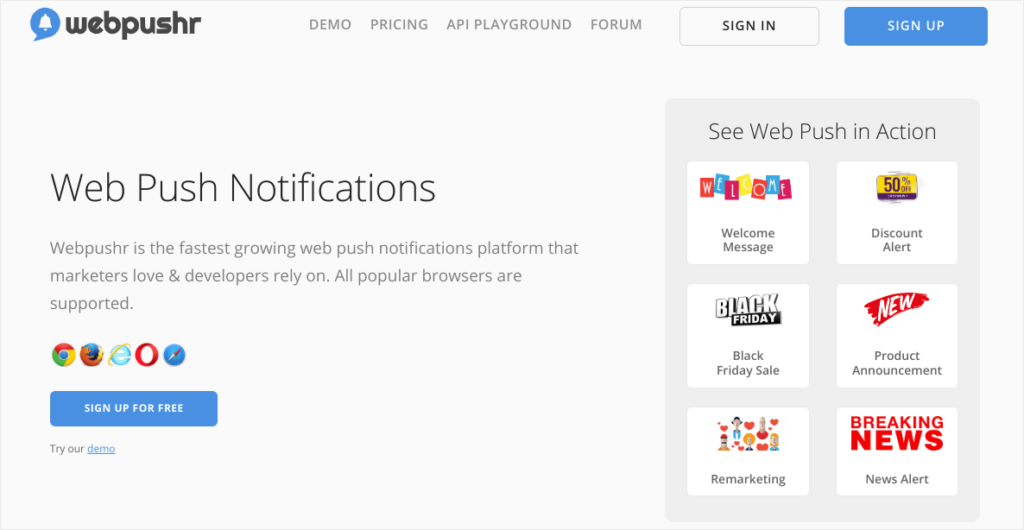 Webpushr supports Chrome, Firefox, Explorer, Safari, and Opera browser notifications and offers a solid free plan.
The free plan works up to 10,000 subscribers and includes many of its best tools which is a bonus. It's also got good integrations with software like Wix, Squarespace, WooCommerce, Zapier, and more.
One thing that does seem to hold Webpushr back though is its support, which has been questioned in a lot of reviews.
Webpushr Pros
Easy-to-use templates
Good integrations
Solid analytics
Webpushr Cons
Not known for good support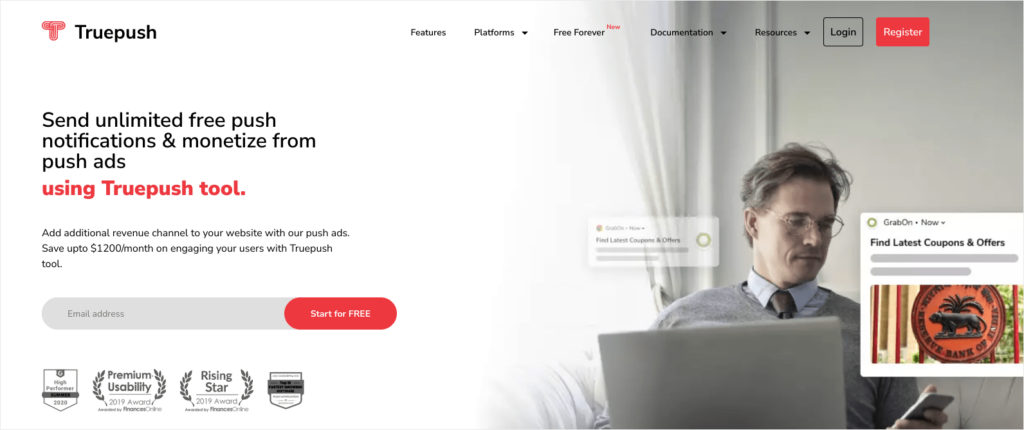 Truepush brands itself as a free push notification platform and to some extent it is.
It's completely free up to 30,000 subscribers, and then after that, they offer you an interesting deal. If you sign up to send two targeted ads a day to your audience, then you can continue using Truepush for free with no limitations.
Of course, this isn't a good fit for the majority of websites, so they'll normally end up going onto one of the paid plans.
In terms of features, it's certainly one of the best push notification software, and its pricing structure does offer an interesting option.
Truepush Pros
Good monetization options
Simple user interface
Easy-to-use triggers
Truepush Cons
You've got to research the pricing structure and understand how it works
Note: While there are lots of other push notification tools including PushWoosh, SendPulse, and more, we think we've picked the best 11 software for WordPress.
What's the Best Push Notification Software?
The best push notification software for your WordPress website is PushEngage.
When we look at the powerful features it offers and combine them with the high-value pricing plans, it's hard to beat. Not only is it incredibly easy to set up, but it's also highly customizable, and has some excellent growth tools.
This allows you to unlock the hidden ROI push notifications offer and hit the marketing holy grail – reaching your target audience with the right message at the right time.
Want more ideas on how to grow your online business?
Check out these amazing resources:
Now get those push notifications set up!