Dropshipping vs Affiliate Marketing: Which to Choose?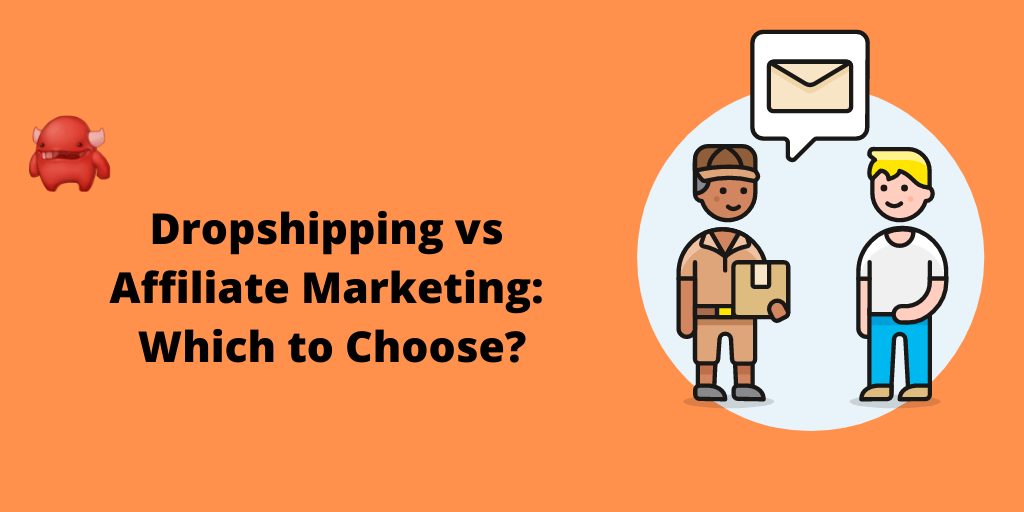 If you're looking for new revenue opportunities, then you might be weighing up dropshipping vs affiliate marketing.
They're similar concepts, but they have unique pros and cons, so you need to choose the right business model for your needs.
Let's take a look at dropshipping vs affiliate marketing and find out which one you should choose.
Dropshipping vs Affiliate Marketing: What's the Difference?
The key difference between dropshipping and affiliate marketing is the point of sale.
In affiliate marketing, the affiliate sends traffic to the merchant who then processes the sale. In dropshipping, the dropshipper processes the sale and then forwards it to the merchant who ships the item.
It might seem like a small detail, but this means dropshipping is fundamentally different from affiliate marketing.
Let's take a look at each marketing strategy in more detail.
What is Dropshipping?
Dropshipping is a business model that's commonly used around the world. While it might not be as well-known as affiliate marketing, it still presents an excellent opportunity for entrepreneurs and manufacturers.
In dropshipping, the dropshipper is responsible for marketing and sales, and the manufacturer simply ships the product to the customer.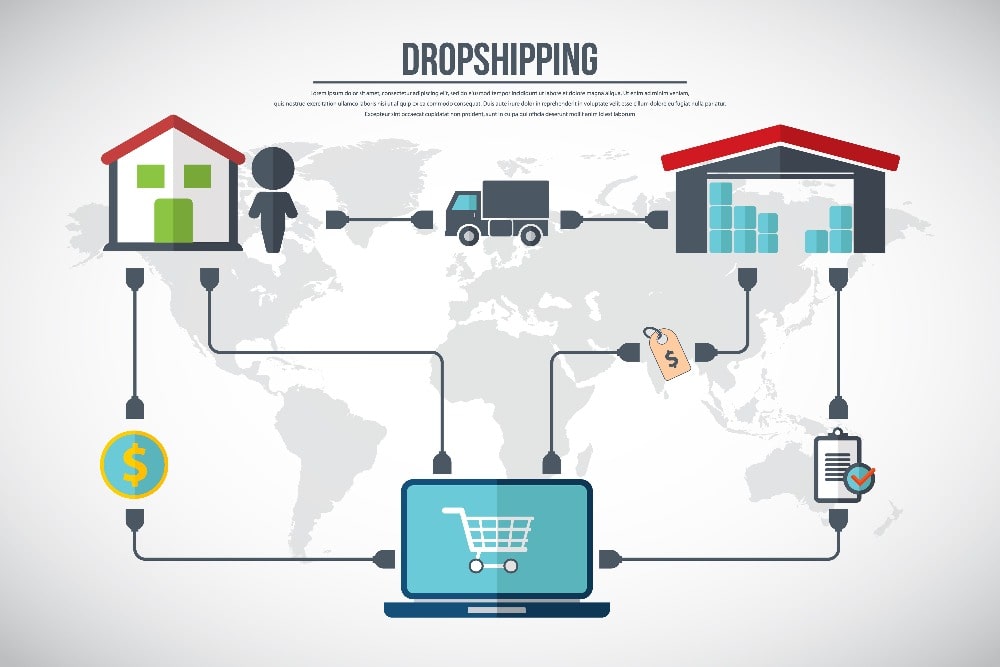 A dropshipper will use all the tools of the digital marketing trade (SEO, Facebook ads, Google ads, Youtube videos, content marketing, etc.) to grow their audience, and develop interest in their products.
Rather than working on a commission structure, dropshippers earn their money by setting their own prices for each product:
An agreement is reached between the dropshipper and manufacturer
The dropshipper sets their own prices for each product
Customers land on the dropshipper's website and make a purchase
The dropshipper receives all of the proceeds of the sale
The dropshipper then buys the product from the manufacturer at wholesale price
The manufacturer ships the product to the customer
The dropshipper earns the value of the sale, minus the price they paid to the manufacturer for the product
Let's say you sell hand-made wine racks.
As a dropshipper, I would build an amazing website with e-commerce capabilities, spruce up my landing page, and develop my brand to sell your wine racks.
Perhaps I might sell your best model for $200. When someone buys the wine rack on my site, I will then forward the order to you, along with $50 to buy the product at wholesale cost. You would then ship the wine rack to the customer, and just like that, I've made $150, and you've made $50.
The key thing here is that the dropshipper is responsible for sales conversions. Essentially, there's no difference between a dropshipping website and an e-commerce store, other than dropshippers don't need to hold stock.
What is Affiliate Marketing?
Let's look at the other side of the dropshipping vs affiliate marketing debate and dig deeper into an affiliate marketing program.
On the surface, an affiliate marketing business is very similar to a dropshipping store, however, the affiliate isn't responsible for making the sale. Instead, affiliates are simply concerned with marketing.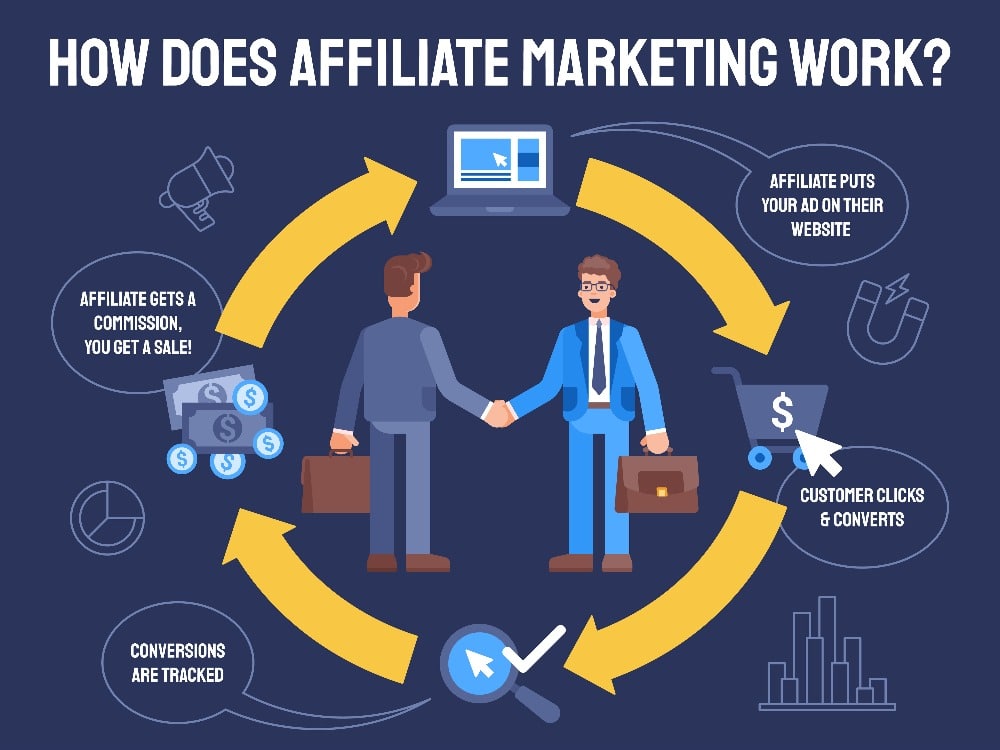 Their goal is to send engaged traffic to a merchant's website so that the merchant can then make the sale.
Merchants create an affiliate program using software like AffiliateWP
Affiliates sign up to an affiliate program
They put affiliate links in their content to send people to the merchant's website
When the affiliate sends someone to the merchant's website and they make a purchase, this is known as a referral
The merchant pays out a commission to the affiliate for each referral
Affiliates still need to find the right products and effectively market them to their audience, but they don't have to worry about product price and earning customer orders.
Let's go back to our wine rack example because now it's going to look a little different.
Rather than focusing on selling your wine racks, my job as an affiliate is to use my marketing skills to drive engaged traffic to your website so you can sell the wineracks yourself. This time, you're going to sell your wineracks directly to the customer for $200, and as a reward for helping you, I'm going to receive a 20% commission of $40.
As you can see, there's a big difference in the numbers, and the reason for this is that making sales is difficult – it's like the magic source in many ways.
For this reason, dropshipping might be seen as more of a passive income for manufacturers, and affiliate marketing more of a passive income for affiliates (this is a little bit of an oversimplification, but there is some truth in it).
The Pros and Cons of Dropshipping
As with anything (especially with two closely related ideas like dropshipping vs affiliate marketing), there are pros and cons for each.
Those pros and cons also vary depending on where you are in the chain (manufacturer, merchant, or entrepreneur). So, who does dropshipping work out for and what are some of the pros and cons?
Pros of Dropshipping
One of the biggest pros of starting a dropshipping business is that it's relatively easy to get started and there aren't a lot of start-up costs. It's an extremely efficient way to start an online store, as you don't have to worry about one of the most costly aspects of e-commerce: stock.
You never have to hold stock, there are lots of types of products to choose from, and you don't have to pay for them until you've received payment for the sale.
If you're looking to start a business without making a big investment, then this is perfect.
With a simple WordPress site and great plugins like SeedProd, OptinMonster, and Smash Balloon, you can create a high-performing store on a limited budget.
On the other side of the equation, the rewards can also be big!
You're in charge of pricing, so you can make as much or as little margin as you see fit. Of course, you've got to find the sweet spot between volume and profit margin, but at least this relies on your skill level.
To aid you in this, you've also got a lot of control over your brand.
Yes, you're selling someone else's products, but you have the capacity to make them feel like your own products (in some cases, you can even have them personalized to make them own-brand).
It's your marketing, your landing page, and your checkout. If you get it wrong, there's only you to blame, but when you get it right, you reap the benefits.
There may be a steep learning curve for beginners, but there are very few barriers to start-ups, and this makes dropshipping an attractive prospect.
Cons of Dropshipping
The immediate thing you have to be aware of with dropshipping (and the key issue in the dropshipping vs affiliate marketing debate), is the responsibility for the sale.
Making sales is difficult!
A lot of businesses attempt it and a lot of businesses fail.
If you're picturing dropshipping as a passive income, then you might find it's not what you expected. It's a constant process of optimizing your strategies, improving your marketing, and seeking small gains in your conversion rates.
The chances are, you'll be one of many people selling your products, and you've really got to invest in your brand.
Of course, if you're willing to put the time and effort in, and you've got the skill, then this isn't really a con, so what else is there?
The one con you can't get away from in dropshipping is that you're responsible for customer support (although many dropshippers outsource this). If the customer has a problem, then it's you they'll come to, and yet, you have no control over product quality or shipping time (two of the most common complaints).
Getting this aspect right can have a big impact on your brand's reputation, and unfortunately, it demands resources. For people who are solely interested in marketing and sales, this is an unfortunate drawback of dropshipping.
Pros and Cons of Affiliate Marketing
Many of the pros of affiliate marketing are similar to those of dropshipping, but the cons are slightly different.
Pros of Affiliate Marketing
Starting an affiliate marketing business might be even easier than dropshipping. Again, you don't need to invest in stock or warehousing, but this time, you don't even need an e-commerce store.
You can start affiliate marketing using your social media profiles, a YouTube channel, or a marketing website.
Essentially, if you can build an audience, then you've got a good opportunity to monetize what you're doing through affiliate marketing. It's one of the most low-risk business models out there, and it's something you can get started with immediately.
It's also an extremely attractive proposition for existing e-commerce stores because again, it's very low risk.
Your only investment is in affiliate marketing software like AffiliateWP, which shouldn't cost you more than $300 a year. For that, you can mobilize an army of affiliates and influencers to promote your products and expand your reach.
You don't pay affiliate commissions until the sale has been approved, so there's a lot of upside without having to make any big investments.
Cons of Affiliate Marketing
The downsides of affiliate marketing are probably what makes it so attractive for merchants.
Affiliates don't have a great deal of control.
They're reliant on the merchant to maintain their brand image, make sales, and invest in their affiliate program. If they stop doing any of these things, then it's going to have a negative impact on an affiliate's income.
What makes up for this is the fact there are an endless number of affiliate networks and programs out there, but sometimes it does feel like there's a lack of consistency.
Don't think that affiliate programs begin and end with Amazon or Aliexpress; there's an affiliate program out there for everyone. While there are big marketplaces for dropshipping products, there tends not to be the variety of offers you see in affiliate marketing.
For merchants, it can be difficult to find the right affiliates, but as always, this is where the hard work and skill comes in. When you're using innovative affiliate software, this becomes that little bit easier.
Affiliate Marketing vs Dropshipping: Which is Better?
The answer to this question depends on who you are.
If you're a manufacturer, then you're naturally going to be drawn towards drophsipping because it offers the most bang for your buck. If you're a merchant, then affiliate marketing is probably the best option because it allows you to maintain control over your brand without cutting into your margins too much.
And for someone looking to set up an online business?
Here's the great thing: you don't have to commit either way.
It might well be easier to start out in affiliate marketing. It will allow you to grow your business while focusing on marketing and honing your skills, and if done well, you can earn a lot of money from this.
As you learn and grow your affiliate business, then you might look at adding e-commerce capabilities and looking for dropshipping products. If you're sending potential customers to someone else, then there's no reason why you can't make the dropshipping business model work yourself.
That doesn't mean you have to give up your affiliate marketing though. It's possible to combine the two, and many small businesses have had success with this.
An affiliate website gives you a great starting point, enabling you to learn about digital marketing, grow your own website, and ultimately, turn it into an e-commerce business.
Affiliate Marketing is an Easy Decision for Merchants
If you sell your own products, then setting up an affiliate marketing program is an easy decision. There are a whole host of pros and very few cons.
The thing that tends to hold people back is that they think it will be difficult to set up. However, if your website runs on WordPress, then you can start tracking referrals with AffiliateWP in just a few minutes.
When you're a store owner, you've got so many things to take care of, and sometimes marketing slips through the cracks. With an affiliate marketing program, that won't happen because you've got skilled marketers doing the work for you.
It's a small investment for a big upside, and it all starts with AffiliateWP.