How to Start an Online Store with WordPress in 2023 (Step-by-Step Guide)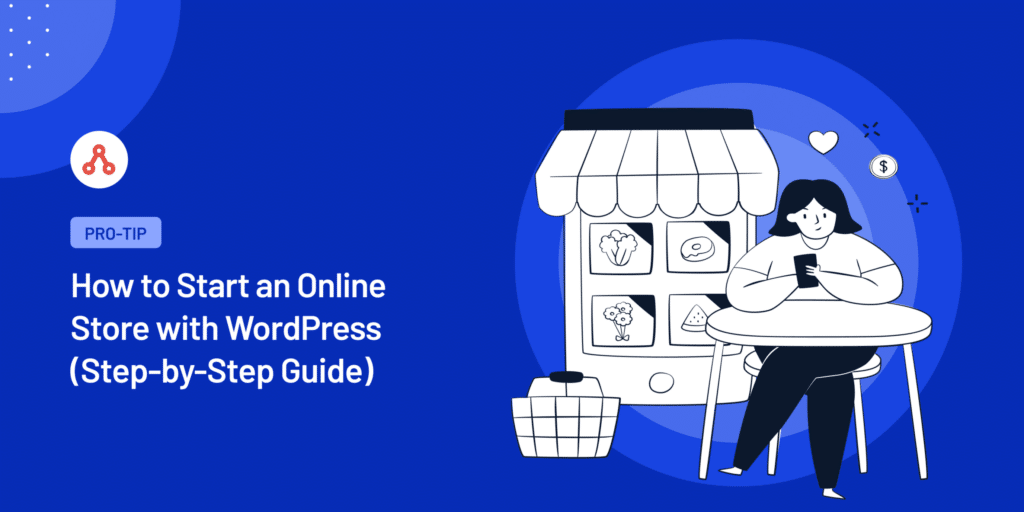 Want to start an online store with WordPress?
It might surprise you to find out that starting an online store with WordPress is not that hard (great news!). What is hard is turning your online store into a successful revenue earner.
It's estimated there are between 12 and 24 million e-commerce stores online. Sadly, only one million of them make more than $1,000 a month in sales. 
Selling is hard, but taking the right steps when you start an online store can give you the best chance of success. In this comprehensive guide, we have shared how you can build your online store with WordPress.
Let's get started!
What Are the Essentials for Starting an Online Store?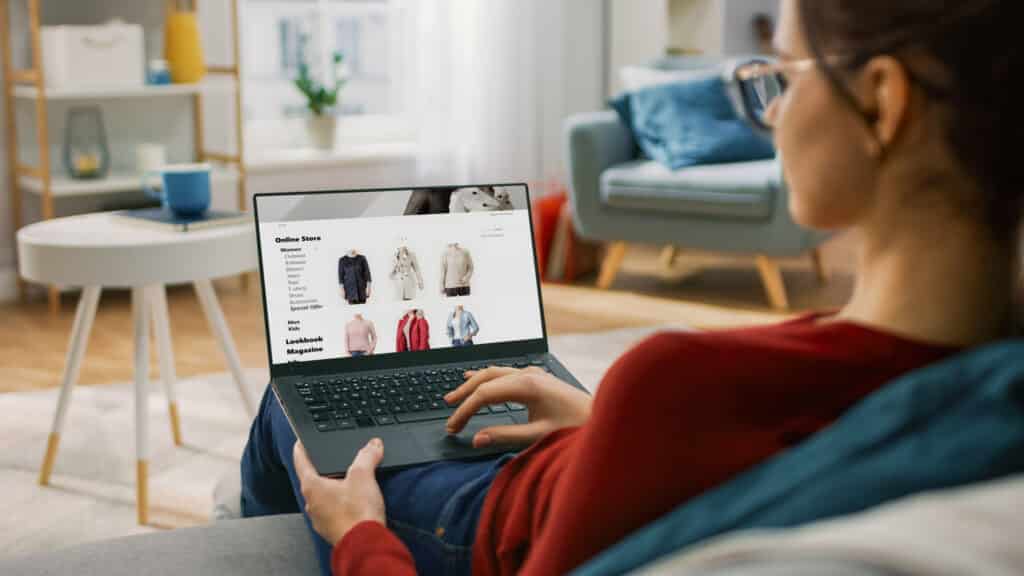 If you've never created or run a website before, then starting your online store probably feels very daunting.
You're possibly picturing a techy young entrepreneur sitting at a desk writing code and doing other things you've no hope of knowing short of taking a six-month coding boot camp. 
Well, we've got great news: you can start an online store without technical skills.
There are very few barriers to entry, and there are just a few things you will need to get started:
A domain
A hosting package
A website theme or platform (like WordPress)
These are slightly more technical elements, and we're not going to explain them in detail (check out WPBeginner's great guide if you want more information), but they're very easy to set up.
This should take you around 45 minutes to do, and then your website is ready to reach customers worldwide. 
Before you go live, you've got a list of pressing tasks you need to consider. 
Steps to Start a Successful Online Store
If you're going to go to the effort of starting an online store, then you need a plan.
While you can start an online store on a very low budget, you still take a financial risk. Even the best products struggle to sell themselves, and you'll need a detailed business plan to lead you to success. 
Step 1: Identify Your Products
If you've reached the point of reading this article, then the chances are you might have a good idea of what products you want to sell. It's fairly self-evident that if you want to start an online store, you need products, but there's a lot more choice out there than you might think. 
Don't limit your thinking to physical products. Online stores are there to sell services, digital products, and virtually anything you can think of.
If you're looking for inspiration for products to sell, then keep these questions in mind:
What's your area of expertise?
What are some trending niches?
What target audience can you reach?
Back your ideas up with strong market research, and you can make an informed decision about what products to sell.
Step 2: Remember there Are Different Ways to Sell
When we said there are few start-up costs to starting an online store, you might have been thinking, "Well, what about stock?" 
Stock can undoubtedly be a significant barrier to entry as an online seller; it's expensive to invest in and store large quantities of physical products. While that's a route lots of online stores will take, there are other options. 
A more straightforward way to get into online selling is through drop shipping. 
This is where you sell other people's products through your online store. You take care of all the selling, but another company stores and ships the products. You get a percentage of the total sale value, but you avoid the risk of having to invest in stock.
There are positives and negatives to each method, but it's worth considering when you're starting an online store.
Step 3: Consider Your Target Audience
If you walk into an Apple store, there will be a very different vibe than if you walk into an Old Navy store.
They're appealing to different target audiences (there will be some crossover), which reflects in every store aspect. 
It's the same thing with an online store.
You've got to have your target audience in mind when you start your store because those are the people that matter.
When you get into choosing themes, deciding on copy, and running promotions, you will have endless choices. You've got to decide on what you like, but what your target audience wants and needs has to play a big part. 
Step 4: Plan Your Branding
Branding can grow organically with your business, but it's essential to have a good idea of where you're starting from. Knowing your products in detail, and understanding your target audience is a great starting point. 
When starting an online store, you're entering a crowded space, so your branding will be essential. You want to stand out from the crowd, but at the same time, when you look at most successful online stores, they keep things very simple. 
Step 5: Choose an E-Commerce Platform
Building an online store is surprisingly easy because there are many great e-commerce platforms that have done much of the hard work for you. 
Whether it's Shopify, BigCommerce, Wix, WooCommerce (WordPress's top e-commerce plugin), or something else, they all make it simple to start an online store in no time. 
For a WordPress website, you've got many different plugins that add extra capabilities to your site. Depending on what you're selling, you might use different plugins:
WordPress powers over 42% of the internet and one of the reasons is the flexibility it gives website owners. You can shape your website exactly how you want it, which is ideal for starting an online store. 
Step 6: Flesh Out Your Key Pages
Your online store is a lot more than just product pages. Other important pages play just as big a role in earning you sales.
Some of the pages you need to consider are your home page, about us page, product page, category page, and contact page.
It's tempting to focus all your energy on your product pages (and these are important), but people are evaluating your entire website. Every page is a chance to connect with your target audience and convince them you're trustworthy and worth the money. 
Think carefully about the words you choose, the creatives you use, and the image you want to create for your business.
Step 7: Choose Your Theme
When reading step six, you might have thought, "But what about the layout?"
You can start looking at themes (basic layouts) before you start fleshing out your main pages, but it's sometimes easier to see how things fit together if you've got a good picture of what will be on each page.
WordPress offers a lot of free themes, which are like editable templates you can use. This makes it incredibly easy to start an online store in just a few clicks, but it does limit you slightly.
If you want more freedom and flexibility with your theme, look at SeedProd, a super easy drag-and-drop landing page builder for WordPress.
Step 8: Don't Forget About the Pre-Launch
As your new online store starts to come together, you might be tempted to click the publish button and jump into selling your products.
Nothing is stopping you from doing this, but you could potentially be missing out on a big opportunity. 
Launching a new store is an exciting event, and you want to capitalize on that excitement. One of the ways you can do this is by doing pre-launch marketing. Using SeedProd, you can create a great "coming soon" page and start marketing your online store before it's even online. 
Run promotions, create a buzz, and really make the most of your official launch. Not only can this ensure your online store has a great start to life, but it also takes the pressure off slightly, meaning you're not in such a rush when building your site.
Step 9: Factor in Your Marketing
One of the significant advantages of having an online store is that it allows you to take advantage of every marketing channel.
Whether sending out flyers, uploading a video to social media, or advertising on Google, it's a chance to drive people to a central place where you can continue the conversation. 
You can add new elements to your online store at any point, but it's worthwhile factoring in your marketing from the beginning. For instance, many online stores run a blog that helps bring people to the site and builds relationships with potential customers.
Another great option is affiliate marketing (here's a quick guide to how it works), which can even play a part in your pre-launch. 
With AffiliateWP, you can set up an affiliate marketing program in just a few minutes, enabling you to reach your target customers worldwide quickly. 
Step 10: You're Ready to Launch
You've taken care of everything you need to do to start an online store; now it's time to launch!
With some luck, your pre-launch will have stirred up a lot of excitement, and you'll have a line of people waiting outside your virtual door. However, the saying "Rome wasn't built in a day" isn't so well known for no reason. 
If you don't see immediate results, then don't worry.
One of the critical elements of online marketing is consistency. Keep doing the right things repeatedly, and success will start to come to you. 
Essential WordPress Plugins for Your Online Store
Starting an online store is exciting, but ensuring it runs smoothly can be challenging.
WordPress and WooCommerce have made creating an online shop more accessible than ever.
But to truly make your store shine and function at its best, you'll need the right tools.
Plugins are like little helpers for your online store. They can add new features, improve customer experience, and even boost sales.
Here's a list of top plugins that every online store must have. These are selected to ease your workflow, increase sales, and create a vibrant online presence:
If you want to leverage affiliate marketing to grow your online store, AffiliateWP is the tool for you.
It streamlines the process of onboarding affiliates and tracking referrals. With integrations like WooCommerce, MemberPress, and Easy Digital Downloads, it fits perfectly with various sales strategies.
The affiliate management and referral tracking system make your affiliate program effective and straightforward.
AffiliateWP is a go-to solution for expanding your online store's reach through affiliates.
Check out our guide on creating an affiliate program for more insights.
OptinMonster is a lead-generation tool vital for online stores aiming to convert visitors into loyal customers.
It's more than just creating stunning opt-in forms; this plugin allows customization based on user interest.
With its Exit-Intent technology, you can catch potential customers before they leave your site. A/B Testing and mobile campaigns further help you target your audience effectively.
If you want to understand and connect with your online store's visitors, OptinMonster is a must-have.
For an online store, customer interaction is key. WPForms simplifies this process by providing a beginner-friendly form builder.
You can create various forms, like feedback, orders, or support forms, without any coding knowledge. With a drag-and-drop builder and pre-built templates, it ensures that you're just a few clicks away from engaging with your customers.
WPForms takes the hassle out of communication, so you can focus on growing your online store.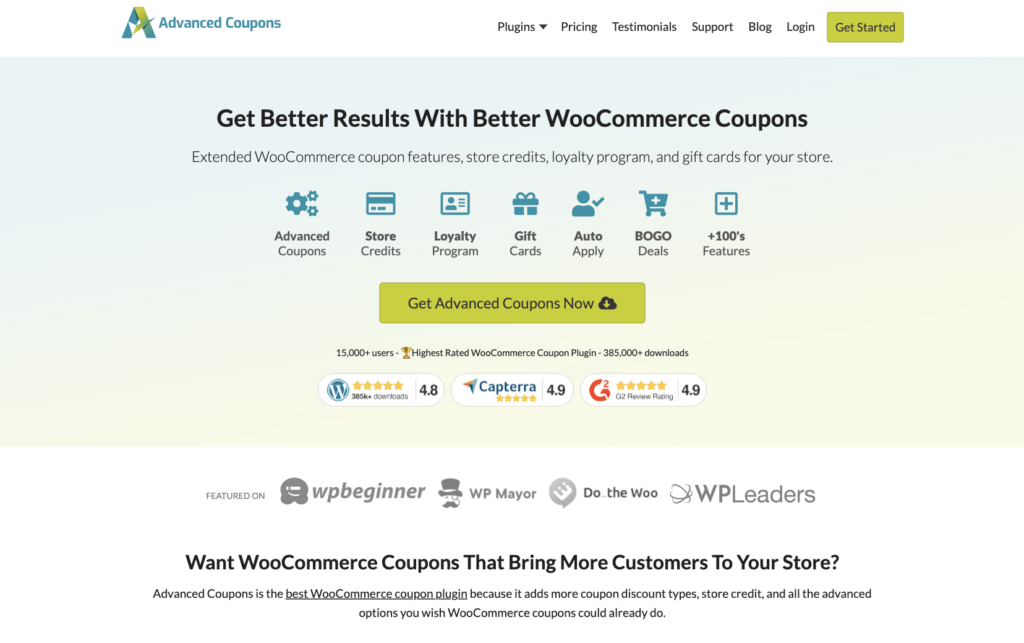 Coupons are a great way to attract customers to your online store, and Advanced Coupons for WooCommerce take this to the next level.
From simple discount coupons to complex "buy one get one" deals, you can create offers that entice customers.
Scheduling coupons ahead of time and having them auto-apply make your sales strategies more efficient. If you're looking to boost sales and customer engagement, Advanced Coupons is an excellent choice.
SeedProd helps you create landing pages effortlessly when building or revamping your online store. Its drag-and-drop builder is user-friendly, and the templates are mobile-responsive, ensuring a great look on any device.
From coming soon to product launch pages, SeedProd enables you to maintain a professional appearance while changing your store. It's essential for keeping your store's growth momentum even during updates.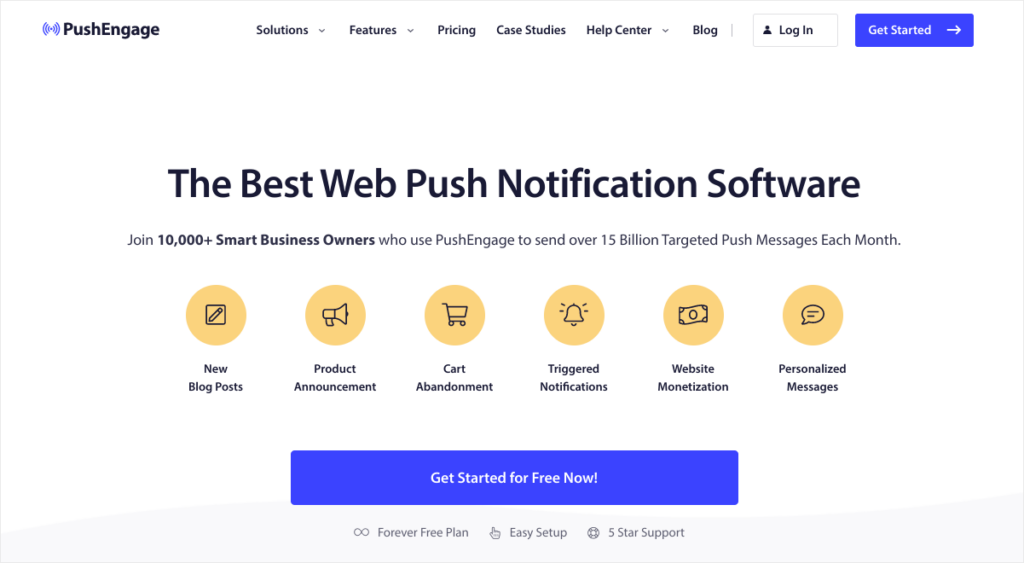 PushEngage enables you to re-engage with visitors through web push notifications. This can mean notifying customers about sales, cart abandonment reminders, or new product arrivals for an online store.
The segmentation and drip campaign features allow you to target specific customer groups, ensuring personalized communication.
With PushEngage, you keep your customers informed and connected, driving higher engagement for your online store.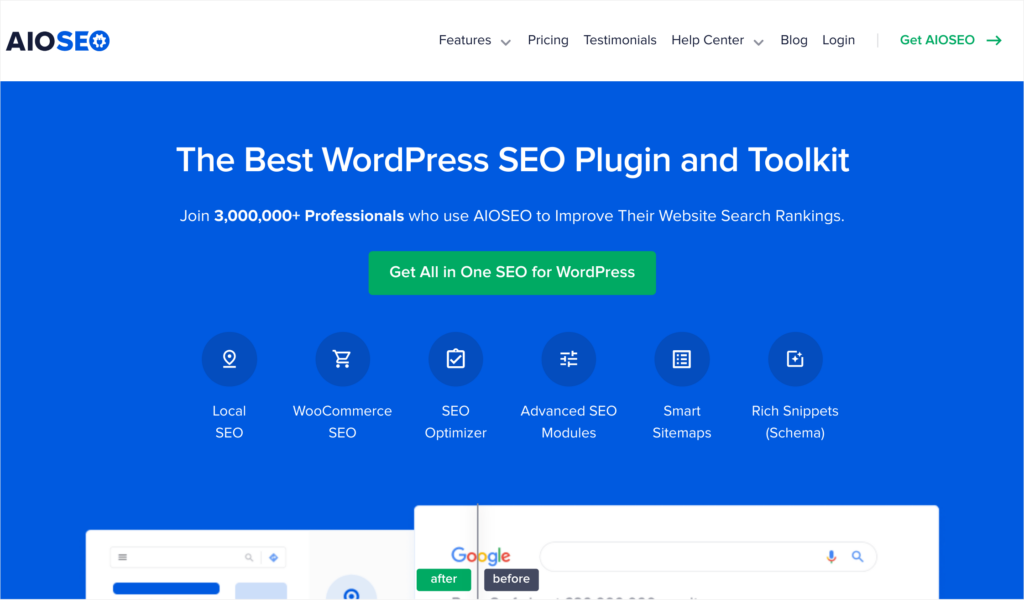 AIOSEO aids your online store's growth by optimizing it for search engines. From meta titles to instant sitemap creation, it equips you with the tools to rank higher on Google and other search engines.
The integration with various webmaster tools and social media platforms helps in further enhance your store's online presence.
For anyone serious about increasing website traffic and boosting sales, AIOSEO is an indispensable tool.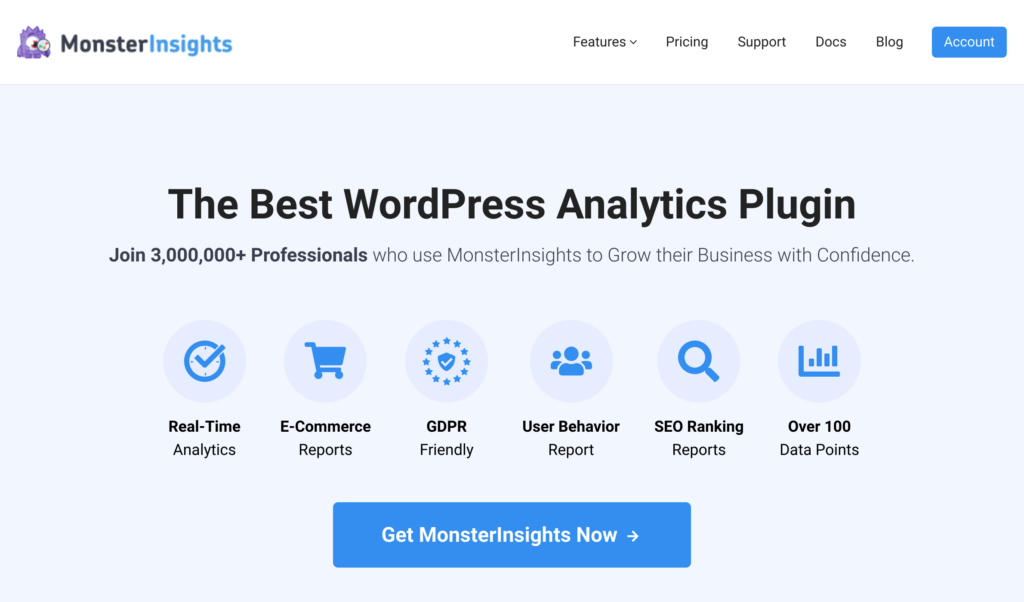 Understanding your online store's performance is vital, and MonsterInsights simplifies your Google Analytics.
It helps track visitor behavior, conversions, sales, and more directly within your WordPress dashboard. Whether you're analyzing customer behavior or optimizing the sales funnel,
MonsterInsights presents the data in an understandable manner. If insights and growth are your focus, this plugin is an essential addition.
FAQs: How to Start an Online Store
How Do I Start My Own Online Store?
To start your online store, you need a domain name and hosting. Once you have these setup, you can use a website builder or e-commerce platform to build an online store and sell your products. 
How Much Does It Cost to Start an Online Store?
Creating a primary online store doesn't require a significant investment. You only have to cover your domain name, hosting, and website builder expenses. These essentials can cost as low as a few dollars per month, with options available from providers like Bluehost.
Are Online Stores Still Profitable?
Online stores can certainly still be profitable. It's all about what you make of it. Setting up a store and making it look great is easy, but your marketing is critical to success.
How Can I Create an Online Store for Free?
If you have an existing website, creating an online store for free is possible by adding an e-commerce plugin. A great example of this is the WooCommerce plugin for WordPress. It's a free plugin that can turn your website into an online store. 
Starting an Online Store is Also About Marketing
When you start an online store, you might think it's about building a website and filling it with products. That might build a store, but it won't help you grow it. 
Instead, you need to start with a comprehensive plan that factors in your marketing.
At AffiliateWP, we always say we don't want people to build an affiliate marketing program; we want them to build an affiliate program that will grow sales. It's the same thing with an online store; we don't want you to build it for it to sit there; we want it to take off!
If you want that to happen, it's well worth building an irresistible affiliate marketing program with AffiliateWP.
Check out more helpful guides:
Find out how AffiliateWP can help you grow your online store!