6 Best Affiliate Software for Small Business 2023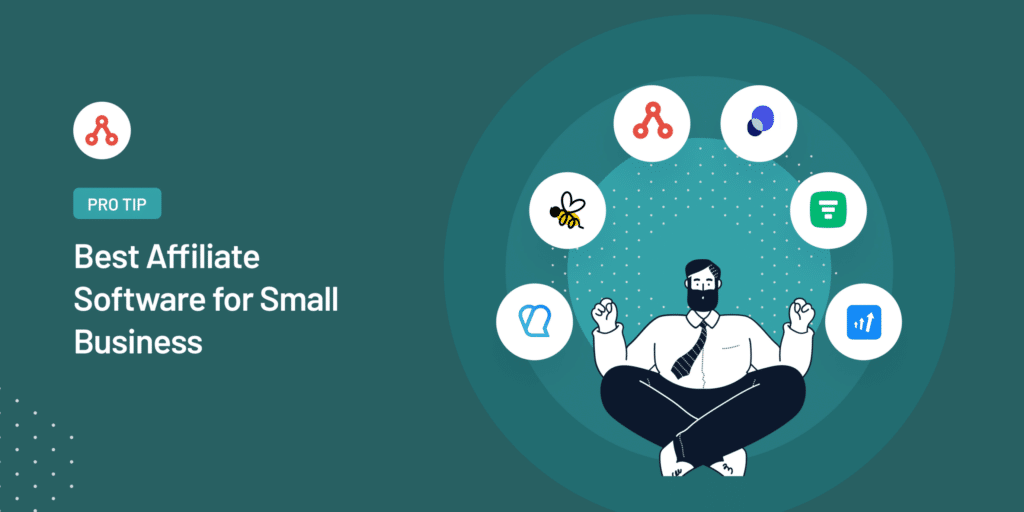 Looking for the best affiliate software for your business?
An affiliate program can be a fantastic strategy to scale 10x your small business revenue and spread the word about your products. Affiliate program software makes setting up and running an affiliate program simple.
In this post, we've carefully selected some of the best affiliate program software perfect for your WordPress website.
Let's dive in!
Why Use an Affiliate Software to Grow Your Small Business?
An affiliate program software can be a game-changer for your small business, and here's why.
First, it allows you to boost sales and grow revenue without a large marketing budget.
Affiliate marketing relies on partnerships, which means you only pay when a sale is made.
It's a cost-effective approach that can significantly improve your ROI.
Secondly, affiliate program software automates the tracking of your referrals, sales, and commissions.
This takes a significant burden off your shoulders, freeing you to focus on other business areas. It also tends to be more accurate, reducing the chances of disputes and increasing the trust of your affiliates.
Additionally, these tools provide valuable analytics. You can see who your top-performing affiliates are and which products are selling best and gain insights into your customers' behavior.
This data is vital for making informed decisions about your business strategy.
Let's look at some of the best affiliate program software you can use with your small business website.
Best Affiliate Software for Small Business
Running a small business can be quite a task, especially when you want to expand your reach, increase sales, and grow.
A proven way of achieving these goals is by setting up a successful affiliate program.
But with a plethora of affiliate software available on the market, making the right choice can feel overwhelming.
Don't worry; we've got you covered.
Here are some of the best affiliate software for WordPress that will help you grow your business:
If you're running a small business through a WordPress site, AffiliateWP can be your perfect companion.
Tailored specifically for WordPress, AffiliateWP weaves an ecosystem of efficient and straightforward affiliate marketing strategies for small businesses.
The ease of integration with popular eCommerce platforms, such as WooCommerce, and payment gateways, like PayPal and Stripe, grants your business a seamless affiliate experience.
This feature-rich affiliate software sets itself apart with its versatile tools for the business and its affiliates.
From the Terms of Use Generator, saving you hours of paperwork, to the ability to recruit unlimited affiliates and deliver custom URLs and landing pages, AffiliateWP has its sights set on amplifying your brand reach and revenue.
Its robust integration capabilities, sophisticated features, and dedicated support for small businesses make it an invaluable tool for managing your affiliate program.
Key Features:
Seamless WordPress Integration
Unlimited Affiliates
Custom Affiliate URLs
Affiliate Dashboard
Pricing: Visit the AffiliateWP for the most current pricing details.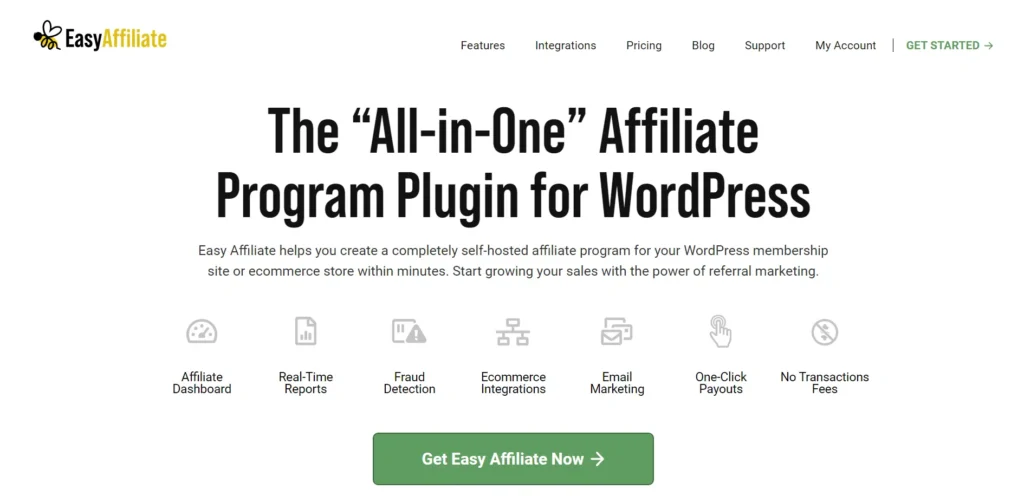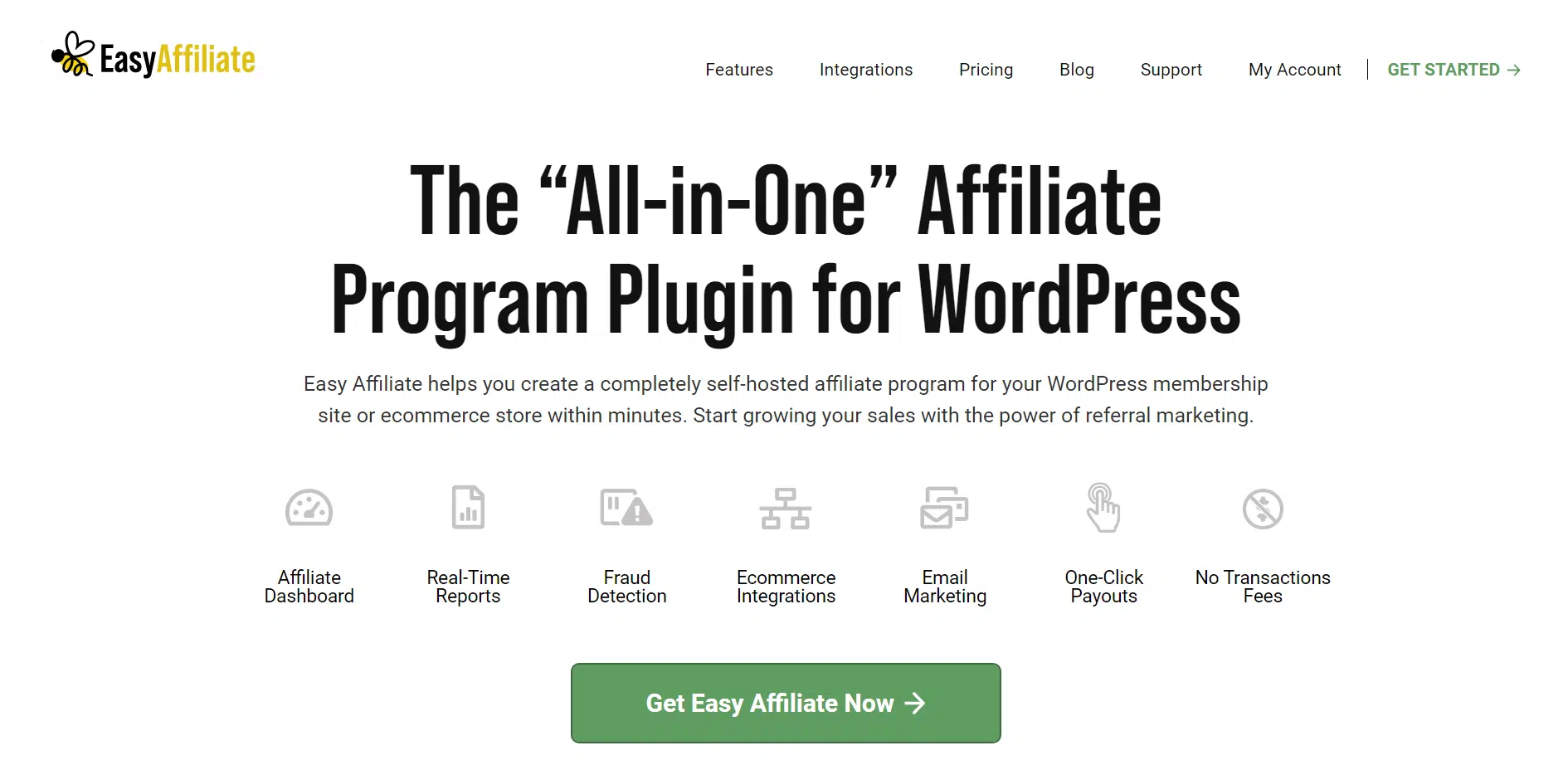 EasyAffiliate stands true to its name—making affiliate marketing easy for small businesses.
It has a highly informative Affiliate Dashboard keeps affiliates updated about their metrics, creative assets, payments, and more.
The software has a real-time reporting feature ensures you're always aware of your business's performance.
Moreover, its fraud detection system is your watch guard, alerting you about suspicious affiliate activities.
Key Features:
Personalized Affiliate Dashboard
Payment Integration
Affiliate Applications
Commission Tracking
Fraud Detection
Pricing:
Basic: From $199/ year
Plus: From $299/ year
Pro: From $399/ year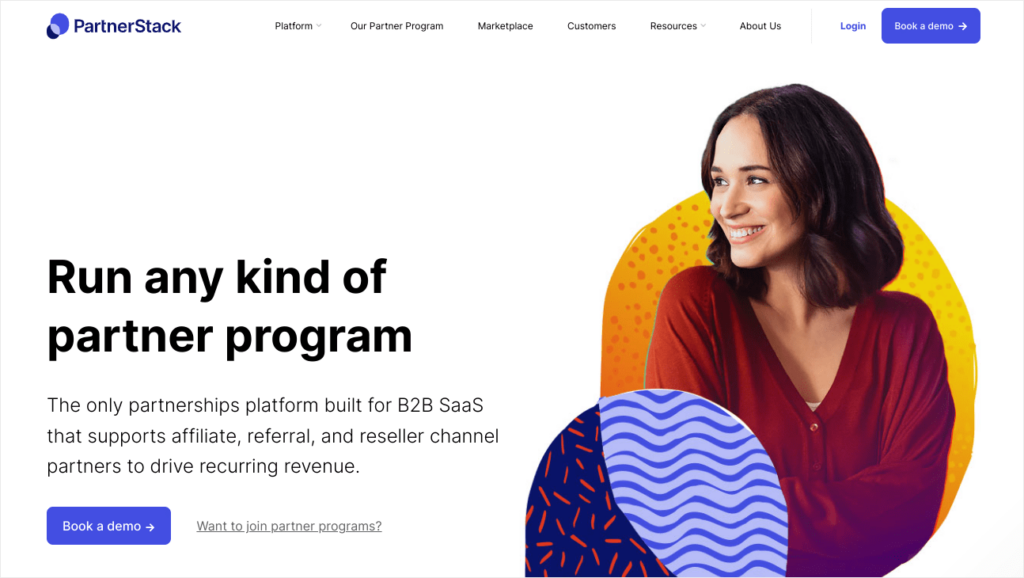 PartnerStack is a robust affiliate marketing software that's tailored for businesses to effectively connect with affiliates.
It's packed with features like automated partner management, partner payouts, and partner marketing tools—creating an environment that nurtures growth and efficient management of affiliate programs.
Additionally, the software offers great flexibility, allowing you to set various goals for your referral campaigns. You can focus on generating traffic, acquiring new leads, or increasing total sales.
Key Features:
Access to B2B-Focused Partners
Partner Analytics
Automated Partner Payments
Detailed Reporting and Stats
Pricing:
Lite: From $500/month
Pro: From $800/month
Trackdesk is a comprehensive solution for your affiliate marketing needs if you have a small business.
Trackdesk is more than just an affiliate tracking and management tool. It also serves as a communication hub, allowing you to send customized messages to your affiliates directly from the platform.
It integrates with popular WordPress plugins like Easy Digital Downloads, WPForms, and Gravity Forms, ensuring smooth operation.
Key Features:
Private Campaigns
Recurring Commissions
Access to Error Logs
Offer Setup Support
Redirect Tracking
Personal Onboarding
Pricing:
Basic: $127/ month
Business: $207/ month
Enterprise: Custom pricing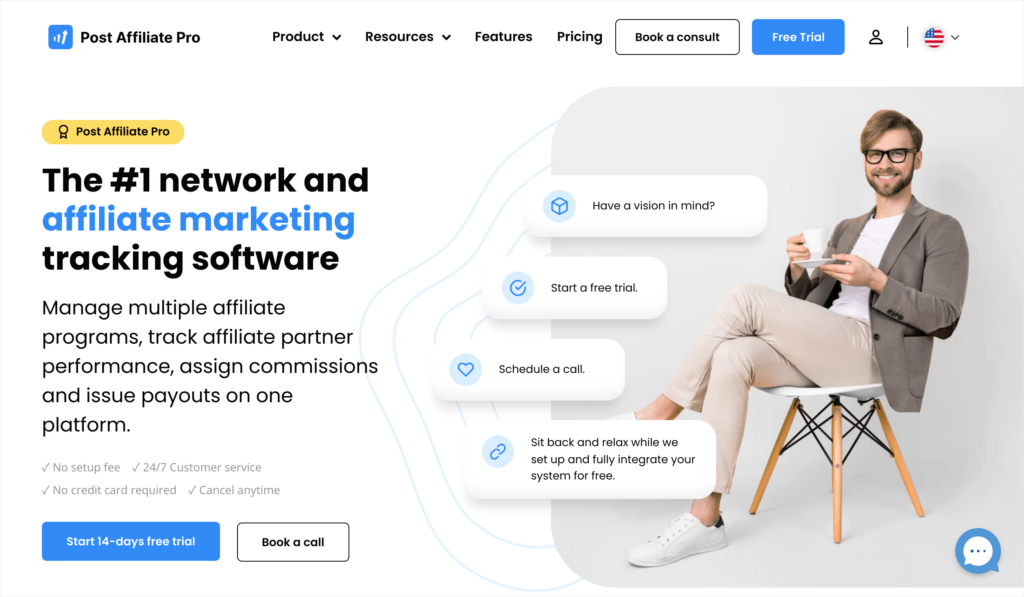 Post Affiliate Pro is an end-to-end solution for businesses to set up and manage their affiliate programs effectively.
Known for its rich integrations and robust features, it's an ideal tool for businesses aiming to improve their digital marketing game.
Key Features:
Comprehensive affiliate program management
Real-time reporting and analytics
Banner Rotator
Multilingual support
Private Campaigns
Pricing:
Pro: $129 /month billed annually or $139 monthly billing
Ultimate: $249 /month billed annually or $269 monthly billing
Network: $599 /month billed annually or $649 monthly billing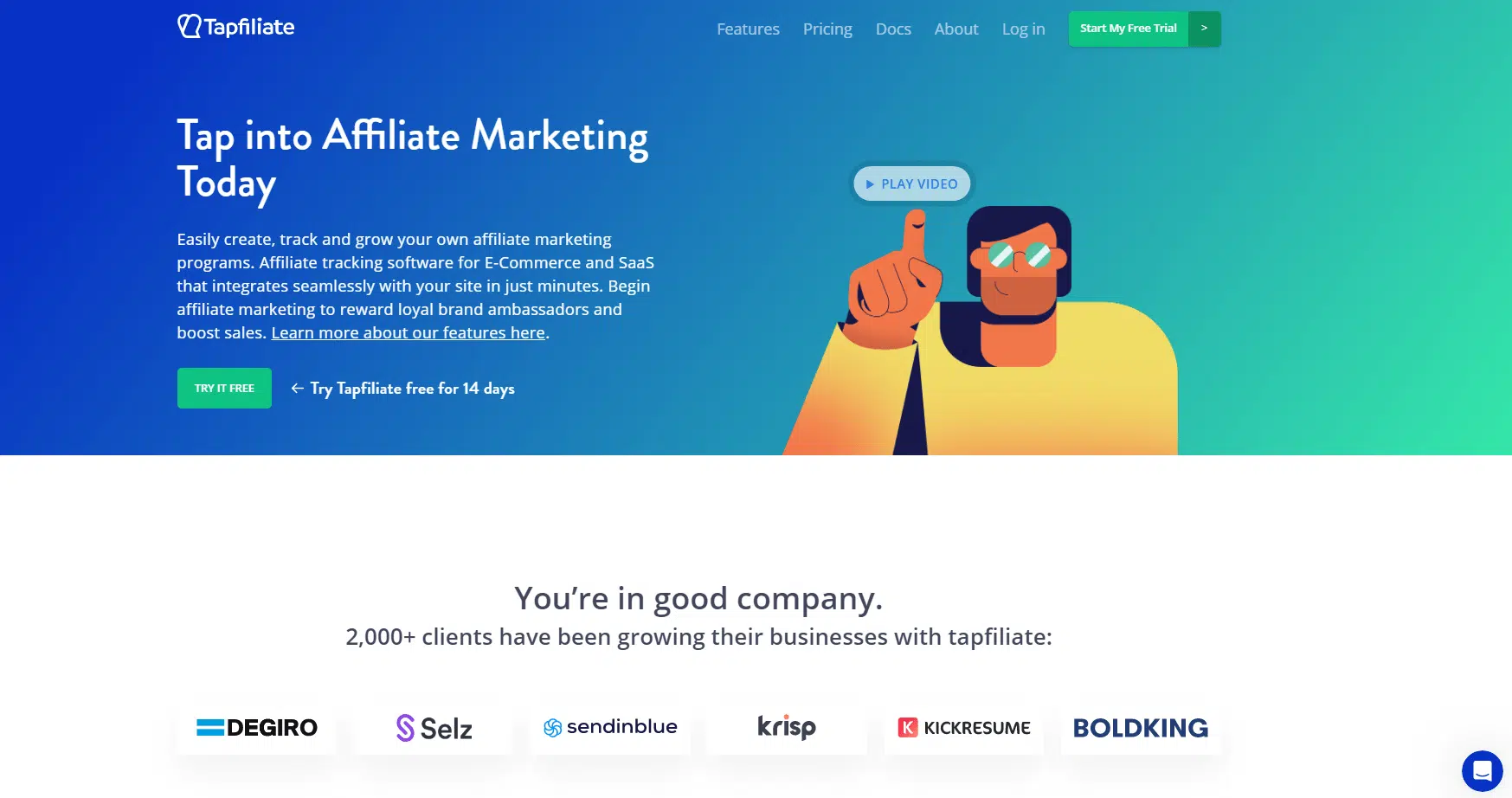 Tapfiliate serves businesses of all sizes, making it an excellent fit for small businesses.
Its compatibility with various e-commerce platforms and payment gateways ensures seamless integration. The user-friendly nature of Tapfiliate is another reason it's excellent for small businesses.
Navigating the software is intuitive and straightforward. The dashboard is clean, and all the features and tools are easy to access.
Tapfiliate stands out with its vast array of creative tools, including banners, text links, videos, and social posts—helping you custom-tailor your program and boost conversion rates.
Key Features:
Affiliate Recruitment
Personal Affiliate Links and Coupon Codes
Branded Dashboard
Custom Sign-up Fields
Variety of Publisher Types
Pricing:
Essential: From $89/ month
Pro: From $149/ month
Enterprise: Custom pricing
Which is The Best Affiliate Program Software for Small Business
Looking for the best affiliate software for your small business? After much research, we found that AffiliateWP is the best pick.
What makes AffiliateWP so good?
It's simple to use and works straight from your WordPress website. You can track where your sales are coming from and manage your entire affiliate program right from your dashboard.
The setup wizard is easy to follow, so you'll have your affiliate program up and running quickly.
With AffiliateWP, there's no limit to the number of affiliates you can have or the amount of money they can earn.
And it's not just about numbers. AffiliateWP also cares about your brand. With their white-label affiliate dashboard, your affiliates will feel like they're part of your team.
Everything about AffiliateWP is designed to be simple and valuable. From accepting new affiliates to customizing registration forms and viewing reports, it's all easy with AffiliateWP.
AffiliateWP works well with other platforms, as it supports third-party integrations.
Whether using WooCommerce, PayPal, Stripe, or WPForms, you can easily connect them with AffiliateWP.
In short, if you're a small business planning to start an affiliate program, AffiliateWP is the best software for you.
But don't just take our word for it. Try it out for yourself.
Ready to Launch Your Affiliate Program
You've done the research and looked at the best affiliate software options.
Now, it's time to take action and start your affiliate program. With AffiliateWP, you can create an effective affiliate program to increase sales and enhance your online presence.
But your learning doesn't stop here. Make sure to check out these resources to help you manage your affiliate program:
It's time to take your business to the next level.