Affiliate coupon marketing should be an important part of your affiliate program.
If it's not, then it's time to change that with these five simple steps.
Here's how you can quickly set up affiliate coupon marketing.
What is Affiliate Coupon Marketing?
When we talk about affiliate marketing we generally think of link tracking, however, that's not the only way to keep track of your affiliate sales. Another popular marketing strategy is affiliate coupon marketing.
This allows you to create unique discount codes for your affiliates to share with their audience. When a customer completes a purchase using the affiliate coupon code, your affiliate software will then assign the referral to the correct affiliate.
Once you've approved the transaction, your affiliate will receive a commission on the sale. 
What are the Benefits of Affiliate Coupon Codes?
Affiliate coupon codes are a useful marketing tool because they give your affiliates another option.
People love a good discount, so much so that 90% of consumers use coupons.
That's a huge chunk of your audience, so if you're not making use of coupon codes, then you're missing out on lost revenue. If you are using coupon codes to effectively grow your sales, then the next question is, shouldn't you be using them in your affiliate marketing as well?
Affiliates need to be able to use all the digital marketing tools that are available, and coupon codes are an important one.
A discount is eye-catching, it's exciting, and it helps create a sense of exclusivity.
Luckily, affiliate coupon codes are also extremely easy to set up on your WordPress website, and we're going to show you exactly how to do it!
How to Set Up Your Affiliate Coupon Marketing
Let's break this down into 5 simple steps.
If you're creating a brand new affiliate marketing program, then you can realistically get your affiliate coupon codes set up in under 10 minutes. If you've got an existing AffiliateWP program, then skip to step 3, and you should be ready to start growing your business through affiliate coupon marketing in just a couple of minutes.
Step 1: Download and Install AffiliateWP
AffiliateWP offers three pricing options: Personal, Plus, and Professional.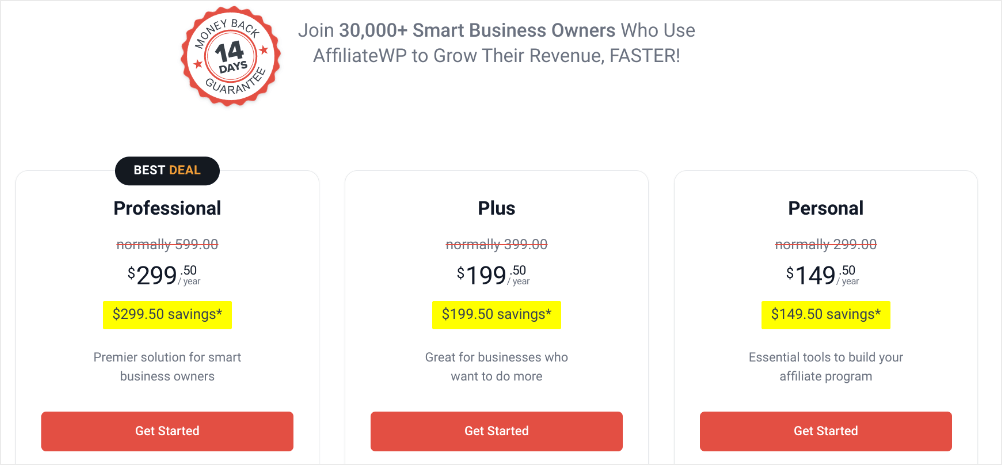 It's possible to create a thriving affiliate coupon marketing program on all three of these packages, but there are a few slight differences. The Personal plan can be used on 1 website, the Plus plan on 3 websites, and the Professional plan on 10 different websites.
With the Professional plan, you also get access to our pro-add-ons. These aren't necessary to create your affiliate coupon codes, but as we will show you in the strategies section, they offer some pretty cool features.
Once you've chosen the plan that works best for you and completed your purchase, you'll receive an email with some important details.
Here, you'll find the download link for the AffiliateWP.zip file and your license key.
Download the AffiliateWP.zip file and head over to your WordPress dashboard.
Hover over Plugins in the left-hand sidebar, and click Add New.
At the top of the page, you'll see an Upload Plugin box, click this and then select Choose File.

Choose the AffiliateWP.zip file you just downloaded and click Open, then Install Now.
Once the plugin has downloaded, hit Activate and the installation process will be complete.
Head back to your emails and copy and paste your license key.
Return to your WordPress dashboard and hover over Affiliates in the left-hand sidebar, then click Settings. At the top of the page, you'll see the License Key box, enter your license key here and click Activate.
Step 2: Integrate Your Store
The next step is to integrate your store with AffiliateWP.
Don't worry, this is very simple and only takes a few seconds. 
Return to your AffiliateWP settings by hovering over Affiliates in the left-hand sidebar and clicking Settings.
In the tabs, you'll see one titled Integrations. Click this tab, and you'll find a list of all the programs AffiliateWP integrates with. Simply check the check box next to your integration.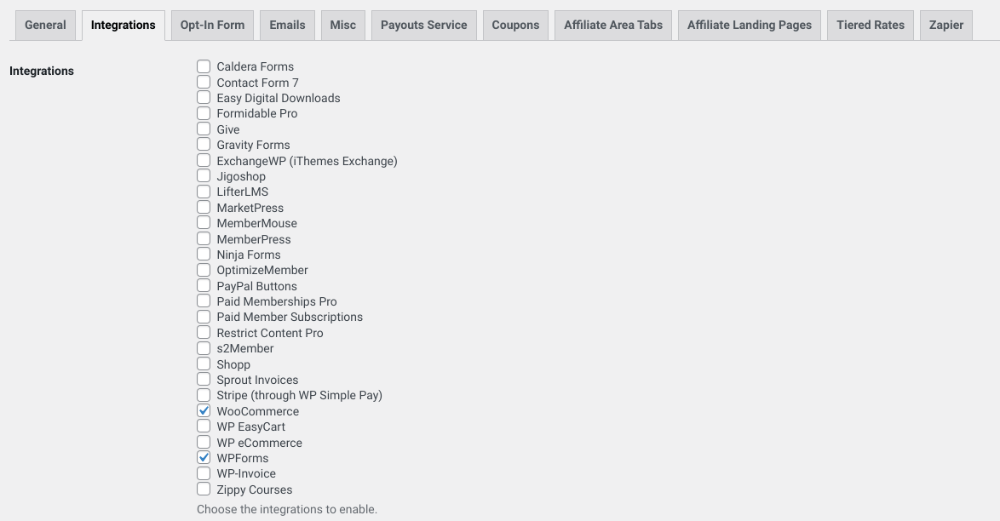 The most common option for affiliate coupon marketing is WooCommerce which we will use as our example, but this also works with other popular software like Easy Digital Downloads.
Once you've checked the box and saved your changes, then you're ready to start tracking referrals.
Step 3: Download the Show Affiliate Coupons Free-Add-On
Head over to our free-add-ons page and download Show Affiliate Coupons.
This will enable affiliate coupons to be shown in your affiliates' dashboards.
Follow the same process you used to install the AffiliateWP.zip file, by going to Plugins > Add New > Upload Plugin.
Step 4: Create Your First Coupon
The next step is to create your coupon code in WooCommerce, or the software you run your store on (check out our documentation for help on this).
In your WordPress dashboard, hover over Marketing, and select Coupons.
Click the Add New Coupon tab in the top left corner, and enter the code you would like to use.

Decide on the type of discount you'd like to offer, enter the discount value, and choose whether you want it to have an expiry date.
Step 5: Assign the Coupon Code to Your Affiliate
When you're entering the coupon data in your coupon tab, you'll notice a box titled Affiliate Discount?

All you need to do is enter your affiliate's ID in this box and it will be assigned to your affiliate. It will now show in your affiliate's dashboard, ready for them to share with their audience.
When a customer makes a purchase using the coupon, it will be tracked just like an affiliate link, and show up in the Referrals tab of your AffiliateWP dashboard.
Strategies for Improving Your Affiliate Coupon Marketing
Unfortunately, it's not as easy as simply creating affiliate coupon codes and watching the sales come in. It might have been incredibly easy to set up your affiliate coupon marketing, but you want to make sure you get the most out of it.
Here are some strategies you can use to make sure you're getting maximum impact from your coupon marketing.
Affiliate Onboarding
Whether your affiliate is a beginner or a seasoned pro, you want to give them a good outline of your program's capabilities. In just a few simple emails, you can show your affiliates what features your program offers and how to use them.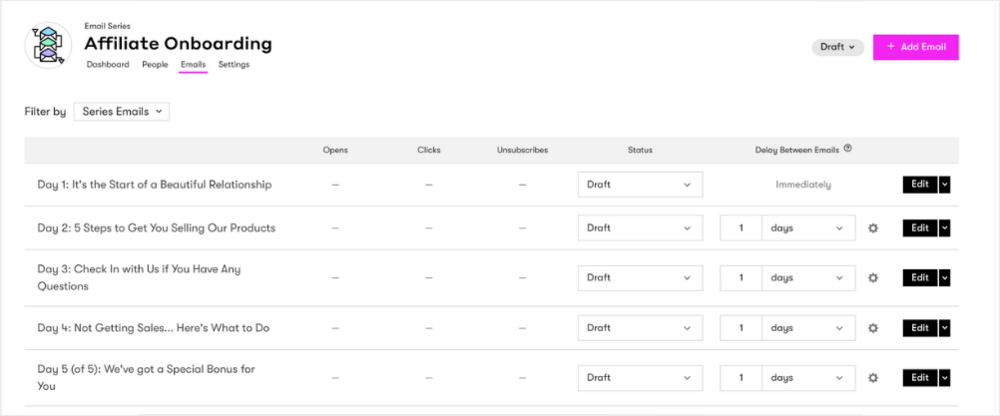 This is also a great opportunity to share your knowledge.
You know all about your target audience, your products, and how to make sales, so share this information and help cut your affiliates' learning curves.
Keep Up the Communication
Discounts and sales aren't static; they work best when they're timely and targeted.
For instance, holiday sales are incredibly important for retailers, and you want your affiliates to be able to benefit from this. The only way to achieve this is if you're staying in regular contact with your affiliates and working together to create discounts that appeal to your target audience.
Allow Affiliates to Personalize their Coupon Codes
One of the reasons discount codes are so useful is because they draw people's attention.
20% off your order is pretty exciting and our eyes tend to be drawn to this kind of text.
You want to be able to maximize this attention-grabbing effect, and a generic coupon code like VX20DIS doesn't help you do that. Instead, a far more effective option is to use Vanity Coupon Codes which allow your affiliates to choose their own discount codes. 
You're still in control of how much the discount is worth, but your affiliates can create something more personal that resonates with their audience.
For instance, I might go with something like FROMWILLIAMWITHLOVE!
This is a lot more engaging, and it also helps showcase an exclusive relationship between you and your affiliate that helps boost conversion rates.
Make Affiliate Coupon Marketing Easy
Affiliate coupon marketing should be simple and easy for both you and your affiliates.
With AffiliateWP, you can set up affiliate coupon marketing in just 5 steps, and you can start a brand new program from scratch in under 15 minutes. Throw in powerful features like Vanity Coupon Codes, and you've got the perfect platform to start growing your business with affiliate coupon marketing.