How to Use Affiliate Coupon Marketing (In 4 Easy Steps)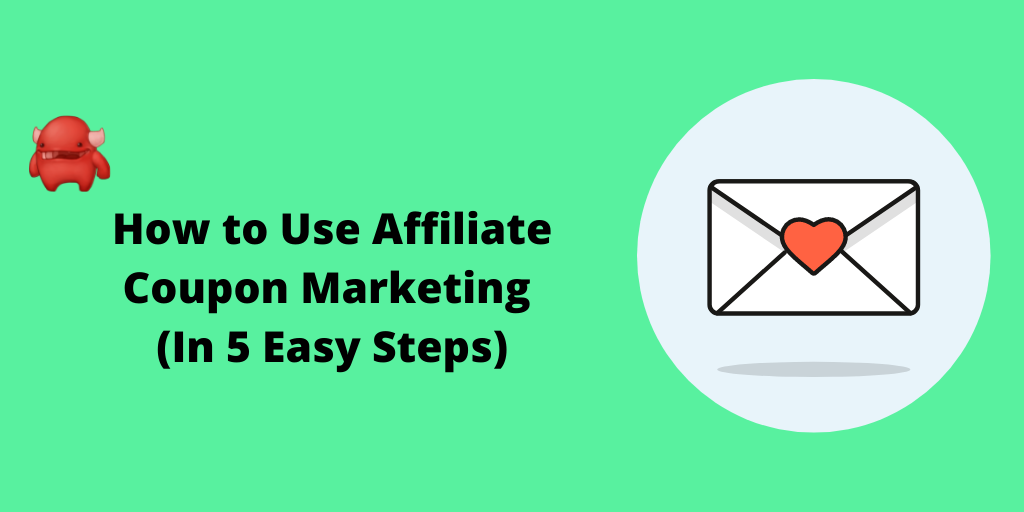 Want to add affiliate coupon marketing to your WordPress website?
We're going to show you exactly how to do it in just a few simple steps.
Here's how you can quickly set up affiliate coupon marketing.
What is Affiliate Coupon Marketing?
When we talk about affiliate marketing we generally think of link tracking, however, that's not the only way to keep track of your affiliate sales. Another popular marketing strategy is affiliate coupon marketing.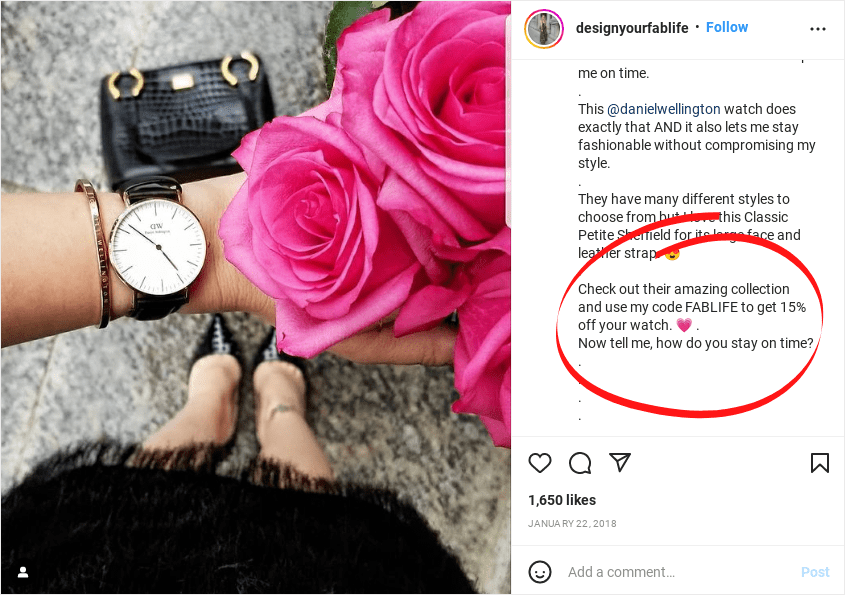 This allows you to create unique discount codes for your affiliates to share with their audience. When a customer completes a purchase using the affiliate coupon code, your affiliate software will then assign the referral to the correct affiliate.
Whenever a customer uses your affiliate's discount code at checkout, that affiliate receives attribution and a commission on the sale.
What are the Benefits of Affiliate Coupon Codes?
Affiliate coupon codes are a useful marketing tool because they give your affiliates another option.
Online shoppers love a good discount, so much so that 90% of consumers use coupons. In fact, it's one of the most important sales tactics for online retailers.
That's a huge chunk of your audience, so if you're not making use of coupon codes, then you're missing out on lost revenue. If you are using coupon codes to effectively grow your sales, then the next question is, shouldn't you be using them in your affiliate marketing as well?
Affiliates need to be able to use all the digital marketing tools that are available, and coupon codes are an important one.
A discount is eye-catching, it's exciting, and it helps create a sense of exclusivity.
Coupons aren't just for coupon sites and affiliate networks (Shareasale, Rakuten, etc) though. You can also incorporate them into your own affiliate program.
Luckily, affiliate coupon codes are extremely easy to set up on your WordPress website, and we're going to show you exactly how to do it!
How to Set Up Your Affiliate Coupon Marketing
Let's break this down into 4 simple steps.
Install AffiliateWP
Complete the setup wizard
Create your first coupon
Assign the coupon to your affiliate
If you're creating a brand new affiliate marketing program, then you can realistically get your affiliate coupon codes set up in under 10 minutes.
Already got an existing AffiliateWP program? Then skip to step 3, and you should be ready to start growing your business through coupon affiliate marketing in just a couple of minutes.
Step 1: Install AffiliateWP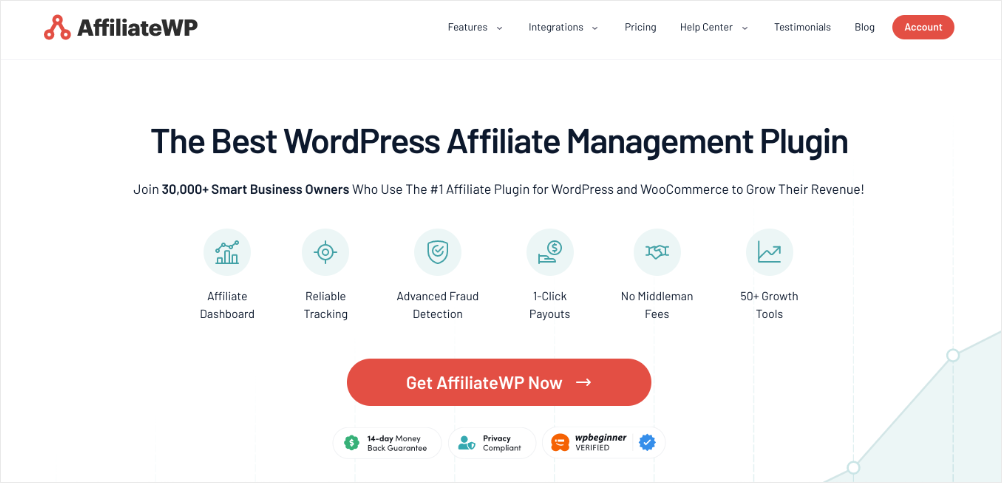 AffiliateWP is the best affiliate management plugin for WordPress.
It allows you to easily track referrals from both affiliate links and coupon codes and offers tons of great features.
With simple integrations for your favorite WordPress plugins (WooCommerce, Easy Digital Downloads, Restrict Content Pro, PayPal, Stripe, and many more) it allows you to set up an affiliate program in under 10 minutes.
Once set up, you'll be able to effortlessly track referrals, manage affiliates, and make affiliate payouts.
Head over to the pricing page and choose the plan that best fits your goals.
You can then install AffiliateWP from the Plugin tab in the left-hand sidebar of your WordPress dashboard. Just follow this simple guide if you have any problems!
Step 2: Complete the Setup Wizard
The next step is to complete the AffiliateWP setup wizard.
Don't worry, this is very simple and only takes a few minutes.
Return to your AffiliateWP settings by hovering over Affiliates in the left-hand sidebar and clicking Settings.
Scroll to the bottom of the page and click Launch Setup Wizard.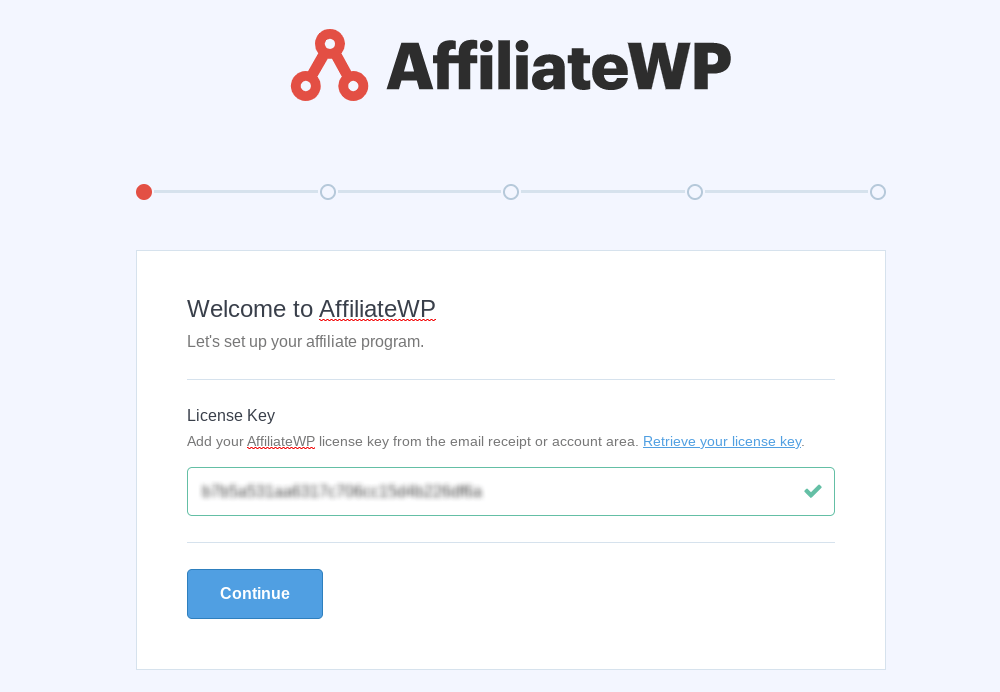 You can find your license key in your confirmation email or affiliate account. Just copy the code and paste it into the box before clicking Continue.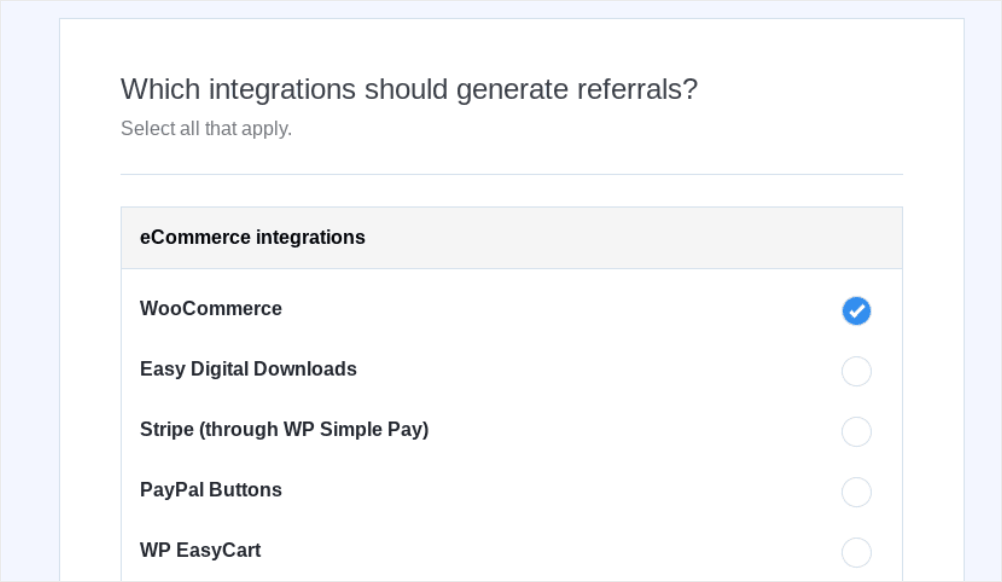 Next, choose your integration from the dropdown menu and click Continue. This will automatically sync AffiliateWP to your site and enable link tracking.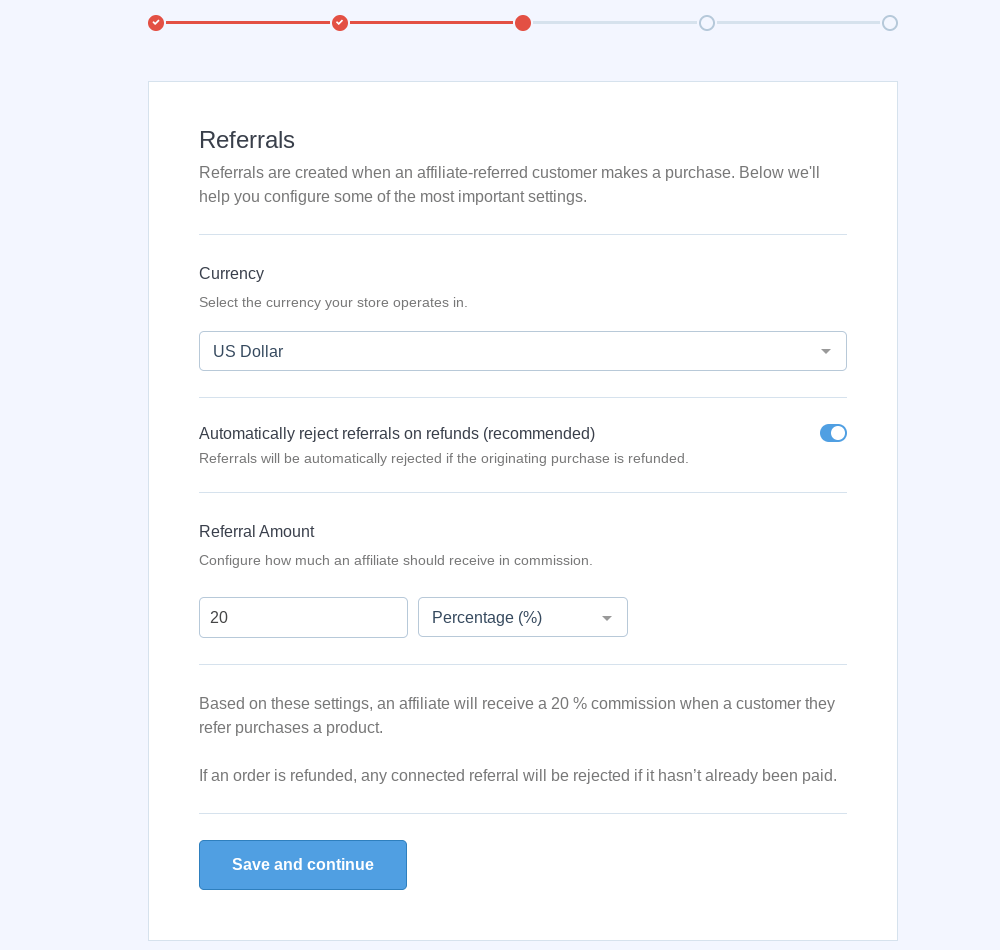 On the next page, you'll be asked to choose your currency, referral amount, and referral type (percentage or flat fee). You can always change these settings in the main AffiliateWP settings tab, so don't worry too much about this step.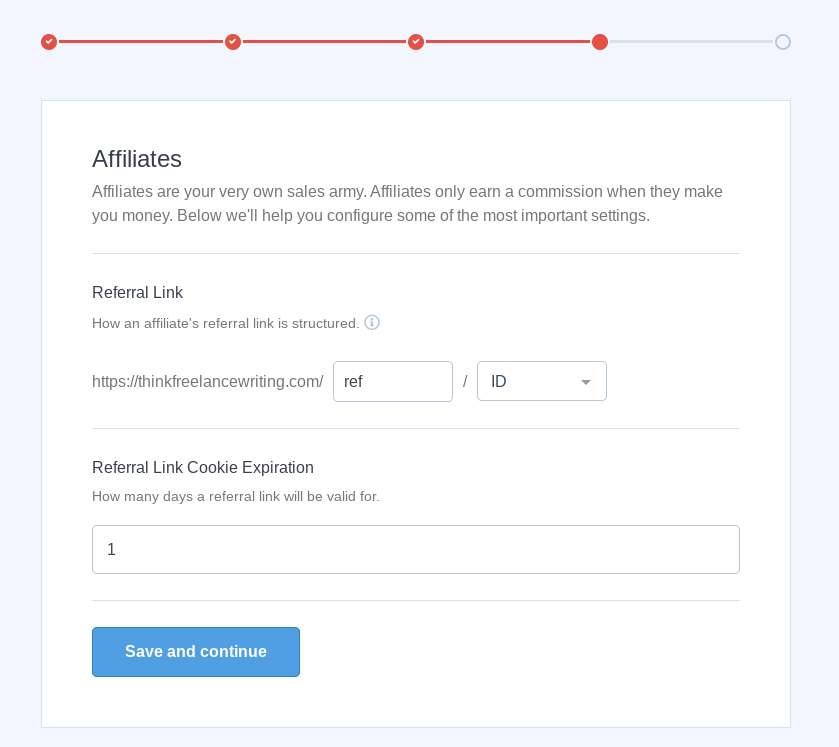 Lastly, you'll be asked to choose your referral link structure and cookie expiration. Again, these are easy to edit at a later date, so don't overthink this step.
Once you're happy, click Save and Continue and then Finish the Setup and Exit the Wizard.
Your coupon affiliate program is up and running and ready to go and you can build your affiliate partnerships!
Step 3: Create Your First Coupon
The next step is to create your coupon offer code in WooCommerce, or the software you run your e-commerce store on (check out our documentation for help on this).
In your WordPress dashboard, hover over Marketing, and select Coupons.
Click the Add New Coupon tab in the top left corner, and enter the code you would like to use.

Decide on the type of coupon you'd like to offer, enter the discount value, and choose whether you want it to have an expiry date.
Step 4: Assign the Coupon Code to Your Affiliate
When you're entering the coupon data in your coupon tab, you'll notice a box titled Affiliate Discount?

All you need to do is enter your affiliate's ID in this box and it will be assigned to your affiliate. It will now show in your affiliate's dashboard, ready for them to share with their audience.
When a customer makes a purchase using the coupon, it will be tracked just like an affiliate link, and show up in the Referrals tab of your AffiliateWP dashboard.
Bonus Step: Set Up Vanity Coupon Codes
One of the reasons discount codes are so useful is because they draw people's attention.
20% off your order is pretty exciting and our eyes tend to be drawn to this kind of text.
You want to be able to maximize this attention-grabbing effect, and a generic coupon code like VX20DIS doesn't help you do that. Instead, a far more effective option is to use Vanity Coupon Codes which allow your affiliates to choose their own promo codes. 
You're still in control of how much the discount is worth, but your affiliates can create something more personal that resonates with their audience.
To make use of this feature, you'll need an AffiliateWP Professional plan, and the Vanity Coupon Codes add-on which you can easily install following this guide.
Once installed, your affiliates, bloggers, and influencers can create eye-catching coupon codes to promote your products. For instance, I might go with something like FROMWILLIAMWITHLOVE!
This is a lot more engaging (it stands out a lot better on social media), and it also helps showcase an exclusive relationship between you and your affiliate that helps optimize conversion rates.
Strategies for Improving Your Affiliate Coupon Marketing
Unfortunately, it's not as easy as simply creating affiliate coupon codes and watching the sales come in. It might have been incredibly easy to set up your coupon affiliate marketing, but you want to make sure you get the most out of it. 
Here are some strategies you can use to make sure you're getting maximum impact from your coupon marketing.
Affiliate Onboarding
Whether your affiliate is a beginner or a seasoned pro, you want to give them a good outline of your program's capabilities. In just a few simple emails, you can show your affiliates what features your program offers and how to use them to attract new customers.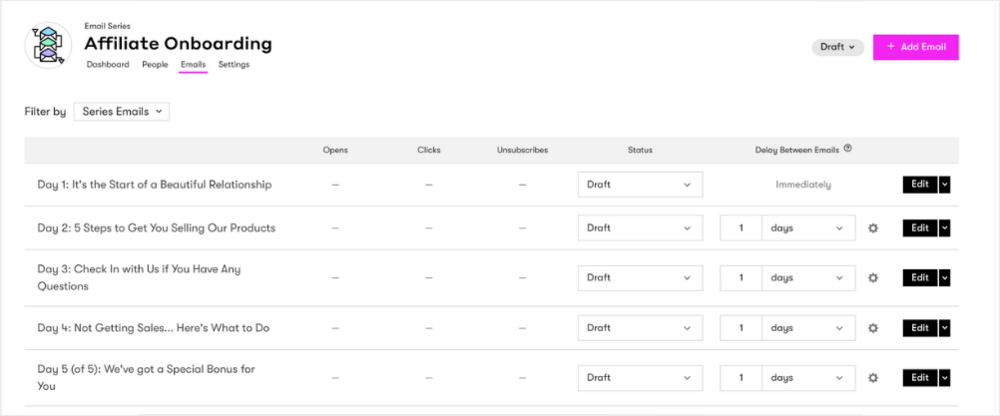 This is also a great opportunity to share your knowledge.
You know all about your target audience, your products, and how to make sales, so share this information and help cut your affiliates' learning curves.
Keep Up the Communication
Discounts and sales aren't static; they work best when they're timely and targeted.
For instance, holiday sales are incredibly important for retailers, and you want your affiliates to be able to benefit from this. The only way to achieve this is if you're staying in regular contact with your affiliate partners and working together to create discounts that appeal to your target audience.
Be Creative with Your Rewards
It's easy to get caught in a cycle of offering bigger and bigger affiliate commissions to attract top affiliates.
AffiliateWP gives you lots of tools to break out of this cycle though. For instance, by setting commissions on a per affiliate/per product basis, or using tiered commission rates you can maximize your incentives.
Think about other non-monetary ways you can reward affiliates as well!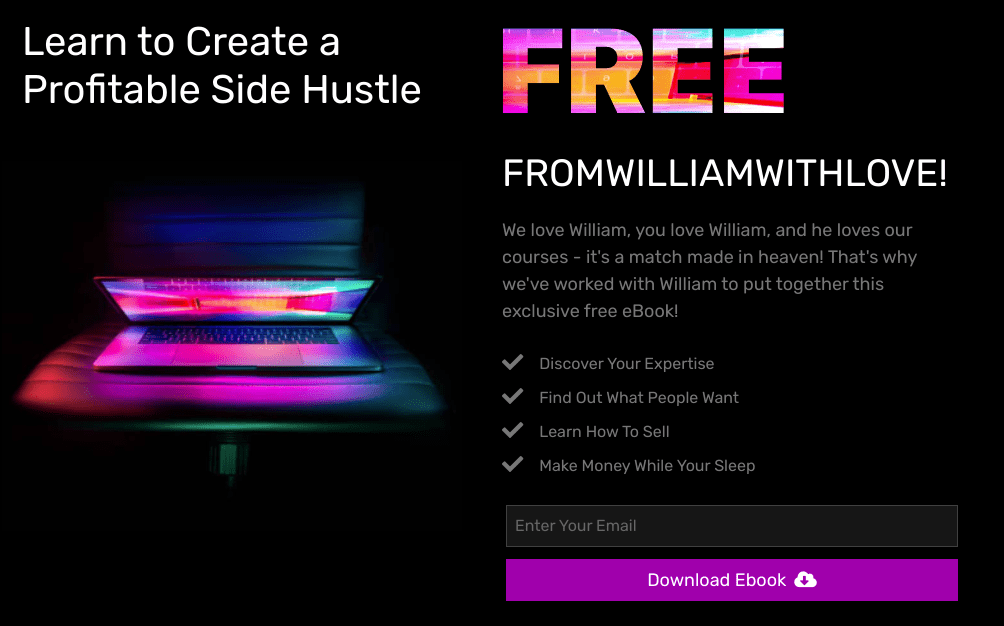 Options like creating a personalized affiliate landing page work well because they boost conversion rates, helping your affiliate to make more money.
Make Affiliate Coupon Marketing Easy
Affiliate coupon marketing should be simple and easy for both you and your affiliates.
With AffiliateWP, you can set up affiliate coupon marketing in just 4 steps, and you can start a brand new program from scratch in under 10 minutes. Throw in powerful features like Vanity Coupon Codes, and you've got the perfect platform to start growing your business with affiliate coupon marketing. 
Check out some more great resources to grow your affiliate program:
Now you've got the resources you need, it's time to set up your affiliate coupon marketing.