How to Find Affiliates on LinkedIn to Grow Your Business (Easy Ways)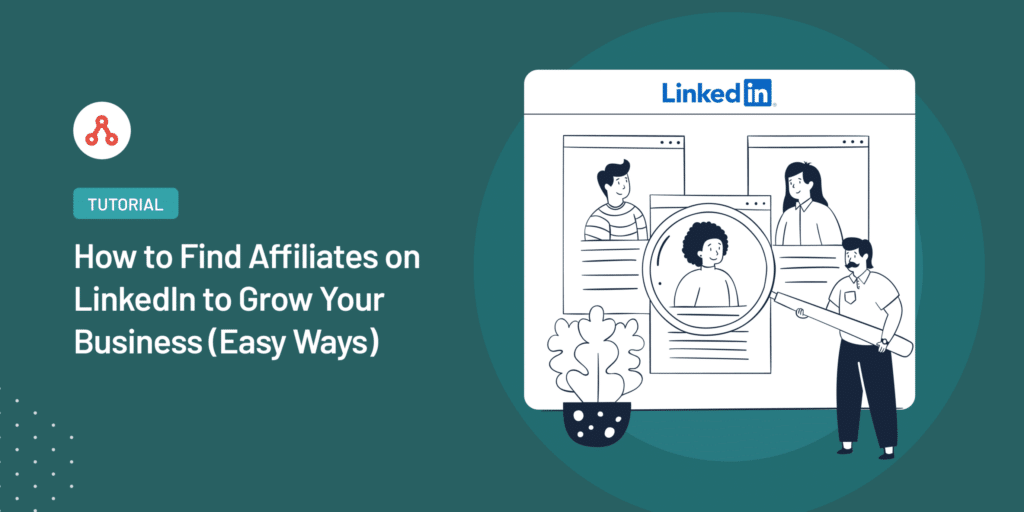 Growing a business can be an uphill battle. But it's not that hard if you know how to leverage affiliate marketing.
Affiliate marketing is an extremely effective way to increase your reach, generate leads, and boost revenue without doing all the work yourself. And with over 722 million users, LinkedIn is ripe with potential affiliates who can get the word out about your business to their networks.
But the key is finding the right affiliates on LinkedIn. With so many profiles on the platform, how do you connect with affiliates that will drive real value for your business?
In this post, we'll explore actionable tips and strategies for leveraging LinkedIn to find the best affiliates to help you grow your business.
Why Use LinkedIn to Find Affiliates for Your Affiliate Program
LinkedIn is a treasure trove for you if you want to boost your business revenue using affiliate marketing.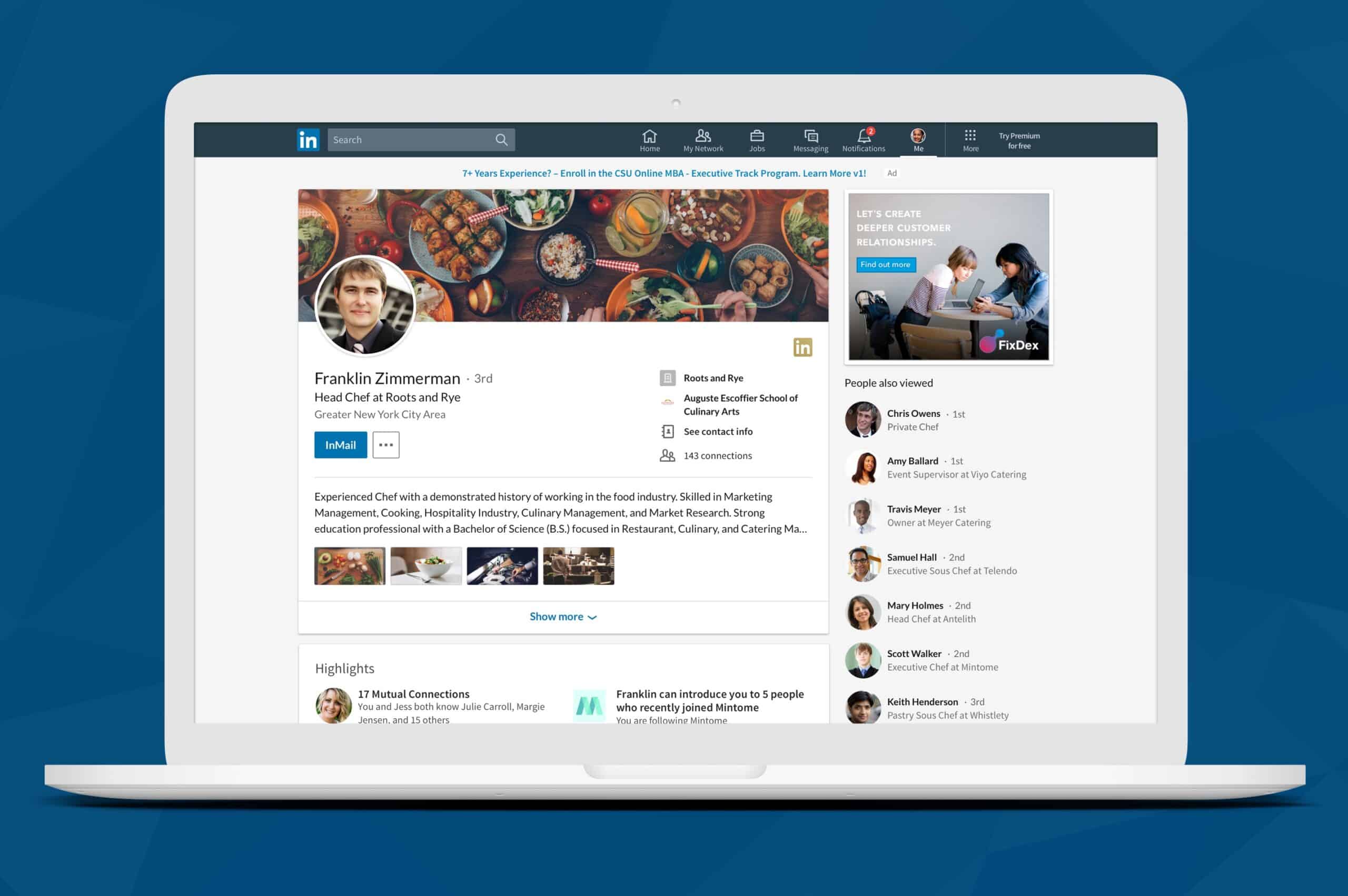 Why? Because it's more than just a platform for professionals to connect; it's a vast community with millions of users from various industries. Now, imagine tapping into this extensive network to promote your affiliate program.
When you use LinkedIn to find affiliates, you're accessing a pool of professionals who might have a genuine interest in your product or service and have the right audience to promote it.
Take a local organic skincare brand as an example. Using LinkedIn, they can search for beauty bloggers, skincare experts, or influencers within their city or region. These individuals already have a following that trusts their recommendations.
By partnering with them through an affiliate program, the brand can reach potential customers they might have missed.
And since these affiliates are from the same industry, the chances of their audience being interested in the product are considerably higher.
Moreover, LinkedIn's search tools are quite sophisticated. You can narrow down potential affiliates based on their field, location, connections, and skills or endorsements.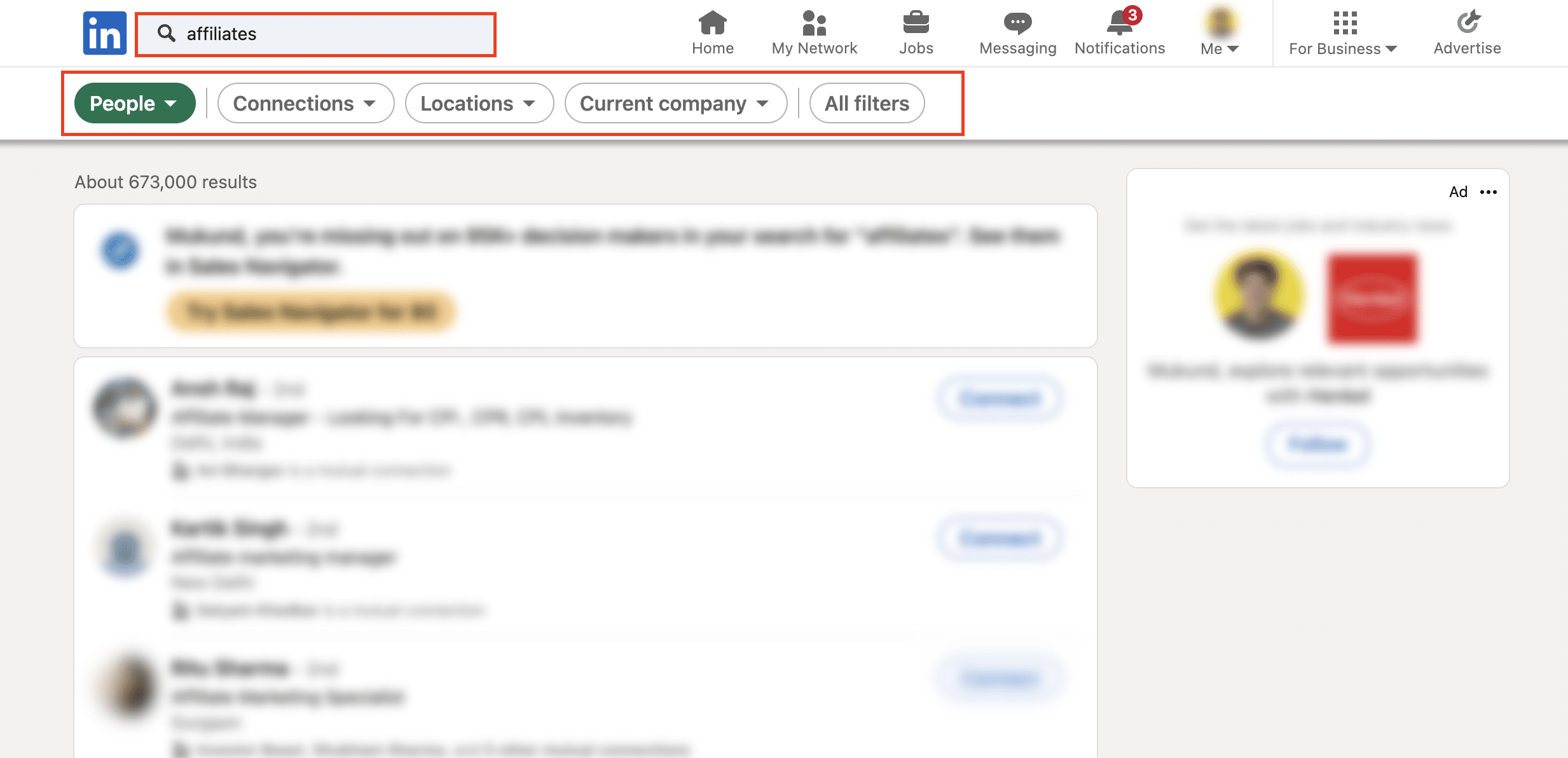 For instance, if you're selling a tech product, you can specifically search for tech bloggers or influencers who have a substantial following and a history of discussing similar products.
But the question is how to find the right affiliates for your business using LinkedIn. Let's jump right into how you can utilize LinkedIn immediately to discover the most effective affiliates to promote your products and increase sales.
5 Proven Ways to Find Affiliates on LinkedIn
Finding potential affiliates on LinkedIn is not as hard as it might look. If you take the proper steps, use the right LinkedIn features, and strategize a plan, you can easily discover numerous affiliates that can help you promote your products.
So, here are some proven and easy methods you can use from day one without any hassle:
1. Create a LinkedIn Business Page
A well-established LinkedIn business page is a cornerstone for your affiliate marketing efforts.
Being professional and making your business offer clear are benefits of a carefully curated LinkedIn page. Once you have a solid page set up, you can take full advantage of the advertising options available on LinkedIn, such as targeted ads, in-depth analytics, and compelling content.
What's the point? More visibility equals more potential customers and, more importantly for our discussion, more potential affiliates.
Here's a straightforward guide on setting up your LinkedIn business page, ensuring you get it right from the start:
Begin by navigating to your LinkedIn homepage. Once there, you'll notice a Work or For Business icon situated in the top right corner.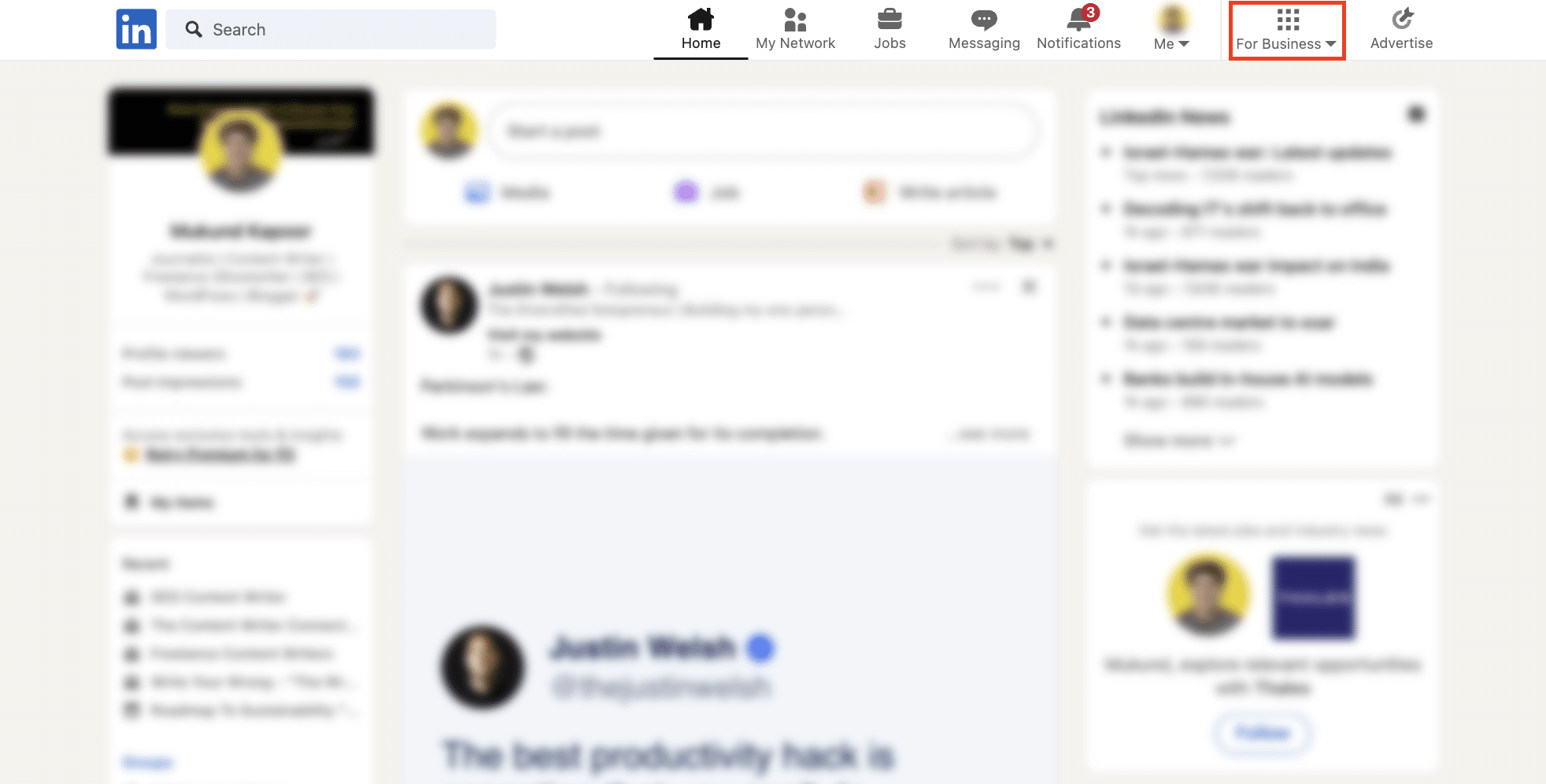 Click the Work icon, and a dropdown menu will appear, from which you should select the Create a Company Page option.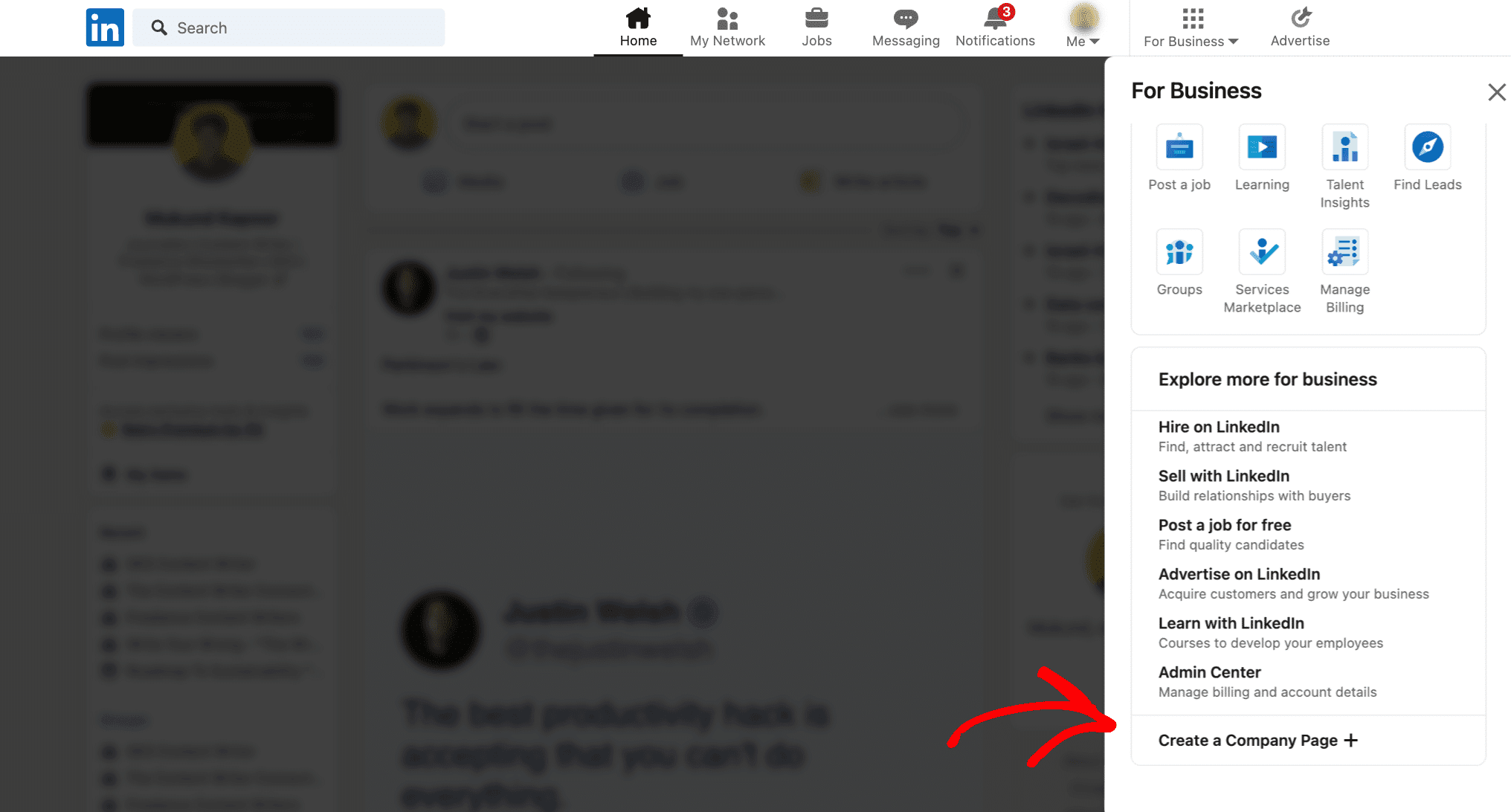 Depending on your business's size, you can choose between Small business or Medium to large business.

This classification ensures that LinkedIn provides you with tailored tools and features to best suit your enterprise.
The next steps involve detailing your business. Start by filling in the Page Identity section, providing foundational information about your company.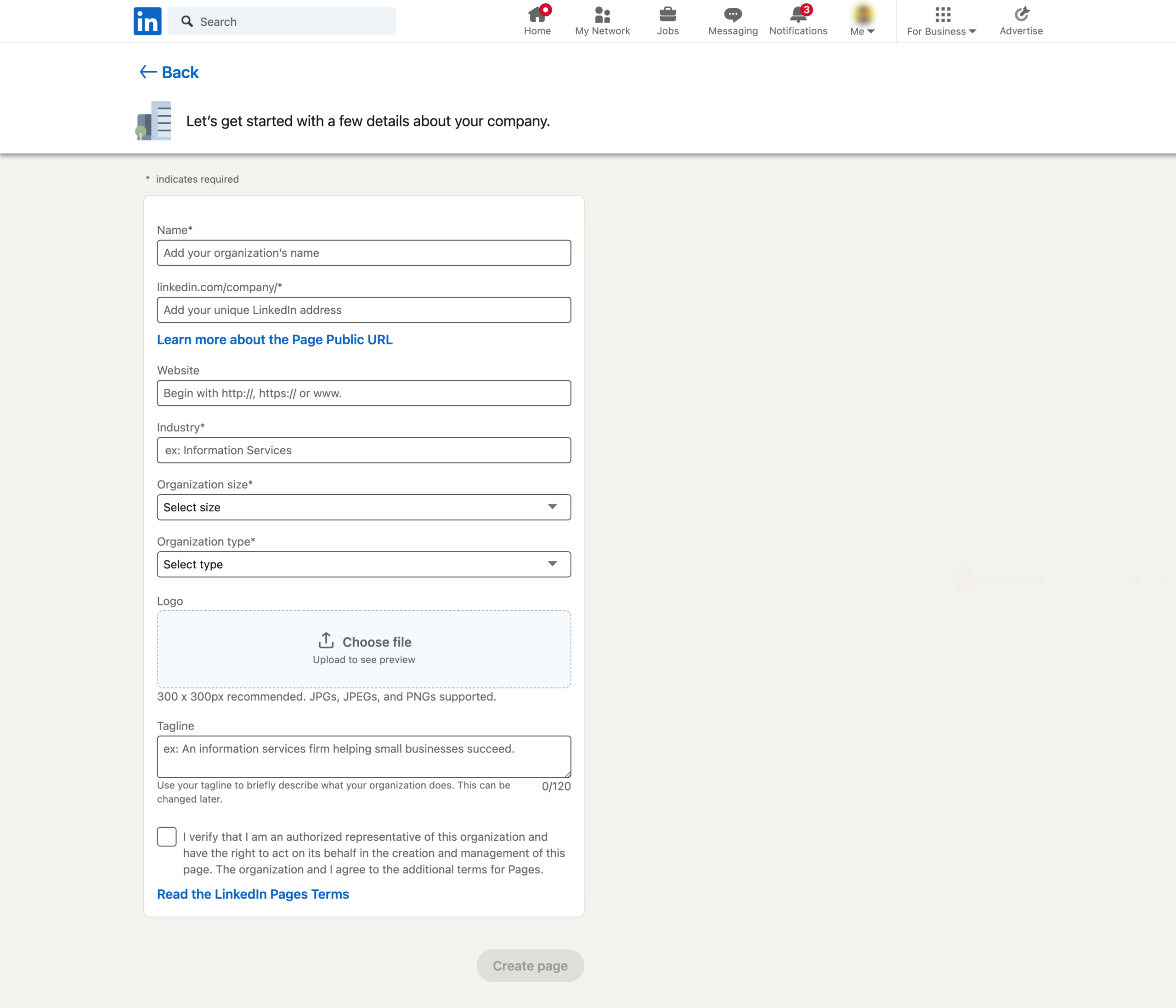 Follow it up by offering additional insights in the Company or Institution details and Profile details sections. This information will help potential affiliates understand your business's core offerings and values.
Once all details are in place, click on the Create page button.
And that's it; this is the first step but the most important one, as a great LinkedIn business page builds trust and reputation, so make sure you don't leave any important details.
2. Follow Niche Groups
One great way to connect with potential affiliates on LinkedIn is by joining industry-specific niche groups aligned with your target audience and affiliates.
There are countless special interest groups on topics ranging from affiliate marketing and blogging to health and wellness. Becoming an active member in relevant groups allows you to access engaged professionals, promote your affiliate program by providing value, and identify promising partners.
To get started, use LinkedIn's search to find niche groups centered around affiliate marketing or your particular industry.
For example, if you sell yoga equipment, search for "Yoga," or "Yoga Mat" or a relevant search query.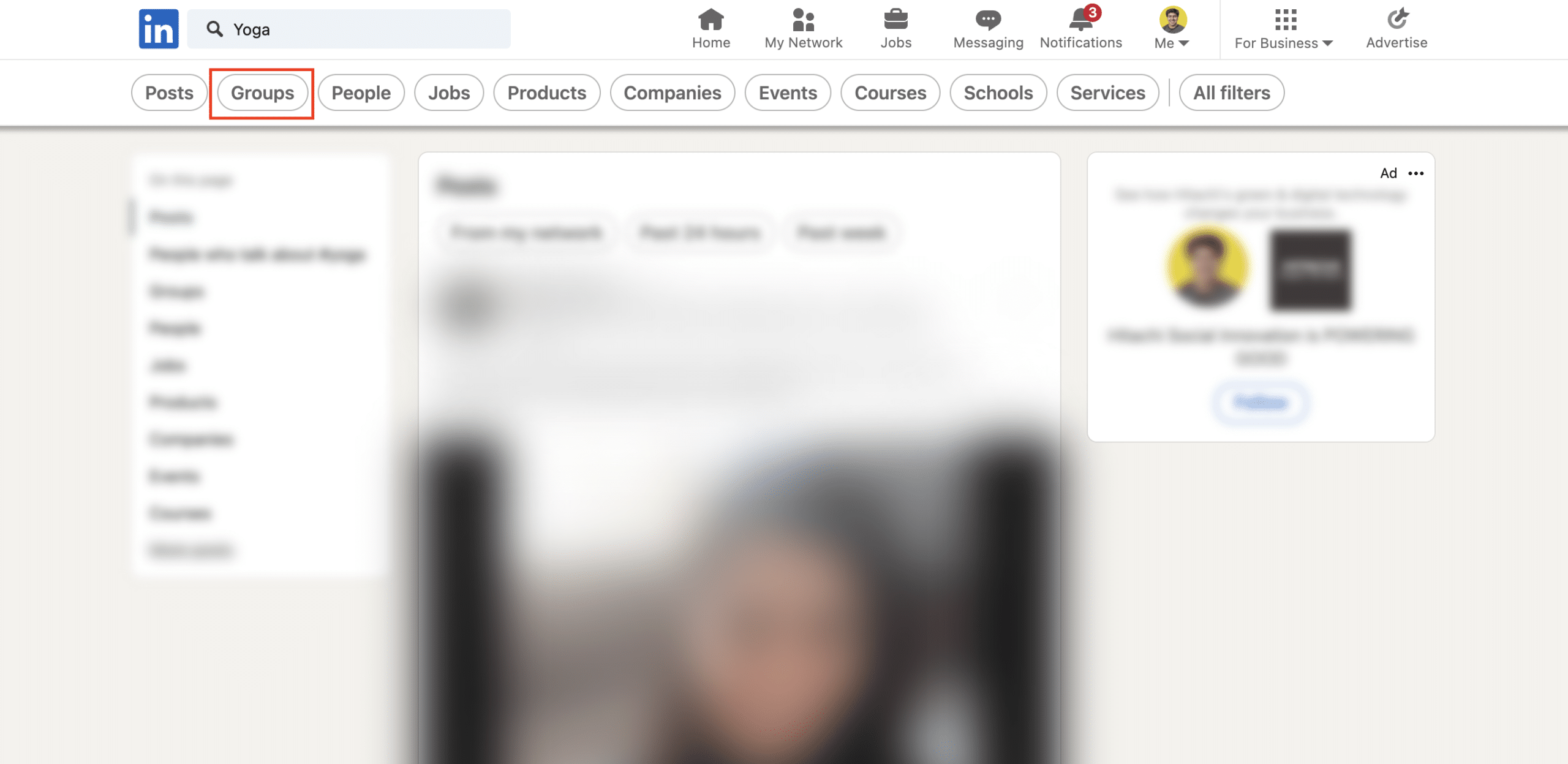 Now, filter your search by clicking the Groups icon to see only relevant groups and pages that match your search query.
Read through the group's description to ensure it aligns to your goals and will provide access to the right audiences. Then click the Join button to become a member.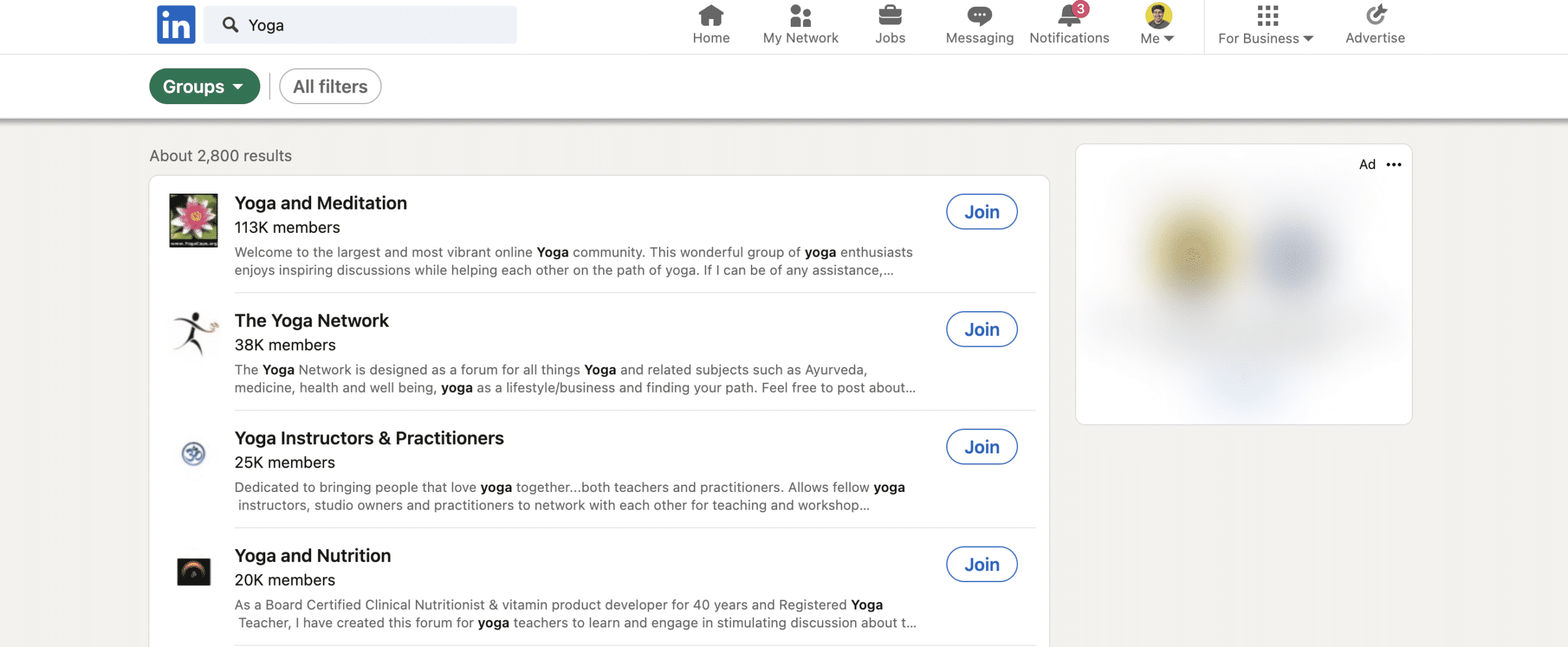 Once you've joined targeted groups, get involved by commenting on discussions, asking and answering questions, and providing insights and advice.
This builds your credibility and relationships within the group. As an active member, you can also directly create posts introducing yourself, promoting your affiliate program, and recruiting partners.
But be sure to focus on providing value vs just blatant self-promotion.Engaging regularly in niche groups positions you as a subject matter expert and allows you to connect with professionals interested in becoming affiliates.
You can vet promising affiliates by analyzing their activity and engagement within the group.
Those who actively contribute valuable insights likely have influence that could boost your affiliate program.
3. Create Content Consistently
Developing a consistent content marketing presence on LinkedIn is an impactful strategy to organically attract engaged affiliates. Your content serves as a value-add for your target audience while showcasing your knowledge and building your authority as an industry expert.
When brainstorming content ideas, focus on relevant topics and keywords to your niche and products.
For example, if you sell marketing automation software, create posts with tips and trends around digital marketing. Offer specific, actionable advice your audience can apply in their work and lives.
This type of useful, educational content provides true value for your readers while positioning you as a trusted thought leader versus merely pushing promotions.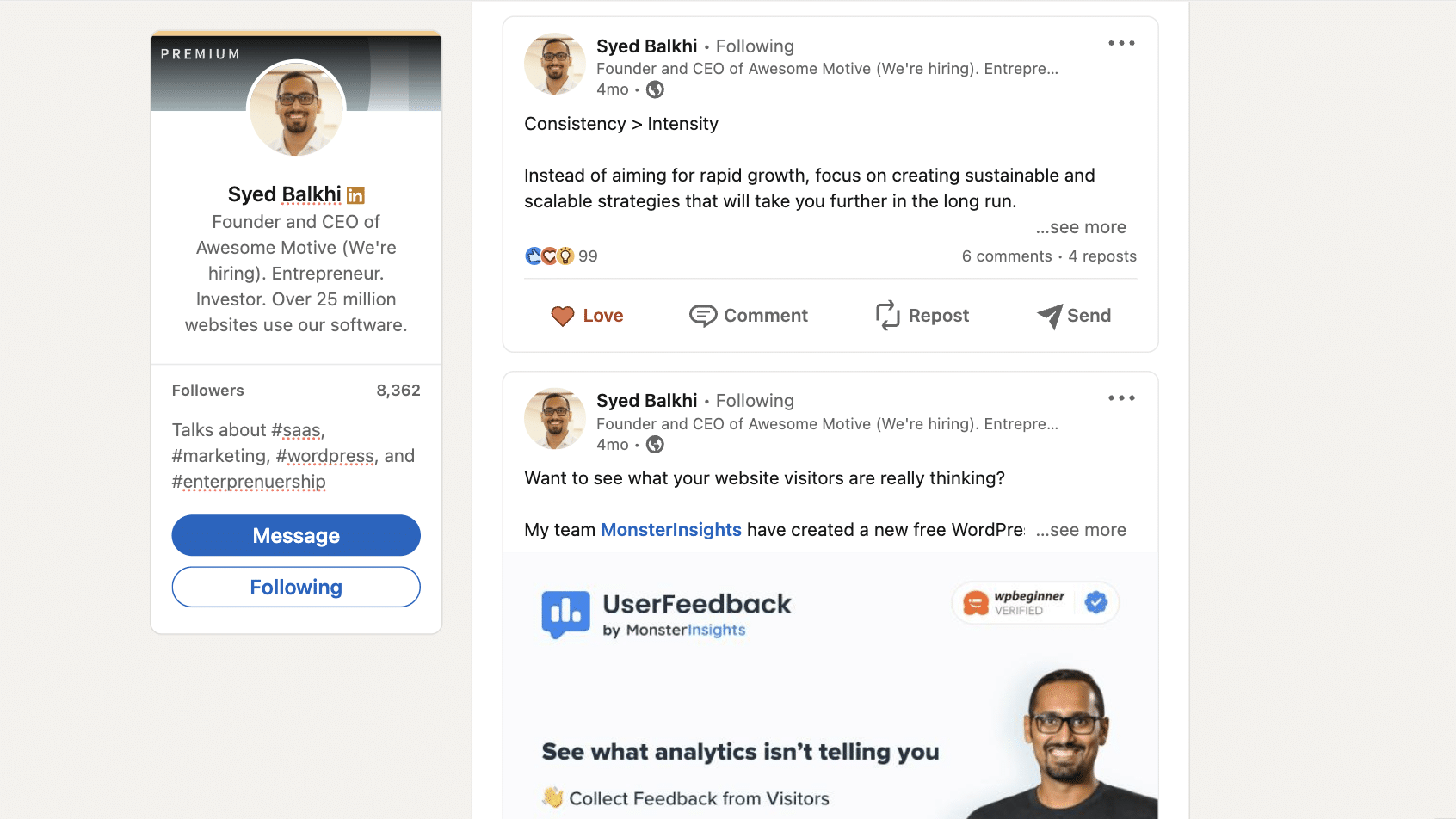 Also, aim to share new posts on LinkedIn at least 1-2 times per week. This ensures you remain top of mind and are seen as actively participating in the platform's discussions.
Promote your new posts by sharing the content with your existing connections and within relevant LinkedIn groups. Encourage your connections to like, comment, and further share your posts to extend your reach.
This organic approach helps attract qualified affiliates through the knowledge and value you provide.
4. Promote Your Affiliate Program on LinkedIn
Apart from consistently sharing high-quality content, you can leverage LinkedIn to promote your affiliate program and directly attract engaged partners.
Some best practices include adding a visible link or call-to-action pointing to your affiliate program sign-up page in your profile summary.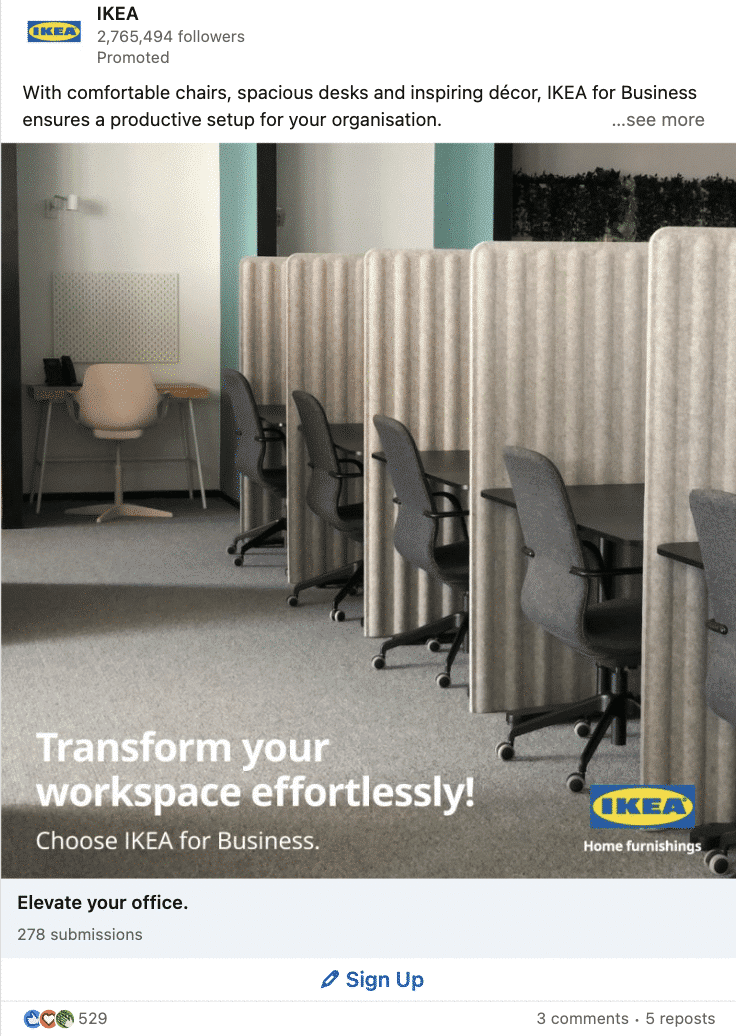 This exposes your opportunity to anyone visiting your profile. In your headline or description, you can also explicitly mention that you seek affiliates for your program.
Additionally, run LinkedIn ads focused on users interested in affiliate marketing and your niche – these can deliver sign-ups to your program.
You can really tap into LinkedIn's massive audience by investing in pay-per-click or sponsored content ads.
5. Conduct Outreach
Conduct outreach to authors and publishers of high-performing articles related to your niche.
Use LinkedIn's search to find popular articles covering topics in your industry. Sort by most likes, comments, and shares to identify pieces with strong engagement.
Check if the articles contain affiliate links or opportunities. If not, the authors are perfect prospects to include affiliate offers in future articles, earning commission while providing value.
Reach out directly to the authors on LinkedIn, complimenting their work and mentioning it would be a great fit for affiliate partnerships. Provide details on your program and potential earnings based on their readership.
Since these authors already create industry-specific articles, they likely require little convincing to include relevant affiliate opportunities. Be sure to emphasize the additional earnings they can make from existing content.
Reaching out to successful niche authors and publishers gives you direct access to content primed for affiliate links.
Targeting proven high-performing articles tailors your pitch and demonstrates the built-in value for them and your program.
Next, Use AffiliateWP to Retain Your Affiliates
Many businesses have found success acquiring affiliates through LinkedIn's massive reach using the above ways. However, a common pain point is retaining those affiliates long-term to maximize the revenue potential.
The harsh reality is that businesses that fail to retain engaged affiliates often see their growth plateau
However, the good news is that proper affiliate management tools make retaining affiliates much more achievable. This is where leveraging AffiliateWP for your WordPress site can set your program up for sustainable success.
AffiliateWP is designed to help you reward them in several ways and keep affiliates engaged for a long time. Its real-time reporting provides insights to optimize your program for partners.
To reward affiliates, you can configure personalized incentives like tiered commissions and cash bonuses.
With AffiliateWP's retention-focused capabilities, you can nurture the relationships crucial for growing your business. This way, your affiliates will be motivated to stick around when you invest in their experience and success.
So, do you want to really grow your business by building a strong and reputed affiliate program?
If your answer is yes, then invest in a feature-rich AffiluateWP today.
Grow Your Business with LinkedIn Today
By now you have understood how to use LinkedIn and attract potential and best affiliates to join your affiliate program. We have also shared how you can easily retain your affiliates using the awesome features of AffiliateWP and reward your affiliates correctly.
Now, it's time to take action and grow your business by 10X. If you want to learn more about affiliate marketing, affiliate programs and increasing your sales, check out these resources:
Wait, just one more step. Do not forget to try AffiliateWP today to grow your business with the power of affiliate marketing.
The best part? Dive in risk-free with our 14-day money-back guarantee. We're confident you'll love it!