How to Boost Affiliate Sales with Live Sales Notifications (Simple Guide)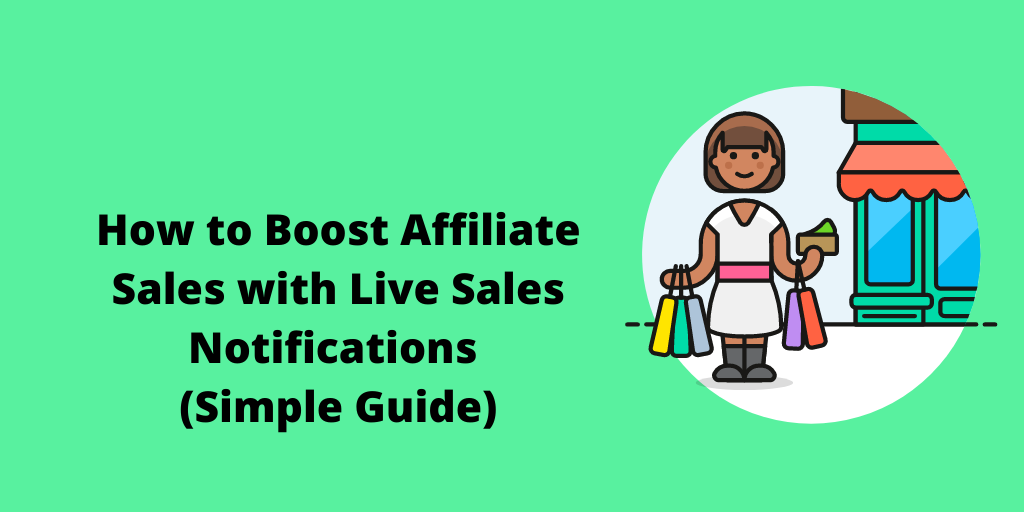 Want to discover the quickest way to boost your conversion rates right now? Welcome to live sales notifications for WordPress.
In just a few minutes you can start leveraging powerful social proof to make more sales, grow your affiliate program, and achieve many other goals. Ready to get started?
Here's your simple guide to live sales notifications.
What are Live Sales Notifications?
Essentially it's a little pop-up that tells you someone has just bought a product on the site you're on.
We're always talking about the little details when it comes to e-commerce and affiliate marketing and that's because they make a big difference. When it comes to live sales notifications, that small detail can result in a 15% boost in your conversions.

I think we can all agree that's a big deal.
So, how do live sales notifications get such great results?
That little box you see in the bottom-left-hand corner of your screen grabs people's attention and tells them two things:
Other people trust this business and are making purchases
Everyone else is buying this product so don't miss out
Trust and FOMO (fear of missing out) are big influencers when it comes to sales (60% of people make purchases because of FOMO). As consumers, we might not recognize it, but when we see that little sales notification, we become more likely to take action.
This can affect your affiliate marketing program in more ways than you might think!
How Can Live Sales Notifications Help Your Affiliate Marketing Program?
More conversions equal more sales, equals happy affiliates, equals even more sales, right?
Trust and FOMO aren't just useful tools for making sales though, they're also useful tools for signing up affiliates. What if you tweaked your live notifications slightly so that your affiliate landing page displayed a pop-up every time someone joined your affiliate program?
Signing up affiliates works on exactly the same principles as making sales, so live notifications can be extremely helpful.
If we break down the affiliate relationship into three stages: sign up, engagement, and sales, then live sales notifications are already impacting two important aspects of your program.
All of a sudden you've got a powerful tool that's improving two of the most important elements of your affiliate marketing program, and with TrustPulse, you can get started for as little as $5 a month.
How Can You Create a Live Sales Notification in WordPress?
Since roughly 40% of the web runs on WordPress, let's look at how you can set up live sales notifications in WordPress.
Trust us, this couldn't be easier, and there's absolutely no need for any technical knowledge to get the perfect sales notification up and running on your site.
Step 1: Choose a TrustPulse Plan
If you want powerful live sales notifications, exceptional value, and great support, then head over to TrustPulse's pricing page.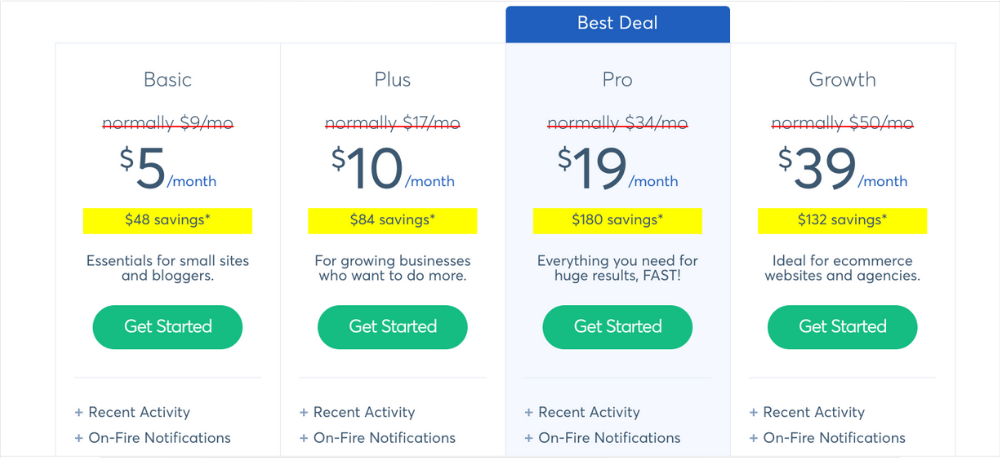 You've got 4 pricing options to choose from:
Basic: From $5 a month
Plus: From $10 a month
Pro: From $19 a month
Growth: From $39 a month
The key difference here is the number of unique visitors your site gets. A basic plan is good for up to 2,500 unique visitors a month, but after that, you'll need to look at some of the more advanced options.
The Plus, Pro, and Growth plans also unlock some extra features such as analytics notifications (showing information like how many people have viewed a page in a certain time range) and action messages (fixed calls to action that appear when the visitor takes a certain action).
These features are great for your e-commerce sales, but everything we're going to talk about in this article can be achieved with the Basic plan.
Step 2: Create a Campaign
Once you've downloaded and installed TrustPulse, then it's time to set up your campaign.

Click Create Campaign in the top-right-hand corner of your dashboard, and you'll see five tabs that allow you to edit your campaign.
Step 3: Choose a Live Sales Notification Campaign
In the Campaign Type tab you'll be able to choose the type of campaign you want to run. If you're on the Plus plan or higher, then you'll have four options: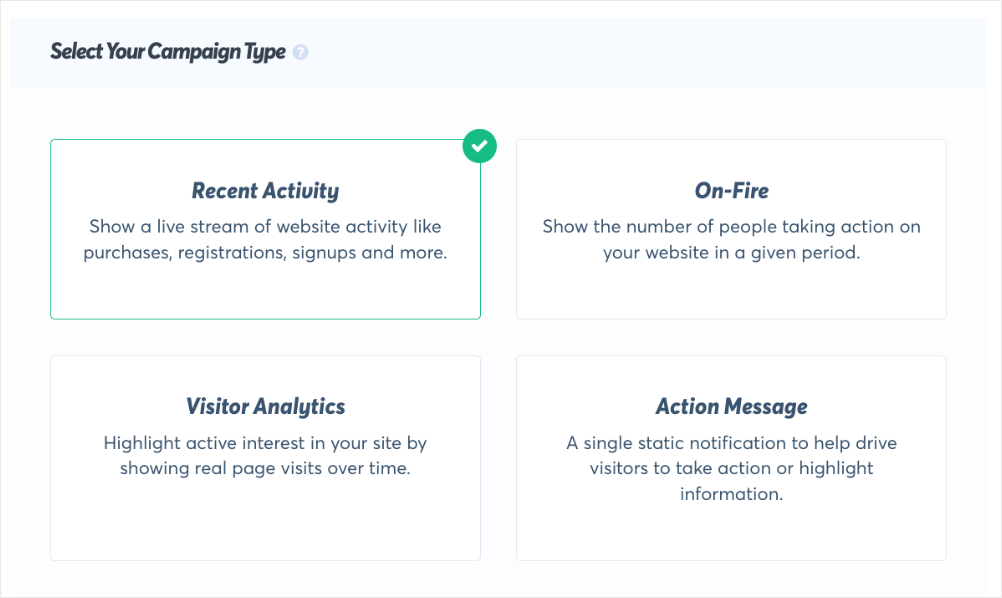 Recent Activity: Show recent activity such as sales, sign-ups, and more
On-Fire: Show the number of people taking a certain action over a given period of time
Visitor Analytics: Show how many people are visiting a certain page over a given period of time
Action Message: A static message that's triggered when the user takes a certain action
For our purposes, we're going to choose Recent Activity, as it's a simple way to set up highly effective notifications.
Step 4: Customize the Appearance of Your Campaign
By clicking the Appearance tab, you can edit your live sales notification to look and say exactly what you want it to.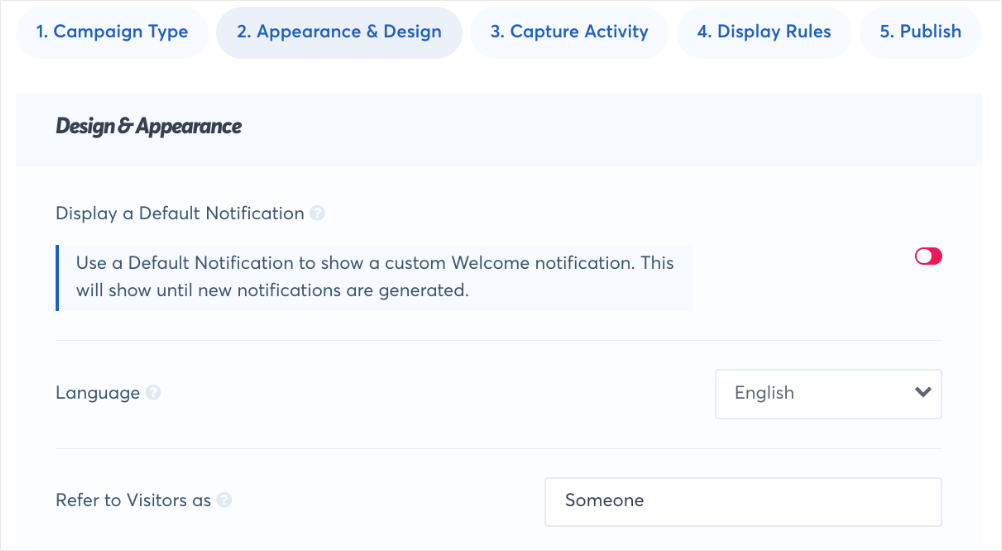 Change the language, message, image, and link in your live notification to reflect your goals.
Step 5: Capture Sales Activity
TrustPulse gives you two different ways to track sales activity: AutoMagic, and Zapier. Unless you're a Zapier pro, the AutoMagic option tends to be more straightforward and it does everything you need it to do.
Click the AutoMagic tab and you'll be presented with a dropdown menu.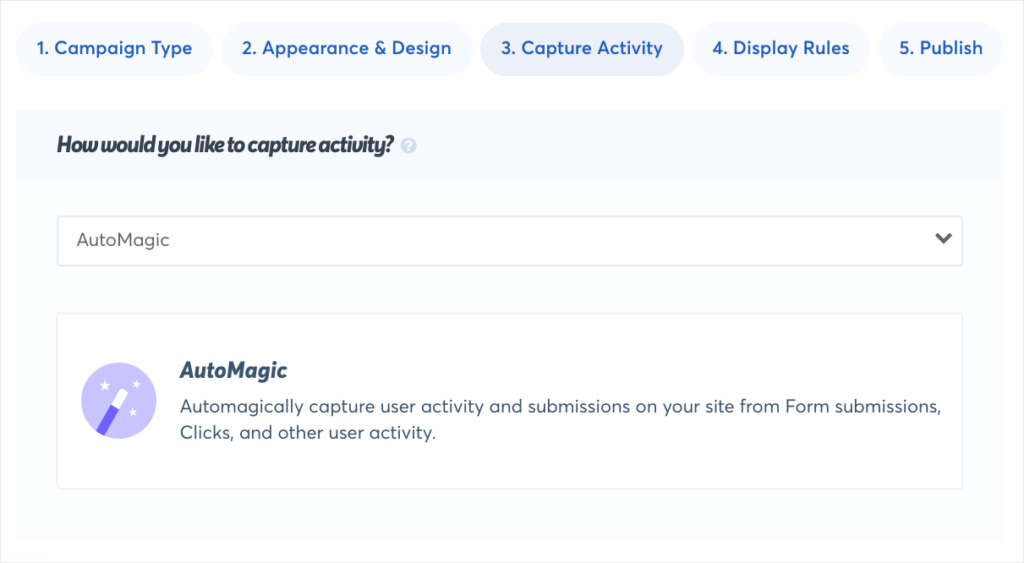 The dropdown menu will give you lots of different actions you can use to trigger your live sales notifications.
So, if you want a simple notification that shows when a customer completes a purchase, the easiest way to do this is by selecting Form Activity for Exact URLs and in the next box entering the URL for your checkout page.
Bonus Tip: Another great option is entering the URL for your affiliate program landing page so that whenever someone fills out a form on this page, a notification is triggered.
Step 6: Choose Where to Show Your Live Sales Notification
The great thing about TrustPulse is that it gives you complete control over where you show your live sales notifications.
This is extremely handy for you as an affiliate program manager because it means you can show different notifications to different people. Your affiliates page can show notifications whenever an affiliate signs up, and your product pages can show a live sales notification any time someone makes a purchase.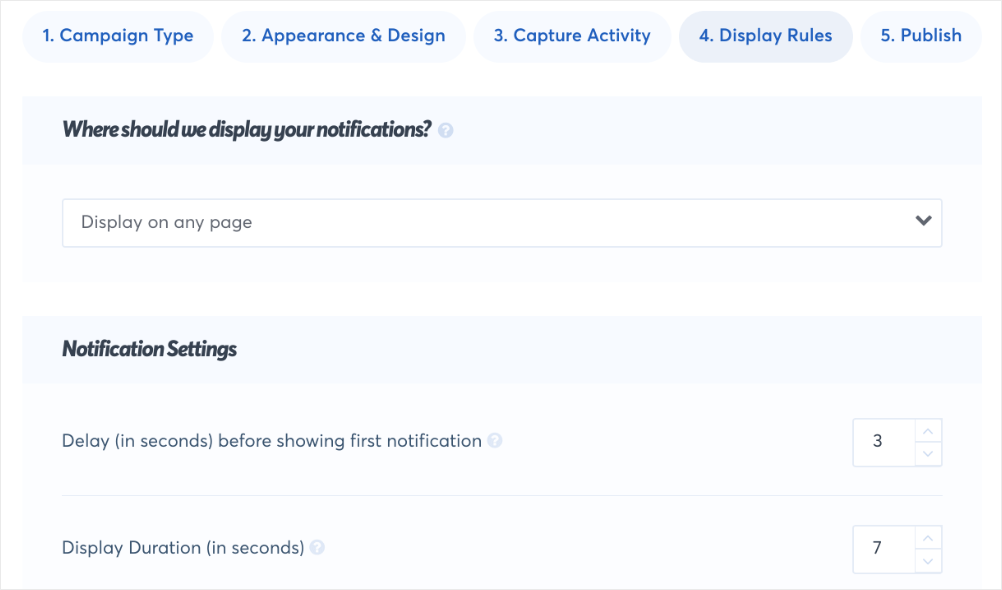 Simply click the Display Rules tab and choose the option that best fits your goals from the dropdown menu.
Step 7: Publish Your Live Sales Notification
All that's left now is to publish your live sales notification!

You'll get a little preview of what your campaign looks like, and then you just need to click Launch your TrustPulse Campaign and it will start appearing on your site.
Optimization is Key to Sales Success
If there's one thing you'll hear us say all the time at AffiliateWP it's that you get what you put in, especially when it comes to an affiliate marketing program. Little details like live sales notifications can make all the difference to your success.
FOMO is an extremely powerful influencer and it makes sense to use it on both your product pages and your affiliate landing page.
Thanks to TrustPulse, it's incredibly easy to set up live sales notifications on your WordPress site, and when you do, you'll find it pays for itself in no time at all.
Combining live sales notifications with the best affiliate software is the ultimate way to grow your sales, so check out TrustPulse and get started with AffiliateWP today!