How to Set Up Lifetime Affiliate Commissions in WordPress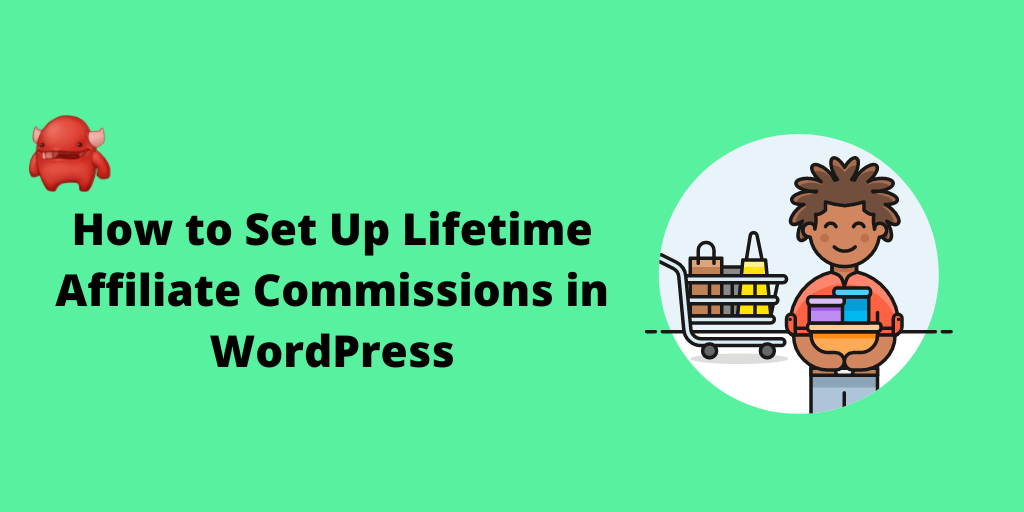 Looking to offer lifetime affiliate commissions to your top affiliates?
Not only are recurring commissions a great incentive, but they're also incredibly easy to set up.
Here's how you can offer lifetime affiliate commissions in WordPress.
Why Your Program Needs Lifetime Affiliate Commissions
Not every affiliate program will need lifetime affiliate commissions, but, they're a great tool to have.
The thing is, they bring flexibility to your offerings.
There's a lot of competition to attract affiliates, and this means programs have to think hard about their affiliate commissions. Often, this leads to competitors offering ever higher rates on sales, and ultimately, this is unsustainable.
Instead, you need to find innovative ways to reward affiliates without cutting into your margins too much.
Lifetime affiliate commissions are one such reward.
With recurring commissions, affiliates don't just get a commission on a new customer's first purchase, they get a commission on all future purchases from that customer (this can be for an unlimited period, or one that you choose).
This is a huge motivation for affiliates because everyone loves a recurring, passive income.
It's also a win-win because it means you can spread affiliate payments out over a long period, and incentivize affiliates to keep promoting your products.
Sounds great right?
So, how can you set up lifetime affiliate commissions in WordPress?
Setting Up Lifetime Affiliate Commissions in WordPress
It couldn't be easier to set up lifetime affiliate commissions in WordPress and we're going to show you exactly how to do it.
Here are the steps we're going to look at:
Install AffiliateWP
Set your global commission structure
Install the Lifetime Commissions addon
Enable lifetime affiliate commissions
Set lifetime referral rates and timeframes
Show lifetime customers in the Affiliate Area
Track results
Let's get started and walk you through the recurring commissions setup.
Remember, if you get stuck at any point, you can follow this handy tutorial.
Step 1: Install AffiliateWP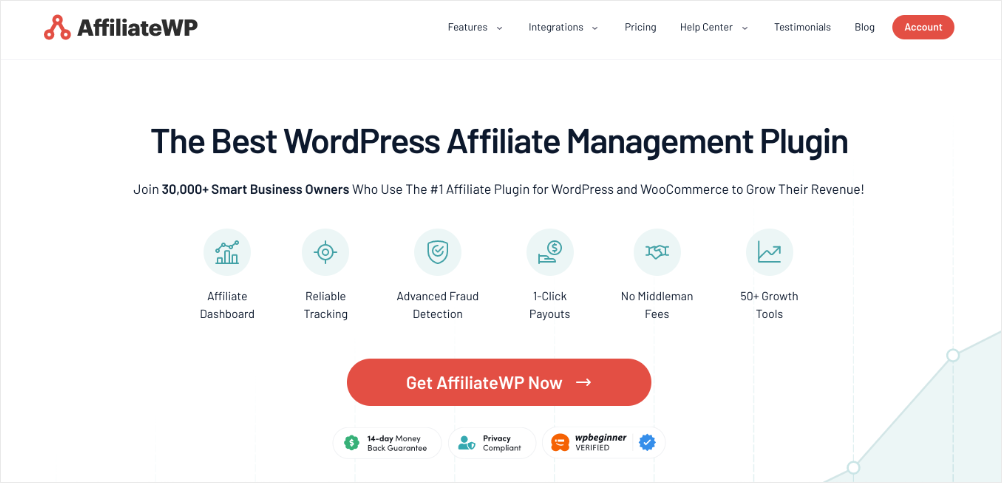 AffiliateWP is the best affiliate management plugin for WordPress.
It's incredibly easy to set up and offers you a ton of flexibility when it comes to affiliate commissions.
Just head to the pricing page and choose the Professional license to make the most of the Lifetime Commissions pro addon. This will also give you access to some of AffiliateWP's best features you can use to attract top affiliates (bloggers, influencers, email marketing pros, etc,) and maximize conversions.
Once you've completed your purchase you can easily install the plugin by following this simple guide.
Step 2: Set Your Global Commission Rate
Once you've installed the AffiliateWP plugin you're ready to integrate it with the WordPress plugins you use to run your online business.
This is incredibly easy with AffiliateWP's setup wizard and 1-click integrations.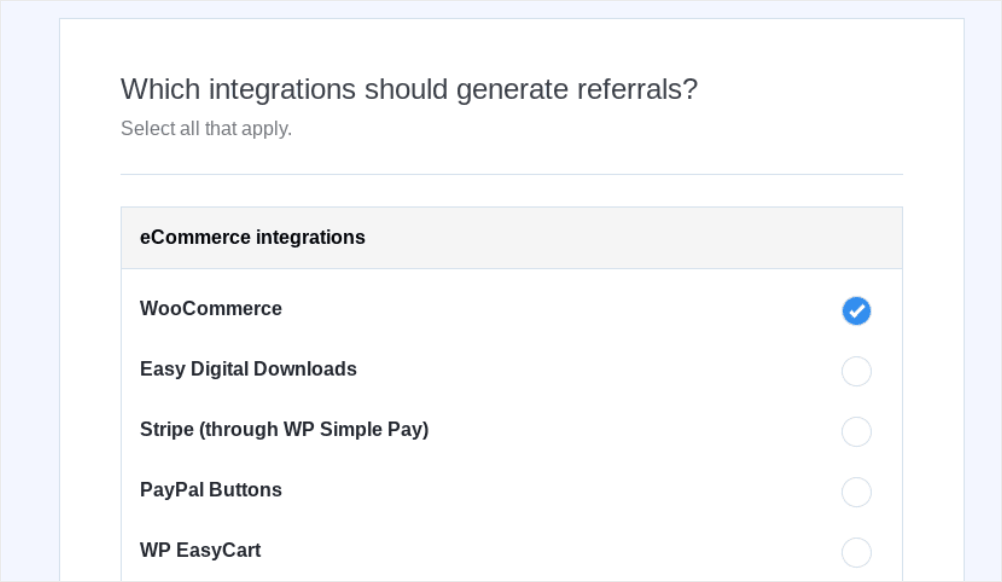 Lifetime Commissions doesn't work with every integration though, so your store will need to run on one of these plugins:
WooCommerce
Easy Digital Downloads
MemberPress
Restrict Content Pro
PayPal Buttons
Paid Memberships Pro
Ninja Forms
Gravity Forms
iThemes Exchange
To sync your products, memberships, and online courses to these applications, open the setup wizard by heading to your AffiliateWP settings and clicking Launch Setup Wizard at the bottom of the page.
Here you'll be able to integrate your e-commerce store with a click and set your global commission structure and cookie expiration.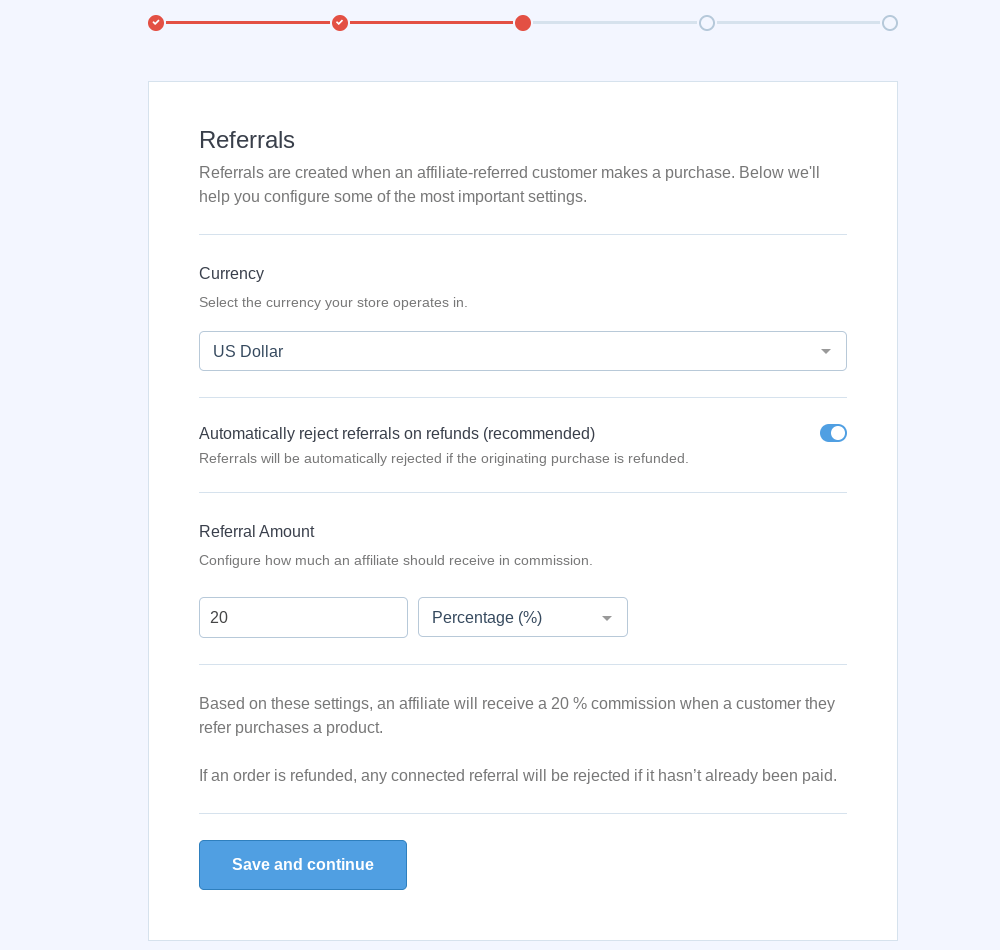 Just follow the setup wizard through, and your affiliate program will be set up in under 10 minutes.
Step 3: Install the Lifetime Commissions Addon
You've set your global commission rate, now it's time to add lifetime affiliate commissions to your program.
Just navigate to the AffiliateWP addons page from the sidebar in your WordPress dashboard.

You'll see a list of all the addons available to you, so scroll down until you find Lifetime Commissions. All you need to do is hit the toggle button, and Lifetime Commissions will automatically install and activate.
That's it, you're ready to customize your lifetime affiliate commissions.
Step 4: Enable Lifetime/ Recurring Commissions
Lifetime commissions are all about giving you more flexibility, so you have a couple of ways to set them up.
You can either make them available to all your affiliates, or you can offer them on a per-affiliate basis (this is a great way to reward top performers).
To enable lifetime commissions for all your affiliates, navigate to your AffiliateWP settings and click on the Lifetime Commissions tab at the top. Check the box next to Enable for all Affiliates and click Save Changes.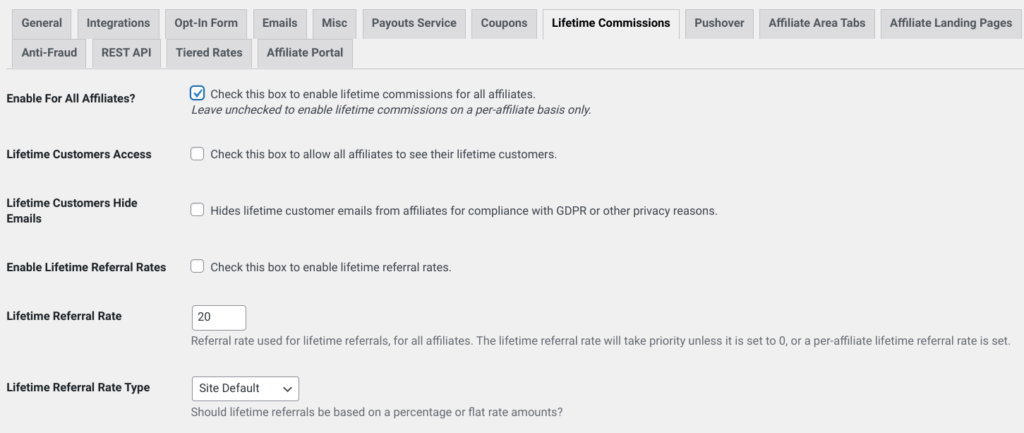 Alternatively, you can allow lifetime commissions on a per-affiliate basis.
Go to your Affiliates page and click on the name of the affiliate you would like to offer lifetime commissions to. Scroll down and you will see a checkbox to enable Lifetime Commissions. Once you've checked the box, click Update Affiliate.

Your affiliate will now be able to receive a lifetime commission at your global rate.
Step 5: Set Your Lifetime Referral Rate
You may decide to set a custom lifetime referral rate that's different from your global commission.
To do this, head back to the Lifetime Commissions tab in your AffiliateWP settings and check the box next to Enable Lifetime Referral Rates, you can then choose between a fixed-rate and percentage-based commission, and set a custom rate.

This will override your global commission, giving affiliates a specific rate for subsequent purchases their customers make.
You can also adjust your affiliate-specific lifetime commissions by following the same process on the affiliate's individual settings page.
Another useful option is setting how long you want the lifetime affiliate commission to last.
If you want recurring commission payouts to last indefinitely then leave the Lifetime Length box at 0, but if you want to limit the amount of time it lasts, then simply enter the number of days.
Step 6: Show Lifetime Commissions in the Affiliate Area
It's completely up to you whether you activate this option, but it can be a good motivator for your affiliates.
You can show lifetime commissions in the affiliate's area by checking the Lifetime Customer Access box in the Lifetime Commissions settings tab.

This will create a list of all the lifetime customers linked to the affiliate in a new tab in their affiliate area. The list will show the customer's name and email, but you can hide their email by checking the Lifetime Customers Hide Emails box.
Step 7: Track Results
You can track the results of your lifetime commissions on the AffiliateWP Referrals page.
Here, you'll see all the details of your referrals and you can track which ones are associated with lifetime affiliate commissions. In the Referral ID column, a link icon will appear next to the ID, and this is an indication that it's a lifetime commission sale.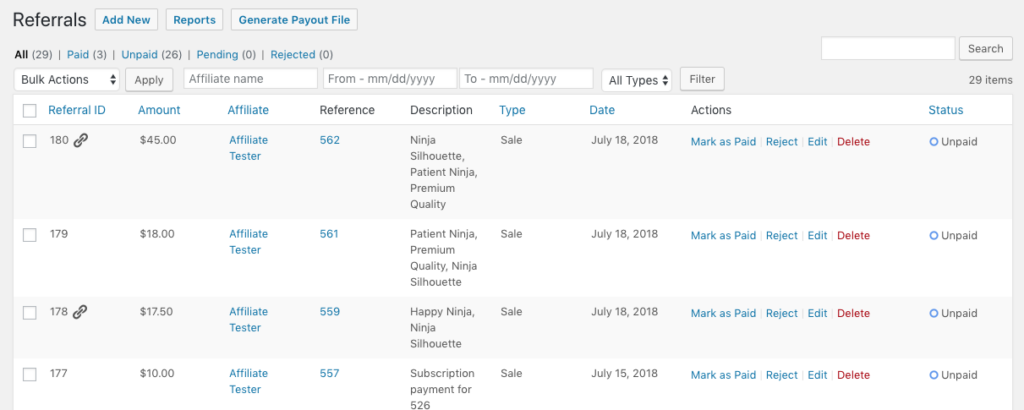 This makes it incredibly easy to track repeat customers to find ways of optimizing landing pages and maximize the benefits of recurring commissions.
Next, Get Even More Creative with Your Affiliate Rewards
There's a lot of room to get creative with your affiliate commissions.
As lifetime affiliate commissions go to show, it's not just the rate that matters. It's the overall value you offer your affiliates.
That's why these top affiliate reward ideas are so valuable.
They can ensure that you're not in a race to the bottom with your competitors to see who can offer the highest commission rates. Instead, they allow you to reward affiliates in a valuable way that doesn't destroy your margins.
It's time to start getting creative with your reward optimization, as you'll find it benefits both you and your affiliates.
Offer Lifetime Affiliate Commissions Today
It's incredibly easy to set up lifetime affiliate commissions with AffiliateWP and it can make a big difference to your program.
We want to make it as easy as possible for you to grow your affiliate program, which is why we've got even more great resources for you. Check them out!
Now you've got all the information you need there's only one thing left to do.