How to Create an Affiliate Invoice in WordPress (Simple Guide)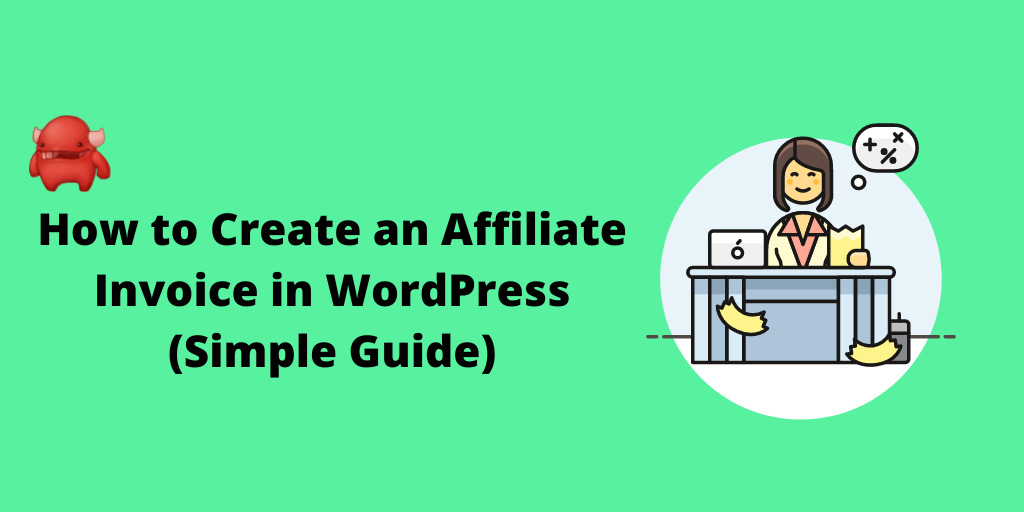 Need to create affiliate invoices for your program?
We're going to show you how to automatically create affiliate invoices in WordPress.
Let's jump straight in.
Stay Organized with Automated Affiliate Invoices
It's great when your affiliate marketing program works like clockwork.
You can sit back and relax while your software tracks referrals, calculates affiliate commissions, and initiates payouts, but what about the paper trail?
Ideally, you want to be able to generate invoices for all your affiliate payments, and you may find your affiliates are asking for this as well. The question is, how can you easily create an affiliate invoice in WordPress?
Let's take a look at the easiest options available to you.
Creating an Affiliate Invoice in WordPress
Here's an easy-to-follow guide to help you automatically create affiliate invoices for your payouts.
We're going to walk you through the steps so you can generate the necessary paperwork without the hassle – no coding or techy knowledge needed!
Install AffiliateWP
Sign Up for the Integrated Payouts Service
Install the AffiliateWP Zapier pro-addon
Or connect the Payout Statements integration for AffiliateWP
Step 1: Install AffiliateWP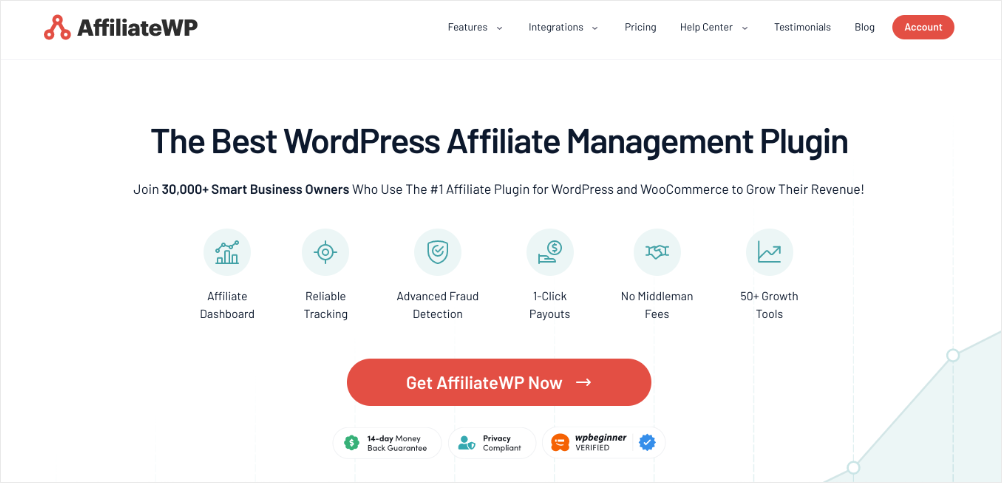 AffiliateWP is the best affiliate management plugin for WordPress and it makes it incredibly easy to pay affiliates.
We're going to show you how to get set up so that you automatically generate affiliate invoices for your affiliate payouts. It's simple to set up and seamlessly plugs into many of the most popular WordPress plugins.
Not only does it make affiliate management super easy, but it's also got some amazing growth tools to help you grow your affiliate program.
Simply head to the pricing page and choose the plan that best fits your needs.
Once you've completed your purchase, you can follow this simple guide to install the plugin, and then you're ready to sync your products.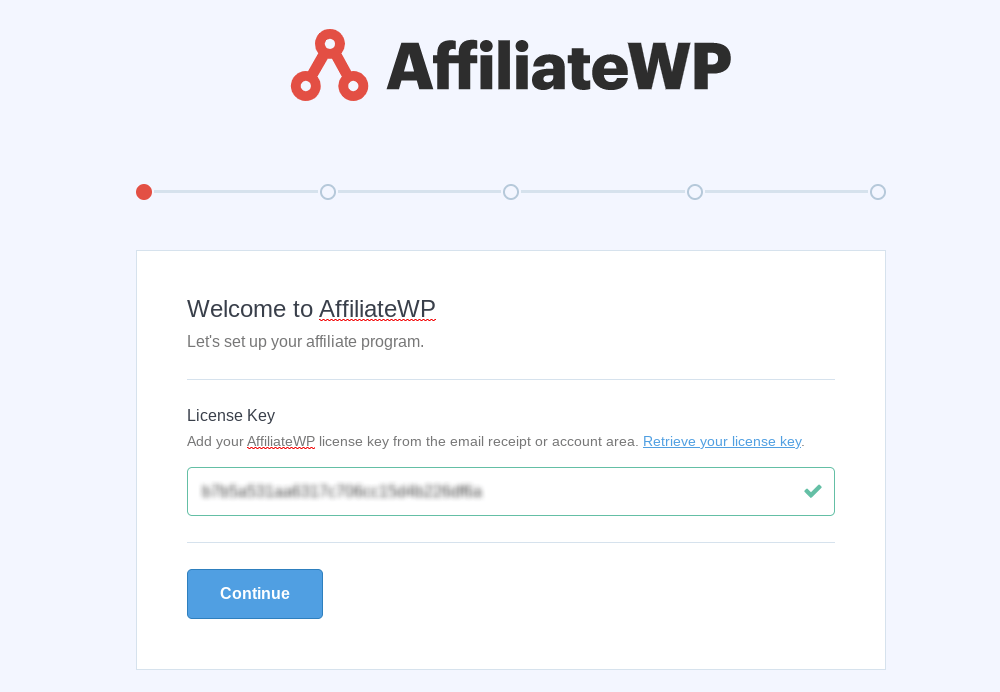 You can do this by opening the setup wizard from your AffiliateWP settings and following the instructions. This will take you less than 10 minutes before your affiliate program is up and running, ready to attract affiliates.
Note: If you're using other affiliate software and you're tired of a clunky affiliate management system that makes affiliate invoicing difficult, it's also easy to migrate over to AffiliateWP.
Step 2: Sign Up for the Integrated Payouts Service
AffiliateWP offers a number of payment methods (including PayPal payouts) but the most efficient is the integrated payouts service.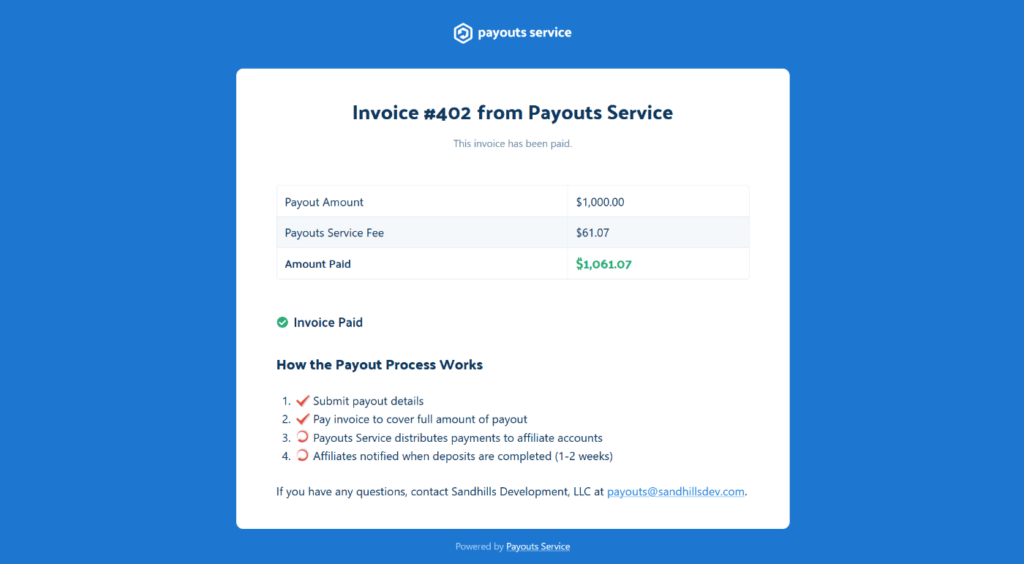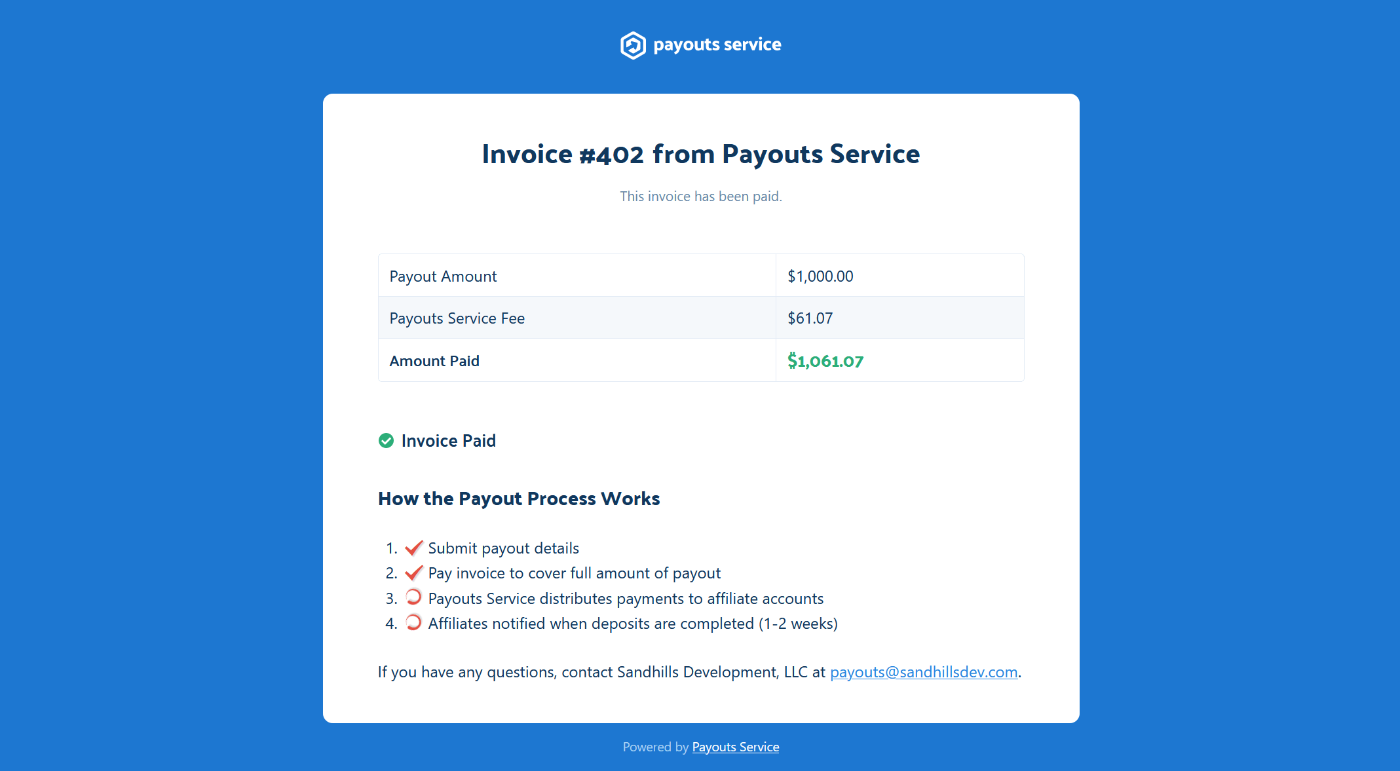 This allows you to pay a direct deposit into affiliates' bank accounts (or debit and credit cards) without ever leaving your WordPress dashboard. You can also set minimum thresholds (as laid out in your payment terms) for affiliate payouts, and pay all your affiliates in one go.
To sign up for the integrated payouts service, just follow this step-by-step guide.
Step 3: Download the AffiliateWP Zapier Addon
The AffiliateWP Zapier integration is available on the Professional plan and it's well worth setting up.
You'll also need the REST API Extended addon activated.
Essentially, Zapier connects AffiliateWP to an endless list of external applications, among which, you have a wide selection of online accounting software.
To activate the Zapier addon, just navigate to the AffiliateWP addons page and toggle the install button underneath the Zapier integration.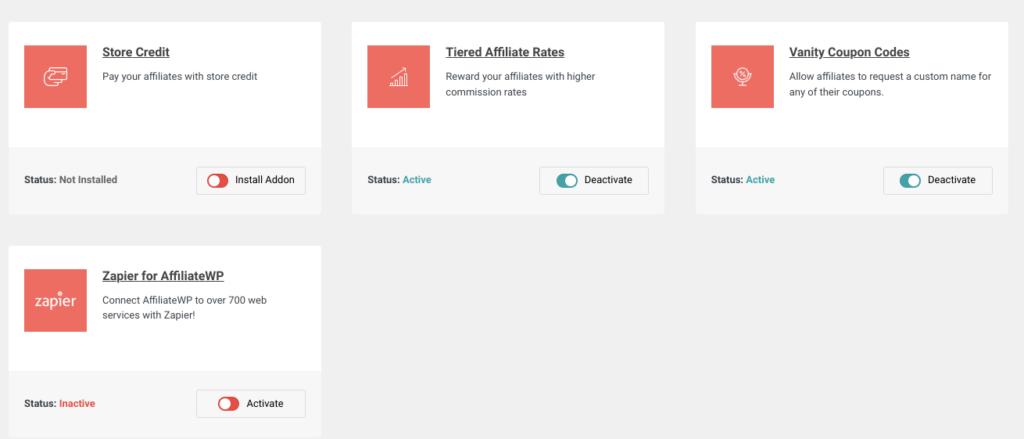 Then, navigate to Zapier by following this link.
Once you've set up your account, you'll be asked to set up your first zap.
Start by choosing your app – AffiliateWP.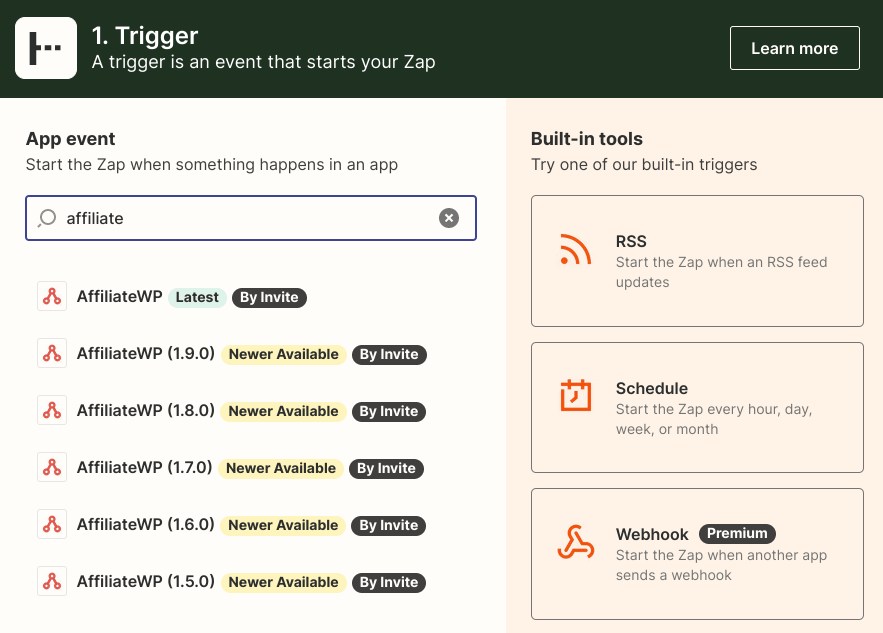 Then, select the trigger you want to use, which in this case is New Payout.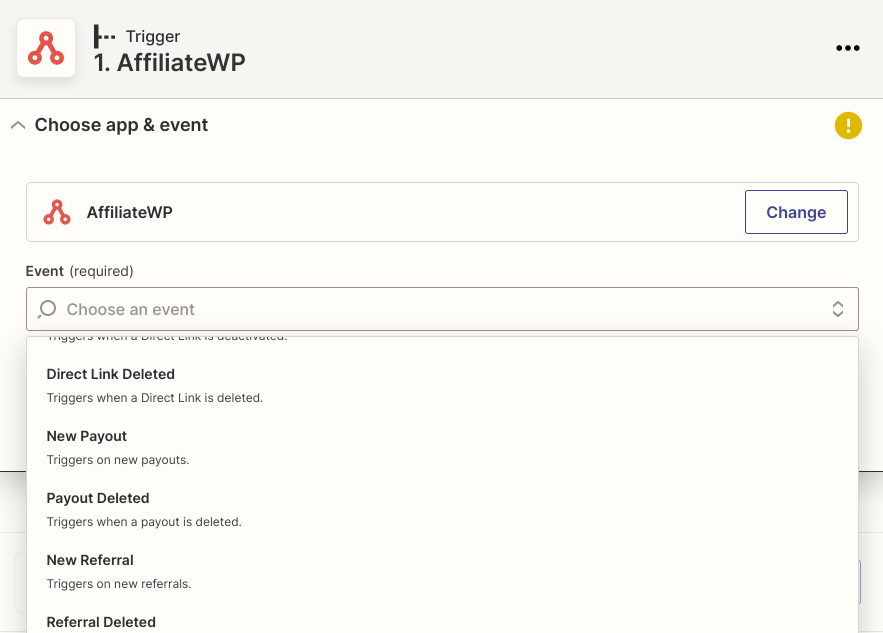 You'll then be asked to connect your AffiliateWP account to Zapier using the information from your AffiliateWP API Keys.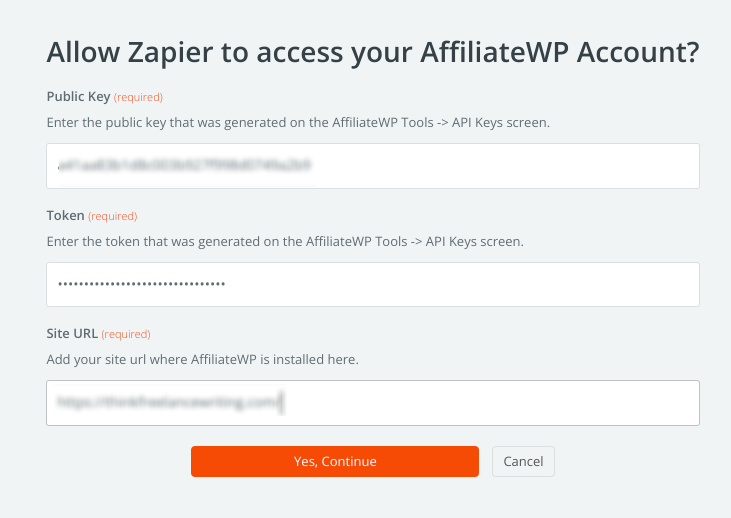 Head back to your WordPress dashboard and navigate to AffiliateWP > Tools > API Keys.
Click Generate New API Keys (make sure you've entered your admin user name) and your Public Key, Token, and Secret Key will all be generated.

You can then copy your Public Key and Token into the Zapier page and enter your website URL to connect the accounts.
Click Continue, and then you're ready to test your trigger. Zapier will test your trigger automatically, and once you've received validation you're ready to move on to the next step which is choosing your action.
Now you just need to find your accounting software (Xero or Quickbooks Online for example) and choose the applicable action for your chosen accounting software.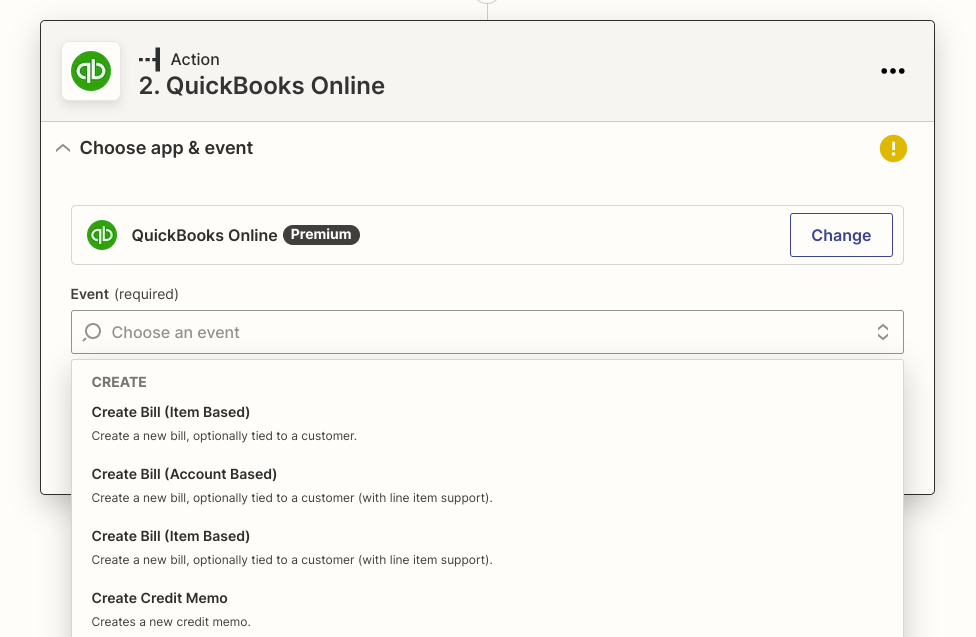 Once your Zap is properly set up, information from your payouts will be sent to your accounting software and an affiliate invoice can be created.
While this is one great example of how useful the Zapier addon can be, it's just the tip of the iceberg when it comes to automating your affiliate program!
Step 4: Install the Payouts Statements for AffiliateWP Integration
If you didn't want to use Zapier to link to your accounting software, then you can create simple affiliate invoices using Payouts Statements for AffiliateWP.
This is a third-party integration that requires a one-off purchase of $49 and allows you to create affiliate invoice templates for executed payouts for both you and your affiliates.
Just go to the integration landing page, and click the Get Started button. Once the plugin has been downloaded, you can install it in the same way you installed your AffiliateWP file.
Once activated, you'll see a new tab in your AffiliateWP settings titled Payout Statements. Click the tab and you'll see a list of customizable settings. Here you'll be able to adjust your tax settings, affiliate settings, and statement settings to tailor your affiliate invoices to your needs.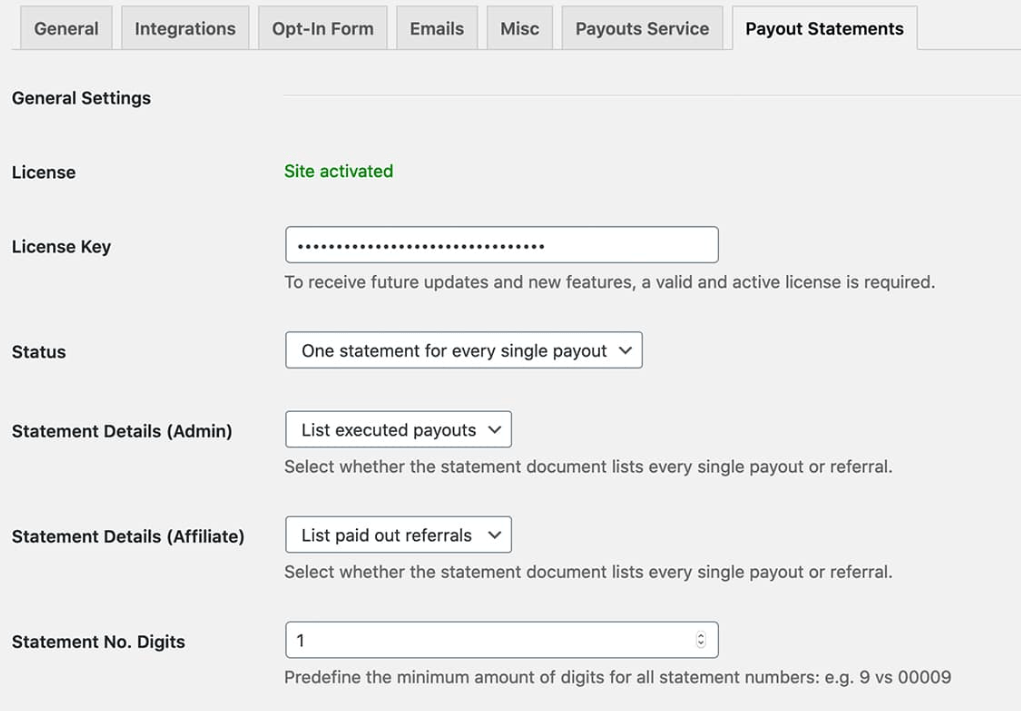 When you've set up your affiliate invoices, they will appear on your AffiliateWP payouts page, and affiliates can also access them from their affiliate accounts.
Now You Just Need the Most Accurate Link Tracking
When it comes to affiliate payouts you want to make sure you're getting things right.
The best way to do this is with the best affiliate link tracking software.
When your affiliate program runs on AffiliateWP, you can sit back and relax while the software tracks links and affiliate coupons, sorting out referrals. It also comes complete with advanced fraud protection, ensuring you only pay out on legitimate transactions.
Whether you're looking to start a new affiliate program or migrate from other software, AffiliateWP has everything you need to grow your sales.
Affiliate Invoices Made Easy
With AffiliateWP, you're just a few steps away from automating your affiliate invoices.
Whether you choose to use the Zapier addon or the Payout Statements for AffiliateWP integration, you can automatically generate invoices whenever you complete a payout.
They're both easy to use, and they make running your affiliate program even easier.
Want more resources on running your affiliate program?
We've got you covered:
There's only one thing left to do now.