How to Set Up an Affiliate Program for a Membership Site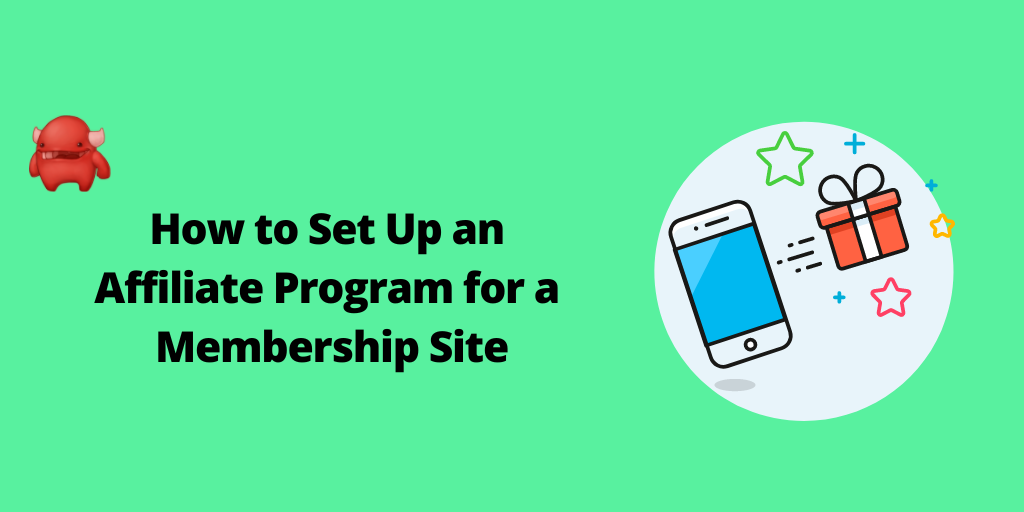 Are you looking to set up an affiliate program for your membership site?
If you are, then it's a great idea!
Affiliate marketing is perfect for membership sites, so we're going to show you exactly how to set up a membership site affiliate program.
What are the Benefits of a Membership Site Affiliate Program?
Affiliate marketing is a vital marketing strategy for membership websites.
Why?
Well, first off, it's very low risk.
You might pay a small fee to set up your affiliate software, but you don't have to pay affiliates unless they make a sale. If you don't see any sales, then you don't pay out any money, so there's not much to lose.
The other great thing is that digital products like memberships tend to have a lot of margin built into them. You don't have to worry about buying stock and warehousing it, and you can sell the same product over and over again. All of this means you have some flexibility with your pricing and have room to add in an affiliate commission.
Low risk, tick, room to offer a good commission and still make plenty of profit tick.
Now for the real reasons you want to build a membership site affiliate program.
It brings immediate growth opportunities: reach targeted audiences around the world – overnight (affiliates can be pros at SEO, social media, podcasts, webinars, email marketing, and much more).
Attract marketing professionals who know how to convert: Boost conversion rates and sell more memberships by bringing in the best bloggers and influencers.
Gives time back to you: Affiliates can take care of your marketing so you can focus on other tasks that grow your online business.
The statistics around affiliate marketing back this up:
Over 80% of brands run affiliate marketing programs.
Affiliate marketing is the top acquisition channel for 40% of US merchants.
More than 85% of marketers expect affiliate marketing to grow.
Is affiliate marketing worth it?
Absolutely, so we're going to show you how to set up a membership site affiliate program.
How to Set Up a Membership Site Affiliate Program
Good news – not only does a membership site affiliate program come with lots of benefits, but it's also user-friendly and easy to set up.
There are lots of different affiliate software out there to choose from, but for now, we're going to focus on WordPress websites.
Here's a quick overview of the steps we're going to discuss:
Install AffiliateWP
Complete the setup wizard
Set per-membership commission rates
Add recurring referrals
Let's delve into the details of how to set up your membership affiliate program in WordPress.
Step 1: Install AffiliateWP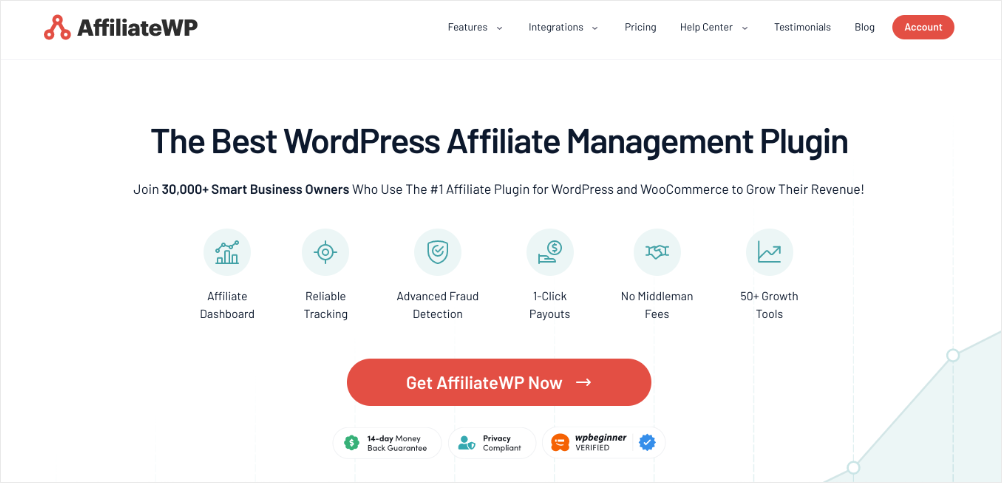 AffiliateWP is the best affiliate management software for WordPress and it offers awesome functionality.
But first, let's check if it's compatible with your membership program. AffiliateWP has one-click integrations for these membership plugins:
MemberPress
Restrict Content Pro
Paid Memberships Pro
Paid Member Subscriptions
MemberMouse
s2Member
Zippy Courses
LifterLMS
Alternatively, if you sell memberships through your e-commerce or online store plugin, we also have integrations with WooCommerce and Easy Digital Downloads.
Take a look at our pricing page and choose the pricing plan that best fits your needs.
Once you've completed your purchase, you'll be prompted to download the plugin by going to the Plugins tab in your WordPress dashboard. If you have any problems with this part, then refer to our simple step-by-step installation tutorials.
Step 2: Complete the Setup Wizard
We mentioned 1-click integrations for the best WordPress membership plugins, and here's where they come in.
After you've installed AffiliateWP, head to the Settings page by hovering over AffiliateWP in the left-hand sidebar of your WP dashboard and clicking Settings. Scroll to the bottom of the page and click Launch Setup Wizard.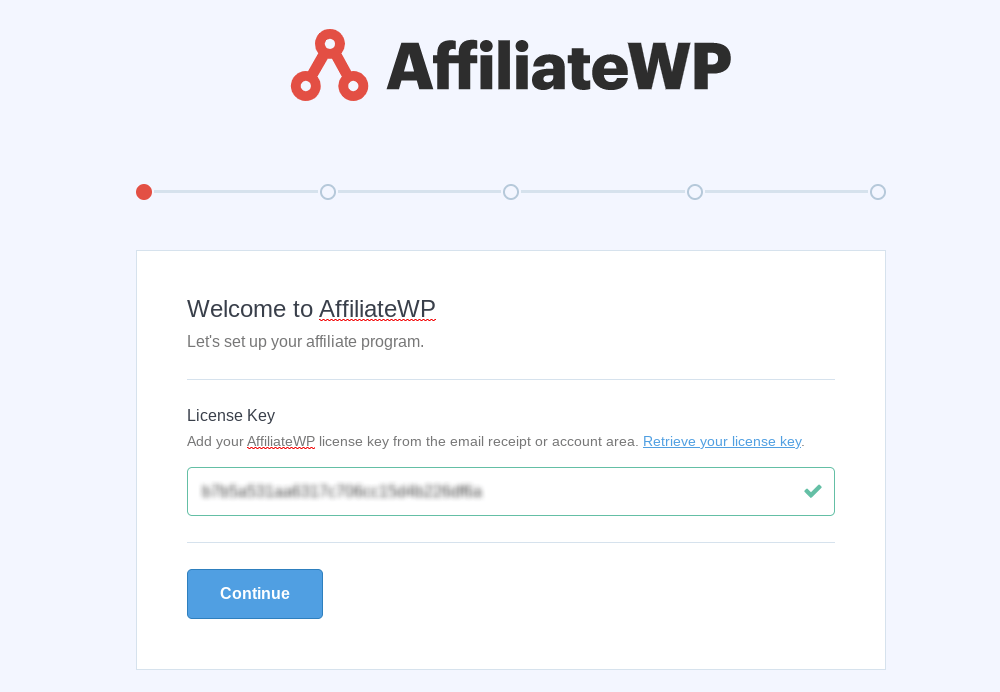 This will take you to a new screen where you'll be asked to input your license key. Simply copy the license key from your confirmation email or AffiliateWP account and paste it into the box before clicking Continue.
Next, you'll see a list of integrations.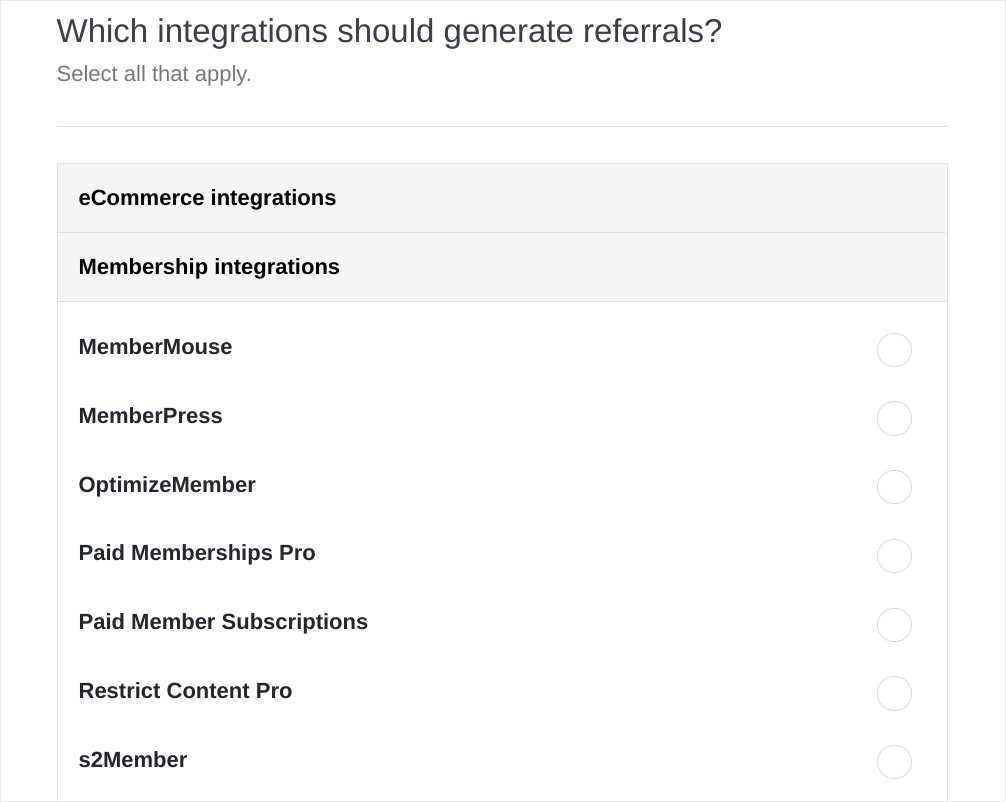 Click Membership Integrations and click the check box next to your chosen plugin (for Zippy Courses and LifterLMS look in the course integrations).
Now click Continue and AffiliateWP will automatically sync with your membership plugin and landing pages to set up your membership site affiliate program.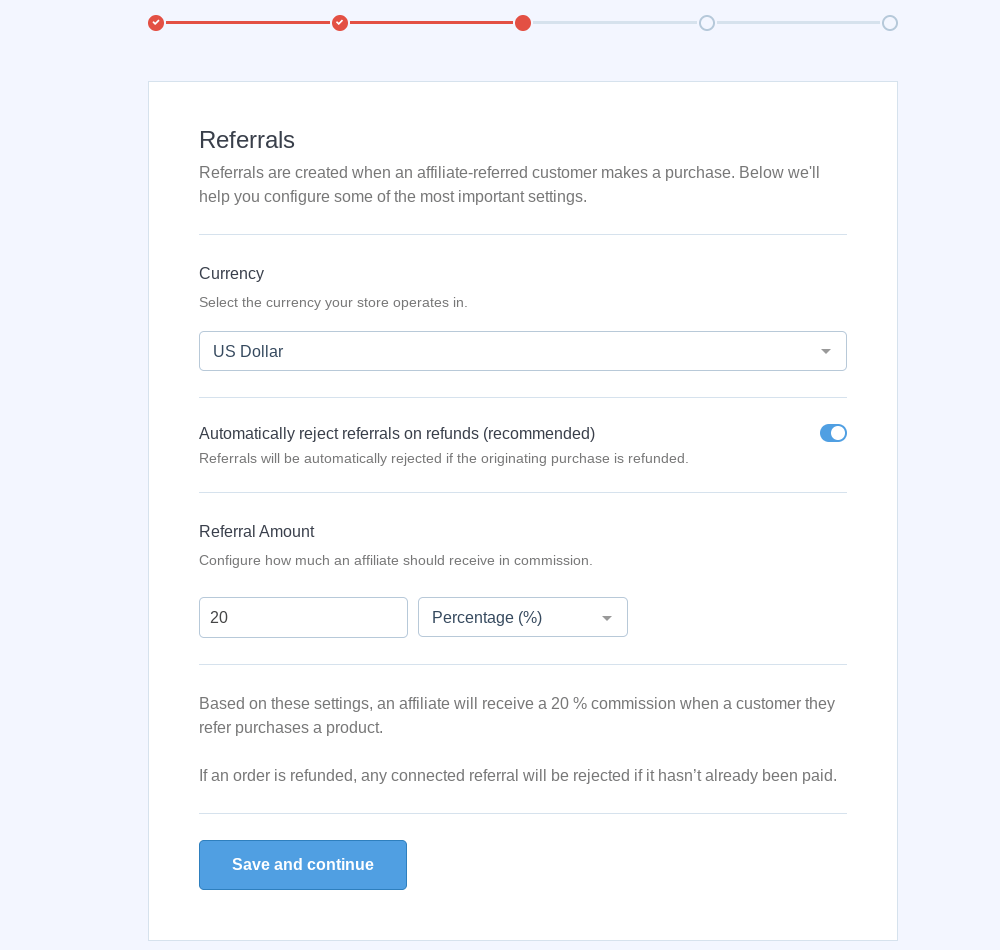 There are just a couple more things to set up though, and the next page will ask you to choose your currency, select a referral type (flat fee or percentage of order value), and set your commission rate. This sets a global commission structure, but don't worry, you can easily change this in your AffiliateWP settings and even set membership-specific rates.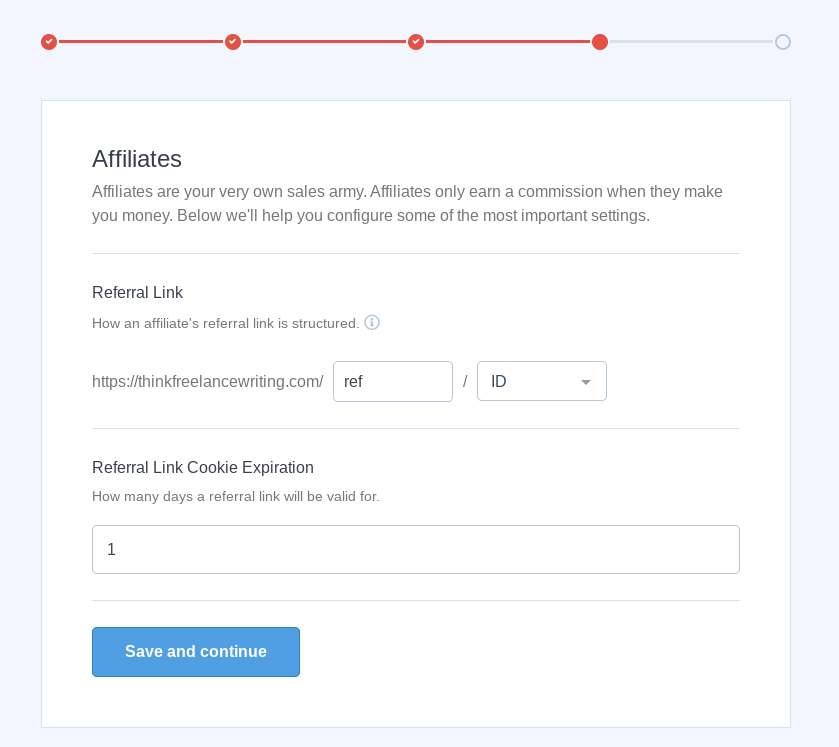 Lastly, you'll be asked to set your cookie expiration and choose an affiliate link structure.
Once you've done this, simply click Finish the Setup and Exit the Wizard, and your membership site affiliate program will be ready to go.
Note: You can also edit your payout settings in the AffiliateWP Settings tab. We offer an integrated payouts service, but there are also options to pay affiliates through PayPal and Stripe.
Step 3: Set Per-Membership Commission Rates and Coupon Codes
As soon as you complete the setup wizard, AffiliateWP will start tracking referrals for your membership products.
Now you will able to sign up affiliates and they'll be able to generate affiliate text links to start attracting new members.
However, we wanted to show you a couple more cool things you can do with an AffiliateWP affiliate program for your WordPress site.
The first is setting up membership-specific commission rates.
Not all your memberships are worth the same, so it makes sense that affiliates get a better commission when they sell a more valuable product.
We're going to use MemberPress as an example, but check out our documentation to find out if you can set per-membership rates with your membership plugin.
All you have to do is go to the edit screen for an individual membership and enter your desired referral rate. This will override the global commission rate you set in AffiliateWP and allow you to tailor your commissions to your membership products.
Step 4: Add Recurring Referrals
One thing high-quality affiliates love is recurring revenue, and with a membership website, you have the perfect opportunity to offer them this.
To pay affiliates a commission every time a customer pays their membership fee, you'll need our Recurring Referrals pro-add-on. This is available for professional license holders, which along with 16 other pro-add-ons is well worth upgrading for.
Set up recurring commissions by downloading the add-on and installing it in exactly the same way you did the AffiliateWP plugin.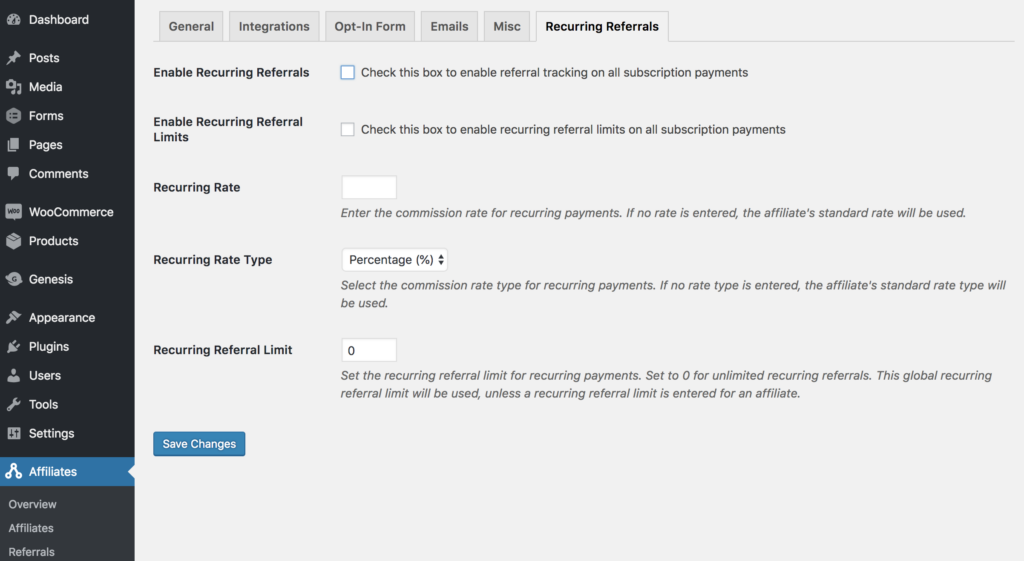 Once you've installed the add-on, you'll see a Recurring Referrals tab in your AffiliateWP settings. From here, you can set your global recurring rate, but once again, you can set this on a per membership basis by going to your membership settings.
Retention is an important part of referral marketing. It's not just about getting new customers, but keeping them, and recurring referrals help you do this.
Next, Grow Your Affiliate Program
We truly believe affiliate marketing is one of the best digital marketing strategies to grow a membership website (and help create a passive income).
It's easy to set up, low risk, and can bring immediate growth to your small business. And although setting up your own affiliate marketing program might seem daunting, it's actually very manageable.
To help you get the most out of your membership site affiliate program, we've got some resources to help you out (both internal and external).
Once you've done your research and read up on membership site affiliate programs, you're just a few steps from growing your business with AffiliateWP!