How to Restrict Affiliates to Promote Only Selected Products (Guide)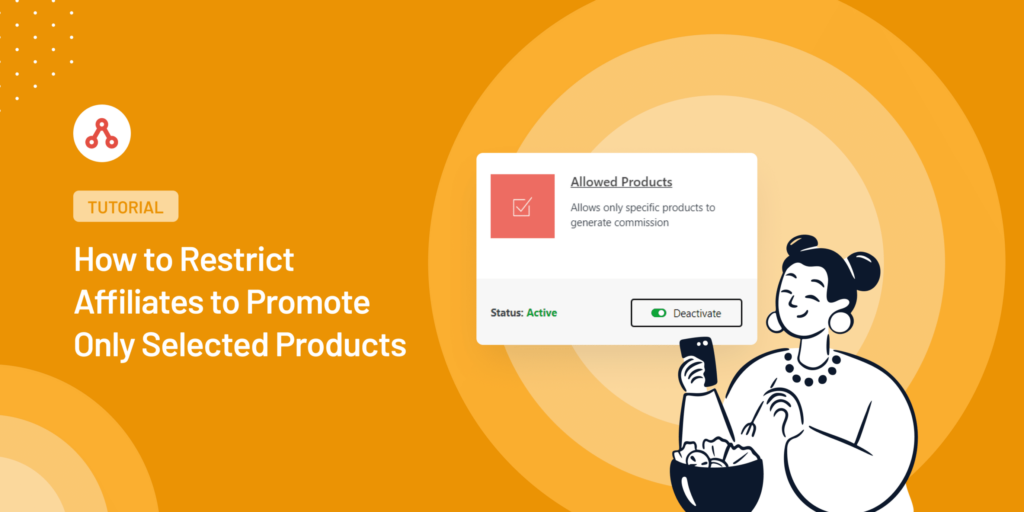 Are you looking for a way to limit your affiliates to promote only certain products in WordPress?
If your store has an extensive product range and you want to promote specific items, you might want to allow your affiliates to earn referrals on a few specific products.
This guide will show you how to restrict affiliates to earn referrals on selected products on your WordPress store.
Why Restrict Affiliates to Promote And Earn Referrals on Only Selected Products
Affiliate marketing is a widely adopted strategy businesses use to promote their products and services. It's a collaboration between a business and its affiliates, where the affiliates are rewarded for each visitor or customer brought in by their marketing efforts.
However, it's not uncommon for businesses to restrict their affiliates to promoting only selected products. Several essential factors drive this strategic decision.
Firstly, businesses often highlight specific products that align with their current marketing objectives.
These could be newly launched products, high-margin products, or those with excess inventory. By directing affiliate marketing efforts toward these select products, businesses can ensure they meet specific goals while optimizing their marketing spend.
Affiliates, in turn, get the chance to promote fresh and exciting products, which can potentially attract more interest from consumers.
Additionally, limiting the range of products affiliates can promote helps maintain brand consistency. Every product or service a business offers might not perfectly align with the brand image they want to convey.
By being selective about which products affiliates can promote, businesses can ensure that their brand messaging remains consistent and clear.
This, in turn, aids in strengthening brand perception and customer loyalty.
There are many more reasons why you might want to stop your affiliates from selling some of your products, but the main question is whether or not that is possible.
The good news is that it is easy to prevent affiliates from making money from referrals and promoting specific products.
Let us show you how easy it is to do that.
Steps to Restrict Affiliates to Promote Only Selected Products
To allow your affiliates to promote and earn referrals on a few or specific products is a breeze with AffiliateWP.
AffiliateWP is a robust affiliate management plugin that allows you to set up an affiliate program on your WordPress website easily. One of its powerful features is the Allowed Products add-on. With this add-on, you can selectively control which products your affiliates can promote.
This is particularly beneficial if you have a wide range of products but only want to focus on promoting a few specific ones.
Let's get started.
Step 1: Installing AffiliateWP
AffiliateWP is a top-notch WordPress affiliate management plugin that simplifies the entire process of managing your affiliate program.
From one-click integrations with your favorite WordPress plugins to a user-friendly interface, AffiliateWP is an excellent starting point if you want to grow your affiliate program.
Head to the AffiliateWP pricing page and select the plan that best suits your needs.
Once selected, follow the instructions to install the plugin on your WordPress site. Once installed, you're all set to begin managing your affiliate program.
Step 2: Completing the Setup Wizard
To initiate the setup of your affiliate program, navigate to the AffiliateWP menu on your WordPress dashboard and click on Setup.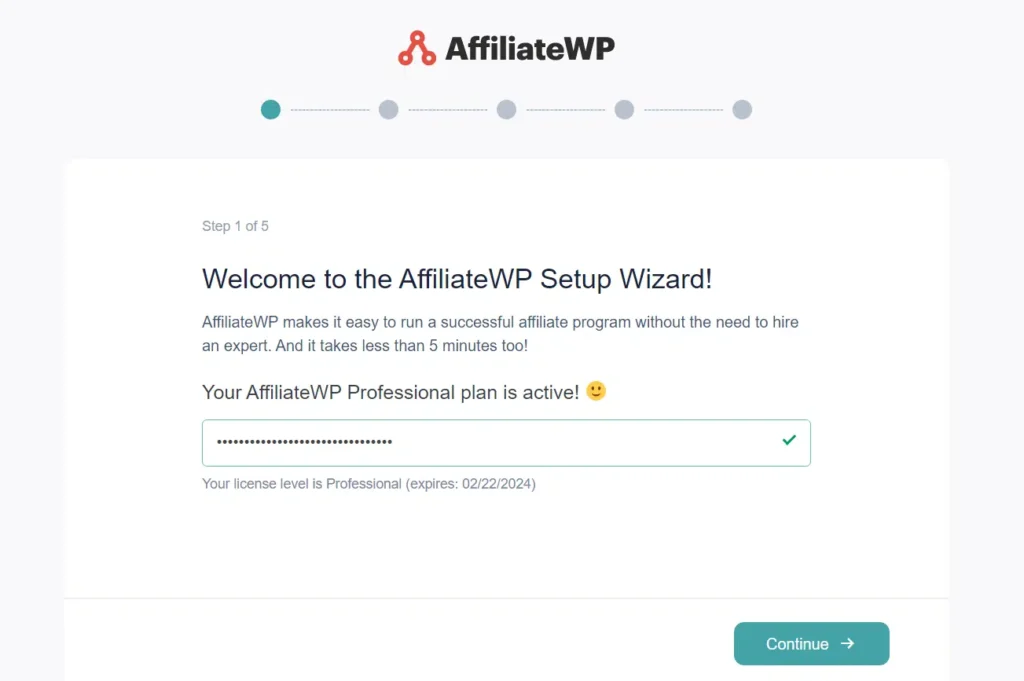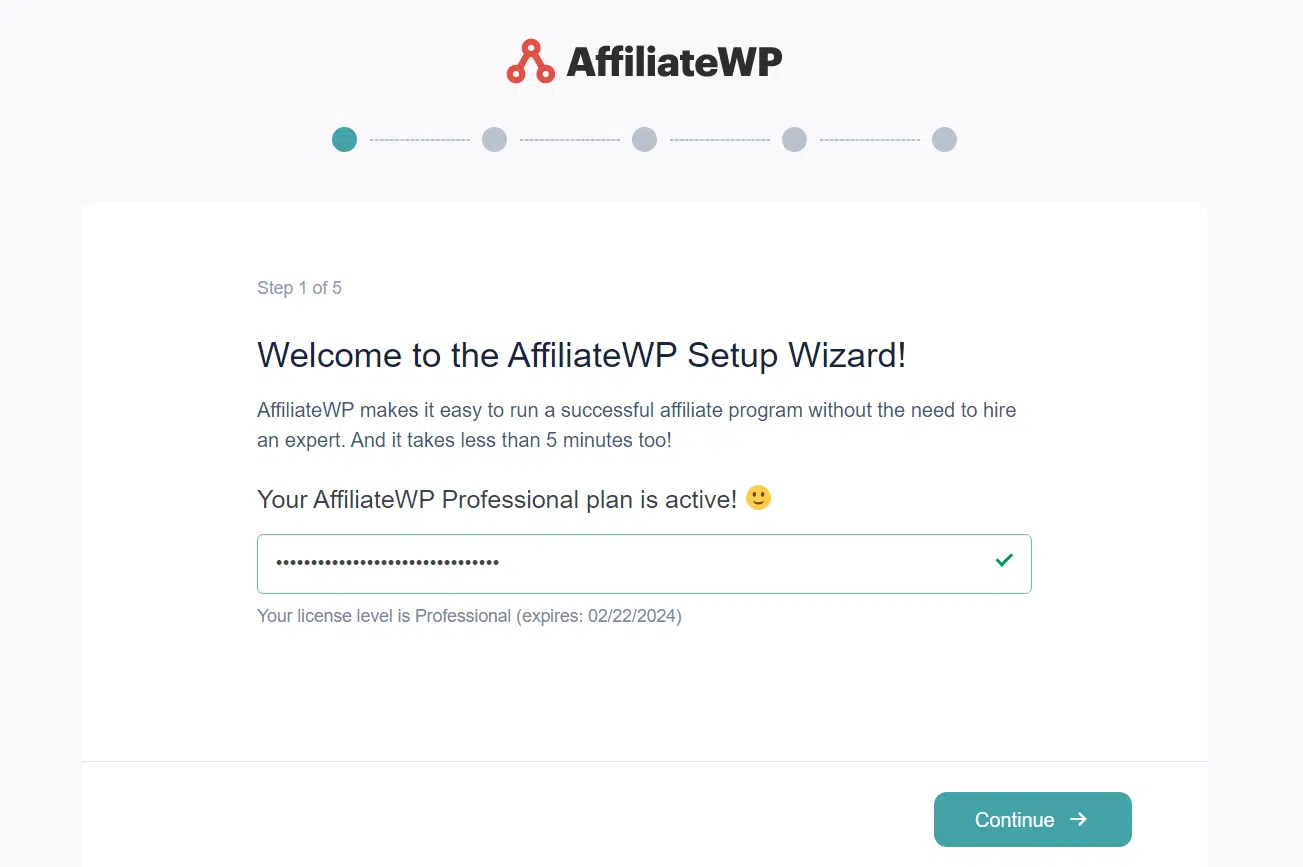 This action opens the setup wizard, guiding you through synchronizing AffiliateWP with your chosen integration.
On the first page of the setup wizard, you will be prompted to enter your License Key.
This key can be found in your AffiliateWP Account. Copy and paste this key into the designated box and click Continue.
In the next step, AffiliateWP will automatically detect the active plugins on your site and list them as Recommended Integrations.
To add more integrations, click on the dropdown menu next to Integrations and check the checkbox next to your preferred integration. Once you've selected your integrations, click Continue.
Next, you'll be asked to decide how you plan to pay your affiliates.
The options include direct bank transfers through the payouts service, PayPal payouts, or manual payouts. Choose the best suits your needs and continue to the next step.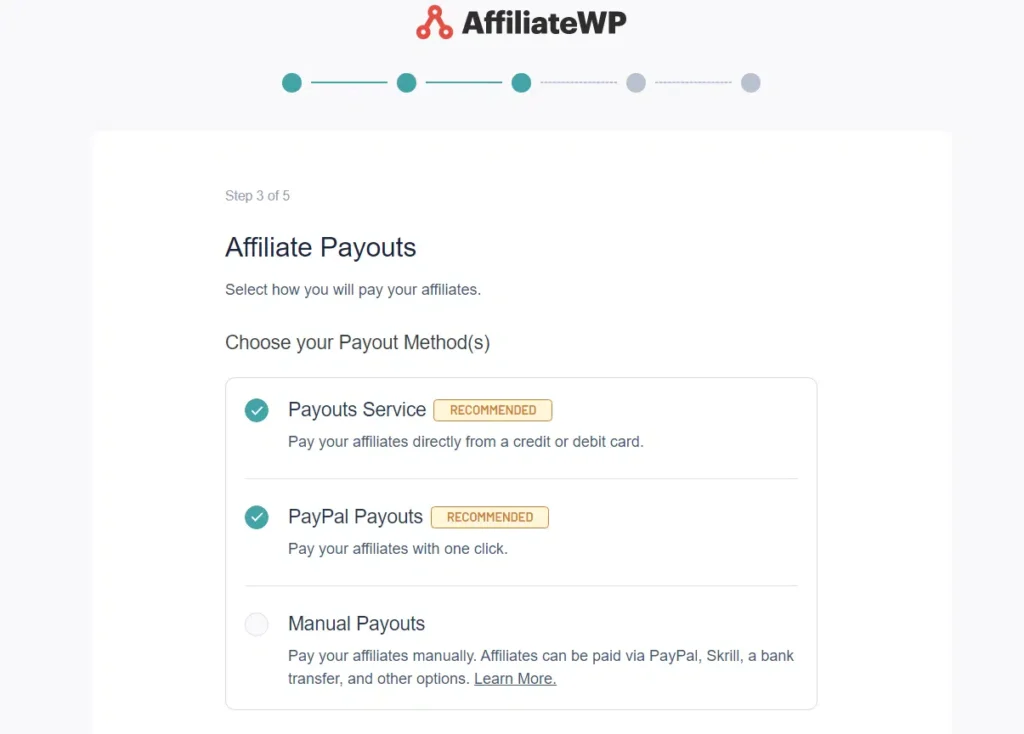 In this step, you'll be asked to set your commission rates.
Choose your currency, referral type, and set the commission value. You can refer to this helpful guide on affiliate commissions if you are unsure what to set.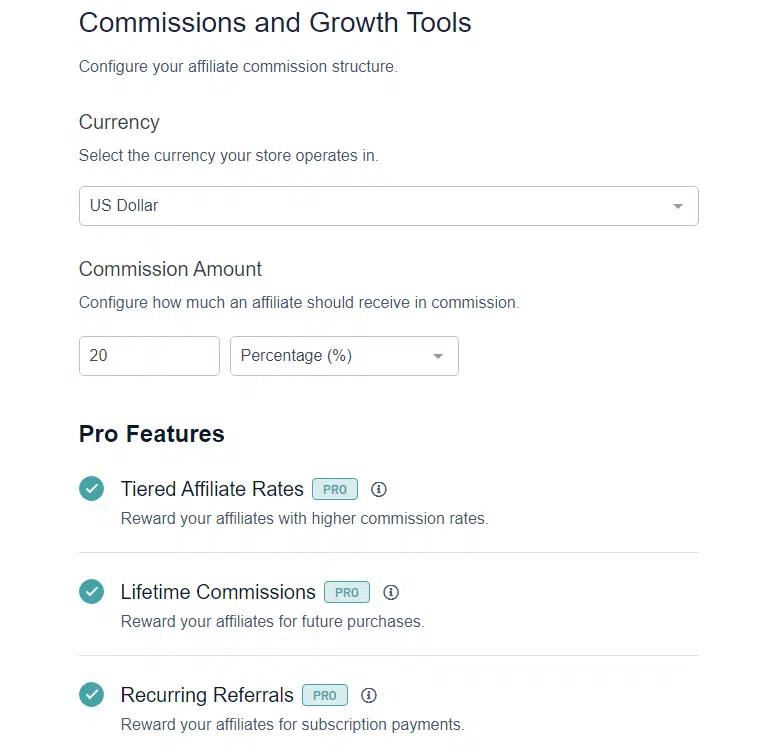 Keep in mind that you can constantly adjust these settings later.
Upon completing these steps, a final confirmation page will appear where you can close the setup wizard.
You have successfully set up AffiliateWP and are ready to manage your affiliate creatives.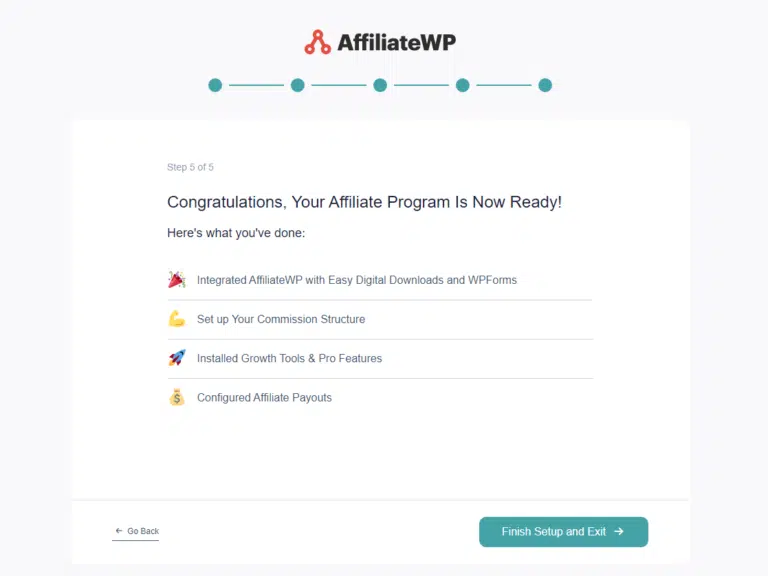 The Setup screen will remain visible, allowing you to take further steps to fine-tune your affiliate program for success.
Step 3: Installing the Allowed Products Add-on
Before diving into the details, ensure that AffiliateWP is installed and activated on your WordPress site.
Once AffiliateWP is successfully set up, and your license has been verified, you can quickly install and activate the Allowed Products add-on.
To do this, navigate to the Add-ons section in your AffiliateWP account.
Locate the Allowed Products add-on and click on Install. With the activation of the Allowed Products add-on, you are one step closer to customizing which products your affiliates can earn referrals on.
After successfully activating the plugin, it's time to configure your settings.
Step 4: Configuring Allowed Products
After installation and activation, navigate to AffiliateWP » Settings » Integrations.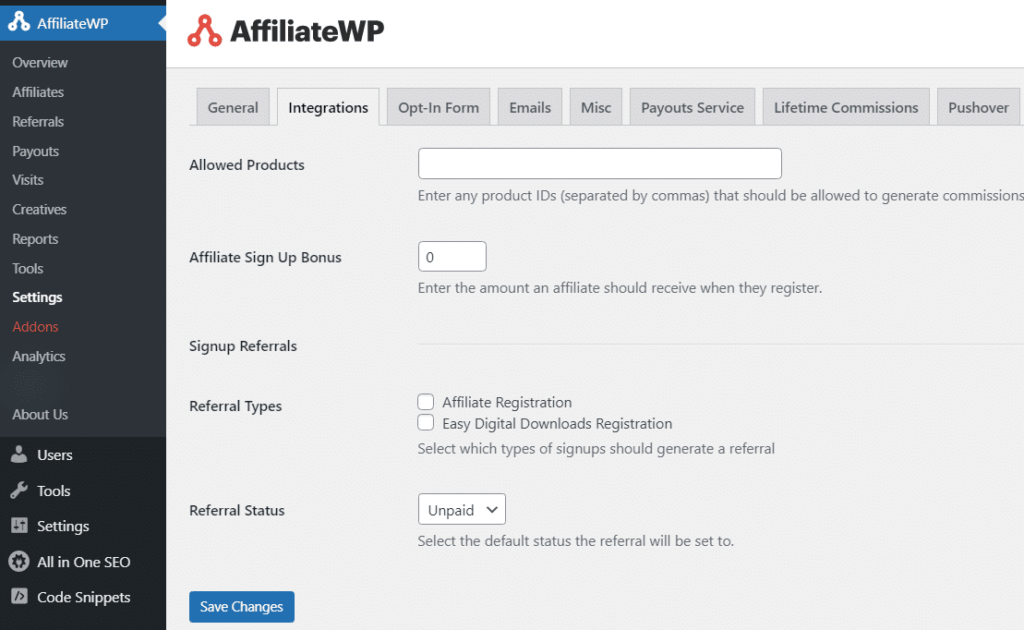 In the Allowed Products field, enter the IDs of the products you want to allow referrals for.

If your platform supports variable products, you need to enter the parent product ID, not the ID of each separate variation. When you use shortcodes, widgets, or links, you may need a WooCommerce Product ID.
To find the product ID in WooCommerce, go to Products and move your mouse over the product for which you need the ID. The ID number for the product is shown.

If you're still unsure about how to find the product ID in WooCommerce, refer to this comprehensive guide from the WooCommerce documentation: Managing Products
Remember: By default, once the add-on is installed and activated, all products will be blocked from generating referrals, which means the referrals will be created with a 0.00 value. So, no referrals will be created if you enable the setting to Ignore Referrals with Zero Amount.
That's it; by following the above steps, you will successfully enable the product-specific restriction for your affiliate to promote only the products that you want in your WordPress affiliate program.
Ready to Streamlining Affiliate Promotion with Allowed Products
With AffiliateWP, not only do you maintain complete ownership over your data, but you also gain unparalleled control over your affiliates' promotional activities.
You can restrict affiliates to promote only selected products, allowing you to drive focused marketing efforts where they are most needed.
Setting up such restrictions is easy and efficient, providing you with a flexible approach to managing your affiliate marketing strategy.
However, this is just the tip of the iceberg. There's more you can do to supercharge your affiliate program. With AffiliateWP, you can easily create personalized landing pages, enable product-specific referral rates, and much more.
Moreover, in case you want to learn more about enhancing your affiliate program, check out our guides:
So, what are you waiting for?
Get AffiliateWP today, and begin your journey towards a more effective, streamlined affiliate marketing strategy!