How to Add an HTML Sitemap to Your WordPress Affiliate Website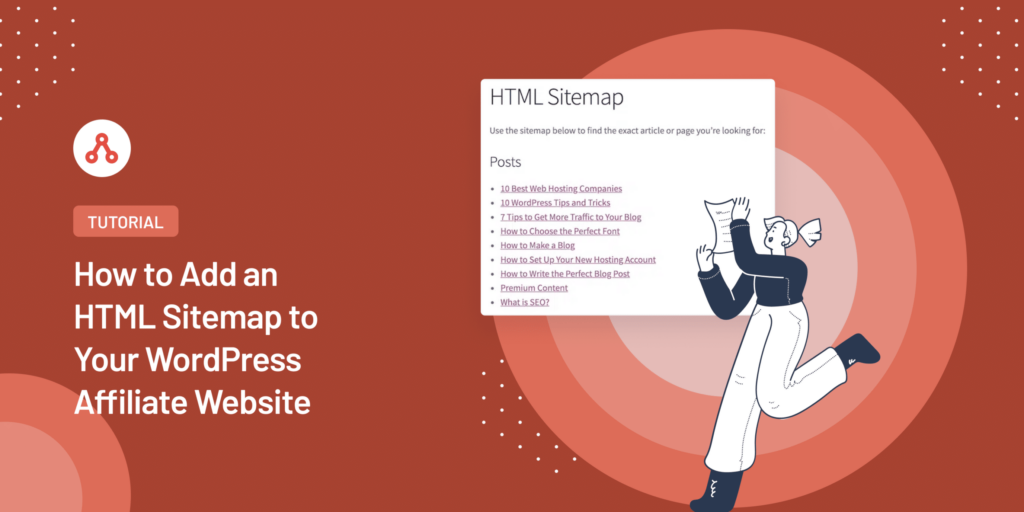 Want to know how you can add an HTML sitemap to your WordPress affiliate website?
An HTML sitemap is an essential element for any website as it represents each web page your website has with a title and hyperlink. It is intended for the visitors to your site, making it easier for users to navigate.
This step-by-step guide will show you how to add an HTML sitemap to your WordPress affiliate website.
Difference Between HTML Sitemap And XML Sitemap
Sitemaps are integral elements of any website, including affiliate websites, because they help guide users and search engines to navigate your site easily.
The two primary types of sitemaps you'll encounter are:
HTML sitemaps
XML sitemaps
While they both serve the purpose of improving website navigation, they differ in their target audience and presentation.
HTML Sitemap
An HTML sitemap is a webpage on your site that provides a user-friendly layout of your website's structure.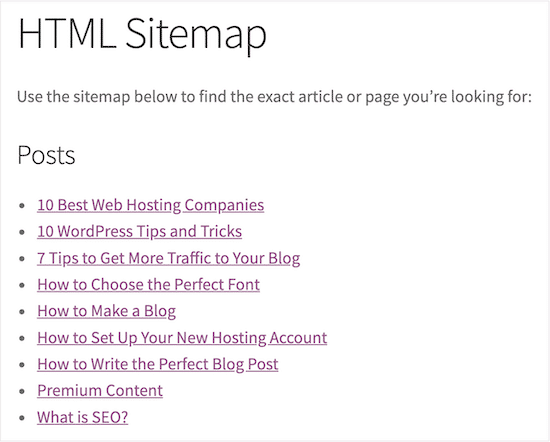 It essentially functions as your site's roadmap, enabling visitors to find the information they're looking for without feeling lost.
Think of it this way: if you were running an affiliate program for, let's say, kitchen appliances, your HTML sitemap would be the tool that helps your users effortlessly find all the content related to blenders, coffee makers, or toasters.
It makes the journey easier for your users, leading to a better user experience, increased time spent on your site, and, potentially, higher affiliate link clicks.
XML Sitemap
On the other hand, an XML sitemap is created mainly for search engines. This type of sitemap gives search engine bots a detailed overview of all the pages on your site, including when they were last updated.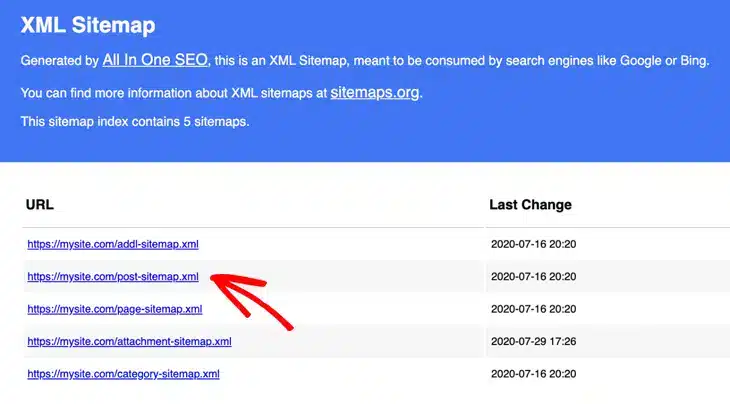 It's a technical document that helps search engines understand the structure of your website and index it more effectively.
In the context of an affiliate program, an XML sitemap would ensure that all your pages, including those housing your affiliate links, are crawled and indexed by search engines.
This can ultimately lead to better search visibility and potentially higher organic traffic.
A
N
S
Steps to Add an HTML Sitemap to Your WordPress Affiliate Website
To add an HTML sitemap to your affiliate WordPress website, you don't need the knowledge of code or must manually add them. All in One SEO makes it easier for websites to do all the heavy lifting regarding sitemaps and SEO in general.
Follow these steps to add an HTML sitemap on your website in just a few minutes:
Step 1: Download and Install the All in One SEO (AIOSEO) Plugin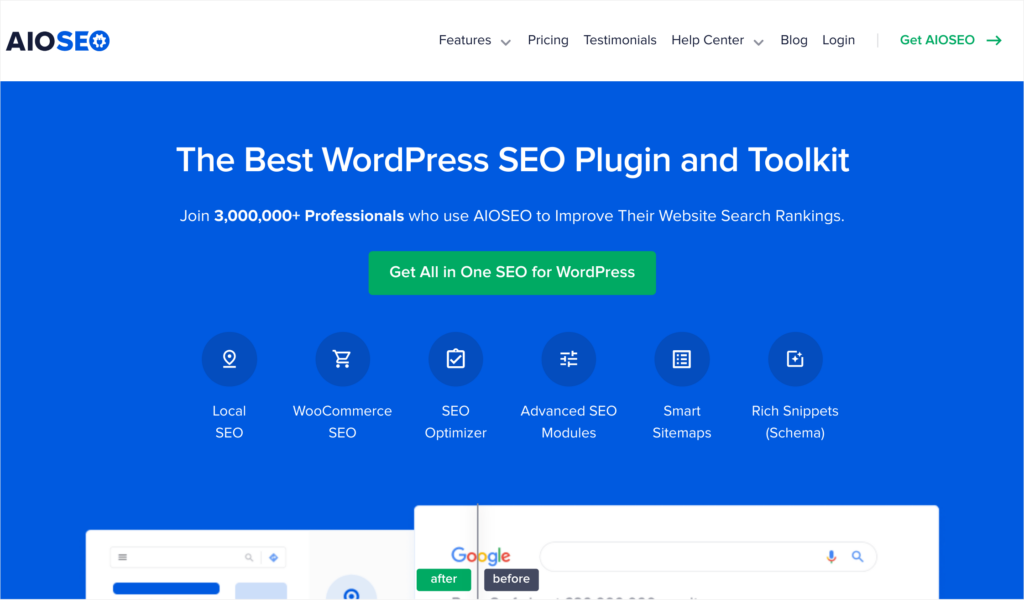 First, download and install the All in One SEO (AIOSEO) plugin on your WordPress site.
This plugin has garnered a significant user base. It is the most popular plugin on the WordPress platform as it makes it easier for users to handle the SEO part of their website so that they can focus on creating excellent content or selling great products.
Crafted by a team of seasoned WordPress engineers, AIOSEO brings a wealth of features to your fingertips.
After successfully downloading and installing AIOSEO, you're all set to launch your HTML sitemap.
Step 2: Activate the HTML Sitemap
Moving on, you need to enable the HTML sitemap. To do this, open your WordPress editor and navigate to the Sitemaps section in the AIOSEO menu.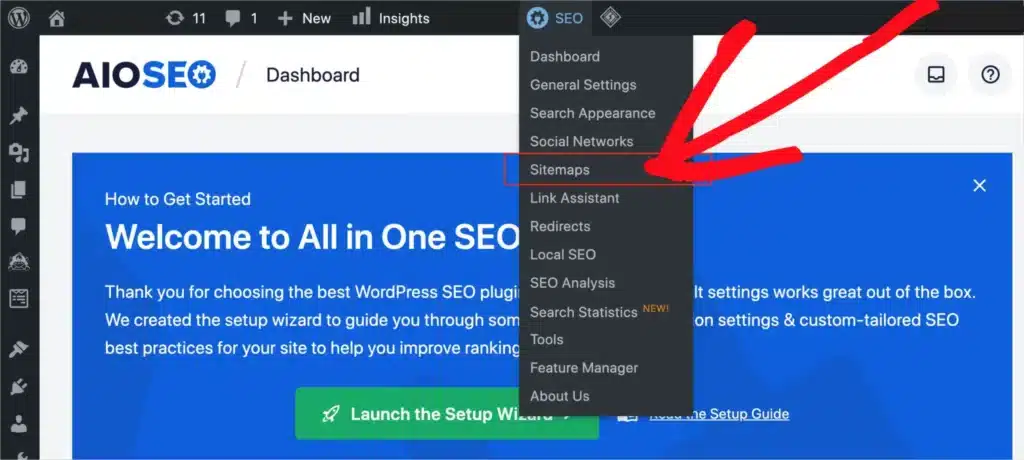 OR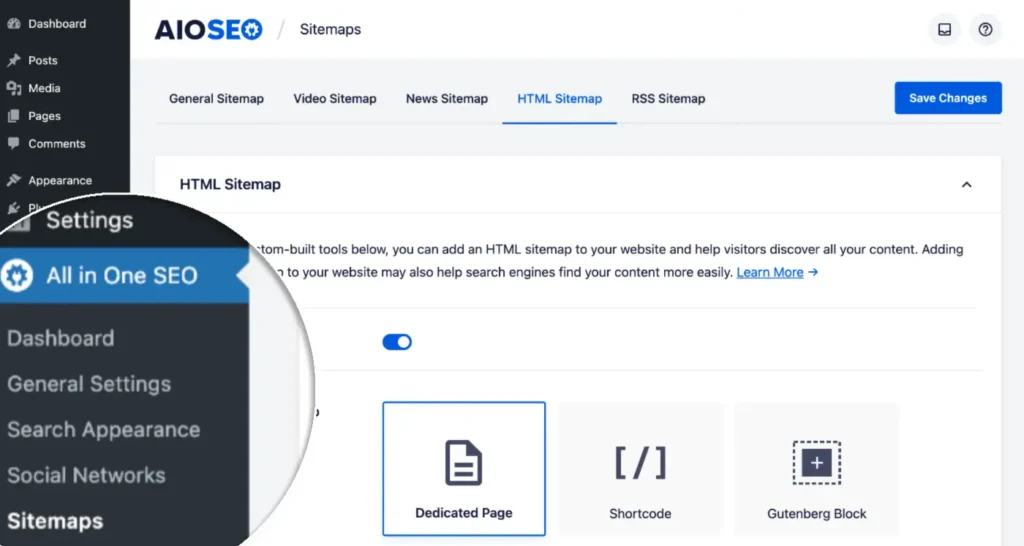 Next, you have to choose the HTML Sitemap option. This will present you with a range of settings.

Among these settings, you need to locate Enable Sitemap.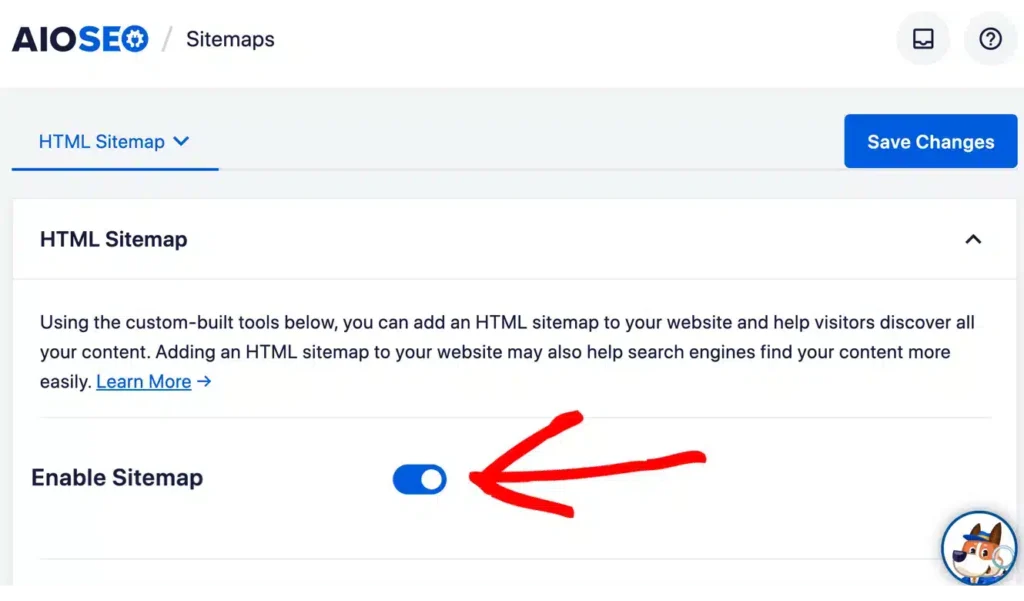 Switch on the toggle button to activate your HTML sitemap.
Step 3: Configure and Display Your HTML Sitemap
Upon enabling your HTML sitemap, it's time to decide how it will be displayed.
Scroll down to find the Display HTML Sitemap section. By default, the Dedicated Page option is selected.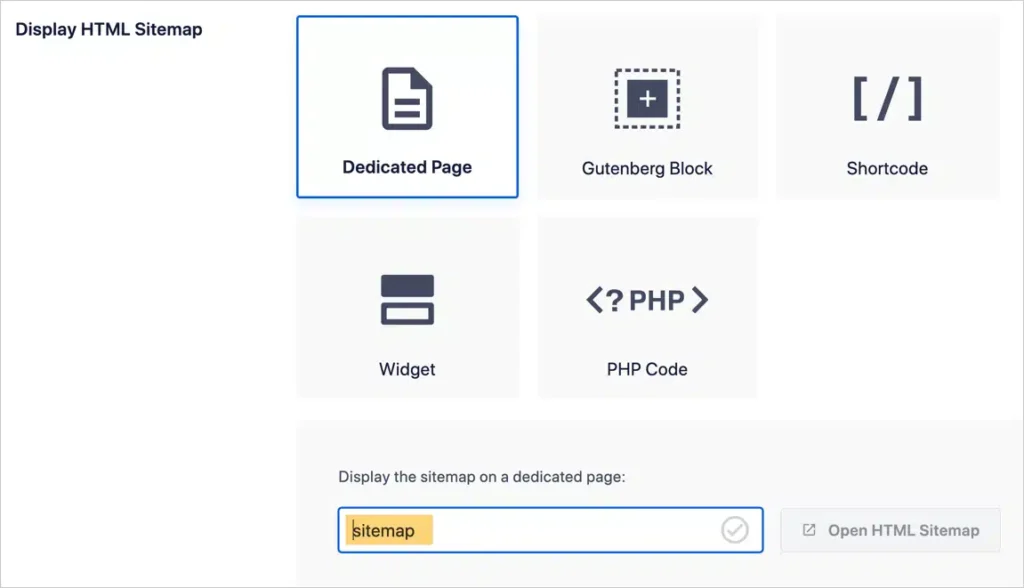 This means your HTML sitemap will be shown on a specific page.
At the bottom of this section, you'll find a field to input the name of your HTML sitemap page. You can enter any name you prefer; for instance, we've used sitemap.
Once you've inputted your preferred page name, save your changes by clicking Save Changes at the bottom.
Now, you're ready to view your new HTML sitemap page. Simply click on Open HTML Sitemap, and there you have it!
Additionally, AIOSEO provides other options for displaying your HTML sitemap. You can insert it as a Gutenberg block, use a shortcode, add it as a widget, or utilize PHP code, depending on your preferences and needs.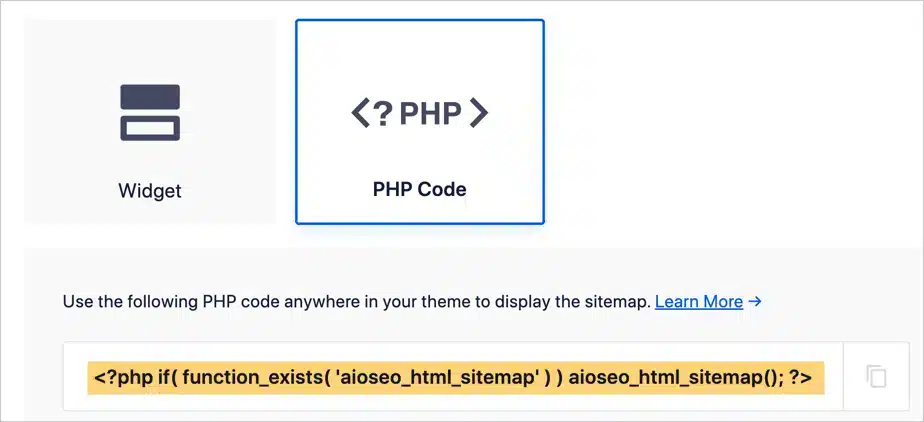 Step 4: Optionally Adjust Your Settings
After setting up your HTML sitemap's display, you can tweak additional settings under the HTML Sitemap Settings section.
AIOSEO comes with default settings which you may change if you wish. You can skip this part if you're content with the default settings.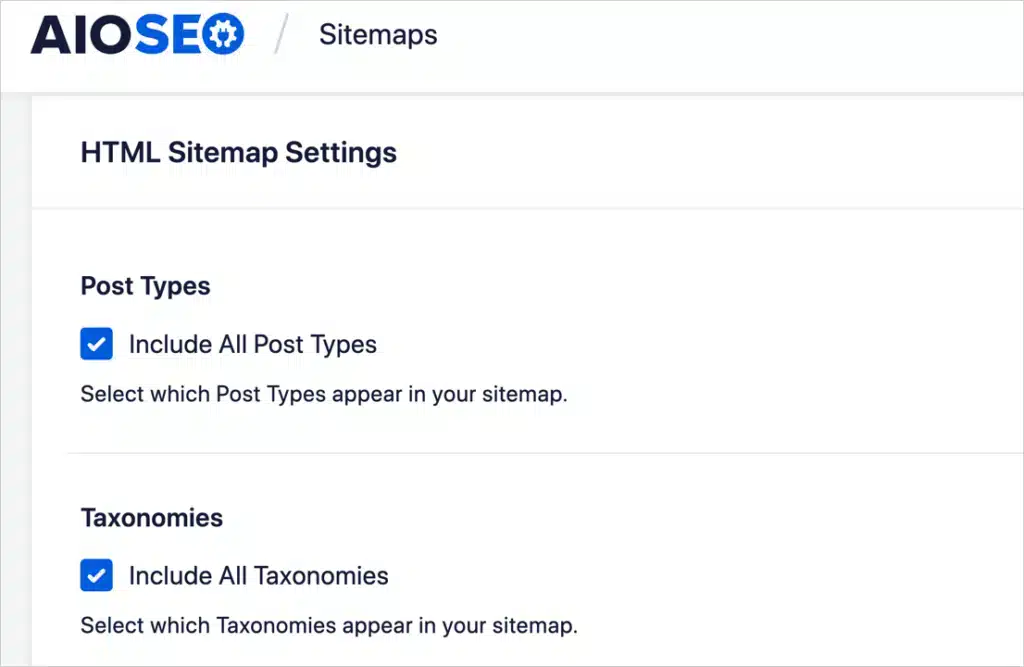 Among the available settings, you can specify post types (select all or either Posts or Pages), taxonomies (include all or either Categories or Tags), sort order, sort direction, publication date visibility, and whether to enable compact archives.
Advanced Settings
If you'd like to customize further, AIOSEO offers some advanced settings. These include excluding specific posts/pages or terms from your HTML sitemap.
You can enter the page ID, title, or slug to exclude posts/pages or specify any taxonomy (such as categories or tags) to exclude terms.

Remember, an organized and user-friendly sitemap can significantly improve your site navigation and SEO, enhancing user experience and your site's visibility in search engine results.
Next, Safeguard Your Affiliate Program From Affiliate Fraud
It's crucial to protect your affiliate program against potential fraudulent activities. Affiliate fraud is a lingering concern for many businesses, costing them billions annually.
Like any other digital platform, affiliate marketing holds immense opportunities, but it's not immune to risks.
However, don't let this prevent you from running your affiliate program. Luckily, there are comprehensive measures you can take to protect your WordPress affiliate program from fraudulent activities.
Hence, the next logical step after setting up your HTML sitemap would be to secure your affiliate program.
We have compiled a step-by-step guide to help you establish a robust affiliate fraud protection system for your WordPress affiliate site using AffiliateWP.
This way, you can confidently grow your affiliate program, knowing you're protected against potential threats.
Ready to Elevate Your Affiliate Program to the Next Level
By now, you've learned how to set up an HTML sitemap on your WordPress affiliate website, and you've also become familiar with the significance of safeguarding your affiliate program against potential fraud.
These steps are crucial in ensuring a smooth and secure affiliate marketing journey.
But it's just the beginning! With the right tools and strategies, you can propel your affiliate program to new heights, significantly boosting your revenue streams.
We have curated some additional resources to support you as you delve deeper into the world of affiliate marketing:
Now, there's one critical step remaining.
Grow your affiliate program with AffiliateWP, a trusted affiliate management solution.
So, don't wait! It's time to launch your affiliate program with AffiliateWP and pave the way for more tremendous success in your affiliate marketing journey.