5 Best Link Shorteners for Affiliate Marketing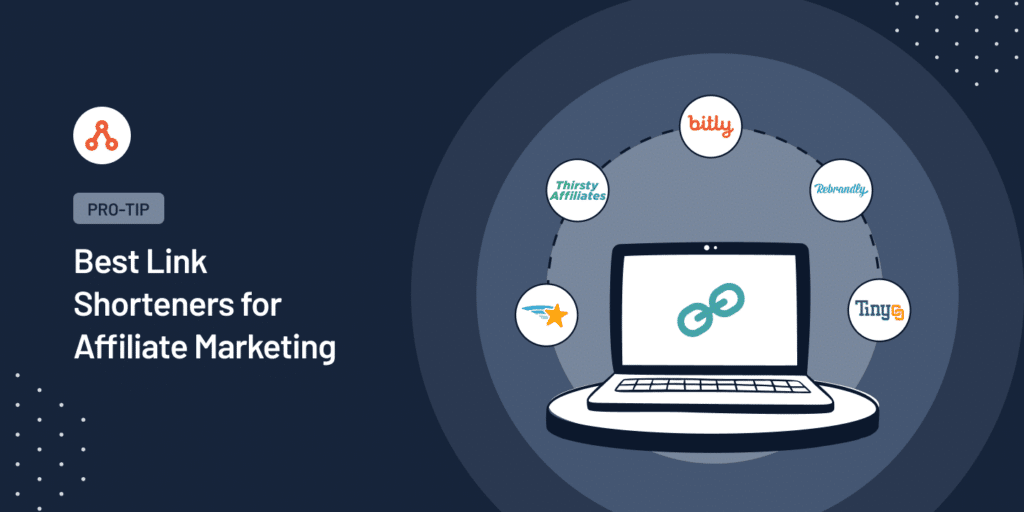 Searching for the ideal link shortener to boost your affiliate program?
To help you find the perfect link shortener, we've put together a list of the top five link shorteners for affiliate links that offer a range of features and benefits.
Let's dive in!
Why Use a Link Shortener for Affiliate Marketing?
If you've ever hovered over an affiliate link to see where it's sending you, then it's pretty likely you found the experience very offputting.
Many affiliate links look like the kind of URL a phishing email would try to send you to!
There are numbers, random symbols, and a few words that make sense.
No wonder the average affiliate link doesn't do much for user experience. Since search engine optimization (SEO) is user-focused, it follows that these links aren't particularly SEO-friendly either.
Perhaps what's even more frustrating about these randomly generated links is the fact they're very difficult to track. If you had a uniform URL structure, then you can quickly set up advanced tracking, but standard affiliate links make this much more difficult to do.
Oh, and there's another big reason too – affiliate fraud. There are some unscrupulous actors out there who are very happy to steal your commission, and link cloaking is one of the primary defenses against it.
So, we've established that link shorteners can be awesome tools, but which one should you be using?
The Best Affiliate Link Shorteners
There are lots of different affiliate link shorteners to choose from, so we decided to put them to the test.
We've evaluated the top link shorteners on the market to find out which ones are the best options for affiliate marketers.
To call Pretty Links a link shortener isn't doing it justice – this is a complete affiliate link management solution.
Not only does it give you endless options for shortening and organizing your affiliate links, but it's also capable of automating your affiliate link placement.
You share affiliate links all over the place! In your blog content, on social media, in podcasts – they're everywhere.
This gets incredibly tricky to manage, so Pretty Links provide you with one central location where you can take care of everything to do with affiliate links.
That includes link shortening, automated suggestions for link placement, link grouping, and much more.
There are so many features that we could write a whole article on Pretty Links, but the important thing for this article is that it's certainly one of the best affiliate link shorteners out there!
Key Features:
Auto-create pretty links
Auto link keywords
Advanced redirects
Pricing
Beginner: From $99.50 a year
Marketer: From $149.50 a year
Super-Affiliate: From $199.50 a year
ThirstyAffiliates is absolutely one of the best affiliate link shorteners on the market.
Again, it's not just a link shortener but offers you so much more!
When you manage your affiliate links with ThirstyAffiliates you get advanced compatibility with Google Analytics Events, auto links to keywords, geolocation links, automatic 404 checker, and smart uncloaking to ensure you're complying with your affiliate program's terms and conditions.
If you're finding it time-consuming to manage so many affiliate links, then ThirstyAffiliates is the answer!
Key Features:
Link shortening and destination cloaking
Automatic keyword linking
Geographic redirects
Advanced redirects
Pricing:
Basic: From $79.50 a year
Plus: From $129.50 a year
Advanced: From $199.50 a year
Bitly is another affiliate link shortener that can bring all your affiliate links together in a single campaign dashboard. This makes it much simpler to manage your affiliate links, saving you time, and helping you to earn more money.
Another nice feature with Bitly is Link-in-bio which helps you to effortlessly create custom URLs for social media.
The one thing you have to keep an eye on is that there are a lot of different pricing plans with different limits. So make sure you use the comparison chart to understand exactly what you're getting with each plan.
Key Features:
Short links
Link redirects
QR codes
Link-in-bio
Pricing:
Free: Basic functionality with strict limits
Starter: From $8 a month
Basic: From $29 a month
Premium: From $199 a month
Enterprise: Custom pricing
Rebrandly is the industry-leading link management platform that allows you to brand, track, and share short URLs using a custom domain name.
It is much more than a simple link shortener – it is a comprehensive tool that provides you with a range of features to manage your affiliate links effectively.
Rebrandly's extensive list of features includes link management, fast redirects, editable destination URLs, custom URL slugs, QR codes, link analytics, and many more.
Its traffic routing options help optimize your campaigns, while the domain name management ensures that your branded links look professional and trustworthy.
Key Features:
Custom-branded short links
Link management and analytics
Traffic routing and SEO-friendly 301 redirects
Domain name management with SSL support
Collaboration tools for team management
Pricing:
Free: Basic functionality with 1 domain name
Lite: From $12 a month
Essentials: From $28 a month
Professional: From $85 a month
TinyCC is a versatile and user-friendly link shortener that not only allows you to create short URLs but also track and manage them effectively.
With its focus on simplicity and ease of use, TinyCC is a popular choice for small businesses, marketers, and individual users who want to optimize their affiliate marketing efforts.
The platform offers a variety of features that make it easy for you to create, track, and manage short URLs.
TinyCC also provides useful analytics that helps you understand the effectiveness of your marketing channels, optimize your ad spend, and maximize your ROI.
Key Features:
Easy-to-use link shortening and management
Custom domains and branded short links
Click statistics tracking without an account
Quick edits and efficient link management
Pricing:
Basic: From $5/month
Recommended: From $25/month
Business: From $44/month
Enterprise: Flexible pricing for custom features and volume limits
What's The Best Affiliate Link Shortener?
After evaluating the top link shorteners on the market, it's clear that Pretty Links stands out as the best affiliate link shortener for most users.
With its comprehensive set of features, including link shortening, automated suggestions for link placement, link grouping, and advanced redirects, Pretty Links offers a complete affiliate link management solution that can significantly improve your affiliate marketing efforts.
However, it's worth mentioning that if you're using AffiliateWP, a leading affiliate management software, you have another excellent option at your disposal.
AffiliateWP offers a custom link feature that allows you to create unique, branded affiliate links directly within the platform.
This means you can manage your affiliate program and links from one central location, streamlining your workflow and ensuring consistency across your marketing efforts.
By using AffiliateWP's custom link feature, you can create personalized and easily recognizable links that not only look professional but also help improve click-through rates and conversions.
FAQ: Best Affiliate Link Shortener
Why Do I Need to Use an Affiliate Link Shortener?
Affiliate link shorteners make your links more user-friendly, improve click-through rates, and help protect your commissions from fraud. They also enable you to track and analyze your campaigns more effectively, allowing you to optimize your marketing efforts and increase your earnings.
Are Custom Branded Links Better than Generic Short Links?
Custom branded links, which include your brand name or custom domain, can help establish trust and credibility with your audience. They typically have higher click-through rates compared to generic short links, as they appear more professional and relevant.
How Do I Choose the Right Affiliate Link Shortener for My Needs?
To choose the best link shortener for your needs, consider factors such as the features offered, ease of use, pricing plans, and the ability to integrate with your existing marketing tools.
Next, Protect Your Affiliate Program From Fraud
Once you've effectively created your short links using the top affiliate link shorteners we've discussed, it's crucial to ensure your affiliate program's security and protect it from spam.
As an affiliate vendor, using AffiliateWP can help you guard your program with its outstanding features designed specifically for product sellers.
For additional valuable resources, take a look at these articles:
What are you waiting for?
Get AffiliateWP today, and take advantage of its fraud protection and custom link feature for spam protection and branded link creation.