How to Create Custom Affiliate Links for Affiliate Partners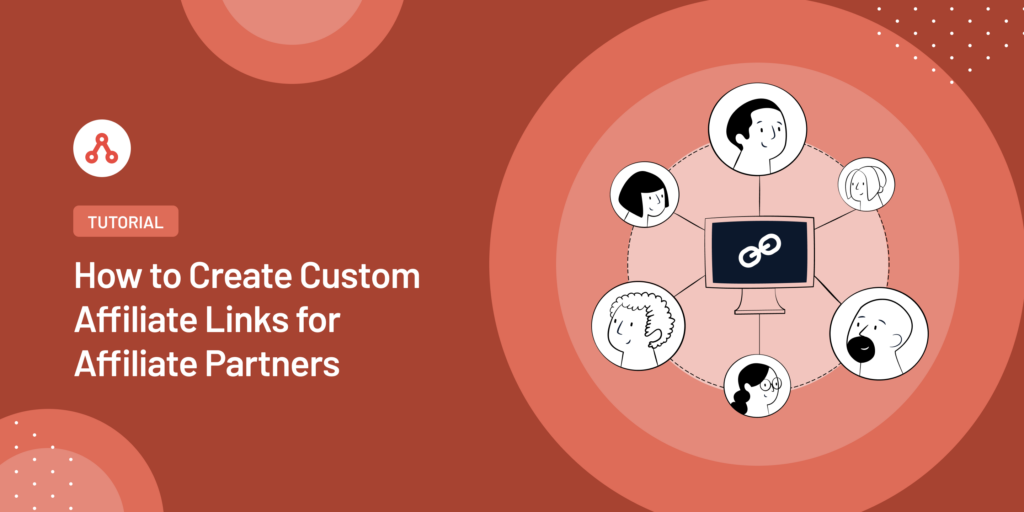 Looking to create custom affiliate links?
They can be an important feature for your affiliate marketing, so let's take a look at how you can get them set up.
Here's how to create custom affiliate links.
The Benefits of Custom Affiliate Links
When you hover over a lot of affiliate links they look horribly ugly. There are all kinds of characters and symbols, and this can be offputting for users.
Consumers are on the lookout for spammy links, and sometimes legitimate affiliate links can be misidentified as spam. One way you can ensure this doesn't happen is by creating custom affiliate links that are cleaner and more appealing.
There's also another great reason to create custom affiliate links – they help with affiliate analytics.
If your affiliate links aren't uniform, then it's much more difficult to track them in Google Analytics. By allowing customization, you make it easier for you and your affiliates to dig deeper into the performance of your affiliate campaigns.
Custom links are a small detail, but they can make a big difference for you and your affiliates, so how can you set them up?
How to Create Custom Affiliate Links in WordPress
Since more than 40% of the web runs on WordPress we're going to show you how to create custom affiliate links on the platform.
It's actually surprisingly simple, and all you have to do is follow these steps:
Install AffiliateWP
Set your global affiliate link structure
Download the Custom Affiliate Slugs addon
Allow affiliates to set a custom slug from their affiliate area
Let's take a look at each of these steps in more detail so you can create custom affiliate links.
Step 1: Install AffiliateWP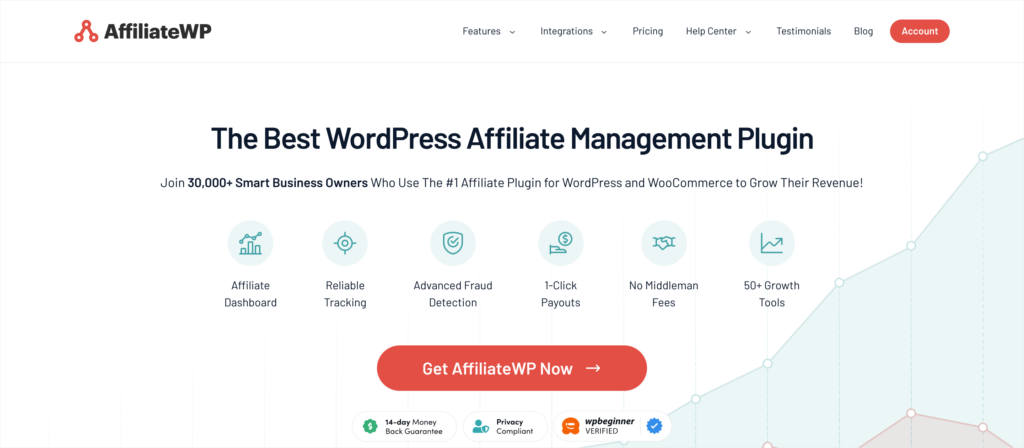 AffiliateWP is the best affiliate management plugin for WordPress.
It's going to enable you to quickly set up your own affiliate program and start using custom links in no time at all (no coding needed). On top of that, it's got some awesome management and growth tools to help turn affiliate marketing into one of your top revenue sources.
Sounds great right?
Just head to the pricing page and take a look at the plans. As Custom Affiliate Slugs is a pro addon, you will need the Professional plan, but don't worry, it's well worth the investment. This unlocks all of our top features to help you grow your affiliate program more quickly and maximize your profits.
Once you've completed your purchase, open the setup wizard from the Settings page, and your program can be up and running in under 10 minutes.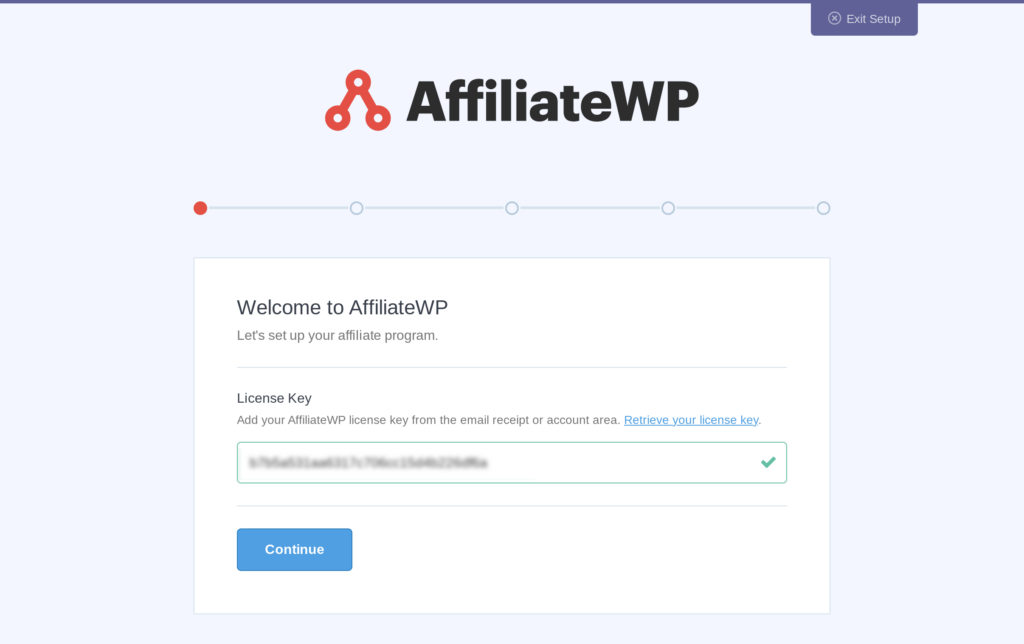 As soon as you complete the setup wizard, an Affiliate Area page (the affiliate dashboard) will be created and AffiliateWP will start tracking links. Your affiliates can sign up from the Affiliate Area, and once approved, generate links from the same page.
Step 2. Set Your Global Affiliate Link Structure
You can customize the basic structure of your affiliate links from the AffiliateWP Settings page.
Scroll down to Referral Settings and you can choose different elements of your link structure.
Start by choosing the URL variable you would like to use.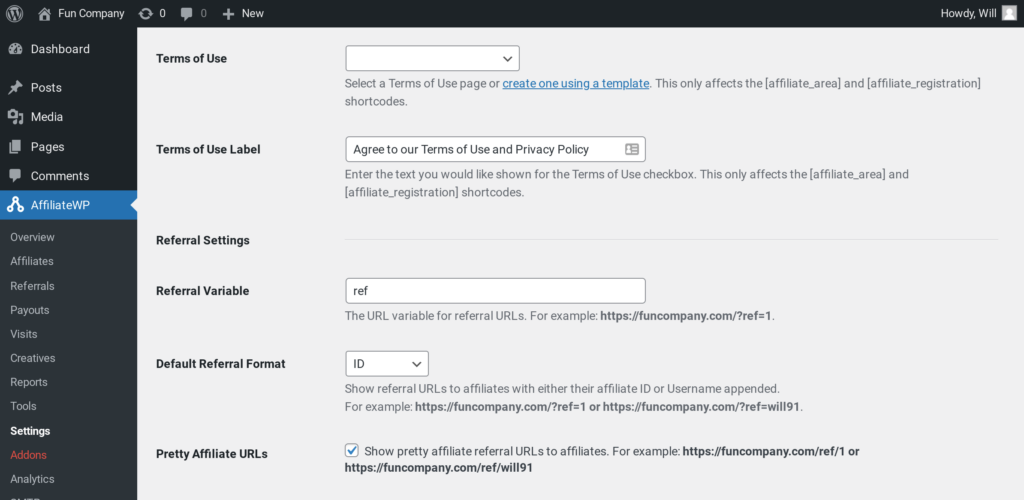 This can be anything you want, but people tend to stick with something like "ref," or "affiliate". This will form the first part of the slug, which is then followed either by the affiliate's ID, or username. You can change the format between the two by clicking the dropdown box next to Default Referral Format.
Next, you have an option to enable Pretty Affiliate URLs. If you check this box, it will remove extra symbols like "%" and give you a cleaner URL structure.
These settings give you a good basis to create clean custom affiliate links that are easy to track.
Step 3: Download the Custom Affiliate Slugs Addon
The next step is to allow your affiliates to customize their individual affiliate links.
This is the next level of customizability, helping affiliates to incorporate their brand as well as track their performance more easily.
To do this, you'll need to activate the Custom Affiliate Slugs addon.
Just go to the AffiliateWP Addon page from your WordPress dashboard and scroll to Custom Affiliate Slugs. Toggle the button, and Custom Affiliate Slugs will automatically install and activate.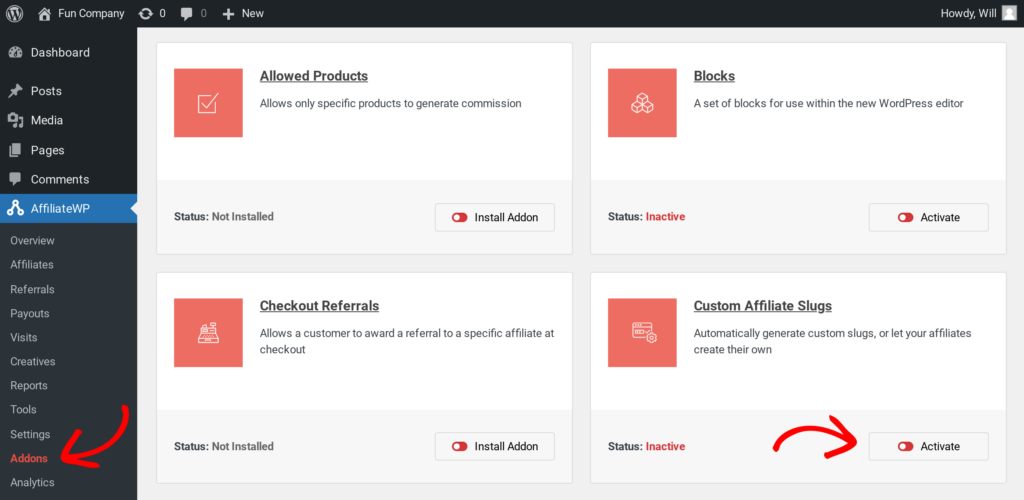 This will add a new option in the affiliate's dashboard settings enabling them to customize affiliate links.
Step 4: Affiliates Set Their Own Custom Links
Once you've activated Custom Affiliate Slugs, your affiliates can easily set their own custom affiliate links in their Affiliate Area.
All they have to do is click on the Settings tab and they'll see a new box titled Custom Slug Settings. They can enter their custom slug, and this will act as the default referral format (instead of affiliate ID or username).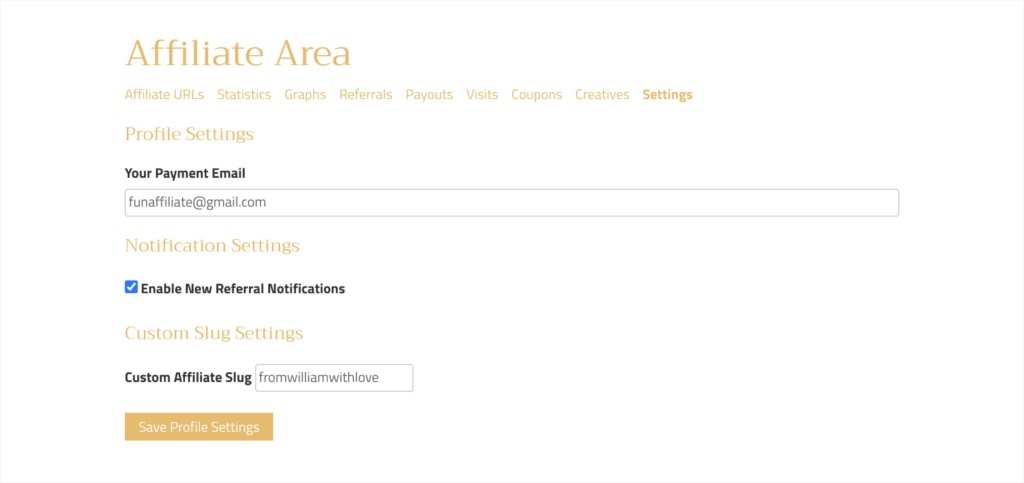 Now, they can create affiliate links following these simple steps.
Copy the URL for the page they want to send traffic to
Add / and the URL variable (e.g. /ref)
Add their custom slug (e.g. /ref/cool-affiliate)
That's it!
Your affiliates can now create custom affiliate links to any page on your website.
Now Make Your Affiliate Coupon Codes Customizable Too
You've made your affiliate links customizable, now it's time to do the same thing for your affiliate coupon codes.
Coupons play a massive part in e-commerce, so it's important you're using them in your affiliate program.
Again though, randomly-generated codes look ugly, and they don't draw people into clicking to your site, so you want your affiliates to be able to customize their coupons. The way to do this is with Vanity Coupon Codes.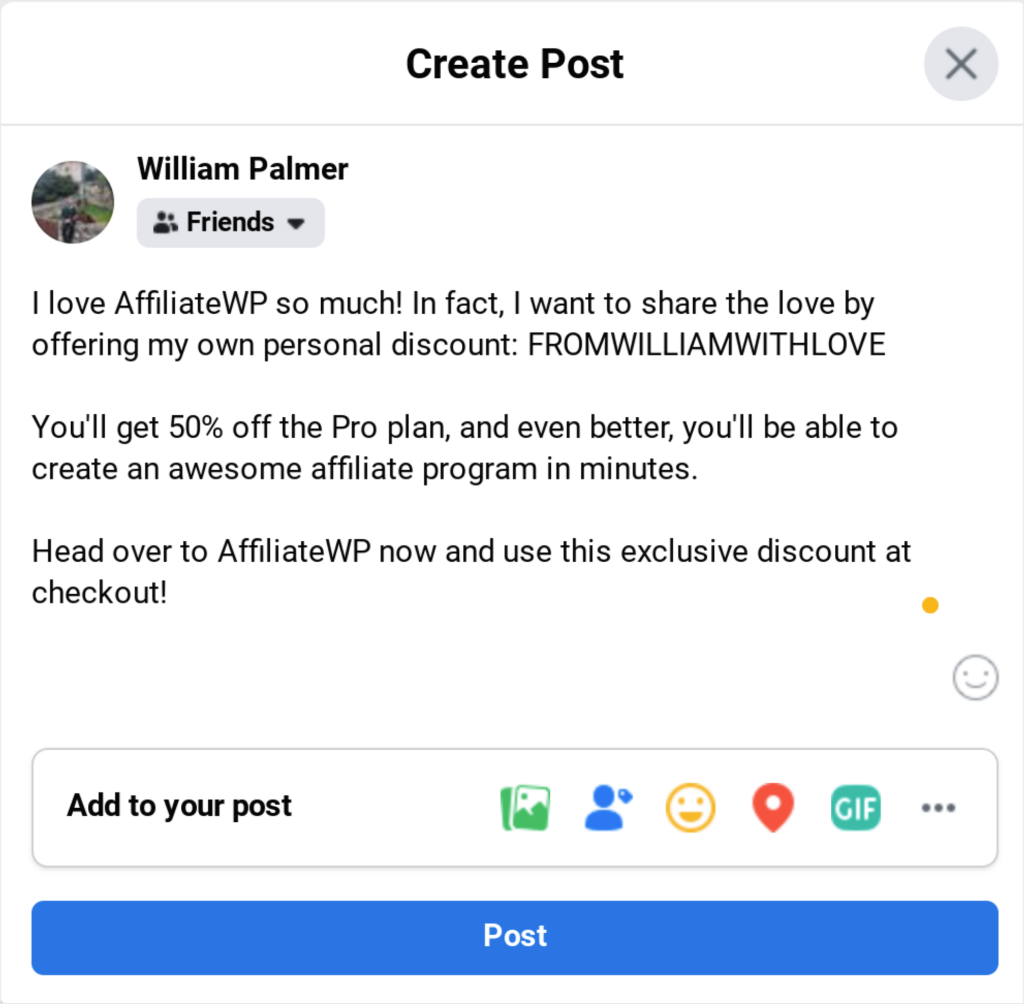 You're still in charge of the value of the discount, but your affiliates get to create their own codes (subject to your approval). This helps them to stand out on crowded marketing channels like social media and email marketing, boosting CTRs and conversions.
Vanity Coupon Codes is another pro addon you need to be using, so check it out!
Custom Affiliate Links are Simple to Set Up
Custom affiliate links are so simple to set up that there's absolutely no reason not to.
They help boost click-through rates, and ultimately, this is going to help you bring in more affiliate sales.
But what else can you do to grow your affiliate program?
We've got some great resources to help you out!
Now there's only one thing left to do.