5 Best Affiliate Link Cloaking WordPress Plugins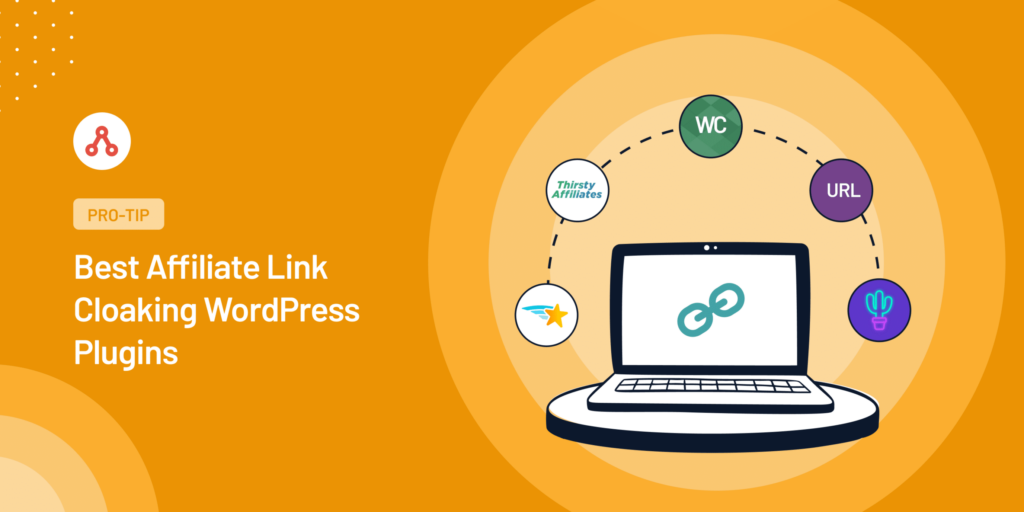 Looking for the best affiliate link cloaking plugin for your WordPress site?
Link cloaking is one of the most valuable things for an affiliate marketer as it is how businesses change their long and complicated links into short ones. With the help of link cloaking, people are likelier to click on your links as they look professional.
In this post, we have shared some of the best affiliate link-cloaking WordPress plugins that will help you make your links appear more trustworthy, track their performance and increase your conversions.
What is Affiliate Link Cloaking
Link cloaking is a vital technique that every affiliate marketer needs to be aware of, especially if they want to optimize their affiliate efforts and protect their hard-earned commissions.
Let's start by understanding what link cloaking is. Essentially, link cloaking is the process of disguising the affiliate link provided by an affiliate program to make it shorter and more visually appealing.
This practice also helps to ensure that your audience doesn't get overwhelmed by the complicated structure of standard affiliate links.
For instance, instead of a lengthy, hard-to-remember link like www.merchantwebsite.com/products/?product_id=123&affiliate_id=456, you can change it to something like www.yourwebsite.com/recommends/product-name.
Now that you understand link cloaking let's delve into why it's an essential practice for your affiliate marketing efforts.
Improved User Experience: A shorter, more straightforward link appears more trustworthy to users. In contrast, complicated URLs can seem suspicious or spammy, driving potential customers away.
Tracking and Management: Cloaking your affiliate links also enables better tracking and management. Many link-cloaking tools provide analytical insights, such as the number of clicks, sources of traffic, and even conversion rates.
Protection of Commissions: Link cloaking helps prevent commission theft from savvy users who may remove or replace your affiliate ID in the link.
Enhanced SEO: When you cloak your affiliate links, you can leverage SEO-friendly keywords in your URLs. This strategy can contribute to improved search engine ranking of your pages.
Given these benefits, it's clear that link cloaking is an essential strategy for anyone running an affiliate program.
It provides a more seamless experience for your audience and protects your earnings while providing valuable data that can help you improve your strategies.
Now that you know what link cloaking is and why it's necessary, it's time to explore some of the best link-cloaking plugins available for WordPress.
Best Affiliate Link Cloaking Plugin for WordPress
As we discussed, cloaking affiliate links is a crucial aspect of a successful affiliate program, and various WordPress plugins make the task more manageable and effective.
Here are some top plugins that will help you take control of your affiliate links, track their performance, and protect your commissions:
ThirstyAffiliates is a robust plugin designed with affiliate marketers in mind. It's a seasoned player in the world of link cloaking and provides users with a sleek interface, automated link cloaking, and regular link health checks.
This user-friendly plugin also offers beneficial integrations, like syncing with Google Analytics to track affiliate link clicks.
Additionally, it comes equipped with time-saving features like automatic 404 checks, keyword linking, and link scheduling.
The ThirstyAffiliates plugin offers a free version with basic features to get you started. For advanced features, you can opt for one of their premium plans.
Key Features:
Autolink Keywords
Smart Uncloaking
Amazing Reports
Geolocation Links
3rd Party Link Importing
Automatic 404 Checker
Amazon API Importing
Pricing: Basic plan starts at $79.50 for the first year and $159 per year thereafter.
PrettyLinks, as the name suggests, aims to make your affiliate links attractive, which is a crucial aspect of driving more clicks and conversions.
This versatile plugin can create shareable branded links for various platforms, including emails, blog posts, and YouTube videos.
One standout feature of PrettyLinks is its on-page link optimization. It analyzes your site content and replaces keywords with links automatically.
It also has features like automated link rotation and expert monitoring tools.
Key Features:
Shorten and track links
Fix broken links
Auto-link keywords
Basic stats
Group links
Nofollow links
Pricing: The Beginner plan starts at $99.50 for the first year and $199 annually thereafter.
This free WooCommerce plugin is specially designed to cloak affiliate links in your online store. It supports three types of URL redirects, including 301, 302, and 307.
The plugin's unique feature is that it adds a "Disallow" command to your robots.txt file, stopping bots from following the external links on your site – beneficial for SEO purposes.
However, this plugin doesn't offer tracking features. If you need advanced tracking capabilities, consider other options on this list.
Key Features:
The 'Disallow' command prevents bots from accessing external links
Configurable redirect status codes (301, 302, 307)
Masking of all external links within the WooCommerce store
Pricing: Free
URL Shortener Plugin lets you create short links that load quickly, enhancing the user experience.
It also cloaks your affiliate URLs, ensuring you get credit for any sales generated through your links.
The plugin offers customizable settings, giving you control over the look and feel of your short links. Additionally, it provides link tracking features, helping you gauge the success of your marketing efforts.
Key Features:
Easy link creation for any page on your website
Lightning-fast redirection, avoiding delays for visitors
Customizable settings for tailored short links
Tracking of link clicks for effective measurement
Efficient hiding of affiliate links
Pricing: The Unlimited Sites plan is available at $19.00 (one-time).
Simple URLs are a complete solution to manage and track outbound links on your website. It creates and cloaks affiliate links in real time within your posts.
This powerful plugin also offers link-tracking capabilities to ensure your affiliate links are secure and adequately tracked.
However, it's important to note that the Simple URLs plugin is no longer being updated, which may lead to compatibility issues in the future.
Key Features:
Customization options using shortcodes and widgets
Built-in affiliate tracking for secure and accurate link cloaking
Real-time affiliate link creation without additional software
Link picker tool for easy insertion of affiliate links
Compatible with any WordPress editor
Pricing: The Essential plan starts at $29/month.
And that's it. These are some of the best affiliate link-cloaking plugins available for WordPress. You can choose the best fit for your requirements depending on your specific needs and budget.
Next, Make Your Affiliate Program Safe with AffiliateWP
After you've set up your affiliate links with a good link-cloaking WordPress plugin, the next important step is to make your WordPress affiliate program safe.
This is important because it ensures all your affiliate sales and money are counted correctly.
AffiliateWP is an ideal affiliate fraud detection software designed specifically for WordPress. It comes with a comprehensive range of features to enhance your affiliate program's security while minimizing the chances of any fraudulent activity.
Using AffiliateWP's settings is easy. You can control your program's safety with just a few clicks.
This lets you keep your program safe from spammy activity, so you can relax and focus on growing your affiliate sales.
The best part is that AffiliateWP integrates easily with various plugins on WordPress, like Pretty Links or Thirsty Affiliates.
But AffiliateWP isn't just about preventing fraud; it's about building a reliable, trustworthy, and profitable affiliate program on WordPress. It's about creating an environment where your affiliates feel secure and your revenue is protected.
So, why wait?
Start using AffiliateWP today to make your affiliate website safer!
Ready to Cloak Your Affiliate Links in WordPress
Making your affiliate links safe doesn't have to be a big challenge. You can easily reach this goal with the right tools, like link cloaking and secure affiliate software.
Now that you understand the importance of hiding your affiliate links and how AffiliateWP can secure your business, you're prepared to push your online business to exciting new levels.
Here are some additional resources to help you enhance your affiliate program:
Don't forget to try AffiliateWP today and watch your online business flourish!