6 things you can learn from your affiliate program competitors
Adding affiliate marketing to your existing business can be extremely lucrative, but if you want to maximize your results, it's important to stay aware of what's working – and what's not. This is where your affiliate program competitors can actually teach you a lot!
Regular competitive analysis is important for any business, in virtually all aspects of business. Periodically checking up on your competition illuminates areas that need improvement, and gives you fresh ideas and new methods to work with.
However, this is especially true when you're just starting out with your affiliate program, because it gives you benchmarks to aim for, and helps you design an affiliate program that's competitive and more likely to succeed!
In this post, we look at 6 things you can learn from your affiliate program competitors, so you can optimize your own program for success.
1. Referral traffic sources
If you want to make sure you're marketing to the right people and attracting the right affiliates for your program, it helps to find out the sources that your competitors are tapping into.
Backlinks are not only important for SEO; they also show you where site visitors are coming from – and this is especially relevant when it comes to affiliate referrals.
Tools like Moz Backlink Checker can show you things like the top followed links (the links that visitors are clicking on to get to your affiliate landing page, or whatever page you want to analyze), as well as page authority scores (how well the page will rank on search engine results pages).
These insights can serve as shortcuts when it comes to analyzing your target audience and determining the best traffic sources or most worthwhile sites to contact for new affiliate or referral partnerships.
It's actually pretty convenient to take established referral traffic sources and use them to your advantage!
Thanks, competitors. 🙂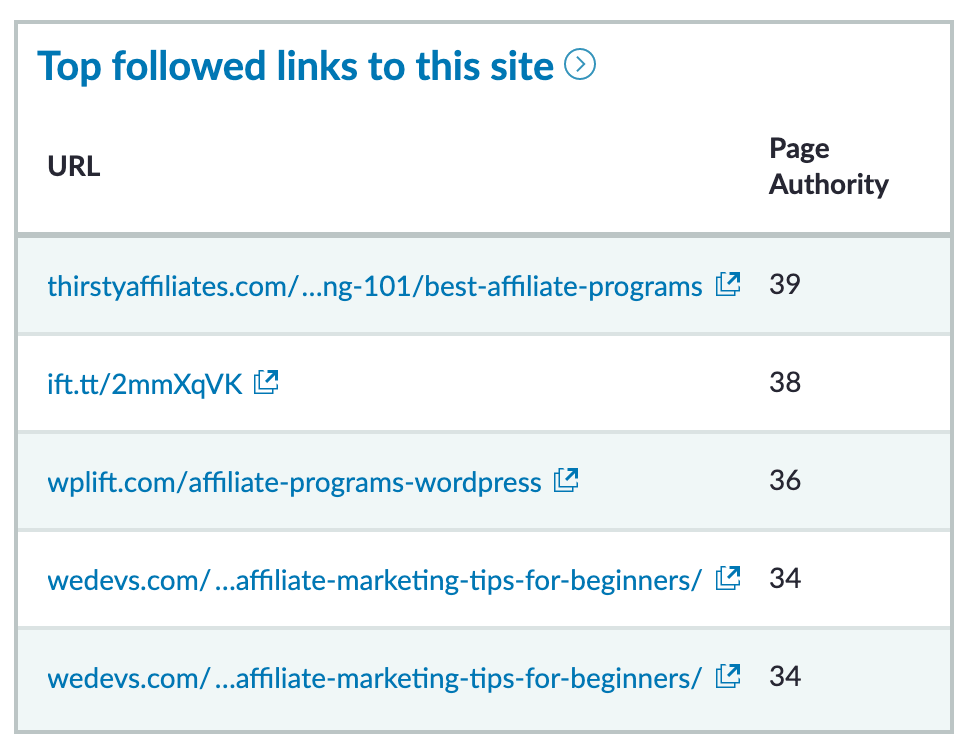 2. Commission rate standards
Affiliate commission rate is often the biggest factor for affiliates when deciding which program to join, so it's something to be well-educated about. But, how do you know what rate to choose?
This is another area where your competitors can be a great resource. It's hard to know exactly what commission rate to offer, but one thing is for sure: Competition sets the standard.
What rates are your competitors giving their affiliates, and what exactly are they offering along with those rates? If your competitors are offering higher rates than you are, you might want to consider either raising your rate, or giving your affiliates extra benefits, such as better tracking tools and creatives, for example.
Conversely, if your competitors are offering lower rates than you are, you might be wasting your resources by spending too much on commissions when you really don't need to.
3. Types of creatives
Making effective affiliate creatives is an important part of optimizing your affiliate program and empowering your affiliates to be their best. Every industry is different, so formats that work well for one niche may not perform as well for another.
Observing the types of creatives competitors are using can give you new ideas and help you stay up-to-date on current trends. Of course, the goal is not to blindly copy competitors, but to see what's working well and take inspiration from them.
For example, if you have creatives that you haven't updated for a while, it's possible that you might be losing out on potential customers. Maybe your competitors are using more engaging types of creatives, or your target audience is responding better to different formats.
At the very least, competitors can give you ideas as to which types of creatives might be worth exploring or testing out with your own affiliates.
4. Marketing methods
To stay competitive, marketing should always be at the forefront of your mind as an affiliate program owner. Observe how the affiliates of your competitors are marketing their products; Are they using certain language, imagery, or tactics that seem to be getting a lot of engagement?
Influencers are becoming more and more popular in general – and they can make great affiliates. In fact, depending on your niche, they could be the perfect addition to your marketing efforts.
Are your competitors using influencers? If so, where are they, and how are they promoting? Are they concentrated on certain social media networks, like Instagram, Twitter, Facebook, or YouTube?
We wrote a post about merging influencers and traditional marketing methods over here, if you want to read more!
We also discuss some of the potential pitfalls of using influencers as affiliates and how to avoid them here.
5. Social media trends
Influencers or no influencers, it's still important to be aware of what your target audience is engaging with on social media platforms. What hashtags are trending on Twitter, and what hashtags are your competitors using on Instagram?
More importantly, which types of posts and hashtags are resulting in the highest engagement?
Don't forget to check to see if this engagement is legitimate, though; You don't want to copy competitors who are using false, misleading, or inappropriate methods. Keep and eye out for accounts with excessive engagement from fake profiles, bots, and the like.
What are your competitors doing with respect to things like Facebook advertising? What kind of content do they post on their social media accounts, and how regularly? What kind of content is getting the most action?
Social media platforms are some of the best places to find quality affiliates, promote brand growth, and engage your customers directly, so noting what works for your competitors can only give you more data and ideas that can benefit your affiliate program.
6. Policies and guidelines
What do your competitors require of their affiliates, and what do they allow and not allow when it comes to promoting their products? Most affiliate programs make this kind of information readily available on their websites, just like we do at AffiliateWP: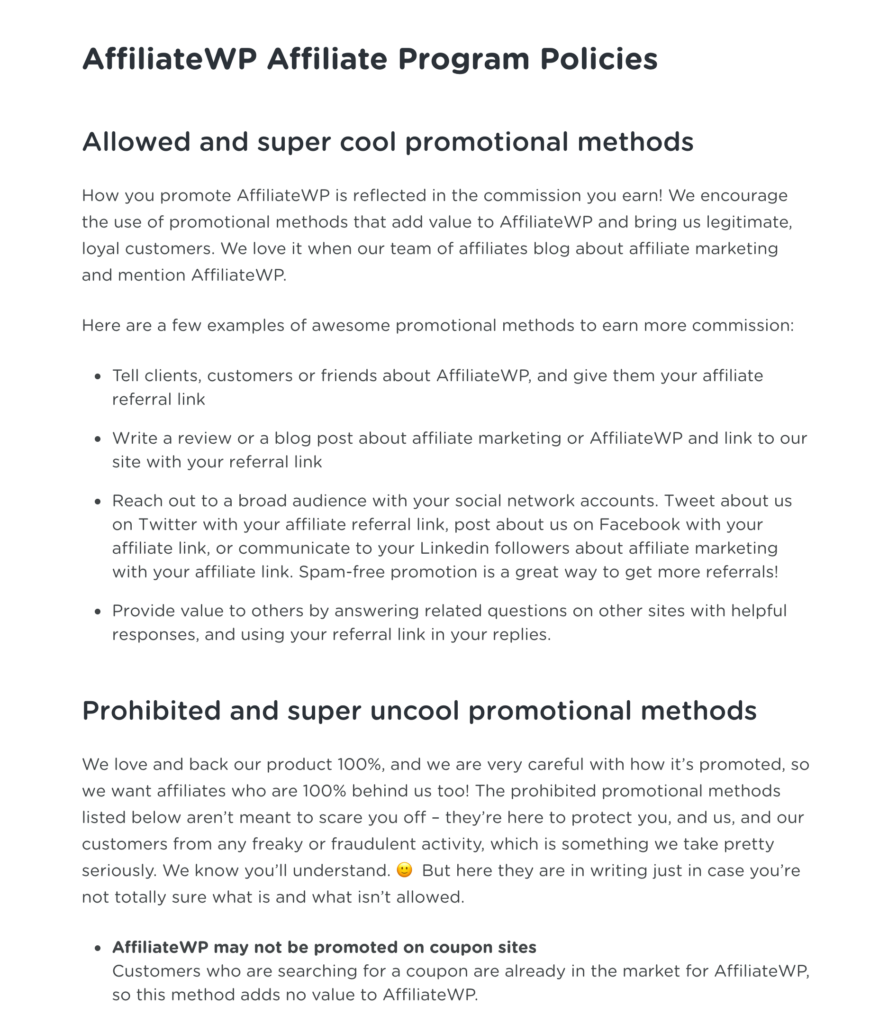 If you have competitors that have been around for a while, it's likely they have gone through some trial and error with this stuff.
Key takeaways
Looking to your affiliate program competitors is about more than just copying what works; You can take the best parts of what your competitors are doing and leave the rest. It's still important to think critically about how you want to present your program and your products, after all.
Here's a quick recap of what your competitors can teach you:
Where their referral traffic is coming from. This gives you an idea of where you should focus your own efforts.
What the standard commission rates (and accompanying benefits) are within your niche. This helps you make informed decisions about what commission rates and benefits affiliates within your niche are looking for.
The types and formats of creatives that work well for your niche. Competitor creatives can simply give you inspiration, or provide templates for you to follow.
Which marketing methods get the most engagement. This helps you fine-tune your marketing with less trial and error.
Social media trends that you can take advantage of. These are changing all the time, so competitors may or may not be more up-to-date than you, but it's still important to be in-the-know.
Examples of policies, guidelines, and standards for affiliates and how they promote the competitor's products. Having references sure is better than guessing!
All of these insights can be applied to your own affiliate program however you see fit. So, worry less about using them as blueprints, and more about using them creatively to make enhancements specific to your goals, niche, and brand!
Now it's your turn. What have you learned from your affiliate program competitors? How have you used these insights to improve your own affiliate program? We want to know! Comment below.