How to Allow Customers to Choose a Referrer at Checkout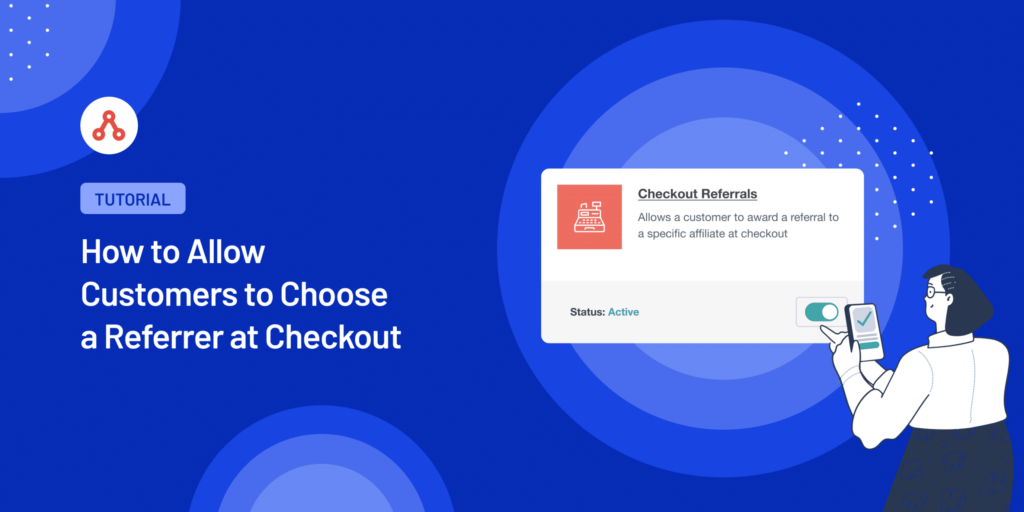 Do you want to allow customers to choose a referrer at checkout?
Offering customers the option to select a referrer during checkout can help increase affiliate engagement and boost your sales.
In this step-by-step guide, we'll show you how to set up Checkout Referrals in AffiliateWP so your customers can easily choose a referrer at checkout.
Let's get started.
What Are Checkout Referrals?
A referral checkout is a feature that allows customers to select an affiliate at the checkout stage of their online purchase.
By choosing an affiliate, customers can ensure that a specific individual or organization receives a commission for their purchase.
This feature is particularly beneficial for websites collaborating with Nonprofit Organizations (NPOs).
It enables customers to directly support their chosen NPO by allocating a portion of their purchase value as a commission.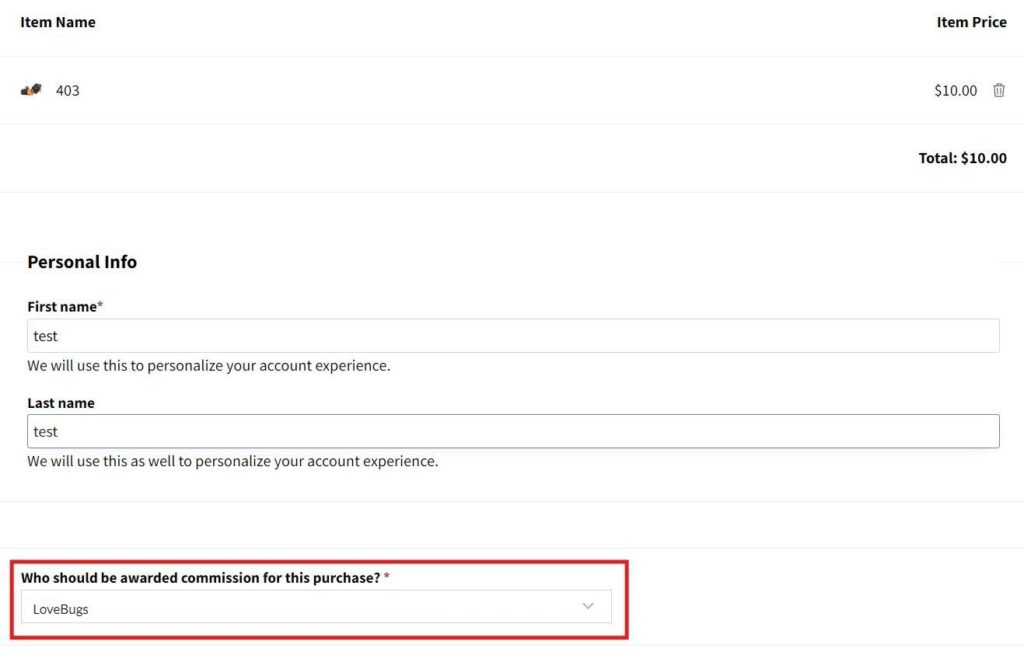 For example, here's an example from Amazon and how they use checkout referrals to enhance their customer engagement just by allowing their customers to support a chosen NPO like LoveBugs in this case.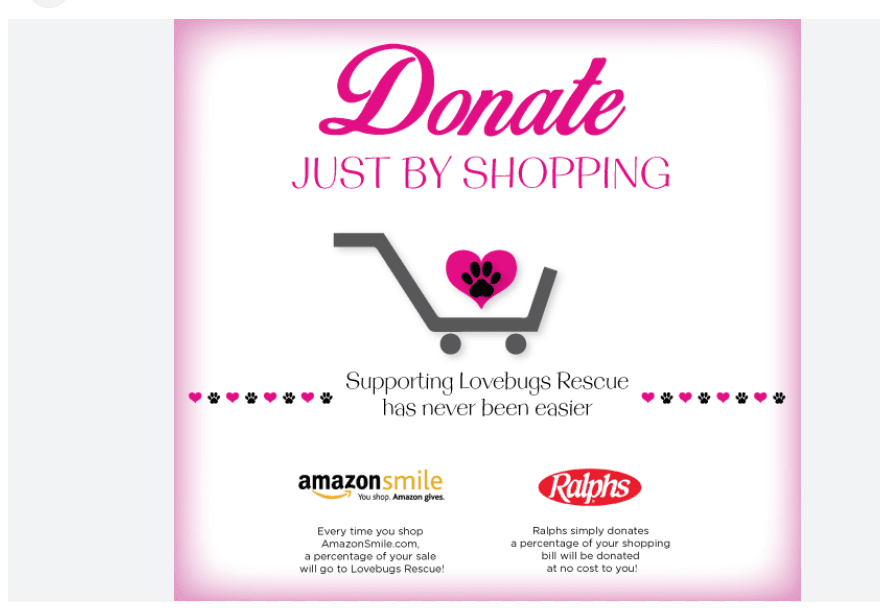 Referral checkouts are sometimes important as they can enhance customer engagement, boost affiliate participation, and drive sales by promoting a sense of goodwill and connection between the customer, affiliate, and your business.
Now that you have a better understanding of what a referral checkout is and how it can benefit your business, let's dive into the step-by-step process of setting up the Checkout Referrals in AffiliateWP.
Setting Up Checkout Referrals for Customers: Step-by-Step
Now, it's time to walk you through the process of configuring Checkout Referrals for your WordPress site, enabling you to integrate this feature into your existing affiliate program seamlessly.
Follow these steps to allow your customers to choose a referrer at checkout:
Step 1: Install AffiliateWP
AffiliateWP is the best WordPress affiliate management plugin that lets you set up an affiliate program for your website in less than 10 minutes. With powerful tools and features, it enables you to grow your business efficiently.
Visit the AffiliateWP pricing page and choose the plan that suits your needs. Complete your purchase and download the plugin from your account.
Follow AffiliateWP's simple instructions to install and activate the plugin on your WordPress site.
Once you've installed AffiliateWP, your affiliates can generate links to your products and promote them to their audience, earning commissions for any sales they bring in.
AffiliateWP also offers robust link tracking and affiliate management capabilities.
Step 2: Install the Checkout Referrals Add-on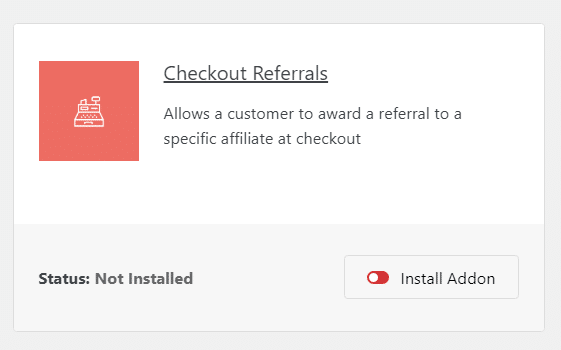 Before proceeding, ensure that AffiliateWP is installed and activated on your WordPress site, and your license is verified.
Go to the AffiliateWP add-ons page and download the Checkout Referrals add-on.
Install and activate the Checkout Referrals add-on on your WordPress site. Now that the add-on is installed, you can configure the Checkout Referrals settings.
Step 3: Configure Checkout Referrals Settings
To configure the settings for the Checkout Referrals add-on, follow these steps: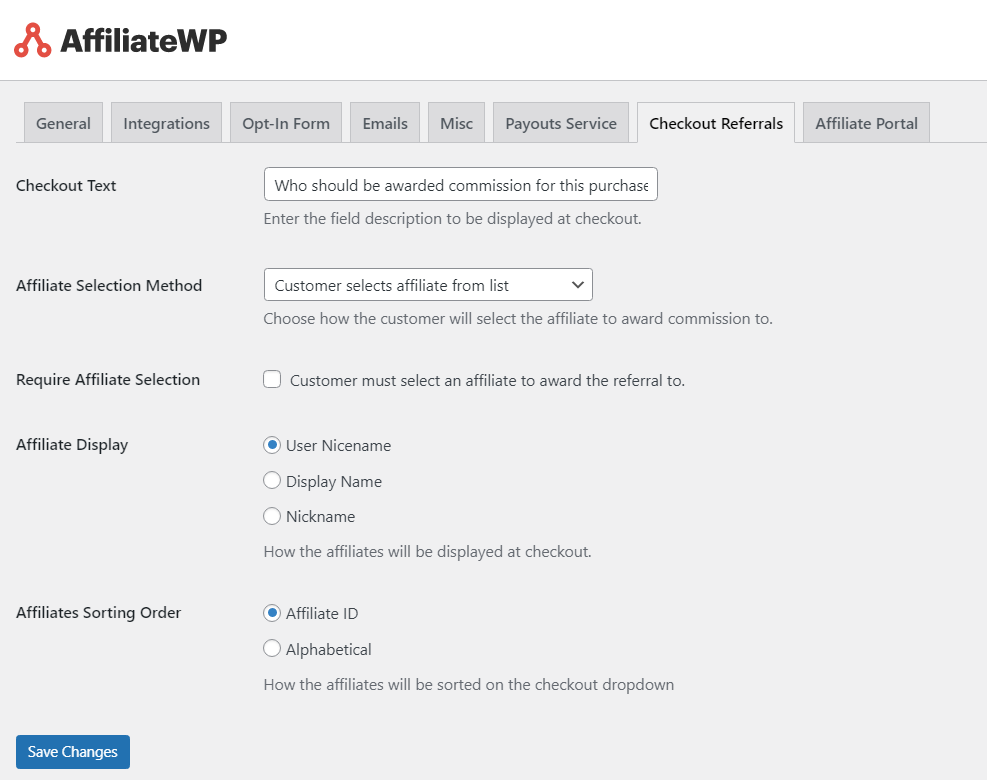 Navigate to AffiliateWP » Settings » Checkout Referrals in your WordPress dashboard.
Customize the description text that will be displayed at checkout, and decide whether selecting an affiliate is required. Then, adjust the sort order and display preferences as needed.
That's it! With the Checkout Referrals add-on configured, you can now ensure that an affiliate receives a commission for each purchase made by a customer who selects them at checkout.
Next, Set Up Affiliate Payouts
With your Checkout Referrals configured, AffiliateWP will automatically track when a customer selects a referrer at checkout and assign a commission to the correct affiliate.
However, setting up an efficient affiliate payout system is also essential for a successful affiliate program.
AffiliateWP offers multiple ways to pay affiliates effortlessly:
Integrated Payouts Service: Sign up for the Integrated Payouts Service to pay affiliates directly to their bank accounts. This option syncs seamlessly with your affiliate tracking and ensures accurate payouts.
PayPal Payouts: Use PayPal payouts to pay your affiliates directly through PayPal. Like the Integrated Payouts Service, this option also integrates smoothly with your affiliate tracking system.
Both payout methods make AffiliateWP easy to work with and ensure your affiliates receive their hard-earned commissions on time, helping you maintain a robust and thriving affiliate program.
FAQ: Allow Customers to Choose a Referrer at Checkout in WordPress
Can Customers Choose a Referrer if They're Already Using an Affiliate Link?
No, when a customer is already using an affiliate link (e.g., /?ref=123), the system will automatically attribute the commission to the appropriate affiliate. In this case, the affiliate list or input field will not be displayed at checkout.
Can I Customize the Appearance of The Affiliate Selection Field at Checkout?
Yes, you can customize the description text, sort order, and display preferences for the affiliate selection field within the Checkout Referrals settings.
Now You Know How to Allow Your Customers to Select a Referrer at Checkout
After setting up your checkout referrals for your customers, you're just a few steps away from optimizing your affiliate program and boosting your sales.
With AffiliateWP, you can quickly set up an affiliate marketing program and utilize the Checkout Referrals add-on, but what else can you do to maximize your online business potential?
We've compiled a list of valuable resources for you to explore:
Now, there's only one thing left to do:
Get AffiliateWP and start leveraging the power of referral checkouts today!