9+ Best WordPress Membership Plugins for 2023 (Grow Your Revenue)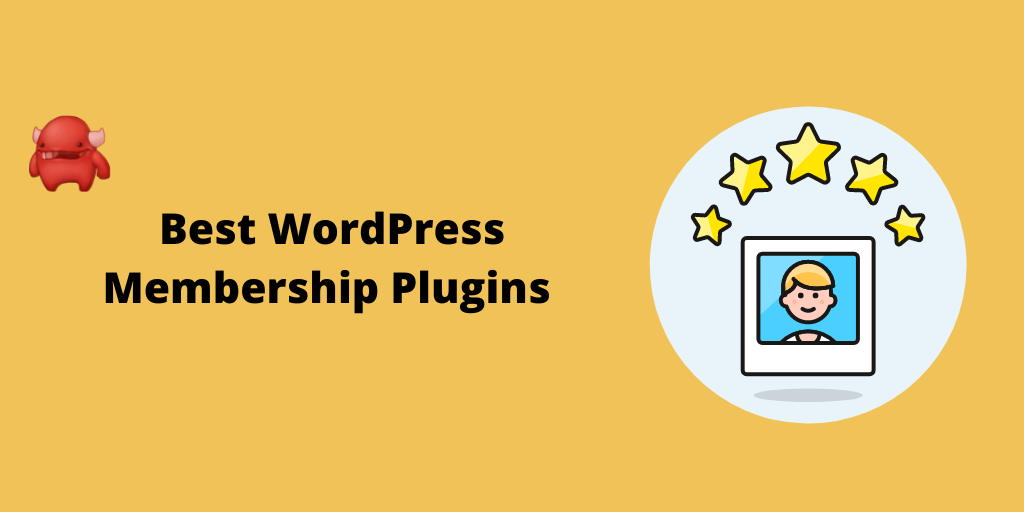 Are you looking for the best WordPress membership plugins to add a new revenue source to your website?
A membership program could be exactly what you need, and they're a lot easier to set up than you might think.
Here are the best WordPress membership plugins you should consider.
What to Look for in a WordPress Membership Plugin
The best membership plugin should save you time, offer your members a great user experience, and give your business the tools it needs to grow.
This starts with compatibility.
You want a membership plugin that's designed to integrate seamlessly with WordPress. No messing around with coding, no frustration; just a simple integration. When you find this, then you can add membership capabilities to your e-commerce website in minutes and start growing your business.
Oh, and talking of growing your business.
We want to make sure you've got amazing growth tools at your disposal. Creating a membership program is a great way to add a new revenue stream. But, you've got to have a clear picture of how you're going to grow it.
So, let's recap.
Here's what we're going to be looking at when we evaluate the best WordPress membership plugins:
WordPress compatibility
Ease of use
Growth features
Get these things right, and you're going to be in the perfect position to build a thriving membership program.
The Best Membership Plugins for WordPress
Here's a list of the plugins you should consider if you're looking to grow a membership website.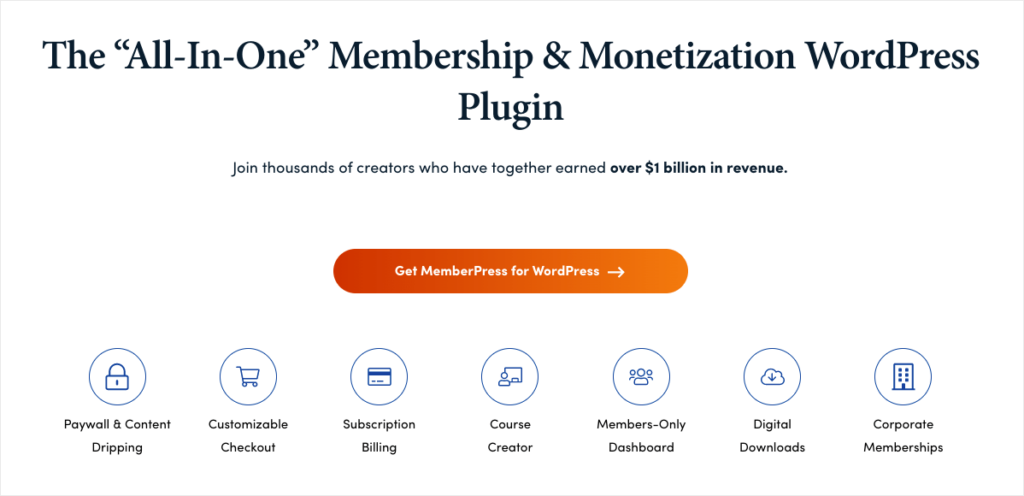 MemberPress is the number one membership plugin for WordPress users.
Why?
Well, it allows you to turn your WordPress site into a membership site in just 5 minutes (realistically). It's nailed WordPress compatibility and ease of use to make setting up a membership program simple.
Here's what you can do in those 5 minutes:
Connect your payment gateway (Stripe, PayPal, or Authorize.net)
Create unlimited membership levels
Restrict user access to content with smart rules
Create a sign-up/sign-in page
Just like that, you've created a new revenue stream and can start selling membership subscriptions.
You can build your entire business on this restricted content model, but MemberPress offers lots more great tools. The basis of this is its extremely easy-to-use course builder which makes it simple to create helpful content for your members.
When it comes to building courses, membership plugins are all about ease of use and user experience, and MemberPress certainly gets it right here. However, the biggest challenge is growing your membership sales, and this is why growth tools are so important.
We find MemberPress to be the best membership plugin for WordPress because of its innovative features. It's 100% growth-focused and designed to take your membership program as far as it can possibly go.
We've also got some extra tips to help you achieve this!
Based on our criteria of WordPress compatibility, ease of use, and growth tools, it's very hard to look past MemberPress as the best membership plugin.
Key Features:
Paywall and drip content
Customizable checkout
Subscription billing
Course creator
Members only dashboard
Digital downloads
Widgets (login widgets make it easy for members to sign in)
Create forums and communities with BBPress and BuddyPress
MemberPress Pricing:
Basic: From $15 a month
Plus: From $25 a month
Pro: From $35 a month
Thrive Themes offers an awesome suite of WordPress tools, one of which is it's membership/course plugin, Thrive Apprentice.
This plugin has an awesome range of features that are going to help you set up your membership website in double-quick time:
Setup wizard to take care of the basics
Professionally designed, conversion-focused templates
Drag-and-drop builder that gives you complete customizability
Integrations with your favorite email marketing software
Automator plugin to help you set up advanced automation
Add protect content in just a few clicks
Powerful drip function and conditional displays
Advanced reports and membership management
Those are a ton of great features, and they all come at an exceptional price!
If you're looking to set up a membership site, then Thrive Apprentice is well worth considering.
Key Features:
Great drag-and-drop builder for courses
Powerful drip function and conditional displays
Professional, high-converting templates
Access to even more features as part of Thrive Suite
Thrive Apprentice Pricing:
Thrive Apprentice: From $149 a year
Thrive Suite: From $299 a year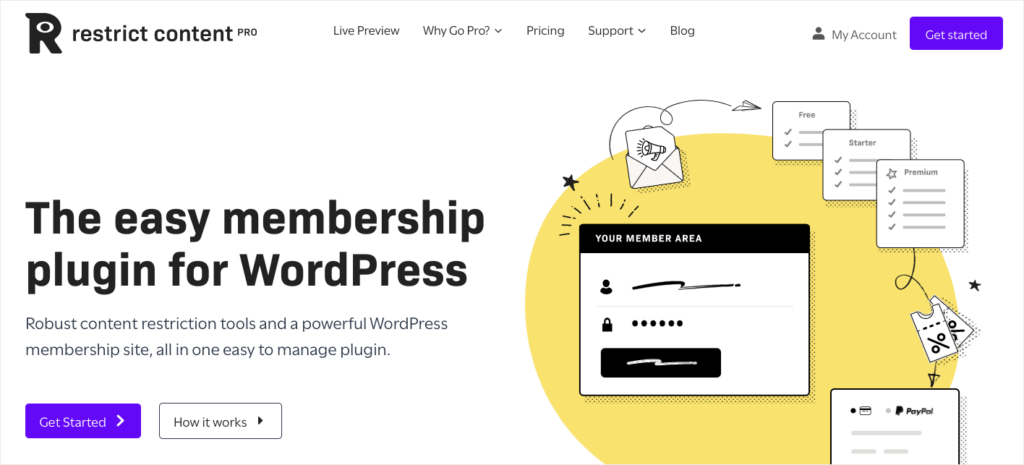 Restrict Content Pro, as its name suggests is a perfect option for restricting content on WordPress.
Its content restriction tools are hard to beat, helping you to monetize your best content. With unlimited subscription packages and membership plans, this gives you complete control over who you serve your content to.
Overall, Restrict Content Pro works extremely well because it keeps things simple. It gives you a great framework and allows you to build on it with customization tools.
When working with the integrations, the learning curve can be a little steep, but they do unlock growth features that can supercharge your membership program.
Key Features:
Easy memberships and recurring payments (customers can easily upgrade/downgrade their memberships)
Powerful content restriction
Discount codes and coupons
Lots of supported payment integrations (Stripe, PayPal, Braintree, 2Checkout, and more)
Restrict Content Pro Pricing:
Single Site License: From $99 a year
2 Sites: From $149 a year
Unlimited: From $249 a year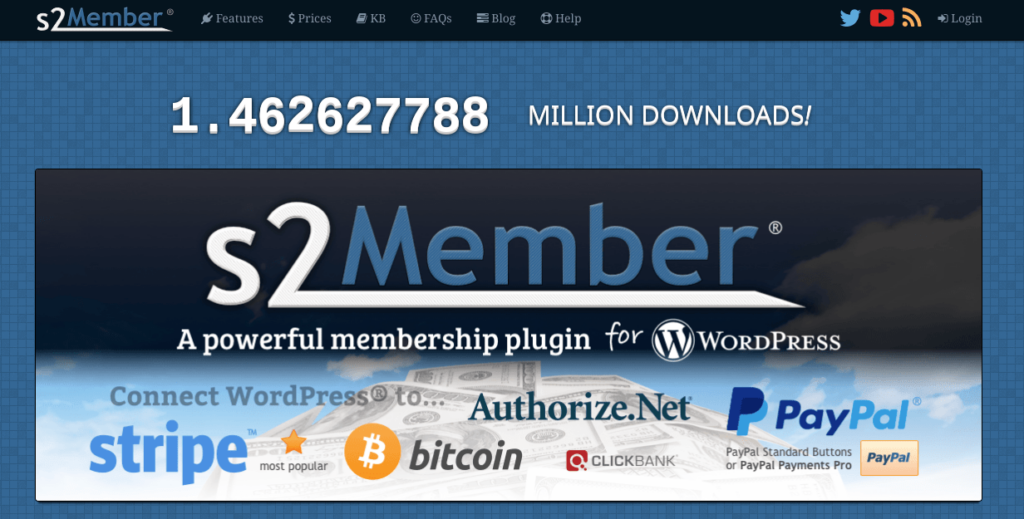 s2Member is one of the best membership plugins if you want to build a very basic program.
Its free framework enables you to build a functional membership website, with a surprising level of customizability. Given its a partly free WordPress membership plugin, s2Member does surprisingly well for compatibility, but for ease of use and growth tools, you do have to unlock the paid packages.
If your budget is limited, then s2Member is certainly a good option to look at. However, it's important to remember your goals. To significantly boost your revenue, you need a high-quality solution, and the free plan is unlikely to provide you with the tools you need.
Key Features:
Free framework (limited features)
Range of payment options (on paid plans)
Good customizability for things like registration forms
Content dripping (on paid plans)
Offer a trial period for members
s2Member Pricing:
Framework: Free
Pro Version Single License: From $89 one-time payment
Pro Version Unlimited License: From $189 one-time fee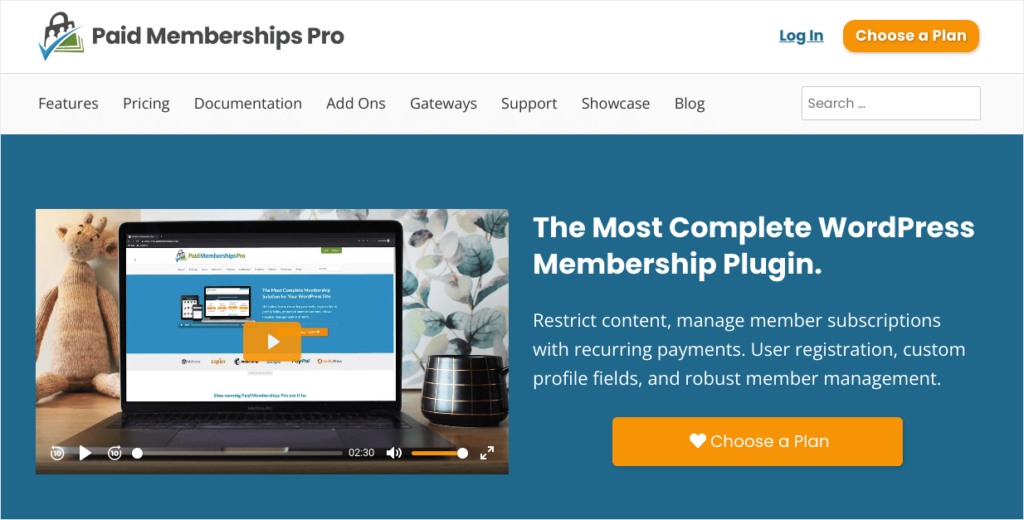 Paid Memberships Pro is a well-established WordPress membership plugin that continues to innovate.
It's a plugin you can rely on with thoughtful membership features and a huge library of paid and free add-ons. These add-ons bring a lot of functionality to your WordPress membership site, but it's worth going through them and seeing which ones are applicable to what you want to achieve.
With unlimited subscription levels, lots of different ways to restrict the premium content non-members can see, and a personalized option, it's one of the best WordPress membership plugins around.
Key Features:
Restrict content
Member subscriptions
Robust member management
Good integrations with apps like AWeber and Zapier + many email marketing services
Paid Memberships Pro Pricing:
Free: Free access to the basics
Standard: From $247 a year
Plus: From $397 a year
Builder: From $697 a year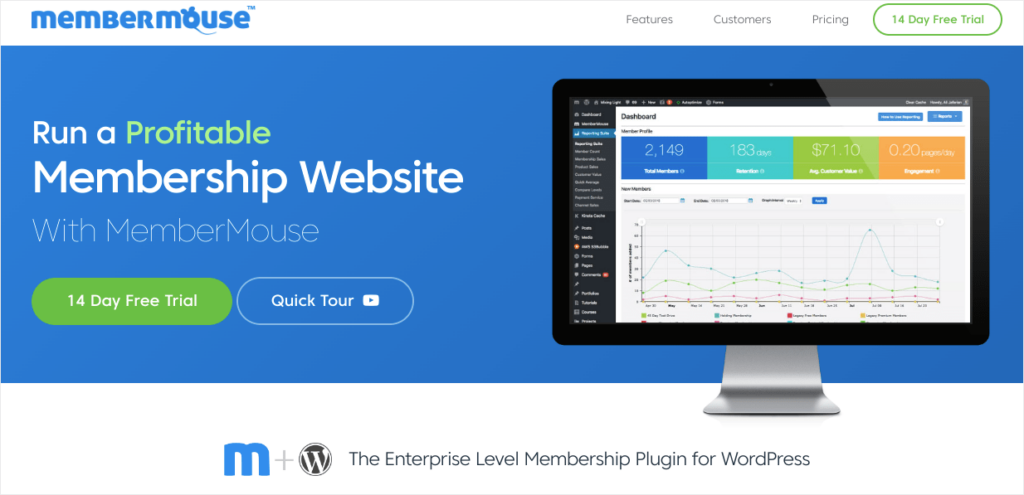 MemberMouse is purpose-built for WordPress websites and comes with great getting started resources.
It offers a lot of good optimization tools, but it can be a little technical sometimes. It takes a bit more to configure than something like MemberPress, but it's still a good WordPress membership plugin.
One of its strongest features is the customizable checkout pages with upsell flows. These are great for boosting your revenue and getting more out of your membership program.
Key Features:
Custom checkouts and upsells
One click purchases
Protected content for custom post types
Good tutorials to help you get setup
MemberMouse Pricing:
Builder: From $29 a month
Advanced: From $79 a month
Premium: From $199 a month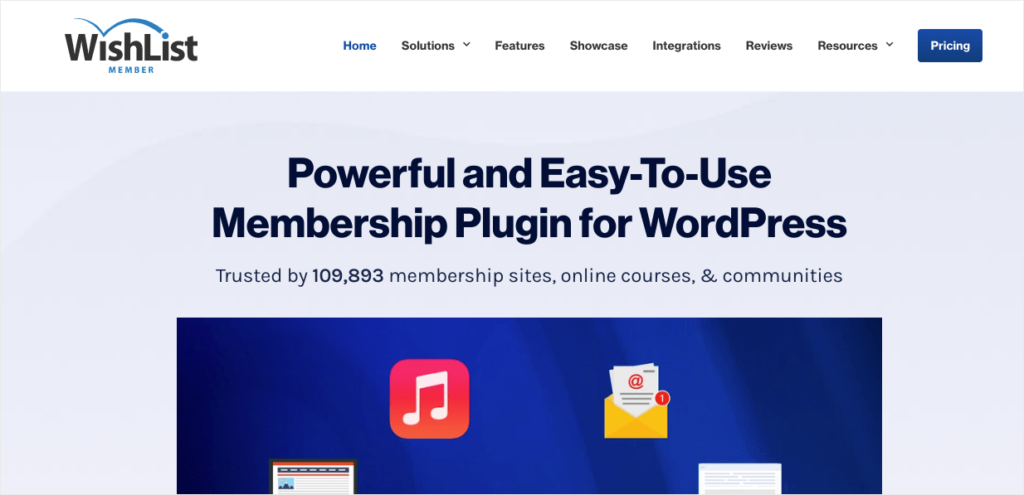 Wishlist Member provides a seamless integration with WordPress. It works well with a host of WP themes and plugins and maximizes the efficiency of your membership program.
To add course-creating capabilities you'll have to go with the more expensive plan, but don't worry. The basic plan has excellent LMS integrations with software like LearnDash to create high-quality, professional online courses.
It's user-friendly and offers the powerful features you need to take your membership website to the next level.
Key Features:
Onboarding wizard
One-click content protection
Seamless WordPress integration
Good LMS integrations
Wishlist Member Pricing:
Member: From $199 a year
Member + Course Cure: From $299 a year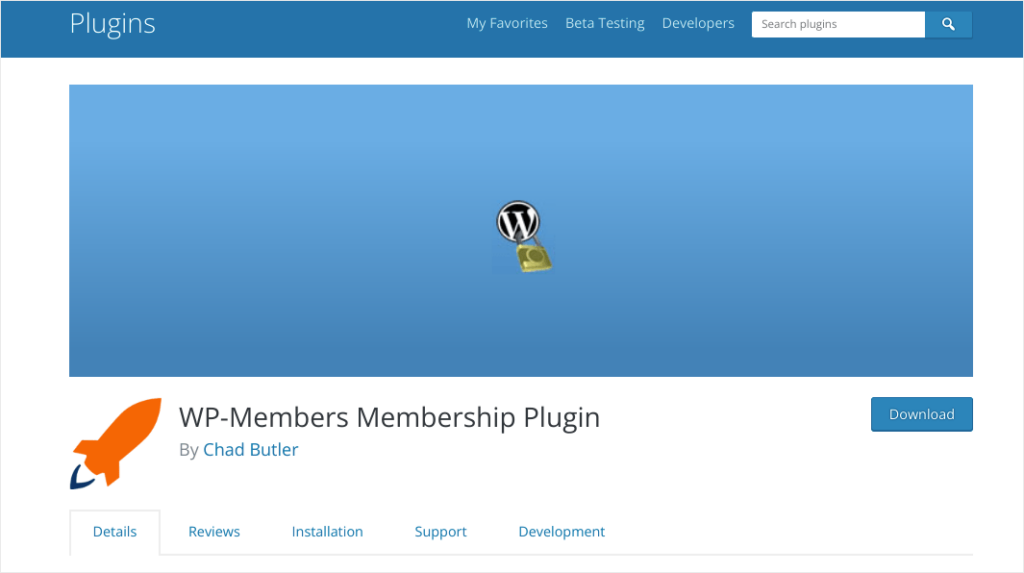 WP-Members is a simple, free membership plugin that helps you monetize your blog. It enables you to restrict certain content on your website to existing members and use your content to sign up new members.
If you're looking for a very basic membership program, then this is all you need, making it a good option for beginners.
Let's go back to our criteria though and remember that you get out what you put in. If you have serious goals for your membership program, then you'll likely need some of the additional growth features some of the other plugins on this list offer.
Key Features:
Fits with your WordPress theme
WooCommerce membership options
Easily restrict content
Automatically create teaser content
WP-Members Pricing:
Free Version: Free
Priority Support: From $59 a year
Pro Bundle: From $125 a year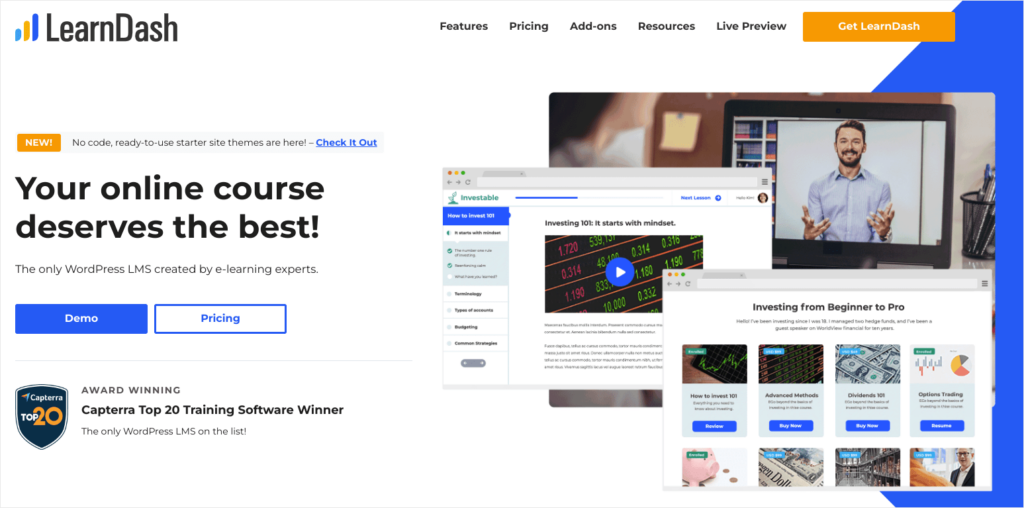 LearnDash is more a learning management system (LMS), than a membership plugin, but it can do the same job.
It integrates seamlessly with WordPress to create professional-standard courses and the ideal learning environment for your students. The front-end experience is perfect for your members and helps to add a sense of prestige to your courses.
You also get a ton of great growth tools like Focus Mode, Advanced Quizzing, Leaderboards, and much more to grow your business.
LearnDash might not have the same focus on content restriction as many of the plugins on this list, but it's still an excellent way to grow a membership program.
Key Features:
Automated email notifications
Drag and drop course page builder
Easy membership management with user profiles and user roles
Advanced quizzing
Assignments
LearnDash Pricing:
Basic: From $159 a year
Plus: From $189 a year
Pro: From $329 a year
Bonus Plugins for Growing Your Membership Subscriptions
It wasn't easy to narrow our list of the best membership plugins down, and there are some alternative options that missed the cut. Plugins like Paid Member Subscriptions, WooCommerce subscriptions, and UltimateMember offer some good features, but ultimately, we believe the 8 plugins we picked offer the most value for money.
We did want to give you some bonus recommendations to help you grow your membership subscriptions though!
So, here they are.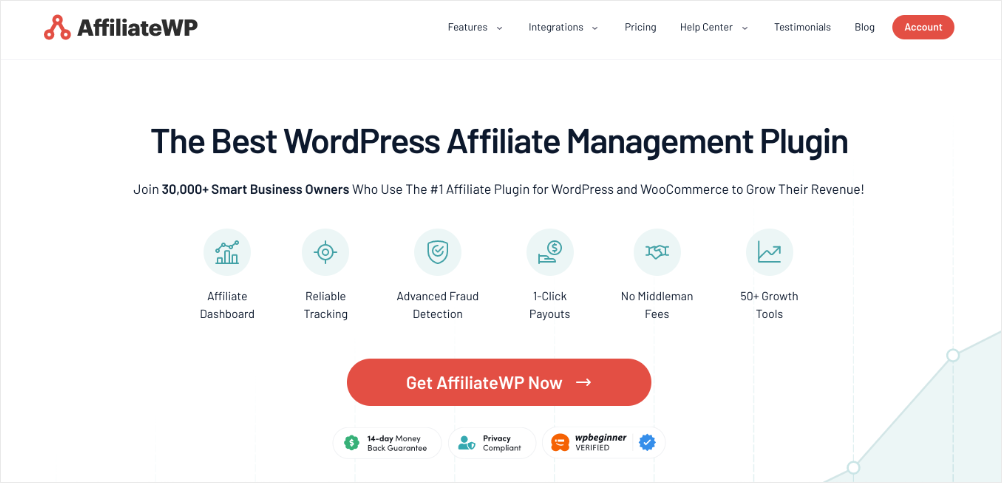 Membership programs are perfect for affiliate marketing.
While you're busy creating amazing content (growing your SEO) and courses for your members, affiliate marketers can be promoting them to large audiences. It's one of the quickest ways to grow your brand and it's incredibly cost-effective.
AffiliateWP has one-click integrations (as well as email integrations like MailChimp, form builders like WPForms, and e-commerce plugins such as WooCommerce and Easy Digital Downloads) with 5 of the plugins on our list, so you can set up an affiliate program in no time at all.
MemberPress
Restrict Content Pro
s2Member
Paid Memberships Pro
MemberMouse
We talked a lot about growth features, but AffiliateWP has some tools that can truly supercharge your business. Features like Vanity Coupon Codes, Affiliate Landing Pages, and Custom Affiliate Slugs can take your membership and digital products to a new level!
Check out AffiliateWP's pricing.
Making membership sales isn't easy.
If you're using the model of restricted content, then your content has to be exceptionally good. Even then, it takes more than one touch point to create a customer.
Someone might come to your restricted content and think "oh that looks great," but then they leave your site and forget about it. You've got to find a way of reinforcing the idea that your content is valuable and worthwhile, and the best way to do that is with OptinMonster.
It's the best WordPress plugin to boost conversions, and it works incredibly well for membership websites.
By generating leads it enables you to put your email marketing to use and make a huge difference in sales. Without leads, it's hard to grow your program, and OptinMonster is the best way to turn traffic into leads.
Check out OptinMonster's pricing.
What's the Best WordPress Membership Plugin?
If you're looking for WordPress compatibility, a great user experience, and powerful growth tools, then MemberPress is the best membership plugin.
It's got everything you need to create courses, restrict content, and build a thriving membership website. What's more, you can start earning money from membership sales in as little as 5 minutes!
Selling memberships is a great revenue stream that more websites should explore, and MemberPress is the perfect tool to help you do it.
Want even more ideas on growing your online membership program?
Now, start growing your revenue!