9+ Best Website Builders for Affiliate Marketing (Compared)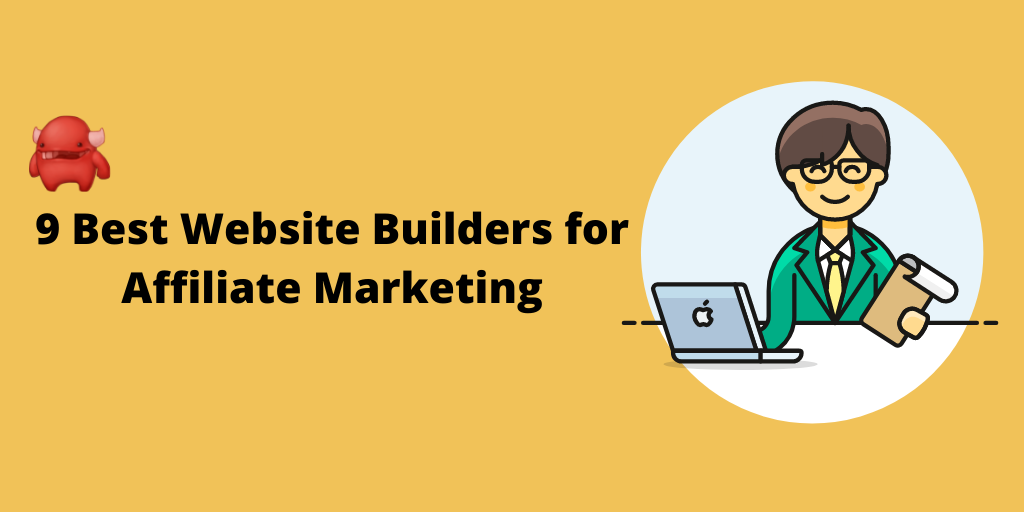 Looking for the best website builders for affiliate marketing?
We've compared the very best website builders to help you take your affiliate marketing to the next level.
Here's what we're going to look at:
Now let's take a close look at these website builders to find out which is the best.
What Makes a Website Builder Good for Affiliate Marketing?
There are two sides of affiliate marketing we need to consider here. We've got merchants who are looking to create a thriving affiliate marketing program and affiliates who are trying to make affiliate sales.
Ultimately, there's a lot of crossover between their needs:
Ease-of-use
User Experience
Access to powerful tools
Customer support
Let's take a look at what each group requires from a website builder.
What Do Affiliate Program Managers Need from a Website Builder?
Affiliate program managers are likely to be looking at a much more e-commerce-focused website builder. Whether they're selling physical products, digital products, or services, their aim is to convert and grow sales.
To do this, they'll need a specialist website builder that allows them to effortlessly sync their inventory and drive sales. The setting up part is much easier to achieve than it might seem, so the right software has to offer a lot more than just an online store.
Merchants need to be able to take advantage of all digital marketing strategies:
Search engine optimization
Content marketing
Email marketing
Social media marketing
Influencer marketing
Conversion rate optimization
And more
As we always say, making sales is hard, so merchants need access to the right marketing tools, and not all website builders offer this.
There's also the big question of how you enable affiliate marketing on your website, so you need to be using a website builder that integrates with your chosen affiliate marketing software.
What Do Affiliate Marketers Need from a Website Builder?
The goals of an affiliate marketer are slightly different from the merchant.
They're much more involved with the top of the sales funnel, where they're creating awareness and building interest. Once they've got the prospect to click their affiliate link, they're then reliant on the merchant to complete the sale.
This means they don't need the same e-commerce capabilities, but they do have the same need for an easy-to-use website, a great user experience, and high-level marketing tools.
9 Best Affiliate Website Builders
Whether you're a beginner starting your first small business, or an experienced pro looking to expand your marketing empire, everyone needs a platform to build their website on.
Today, anybody can do this without the need for technical knowledge or coding skills, and these 9 website builders will help you quickly set up your affiliate marketing website (whether you're a merchant or affiliate).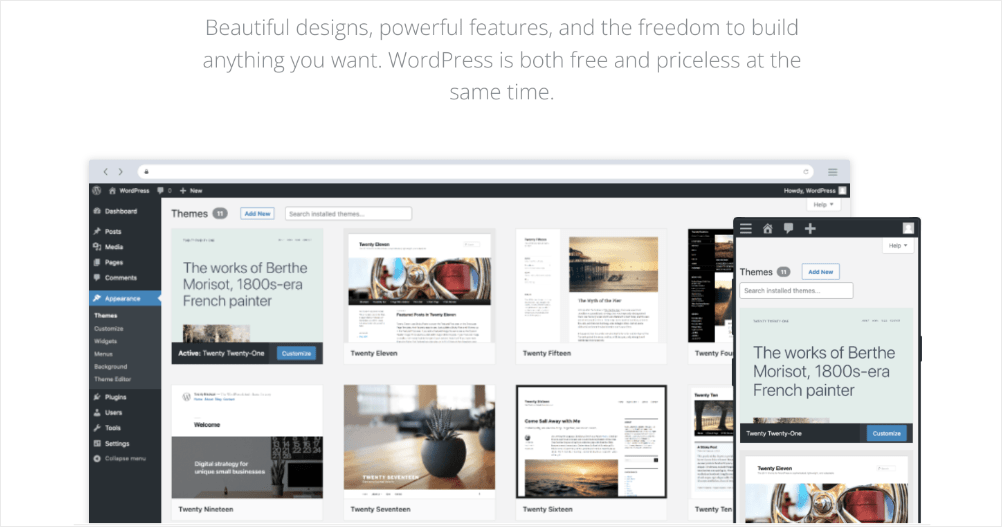 We had to start with WordPress.org because what we're talking about here is a platform from which you can grow a thriving website, and that's exactly what WordPress.org gives you.
The huge benefit of WordPress.org is that it gives you a lot of control.
If you've got advanced technical skills, then it allows you to control every aspect of your website, and if you don't, it gives you endless plugins to help you bring your vision to life.
It might not offer everything you want in its basic form, but there's sure to be a plug-in to help you achieve what you're looking to do (whether that's SEO features, design tools, marketing integrations, etc.)
There's a good reason why over 40% of websites run on WordPress.
Who is WordPress For?
WordPress is an excellent option for both affiliate program managers and affiliate websites. Both need access to the right tools and WordPress 100% delivers on this.
Pros:
A huge array of high-quality themes
Endless market of plugins
Absolute control over your website
Cons:
You have to manage your website yourself
Pricing: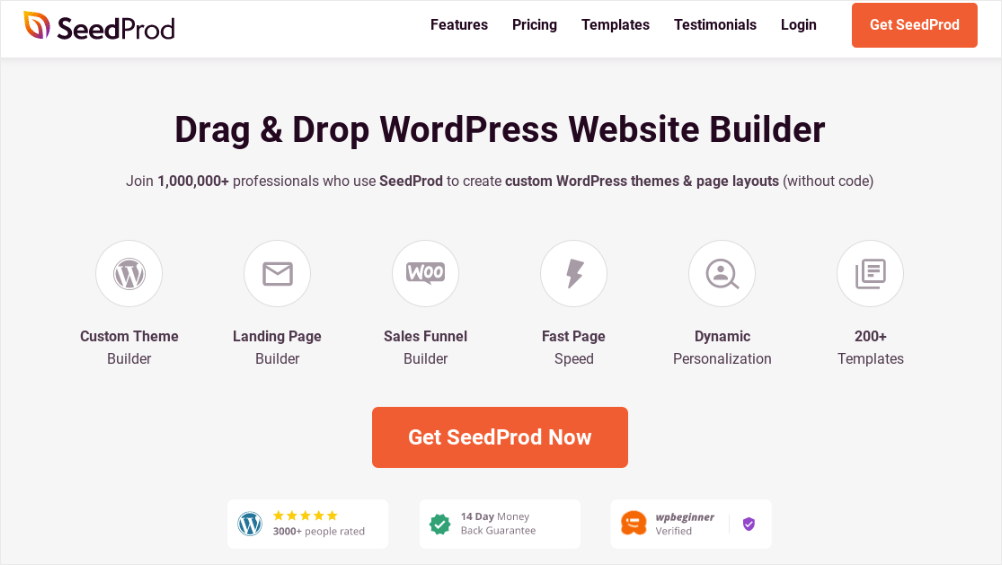 SeedProd is a WordPress plugin that helps affiliate marketers unlock the full potential of their websites.
If you're new to building websites, then at first, WordPress can be quite daunting. It's possible to build a beautiful website with its basic block builder, but it's not very intuitive.
SeedProd is the answer.
Not only does it have perfectly optimized templates to maximize your conversions, but it also has a seamless drag-and-drop builder. This allows you to finetune your website exactly how you see fit.
With paid plans starting from $39.50 a year, SeedProd is well worth the money to maximize the usability of your site and drive more conversions.
Who is SeedProd For?
This is another website builder that is ideal for both affiliate program managers and affiliate marketers. Both need a well-designed website, and that's what SeedProd gives you (no need for coding knowledge or to pay for a designer).
Pros:
Perfect integration with WordPress
Beautiful pre-built theme templates (especially for landing pages)
Highly functional drag-and-drop editor with great customization options
Cons:
Only for WordPress (everyone else is missing out)
Pricing:
Basic: From $39.50/ year
Plus: From $99.50/ year
Pro: From $199.50/ year
Elite: From $239.60/ year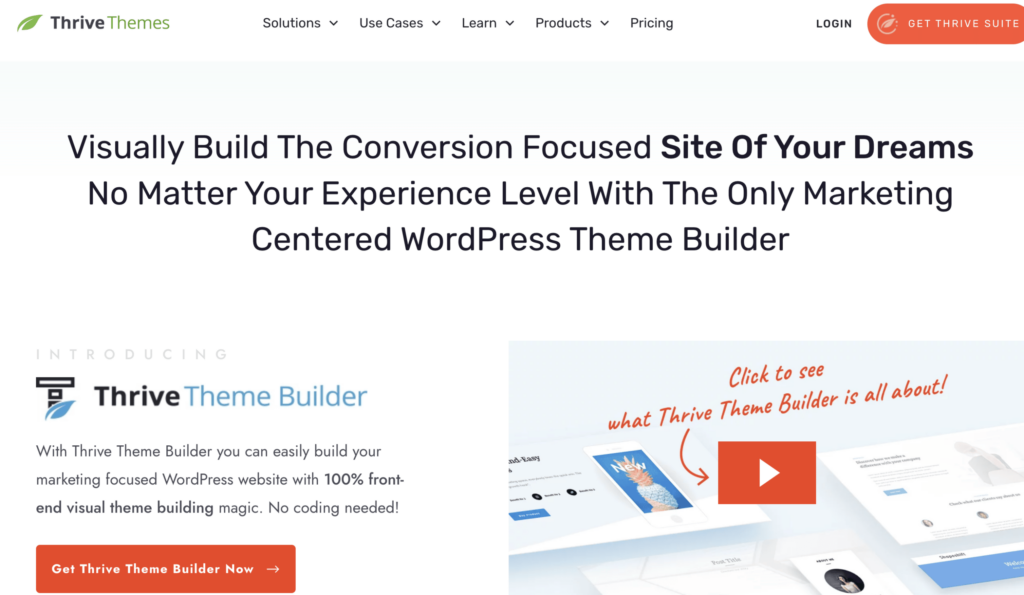 Thrive Themes offers a whole host of awesome products designed to turn your WordPress website into a full-blown online business!
A key element of this is the Thrive Theme Builder which will help you launch a professional-looking website in under 15 minutes. It's 100% front-end visual theme building (which means you can see exactly what it will look like to customers as you're building it) and the drag-and-drop builder is incredibly simple to use.
This means you can create your design from scratch or use one of the 100s of pre-built designs available. All the templates have been created with conversions in mind – exactly what you want when you're building your affiliate marketing empire!
One of our favorite things about Thrive Themes is that you can buy products individually or as part of a suite. If you go for the suite, then you'll also get:
Online course builder
Automator to connect different WordPress plugins
Conversion optimization tools for lead generation
Quiz builder
A/B testing
And more…
Whether you buy Thrive Theme Builder individually or as part of the suite it offers awesome value and is a great place to start your affiliate marketing journey.
Who is Thrive Theme Builder For?
Thrive Theme Builder gives you so many tools that it's a great option for both affiliate marketers and affiliate program managers.
Pros:
Set up a professional-looking website incredibly quickly
Great selection of integrations
Thrive Suite offers unbelievable value
Cons:
License can only be used on one site
Pricing:
Thrive Theme Builder: From $99 a year
Thrive Theme Builder + Thrive Architect: From $199 a year
Thrive Suite: From $299 a year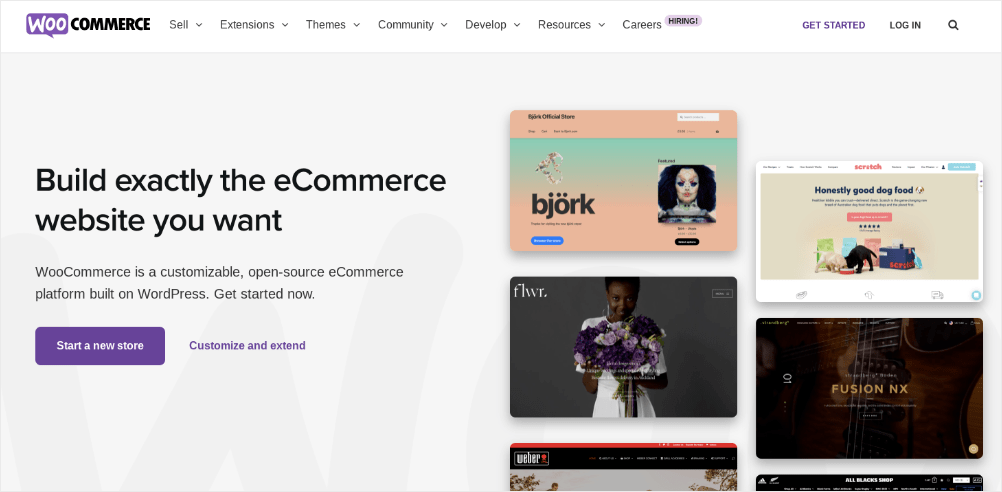 We're going to stick with the WordPress theme here with WooCommerce.
The great thing about WordPress is it's open source, which means you can build your website for free. Essentially, it gives you all the basics you need to build on and you use integrated tools to expand your offerings.
WooCommerce allows you to turn your WordPress website into a store, and it's incredibly easy to use. It's another free plug-in that's a must-have if you run a WordPress website.
Who is WooCommerce For?
WooCommerce is primarily for merchants looking to sell their products. It integrates perfectly with AffiliateWP allowing you to set up an affiliate marketing program in minutes.
Pros:
Easy to set up
Create a comprehensive online store very quickly
Monetize your website
Cons:
It doesn't have as much functionality as some of the dedicated e-commerce website builders
Pricing:
WooCommerce is a free plugin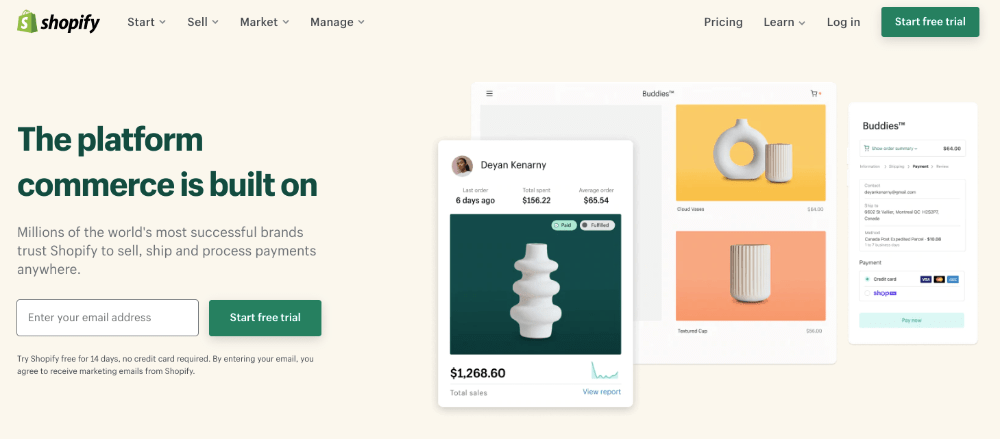 Shopify is one of the biggest names in e-commerce and has been responsible for over $200 billion of sales for its customers.
It's fully hosted, which is great because you don't have to worry about managing software, updating domain registrations, or keeping backups because it's all done for you. Of course, you give up a little control for this luxury, but that's something many store owners are happy to do.
Its drag and drop builder isn't the easiest to use, but it does offer lots of tools in its app market to help you perfect your store.
Who is Shopify For?
This one is for merchants who are looking to run their own affiliate marketing program. It's one of the best options for building a comprehensive online store and links with many of the big-name affiliate software providers.
Pros:
Fully hosted
High converting templates
Wide range of marketing tools and e-commerce features
Cons:
You have to use Shopify's payment platform
Pricing:
Basic: From $29/ month
Shopify: From $79/ month
Advanced: From $299/ month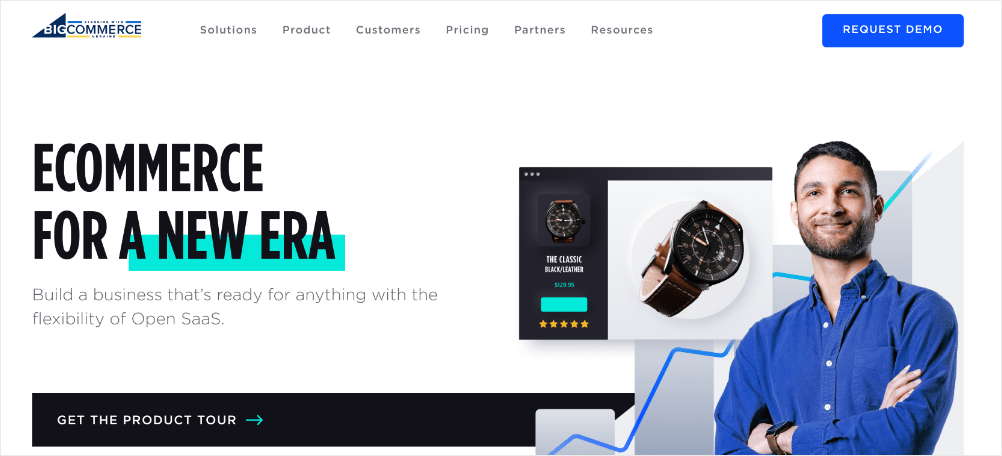 BigCommerce is another fully hosted e-commerce solution, so you can focus solely on growing your store.
Much like Shopify, it offers some excellent pre-made website templates to help you get started, but unlike Shopify, it gives you more flexibility over what payment gateway you use. Another great feature with BigCommerce is its dashboard which gives you in-depth data to help grow your business.
Who is BigCommerce For?
This is another website builder that's good for larger e-commerce stores looking to run an affiliate marketing program. Lots of affiliate marketing software integrate directly with BigCommerce to facilitate easy referral tracking.
Pros:
No platform fees or commission
Lots of good built-in features
Excellent SEO support
Cons:
Setup isn't as easy as with some of the alternatives
Pricing:
Standard: $29.95/ month
Plus: $79.95/ month
Pro: $299.95/ month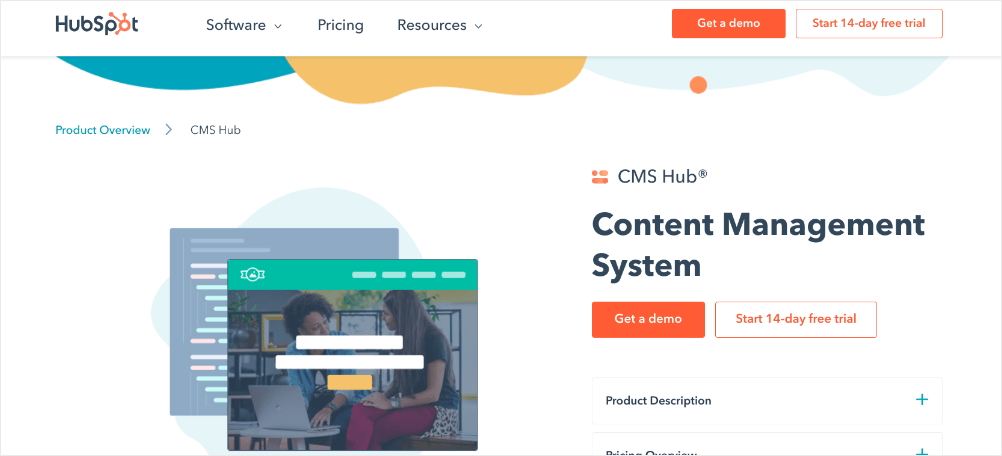 HubSpot is the content marketing pro, so it knows a thing or two about what marketers want.
Its content management system offers a good selection of pre-made themes, but its most powerful feature is how it integrates with its CRM. This makes it excellent for lead tracking and optimizing your marketing funnel.
Another powerful tool is its adaptive integration which allows you to test different variations of a page and ultimately decide on the highest-performing one.
Who is HubSpot For?
HubSpot is a great option for affiliate marketers who want to take a methodical approach to lead generation. It's got good testing tools to help you perfect your marketing, and can help you effectively manage your contact list.
Pros:
Great adaptive testing feature
Easy integration with HubSpot CRM
Focus on marketers' needs
Cons:
Web design experience is a little clunky
Pricing:
Starter: From $23/ month
Professional: From $360/ month
Enterprise: From $1,200/ month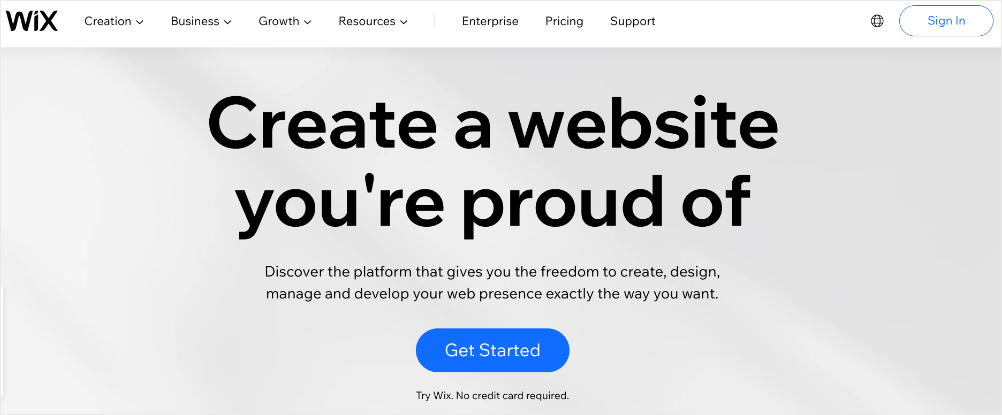 Wix is an incredibly user-friendly drag-and-drop website builder. You can set up and design a beautiful website in no time at all, and while it's primarily known to serve bloggers, it also offers e-commerce options as well.
This site builder might offer the easiest to use drag-and-drop builder out there, and it continues to offer a growing array of integrated tools. It's still a long way short of WordPress for things like SEO tools, but it's certainly somewhere you can design a beautiful website for a reasonable price.
Who is Wix For?
Wix would be a good option for beginner affiliate marketers who are looking to quickly start an online business. Another bonus is that you get a free domain name thrown in with many of their plans.
Pros:
Easy-to-use
Great drag-and-drop builder
Get set up quickly
Cons:
Hard to switch your theme once you've published your website.
Pricing:
Combo: From $16/ month
Unlimited: From $22/ month
Pro: From $27/month
VIP: From $45/ month

Web.com is very popular with small businesses, offering a great price point on its standard website plan (from $4.95 a month).
It offers the basic tools you need to start a website (e-commerce included) but lacks many of the more advanced options you get with WordPress. However, it does have a great drag-and-drop builder that can help you build your website exactly how you want it.
Who is Web.com For?
Web.com is a good option for affiliate marketers looking for an easy-to-use platform to quickly create an affiliate website. Although it does offer an e-commerce package, its limited tools mean it's not an ideal option for affiliate program managers, and it's not easy to integrate with most affiliate software.
Pros:
Cheap entry point into an online business
Quick setup
Good support
Cons:
Lacking more sophisticated features
Pricing:
Website Essentials: From $4.95/ month
Business Essentials: From $7.95/ month
E-Commerce Essentials: From $13.95/ month
E-Commerce Premium: From $19.95/ month

Squarespace is an excellent option for creating a professional, yet creative website. It offers a good selection of editable website designs and is wonderfully easy to use.
With Squarespace, you'll get a nice array of marketing features, especially the email and social media support, and brilliant customer support. This is exactly what you want when you're looking to set up a high-performing website.
Again, Squarespace is probably better known as a blogging platform, but it also offers e-commerce options that are worth considering.
Who is Squarespace For?
Squarespace works for both affiliate marketers and program managers, however, its features tend to work better for affiliate marketers. It's incredibly easy to set up a beautiful, optimized site.
Pros:
Beautiful templates that are well optimized for desktop, mobile, and tablets
Good marketing features
Top-rated support
Cons:
Not as customizable as some of the other options
Pricing:
Personal: From $14/ month
Business: From $23/ month
Basic Commerce: From $27/ month
Advanced Commerce: From $49/ month
What's the Best Website Builder for Affiliate Marketing?
We find WordPress is the best way for both affiliate marketers and affiliate program managers to go. That's simply because of the control it gives you over what you're doing. 
Between WordPress, SeedProd, and Thrive Theme Builder you can achieve everything you want to do without stretching your budget. Not only does this give you a great website, but it allows you to integrate an endless number of marketing tools, widgets, plugins, and everything else. 
It might look a little bit daunting at first, but you won't need a web developer to create a brilliant affiliate website.
Want even more great resources to help you with affiliate marketing?
We've got you covered:
Now it's time to take your affiliate marketing to the next level!