4 Best CRM Software for Small Business 2023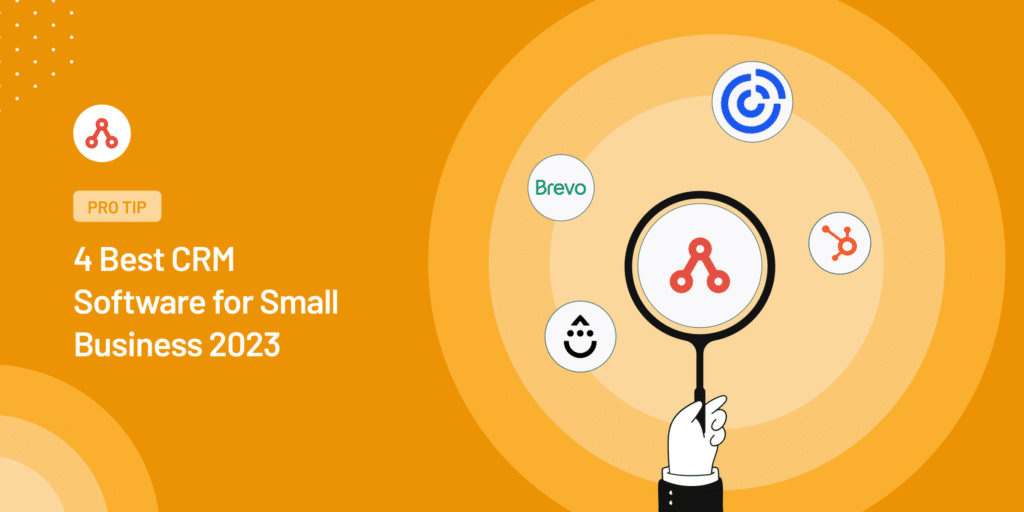 Are you looking for the best CRM for small businesses?
When your business grows, doing things manually becomes less effective and more expensive. However, a CRM (Customer Relationship Management) can help you better handle your customers and potential customers.
In this article, we have made a comprehensive list of the best CRM software for small businesses that you can use to manage your customer interactions effectively.
Let's get started!
Why Small Businesses Need a CRM
Understanding your customers is the key to any successful business, and this is especially true for small businesses and their affiliate programs, where the quality of relationships can make or break the business.
A Customer Relationship Management (CRM) system can make these relationships flourish.
Another area where a CRM shines is in managing leads and sales. It's like having a bird's eye view of your entire sales pipeline.
Plus, a CRM can automate those pesky follow-up emails, turning potential lost sales into loyal customers.
The best part is a CRM brings everyone in your business onto the same page. Whether you have a team of two or twenty, everyone can access the same customer data, track progress, and collaborate effectively.
So as we have understood the benefits of having a CRM, let's look at the best CRMs for small businesses.
Best CRM Software for Small Businesses
Before we explore the top CRM software options for small businesses, it's important to recognize that having reliable affiliate management software is essential for expanding your customer base before implementing a CRM for your business.
With the right tools, you can streamline your processes, grow your affiliate program, and increase sales.
And for that, there's no better tool than AffiliateWP.
AffiliateWP is an ideal tool designed specifically for WordPress websites, integrating seamlessly with all major e-commerce and membership platforms. It's a simple, clean, easy-to-use system that will streamline your affiliate management approach.
Knowledge is power, and AffiliateWP provides detailed affiliate reports to inform you about what's working and what isn't.
This insight helps you adapt and evolve your affiliate program to boost sales. The best part is that many more features are available than you can imagine. These features will assist you in expanding your business and creating a loyal group of affiliates and customers, ultimately leading to more significant revenue.
So, let's now look at some of the best CRM software for small businesses:
1. Drip
Drip is a fantastic CRM tool for small businesses and stands out for those in the eCommerce sector.
It is renowned for its user-friendly interface, extensive features, and simplicity.
One of the most appreciated features is its ability to create automated workflows and email campaigns with just a few clicks.
Drip makes it easy for businesses to carry out list segmentation and conversion tracking tasks.
The ability to customize content based on user data and carry out purchase intent marketing makes it a powerful tool for any eCommerce business.
Plus, the CRM tool seamlessly integrates with popular third-party services, making it a comprehensive solution for small businesses.
Key Features:
Marketing automation workflows
Advanced contact management
Actionable reports
Email campaigns
One-on-one conversations
eCommerce user tracking
Custom conversion tracking
Purchase intent marketing
Pricing:
2500 People in Email List: $39/ Month
3500 People in Email List: $59/ Month
5000 People in Email List: $89/ Month
15000 People in Email List: $209/ Month
2. Brevo (Sendinblue)
Brevo is a versatile CRM solution designed to cater to businesses of all sizes.
It provides a robust set of email marketing services that cover everything from reliable email delivery to smart segmentation.
What sets Brevo apart from other CRM tools is its unique focus on SMS marketing and chat features, allowing businesses to engage with customers in real time and boost sales.
With Brevo, you can easily personalize your marketing campaigns using its segmentation tools and build compelling landing pages and signup forms using the in-built builder.
The CRM solution provides detailed analytics that helps you track your performance and make data-driven decisions.
Key Features:
Easy segmentation and personalization
Powerful marketing automation tools
Transactional emails with reliable delivery
Landing page and signup form builder
Detailed and actionable analytics
Automatic send-time optimization
SMS and Chat marketing tools
Pricing:
Brevo has four plans, Marketing Platform, Conversation, Sales Platform, and Transactional Email.
Marketing Platform
Free: $0/ Month (300 emails/ Day)
Starter: Starts at $25/ Month (20k emails/Month)
Business: Starts at $65/ Month (everything in Starter + A/B Testing and more)
Brevo Plus: Custom Price
Conversations
Free: $0/ Month (limited to 1 User)
Pro: $15/ Month (billed per user)
Sales Platform
Free: Get free access to all Sales Platform features.
Transactional Email
300 emails/ Day: Free
20,000 emails/month: $15/ Month
60,000 emails/month: $69/ Month
3. HubSpot CRM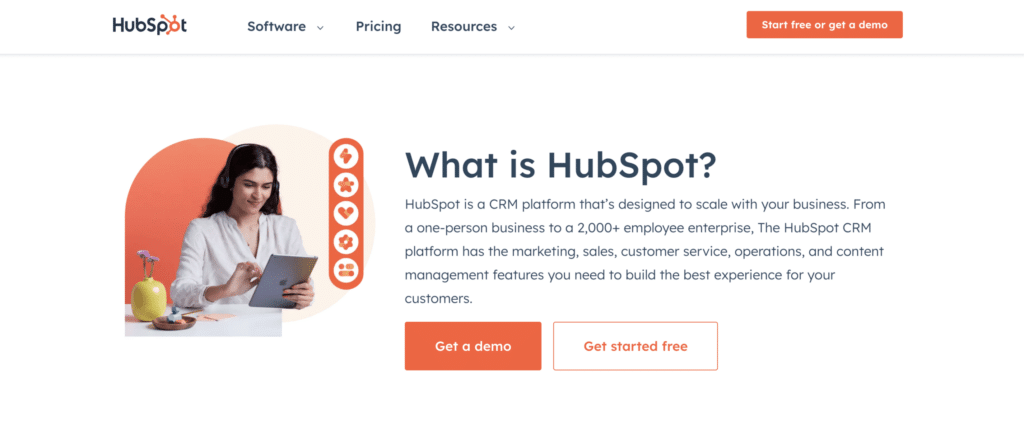 HubSpot CRM is an affordable yet comprehensive CRM solution that offers various features to manage every stage of the customer journey.
It provides a holistic view of your entire sales pipeline on a single dashboard, facilitating easy tracking of customer interactions and business performance.
With HubSpot, you can personalize email sequences for leads and existing customers, receive real-time notifications about lead behavior, and integrate CRM with popular tools like Salesforce, Shopify, and Microsoft Dynamics.
Key Features:
Personalized email sequences for leads and existing customers
Real-time notifications about lead behavior
Integration with popular tools like Salesforce, Shopify, and Microsoft Dynamics
Unlimited users, customer data, and up to a million contacts
Create custom filters to sort contacts.
Schedule emails and tasks and create tickets
Pricing:
Free: $0/ Month (essential tools to get you started)
Starter: $30/Month (essential marketing, sales, service, CMS, and operations software)
Professional:$1,600/Month (comprehensive marketing, sales, customer service, CMS, and operations software)
4. Constant Contact
Constant Contact has built a reputation as a reliable CRM solution, offering features such as email marketing, event management, social media integration, surveys, and polls.
Its strength lies in its easy-to-use interface, making it an ideal choice for small businesses or beginners to email marketing.
The CRM solution's in-built analytics and reporting tools give you deep insights into your customer behavior and allow you to track the performance of your marketing campaigns.
With Constant Contact, you can create visually appealing emails using their extensive range of templates and easily manage your contacts.
Key Features:
Email list building and automation
Event management
Social media integration
Surveys and polls
Built-in analytics and reporting
Pricing:
Lite: $12/ Month (basic email marketing with easy-to-use templates)
Standard: $35/ Month (email marketing with subject line A/B testing and email archive)
Premium: $80/ Month (advanced email marketing with dynamic content)
Now, Gear Up to Grow Your Business
Having the right CRM tool in place can be a game-changer for your business. It aids in centralizing customer data, enhancing customer communication and engagement, automating repetitive tasks, and, most importantly, improving sales and lead management.
But affiliate management's another piece to the puzzle of small business success.
Combining a powerful CRM system and AffiliateWP's robust affiliate management capabilities can propel your business to new heights.
Here are some resources to kickstart your journey:
Get AffiliateWP, the best affiliate management plugin for WordPress, and grow your business today!