5 Best WooCommerce Referral Plugins (Ranked)
Looking for the best WooCommerce referral plugins for your affiliate program?
Referral plugins are the key to growing your WooCommerce store and making more money. They let you track and incentivize your affiliates who promote your products.
But because there are so many options, finding the best WooCommerce referral plugins for your business can be challenging.
So, in this article, we've listed the best WooCommerce referral plugins to help you boost sales and grow your business.
What is a WooCommerce Referral Plugin & Why Do You Need One?
A WooCommerce referral plugin lets you add referral marketing to your online store.
Simply put, a referral plugin lets you reward your affiliates for bringing you new customers, spreading the word about your brand, and building a loyal customer base.
So, why do you need a plugin for WooCommerce?
By using a plugin to set up a referral system, you can incentivize customers to tell their friends about your site, bringing high-quality traffic to your store.
Each person they refer can earn points, discounts, or other perks that they can use on future purchases. This organic growth of your customer base can help you sell more and make more money.
A WooCommerce referral plugin is a must-have for anyone who manages affiliate programs or runs an online business and wants to make more money and sell more.
It is an excellent way to get new customers because word-of-mouth is less expensive than other ways to get new customers. Customers who come from a referral are more likely to buy your product which can increase your revenue.
Are you ready to discover some of the top WooCommerce referral plugins? Let's find out.
Best WooCommerce Referral Plugins
A WooCommerce referral plugin is a must-have for any online store looking to expand its customer base, boost sales, and maintain a loyal following.
Let's check out some of the best referral plugins for your WooCommerce store that will also help you increase your customer base and revenue.
We have curated this list with extensive research by listing down the features and pricing of each referral plugin so you can choose the best plugin that fits your needs.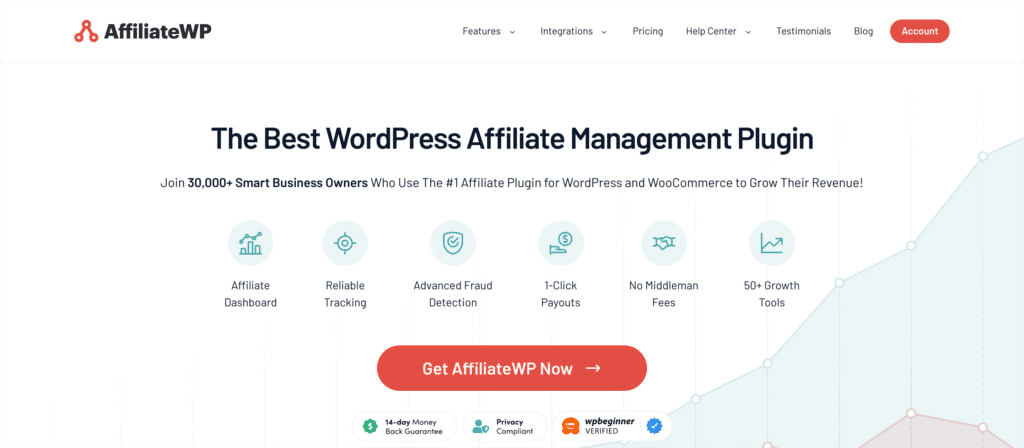 AffiliateWP is the most popular WordPress affiliate plugin that makes setting up a referral program in your WooCommerce store a breeze.
With one-click integrations for numerous WordPress plugins, including PayPal, Stripe, MemberPress, and of course, WooCommerce, AffiliateWP streamlines the entire process of integrating your online store.
The easy setup wizard guides you through each step, and the Terms of Use Generator simplifies creating your affiliate terms and conditions.
The user-friendly interface enables you to easily manage your affiliate program, approving or rejecting affiliates in just a click and customizing affiliate registration forms and templates.
Affiliates also benefit from innovative marketing tools such as Affiliate Portals, Personalized Affiliate Landing Pages, Vanity Affiliate Coupon Codes, and Real-time analytics, helping them boost conversions and grow their earnings.
With AffiliateWP, you can build a highly customizable referral program without any limits on affiliates, sales, or earnings.
Key Features:
Seamless WooCommerce integration
Recurring ReferralsDirect Link Tracking
Detailed analytics for maximizing sales
Advanced affiliate growth tools
Top-notch support
Pricing:
Personal: $149.50/year for the first year, $299.00/year after that (1 site, essential features)
Plus: $199.50/year for the first year, $399.00/year thereafter (3 sites, growth, and essential tools)
Professional: $299.50/year for the first year, $599.00/year thereafter (10 sites, advanced features)
Get AffiliateWP today and start your WooCommerce Referral Program right away!
RafflePress is an exceptional WordPress giveaway and rewards plugin, designed to help you easily create successful giveaway campaigns without hiring a developer.
With pre-built giveaway templates, responsive mobile-friendly design, and 1-click entry and fraud protection, RafflePress makes it effortless for users to enter your giveaways.
The plugin also offers viral sharing (refer-a-friend) functionality, social media integrations, and marketing and CRM integrations, making it easy to grow your following and email list.
RafflePress also features a distraction-free giveaway landing page and advanced tracking and retargeting to maximize your conversion goals.
Key features:
Drag & Drop Giveaway Builder
Viral Sharing (Refer-a-Friend)
Giveaway Landing Page
1 Click Entry + Fraud Protection
Pricing:
Basic: $31.60/year (1 site, essential features)
Pro: $79.60/year (3 sites, additional features)
Growth: $159.60/year (20 sites, advanced features, and functionality)
WPLoyalty is a powerful plugin that allows you to create a customer loyalty rewards program for your WooCommerce store.
With WPLoyalty, you can reward customers for various actions, such as making purchases, referring friends, and sharing your store on social media.
The plugin is easy to set up and offers a variety of ways to reward customers, including points for purchases, referrals, and social shares.
The plugin offers various reward options, such as fixed discounts, percentage discounts, free products, and free shipping.
Key Features:
Point-expiry app for managing customer reward points
Chat-like launcher widget for easy customer engagement
Encourage word-of-mouth sales and reward customers for social shares
Offer fixed discounts, percentage discounts, free products, and free shipping as rewards
Pricing:
Starter: $99/year (Single site with all common features)
Professional: $129/year (3 sites with all the common features)
Agency: $199/year (10 sites with all common features)
ReferralCandy is an excellent choice for eCommerce store owners looking to establish a referral program without the need for coding or developer assistance.
With its seamless integration capabilities, you can easily connect your WooCommerce store and set up a referral program that suits your needs.
The standout feature of ReferralCandy is its ability to integrate with various marketing apps, including email marketing platforms, analytics tools, and retargeting platforms.
This makes it simple to monitor and optimize the performance of your referral campaigns, ultimately driving more sales and revenue for your business.
Key Features:
Easily set up a referral program on your eCommerce store
Integrate referral traffic data with Google Analytics
Retarget users through Google Ads, Facebook Ads, and AdRoll
Add referral links to your MailChimp newsletters
Pricing:
Premium: $47/month + 3.5% commission fee
Plus: $239/month + 1.5% commission fee
Enterprise: Custom pricing, contact for details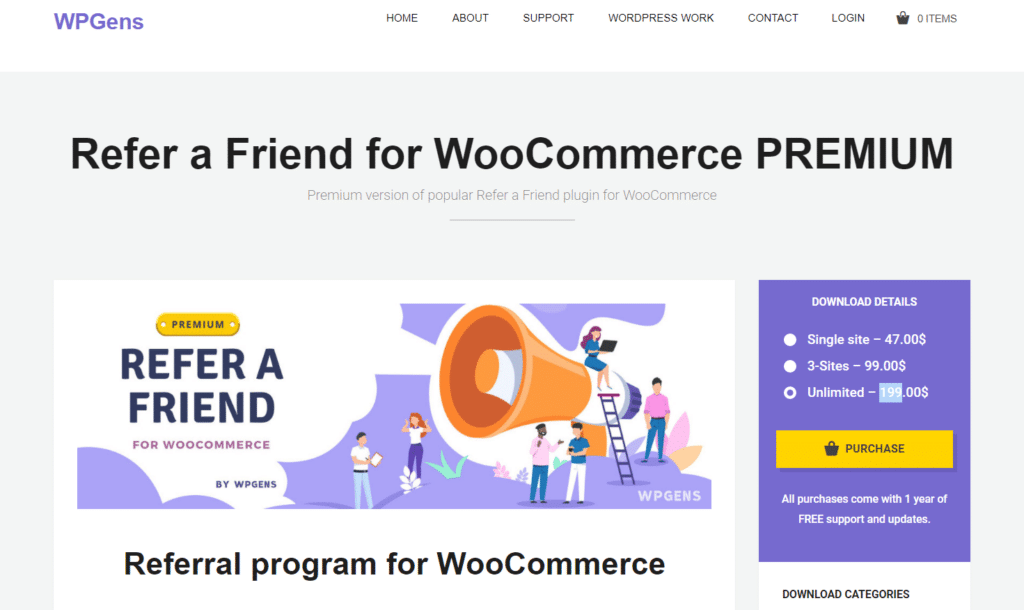 Refer a Friend for WooCommerce by WP Gens is an innovative WooCommerce referral plugin that rewards customers with coupons rather than monetary incentives.
Instead of offering monetary rewards, this plugin focuses on providing coupons as incentives for successful referrals.
This unique approach encourages customers to refer friends and earn discounts on their future purchases.
The plugin generates a unique referral link for each customer, and when a referral uses that link to make a purchase, both the referrer and the referred friend receive rewards.
Key Features:
Offers coupons instead of monetary rewards
Real-time referral statistics for admin and customers
Set coupon expiry dates and minimum order requirements
Compatible with WooCommerce subscriptions
Pricing:
Single site: $47 per website/ Lifetime
3-Sites: $99/ Lifetime
Unlimited: $199/ Lifetime
Which is The Best WooCommerce Referral Plugin?
After carefully looking at many WooCommerce referral plugins, we've determined that AffiliateWP is the best choice for businesses that want to create a powerful and effective referral program on their WordPress websites.
AffiliateWP stands out due to its affordability, wide range of features, and seamless integration with popular e-commerce platforms such as WooCommerce, Easy Digital Downloads, and more.
This enables you to incorporate an affiliate program into your existing e-commerce infrastructure effortlessly.
With AffiliateWP, you can enjoy the following benefits and features as part of your referral program:
Comprehensive tracking
Flexible approval rules
Easy integration
Unlimited affiliates
Real-time reporting
Enhanced customization
Coupon tracking
Product-specific rates
Subscription rates
There are more incredible features that you can find out here, making AffiliateWP an ideal choice for businesses looking to create a compelling and robust referral program for their WooCommerce-powered online store.
Get AffiliateWP today, and transform your online store into a thriving referral program for your affiliates and customers.
FAQ: WooCommerce Referral Plugins
Can I Try out These WooCommerce Referral Plugins Before Purchasing?
Some of the WooCommerce referral plugins offer free trials or money-back guarantees, allowing you to test the plugin before committing to a purchase. For example, ReferralCandy provides a 30-day free trial, and AffiliateWP offers a 14-day money-back guarantee.
Will These WooCommerce Referral Plugins Slow Down My Website?
Quality WooCommerce referral plugins are optimized for performance and should not significantly impact your website's loading speed. However, it's essential to evaluate each plugin and ensure it is lightweight and well-optimized.
Can I Customize the Referral Rewards for My Customers?
Yes, most WooCommerce referral plugins allow you to customize your customers' rewards, such as coupons, discounts, or even free products. This flexibility helps you create a referral program that appeals to your target audience and incentivizes them to participate.
Ready to Start Your WooCommerce Referral Program?
Using a top WooCommerce referral plugin like AffiliateWP, you can create a robust referral program that encourages word-of-mouth marketing, builds customer loyalty, and drives revenue growth for your online store.
However, with options like WPLoyalty, ReferralCandy, and Refer a Friend for WooCommerce by WP Gens, you have various choices to find the perfect plugin that suits your business needs and budget.
To further enhance your affiliate marketing efforts, consider exploring additional resources such as:
Start launching your referral program by getting AffiliateWP and watch your online store grow and succeed!