8 Best WordPress Digital Download Plugins 2023 (Guide)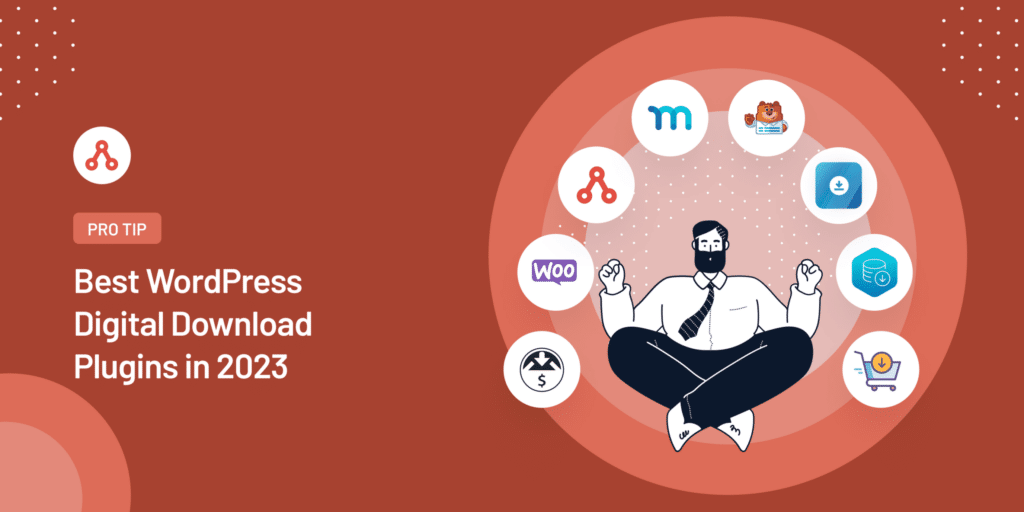 Searching for the best WordPress digital download plugin to sell your digital products on your website?
Finding the perfect digital download plugin with many online options can be daunting. As a content creator, you may require a tool that simplifies the process of selling your digital products on your WordPress website.
We have compiled a list of WordPress's top digital download plugins to assist you. Pick the best fit for your requirements and start building a thriving business.
Let's get started!
How to Choose The Right Digital Download Plugin for WordPress
When picking a digital download plugin for WordPress, there are several things to remember.
These will ensure that you choose the best tool for your specific needs.
Easy to Use: The plugin should be easy to use. You don't want to spend hours figuring out how to upload a file or set a price. Look for a plugin that has a user-friendly interface and is simple to navigate.
Payment Options: Secondly, the plugin should support various payment methods. This is important because customers might come from different countries and prefer other pay methods. The more payment options, the better.
Security: Thirdly, safety is crucial when dealing with digital downloads. Your plugin should offer secure download links that can't be easily hacked.
File Types: Lastly, your plugin should support the file types you intend to sell. Whether it's music, ebooks, or software, ensure the plugin can handle it.
To summarize, a suitable plugin should be user-friendly, allow various payment methods, offer customized discount codes, secure download links, and have a straightforward interface. With these attributes, you can confidently sell your digital goods to your clients.
While understanding what to look for in a plugin is a step in the right direction, it's equally important to know the top ones in the market. However, choosing a plugin that checks all these boxes can be daunting.
But don't worry; now we will discuss the best digital download plugins for WordPress, making your decision process a breeze.
Best WordPress Digital Download Plugins
Digital downloads have transformed the method of obtaining and enjoying media and content.
Almost everything that can be digitized, such as ebooks, music, video, software, and courses, can be quickly and easily downloaded online.
But how does one effectively manage digital downloads and ensure a seamless customer transaction?
Luckily, some amazing WordPress plugins can make it a breeze!
Check out these top picks for efficient download management:
Easy Digital Downloads (EDD) is a comprehensive solution for selling digital products on WordPress. You can seamlessly manage and sell digital goods using this plugin, from PDF files and videos to software.
This free plugin protects your files with password features and prevents spam with reCaptcha. It also lets you track vital stats such as the IP, date, and time of purchased files, providing a rich data source for business intelligence.
EDD offers a simple user experience, integrating with popular payment gateways like PayPal and Stripe.
This ensures a frictionless buying journey for your customers.
Key Features:
Advanced file protection features
Advanced analytics and data reporting dashboard
Discount codes variety
Integrations with almost every payment gateway
Integrations with top mailing tools
Pricing: The plugin is available for free. However, a premium version starts at $99 per year for more features.
WooCommerce isn't just a typical eCommerce plugin.
It's a full-blown shopping cart software, making it an excellent tool for selling both physical and digital products. With countless themes and extensions, WooCommerce also offers a high level of flexibility and several customization options.
When it comes to digital downloads, WooCommerce handles them masterfully.
You can easily set up products to be downloadable, define the file path, and configure download limits and expiry, if you wish. It also allows for seamless integration with many popular payment gateways.
Moreover, WooCommerce integrates smoothly with popular SEO and email marketing plugins, which can significantly boost your marketing efforts and increase your revenue.
Key Features:
Supports both digital and physical products
Comes with a variety of payment gateways
Advanced tax settings and shipping methods
Robust extensions ecosystem
Detailed reports on your store's performance
Pricing: The base WooCommerce plugin is free. However, for advanced functionalities, you might need to purchase some extensions, which vary in price.
You might have various digital products ready to go as an online business owner. Still, driving sales could be challenging, particularly when you're up against a sea of competition.
This is where AffiliateWP comes in.
While it may not be explicitly designed for digital downloads, it certainly revolutionizes how you promote your products and increase sales.
AffiliateWP is a top-of-the-line affiliate plugin for WordPress. It's a powerful tool that helps you set up a fully-featured affiliate program within minutes within your WordPress site. What does this mean for your digital products?
More exposure, increased sales, and a broader audience reach.
It's user-friendly, making navigating easy for you and your affiliates. Setup is a breeze, taking just minutes to integrate your digital products.
Regarding integrations, AffiliateWP works well with popular eCommerce platforms like WooCommerce, Easy Digital Downloads, MemberPress, PayPal, and Stripe, allowing you to sell your digital products on platforms you're already familiar with.
Key Features:
Accurate affiliate tracking
Complete integration with popular WordPress eCommerce and membership plugins
Real-time reporting
Unlimited affiliates
Easy affiliate management
Pricing: AffiliateWP offers several pricing tiers. The Personal plan begins at $149 per year for a single site, while the Ultimate plan, priced at $299 per year, covers an unlimited number of sites with priority support.
Visit AffiliateWP to get started.
While not a traditional digital downloads plugin, MemberPress deserves a mention because of its robust functionality that allows you to sell digital products as part of a membership package.
This is ideal for businesses that wish to sell access to premium content, digital courses, paid webinars, etc.
MemberPress makes it easy to create, manage, and track membership subscriptions. It also lets you restrict access to specific pages, posts, custom post types, or any existing files from your regular visitors.
MemberPress is a great tool for selling digital products requiring recurring payments.
Key Features:
Sell access to digital products as part of a membership
Flexible pricing and trials
Robust content dripping
Integration with popular email marketing services
Pricing: MemberPress pricing starts from $149 per year for the Basic plan.
WPForms is a beginner-friendly plugin perfect for creating various forms, including payment forms or order forms, and integrating them with payment processors.
WPForms is particularly useful if you're selling a small range of digital products and prefer a lightweight digital download plugin.
Key Features:
Over 300 form templates
Drag-and-drop interface
Form entry management
Spam protection
Pricing: WPForms offers a free and premium version starting at $49.50/year.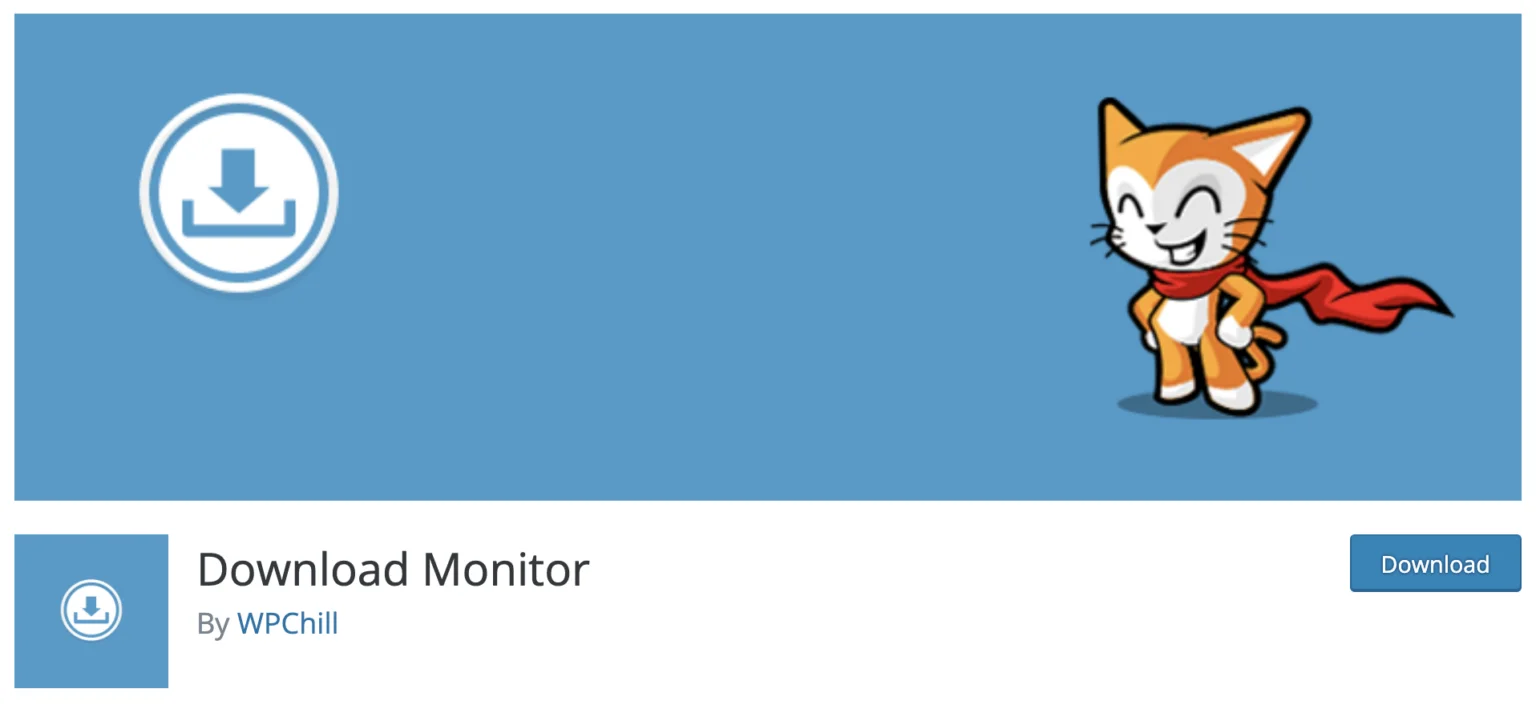 Download Monitor focuses on providing a streamlined interface for managing and tracking digital downloads on your WordPress site.
This plugin simplifies users' download process, ensuring they have a pleasant experience while getting your digital content.
Download Monitor allows you to track download counts and logs while maintaining a beautiful user interface.
It also provides a version management system, letting you store different versions of your files and giving your customers access to various versions as needed.
Key Features:
Easy-to-use interface for managing downloads
Comprehensive download statistics
Version management system for files
Shortcodes for easy download links and buttons
Pricing: The basic plugin is free. With advanced features, the Pro version starts at $99 per year.

WordPress Download Manager is another excellent choice for managing and tracking digital downloads on your website. It allows you to set up password protections and download limits.
In addition, it has a user role management system, which can restrict downloads to certain user roles.
This plugin is beneficial if you want to offer free downloads but want to control who has access or how many times they can download. It's also a great tool if you're going to offer downloadable products professionally.
Key Features:
Password protection and download limits
User role management
Google Drive, Dropbox & OneDrive support
Customizable download links
Pricing: The basic plugin is free. For additional features, Pro versions start from $59.

Digital Goods for WooCommerce Checkout optimizes the checkout process by eliminating unnecessary fields. The plugin is ideal for selling digital content like PDFs, eBooks, photos, videos, and MP3s, making the checkout process faster and easier for your customers.
Key Features:
Quick checkout for all digital products
Allows additional field filling post-payment
Restricts quick checkout button by user role
Pricing: The basic version is free, while the Pro version starts from $29/year, providing a year of support and updates.
Which is the Best Digital Download Plugin for WordPress?
While all the plugins we discussed offer valuable features, each tailored to meet different needs, choosing the plugin that best fits your specific requirements is crucial. Whether you're selling eBooks, premium content, courses, or any other digital goods, the right plugin can transform your business.
With all these considerations in mind, we recommend Easy Digital Downloads (EDD) as WordPress's best digital download plugin.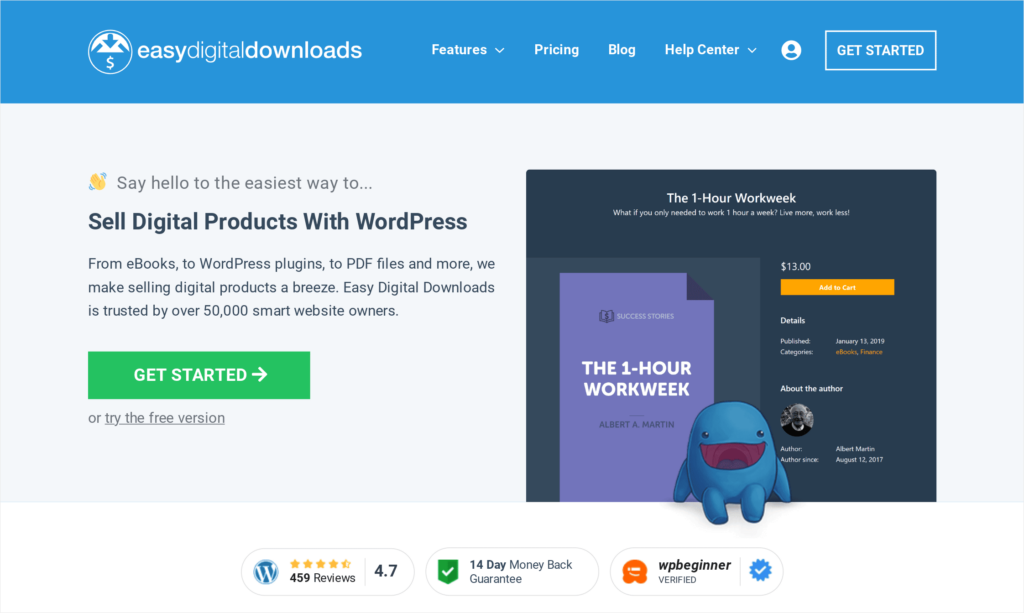 Easy Digital Downloads is specifically designed to sell digital products. It's simple to use and comes packed with powerful features. It boasts excellent product management for digital goods, variable product configurations, discount codes, and data reporting – all within the WordPress dashboard.
One of the standout features of EDD is the shopping cart, which is very rare in digital download plugins. Including a shopping cart allows users to purchase multiple downloads at once, and the cart contents can be saved.
EDD is widely recognized for its seamless checkout process, which leads to higher conversion rates. Furthermore, EDD provides a range of extensions allowing you to add more functionality as your business grows, making it an excellent option for starters and established businesses.
However, the real strength of Easy Digital Downloads lies in its focus on providing an optimal user experience, both for the store owner and the customer.
Its commitment to simplicity, without sacrificing essential features, makes it our top pick for the best digital download plugin for WordPress.
Get Easy Digital Downloads Today!
Ready to Sell Your Digital Products On WordPress
Choosing the right plugin for managing digital downloads is just one step in establishing a successful online business. Affiliate marketing can be a game-changer if you want to expand your business and multiply your earnings.
This is where AffiliateWP steps in. As a comprehensive affiliate marketing plugin for WordPress, AffiliateWP allows you to create a full-featured affiliate program on your website.
It allows users to promote your digital products and earn a commission on every sale they refer. This encourages more people to spread the word about your products, bringing more potential customers to your site.
Learn more about affiliate marketing with our comprehensive resources:
So what are you waiting for?
Leverage the power of AffiliateWP to grow your business and reach new heights today!