Shareasale vs ClickBank vs AffiliateWP (Merchant's Guide)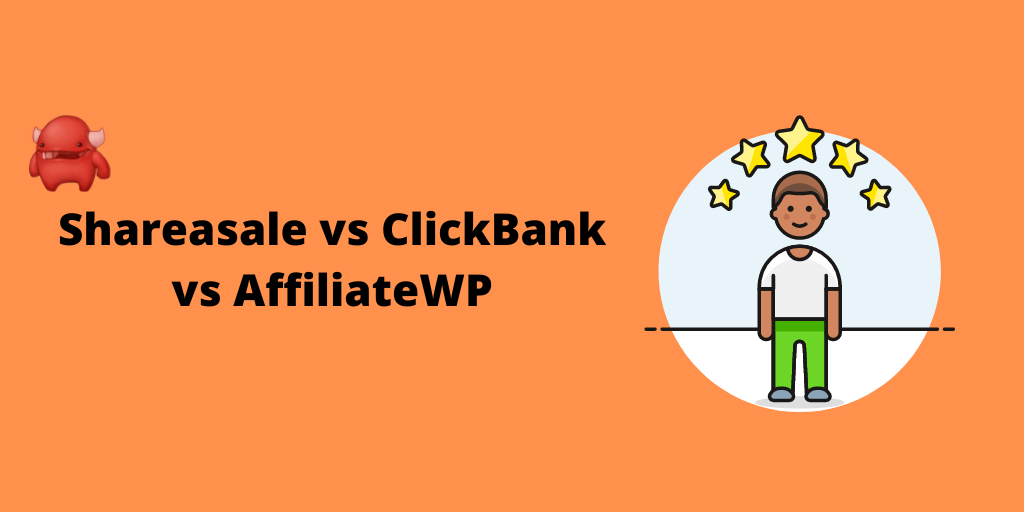 Trying to compare Shareasale vs ClickBank?
We're giving you an in-depth comparison and throwing in another great alternative as a bonus.
Here's everything you need to know about Shareasale vs ClickBank vs AffiliateWP.
Shareasale vs ClickBank vs AffiliateWP: Which is the Best Affiliate Marketing Software?
We want to make it as easy as possible for you to be successful with affiliate marketing.
To do that, we're comparing two of the go-to affiliate marketing platforms on the market (Shareasale and ClickBank) with a third, slightly different option (AffiliateWP).
Every brand is different and will have unique requirements, so we've done an in-depth comparison of these 3 leading options.
We're going to take a look the most important details to help you find the best option to run your affiliate marketing:
Ease of setup
Customizability
Affiliate user experience
Marketing features
Affiliate automation
Customer support
Pricing
Keep reading this Shareasale vs ClickBank vs AffiliateWP comparison to find out which is the best fit for your online business.
Note: In Shareasale (part of Awin), ClickBank, and AffiliateWP you've got three good options for setting up your affiliate marketing, however, there are plenty more platforms out there. While we won't talk about JVZoo, Commission Junction, Amazon Associates, Avangate, CJ Affiliates, Linkshare (Rakuten advertising), eBay Partner Network, or Payoneer in this article, they may be worth looking at as a good way to make money online.
Ease of Setup
Let's start with your first concern – getting set up.
You want to get your affiliate marketing set up quickly, without having to deal with technical jargon and complex instructions.
Shareasale Ease of Setup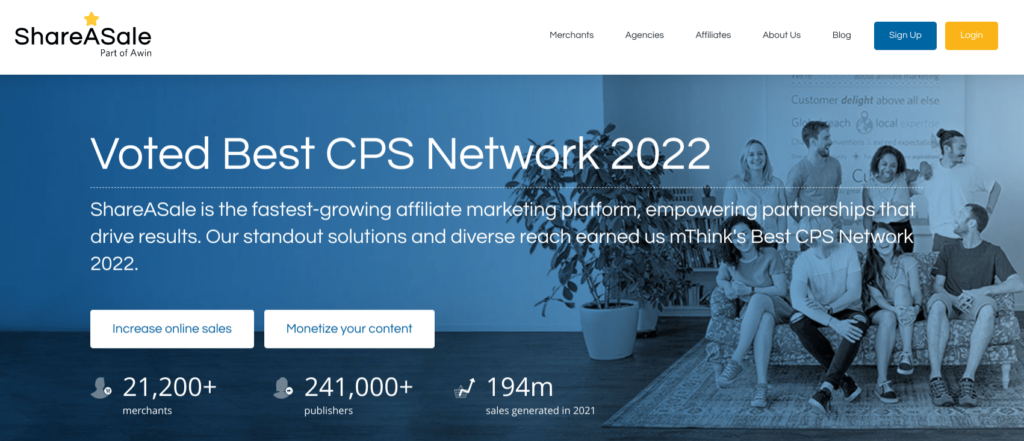 Shareasale's signup process is a little bit more thorough than ClickBank's, which means it can take a little longer to get started. However, Shareasale's approval process ensures you're sharing the platform with well-vetted brands, which ultimately, we think is worth waiting for.
Once you're signed up, Shareasale delivers ease of use with a simple setup wizard to walk you through all the steps of setting up your affiliate program. This will help you to set your commission structure, attract affiliates and influencers, and place the tracking code on your site.
In the Shareasale vs ClickBank vs AffiliateWP debate, Shareasale's setup process is strong, but it does come with a cost.
You'll have to pay a $625 network access fee and a minimum $125 deposit into your merchant account. This means your startup costs are significantly higher than with ClickBank or AffiliateWP.
ClickBank Ease of Setup
If we're looking purely at setup costs, then ClickBank comfortably wins out.
To get started, all you'll have to pay is a $49.95 one-time activation fee.
The signup form is nice and simple, and ClickBank's user interface makes it extremely easy to get started.
Once you're signed up, the ClickBank team will walk you through the technical stuff, and you can get to work on creating your direct response offer (essentially your sales page), ready for affiliates to start promoting.
ClickBank provides you with its own order form to track commissions and maximize conversions, and it will facilitate affiliate payouts through its internal system.
All in all, this is a pretty good deal for $49.95 and gives your affiliate program an excellent start to life.
AffiliateWP Ease of Setup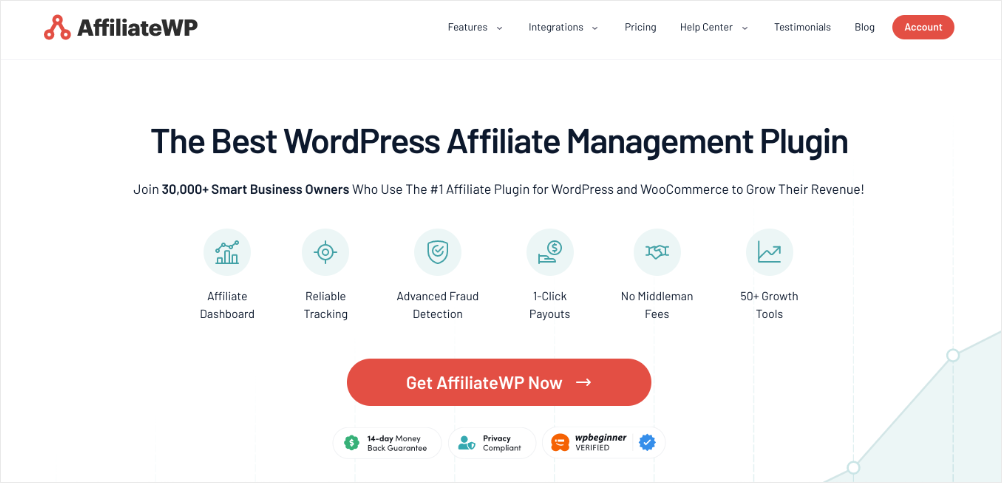 AffiliateWP works on a yearly pricing system so once you've bought your license, there are no additional fees.
You can get started for as little as $149.50 and the setup process is incredibly easy.
Before you get started you'll notice there are a few key differences between AffiliateWP and both Shareasale and ClickBank.
First off, AffiliateWP is a dedicated solution for WordPress websites.
Second, rather than joining an affiliate network, you're creating your own affiliate program that's hosted on your website. This has distinct advantages over an affiliate network, as we will see in later sections.
Setting up AffiliateWP couldn't be easier, and with its setup wizard, you can sync your e-commerce products and have a fully functioning affiliate program in as little as 10 minutes (no coding or technical knowledge needed).
Ease of Setup Winner: When it comes to ease of setup, AffiliateWP and ClickBank have an edge over Shareasale.
Customizability
Customizability is important for your affiliate program.
Are you going to be able to run it in a way that suits your needs and use your branding to attract top affiliates?
Let's find out as we compare Shareasale vs ClickBank vs AffiliateWP for customizability.
Shareasale Customizability
When you join Shareasale as a merchant you're buying into the SaaS platform's features and borrowing access to its audience. You're one of thousands of merchants, and you've all got the same tools available to you.
This can make it difficult to stand out as you compete for the attention of affiliates.
Yes, you get to put information about your company and some details about your products, but there's not much room for branding.
Shareasale does give you access to APIs though which can be useful for linking to other apps and creating additional functionality, but you are limited with what you can do.
ClickBank Customizability
It's a very similar story when we get to ClickBank's customizability.
You're really buying into a ready-made solution and the easy setup that's offered. Beyond this, you're limited in terms of customizability. Again, you're competing in a crowded marketplace without many ways to distinguish yourself from the competition.
Like Shareasale, ClickBank does give you APIs which can help add a little bit of customizability to your affiliate management.
AffiliateWP Customizability
Here's where one of the key benefits of AffiliateWP comes in. You own your own affiliate program, so your customizability options are endless.
As soon as you complete the setup wizard, your program is automatically on-brand because it syncs with your WordPress theme. Affiliates can sign up for your program on your site and access their dashboard without ever having to leave.
This gives you a huge head start in terms of branding, but AffiliateWP offers a lot more customizability. With editable templates and tabs, you can quickly customize your registration forms, affiliate dashboard, and more to get things looking exactly how you want them.
Throw in further tools like hooks and APIs and you've got a highly customizable solution.
Customizability Winner: AffiliateWP is a much more customizable affiliate marketing software than both Shareasale and ClickBank.
Affiliate User Experience
Setting up link tracking isn't just about your experience, you have to take into account the affiliate experience as well.
Affiliates have a ton of choice about what programs they join, so you want to make it as easy as possible for them to engage with your program.
Shareasale Affiliate User Experience
The Shareasale interface isn't the most eye-catching, but it does its job extremely well.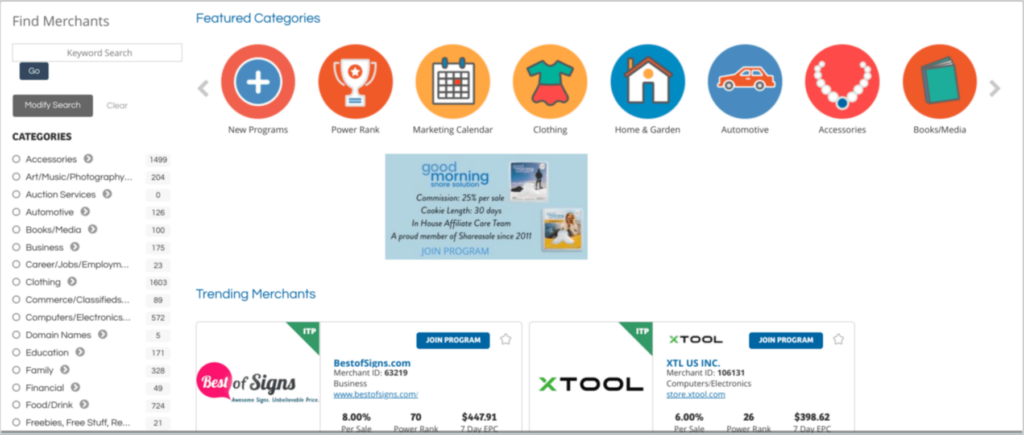 It allows affiliates to quickly search thousands of merchants and find the best possible offers to promote. They can then apply to those programs, and start generating referral links with the URL generator.
Shareasale also offers advanced analytics so affiliates can easily break down their performance by merchants, campaigns, and products.
Ultimately, Shareasale's affiliate user experience is good (it also has great affiliate education), but as a program manager, it does pose a problem.
The easier it is for affiliates to find other merchants and products to promote (even your competitors), the more you've got to work to keep them engaged with your offers.
ClickBank Affiliate User Experience
ClickBank offers affiliates an excellent user experience, making it easy for them to run their affiliate businesses.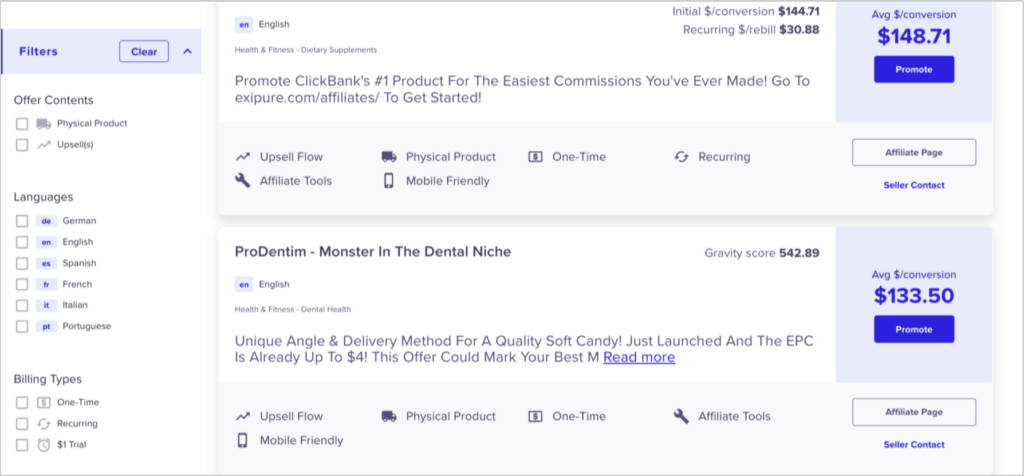 They can quickly explore new offers, sign up to promote different merchants, manage their affiliate links, and see detailed affiliate analytics. This makes ClickBank a popular choice for many affiliates, but the offers available to promote can be a little bit limited compared with Shareasale.
While ClickBank offers a good affiliate user experience, it creates the same problem for you as Shareasale – how do you stand out from your competition?
AffiliateWP Affiliate User Experience
The AffiliateWP affiliate user experience is much more customizable and brand-focused.
With a highly customizable affiliate dashboard, you get to choose what the affiliate's experience looks like. You can stick with AffiliateWP's basic layout, or, if you're on a Professional plan use the Affiliate Portal addon to seriously upgrade UX.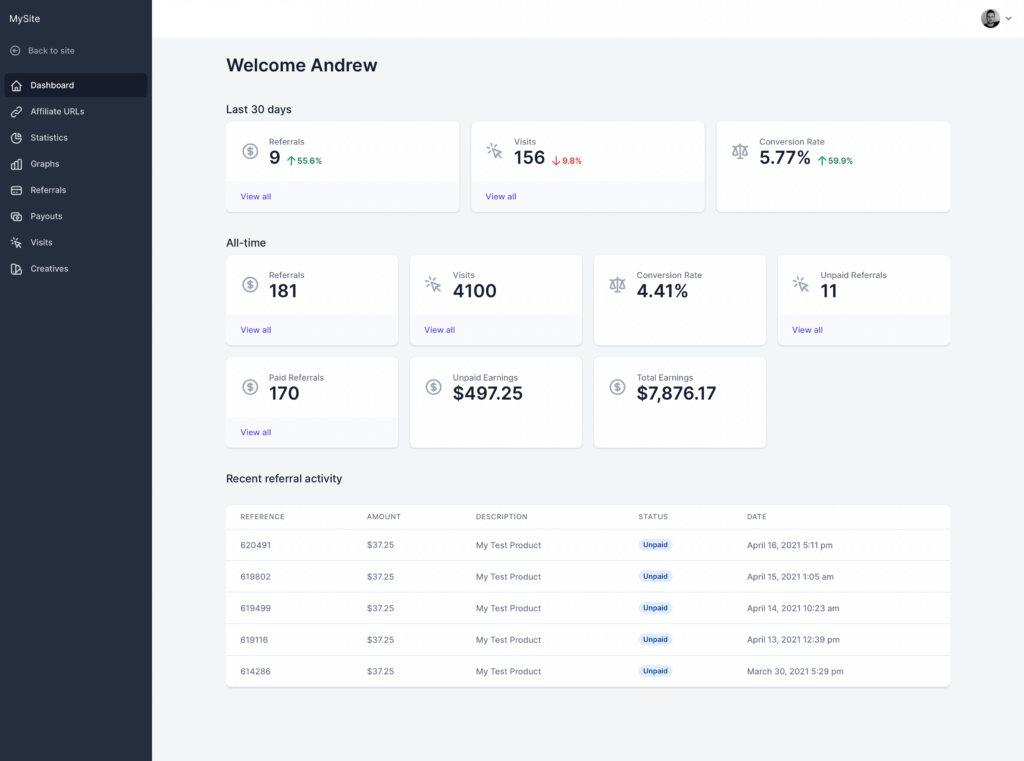 When using the Affiliate Portal, you create a branded Affiliate Area on your own website, that allows affiliates to effortlessly manage links, learn more about your digital and physical products, and track performance.
You've still got to compete for affiliates, but at least with AffiliateWP you can offer a unique user experience to stand out from the crowd.
Affiliate User Experience Winner: AffiliateWP's customizability allows you to create a unique user experience that attracts top affiliates.
Marketing Features
Signing up affiliates is a great start, but what can you do to help them maximize their sales?
This is where innovative marketing features come in, so let's get back to comparing Shareasale vs ClickBank vs AffiliateWP.
Shareasale Marketing Features
Shareasale does the basics extremely well, offering reliable link tracking with fraud and compliance protection built in.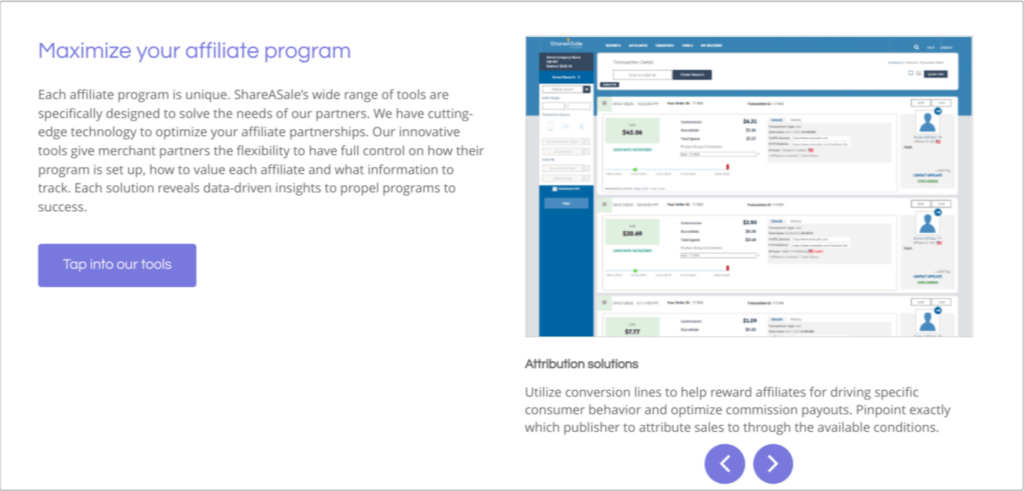 As well as tracking traditional links, it also offers cookieless coupon tracking, both of which can be used with Shareasale's attribution solutions. These allow you to reward affiliates for driving specific consumer behavior and be even more specific with your rewards.
Throw in highly customizable commissions, and you've got plenty of ways to inspire affiliates to make more sales.
ClickBank Marketing Features
ClickBank keeps its link tracking pretty simple, but this works well for many merchants.
Its main focus is on using the ClickBank order form and upsell technology to drive conversions and maximize revenues.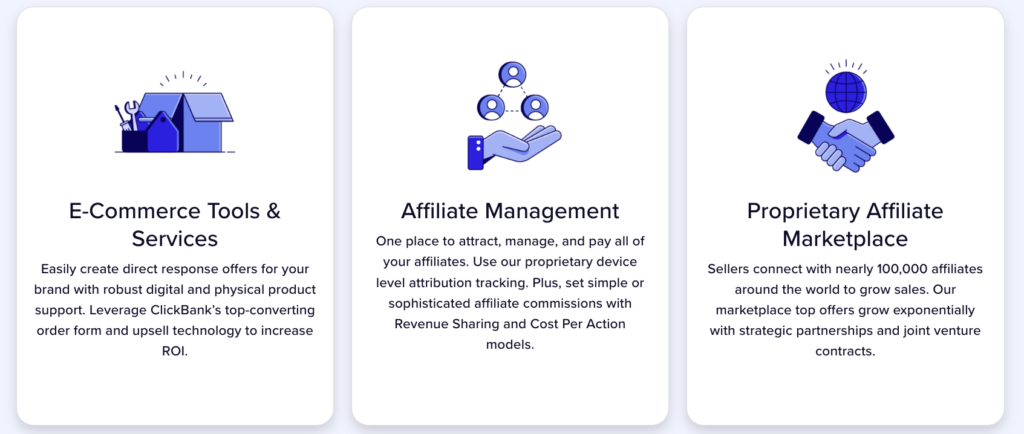 This is extremely useful if you're selling individual digital products without a well-established website, but for more established big brands, ClickBank doesn't offer the innovative marketing features that some other options do.
AffiliateWP Marketing Features
This is an area where AffiliateWP completely outperforms both Shareasale and ClickBank.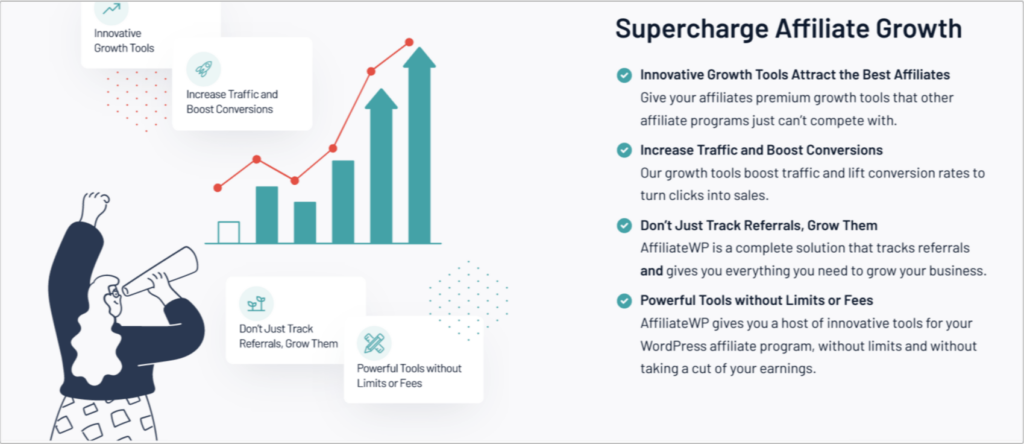 Because AffiliateWP hosts your affiliate marketing program on your own site it gives you a lot more options. This includes a long list of features you can use to boost conversions and grow your program:
Affiliate Landing Pages: Create personalized affiliate pages for individual affiliates that eliminate the need for affiliate links.
Vanity Coupon Codes: Allow affiliates to choose their own coupon codes (subject to your approval). You choose the value of the discount, they create a branded code.
Direct Link Tracking: Enable affiliates to link directly to your site without the need for affiliate links.
Custom Affiliate Slugs: Let affiliates choose their own link structure.
Lifetime Commissions: Encourage affiliates to send you repeat customers by offering a commission on all future purchases the referral makes.
Easy Social Media Sharing: Allow affiliates to share affiliate links to social media in a click.
And Much More…
AffiliateWP continues to bring out new features that help you attract top new affiliates and grow your program.
Marketing Features Winner: There's only one winner here – AffiliateWP offers a great range of affiliate marketing features.
Automation
Part of the reason small businesses pursue an affiliate marketing strategy is to get some time back to invest in other tasks while expert affiliates take care of the digital marketing.
This doesn't work if your affiliate program requires constant attention.
Luckily, all 3 of these affiliate marketing options offer plenty of automation to make you more efficient.
Shareasale Automation
Shareasale is perfectly set up to make your life easy.
It might take a little bit more time to set up, but once you've got everything going it tends to need minimal input. Ultimately, it's quite a simple system, so you don't need too much integration with other applications, making it very user-friendly.
You'll have to accept and reject affiliate applications, but the nice thing is all affiliates are pre-screened by Shareasale. This means you're more likely to have quality applicants and can spend less time on recruitment.
Once you've signed up your affiliates, all your link tracking will be carried out automatically, and you'll benefit from real-time metrics.
Another nice tool is merchant recommendations which help you perfect your affiliate marketing as you go.
ClickBank Automation
Like Shareasale, ClickBank offers an easy system for tracking affiliate sales.
Once you've set up your direct response offer, ClickBank's order form takes care of the rest for you, managing taxes, commissions, and affiliate payouts.
All you've got to worry about is creating great offers and attracting the best affiliates, the rest is sorted for you.
AffiliateWP Automation
With AffiliateWP, you're running your own affiliate program.
As we've seen, this brings some serious benefits, but it also means you're in charge of more parts of the process.
Luckily, AffiliateWP offers a ton of automation to make this easy:
Automated affiliate terms of service generator
Automated email notifications
Automated affiliate fraud flagging
Integrations with CRMs and email marketing software
Integrated payouts service (pay affiliates through direct deposit into their bank accounts without ever leaving your WordPress dashboard) as well as PayPal Payouts and other payment options.
AffiliateWP gives you the option to be incredibly involved in your affiliate program, but it also gives you automation options that allow it to run on autopilot.
Automation Winner: All three options make it easy for beginners to manage their affiliate program, but AffiliateWP has a superior depth of integrations with CRMs and email marketing that can expand its capabilities.
Customer Support
While all three of these systems are easy to use, you still want to know there's good support available when you need it.
So, let's look at Shareasale vs ClickBank vs AffiliateWP for support.
Shareasale Customer Support
Shareasale is a big affiliate marketing network with over 240,000 affiliates and 16,000 merchants.
That takes a fair bit of managing!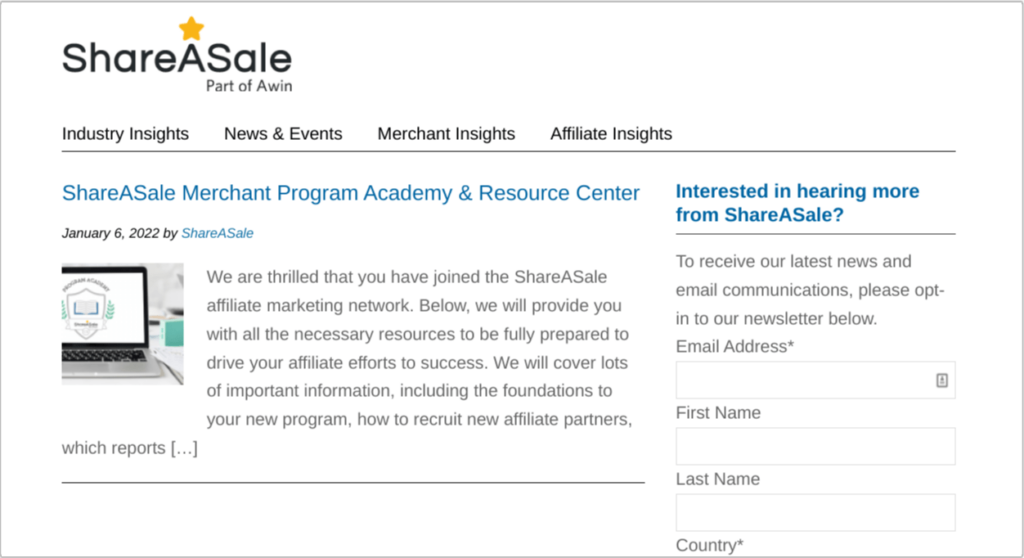 The customer support isn't bad, with a decent knowledge base, and phone and email support. Support possibly isn't Shareasales' strongest suit, but there are different routes available to try and get your problem solved.
ClickBank Customer Support
As well as offering good resources, ClickBank has a helpful customer support team.
It offers good ticket, email, and phone support, and is generally good at getting your problem solved quickly.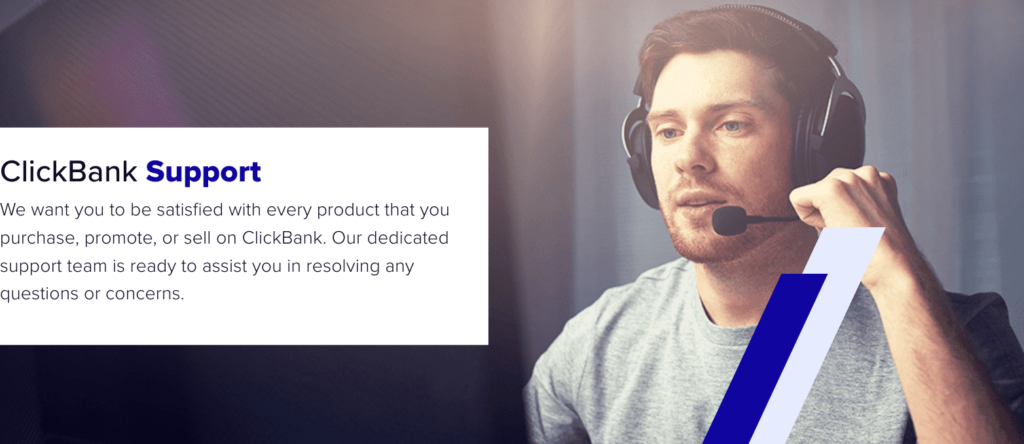 There are lots of reviews highlighting ClickBank's quality support, which is reassuring for any potential customers.
AffiliateWP Customer Support
AffiliateWP is known for its customer support.
Just check out the testimonials page, and you can see rave reviews about the quick, expert support.

This is backed up by an industry-leading blog, and 100+ tutorials that are designed to help you get the most out of your affiliate program. If you've got a question, then you're only ever a few clicks away from finding the answer!
Customer Support Winner: AffiliateWP's support is hard to beat.
Pricing
Last but not least we get to pricing!
Affiliate marketing needs to earn you a return, so you need to be aware of your costs.
Shareasale Pricing
Shareasale comes in on the more expensive side in this Shareasale vs ClickBank vs AffiliateWP comparison.
Not only does it have the highest startup costs, at $625 + a $125 deposit, but it also charges 20% of each commission payment. So, for example, if you sell a product for $100 with a commission of 20%, then your total earnings will be $76.
If you're planning on making a lot of affiliate sales, then these fees can really start to add up.
ClickBank Pricing
ClickBank might be a little cheaper than Shareasale to set up (a $49.95 one-off payment) but its transaction fees tend to work out as more expensive.
For each sale you make on ClickBank, you'll have to pay 7.5% plus $1.
This means that when you sell a product for $100 with a 20% commission, you'll only earn $71.50.
Again, this cuts into your margins and limits the amount of commission you can offer on your affiliate products.
AffiliateWP Pricing
AffiliateWP doesn't charge any fees.
Instead, it charges an annual payment plan that starts from $149.50.
There are 3 different plans:
Personal from $149.50 a year: For use on 1 site
Plus from $199.50 a year: For use on up to 3 sites
Professional from $299.50 a year: Access to all addons for use on up to 10 sites
When you consider there are no fees and no limits on affiliates or sales, this means AffiliateWP offers incredible value.
Pricing Winner: The fact there are no fees with AffiliateWP makes it much better value for money.
Conclusion: Shareasale vs ClickBank vs AffiliateWP
AffiliateWP offers better value for money than both Shareasale.com and ClickBank.
Not only do you get much better customization options and innovative marketing features, but it's also going to save you a lot of money. The more successful you are, the more it will save you!
Setting up your own affiliate program might seem daunting, but it's actually incredibly easy.
The setup wizard will walk you through every step – no coding or technical knowledge needed.
So, when it comes to Shareasale vs ClickBank vs AffiliateWP, the answer is:
Create your own platform, and keep 100% of your revenue, so you can offer better commissions to your affiliates.
Get started with AffiliateWP today!
Next, Grow Your Affiliate Program
Once you've got your affiliate marketing set up it's time to think about growing it.
Don't worry, we've got some great recourses to help you out:
First, let's get the key ingredient sorted.