How to Sell More Subscriptions with Affiliate Marketing Software (Best Method)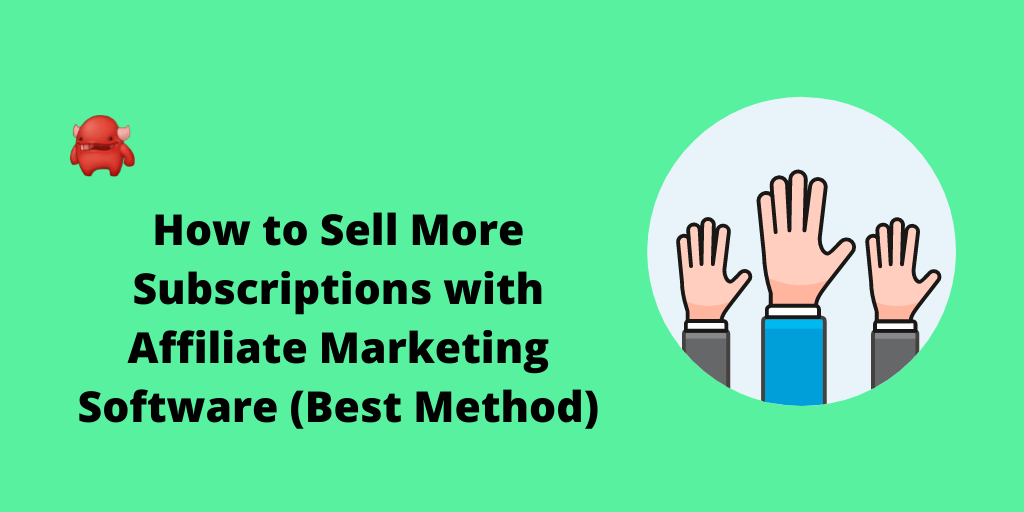 You've created the ideal subscription product, now what?
If you're going to sell more subscriptions, then you've got to get your product in front of your target audience, and there's one way you can start doing that immediately: affiliate marketing.
Here's how you can sell more subscriptions with the power of affiliate marketing.
The Case for Subscription-Based Products
Let's jump straight to the point:
Subscription based-pricing attracts customers: why pay $1,000 today when you can pay $80 monthly and cancel whenever you want?
Subscription models offer predictable revenue: you can rely on regular payments coming in
Subscriptions give you more opportunities to up-sell and cross-sell: think about freemium packages, add-ons, the extra touchpoints
Subscription billing helps you increase return on customer acquisition costs: you've got lots of ways to increase retention and lower churn rate
Little wonder the subscription economy has grown over 435% in the past nine years.
Whereas we were once amazed by the novelty of a Netflix subscription, many families now have more than one streaming subscription, and that's before we even look at music, cosmetic products, printer ink cartridges, software, and everything else.
Asides from a consumer move towards subscriptions, there's another huge advantage with subscription-based products: you can package them exactly how you see fit.
This allows you to take a product that's exactly the same as the one everyone else is selling, and turn it into something unique.
Let's not get carried away though; it's not easy to sell subscriptions. To do so, you'll have to be innovative, consistent, and highly attuned to your customers' wants and needs.
How Do I Sell my Subscriptions?
Affiliate marketing has the potential to skyrocket your subscriptions, but we'll get to that later.
First thing's first, you've got to have a highly optimized subscription sales funnel. There's absolutely no point setting up an affiliate marketing program until you have this step sorted.
1. Think 10x the Value vs 10% More
Subscriptions aren't a novelty anymore. We're not amazed when a razor magically turns up at our door each month, so you've got to find different ways of convincing people of the value of your subscription.
Many consumers will recognize the value a subscription model offers to you (the seller). What they want to see is some of that value returned to them.
It's easy to look for ways to make your subscriptions 10% more valuable than a one-off purchase, but how can you make them 10x more valuable?
This is where the ability to bundle together your own product comes in handy. Little extras can make a big difference:
A free onboarding program
Informational webinars
Branded apparel
Discounts on future purchases
There's no limit to what you can offer. It's simply about understanding what's valuable to your customers and how you can deliver it.
2. Consider the Freemium Option
Freemium subscriptions follow a similar principle to one we use all the time in content marketing. We give you valuable information that's designed to lead you into the realization that either you need our help to solve your problem, or you need our product/service to help solve your problem.
A freemium subscription does the same thing by giving you something valuable, but not quite capable of fulfilling all your needs. For some people, the freemium subscription will be enough, but for your target customer, they'll want more.
Since they're now familiar with your platform (and your freemium product is still very high quality), the natural next step is to move on to a paid subscription.
This is a classic way to sell subscriptions, just look at Spotify, Canva, and Zapier.
3. Appeal to Logic
In marketing, we spend a lot of time appealing to emotion.
We induce FOMO (fear of missing out), create desire with terms like "members only," and put psychology to use to get more sales.
Making a purchase might be a much more emotional decision than we think, but it's slightly different when we're talking about a subscription. Every month, your subscribers have the option to cancel their subscription, and emotions only go so far.
Emotions will always be a part of marketing, but you've also got to make sure you're appealing to logic:
The value of everything in your subscription vs buying each element individually
The power of unlimited access to your products vs limited features on a freemium plan
The return on investment your subscription offers
The value of having everything the customer needs delivered to their door rather than going out to a shop twice a week
The ability to cancel at any time
Emotions might compel people to make a one-off purchase, but are they enough to keep them paying a monthly subscription?
Probably not, so you've got to address the rational side as well.
4. Make Them an Offer They Can't Refuse
We're not talking about anything on the scale of The Godfather here, but we are talking about making your offer irresistible.
In the appeal to logic section, we mentioned the value of everything in your subscription vs buying each element individually.
Let's take a look at a great example of subscription pricing from Smash Balloon. Smash Balloon offers easy, fast, and reliable social media feeds for WordPress and is used by over 1.6 million professionals. One of the reasons for this is because it makes people an offer they can't refuse: everything is 50% off!

Look a little more closely at the All Access Bundle (the one Smash Balloon really wants to sell), and you'll see "All Pro Plugins ($795 value). Not only are they giving you $250 off, but they're also giving you $795 worth of features for free.
That's a total of $1,000+ savings!
The thing is, value is all about perception. Those plugins aren't physical items that cost $X to create. They're not advertised for individual sale, so the value is what you make of it.
This is why add-ons are so popular with integrations. They give subscribers a constant incentive to upgrade their subscription and their actual value is ambiguous.
It reinforces the point that value is in perception. When a subscription suddenly costs $299 a year instead of $600 a year, it looks like incredible value because you've made someone an offer they can't resist.
Smash Balloon offers incredible products, and for many people, those plugins might be worth that much, but the ability to build offers also makes its sales page extremely effective.
Bonus Tip: When someone decides your offer is one they can't refuse, capitalize on that moment. Make sure your payment process is seamless and you're not putting barriers to purchase in front of your customer. Check out WP Simple Pay for the most efficient way to set up recurring payments.
Setting Up Your Affiliate Marketing Software
Setting up affiliate marketing software for your subscriptions couldn't be easier. If your website runs on WordPress, then in just a few clicks you can start tracking referrals and growing your affiliate program.
Step 1: Choose the Right AffiliateWP Plan
Check out our pricing page and decide which option best suits your needs.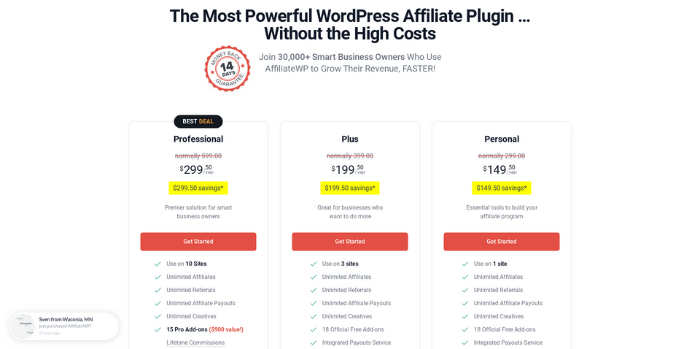 If you have monthly subscriptions and want your affiliates to get a commission each month your customer renews, then you'll want to choose the professional plan. This gives you free access to all our pro-add-ons, of which recurring referrals is particularly useful.
Once you've completed your purchase, you'll receive some important information in your confirmation email.
Step 2: Install the AffiliateWP Plugin
Open your confirmation email and click the download link to download the affiliatewp.zip file.
Head over to your WordPress dashboard, and in the left-hand sidebar, select Add New from the Plugins section. At the top of the page, select Upload Plugin, and chose the file you just downloaded.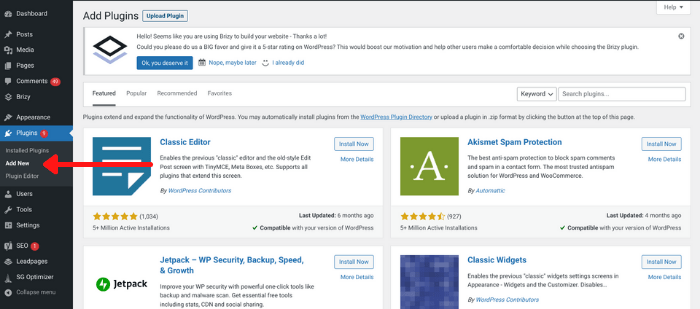 Once the file has been uploaded, click Activate Plugin.
All that's left now is to activate your account by adding your license key.
Go back to your confirmation email and copy the license key. In the left-hand sidebar, hover over Affiliates, and select Settings.
You'll see a box titled License Key, enter your license key, and click Activate License.
Step 3: Link AffiliateWP to Your Subscription Platform
The last step is linking AffiliateWP with your subscription software.
We offer seamless integrations with Restrict Content Pro, Paid Memberships Pro, LifterLMS, MemberPress, MemberMouse, s2Member, and Easy Digital Downloads.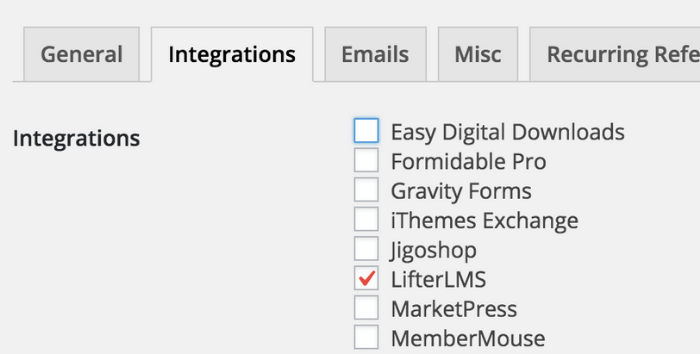 You can do this by heading to the Integrations tab in your AffiliateWP settings. Simply check the box next to your platform and click Save Changes. You're now ready to track referrals for your subscriptions and grow your business with affiliate marketing.
5 Tips to Help You Sell More Subscriptions with Affiliate Marketing
Good affiliate software allows you to automate large parts of your affiliate program, however, it still takes consistent effort to sell more subscriptions.
Here are some quick tips to help you out.
1. Share Your Knowledge
As the earlier section highlights, selling subscriptions is an art.
The chances are, there's no one better at selling your subscriptions than you, so share your secrets! Help your affiliates to help you sell more of your products.
A great way to do this is by creating an affiliate newsletter where you share helpful tips and tricks. You can also put insightful documentation in your affiliate area so that affiliates can hit the ground running, and start creating referrals.
2. Access to Creatives is Important
You wouldn't be able to sell your subscriptions without good images, videos, podcasts, and everything else you use.
So, how are your affiliates going to market your subscription without the same access to great creatives?
Visuals make a huge difference, and that's one of the reasons AffiliateWP allows program managers unlimited storage for creatives with all our plans.
3. Your Affiliates Need Analytics
Affiliate marketing isn't as simple as putting a link up and watching commissions come in.
There's a lot of finetuning and optimizing that goes on before affiliates achieve success. One of the most important things they need for this is access to data.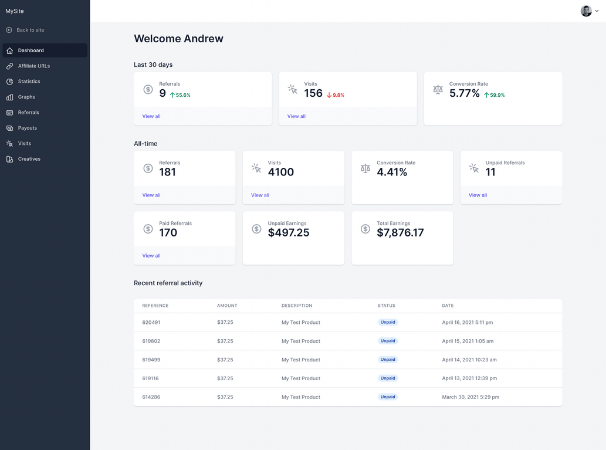 If you're starving your affiliates of data, then you're making their lives much more difficult. When you choose your affiliate software, make sure they've got everything they need in their affiliate portal, especially when it comes to tracking data.
4. Market Your Program
Affiliates aren't going to magically find your affiliate program, you've got to get out there and market it.
Treat it the same way you do your subscriptions and come up with a strategy for how you're going to promote it.
Affiliate marketing can be a great way to earn passive income, but one thing where you have to be active is in your marketing. Reach out to affiliates, inform your customers about your program, and let everyone know that you provide this great opportunity to make some money marketing your subscriptions.
5. Be Selective
This sounds a little counterintuitive: surely you want lots of affiliates?
Well, the thing to remember here is the 80/20 rule. It's likely that 80% of your referrals are going to come from 20% of your affiliates, so it pays to focus on quality over quantity.
When you engage in affiliate marketing, you are losing some control over how your brand is portrayed, so it pays to be selective. Make sure you create strong affiliate terms and conditions and manually approve each affiliate sign-up.
Skyrocket Your Subscriptions
Subscriptions are a brilliant way to build a revenue stream for your business. You can package up a product that's perfectly suited to your target audience, and create irresistible offers to boost conversions.
With the help of affiliate marketing software, you can also bring your products to a large, targeted audience. By bringing motivated affiliates on board, there's no limit to your reach, and when done well, it can be the perfect way to sell more subscriptions.
If that's what you're looking to do, then give AffiliateWP a try.