How to Add Purchase Restrictions On WordPress Online Stores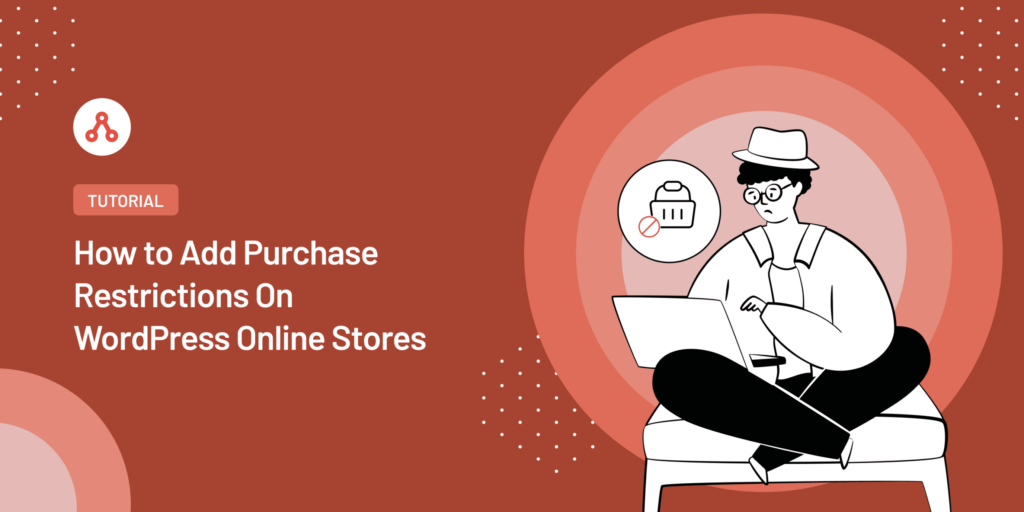 Want to add purchase restrictions on your WordPress store?
This is a super-useful feature that most online stores need access to, but how do you set it up?
Here's your expert guide to adding purchase restrictions on WordPress.
Why Purchase Restrictions Are Useful for Online Stores
Picture this – you walk into a store and pick up a product with your own two hands. You know it's there and you know it's available to buy.
Now, think of how you feel when you're shopping online and you finally decide to buy a product, only to put your credit card details in and find it's out of stock. This sends people crazy because it's a complete waste of their time!
It's also a potential drawback of e-commerce, but surely, there's something you can do about it?
Well, there is, and it's called purchase restrictions.
Not only do purchase restrictions help when you're selling a product that has limited stock, but it's also a useful tool in other situations such as when you're running a limited-time sale.
But, you want to keep your WordPress store clean and simple, right?
So, how can you add purchase restrictions without having to mess around with overly-complicated software, or worse still, the dreaded manual coding?
Let's take a look at the easiest way to set up purchase restrictions on WordPress online stores.
How to Set Up Purchase Restrictions in WordPress
Setting up purchase restrictions in WordPress is actually incredibly easy, and you can do it while still offering a super clean user experience for your customers.
Here are the steps we're going to look at:
Install WP Simple Pay
Create a Payment Form
Customize Your Payment Form
Set Your Purchase Restrictions
Add Your Payment Form to a Page
These simple steps are going to help you set up purchase restrictions in just a couple of minutes!
Step 1: Install WP Simple Pay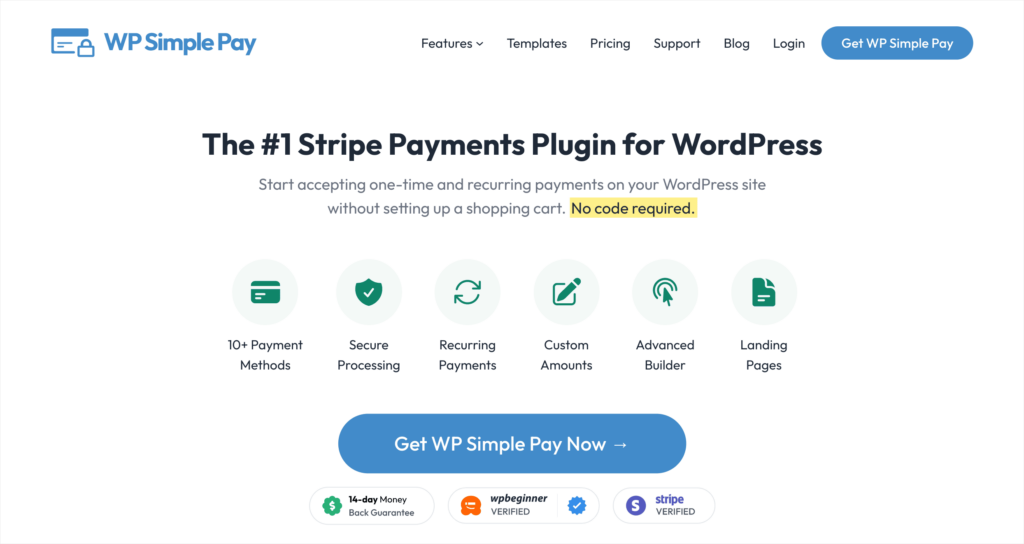 WP Simple Pay is the number 1 Stripe payments plugin for WordPress. It allows you to effortlessly collect payments without having to install a cart system, which means it's an incredibly easy way to make sales online.
As a Stripe Verified Partner, it offers extremely secure payment processing and it's got a ton of advanced features to boost conversions:
10+ payment methods
Buy now, pay later
Recurring payments
Advanced form builder
Collect custom data
Purchase restrictions
And more…
To get started, choose the plan that best fits your needs. Follow this guide to install the plugin, and then the setup wizard will take care of the rest.
With WP Simple Pay, you have a simple yet incredibly powerful tool to collect payments on WordPress, so it's the perfect first step.
Check out WP Simple Pay's pricing!
Step 2: Create a Payment Form
Now that you've set up WP Simple Pay it's time to create your first payment form.
Click on the Add New button in the WP Simple Pay column to open the templates page. This will show you a whole host of templates you can use to get started.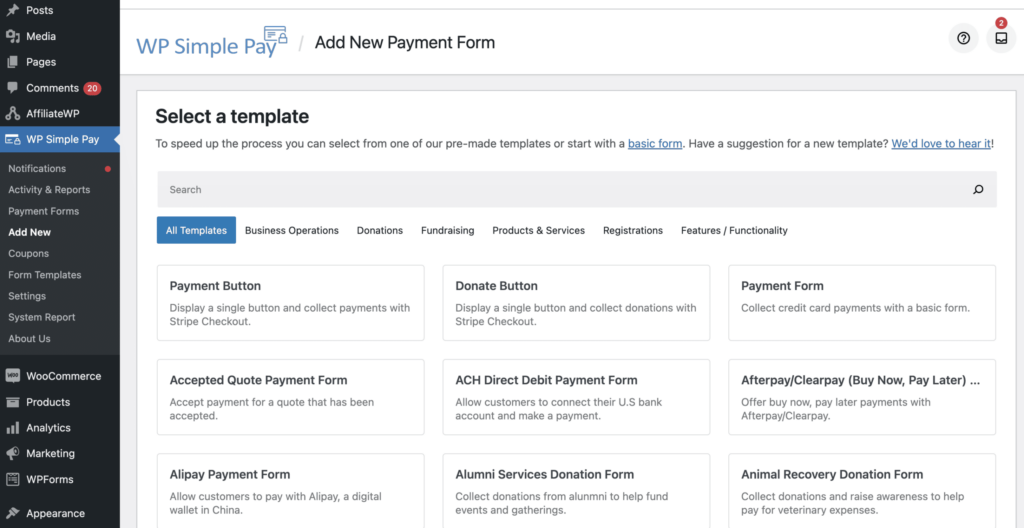 All of these templates are highly customizable, so you'll be able to get them looking exactly how you want them, and they're nice and easy to embed on your pages.
For now, let's choose a simple Payment Form template.
Hover over the template name and then click Use Template. This will open up the form builder page where you can customize your payment form and add purchase restrictions.
Step 3: Customize Your Payment Form
You want your payment form to fit seamlessly with your site and offer the perfect user experience. To help you achieve this, WP Simple Pay gives you an advanced form builder where you can edit all the details of your form.
Let's start with the basics.
In the General tab, you'll be able to edit your form title and description. Once you've completed this, you've got a couple more decisions to make.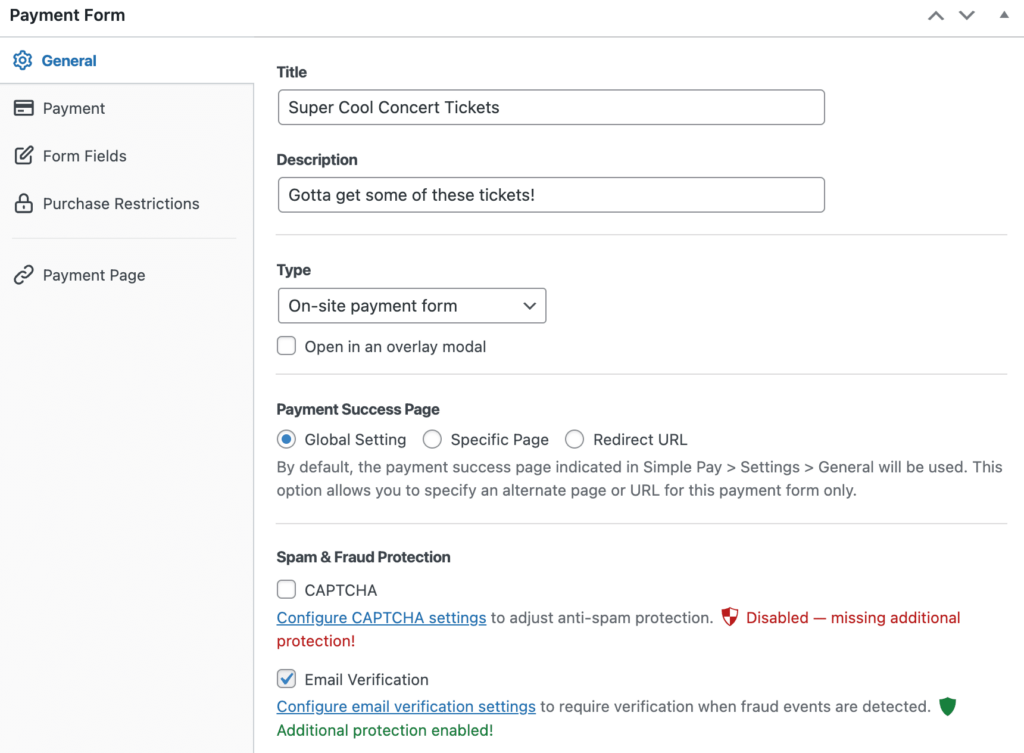 The first is what type of form you want to create – is it an on-site payment form (most likely) or an off-site form? Next, we want to decide what page to send people to once they've completed their purchase. If you've set this in your global WP Simple Pay settings, then check Global Settings, or if you want to be more specific, choose Specific Page or Redirect URL.
Now – one of the most annoying things about any form is spam responses, so we want to set up some spam and fraud protection. Use the checkboxes to set up CAPTCHA and email verification and make sure your form is super secure.
Once you've got the general requirements sorted it's time to move on to the Payment tab which is where you decide on your pricing. Use the Default Price box to choose your currency, price, and whether it's a one-time or subscription payment, and then choose your payment methods.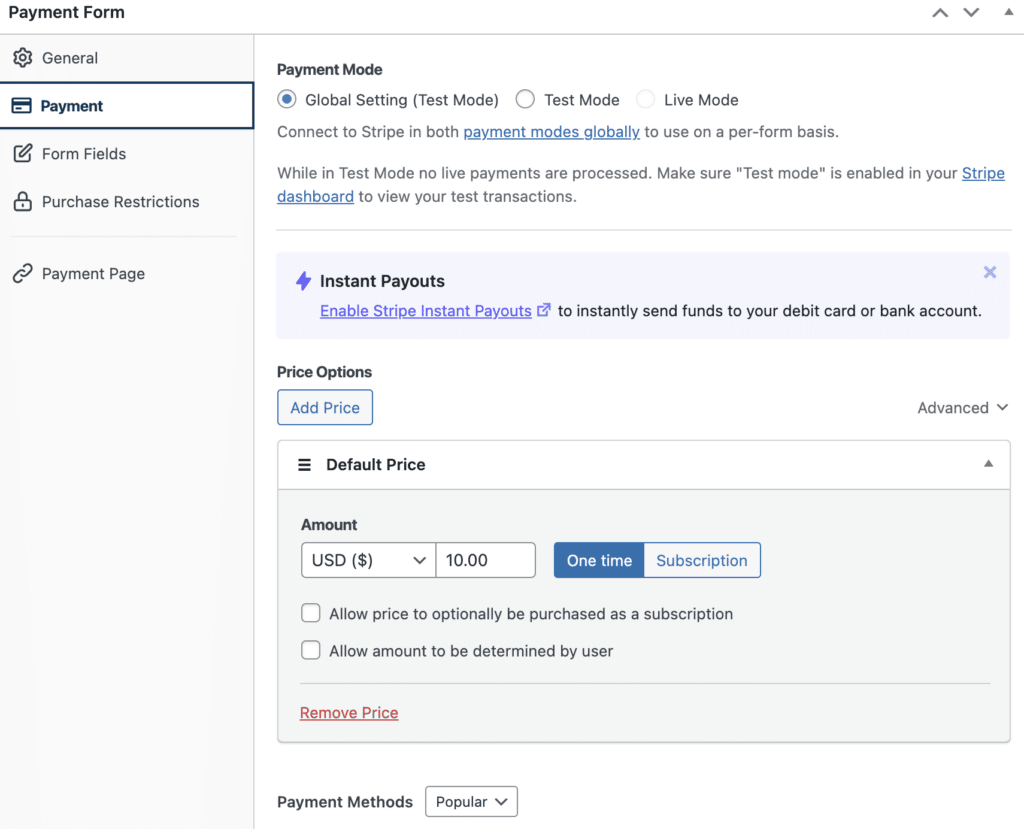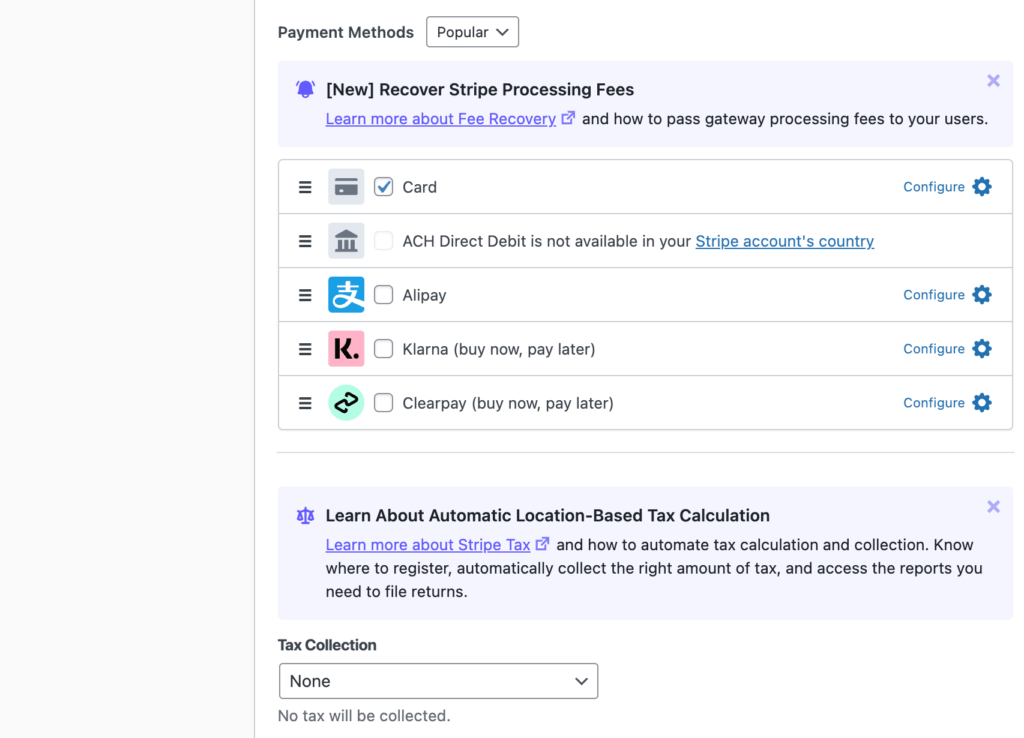 You can add as many payment options as you like, and there are lots of methods to choose from:
Card
ACH Direct Debit
Alipay
Klarna
Clearpay
Lastly, you can set your tax collection preferences using the Tax Collection box. Use the dropdown and choose between no tax, collecting a global rate, or collecting a specific rate based on purchase location.
Now for the last step.
Click on the Form Fields tab and add fields to your form so you can collect all the data you need.

That's it, your payment form is ready to go, but before we make it live, we want to add purchase restrictions.
Step 4: Set Your Purchase Restrictions
WP Simple Pay makes it incredibly easy to set purchase restrictions.
Just click on the Purchase Restrictions tab and choose what restrictions you want to set. You can choose to do this based on stock, or based on a scheduled time period.

For example, if you were selling concert tickets and you only had 95 tickets, then you would check the inventory box, and then All Payments Count Towards a Single Limit.
If you were running a flash sale on the other hand and you didn't have any stock restrictions, you could use purchase restrictions to set a start time and end time for the payment form.
These purchase restrictions make it much easier to manage stock and run your sales.
Once you're happy with your work, just click Publish and you're ready to go.
Step 5: Add Your Payment Form to a Page
You can add your payment form (with purchase restrictions) to any WordPress page using WordPress blocks or shortcodes.
Just open up the page you want to add the form to and click the + button to add a new block. Search for WP Simple Pay and then click on the WP Simple Pay icon to open the payment form block. Then just select your form from the dropdown menu and it will be ready to go live.
Alternatively, you can add your form to any WordPress page using shortcodes.
Go to your Payment Forms page and click Copy Shortcode next to the form you want to embed. Open up the WordPress page you want to add the form to and add a new Shortcode block. Paste the shortcode into the box, and it will embed on your page.

Use the Preview function to make sure your form is functioning as expected, and then click Update to push the page live.
Now Grow Your Sales with Affiliate Marketing
Ever wished you could have your own army of salespeople?
Well, with affiliate marketing, that wish can become a reality, and it's a lot easier to set up than you might think.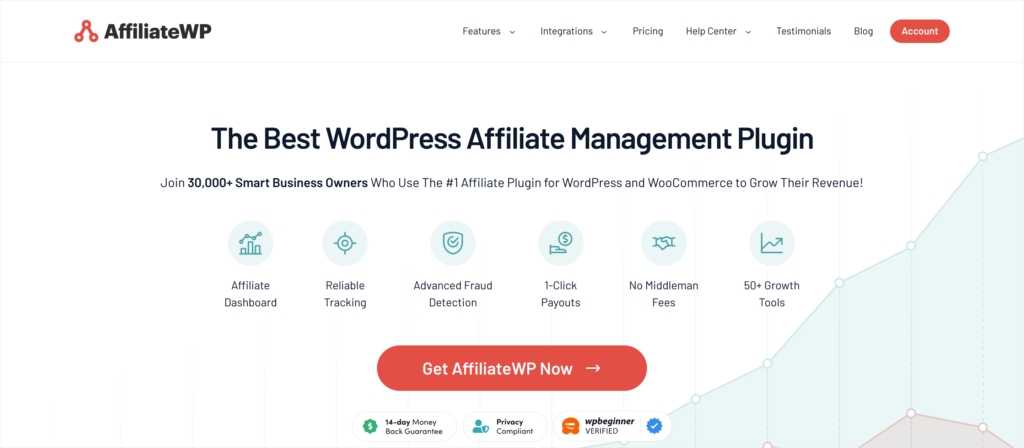 WP Simple Pay integrates seamlessly with AffiliateWP to help you set up, manage, and grow an affiliate program. The best part is, it's very low risk and it can almost run on autopilot.
If you want to get your products or services in front of a larger audience, then it's the perfect next step.
Find out how easy it is to set up a WordPress affiliate program (hint: it's going to take you less than 10 minutes).
Purchase Restrictions Are a Handy Tool
Most online businesses can benefit from using purchase restrictions as they help combat one of shoppers' biggest complaints – the dreaded out-of-stock notification.
We've shown you how you can quickly set up purchase restrictions on WordPress, but what else do you need to know?
Here are some more handy resources.
Now there's only one thing left to do.