6 Best User Feedback Plugins for WordPress 2023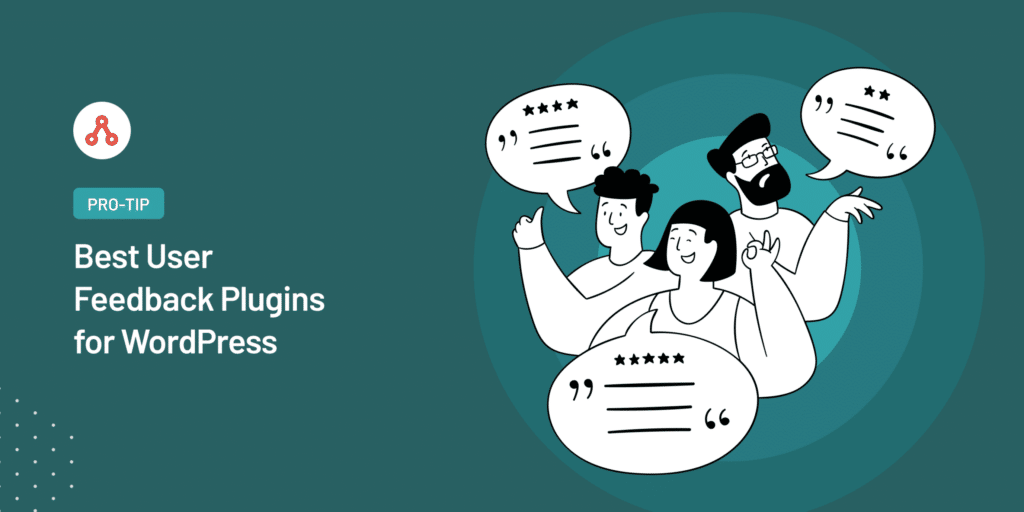 Searching for the ideal WordPress plugin to gather user feedback?
Understanding what your customers think can feel like a never-ending puzzle. You need a tool that's simple to use but doesn't compromise on features, one that lets you hear directly from users without overwhelming them with questions.
In this guide, we have compiled a list of some of the best user feedback plugins for WordPress that align with your business needs, engage your customers, and help you grow based on real insights.
What is a User Feedback Plugin?
A user feedback plugin is a specialized tool designed to help you gather, organize, and analyze feedback from your users, customers, or website visitors.
Unlike the traditional methods of collecting feedback, such as emails and paper surveys, these plugins offer a more efficient way to capture real-time insights.
They enable you to create various forms of engagement, like surveys, polls, and feedback forms, directly within your website.
This digital bridge between you and your audience is more than just a tool; it's a pathway to enhancing customer experience, recognizing trends, spotting issues early, and ultimately increasing revenue!
Why You Need a User Feedback Plugin
Why settle for guesswork when you can have direct insights from your customers?
A user feedback plugin offers you several advantages:
Real-time Feedback: Instantly capture your users' thoughts, helping you make swift and informed decisions.
Organized Responses: Keeping all the feedback neatly arranged makes identifying patterns or recurring issues easier.
Enhanced Communication: Build a two-way communication channel with your audience, fostering trust and loyalty.
Time Efficiency: Automate the feedback collection process, saving precious time and resources.
Improvement and Growth: Use the collected data to enhance customer experience, improve products or services, and drive growth.
What to Look for in a User Feedback Plugin
Choosing the right user feedback plugin can be challenging, but focusing on the following key features can guide you to the perfect fit for your business:
Versatile Feedback Collection: Opt for a tool that offers various question types and features like conditional logic. This versatility enables you to gather more nuanced insights tailored to different scenarios.
Ease of Use: The plugin should be straightforward for your team and respondents. A user-friendly experience ensures better engagement and more valuable feedback.
Customization Options: Align the appearance of your surveys and forms with your brand identity. This cohesion enhances user trust and encourages participation.
Detailed Reporting: Accessible and clear reports that help you uncover trends, analyze performance metrics, and put the feedback into actionable strategies.
Integrations: Integrating existing platforms and tools, such as CRMs, email marketing services, and Google Analytics, enhances functionality and efficiency.
Mobile Compatibility: In our increasingly mobile world, ensuring users can provide feedback from any device is vital. Mobile responsiveness fosters a more inclusive feedback process.
These considerations pave the way to finding the best user feedback plugin tailored to your needs.
Ready to dive in? Let's find the perfect tool to amplify your customer insights!
Best User Feedback Plugins for WordPress
Understanding user feedback is a critical component of improving and growing your website.
Whether you're a business owner, affiliate marketer, or someone managing affiliate programs, the following user feedback plugins can help you gain insights, track user behavior, and make informed decisions:
Understanding your customers is crucial to growing your business, but obtaining honest and meaningful insights can be a real pain. UserFeedback simplifies this process by offering user-friendly short surveys.
With UserFeedback, you're not just shooting in the dark. You can create tailored surveys, whether it's a quick rating question or an in-depth survey with conditional logic.
The one-question-at-a-time format ensures higher engagement and response rates, addressing the challenge of user fatigue.
Moreover, UserFeedback's integration with MonsterInsights and Google Analytics puts all your essential metrics at your fingertips, making data-driven decisions more accessible.
Features:
Simple Surveys: One-question-at-a-time format to keep users engaged.
Customization: Tailored surveys with conditional logic.
Integrations: MonsterInsights and Google Analytics for enhanced tracking.
User-Friendly Interface: Intuitive design that works seamlessly across devices.
Pricing: Starts at $49.50 / year (Free version available).
Collecting feedback shouldn't be a complex task. With WPForms, you can build beautiful feedback forms without any hassle.
Say goodbye to the struggles of creating engaging forms and welcome a world of customization.
WPForms offers the Conversational Forms feature to make your forms more interactive and appealing.
With hundreds of pre-designed templates and integration with popular marketing services like AffiliateWP and more, it stands as a robust solution for your feedback needs.
Features:
Drag-and-Drop Builder: Easily create engaging forms.
Conversational Forms: Interactive and appealing question-and-answer layouts.
Pre-Designed Templates: Hundreds of templates to suit various needs.
Marketing Integrations: Connects with popular marketing services.
Pricing: Starts at $49.50 / year (Free version available).
Get Started with WPForms Today!
Hubspot offers a full-spectrum solution to customer feedback. Struggling to keep your surveys attractive and in line with your brand's identity?
Hubspot's customization options solve this problem.
The variety of question formats, including rating scales and open-ended questions, ensures you obtain multifaceted insights.
Plus, connecting to Hubspot CRM allows a better understanding of your customers.
Features:
Brand Alignment: Customization to ensure surveys match your brand.
Multiple Question Formats: Rating scales, open-ended questions, and more.
CRM Integration: Connects with Hubspot CRM for detailed customer insights.
Automated Follow-Ups: Stay in touch with customers effortlessly.
Pricing: Free plan available. Paid plans start at $45 / month for full Customer Service Software.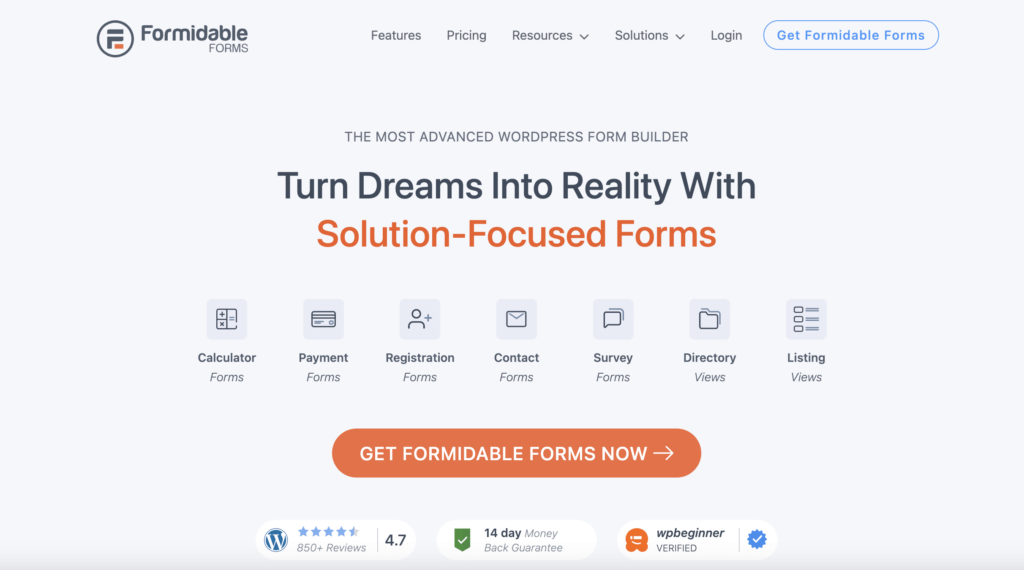 Formidable Forms goes beyond simple surveys, offering you the power to create personalized experiences.
Don't let the complexity of data visualization deter you from gathering in-depth feedback.
Formidable Forms allows you to analyze your survey results through visual representations, making your decision-making process smoother and more efficient.
Features:
Visual Analysis: Represent survey results through visuals.
Complex Surveys Simplified: Tools for in-depth but easy-to-create surveys.
Responsive Design: Works perfectly on any device.
Integrations with Popular Tools: Connects with popular CRM and marketing platforms.
Pricing: Starts at $39.50 / year.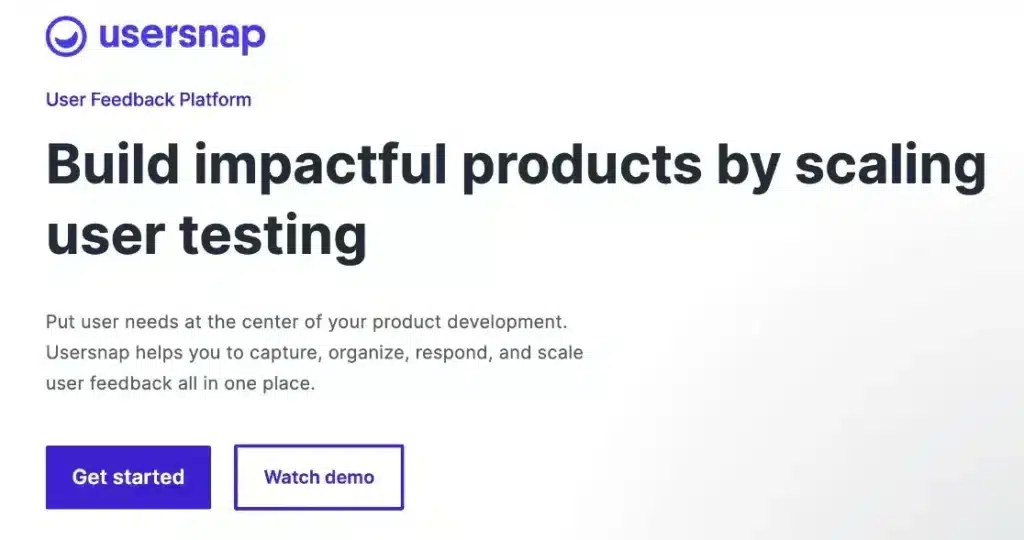 For SaaS companies, understanding the customer journey is essential but often challenging. Usersnap helps you dive into the customer's experience through surveys and video feedback.
Its user-friendly dashboard and integrations with popular platforms make managing feedback a breeze, ensuring that you're not wasting time but focusing on improvement.
Features:
Feedback through Video: Unique video feedback for comprehensive understanding.
Intuitive Dashboard: Manage all feedback in one place.
Multichannel Support: Integrates with popular platforms for streamlined feedback collection.
Customizable Widgets: Make feedback tools match your brand.
Pricing: Starts at $69 / month.
Get Started with Usersnap Today!
Websites are never bug-free, but tracking those bugs shouldn't be a nightmare. Marker.io makes the process of reporting website issues straightforward.
The visual bug reporting feature allows users to pinpoint exactly where the problem is, avoiding misunderstandings and speeding up resolutions.
Marker.io turns what could be a significant headache into a streamlined process, saving you time and frustration.
Features:
Visual Bug Reporting: Users can visually point out website issues.
Seamless Integration with Dev Tools: Connects with Jira, GitHub, and more.
Multi-Language Support: Facilitates global reach.
Collaborative Environment: Allows team collaboration for issue tracking.
Pricing: Starts at $39 / month (Free trial available).
What is The Best WordPress User Feedback Plugin
If you have a WordPress site and want to get important feedback from your users, choosing the right feedback tool is important.
There are two good options:
UserFeedback is great for getting feedback from users on your WordPress site. It's easy to talk to, lets you do many surveys, and connects with Google Analytics. It focuses on what's important: getting insights straight from your users.
If you need a form builder for different things like contact forms or surveys, WPForms is a good choice. It's easy to use and can make different forms, even for getting feedback.
Many tools exist if you're not using WordPress or want other options.
But the main idea is the same: getting good user feedback is important for any business that wants to improve things for its customers.
Next, It's Time to Retain High-Quality Affiliates in Your Program
Having effectively collected and implemented invaluable user feedback, the next significant step in your business growth is retaining high-quality affiliates in your program.
Affiliate retention means keeping and nurturing relationships with your existing affiliates, encouraging loyalty, and continuously promoting your products or services.
Ensuring your affiliate program's long-term success and sustainability is vital, leading to consistent revenue, reduced marketing costs, and improved brand reputation is vital.
If you want to delve deeper into strategies to boost affiliate retention, explore our detailed guide on how to retain high-quality affiliates and build long-lasting relationships with your affiliates for a successful affiliate marketing program.
Now You Know the Importance of User Feedback
Having explored the importance of user feedback tools and the need to retain quality affiliates, you're now equipped with the knowledge to elevate your business to new heights.
User feedback is the gateway to understanding your customers while retaining affiliates to ensure your marketing engine runs smoothly.
Gathering user feedback and retaining affiliates isn't just a one-time effort – it's a continuous process that keeps your business ahead of the curve.
Check out more useful guides:
You're just one step away from success with these essential insights and tools.
Don't wait any longer!
Try AffiliateWP today and unlock the full potential of your affiliate program, seamlessly integrating user feedback, and retaining those vital high-quality affiliates.