7 Best Tapfiliate Alternatives for 2023 (Guide)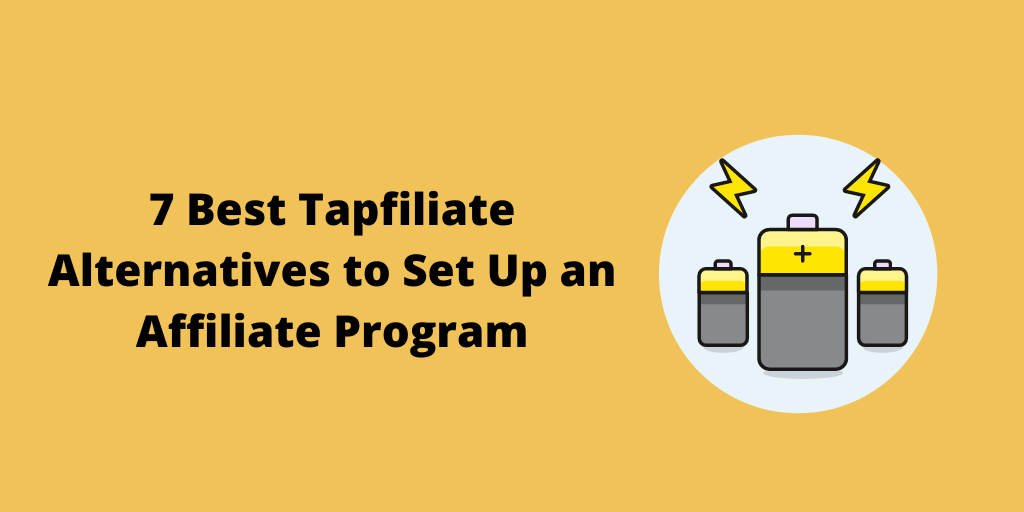 Looking to compare the best Tapfiliate alternatives?
We've got you covered.
Here's your guide to the best Tapfiliate affiliate software alternatives on the market.
Best Tapfiliate Alternatives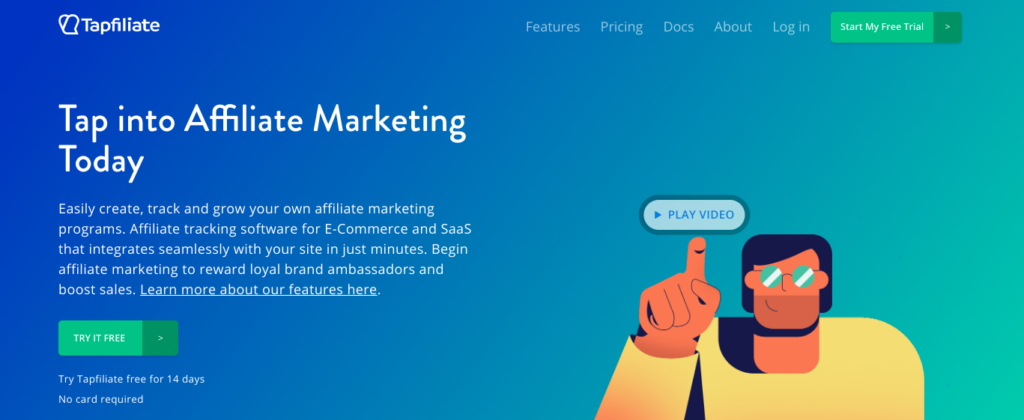 Tapfiliate is designed to help you quickly set up an affiliate marketing program, attract top affiliates, and promote your brand.
It's a solid affiliate marketing software (with a good white label option) that works for thousands of brands, but it's certainly not the only one.
There are some great Tapfiliate competitors on the market, and we're going to help you explore them.
So, what criteria will we be looking at?
We've analyzed these affiliate link-tracking software based on the qualities that matter most to you:
Ease of setup
Affiliate management
Growth marketing tools
Customer support
Value for money
This has helped us narrow in on the best Tapfiliate alternatives to fit your business needs.
Note: If you're looking to expand your search further, then check out our guide on The Best Affiliate Tracking Software (For All E-Commerce Platforms).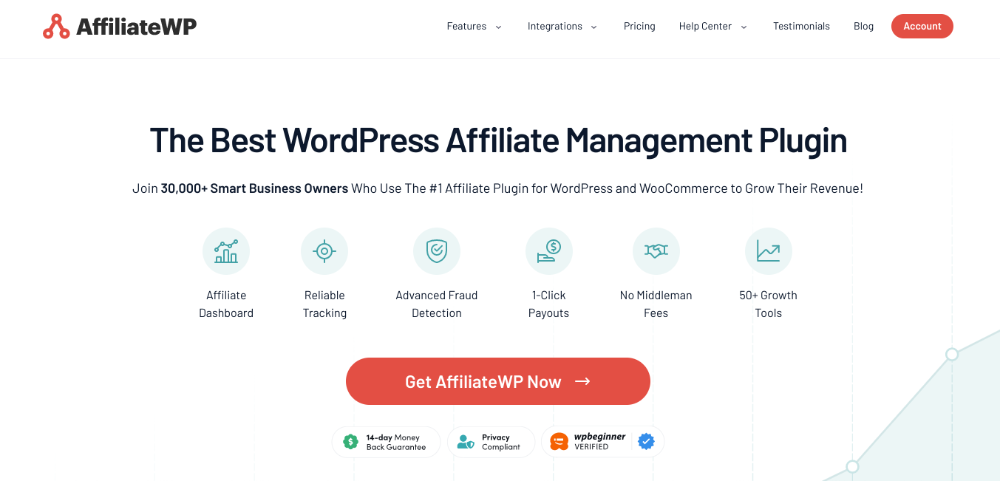 AffiliateWP is the best affiliate management plugin for WordPress.
So, right away we draw quite a distinction with Tapfiliate.
While Tapfiliate provides a very broad service (it integrates with lots of different platforms and offers SaaS options), AffiliateWP is much more focused.
This allows AffiliateWP to provide the very best features for the 40+% of websites that run on WordPress. It's constantly updated to work seamlessly with the WordPress plugins you use to power your business, and it makes affiliate management incredibly easy.
The setup wizard will help you set up your own affiliate program in under 10 minutes, and the one-click integrations effortlessly sync your products, forms, memberships, and more. Once set up, you'll be able to set up affiliate fraud detection, create customizable affiliate dashboards, and measure performance through real-time analytics.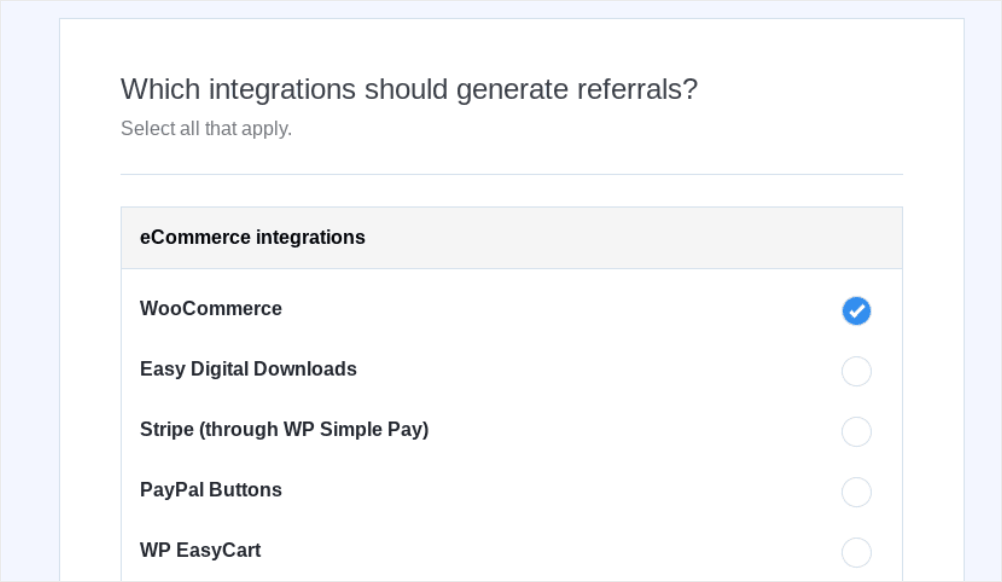 Perhaps the biggest benefit of AffiliateWP is its innovative marketing features though.
With conversion-focused functionality such as Affiliate Landing Pages, Vanity Coupon Codes, and Direct Link Tracking, you're constantly empowering your affiliates to increase sales.
It's completely customizable, with APIs, hooks and templates, and effortlessly syncs with your WordPress theme to create a branded experience.
And, AffiliateWP is going to save you a lot of money.
Whereas Tapfiliate starts at $59 a month, you can get started with AffiliateWP for as little as $149.50 a year.
This represents a huge saving and one that's only built upon by AffiliateWP's conversion-focused tools and easy affiliate management.
Check out AffiliateWP's pricing!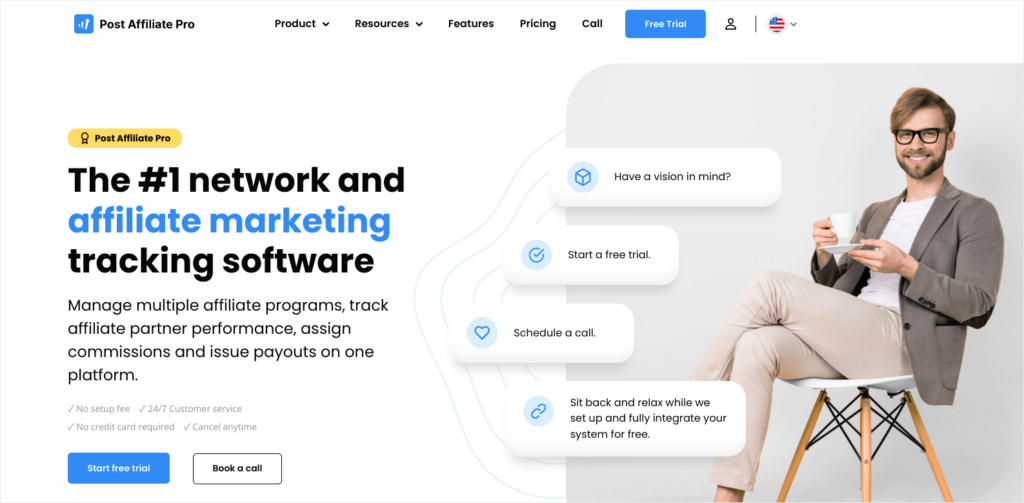 In AffiliateWP we've shown you a slightly different Tapfiliate alternative.
Now, we're going to show you an option that's much more similar – Post Affiliate Pro.
Like Tapfiliate, Post Affiliate Pro is an affiliate tracking software that will work for virtually any website. It allows you to manage multiple affiliate programs, track affiliate partner performance, assign commissions, and issue affiliate payouts, all from 1 platform.
Setup is very simple, and you get an easy-to-use interface that makes affiliate management easy.
There are also a ton of affiliate marketing services you can put to good use to optimize your affiliate program, and this is one area where Post Affiliate Pro does put itself ahead of Tapfiliate.
However, you are paying a premium for Post Affiliate Pro.
Prices start at $129 a month, which can be prohibitive for small and medium-sized businesses that are looking to grow their own affiliate programs.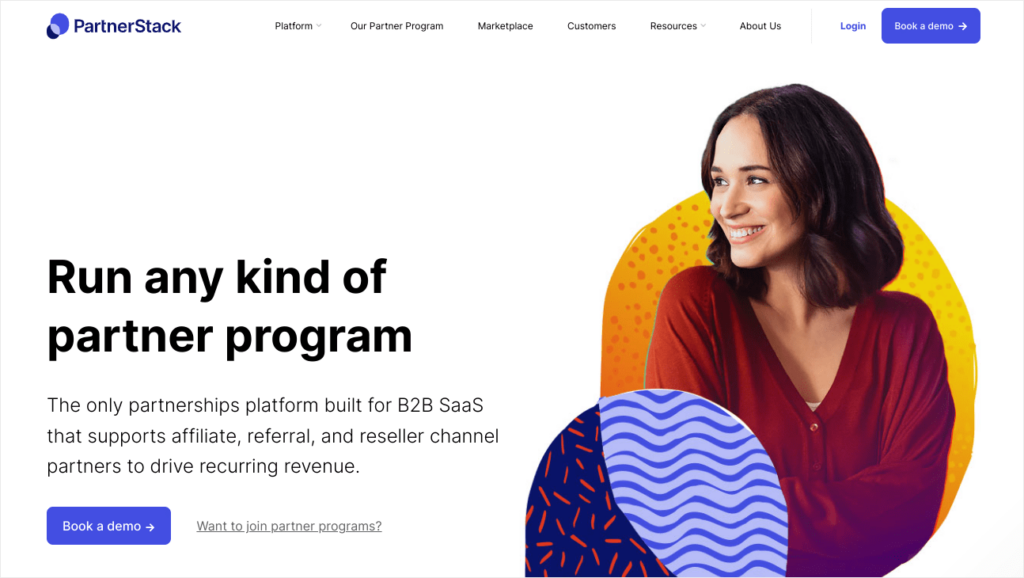 PartnerStack goes beyond just an affiliate marketing platform and aims to provide you with an all-in-one platform for all your partner programs. It's specifically built for B2B SaaS and helps you run your affiliates, referrals, and reseller channel partners.
With good automation tools, PartnerStack makes it much easier to manage large-scale partnerships (affiliate marketing, performance marketing, influencer marketing, and more), taking care of things like:
Finding the right partners
Onboarding partners
Partner attribution
Facilitating partner payouts
To find out about PartnerStack pricing, visit the website and apply for a quote online, but its pricing is much more enterprise-level than Tapfiliate.
You get some awesome features for the extra costs, but it really depends on the scale of your operations.

Refersion is another affiliate network that covers all the major e-commerce platforms (WordPress, Shopify, BigCommerce, and Amazon Marketplace).
The user interface on Refersion is very good and it makes managing your affiliate campaigns a sinch, however, its plans are quite limited for small businesses.
The Professional plan starts at $99 a month but is limited to just 50 order conversions, so it's clear Refersion is going more for the enterprise market.
This makes Refersion a bigger investment than Tapfiliate, so it's one that's better suited to companies with a clear partner digital advertising strategy in place, as opposed to those that are taking their first steps with affiliate marketing.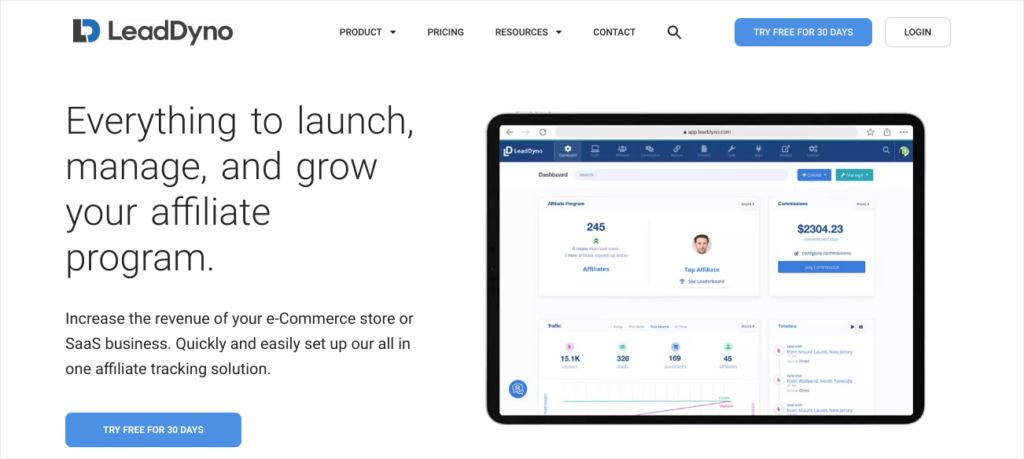 If you're looking at a direct Tapfiliate alternative, then LeadDyno is an ideal option.
It's got similar features, and a comparable pricing structure, making it a natural competitor to Tapfiliate.
The big difference with LeadDyno is that its pricing is based on the amount of unique traffic your website gets. If you sell a high-value product, this can work out really well for you, but if you sell a low-value product that requires a lot of traffic to bring in big revenue, then it's definitely better to stick with Tapfiliate.
With payment plans starting at $49 a month, LeadDyno is a good alternative to Tapfiliate if your site makes a lot of revenue from a relatively low number of unique visitors.

iDevAffiliate allows you to build your own affiliate marketing program on a number of different platforms.
You can choose between hosting your program on your website, or in the cloud, which gives you added flexibility.
The interface might seem a little dated now, but iDevAffiliate does offer an easy way to build a customizable, feature-rich affiliate program. Its built-in onboarding and social media features are particularly useful, and it also offers other conversion-focused features to help you grow your program.
Plans start from $39 a month, making it fairly cost-effective when compared to Tapfiliate.
OSI Affiliate is another good option if you're looking for Tapfiliate alternatives.
It's a complete affiliate platform and referral software but has a big focus on turning your customers into your best salespeople through a referral program. If referral marketing is a big part of your digital marketing strategy, then OSI Affiliate could be the tracking system you're looking for.
All in all, OSI is a solid platform to manage your affiliates, influencers, brand ambassadors, and customer referrals.
With plans starting from $47 a month it's a little bit cheaper than Tapfiliate but still offers some great features.
Note: We also looked at other affiliate marketing software like Everflow and Affise, but we think these are the 7 best Tapfiliate alternatives.
Which is the Best Tapfiliate Alternative?
If your website runs on WordPress then the best Tapfiliate alternative is AffiliateWP.
It allows you to set up an affiliate program in just a few minutes and helps you grow your sales with innovative marketing campaigns.
Even better, AffiliateWP can save you a ton of money versus Tapfiliate.
Plans start at just $149.50 a year, versus $708 on the equivalent Tapfiliate plan. This is money you can use to offer better affiliate commissions, and grow your affiliate program more quickly.
With such great prices and a 14-day money-back guarantee, you absolutely have to give AffiliateWP a go before you commit to Tapfiliate.
Now Grow Your Affiliate Program
Once you've chosen your affiliate marketing software, your next job is to start growing your sales.
This can be a little daunting, but don't worry, we've got some awesome resources to help you out.
Now you've got everything you need there's only one thing left to do.