7+ Ways to Nail Your Christmas Promotions this Year (Even if You Left it Late)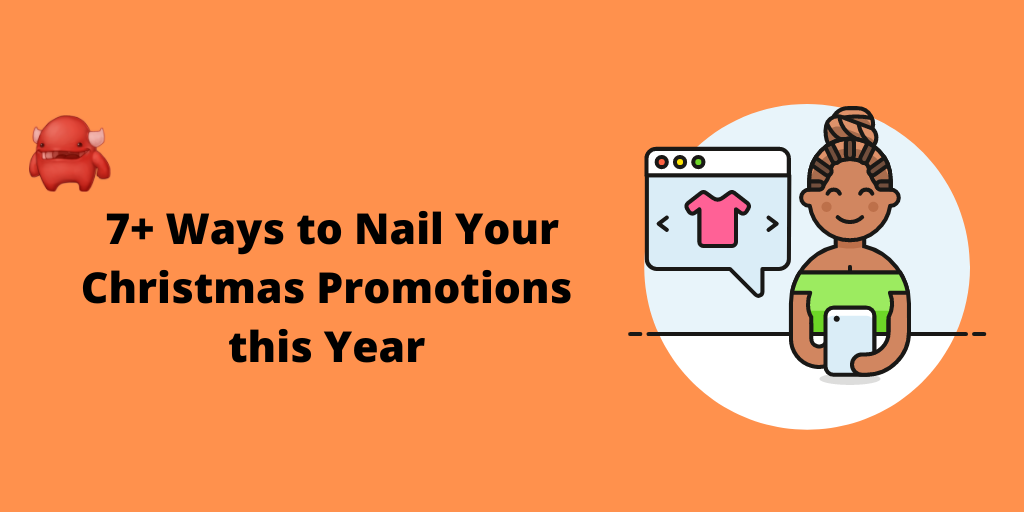 Are you looking to capitalize on the most important time of the retail year with innovative Christmas promotions?
If you are, then here's an important point that often gets lost: it's not the little details like reindeer, snowflakes, and Christmas trees that are going to help you be successful.
It's having an answer for the big questions of how you're going to reach the right people, and convert traffic into sales.
Here's how you can do it with these powerful ways to nail your Christmas promotions even if it's last minute.
Why are Christmas Promotions Important?
Christmas promotions are important because retailers make a huge percentage of their revenue in just a few short weeks. Nearly 20% of annual retail income comes during the festive season (Black Friday, Cyber Monday, Christmas, New Year's sales, etc), so it's a time when you've got to be looking to maximize opportunities.
A great Christmas time promotion can turn an average year into a good one, and a good year into a great one; it's that important.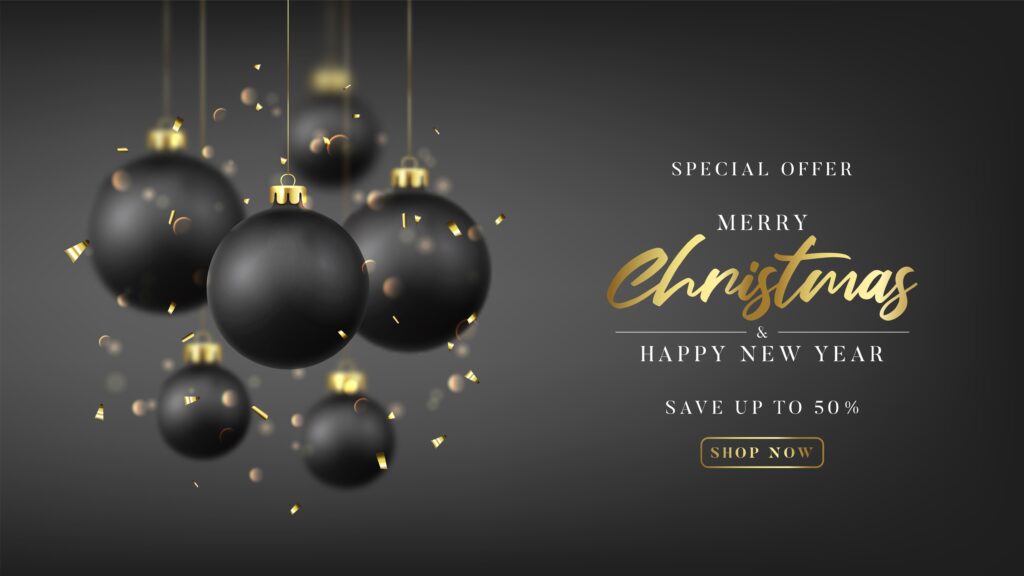 You'll find all sorts of Christmas promotion ideas on the internet to ensure your business is embracing the spirit of the season, but a very important question remains.
How do you maximize the effectiveness of your promotions?
Are you reaching the right audience?
Is your holiday marketing reaching a big enough audience?
Can you convert traffic into sales?
You can think up great promotional ideas, but if the answer to these three questions is no, then your Christmas marketing isn't going to have the impact you want it to.
What's Holding Your Christmas Marketing Back?
Running an e-commerce store is challenging.
You've got so many things to take care of and limited resources to get the jobs done.
During the Christmas season these challenges are compounded, because, well, if you're in retail, this time of year is mental!
The chances are, your online store faces these limitations:
Resources: You don't have enough time and manpower to dedicate to your Christmas promotions.
Audience: You don't have the reach to get your Christmas sales promotions in front of enough people or enough time to significantly grow your audience before the festive season begins.
Does this sound like you?
This in no way means you're doing a bad job. You're a small business, and there are only so many things you can focus on at once.
However, there are still some ways you can nail your Christmas promotions and make the most of the resources you do have available.
8 Strategies to Nail Your Christmas Promotions
It doesn't matter what promotions you run; you've still got to achieve the same goals to earn the sale.
Namely: Reach the right people, with the right message, at the right time, and inspire action.
These strategies are going to help you achieve those goals with your Christmas promotions, and earn more sales from holiday shopping.
1. Leverage Affiliate Marketing
Let's look back at the limitations that are holding your Christmas marketing back: resources, and access to the right audience.
Affiliate marketing is the fastest, most cost-effective way to solve these problems. It's also incredibly easy to get set up if your website runs on WordPress.
With AffiliateWP's referral tracking software, you can sync your products with a click, and start signing up skilled affiliates to promote your business. You don't have to pay these affiliates upfront as they receive a commission on the sales they make, so it's virtually risk-free.
What you can get when you start an affiliate marketing program is instant access to brand new audiences and the expertise and ingenuity of marketing experts.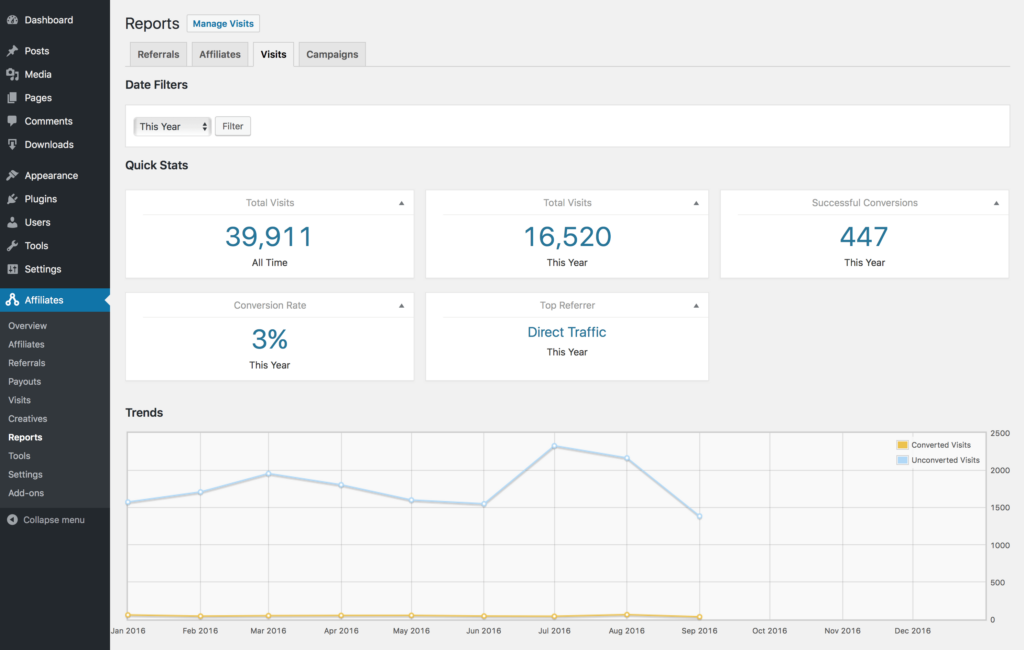 You might have been running fun Christmas promotions last year, but if you're limited by the size of your audience, then your results will be equally limited this year.
The best way to improve the results of your Christmas marketing is to start an affiliate marketing program with AffiliateWP and you can do it today.
Find out more about AffiliateWP!
2. Optimize Your Landing Pages
Christmas promotions are a great way to create brand awareness and bring people to your e-commerce store.
That's only part of the story though. They've also got to be able to convert, and that's not going to happen if your landing pages aren't optimized.
Landing page optimization should be a key part of your marketing strategies, but during the holiday season, you want to take it a step further.
Holiday shoppers expect authenticity and consistency.
For example, there's no point in running amazing holiday promotions on social media if your website doesn't show any Christmas spirit.
This time of the year is about more than just limited-time special offers and last-minute coupon discount codes. It's about shared experiences, coming up with gift ideas, and spending time with loved ones. People embrace these ideas, and your business needs to too.
Optimizing all your landing pages sounds like a huge job, but luckily, we've got the perfect tool for you. SeedProd's drag-and-drop WordPress builder makes it incredibly easy to build beautiful festive pages. The ultimate goal has to be conversions though, which is why SeedProd's perfectly optimized landing page templates are a huge revenue earner.
3. Understand Your Target Audience
How many times have you seen a really cool Christmas promotion and never even considered buying the product?
Probably a lot.
Creating brand awareness is one thing, but there's little point to it if it's among people with no purchase intent. It costs resources (time, effort, money) to get your marketing campaigns in front of people, so you need to make sure they're reaching the ones who are most likely to buy from you.
To create the best Christmas promotions, you've got to understand who your target audience is and how you can reach them. It doesn't matter how great your Christmas promotion ideas are; if you don't get this right, then your sales aren't going to take off.
So, what's the key to understanding how to target your Christmas promotions?
It's in your data.
Unfortunately, it's often scattered between different applications (Google Analytics, social media analytics, WooCommerce, Google Ads, and more), so it's difficult to gain insights.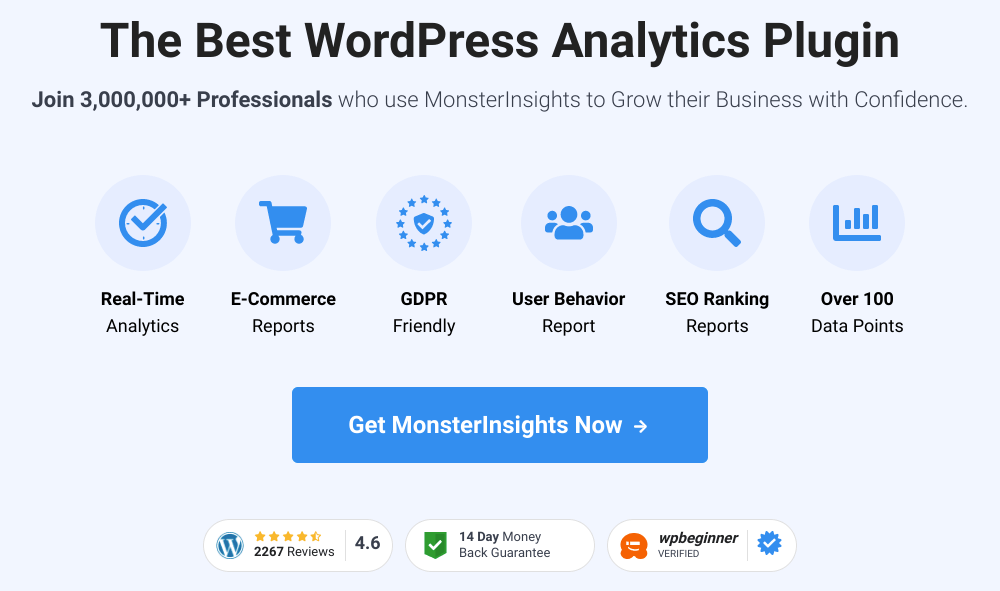 A great way to bring some of the most important data together is with MonsterInsights. Its e-commerce reports are particularly useful and can help you better understand your customer profiles and customer journey.
4. Create More Touch Points
Christmas promotions are powerful tools, but they're not magic.
It's extremely rare that someone visits your site for the first time and makes a purchase there and then. Instead, you've got to create multiple touch points and gradually earn the sale.
How do you do this if someone leaves your website?
It gets very difficult to build the right touch points once someone has left your site. You can hope that Santa brings them back to your site as a present, but nobody wants to be leaving it to chance.
One of the easiest ways to make your Christmas promotions more effective is by capturing leads, and there's one plugin that's better than any other at doing this: OptinMonster. The right pop-up can be the difference between someone leaving your website and never coming back, or eventually becoming a customer.
When you've got somebody's contact details you can instantly create touch points with them through your email marketing. This gives your sales promotions a 2nd, 3rd, and 4th chance to convert.
5. Invest in Your Search Engine Optimization
A Christmas promotion lasts the season; ranking for a top Christmas keyword can last a lifetime.
Sometimes businesses neglect SEO because it's hard. More importantly, it takes time.
If you start writing seasonal content right now, it might not bring you any traffic this Christmas, but by next year, and the years after, it could bring you in a ton of engaged visitors. And it's going to make your Christmas promotions even more powerful.
Whatever niche you're in, there are plenty of festive keywords you can go after.
Just consider the search volumes for some of these gift guides:
Gifts for music lovers: 5.7k a month
Gifts for businessmen: 1.6k a month
Gifts for travel lovers: 2.9k a month
Christmas gifts for babies: 600 a month
The list goes on and on.
If you're ranking well for these search terms, then you guarantee that you're going to get your Christmas promotions in front of people with good purchase intent.
Ranking well in Google takes commitment though, and it requires some know-how. Wouldn't it be cool if you had a plug-in that could guide you in this journey?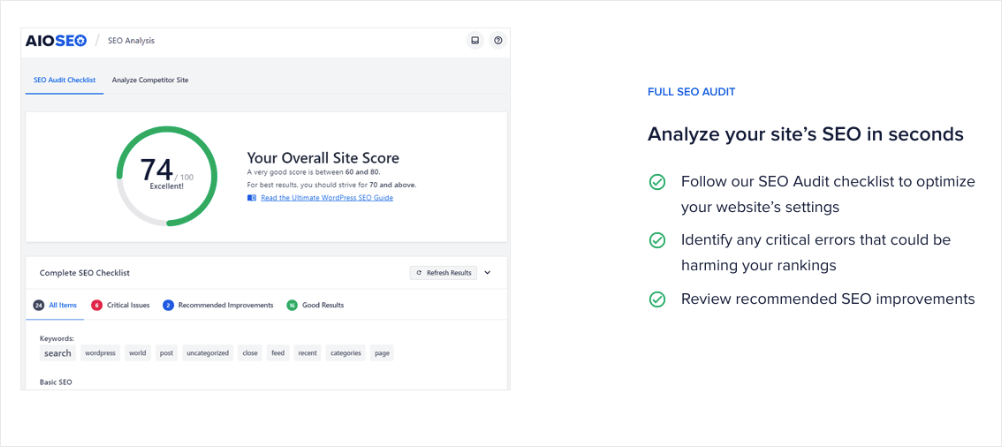 Well, from as little as $49.50 a month, AIOSEO can be that guide, and it's going to help you unlock some valuable ranking opportunities.
6. Utilize Social Proof
We got an email the other day with an irresistible subject line: "The towel experiment (try this in your marketing)."
It turned out the towel experiment is all about social proof.
To keep the story short, a hotel put up signs in its rooms to encourage guests to reuse towels.
It came up with a great sign that it thought would achieve this: "Help save the environment. Please reuse the towels."
It had an impact, but the hotel decided to run an a/b test. With the second sign, they wrote "75% of people who stayed at this hotel reused their towels at least once during their stay."
The results? The sign that used social proof (75% of people reused their towels) was 35% more effective.
As much as we don't like to admit it (or are even aware of it), what other people do matters to us. In this case, it matters even more than doing something good for the environment.
The exact same thing applies to your products. You can attract people to your site with cool Christmas promotions, but people want to see that other people are buying your product.
All it takes is a live sales notification from TrustPulse (which is also a great way of creating a sense of urgency) and you can increase your conversion rate by as much as 15%. Imagine the impact that would have with the amount of traffic you get during the Christmas period.
7. Make Use of Gamification
Online sales are all about creating the right user experience.
You can attract all the website visitors you like, but unless you give them the experience they're looking for, it's not going to result in the level of sales you crave. One thing your website users are proven to like is gamification.
Everybody loves a deal, and everyone loves a competition, and Christmas is the perfect time for it!
Completing tasks to earn discount vouchers, and win free prizes is something everyone can get behind.
The question is, how do you create amazing giveaways that benefit your business?
If your website runs on WordPress, then the answer is RafflePress. It allows you to create viral giveaways in just a few minutes, giving people various ways to enter.
For instance, people can enter your giveaway by following you on Twitter, watching a YouTube video, answering a question, or signing up for your email list. You can even create your own goal to grow your brand in a unique way.
Your Christmas promotions should bring in a lot of traffic, and you want to maximize the value of those visitors. Not everyone is going to buy your product, but using RafflePress to gamify your site helps you create value even from people who don't make a purchase.
8. Simplify the Payment Process
You know from your abandon cart rate that many potential customers fail at the last hurdle.
It's endlessly frustrating when you get so close to the sale only to see it slip through your fingers. Here's the thing though: people don't need much excuse to abandon their purchase.
If they see a long payment form, have to click too many times, or don't trust your payment system, then they will leave.
You've got to make the checkout process as simple as possible and capitalize on people's excitement to buy a product. People make emotional purchases all the time, especially when it comes to Christmas shopping and gift giving, so don't give them time or reason to lose that warm-fuzzy feeling.
For one-time and recurring payments, the easiest way to do this is with WP Simple Pay. As the name suggests, it keeps things simple and gives you powerful tools to get the purchase over the line.
When you bring down your abandon cart rate, it's going to make a big difference to your sales, particularly during your Christmas promotions.
FAQs: Christmas Promotions
How can I increase my Christmas sales? The best way to increase your Christmas sales is to get your products in front of more of the right people. Running Christmas promotions is one thing, but you've got to find ways of getting them in front of your target audience. One of the best ways to expand your reach immediately is by setting up an affiliate marketing program.
How do you make a Christmas campaign? To make a Christmas campaign, you've got to choose how you want to reach your target audience (PPC, SEO, affiliate marketing, social media, etc.), then you've got to decide on your theme, copy, and offers. Once you've got these things, then you're ready to start your Christmas promotions.
How can affiliate marketing help my Christmas promotions? Affiliate marketing can help your Christmas promotions by getting skilled marketers to amplify them. It can immediately bring your marketing to new customers, generating more traffic and sales for your website.
What are some Christmas marketing trends? There are lots of different Christmas marketing ideas you can use to market your products. What's important is that beyond the theme you run with, you've got the right fundamentals in place to maximize your ROI. How you convert the traffic is just as important as the promotions themselves.
Expand the Reach of Your Christmas Promotions Today
If you get your Christmas promotions in front of more of the right people, then you're going to see a lot more success from your efforts.
The fastest and most cost-effective way to do this is by starting an affiliate marketing program with AffiliateWP. There are low start-up costs and our easy setup wizard can take your program live in just a few minutes.
You're then ready to sign up skillful affiliates who get your Christmas promotions in front of the right people.
Combine this with a few tweaks to your marketing strategies, and you've got the perfect plan to take your Christmas sales to the next level.