9 Underutilized Black Friday Sales Strategies for Affiliate Marketing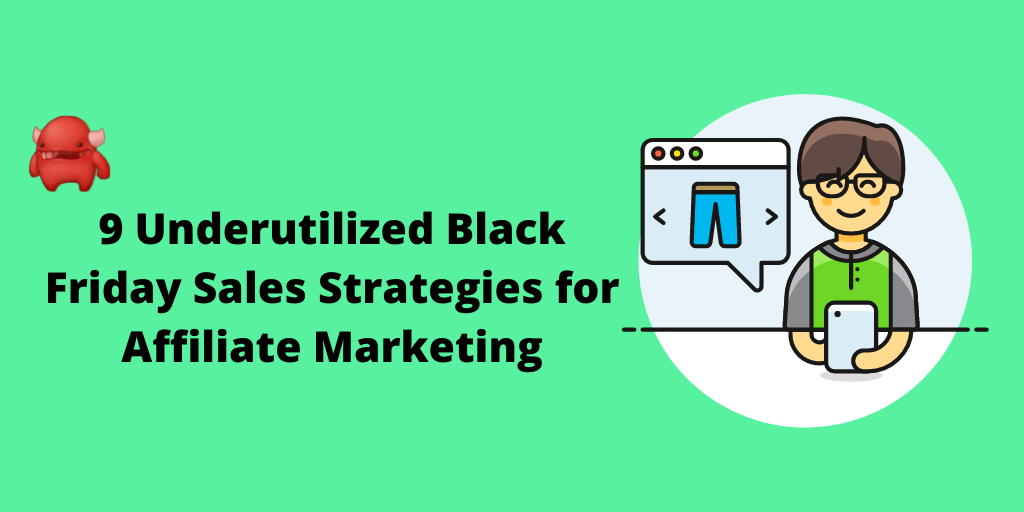 Take your sales to the next level with these Black Friday sales strategies for affiliate marketing.
Make sure you and your affiliates are ready for the holiday season with these tried and tested techniques.
Why is Black Friday so Important?
It's easy to see the incredible hype Black Friday creates and think its impact is overstated.
However, the holiday season, and Black Friday in particular, are extremely important for retailers. Holiday sales account for nearly 20% of annual retail income, which means those few short weeks play an outsized role in a merchant's success.
On the sales side of things, we tend to be pretty good at implementing Black Friday sales strategies, but the question is, are we extending this to our affiliate marketing programs?
If you're going to maximize your affiliate revenue, then the stats suggest you've got to make the most of the Black Friday sales. So, how can you achieve this, and make sure both you and your affiliates gain maximum exposure during this most important time of the year?
9 Black Friday Sales Strategies for Affiliate Marketing
Let's take a look at the Black Friday sales strategies you need to implement to maximize the effectiveness of your affiliate marketing.
None of these tips are overly technical or complicated, but they can make an immediate difference to your Black Friday traffic, average order value, and conversion rate.
1. Optimize Your Landing Pages
Black Friday deals are eye-catching. When you're offering huge discounts on your products, it's bound to draw attention.
However, people also expect authenticity.
It looks a little strange if you're running this really cool Black Friday-themed campaign on social media, only for your homepage and landing pages to make no mention of it. You've got to be consistent, and that means updating your pages to reflect your Black Friday marketing strategies.
This is also the perfect opportunity to go through your product pages with a fine tooth comb and make sure they're conversion machines! Hone your copy, optimize your calls to action, and eliminate barriers to a sale.
You can also take this one step further by working with individual affiliates to create a personalized landing page. This allows you to provide your customers with a more personalized experience and leverage the relationship your affiliate has already built with them.
Bonus Tip: The easiest way to create top-performing landing pages is with SeedProd. It offers highly-optimized templates, great functionality, and all the features you need to create the best Black Friday sales.
2. Start Communicating with Your Affiliates Early
You run an affiliate marketing program to expand your reach and get your message in front of more potential customers. This is even more important during the busiest time of the year for online retailers!
Naturally, you want to get your promotions in front of as many people as possible and your affiliate army is one of the best ways to do this. However, it's much more difficult if you're not communicating properly.
Affiliates need time to prepare their marketing campaigns, so you've got to give them a heads up.
No doubt they're fully aware that Black Friday is one of the most important days of the year. They'll likely be eager to promote your products, but there's one important thing you've got to remember. Affiliates have a lot of choice about which products they promote.
If you're not communicating with them and keeping your business at the forefront of their minds, then they may well get attracted to other shiny offers. You don't want your top affiliates to lose focus at this critical time of the year, so be active, communicate, and show how you're going to help them make money.
Your affiliate newsletter is the perfect tool for this.
3. Update Your Affiliate Creatives
Your affiliates rely on you to provide them with banners, images, videos, and other creatives.
While you might be able to get away with not updating your visuals throughout the rest of the year, it's going to start to show when it comes to the holiday shopping season. Whether it's Black Friday, Cyber Monday (BFCM), or the run up to Christmas, you want your creatives to be seasonal and reflect your promotions.
It's just like your landing pages: they need to be authentic as well as eye-catching.
By equipping your affiliates with high-performing creatives, you make it that bit easier for them to get behind your Black Friday promotions.
4. Schedule Pop-Ups
One of the greatest myths about e-commerce is that people land on your online store and buy products there and then. The vast majority of times it doesn't happen this way, even if you're offering a great deal.
Instead, it's about creating touchpoints, and one of the best ways to do this is with pop-ups from OptinMonster.
Rather than someone leaving your page forever, this allows you to grab their contact details and start a conversation. You can quickly grow your email list and unleash your email marketing to turn subscribers into customers.
This is a huge deal for affiliates because their cookies generally last 30-days. They're not expecting to make the sales on day 1, but they need you to capitalize on the traffic they're sending you.
Another side to this is by capturing leads from your cart abandonment.
Just because someone has abandoned your cart doesn't mean they won't make a purchase; it just means they need a little more convincing. So, make sure you have a Black Friday marketing strategy set up for your abandoned shopping cart series.
5. Build Your Email List
Your Black Friday sales strategies don't have to be focused on the final conversion. The Black Friday weekend should bring a big traffic spike, and this can be used to enhance your brand and create leads.
No matter how good your landing pages are, or how much you try and create a sense of urgency, some people just aren't ready to buy yet, and that's OK.
What you've got to ask yourself is how these people can be of value to you.
The answer is in your email list. Once you open up the conversation through an email marketing campaign, you don't know what might happen.
A huge part of making the most of your affiliate traffic is having a good lead magnet. This is like a free gift you give people in return for their email addresses. Once you've got this, you've added some value to your affiliate program, even if you haven't made the sale yet.
6. Leverage Exclusivity
Do you get bombarded by Black Friday emails every year?
Everyone does. The problem is, there are so many Black Friday offers, and so many retailers trying to grab your attention that it feels very impersonal.
People enjoy a sense of exclusivity, a feeling that they're part of an elite club that's getting a special offer, and affiliate marketing is a perfect way to provide this. With Vanity Coupon Discount Codes, your affiliates can use personalized discounts that appeal specifically to their audience.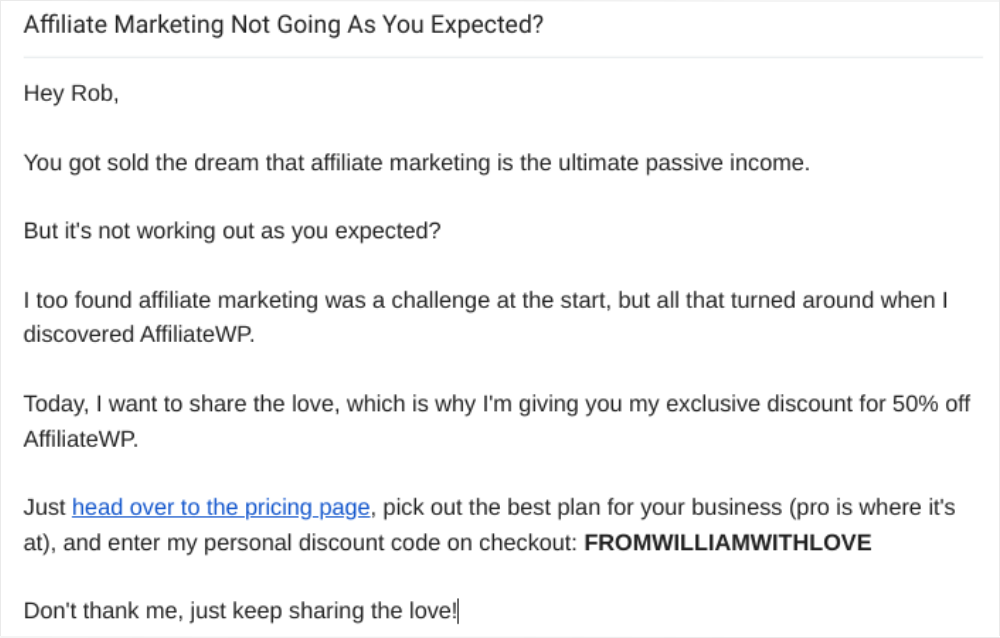 Rather than coming from a merchant the customer barely knows, the promotion comes from an affiliate or influencer they have an existing relationship with and already trust. They're not just part of a huge group of people that got sent an email, they're part of an exclusive club that's been singled out for a special promo.
7. Keep Customers Updated About Stock Levels
When you're doing online shopping, there are few things more frustrating than getting to checkout only to be told your item is out of stock.
If you're doing your job well as an e-commerce business during Black Friday, then stock should diminish very quickly, but you've got to be able to communicate this. You can't afford to tarnish your brand in the search of quick sales.
As well as focusing on things like countdown timers and live sales notifications to boost your conversion rate, make sure you're adding elements that improve user experience at the same time. Part of this is showing holiday shoppers when stock is low, and communicating when products have run out of stock.

When you do this well, it should increase Balck Friday and Cyber Monday sales as well as improve the customer experience.
8. Boost Your Support
This Black Friday sales strategy is simple but effective.
If you're expecting an increase in traffic and to boost sales, then you should schedule extra support to help customers with any problems. Not only does this go for live support, which can quickly answer people's questions, increase cross-selling, and get sales over the line, but it also means maintaining higher levels of support to deal with post-purchase issues.
Again, you don't want to compromise the reputation of your e-commerce store in the pursuit of short-term sales. Black Friday is a perfect time to bring in new customers and re-engage your existing ones, but you've got to make sure you're doing it in the right way.
9. Ramp Up Your Affiliate Incentives
Black Friday is one of the most important times of the year for affiliates. If nearly 20% of retail sales happen during the holiday season, then that's likely to mean affiliates make 20% of their income during this period.
They have limited resources though, so they have to pick and choose the offers they focus on.
Your affiliates might have great Black Friday marketing ideas, but you need to ensure it's your products they're using them on. To do this, you've got to make sure you highlight your affiliate rewards and even consider temporarily offering more commission or a holiday bonus.
It's difficult for small businesses to take care of everything. They're busy running their stores, managing referral programs, working on search engine optimization (SEO), and accommodating Black Friday shoppers. Sometimes this means marketing ends up at the bottom of the list, which is why you leverage affiliate marketing in the first place.
During this crucial time of the year, it can be worth it to add some extra incentives for your affiliate so you can focus on taking care of all the other jobs.
Upgrade Your Affiliate Marketing this Black Friday
Affiliate marketing is one of the best Black Friday sales strategies out there.
It allows you to reach new audiences with your offers and build an army of marketing experts. However, to get the most out of this marketing tactic, you've got to have the right affiliate software.
You want to set up your affiliate program with minimal hassle, build in automation, and watch the sales come in.
That's exactly what AffiliateWP allows you to do. Yes, you'll have to work with your affiliates to maximize performance, but we've got lots of features to help you do just this.
Together, you can significantly improve your Black Friday performance, and it's all just a few clicks away.