5 Best PartnerStack Alternatives for 2023 (Guide)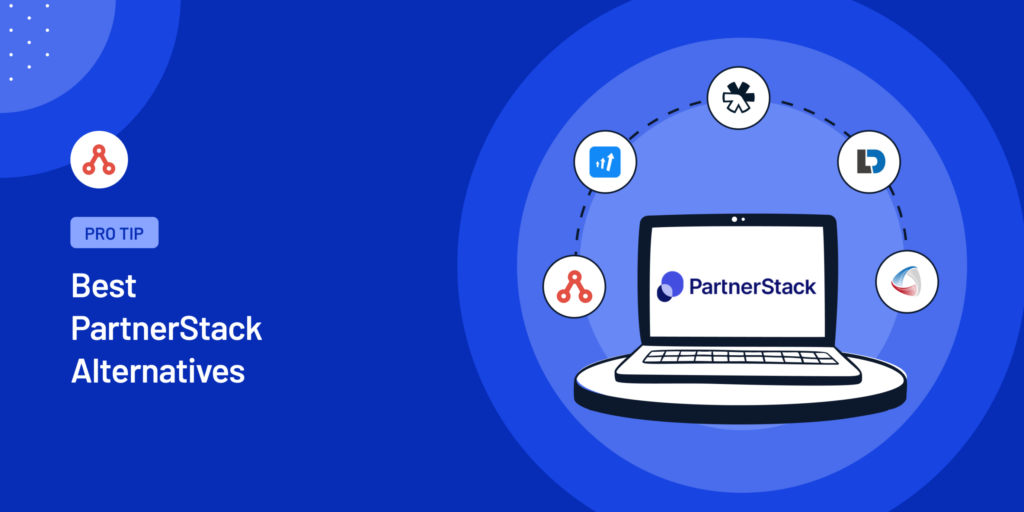 Looking for the best PartnerStack alternatives?
We've researched and listed this expert guide's best affiliate software alternatives.
Ready to find the best PartnerStack alternatives and the one that will help you grow your affiliate program?
Let's get started!
Best PartnerStack Alternatives
PartnerStack is a well-rounded platform designed to help businesses set up an affiliate marketing program, attract top-notch affiliates, and boost brand visibility. It's a solid choice for many brands, offering a robust white-label option.
However, it's certainly not the only player in the game.
Plenty of compelling PartnerStack alternatives have emerged, each with unique strengths and offerings.
To help you navigate through them, we've conducted an in-depth analysis based on the following key aspects:
Ease of setup
Affiliate management
Growth marketing tools
Customer support
Value for money
So, here's the comprehensive list of some of the best alternatives to PartnerStack:
1. AffiliateWP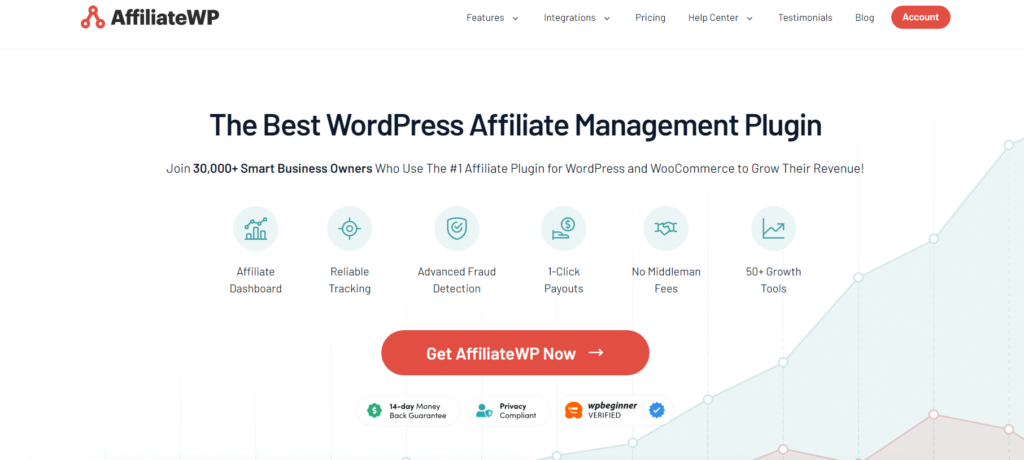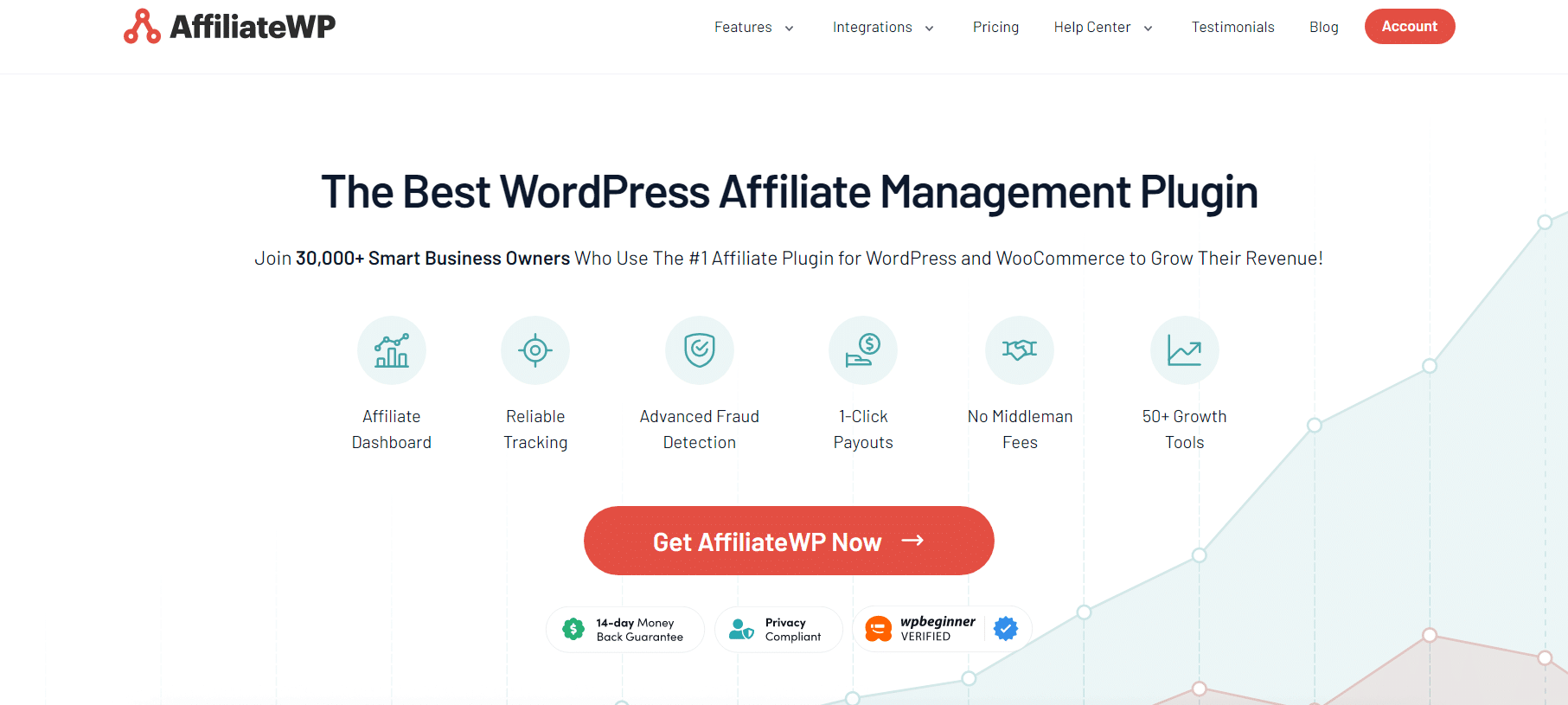 AffiliateWP is a leading affiliate management plugin for WordPress. As a dedicated WordPress plugin, it's more focused than PartnerStack and provides optimized features for WordPress-powered websites.
The setup wizard guides you through setting up your affiliate program in less than 10 minutes. Once done, AffiliateWP offers features like affiliate fraud detection, customizable affiliate dashboards, and real-time analytics.
Moreover, its innovative marketing features like Affiliate Landing Pages, Vanity Coupon Codes, and Direct Link Tracking empower your affiliates to increase sales.
AffiliateWP starts at $149.50 per year, offering excellent value for money, especially if compared to PartnerStack.
Key Features:
Seamless WooCommerce integration
Reliable affiliate management
Advanced affiliate tracking
Recurring Referrals
Direct Link Tracking
Advanced affiliate growth tools
Top-notch support
Pricing:
Personal: $149.50/year for the first year, $299.00/year after that (1 site, essential features)
Plus: $199.50/year for the first year, $399.00/year thereafter (3 sites, growth, and essential tools)
Professional: $299.50/year for the first year, $599.00/year thereafter (10 sites, advanced features)
2. Post Affiliate Pro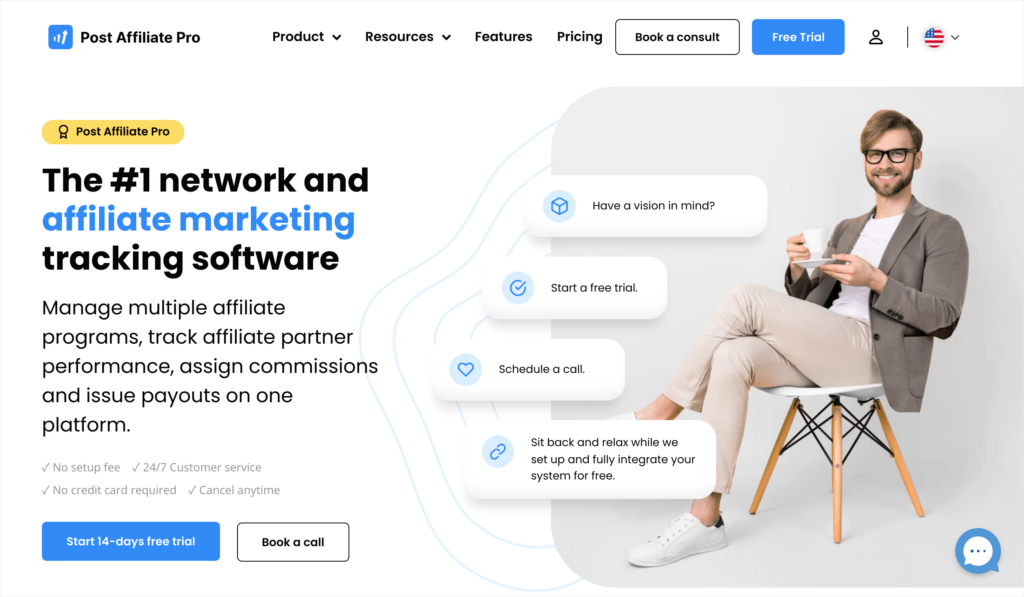 Post Affiliate Pro is another worthy PartnerStack alternative.
It's a comprehensive affiliate tracking software allows you to manage multiple affiliate programs, track partner performance, assign commissions, and facilitate affiliate payouts from a single platform.
The user-friendly interface simplifies affiliate management, and the range of affiliate marketing services helps optimize your affiliate program.
Key Features:
Precise tracking system for referrals
Links that are optimized for search engines (SEO-friendly)
Support for different types of affiliate links
Ability to customize commission structures
Integration with over 200 content management systems (CMS) and payment gateways
Pricing:
Pro: $129/month billed annually or $139 monthly billing ( best for building a basic affiliate program)
Ultimate: $249/month billed annually or $269 monthly billing (best for building an advanced affiliate program)
Network: $599/month billed annually or $649 monthly billing (best for building an affiliate network)
3. Refersion

Refersion is an affiliate network compatible with all major e-commerce platforms, including WordPress, Shopify, BigCommerce, and Amazon Marketplace.
The user interface is excellent, making affiliate campaign management a breeze.
However, the professional plan, which starts at $99 per month, is limited to just 50 order conversions.
Therefore, Refersion seems to cater more towards the enterprise market, making it a substantial investment for businesses new to affiliate marketing.
Key Features:
Multi-store support
Ability to hide coupons and/or links
Customizable commission structures
Custom performance reports
White-labeling support
Pricing:
Professional: $99/ month if paid annually (50 monthly order conversions)
Business: $249/ month if paid annually (200 monthly order conversions)
4. LeadDyno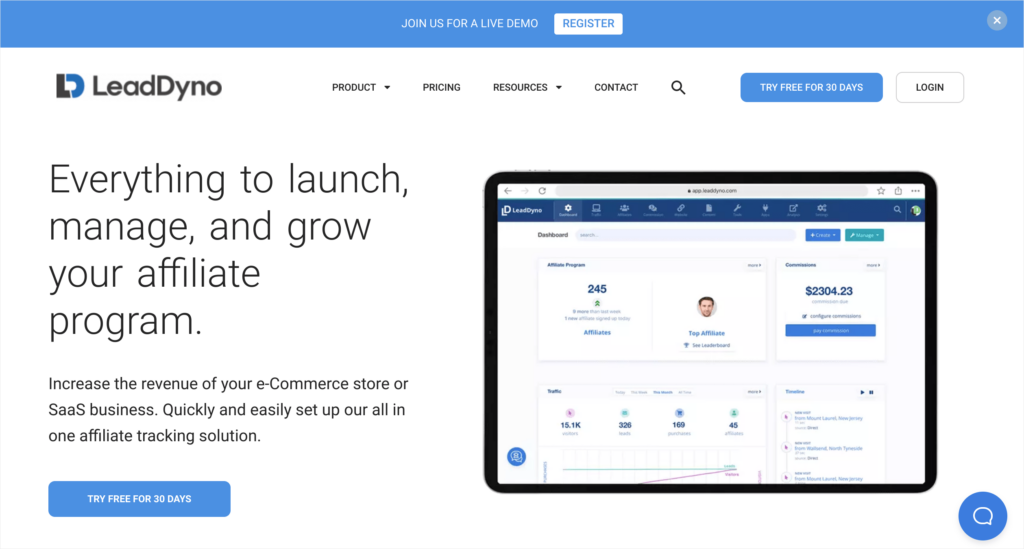 LeadDyno is a direct PartnerStack alternative with similar features and pricing structures.
The primary difference is that LeadDyno's pricing is based on your website's unique traffic.
Plans start at $49 per month, making LeadDyno a great alternative if your website generates substantial revenue from relatively few unique visitors.
Key Features:
Comprehensive tracking
Automated Affiliate Management
Social media sharing
Affiliate email marketing
Pricing:
Starter: $49/ month for up to 3000 website visitors a month
Plus: $129/ month for up to 15000 website visitors a month
Pro: $349/ month for up to 100,000 website visitors a month
Premium: $749/ month for up to 500,000 website visitors a month
5. iDevAffiliate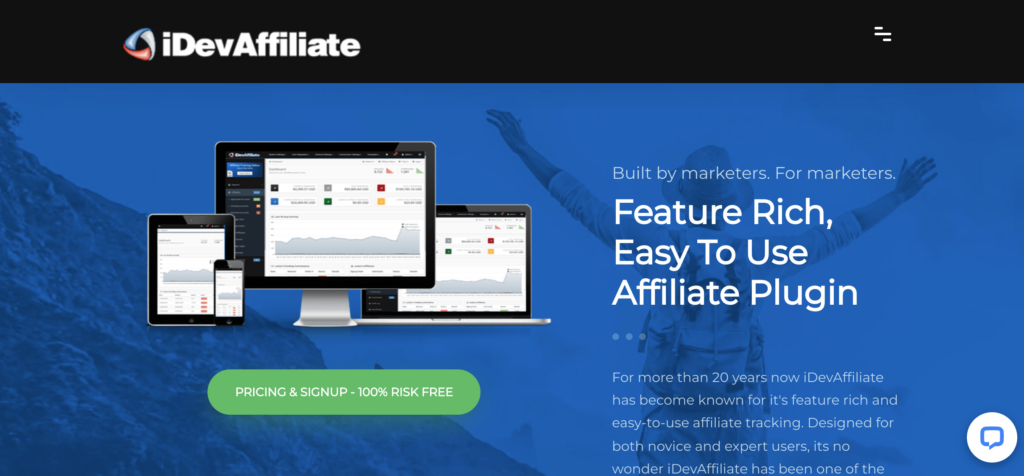 iDevAffiliate lets you build your affiliate marketing program on a variety of platforms. You can host your program on your website or in the cloud.
While the interface may seem a little dated, iDevAffiliate offers an easy way to create a customizable affiliate program.
iDevAffiliate's starting price is $39 per month, which is relatively affordable.
It also offers a unique feature that allows you to define affiliate marketing structures, such as pay-per-lead, pay-per-sale, and pay-per-click.
Additionally, you can set up commission rates on a recurring or lifetime basis, adding to its flexibility.
Key Features:
Pay-per-lead, pay-per-sale, and pay-per-click commission structures
Cloud or self-hosted
Advanced Reporting
Fraud protection
SEO links
Pricing:
Cloud: $39/ month for up to 50,000 clicks (traffic) per month
Cloud with custom domain: $59/ month for up to 125,000 clicks (traffic) per month
Cloud premium: $79/ month for up to 300,000 clicks (traffic) per month
Which is the Best PartnerStack Alternative?
If you're looking for the best PartnerStack alternative, AffiliateWP is your top choice, especially if you have a WordPress website.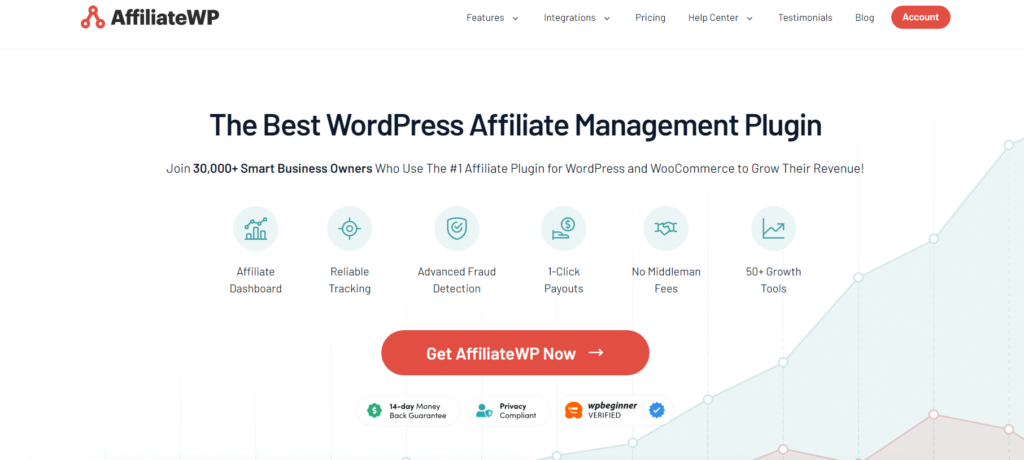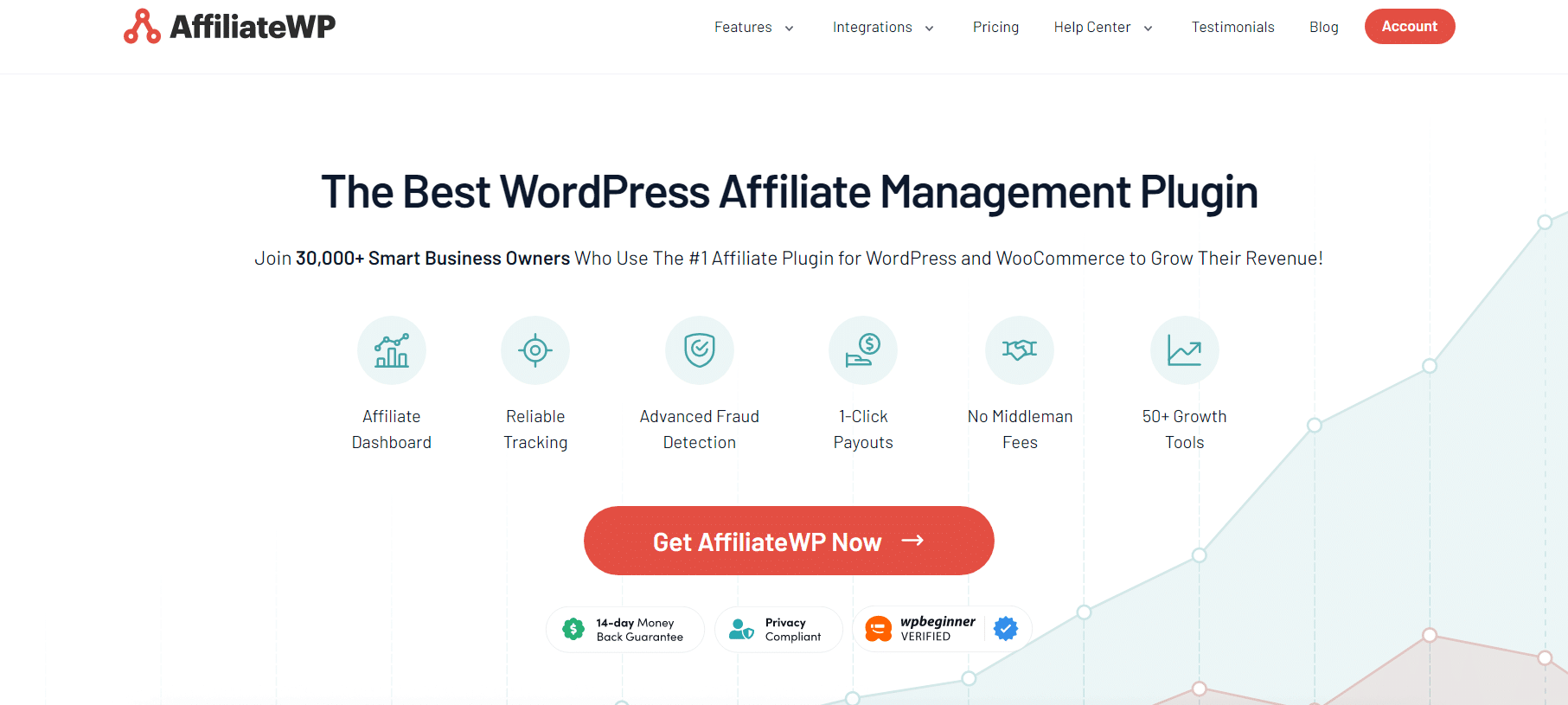 AffiliateWP is highly customizable. You can tweak your affiliate program to match your needs, making it perfect for businesses of all sizes.
And with a straightforward setup and user-friendly interface, you'll have your affiliate program up and running in no time.
AffiliateWP even dares to bet you wouldn't need to use their 14-day money-back guarantee because their capabilities are impressive. But hey, it's there just in case you want to put them to the test before committing long-term.
So, if you want a cost-effective, easy-to-use, and customizable affiliate program for your WordPress site, AffiliateWP is the clear winner over PartnerStack.
FAQ: Best PartnerStack Alternatives
How Easy is it to Set up AffiliateWP?
Setting up AffiliateWP is a breeze. With an intuitive interface and comprehensive guides, you can run your affiliate program in just a few steps. If you're unsure, there's always excellent support available to help you out.
Can I Customize My Affiliate Program With AffiliateWP?
Absolutely! AffiliateWP allows you to fine-tune every aspect of your affiliate program. Whether you want to adjust commission rates, personalize your dashboard, or customize emails, AffiliateWP makes it easy.
What Kind of Support Can I Expect From AffiliateWP?
AffiliateWP is known for its excellent customer support. Our dedicated team is ready to assist you with questions or issues.
Now It's Time to Grow Your Affiliate Program
Once you've chosen AffiliateWP as your affiliate marketing platform, the next step is to grow your affiliate program.
We have some great resources to guide you through this process:
With all the information and resources we've provided, you're now ready to take your affiliate program to new heights.
There's just one thing left to do.
Try AffiliateWP today and watch your business grow!