Best Affiliate Plugin for MemberMouse (2022)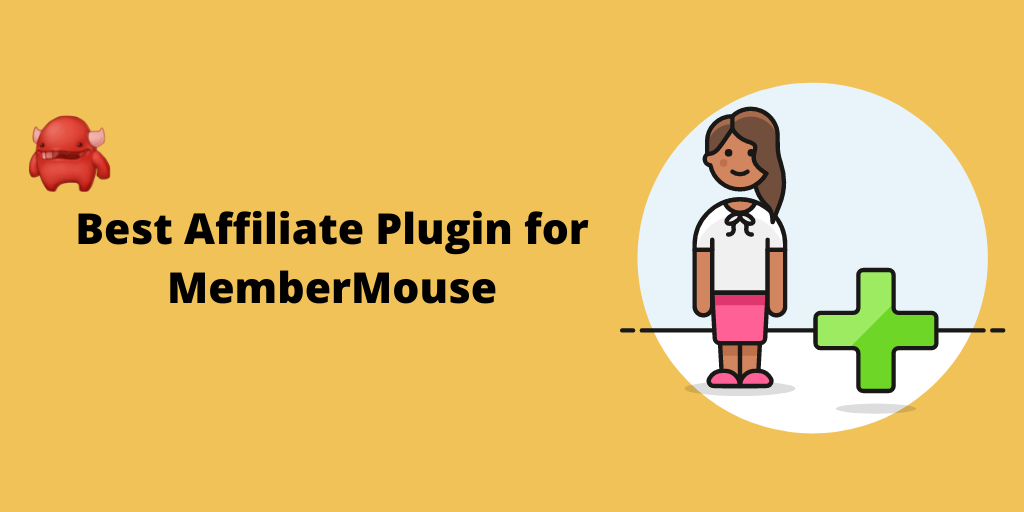 Do you love it when you get those notifications saying another new member has just signed up for your courses? Well, with the best affiliate plugin for MemberMouse, you're going to get that feeling more frequently.
If you're considering MemberMouse to turn your WordPress site into a powerful membership program, or you're already set up with this great plugin, then this is the article for you.
We're going to show you all the things you can do with MemberMouse, and most importantly, how you can grow your membership program more quickly with affiliate marketing through AffiliateWP.
What is MemberMouse?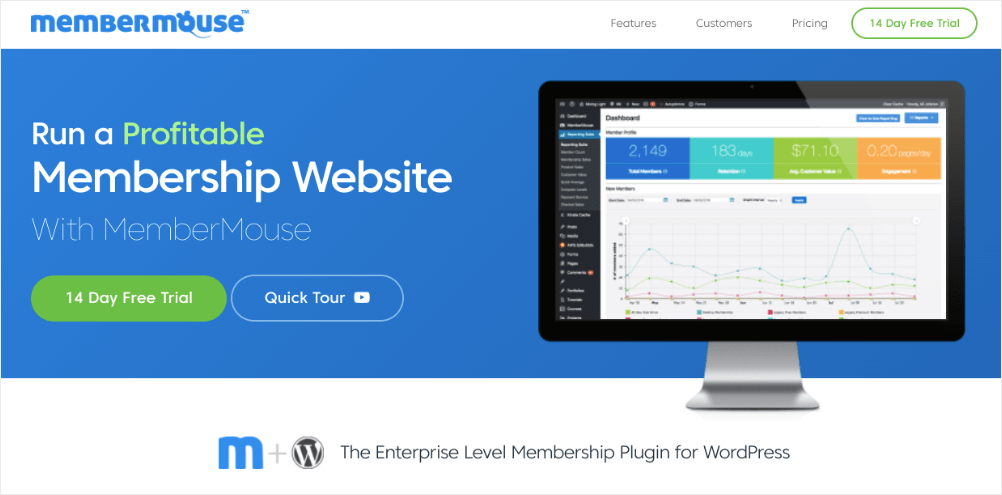 MemberMouse is a membership plugin for WordPress websites. It allows businesses to sell memberships and courses, restrict content to members, create different membership tiers, and grow revenue.
The great thing about MemberMouse is that it's simple to set up, but it's also very scalable. Beginner store owners can easily build their own membership program with MemberMouse, but likewise, a developer can use it to build something more complex.
This allows online businesses to tap into the growing demand for membership programs.
The Learning Management System (LMS) market (the software online courses are sold on) is set to be worth $40+ billion a year in the coming years, which goes to show the popularity of this digital product.
Here are some of the features MemberMouse offers that help you grab a slice of that pie:
Easy integration
Simple member import
Free and paid memberships
Flexible pricing
Drip content
One-click upsells
Multiple payment options (Payment gateways like PayPal, Stripe, Authorize.net, and more)
Coupon codes
Protected members' areas, pages, and posts
Customizable confirmation page
Dynamic checkout pages and templates
These features allow website owners to quickly create a fully integrated membership program right on their site, adding a valuable extra revenue stream.
Pricing:
Builder Plan: From $29 per month
Advanced Plan: From $79 per month
Premium Plan: From $199 per month
Why Choose MemberMouse?
MemberMouse is one of the best WordPress membership plugins. Along with alternative providers such as Easy Digital Downloads, Restrict Content Pro, MemberPress, Paid Memberships Pro, and LifterLMS, it offers one of the easiest ways to create a WordPress membership store.
One of the reasons the MemberMouse plugin is so popular is because it makes it incredibly easy to restrict content.
This is a tried and tested way to bring in more members.
You demonstrate the value you offer through high-quality free content, but you restrict your very best content to members. Once you've got people hooked, they recognize they have to invest to get the full experience and maximize value.
With MemberMouse, you can quickly manage members, set up membership tiers, and restrict different pieces of content to different membership levels.
For instance, we might write a great free guide on "How to Make Affiliate Sales from Day One" and allow everyone to access it. However, we might want to expand on that article with some premium content. People who are already members will have instant access to the premium article on "7 Tips Nobody Tells You About Affiliate Marketing," but non-members can sign up to view it (and all our other premium content).
This is just one way to grow your membership program, and MemberMouse offers lots of other tools, but this is certainly a great feature.
Affiliate Marketing and MemberMouse
Whatever digital product you're selling, the question is always how to grow your business.
When you're pursuing a membership model, you're sometimes cut off from the common digital marketing strategies we use. This is because a lot of your best content is saved for your members.
You're spending your time creating amazing courses, books, podcasts, emails, and everything else for your members, and it's easy to get distracted from the basic element of marketing your e-commerce store.
For many membership sites, this makes it even more difficult to stay consistent with things like social media, email marketing, influencer marketing, and other important marketing strategies.
This is precisely why affiliate marketing is such a popular option for membership sites.
It allows you to focus on what you're great at – creating valuable content for your members, while you make use of your affiliates' ability to reach your target audience. It's a win-win because affiliates have access to your target audience but they're looking for a product to sell.
When you come together, it opens up a lot of doors for both parties and creates a new revenue stream.
You might be thinking "that's great, but I've spent time setting up my website, then building out my membership program, and now you want me to set up an affiliate program as well?"
Here's the secret: when your membership program runs on MemberMouse, you can start using referral tracking in a matter of minutes.
AffiliateWP: The Best Affiliate Plugin for MemberMouse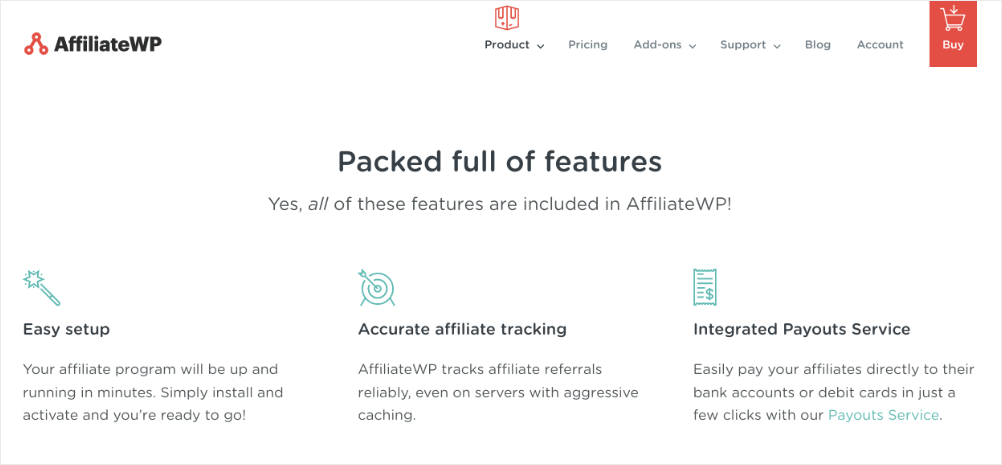 In MemberMouse, you've got a great WordPress membership plugin, now it's time to add the missing link: your affiliate marketing capabilities.
AffiliateWP is another easy-to-use plugin that syncs seamlessly with your WordPress theme and MemberMouse program.
Once it's up and running, you'll be able to:
Attract top affiliates from around the world
Track clicks to your website using affiliate links, coupon discount codes, and other advanced features
Effortlessly pay commission to your affiliates
AffiliateWP isn't just limited to MemberMouse either. With other integrations for WooCommerce, WPForms, Stripe, and many more, it enables you to add affiliate tracking capabilities to almost any revenue stream.
And the best part?
It's incredibly easy to set up.
Pricing:
Personal Plan: From $149.50 a year
Plus Plan: From $199.50 a year
Professional: From $299.50 a year
Setting Up AffiliateWP for MemberMouse
How do you go about setting up the best affiliate plugin for MemberMouse?
Well, if you're new to AffiliateWP, then it will take 6 simple steps but if you're already using AffiliateWP, then skip to step 4, and you'll be ready to go in just 3 steps.
Step 1: Choose the Right AffiliateWP Plan
Check out our pricing page and choose the plan that best fits your needs.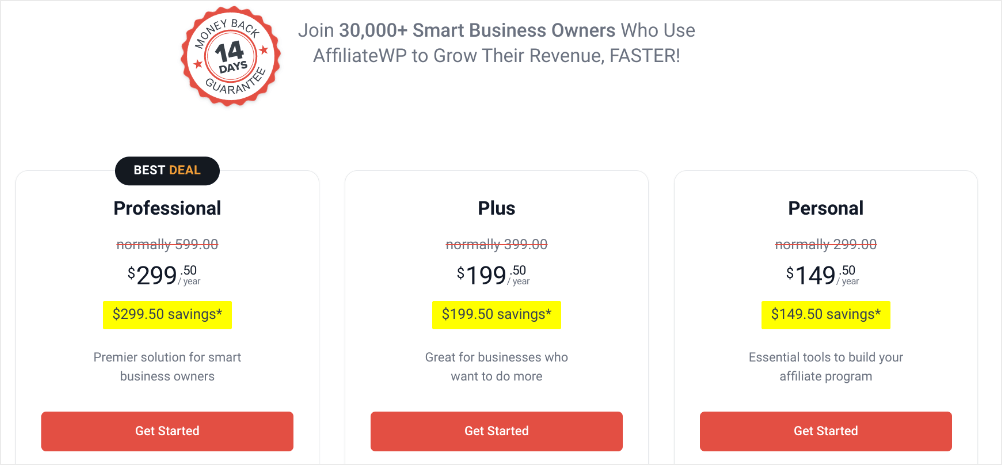 All our integrations, including MemberMouse, work with each pricing plan, and it's perfectly possible to build a good affiliate program with the Personal plan. The key element the Professional plan opens up is access to our pro-add-ons, which unlock some powerful extra features.
One feature that's particularly useful for membership programs is Recurring Referrals. This allows affiliates to receive a commission each time the customer renews their subscription.
Other add-ons like Affiliate Portal and Affiliate Landing Pages are also strong features that help attract top affiliates and boost conversion rates.
Step 2: Download and Install AffiliateWP
Once you've completed your purchase you'll receive a confirmation email in your inbox.
This email will contain your download link and license key.
Click the link to download the AffiliateWP.zip file, and then head over to your WordPress admin.
Hover over Plugins in the left-hand sidebar, and click Add New.

Near the top of the page, you'll see an Upload Plugin button. When you click this button a box will appear, and you need to select the AffiliateWP.zip file you just downloaded before clicking Open.
Now click Install Now, and finally, Activate Plugin.
You're ready to start setting up your affiliate marketing program!
Step 3: Add Your License Key
Return to your inbox and copy the license key from your confirmation email.
Head back to your WordPress admin and hover over Affiliates in the left-hand sidebar before clicking Settings.
Near the top of the page, you'll see a box titled License Key. Paste your key into the box and hit Activate License.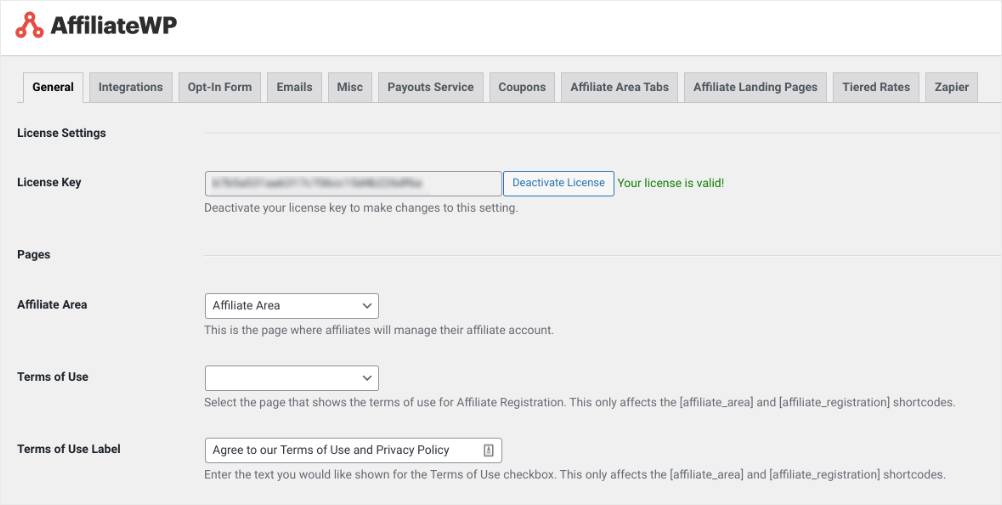 The software is now synced with your plan and you're ready to integrate AffiliateWP with MemberMouse.
This is also a good opportunity to explore some of your AffiliateWP settings and get to know the software a little better.
Step 4: Integrate MemberMouse with AffiliateWP
In your AffiliateWP Settings page, click the Integrations tab.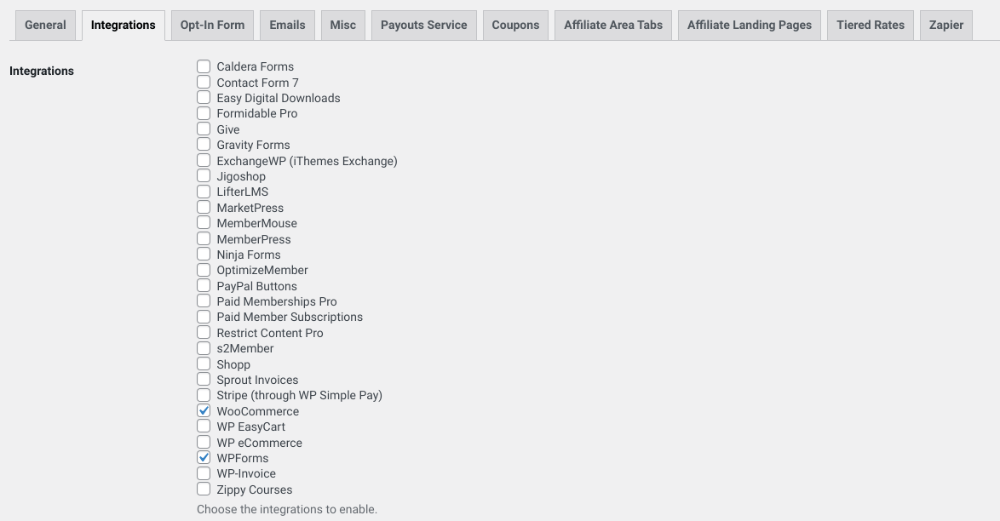 Scroll down until you see MemberMouse and check the box next to it.
Click Save Changes, and AffiliateWP will automatically sync with your MemberMouse account.
Step 5: Set the Affiliate Referral Variable
Go back to your AffiliateWP Settings and select the General tab. A little way down you will see a box titled Referral Variable. It should be set as standard to Ref, but whatever variable you choose to use, it needs to match what you have in your MemberMouse settings.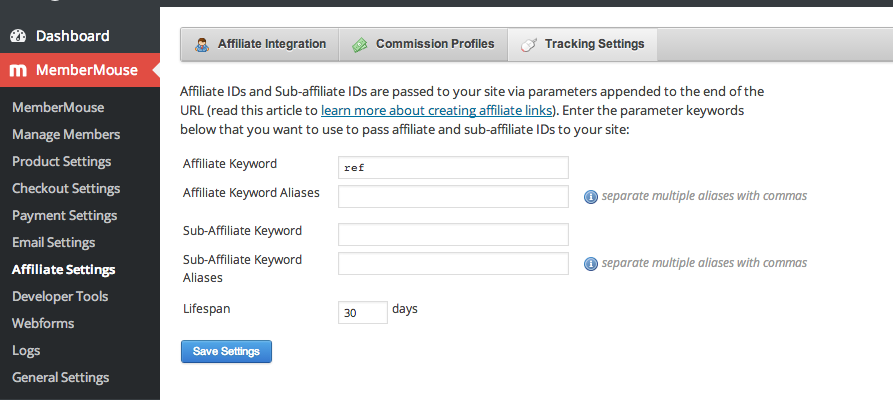 Copy the variable from your AffiliateWP Settings and go to MemberMouse > Affiliate Settings and paste it into the Affiliate Keyword box before hitting Save Changes.
Step 6: Activate Your Commission Profile
Go to your MemberMouse product settings: MemberMouse > Product Settings > Edit Product and in the Commissions Profile box choose Standard Commission Profile and then Save Product.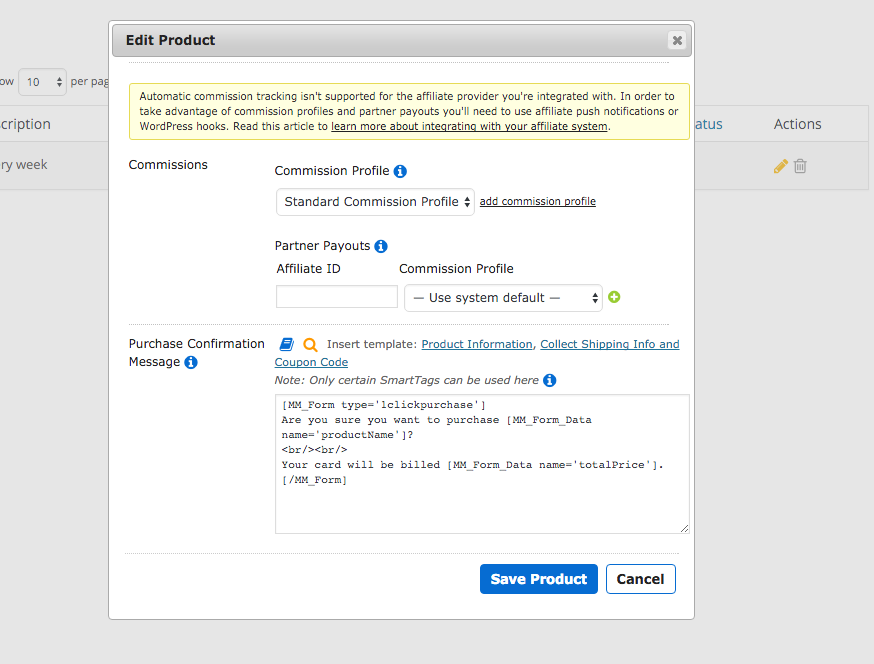 Once this is done, you'll be able to start tracking referrals and paying your affiliates.
Sell More with MemberMouse
Affiliate marketing is an excellent way to grow your membership program.
It allows you to benefit from the hard work of innovative affiliates, enabling you to focus on meeting the needs of your members. Even better, you can get started with minimal effort and low start-up costs.
AffiliateWP's MemberMouse integration offers you great functionality and can help you create a brand new revenue stream, almost overnight.
If that's something you think your membership program needs, then it's time to take a deeper look at AffiliateWP.