Best Affiliate Plugins for MemberMouse (2023)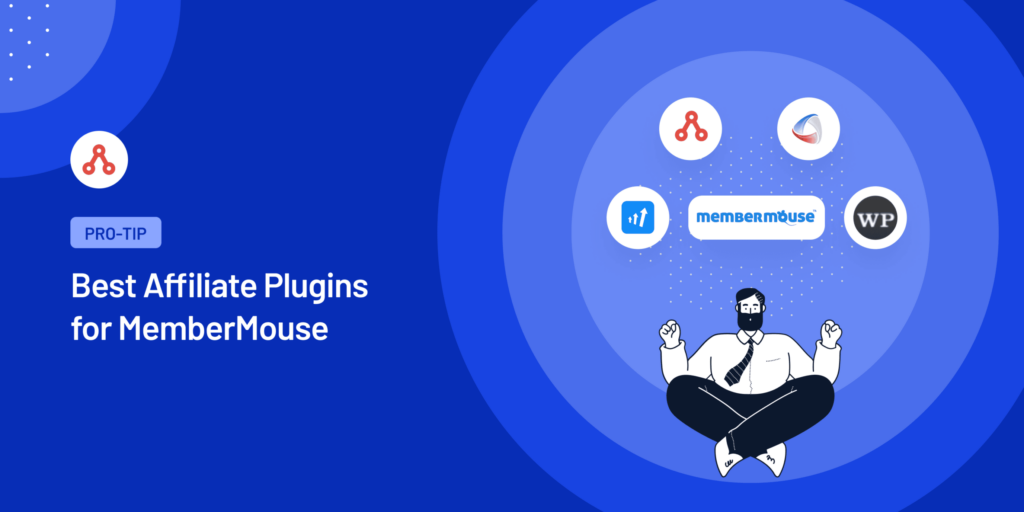 Looking for the best affiliate plugins for MemberMouse?
We've put together our expert guide to help you find the best software to unlock affiliate marketing for your membership site.
Here's what we're going to look at:
Let's take a look at the best affiliate plugins for MemberMouse.
Benefits of Affiliate Marketing for MemberMouse
Affiliate marketing is an excellent way to grow your MemberMouse sales. It helps you expand your brand reach and harness the marketing skills of affiliates around the world.
The great thing about this is that it's very low risk. You won't be hit with big start-up costs, and you don't have to pay affiliates until they make a sale.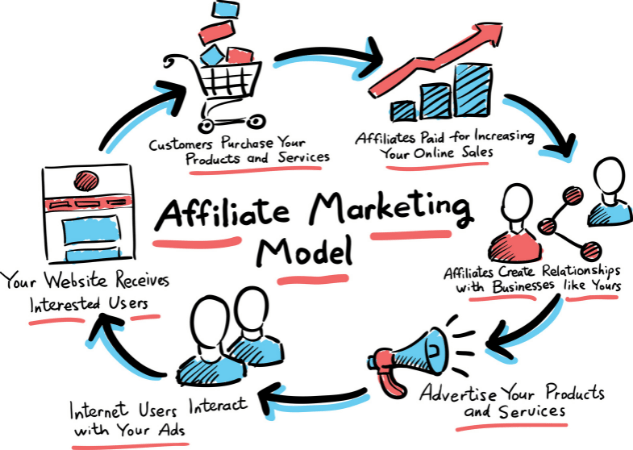 Membership subscriptions also make for perfect affiliate products. There tends to be a good margin built in, which means there's room to offer a good commission, and affiliates love the recurring revenue a subscription model offers.
All in all, this makes affiliate marketing an effective way to get your membership site in front of more of your target audience.
But wait, isn't setting up an affiliate marketing program complicated?
Actually, it's not, and these affiliate plugins for MemberMouse are going to help you build a professional program in a matter of minutes.
4 Best Affiliate Plugins for MemberMouse
When you're looking at affiliate software, you want something that integrates seamlessly with MemberMouse. A strong integration will help you leverage the best features of each plugin, so we've put the research in to bring you the very best options.
Here are some of the criteria we've used to evaluate the best affiliate plugins for MemeberMouse:
Ease of setup
Depth of integration with MemberMouse
Affiliate management tools
Growth marketing features
Support
So, let's take a deeper look at the best affiliate plugins for MemberMouse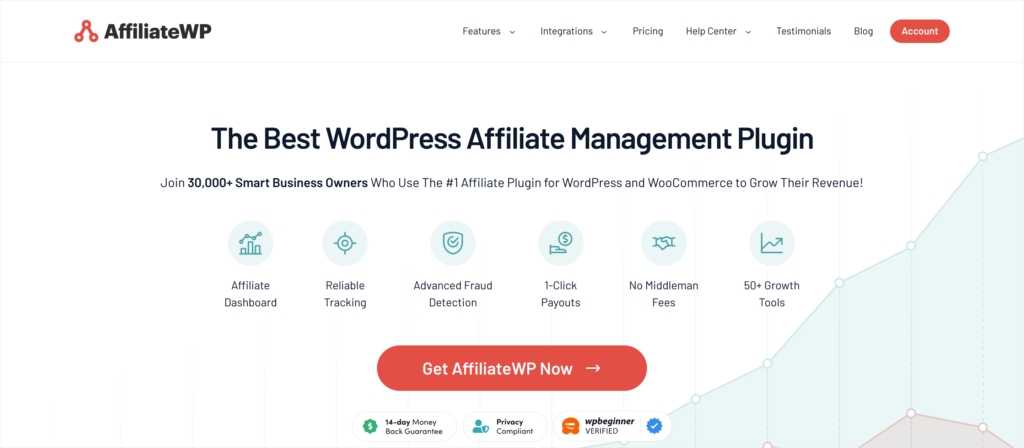 AffiliateWP is the best affiliate management plugin for WordPress and it offers a powerful 1-click integration with MemberMouse.
The onboarding wizard means you can get your MemberMouse affiliate program set up in under 5 minutes without the need for any coding or technical knowledge. As soon as you install AffiliateWP, it will automatically create everything you need to run a successful affiliate program:
Customizable affiliate signup page
Affiliate dashboard where affiliates can create affiliate links and track performance
Affiliate fraud protection
Advanced analytics to track visits and referrals
Affiliate payouts system
In just a few clicks, you've got everything you need to manage affiliates and grow sales.
There's also a lot of automation built in for things like email notifications and performance summaries, so you won't have to spend too much time managing your program.
AffiliateWP meets all our criteria and is a perfect option for tracking referrals on MemberMouse. Oh, and there's a 14-day money-back guarantee just in case!
Key Features:
Create your affiliate program in just a few clicks
Seamless integration with MemberMouse
Automated tracking and easy affiliate payouts
Detailed analytics to help maximize your sales
Innovative affiliate growth tools
Recurring referrals (Professional plan)
World-class support
Pricing:
Check out AffiliateWP's pricing!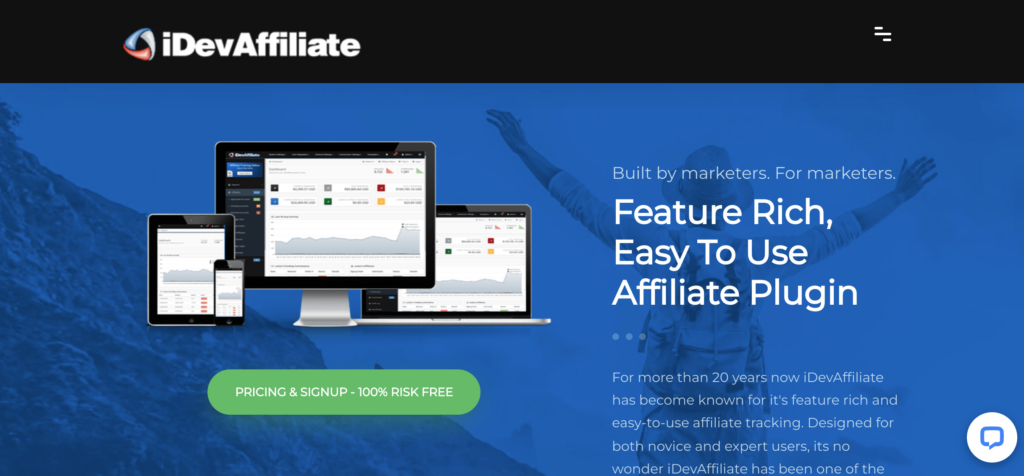 iDevAffiliate is affiliate tracking software that works on a wide range of platforms including WordPress, Shopify, BigCommerce, and more.
It's not WordPress-specific like AffiliateWP, but it does do a great job integrating with many popular WordPress plugins, including MemberMouse. The integration between iDevAffiliate and MemberMouse is a little bit more complicated to set up, but once completed, it provides you with excellent referral tracking.
With iDevAffiliate you can choose between a cloud-hosted affiliate program, or self-hosted, so there's plenty of flexibility.
Key Features:
Built-in affiliate payment
Coupon codes
Performance rewards
Wide range of integrations
Pricing:
Cloud: From $39/ month
Cloud with Custom Sub-Domain: From $59/ month
Cloud Premium: From $79/ month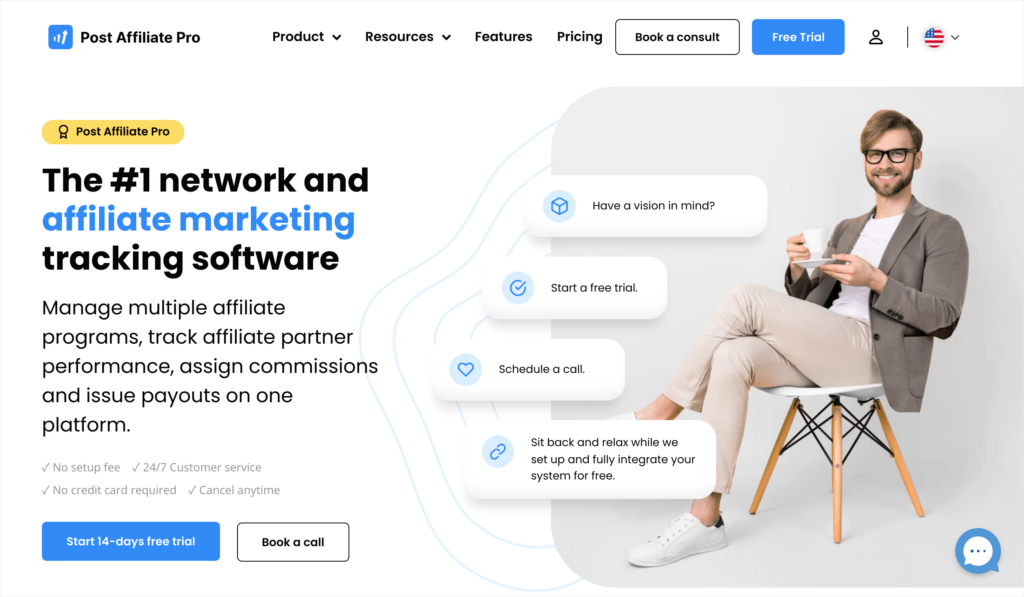 Post Affiliate Pro is a huge affiliate software provider with an endless list of integrations. It's a premium option that's best suited to larger brands who know they can get a return out of the advanced features.
That being said, the integration between Post Affiliate Pro and MemberMouse isn't particularly intuitive. Rather than a 1-click integration like AffiliateWP offers, you'll need to add some code to your checkout settings, which isn't ideal.
Once set up, you do get some great features, but the setup process might put a few people off.
Key Features:
Manage multiple affiliate programs
Automated bonus system
Customizable interface
Predesigned themes
Pricing:
Pro: From $129/ month
Ultimate: From $249/ month
Network: From $599/ month

WP Affiliate Platform offers a simple affiliate management plugin for WordPress and it has a MemberMouse addon.
This option might not offer your affiliates the best user experience, but it does represent reasonable value. It's a quick and easy way to get into affiliate marketing, and it will ensure your MemberMouse referrals get tracked accurately.
It might not have the most advanced features, but if you're looking for something very limited, then WP Affiliate Platform is a solid option.
Key Features:
Easy installation
Real-time reporting
Accurate commission calculation
Self-managed affiliate area
Pricing:
Which is the Best Affiliate Plugin for MemberMouse
AffiliateWP is the best affiliate plugin for MemberMouse. It makes it incredibly easy to set up your affiliate program and offers some excellent integration options.
Starting your affiliate program is completely risk-free because of the 14-day money-back guarantee, and you'll soon discover there's a whole new untapped revenue source out there for you.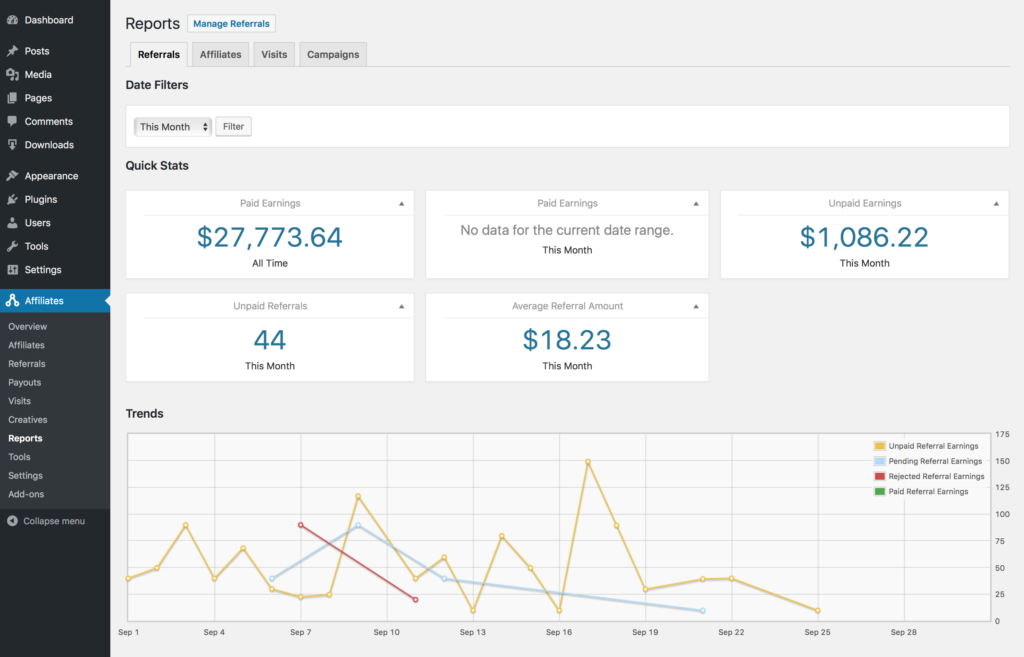 You'll have everything you need to sign up top affiliates and empower them to grow your membership website.
Give it a try today – check out AffiliateWP's pricing!
Now it's Time to Start Your MemberMouse Affiliate Program
Affiliate marketing is a top strategy for membership websites and with MemberMouse and AffiliateWP, you have everything you need.
In just 5-minutes, you can get everything set up and be ready to expand your sales through affiliate marketing.
So, what else do you need to know?
Well, we've got some great resources to help you out:
Now there's only one thing left to do.
Get AffiliateWP, the best affiliate plugin for MemberMouse today!