Grow Your Business with Affiliate Marketing Lead Generation and Opt-In Marketing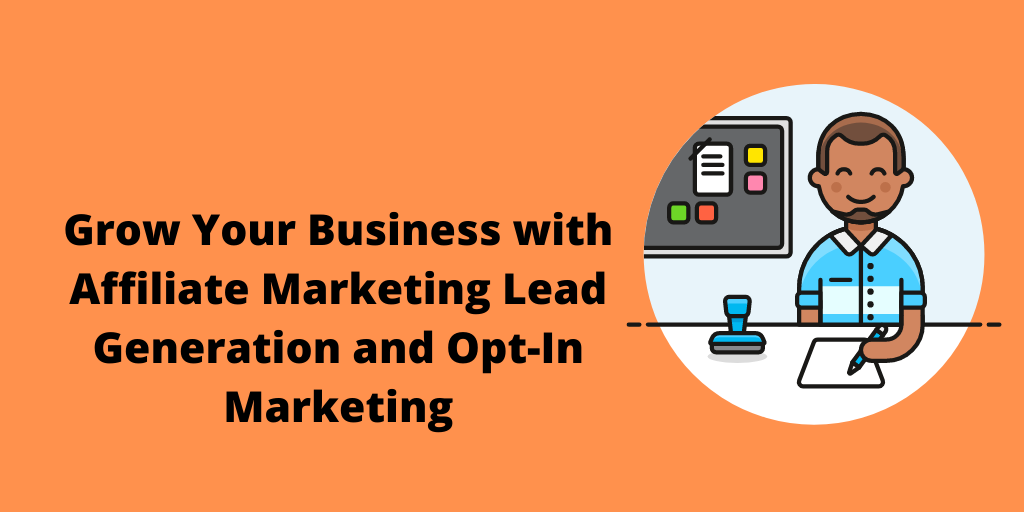 You dream of a day when leads effortlessly turn up in your sales funnel.
Unfortunately, you know that lead generation is an energy-intensive process that takes constant effort.
So what if we told you affiliate marketing lead generation could take you a step closer to your automated lead generation nirvana?
What is Affiliate Marketing Lead Generation?
Let's start at the beginning: what is lead generation?
It's the process of attracting, nurturing, and converting leads.
In the old days, lead generation looked like this:
You look through the phone book to find relevant local businesses
You give the number a call and ask if they're interested
You schedule a meeting at a fancy restaurant
You wine and dine the prospect and give them the big sales pitch
They love you, they love your product, they become a customer
All pretty standard scenes in an old movie!
Well, the internet has changed sales and marketing a lot in a short space of time, but the principles of lead generation still apply, you attract prospects into your funnel, you nurture them through communication, and you create a convincing case for them to become a customer.

The difficulty is the attracting part of the process is quite distinct from the nurturing and converting parts. You might have a crack team of salespeople to take prospects over the line, but finding those leads is a little different.
Enter affiliate marketing lead generation.
Keeping your sales funnel topped up with leads is important for any business, and affiliate marketing can help.
Essentially, all your doing is incentivizing people to send you leads.
You might reach out to publishers in your industry, offering either a flat rate for any lead they send you or a commission on leads that result in a sale.
All your affiliates have to do is include affiliate links in their content and allow your sales team to work their magic.
What is Opt-In Marketing?
Opt-in marketing is a very similar concept to lead generation.
The key difference is in the level of urgency.
When you sign up a lead, they tend to be your hottest prospects; they're people who have shown a real interest in your products or services. It follows that you're going to invest significant resources in nurturing them through your sales funnel.
That's not to say the people you sign up through opt-in marketing aren't valuable; they're just different.
Opt-ins are people who are signing up for your marketing communications as a secondary action. They might be buying a product and want to opt-in for emails about future discounts, or be downloading a handy guide and opt-in to your newsletter.
They're not banging down your door to buy your products, but there's certainly potential they will make a purchase in the future. For this reason, you might not dedicate all your resources to them, but you do want to keep them engaged with your brand.
Traditionally, the way we do this is through email marketing.
By segmenting your sign-ups, you can send automated, personalized emails that keep people engaged with your brand and grow their interest in your products.
Building relationships is key to growing a business, so opt-in marketing is still important. It's also something you can develop with affiliate marketing.
Email lists are an incredibly valuable part of digital marketing, and the right affiliate program can quickly take your list from zero to thousands of subscribers.
How to Get More Leads and Opt-Ins
Affiliate marketing is a great way to get more leads and opt-ins, but first, we will look at some essential elements you need to get set up before you think about affiliate marketing lead generation.
Conversion Tools
If lead generation is important for your website, then your forms need to be visible.
Hoping people see a tiny box in the corner of your website doesn't work. You've got to actively chase leads and to do this, you've got to get your forms in front of lots of people.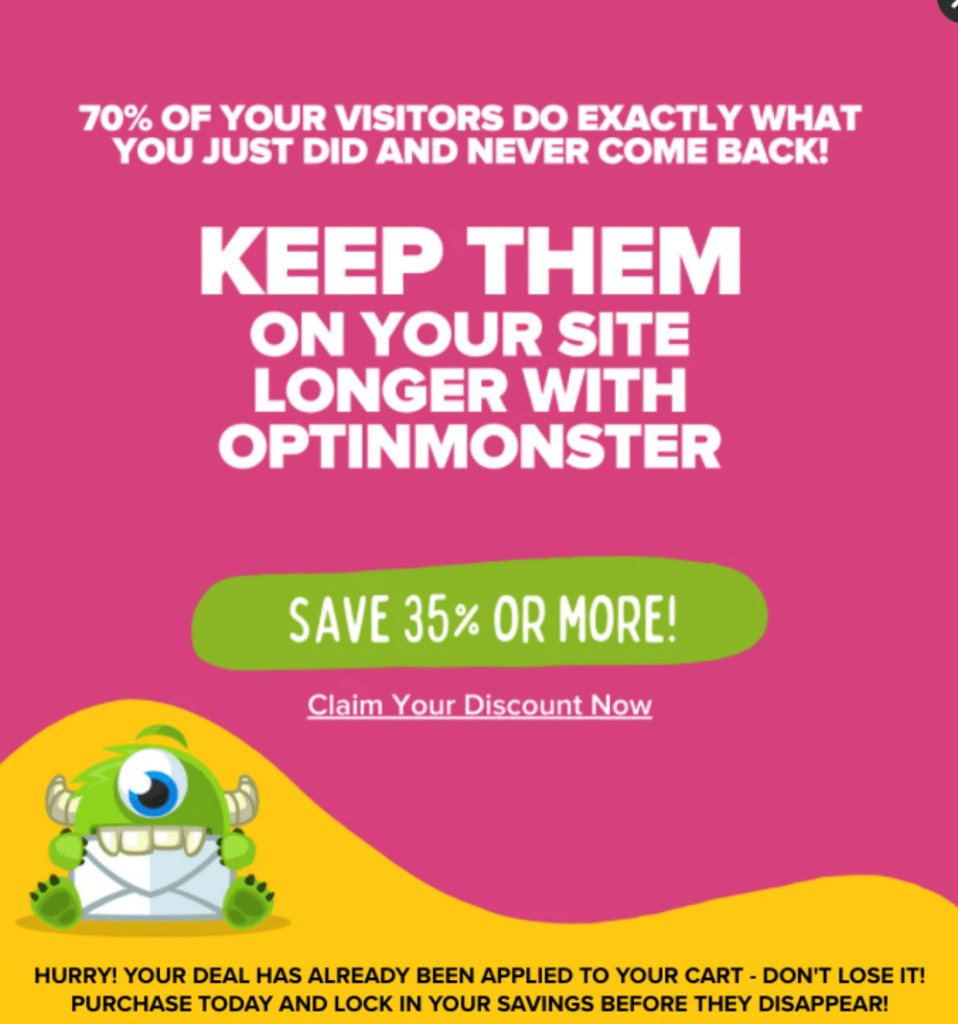 Conversion tools like OptinMonster are incredibly useful for this. With a basic package from $9.99 a month you'll gain access to:
A huge library of opt-in templates
Different pop-up types
Playbooks
Access to OptinMonster University
List segmentation
If you're going to start using affiliate marketing lead generation, then you've got to be able to convert when affiliates send you potential leads and the right conversion tools are an essential part of this.
Lead Magnets
One of the best ways to increase your leads is by making it a transactional process.
When someone fills out a lead form or checks an opt-in box, they're giving you something valuable, so what do you offer them in return? A lead magnet is an excellent way to offer value to your audience in return for their contact details.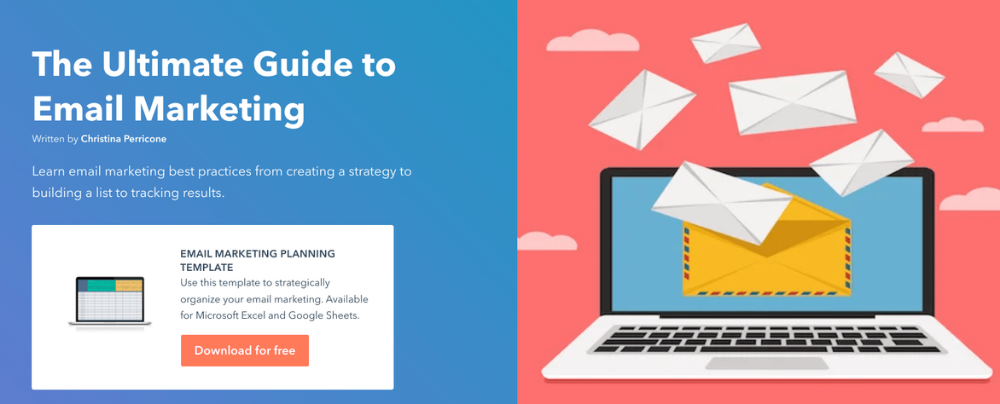 The lead magnet people sign up for is also a great way to gauge how "hot" a lead is.
For example, if someone signs up for a free trial, demo, or consultation, they're likely to be a lot further into the customer journey than someone who signs up for a free template.
Either way, lead magnets help you increase your forms' conversion rates, turning visitors into leads.
Forms
Talking of forms, they're also an incredibly important part of your lead generation.
If your forms are poorly designed, then people aren't going to engage with them. You've got to strike a balance: there's certain information you need, but you also want it to be as simple as possible to sign up.

With the best form generators like WPForms, you'll find lots of little tips and tricks to help people stay engaged with your forms while also getting the vital information you need.
Remember, unqualified leads aren't worth much; they can cause you to spend all your resources chasing the wrong people. What matters is spotting the qualified hot leads, so you can use your resources more efficiently while you have your opt-in marketing going on in the background for less motivated prospects.
Email Marketing
Getting leads is only part of the equation. You've also got to have a plan for how you're going to nurture them. This is going to look slightly different based on how hot or cold the lead is, but either way, your email marketing is likely to play a big part.
One of the important things about lead generation is that you act quickly. When someone fills out a form or opts-in, it's because you've created excitement or have promised to address a pressing need. If you don't act quickly, then you lose the element of excitement, and your lead will find other ways to address their needs.
Make sure you've got your email marketing set up with a provider like Drip and work on building out your automations.
Setting Up AffiliateWP for Affiliate Marketing Lead Generation and Opt-In Marketing
With AffiliateWP, you can effortlessly track referrals for lead generation and opt-in marketing.
An affiliate uses an affiliate link in their content
A visitor on your affiliate's site clicks the affiliate link and is brought to your site
The user fills out a lead form or checks an opt-in checkbox
The affiliate receives a commission for the referral
The best part is, all of this can be set up in just 4 simple steps.
Step 1: Choose Your AffiliateWP Plan
The first step is to check out our pricing page and choose the plan that best fits your needs.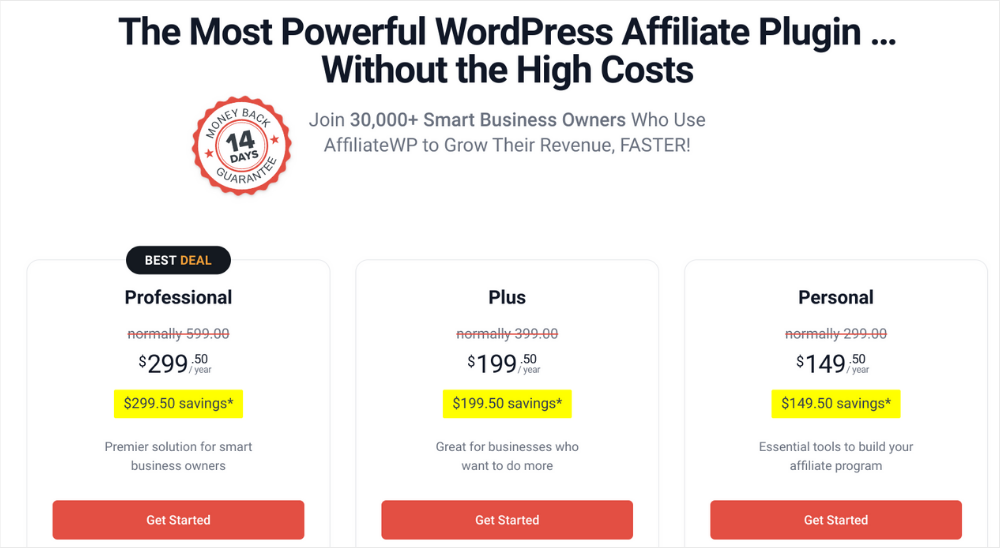 AffiliateWP integrates with many different form providers (WPForms, Ninja Forms, Gravity Forms, Formidable Forms, and more), so take a look at our integrations page to make sure yours is on there.
All of our integrations are included with our Personal plan, so it's possible to do all your affiliate marketing lead generation with our most basic package. The main difference when you upgrade to our Professional plan is that you get access to our innovative pro-add-ons, so again, take a look through them and decide if they're necessary for what you're trying to achieve.
Step 2: Download and Install AffiliateWP
Once you've completed your purchase, you'll receive a confirmation email with some important details.
Click the link to download the AffiliateWP.zip file.
Head to your WordPress dashboard, and hover over Plugins in the left-hand sidebar before selecting Add New.

Click the Upload Plugin button at the top of the page, and select the AffiliateWP.zip file you just downloaded before clicking Open. Now select the Install Now button, and once the file has downloaded, Activate Now.
Step 3: Link AffiliateWP to Your Form Builder
Your forms are the part that does all the heavy lifting for your lead generation, all you've got to do is plug AffiliateWP into them to start tracking referrals.
You can do this by hovering over Affiliates in the left-hand sidebar of your WordPress dashboard and selecting Settings.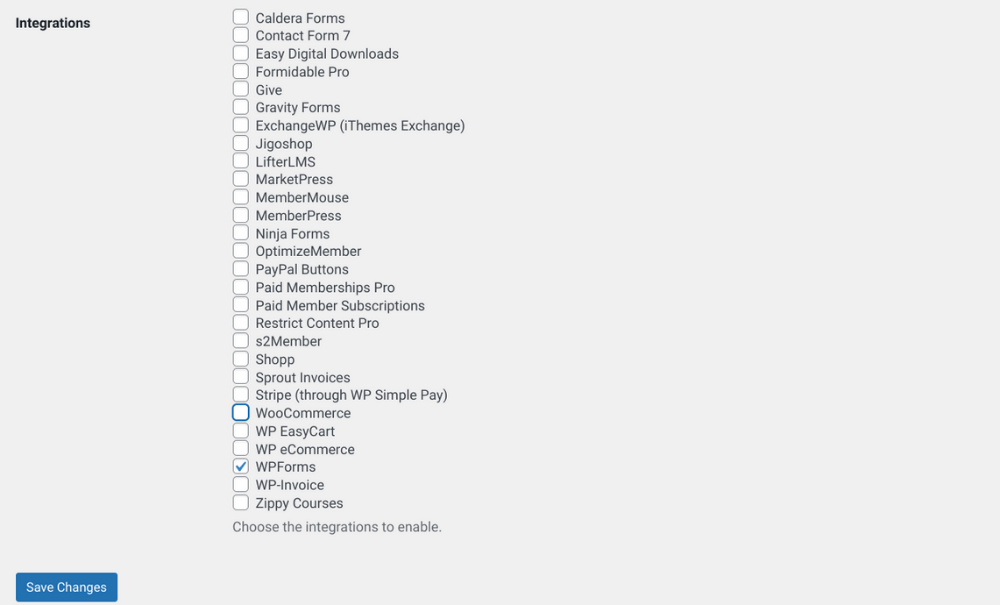 At the top of the page, you'll see an Integrations tab. Click on the tab, and a list of integrations will come up. Simply check the checkbox next to your form builder and click Save Changes.
Note: this might also be a good time to take a look at some of the other settings in your AffiliateWP dashboard.
Step 4: Set Up Affiliate Marketing Lead Generation for Individual Forms
You can set a global commission structure in your AffiliateWP settings, but you might want to set specific rules for individual forms.
To do this, head to your form builder's dashboard and select the form you want to edit.
We'll use an example from WPForms, but check our documentation for steps on your form builder.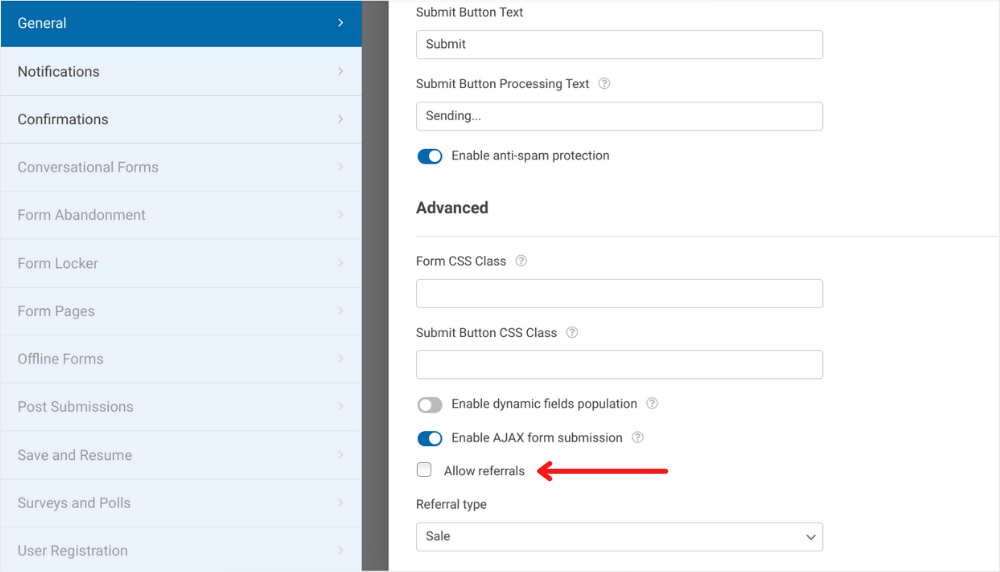 Go to the individual forms and in the General tab, you'll see two new options, Allow Referrals and Referral Type. This will allow you to turn affiliate tracking on and off depending on the form.
Your Affiliate Marketing Lead Generation is Set Up
Just like that, AffiliateWP will start tracking referrals from your lead generation forms.
Once you've built out your affiliate program landing page, affiliates can start signing up for your program and creating affiliate links. As soon as they make a referral, it will automatically log in the Referrals tab of your AffiliateWP dashboard, ready to be approved.
As soon as you click approve, your affiliates will receive payment through our integrated payout service.
Lead Generation is a Constant
Lead generation never ends!
You constantly need to fill your sales funnel with leads, and one of the best ways to do this is by enlisting the help of affiliates. The great thing about it is, you can do it with very few upfront costs, and with limited risk.
Creating an affiliate marketing lead generation program is easy, all that's left for you to do is scale it and turn it into an automated lead generation machine.