Best Affiliate Software for Restrict Content Pro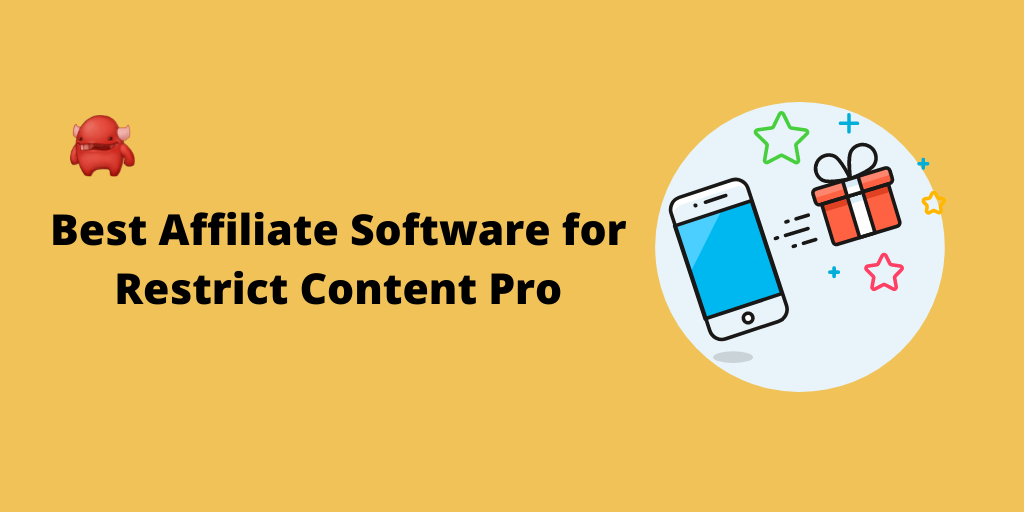 Are you missing out on a big source of revenue for your Restrict Content Pro membership website?
The best affiliate software for Restrict Content Pro can fix that by bringing your content to a new, highly engaged audience, and with AffiliateWP, it couldn't be easier to set up. Here's how you can set up an affiliate marketing program to get the most out of Restrict Content Pro.
What is Restrict Content Pro?
Restrict Content Pro is software that enables you to restrict access to specific content on your WordPress website. By restricting access to content to specific groups, it helps you build your membership site and leverage premium content.
As Restrict Content Pro is built for WordPress, it offers a quick, simple setup, allowing you to decide who has access to each individual piece of content. With built-in payment gateways, this makes it easy to sell premium content and build up your subscriptions.
Designed to grow membership and subscription sites
Control access to content with paywalls
Easily sell premium content
Set up in just a few clicks
Restrict content as you see fit
High-quality support
Membership websites are becoming more and more popular, and while there are different ways to run your program, Restrict Content Pro is certainly one of the most popular. Other options include MemberPress, Easy Digital Downloads, MemberMouse, and LifterLMS, but if you want to focus specifically on restricted content, then Restrict Content Pro is a great option.
Pricing:
Free: Get basic features for free
Personal: $99 per year
Plus: $149 per year
Professional: $249 per year
Why Choose Restrict Content Pro?
Restrict Content Pro is an excellent way to monetize your knowledge.
We're so used to having free access to tons of information through the internet that sometimes we forget how valuable it is. For websites that offer truly valuable knowledge, this is a great opportunity to create a new revenue stream.
Let's take a slightly cynical look at content marketing. A business gives you access to good information in the knowledge that most people are going to realize that really, they need the tools or expertise that business offers to get the job done well.
Restricted content acknowledges this fact from the beginning and says "look, we've got the content you need, and because it's valuable, we ask for a small monthly subscription."
This works because many people recognize the value of easy access to high-quality information.
Unfortunately, there's no easy way to restrict content directly through your WordPress site, but software like Restrict Content Pro is there to fill the gap.
Affiliate Marketing and Restrict Content
Where does affiliate marketing fit in with all of this?
Well, whenever we talk about online revenue streams, affiliate marketing should always be a consideration.
Yes, there are some tradeoffs, but the power of affiliate marketing is that it can quickly bring your product (in this case your membership program) to a huge audience. It's a simple process:
An authoritative publisher in your niche signs up to be your affiliate
They talk about how great your content is and suggest people check it out
People land on your restricted content where they can see a preview before being prompted to sign up
When someone signs up to your membership after being referred by the affiliate, the affiliate receives a commission.
One reason why affiliate marketing can be extra important for websites that use restricted content is that you might have limited free content on your site. Now that you're focusing on premium content, it might be more difficult to build those initial relationships with your target audience.
This makes affiliate marketing an ideal solution because it allows you to piggyback off the audiences of other successful publishers.
The way to do this is with AffiliateWP: the best affiliate software for Restrict Content Pro.
AffiliateWP: The Best Affiliate Software for Restrict Content Pro
Not only is affiliate marketing a great way for your membership site to grow its sales, but it also helps build authority. Think of all those backlinks coming to your from authoritative websites!
Of course, here you're thinking, "that's great, but I'm busy maintaining a website and growing my membership program, I don't have time for an affiliate program as well."
Not to worry!
With the best affiliate software for Restrict Content Pro, it couldn't be easier to set up an affiliate program, and we're going to show you how to do it in just six steps.
When you use AffiliateWP, your program can run on autopilot, tracking referrals and paying out affiliate commissions with minimal input. It connects with Restrict Content Pro in a couple of clicks and gives you every tool you need to grow an irresistible affiliate program.
Easy setup wizard
Complete integration with popular WordPress plugins
Unlimited affiliates
Unlimited creatives
Powerful affiliate area
Easy affiliate registration
Customizable commission structures
Integrated payouts service
World-class support
Essentially, it takes care of all the small details so you can focus on growing your affiliate program and selling more memberships (and that's a great reason to say we're the best affiliate software for Restrict Content Pro).
Pricing:
Personal: From $149.50/ year
Plus: From $199.50/ year
Proffesional: From $299.50/ year
Setting Up AffiliateWP for Restrict Content Pro
Another reason why AffiliateWP might be the best affiliate software for Restrict Content Pro is that its built-in integration makes it so easy to set up. In just six simple steps, your program can be up and running, tracking referrals.
Step One: Choose the Right AffiliateWP Plan
Head over to our pricing page and take a look at the different plans. There are different options to suit different needs, but the main difference between the plans is the pro-add-ons.
If your website uses monthly memberships or subscriptions, then you'll probably want access to the recurring referrals pro-add-on, so that your affiliates can get paid each time a member renews their subscription.
With all our pro-add-ons included in the professional plan, it's the premier solution for smart business owners looking to expand their revenue streams.
Step Two: Download and Install AffiliateWP
Once you've completed your purchase you'll find a confirmation email in your inbox which contains some important information.
Open the email and click on the download link to download the AffiliateWP.zip file.
Now open up your WordPress dashboard and hover over Plugins in the left-hand sidebar before clicking Add New. On the next page, click Upload Plugin and choose the AffiliateWP.zip file you just downloaded before clicking Open.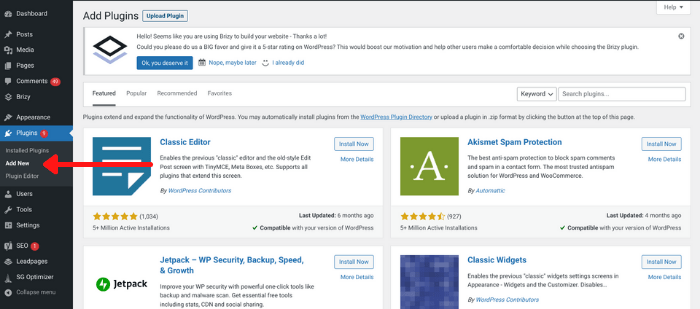 Click Install Now and once the file has downloaded, select Activate Plugin.
You're ready to set up your new affiliate program!
Step Three: Add Your License Key
The other piece of important information enclosed in your confirmation email is your license key. Copy this from the email and head back to your WordPress dashboard.
Hover over Affiliates in the left-hand sidebar, and click Settings.
Near the top of the page, you'll see a box titled License Key. Paste your key into the box and hit Activate License.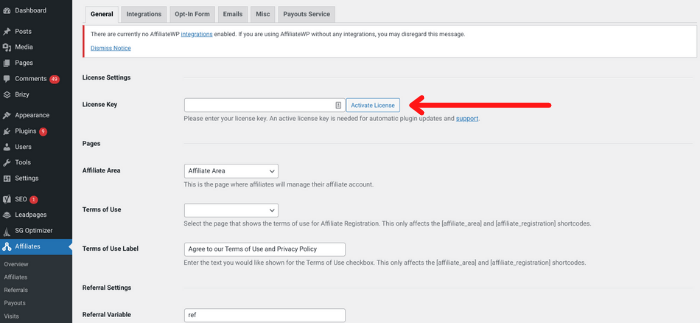 Your plan has now been activated and linked to your account.
Step Four: Edit Your AffiliateWP Settings
This is a good time to take a look at your AffiliateWP settings and edit a few details.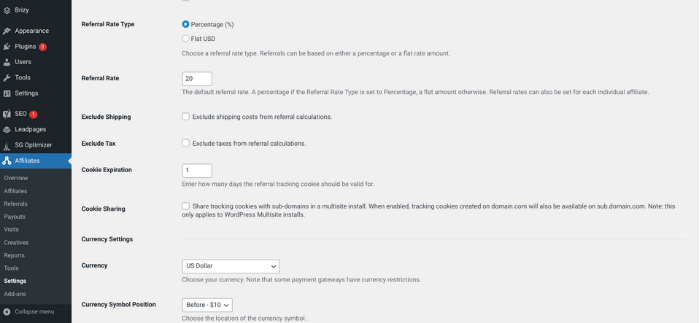 One element you'll want to decide on is your commission structure, which you can find in the General tab of your AffiliateWP settings. Here you'll find lots of different options, allowing you to customize your affiliate program as you see fit.
Step Five: Connect AffiliateWP to Restrict Content Pro
Connecting AffiliateWP to Restrict Content Pro couldn't be easier. Simply go to the Integrations tab in your AffiliateWP settings, and check the box next to Restrict Content Pro before clicking Save Changes.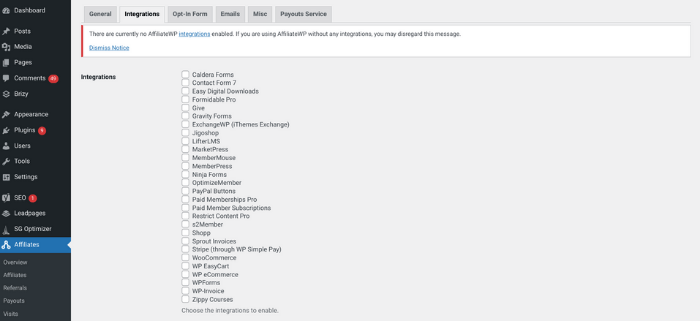 Just like that, you've connected the two accounts and you're ready to start tracking referrals for your memberships.
Step Six: Set Subscription-Specific Referral Rates
Once you've connected AffiliateWP to Restrict Content Pro, it will automatically start tracking referrals. These will be paid out at the global referral rate you set in your AffiliateWP settings, but you can also set different referral rates for specific subscriptions.
Go to the individual subscription you want to edit in Restrict Content Pro. You'll now see options to edit the affiliate rate and diable referrals.

This means you can pay affiliates different amounts for each membership tier. For example, you might have gold, silver, and bronze memberships and want to offer a greater reward for gold membership sales.
If you have the recurring referrals add-on, then you'll also be able to edit that on an individual subscription basis, and set up affiliate coupons (check out our Restrict Content Pro documentation for more information).
Sell More with Restrict Content Pro
If you're looking for more ways to grow your membership website, then AffiliateWP, the best affiliate software for Restrict Content Pro is an excellent option.
The big advantage with AffiliateWP is that it's incredibly easy to integrate with Restrict Content Pro and get your affiliate program set up. This allows you to start signing up affiliates and growing your membership website the very same day.
Being able to reach a new, targeted audience with your content can give your membership program new impetus, and that's exactly what you can do with AffiliateWP for Restrict Content Pro.