Looking to start an affiliate marketing program that seamlessly syncs with Stripe payments?
If you've been furiously searching Stripe for ways to track affiliate transactions, then you probably know there isn't an in-built way to do so. Don't worry though, there's plenty of affiliate software for Stripe, and we'll talk you through the 10 best options.
Here's the best affiliate software to harness the power of Stripe.
How Do Stripe and Affiliate Marketing Work Together?

Stripe plays an important role in many affiliate marketing programs because it's one of the most widely used payment methods on the internet. Over three million active websites use Stripe to take payments, making it a leading competitor to other well-known payment software, such as PayPal, Square Payments, Venmo for Business, and Shift4.
One of the reasons Stripe has become so popular (in 2018, it processed just under $100 billion in payments, whereas it reached well over $300 billion in 2020) is because it's built with developers in mind, and has a host of powerful integrations.
This is important for websites with affiliate marketing programs because they need to keep a close eye on what payments are coming in. It's even more important when your product involves recurring payments (think monthly subscriptions to software, membership programs, and even insurance).
Recurring payments make affiliate marketing programs a little bit more tricky, as there are more transactions to keep track of. When an affiliate signs up a new customer to a monthly subscription, they're likely to receive a commission for each monthly payment the customer makes. If you don't have the right systems in place to track these payments, then it's going to be such a hassle that you wonder whether your affiliate marketing program is worth it after all.
At present, Stripe doesn't offer a way of doing this, but it does connect with third-party applications that can enable you to create a thriving (and streamlined) affiliate program.
The 10 Best Affiliate Software Options for Stripe
Affiliate programs can bring lots of benefits to your marketing, but if they're not well organized, then they can bring more headaches than they're worth. The last thing you want is to be going through each transaction manually because it's going to take up your time and lead to errors.
Here are the 10 best affiliate software options that allow you to make the most of Stripe's excellent payment gateway.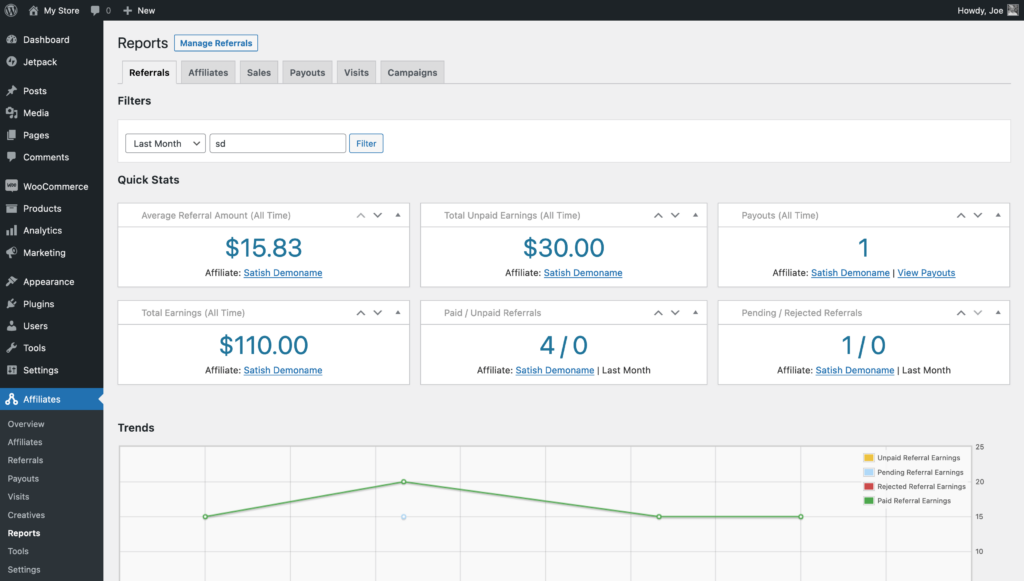 Key Features:
Easy Setup: get your program up and running in minutes
Integrated Payouts
Clean, Simple-To-Use Dashboard
World-class Support
OK, so call us a little biased, but when it comes to running an affiliate marketing program on a WordPress website, AffiliateWP is one of the best options out there.
43% of the web is built on WordPress and many of those websites use the WooCommerce plugin to add selling capabilities, so AffiliateWP is a purpose-built product for a huge number of sellers.
There are many affiliate marketing plugins to look at, but few, if any have been designed to sync specifically with WordPress like AffiliateWP. It's a seamless integration that connects with all the best-loved WordPress plugins (WooCommerce, Easy Digital Downloads, Restrict Content Pro, WP Forms, WP Simple Pay) to make your affiliate program simple and easy to run.
Through its WP Simple Pay integration, it allows you to track your Stripe transactions, automatically assigning commissions to the right affiliates. A big bonus with AffiliateWP is that rather than paying your affiliates through Stripe, you can pay directly to their bank accounts and ensure they don't pay Stripe's fees on their payouts.
AffiliateWP goes far beyond simple affiliate software for Stripe, allowing you to maximize the benefits of the payment gateway without limiting the scope of your program (here's a handy starter guide for you).
See all of AffiliateWP's features!
Pricing:
Personal: $149.50/ year
Plus: $199.50/ year
Professional: $299.50/ year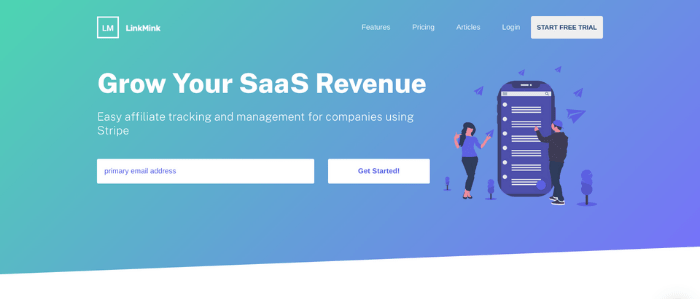 Key Features:
Reliable Tracking
Simple Interface
Integrated Payouts
Segmented Affiliate Groups
LinkMink is very much focused on Stripe affiliate marketing, plugging directly into your Stripe account to manage your affiliate payments.
This is handy for stores that rely heavily on Stripe as opposed to Shopify, WooCommerce, or other e-commerce applications, but it means you don't have quite the same level of customization as with software like Affiliate WP.
Pricing:
Starter: $39/ month
Growth: $65/ month
Business: $125/ month
Enterprise: Inquire for pricing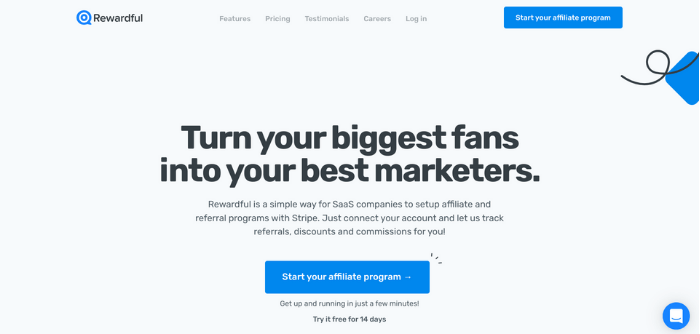 Key Features:
Easy Integration
Free Migration
Live Customer Support
SEO Friendly Links
Rewardful affiliate software for Stripe is another option that helps you immediately streamline your affiliate program. It seamlessly integrates with your Stripe account, making it easy for you to decide on a commission structure, and create SEO-friendly links for your affiliates to use.
It has a range of different features all of which can be accessed from your customizable, on-brand dashboard. While Rewardful is primarily focused on Stripe, it also allows you to make payments through PayPal and Wise.
Pricing:
Performance: $29/ month (+ 9% transaction fee)
Starter: $49/ month
Growth: $99/ month
Enterprise: $299/ month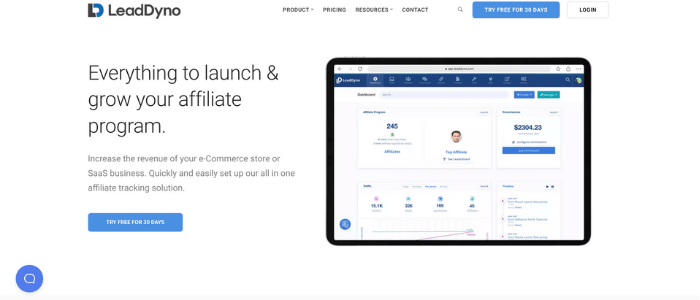 Key Features:
Wide Range of Integrations
Customizable Affiliate Portals
Automated Marketing
Flexible Affiliate Payments
Like AffiliateWP, LeadDyno offers a wide range of integrations, making it a powerful tool for your Stripe affiliate marketing. Whereas AffiliateWP has been built purely for WordPress stores, LeadDyno offers simple plugins for other major platforms like Shopify, HubSpot, Wix, and BigCommerce.
If you run your store on any of these platforms, then this powerful affiliate tracking software can add a lot to your program.
Pricing:
Starter: $49/ month
Biz Builder: $59/ month
Accelerator: $79/ month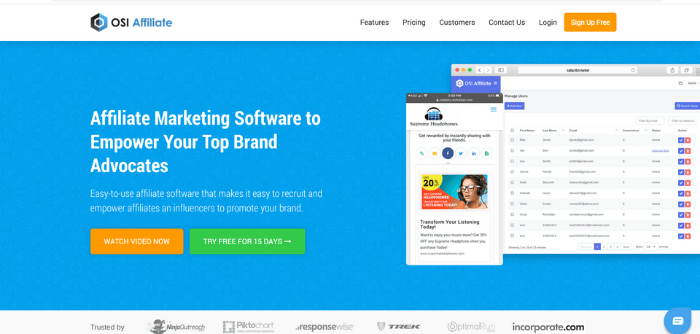 Key Features:
Social Media Sharing
Influencer Directory
Setup Wizard
Promo Code Tracking
OSI Affiliate is more focused on turning your customers into loyal brand advocates who promote your products. This allows your customers to promote your business through social media and get paid for their referrals.
As with most of the affiliate software for Stripe, it has a number of different integrations including PayPal, Shopify, WooCommerce, Wix, and Squarespace.
Pricing:
Basic: $47/ month
Professional: $97/ month
Tapfiliate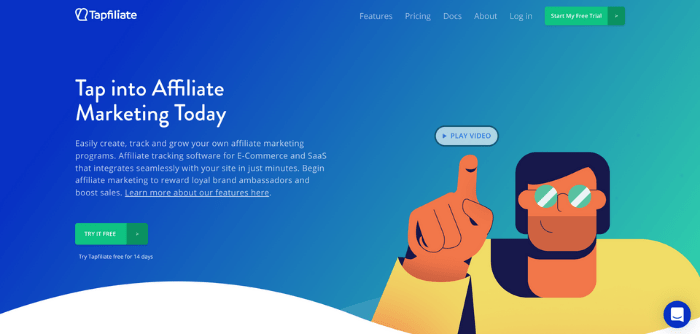 Key Features:
Easy Affiliate Onboarding
Shareable Social Media Posts
Branded Dashboards
37 Integrations
Tapfiliate allows you to run your affiliate marketing program through a host of different platforms and payment providers. Connect directly to your Stripe account, or through Shopify, WooCommerce, Wix, Squarespace, and other e-commerce platforms.
With email and social media automation, it gives your affiliates the tools they need to make sales and helps you effortlessly keep track of commissions.
Pricing:
Essential: $89/ month
Pro: $149/ month
Enterprise: Inquire for pricing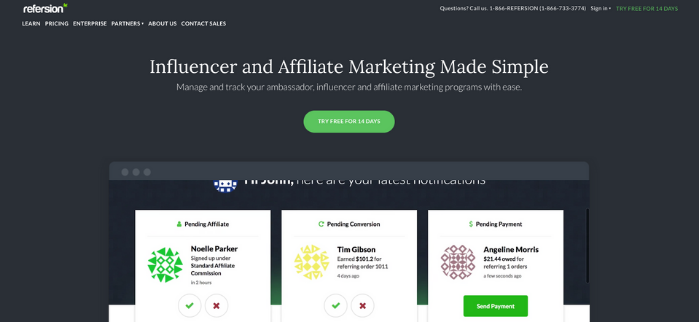 Key Features:
Integrate in Minutes
Unlimited Commission Structures
Schedule Detailed Reports
Turn Customers into Affiliates
Refersion aims to get your affiliate program set up in six minutes or less, allowing you to quickly expand your marketing. It's a very customizable platform helping you set key performance indicators and keep track of them through detailed reports.
While the pro package is limited to 130 tracked conversions per month, the enterprise and enterprise plus packages are both unlimited and feature a great performance-based pricing option.
Pricing:
Professional: $89/ month
Enterprise: Inquire for pricing
Enterprise Plus: Inquire for pricing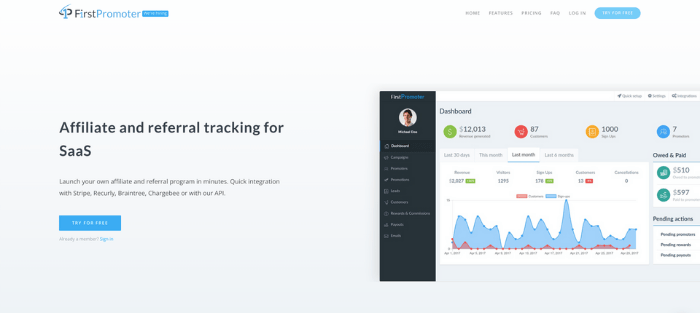 Key Features:
Two-Sided Rewards: reward your promoters and their friends who become customers
One-Click Payouts
Built for Subscriptions
Easy Setup
FirstPromoter is specifically targeted at subscription-based affiliate programs and SaaS companies in particular. Its easy integration makes it easy to set up your Stripe affiliate marketing, enabling it to track recurring and one-time charges, upgrades, cancellations, and refunds.
With one-click automated Paypal payouts and the option to pay into your affiliates' Wise accounts, it's a flexible option for SaaS businesses and stores that sell subscription-based products.
Pricing:
Starter: $49/ month
Business: $99/ month
Enterprise: $149/ month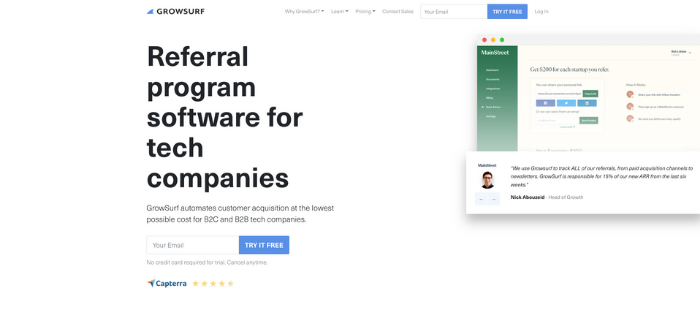 Key Features:
Lots of Useful Integrations
Automatic Link Generator
Automated Reward Fulfillment
Fully Whitelabeled
GrowSurf is largely aimed at turning your customers into your most powerful salespeople. It allows you to offer rewards to customers who refer any new clients, helping you to grow your business.
It offers two options: a done-for-you solution, where their developers set up a bespoke program for you, or self-service software which gives you an off-the-shelf solution. A nice thing about GrowSurf is that it's very industry-specific, offering tailored advice for B2B SaaS, B2C subscriptions, financial services, online education, and online insurance.
Pricing:
Startup: $200/ month
Business: $400/ month
Elite: $600/ month
Done-For-You: Inquire for pricing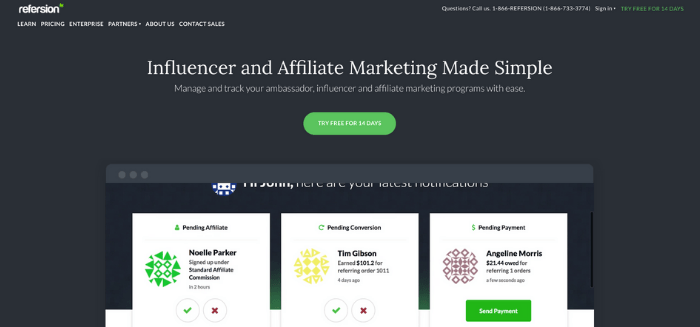 Key Features:
Easy integration with Stripe
All-In-One Managing Tools
Loyalty Cards
Built-In Surveys
Btwn is similar to GrowSurf, in that it focuses more on customer referrals as opposed to Stripe affiliate marketing, but it's worth mentioning.
It uses a simple process where the customer downloads the btwn app and links their card before making a purchase. Once they've made a purchase, they receive a code they can use to refer a friend. The more their friend shops, the more the referrer earns in cashback.
This is a different approach to an affiliate marketing program, but it's one that can be useful in B2C retail and it links nicely with Stripe.
Pricing:
Standard 10% fee on all sales from referrals
Choosing the Right Affiliate Software That Works with Stripe

Many of the top affiliate marketing software have free integrations with Stripe. This allows you to make use of the payment provider's powerful features without compromising your affiliate program.
With so many affiliate software for Stripe, the big question is, how do you choose the right one for your business?
1. Consider the Platform Your Website Runs On
The better your affiliate marketing software syncs with your website, the better it's going to be for everyone. One of the reasons AffiliateWP is so popular is because it's been specifically designed to get the most out of WordPress and WooCommerce.
2. Think About Convenience
It's all well and good having thousands of people promote your products for you, but if you've got to process all of these affiliates manually, then an affiliate program can be more trouble than it's worth. More automation is going to make your life much easier.
3. Give Your Affiliates What They Need to Succeed
If you give your affiliates a bare-bones platform, then it's going to make it hard for them to make sales. The better your affiliates do, the better you do, so make sure they have the specific tools they need and that you're building strong affiliate relationships.
4. Understand Your Sales Funnel
How can the affiliate marketing softwares' features help streamline your processes and boost your conversion rate for referrals?
5. Consider Limits on the Total Number of Affiliates and Sales
Different software and different pricing options will have different limitations in terms of total number of affiliates and sales. AffiliateWP likes to make things simple by not putting limits on affiliates, referrals, or affiliate payouts.
6. Adjustable Commissions
Commissions are how you incentivize your affiliates, so it's important you have control over your policies. If you can't adjust commissions, then it limits your options.
7. Security and Fraud
You want to create a fair affiliate program that rewards your affiliates for their hard work. As with everything on the internet, there's the potential for affiliate programs to be misused, so it's important that your software prioritizes security so you and your affiliates aren't left out of pocket.
Affiliate Software with Stripe: Frequently Asked Questions
Does Stripe allow affiliate programs? Stripe doesn't have built-in capabilities to track affiliate links, however, there are a number of third-party providers that do. Plugins like AffiliateWP sync with your Stripe account to track transactions and automate payments to your affiliates.
How can you track Stripe payments so that your affiliates get paid accurately? The best way to track affiliate transactions through Stripe and pay affiliates is with affiliate software for Stripe. This will help you track one-off and monthly purchases, automating payments to affiliates.
Does Stripe have a referral program? Stipe doesn't directly offer an affiliate program for sellers, instead, the best option is to use a third-party program to track your Stripe transactions and pay affiliates.
What is the best affiliate software? The best affiliate software addresses your specific needs. For example, if your website is built on WordPress, you would want a solution like AffiliateWP that seamlessly integrates with all the WordPress plugins you use to run your business.
Conclusion: The Best Affiliate Software to Use with Stripe Payments

Because Stripe is such a popular payment gateway, it's natural that all the major affiliate marketing software provide seamless integrations with it. This means you've got lots of options to choose from when it comes to building your affiliate program around Stripe.
The key is finding a solution that is tailored to the needs of your business. There's lots of software, each with its own features and pricing, but it all depends on exactly what your program needs.
For websites built on WordPress, AffiliateWP is a leading option because it's been specifically designed with WordPress in mind (and no other platform). All of its integrations are designed to harness the power of WordPress's most popular plugins, and of course, Stripe!
This makes it easier to set up your affiliate program and effortlessly manage it to keep your affiliates motivated, and the sales coming in.