5 Proven Ways to Stop Form Spam in WordPress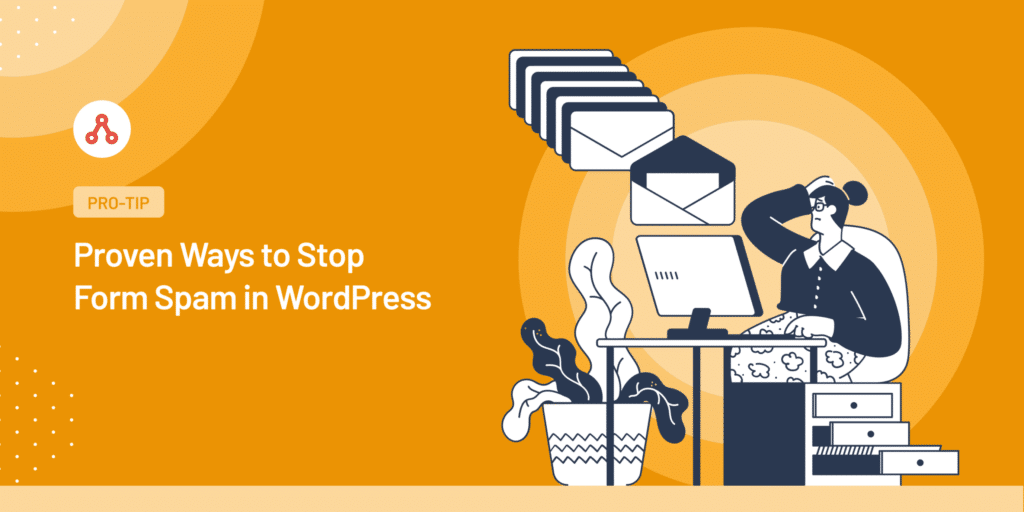 Want to know how you can prevent form spam?
Spam can be a major headache for website owners, and contact forms are often a prime target for spammers. But, using the ways listed in this article, can help you combat form spam with ease.
Let's find out how you can stop form spam on WordPress.
The Importance of Blocking Contact Form Spam in WordPress
Ensuring the smooth functioning of your WordPress forms, including your contact form or affiliate registration form, is crucial for the growth of your business
It's essential to take active measures to prevent form spam in WordPress.
Let's look at some of the reasons why it is necessary to stop form spamming.
Protecting Website's Reputation: Visitors may be discouraged from engaging with your site if they encounter spammy content or see that your forms are vulnerable to spam attacks.
Site Performance: Spam submissions can consume valuable server resources, slow your website, and affect overall performance. Preventing spam submissions can reduce the load on your server.
Save Time and Effort: Manually filtering through spam submissions can be a time-consuming task. By implementing effective anti-spam measures, you can focus on responding to legitimate inquiries.
Prevent Security Vulnerabilities: Blocking form spam helps to minimize the risk of hackers gaining unauthorized access to your site or sensitive data.
Now you know why blocking contact form spam in WordPress is crucial for maintaining a secure, efficient, and user-friendly website.
Alright, let's begin with the ways to stop form spam on WordPress.
5 Ways to Stop Form Spam on WordPress
Form spam can be a significant hurdle for your affiliate program or your WordPress website.
Fortunately, with these easy ways mentioned below, you can easily block spam on your WordPress site and keep your affiliate registration form running smoothly.
Let's take a look at how you can block spam in your forms in WordPress:
1. Use the WPForms Anti-Spam Token
WPForms offers an anti-spam token, a highly effective method to prevent contact form spam without requiring CAPTCHA.
The anti-spam token works behind the scenes by adding a unique secret token to each submission, which spambots cannot detect.
As a result, your form remains protected against spambots, ensuring a seamless user experience for genuine affiliates.
To enable the WPForms anti-spam function, open your WordPress dashboard and navigate to the form you want to enable the anti-spam function for.
Click Edit to open the form builder.
Once the form builder is open, go to Settings and then click on Spam Protection and Security.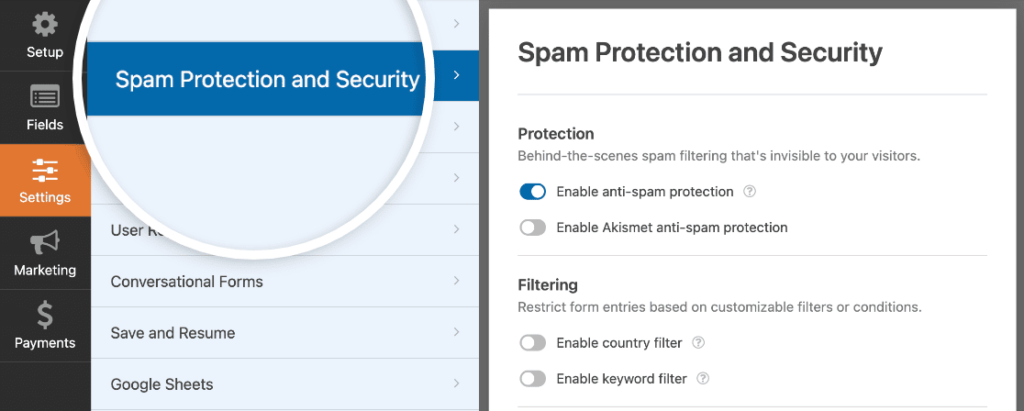 On the right-hand side, you'll see an option called Enable anti-spam protection. Toggle it on.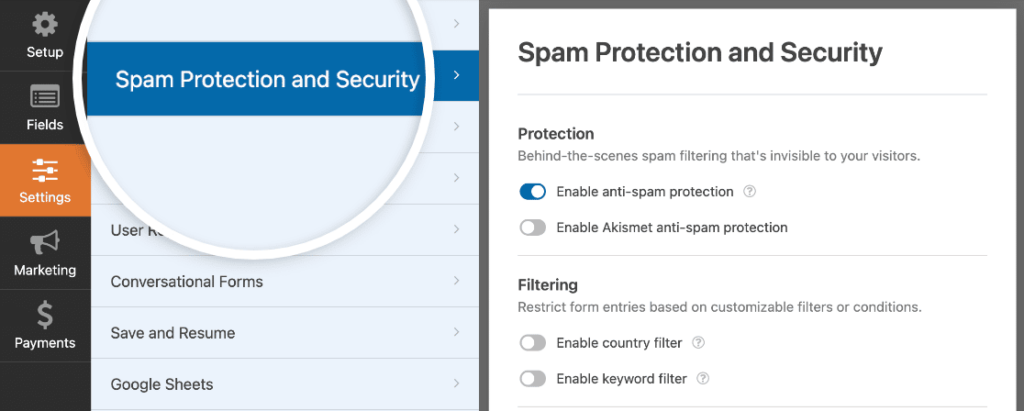 Click Save to save your changes.
That's it! Your WordPress contact form is now protected against spambots.
2. Connect Akismet Anti-Spam Plugin to WPForms
Akismet is a popular anti-spam plugin capable of identifying suspicious form submissions and blocking them automatically.
If you have Akismet set up on your WordPress site, integrating it with WPForms is a breeze.
Simply open the form you want to filter spam for, go to Settings » General, and toggle on the Enable Akismet anti-spam protection option.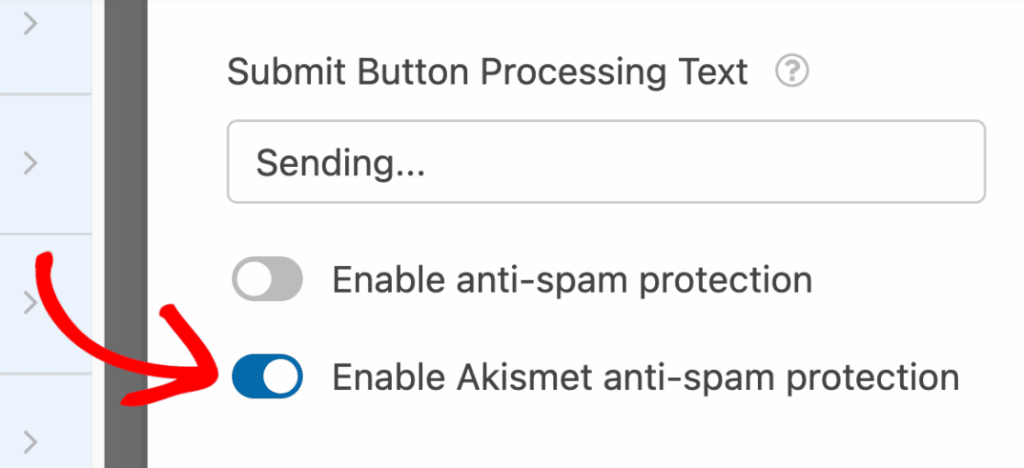 3. Setup reCAPTCHA on AffiliateWP
As an affiliate manager, you can enable reCAPTCHA to protect your affiliate forms from spam by following these steps.
Google reCAPTCHA is a widely used tool that helps detect human visitors and prevents spam form submissions by bots. It is an effective way to ensure that the users filling out your forms are human, not spam bots.
There are three types of Google reCAPTCHA that you can use:
Checkbox reCAPTCHA v2 – Visitors hover their mouse over a checkbox to submit the form. The challenge usually displays the words "I am not a robot" next to it.
Invisible reCAPTCHA v2 – There is no checkbox displayed. Instead, the reCAPTCHA service detects user activity to determine if the visitor is human.
reCAPTCHA v3 – This is an advanced CAPTCHA that uses JavaScript to detect human visitors. It is ideal for AMP pages, but may occasionally prevent genuine visitors from submitting your forms.
To enable Google reCAPTCHA on AffiliateWP, follow these simple steps:
Log into your WordPress site and navigate to AffiliateWP » Settings » Misc. Make sure the Enable reCAPTCHA setting is checked.

Register your site with Google reCAPTCHA by selecting the reCAPTCHA type you'd like to use.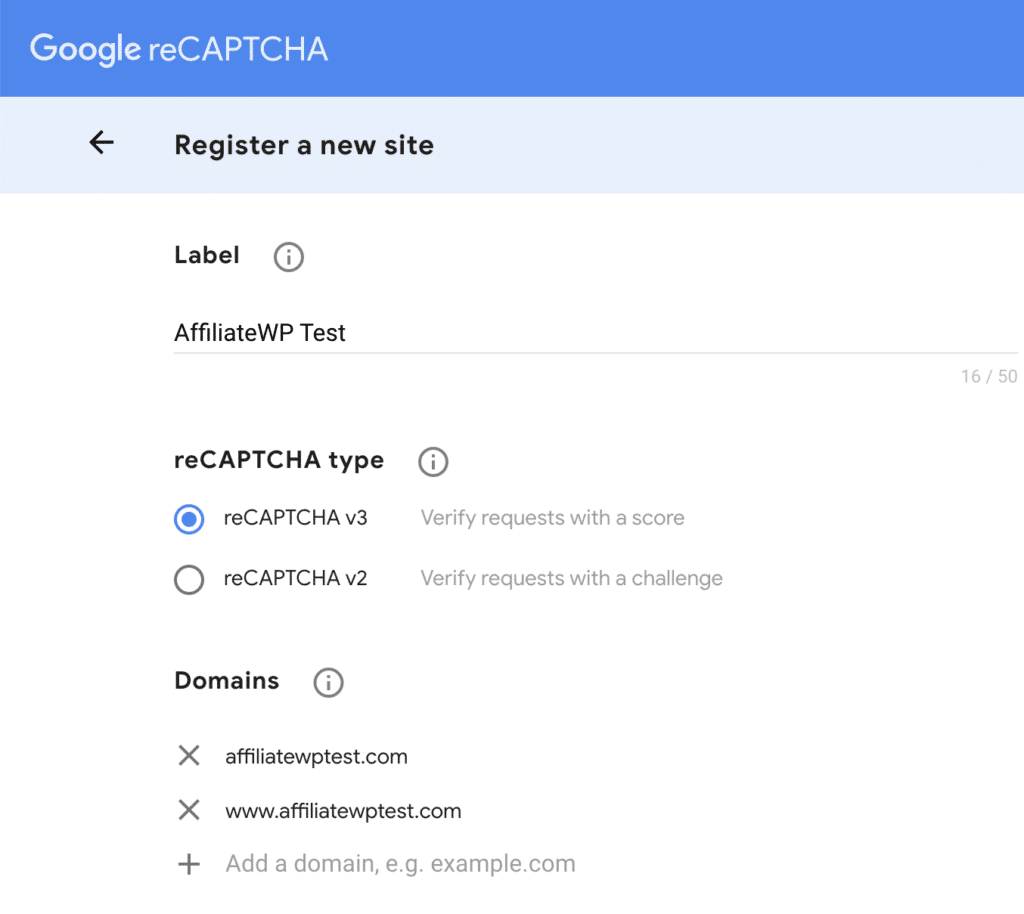 Note: If in any case your website can be accessed with or without the "www" prefix, ensure both domains are added to the list, e.g.:
www.affiliatewptest.com
affiliatewptest.com
Complete the registration form and click the Submit button.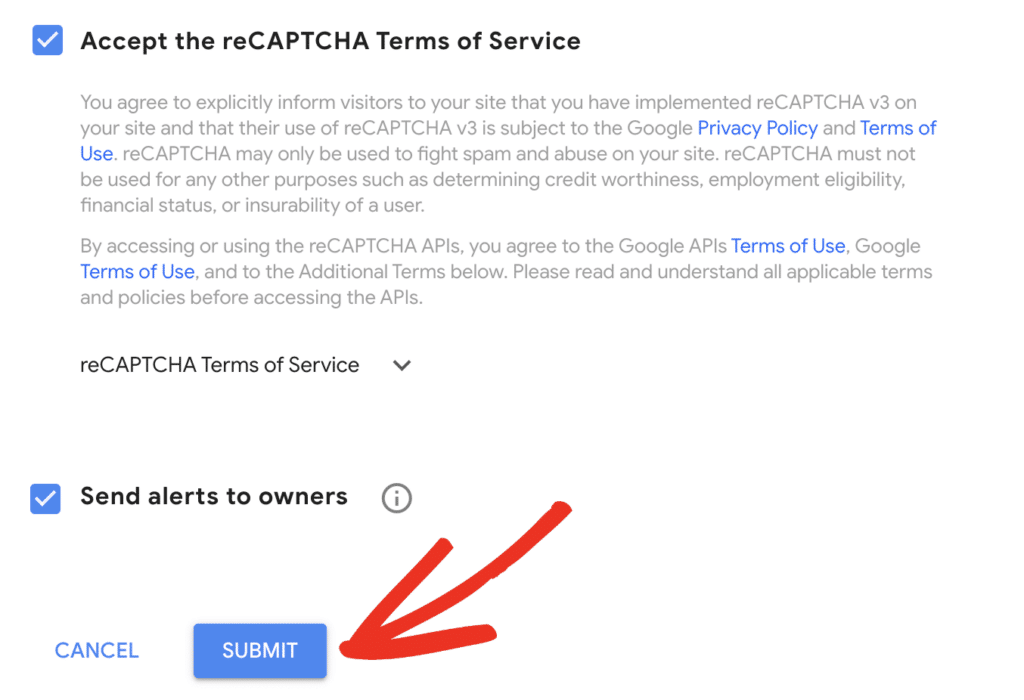 You will be redirected to a page where you can obtain the necessary Site Key and Secret Key.

Copy the Site Key and Secret Key. Switch back to your WordPress site and paste these keys into their respective fields located at AffiliateWP » Settings » Misc.

Note: The reCAPTCHA Score Threshold option will only appear if you choose reCAPTCHA v3. If the Default Score Threshold setting is not reducing spam effectively, you can increase the threshold setting to be more stringent.

Click Save Changes button at the bottom of the page to store your setting changes.
Now, it's time to perform a quick test to ensure reCAPTCHA appears and functions as expected.
Submit an entry to your form and check for a successful registration. You should see the reCAPTCHA box above the Register button for reCAPTCHA v2.

For reCAPTCHA v3, view the registration page on your site and look for the badge in the lower right corner.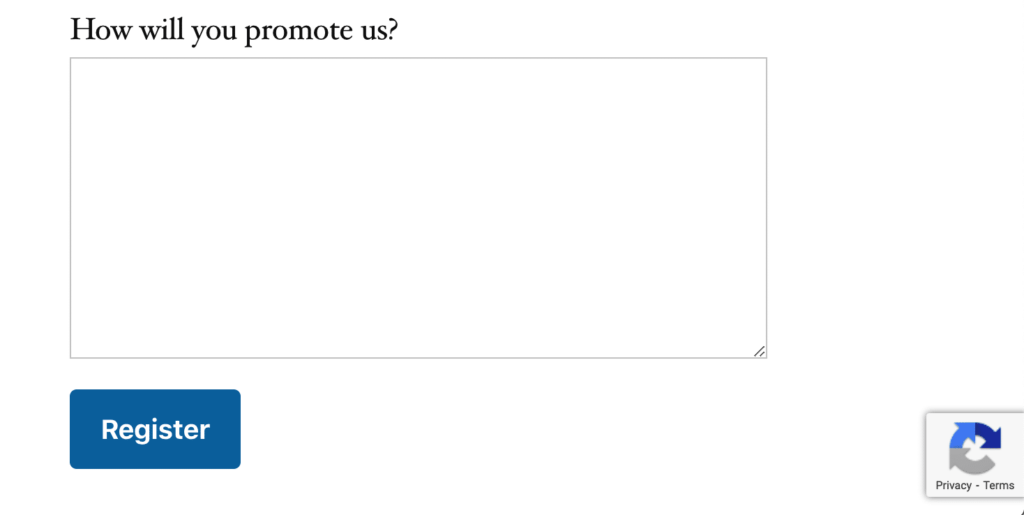 If the badge is visible, your reCAPTCHA v3 setup is complete.
If you notice that reCAPTCHA is too strict or not strict enough, revisit the reCAPTCHA Score Threshold option (for reCAPTCHA v3) or adjust the reCAPTCHA type (for reCAPTCHA v2) under AffiliateWP » Settings » Misc.
Tweak the settings to find the right balance between user experience and spam prevention and remember to click the Save Changes button after making any adjustments.
Periodically review your affiliate registration data to ensure that reCAPTCHA is effectively reducing spam submissions while not hindering legitimate registrations.
By following these steps, you can successfully set up and optimize reCAPTCHA on your AffiliateWP site to create a secure and efficient registration process.
4. Use WPForms Custom CAPTCHA Addon to Fight Form Spam
If you're still receiving spam form submissions even after enabling reCAPTCHA, you can use the WPForms Custom CAPTCHA addon to create your own challenge.
This method allows you to set up custom questions or use random math puzzles as a CAPTCHA to fight spam form submissions.
Here's how you can set it up:
To add a custom CAPTCHA field, open your form in the form builder and scroll down to the Fancy Fields section.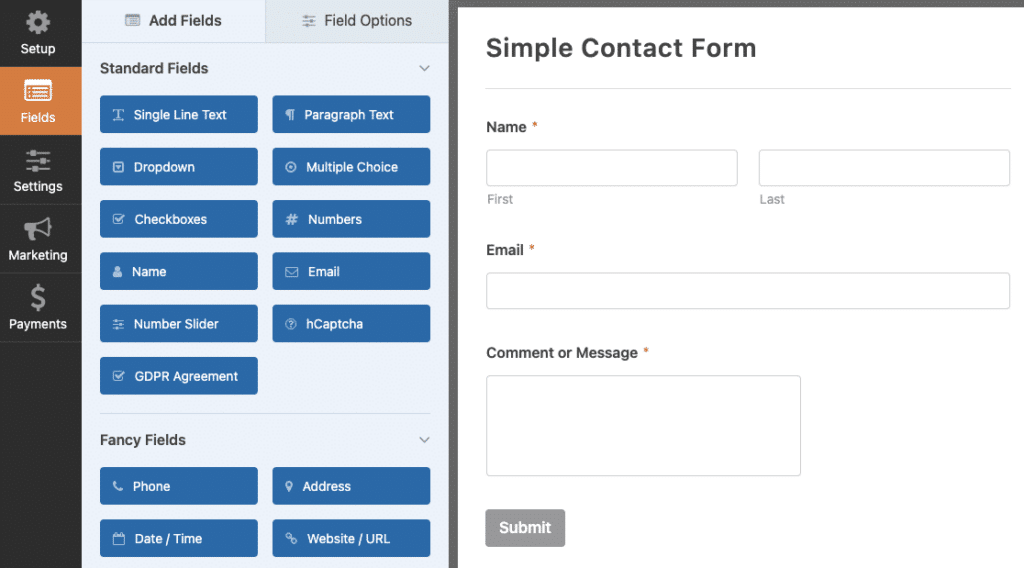 If you haven't used Custom CAPTCHA before, you'll notice that the field is grayed out.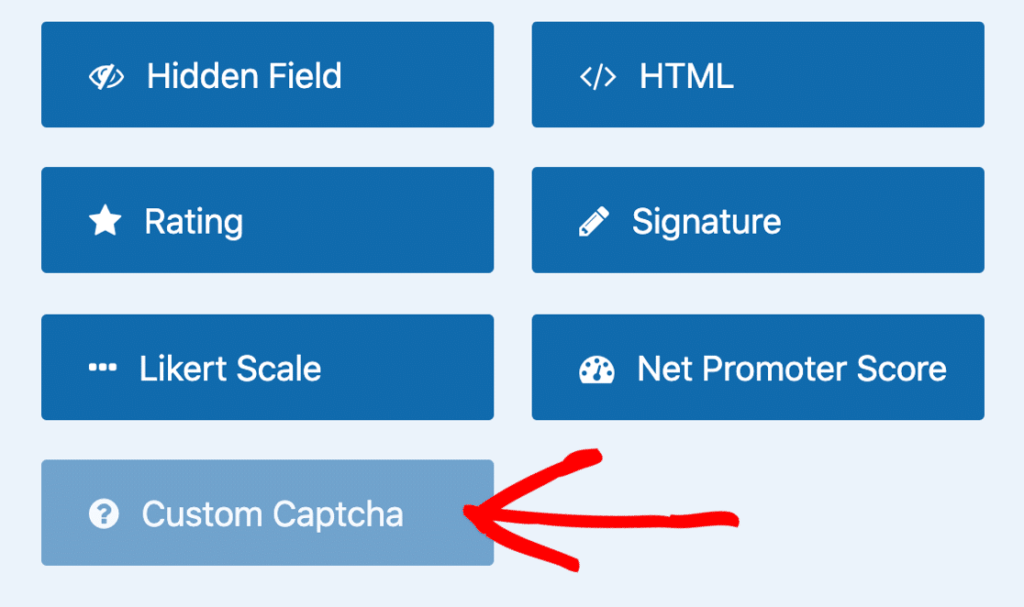 Click on the Custom CAPTCHA button to install and activate the addon.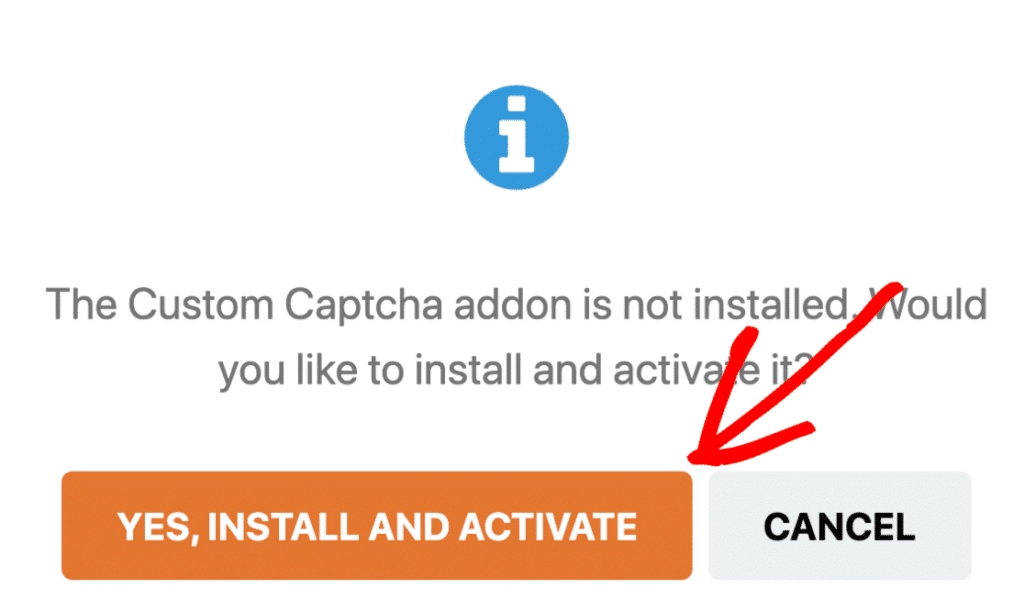 After the installation is complete, save and refresh your form.
Drag the Custom CAPTCHA field from the left panel to the right panel to add it to your form once the Custom CAPTCHA addon is turned on.
Before a visitor can send in their form on your site, the form field will automatically show them a random math question.
If you'd like to customize the questions, you can change the math CAPTCHA or switch to using a custom question and answer.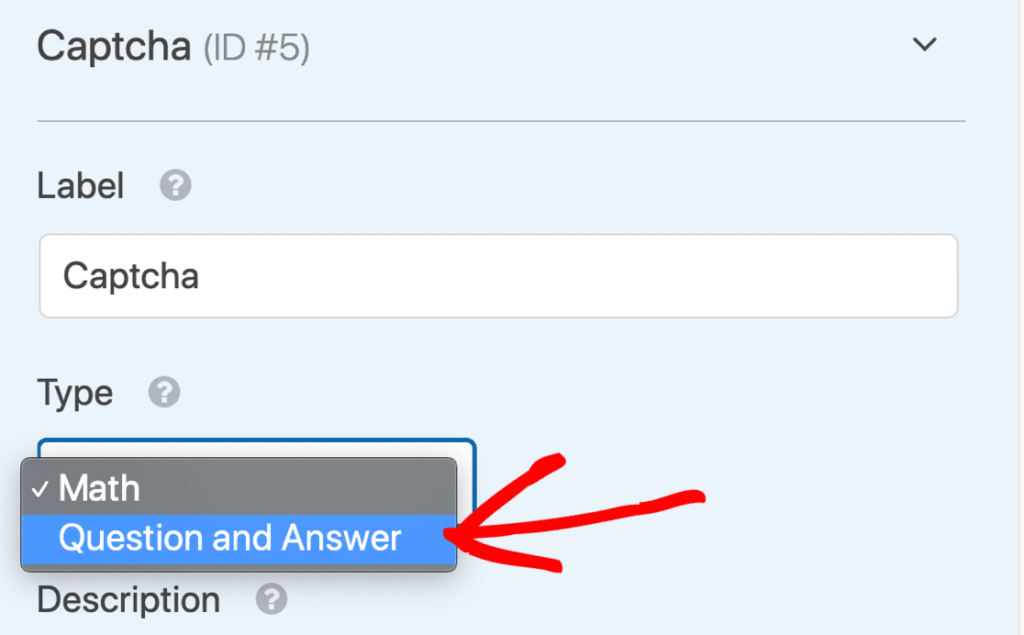 In the Field Options section, you can change the question and answer that site visitors have to type out a response to in order to submit their form on your site.
You can also display random questions and answers every time your page loads or refreshes by clicking on the (+) button to add another question and answer.
When you are done making changes to your custom CAPTCHA, click Save.
5. Blocking Profanity in WPForms
WPForms offers a keyword filtering tool that can help block profanity and other unwanted content from form submissions.
If you're receiving spam submissions from human visitors, you may find it challenging to block them as they are a slightly different type of spam that CAPTCHAs typically can't block.
Here's how to use the keyword filter tool built into WPForms:
Toggle on the Enable keyword Filter button.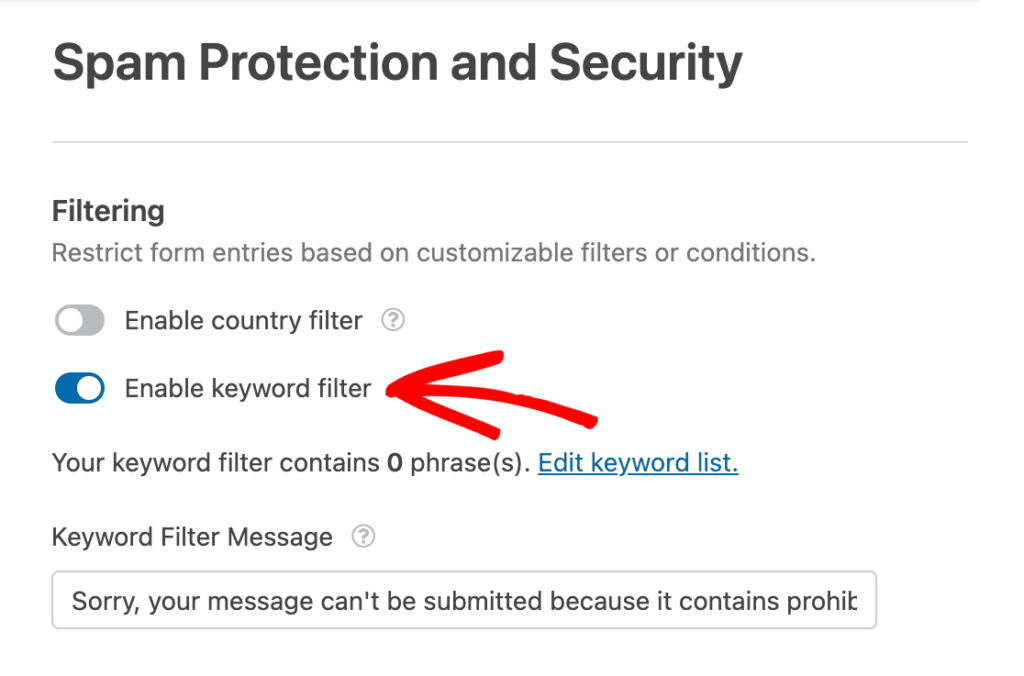 Enter a list of keywords that you want to be blocked from submissions.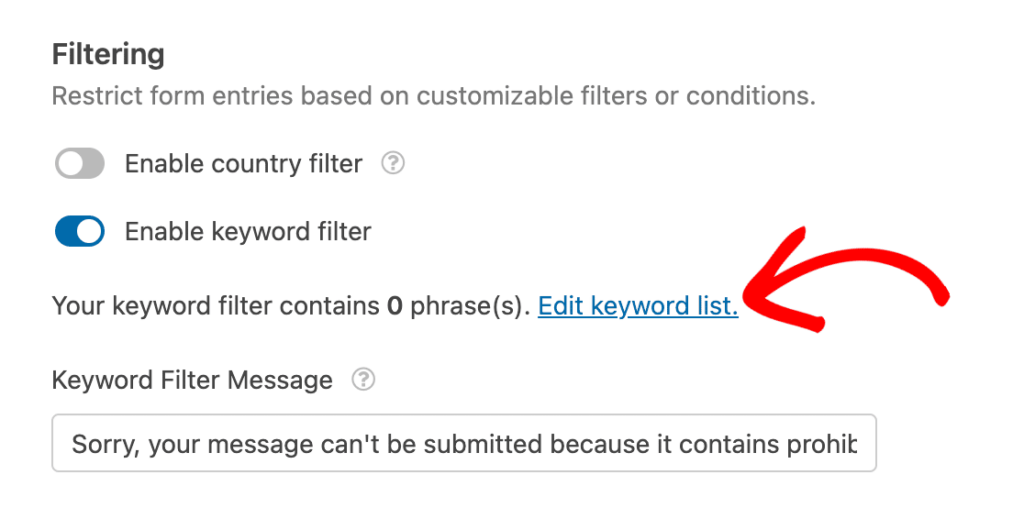 When you toggle on the Enable keyword Filter button, you can enter a list of keywords that you want to be blocked from submissions.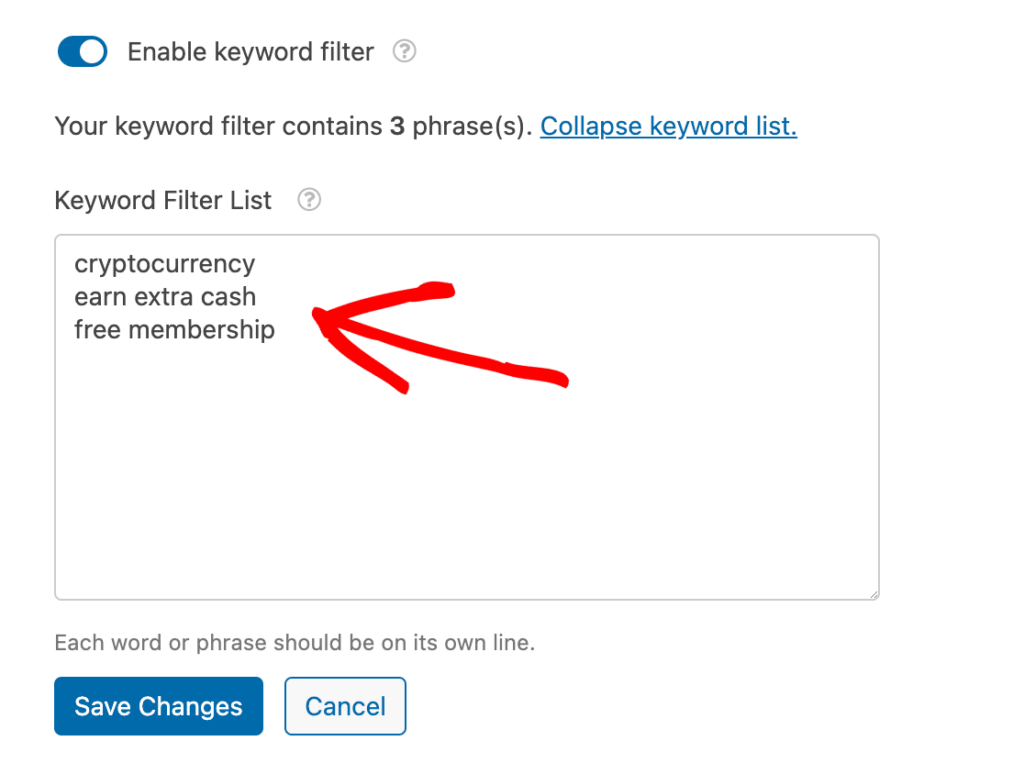 WPForms will automatically check for these keywords and block any submission containing them.
It's essential to use this option with care since it'll block all submissions containing the words you add to the snippet.
You'll want to be very specific to avoid blocking legitimate messages. Make sure you think carefully about the keywords you want to block to prevent blocking any necessary submissions.
After adding all your keywords in the Keyword Filter box, click Save Changes.
Now, if a user fills out your form and includes one of the prohibited words, they will receive an error message, "Sorry, your message can't be submitted because it contains prohibited words."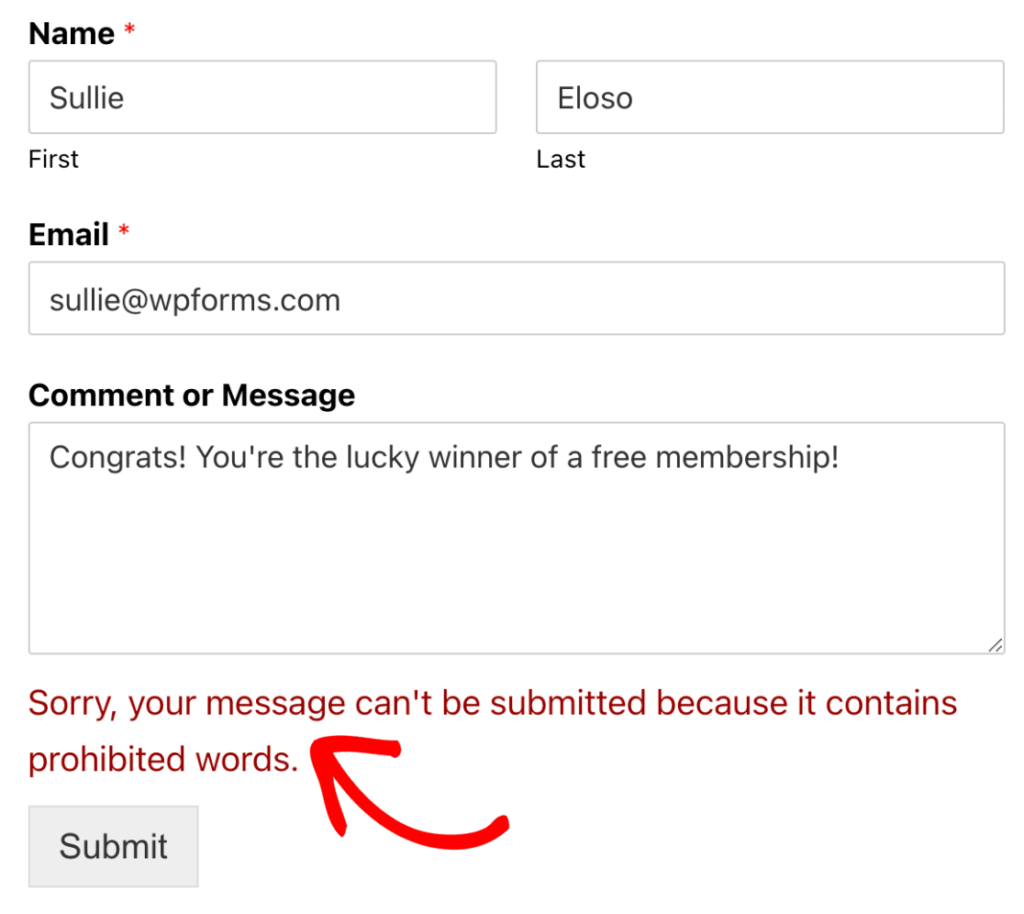 FAQ: Ways to Stop Form Spam in WordPress
Will Using Anti-Spam Measures Affect the User Experience on My Website?
Using anti-spam measures like CAPTCHA or form submission limits can add an extra step for users, but they are necessary to prevent spam submissions on your forms. However, using measures like custom validation won't affect the user experience as they are invisible to users.
Do I Need a Third-Party Plugin to Prevent Form Spam on My Word Press Website?
While AffiliateWP does offer some basic anti-spam features, using a third-party plugin like WPForms can provide more advanced anti-spam protection and customization options.
How Can I Tell if My Website is Receiving Form Spam?
If you notice an unusually high number of submissions on your forms, especially ones that seem irrelevant or suspicious, your website might be receiving form spam. You may also receive spam messages directly in your email inbox.
Next, Protect Your Affiliate Program From Fraud
Now that we've understood the various ways of protecting our website and affiliate program from form spam, it's essential to be aware of affiliate fraud, which is also a significant issue.
Affiliate fraud occurs when an affiliate partner manipulates their referrals or commissions, leading to a loss of revenue for the merchant or program owner.
To prevent affiliate fraud, it's crucial to have an affiliate management system that offers fraud protection, like AffiliateWP. AffiliateWP is the affiliate management WordPress plugin for your affiliate program.
It is a powerful affiliate management plugin that offers various features, including fraud protection, to help you run your affiliate program efficiently.
We also have some valuable resources for you to check out:
Ready to protect your affiliate program from spammers?