Strategies for leveraging seasonality in your affiliate program
Two important elements for building a strong affiliate program are relevance and timeliness. Seasonality encompasses both, and if you're not already using it to your advantage, you could be missing out!

From incentives and rewards, to the types of promotions you offer, different seasons present different opportunities to engage your affiliates and their audiences – and maximize your affiliate sales results.
In this post, we break down some of our recommended strategies for leveraging seasonality in your affiliate program, so that you can make the most of the seasons and get those sales rollin'.
First, understand your audience
It's going to be difficult to choose the most effective methods if you aren't sure what your audience responds best to. For example, fitness memberships tend to spike right after the new year. No surprise there, right?
It follows that this is a particularly effective time for offering special deals and running season-specific marketing campaigns.
This concept applies to all kinds of different niches. Think about what times of the year your niche is in demand When do you make the most sales? Once you have a handle on this, you can better decide where (and when) to focus your efforts.
Seasonal promotions
Offering special promotions based on the season is one of the easiest ways to engage with customers. People tend to look forward to changes in the seasons, holidays, and other noteworthy times of the year; they get into the spirit, celebrate, and tend to spend more time and money shopping than they might otherwise.

When you offer seasonal promotions, you engage them on this level, giving them something to get excited about – and ideally, a particularly good reason to purchase. Shoppers know that they can usually score deals around holiday times, and are often on the lookout for that perfect offer.

A special discount, a particularly relevant product, or a specific combination of products that you wouldn't otherwise offer are great ways to get their attention. For example, you might decide to give customers deep discounts on holiday graphics packs or themed stock photos during the holiday season, when graphic designers are busy producing related content.

Or, maybe you sell a fitness-oriented web app or digital course, and you decide to offer customers a seasonal promotion that speaks to that audience (such as "Get 25% off just in time for summer.") Your affiliates can use promotions like these to impress and satisfy their audiences at specific times.
Relevant creatives
When holidays come around or seasons change, it's helpful if you have relevant creatives ready to go, so that your affiliates can just grab them and start promoting. Leverage seasonality by including imagery or language that reflects the season, such as holiday designs, sayings and catchphrases, etc.

If you've already decided on your seasonal promotions, make some creatives to go with them. Banners, shareable social media graphics, branding elements, seasonally-inspired coupon codes, and pre-written copy are all good options. Check out our post on effective affiliate creatives for some more ideas!
Special incentives
Seasonal events are great times to offer special incentives like exclusive holiday cash bonuses, better creatives, and increased commission rates. For example, maybe you decide that for the entire season, your affiliates are eligible for a higher commission rate, an increased flat-rate commission, or a cash bonus for converting a certain number of sales.

This incentivizes them to perform better, knowing they're going to get more out of their efforts. Plus, limited-time incentives like these also inspire a sense of urgency – and they can be very effective for boosting team morale and motivation.
Fun and festive elements
Holidays in particular are often festive in nature. Needless to say, injecting some fun into your affiliate program can go a long way! Think about implementing things like game elements, competitions, or countdowns to engage your affiliates.

For example, you could have a special countdown for New Year's Eve: "Make 12 sales before 12 o'clock midnight and win a prize." You could also incorporate more festive elements for your customers.
Booking.com has a fortune wheel that pops up to let customers try their luck at winning a discount: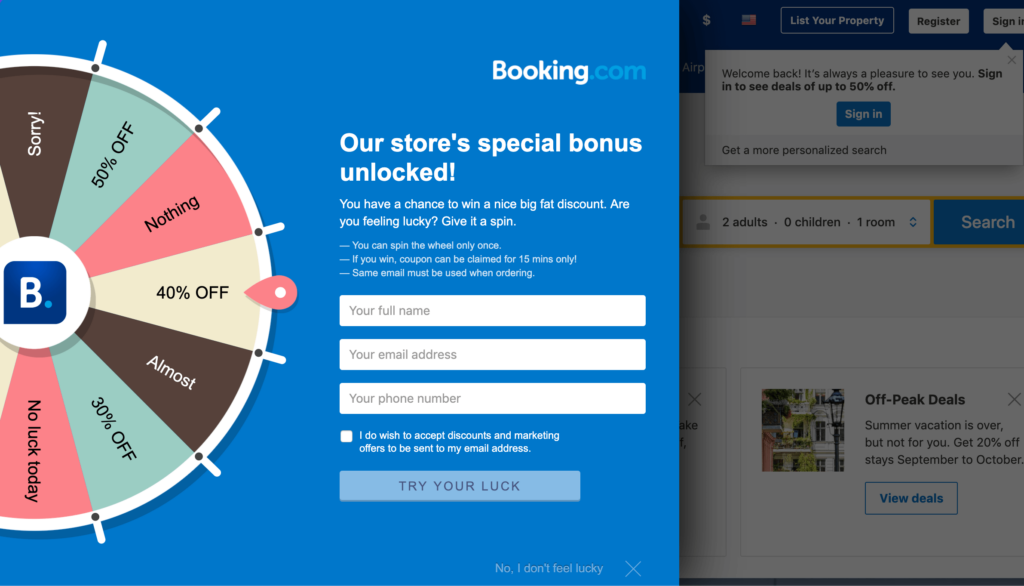 Bundles
Another thing you can do to generate more sales and give your affiliates a competitive advantage is to create unique product bundles just for the season. Combine new and/or existing products by category, series, or user skill level (for example) and give customers limited-time access to these bundles to make them exclusive and attractive.
Physical gifts
Want to get your affiliates more enthused around the holidays, and incentivize them to really work hard to promote your products at certain times of the year? Consider offering actual physical gifts as rewards.

Let's face it: everyone loves a nice gift – affiliates included. People associate them with the holidays, and they add a personal touch. Think about something nice you can offer as a reward for hitting certain sales or performance goals, or run a competition for a big ticket physical prize.
You could even offer different gifts or prizes to different affiliate segments that you choose based on things like interests and niche, performance level, loyalty, etc.
Sales events
Running a sale probably seems like a no-brainer, but you can really use this to your advantage during holiday seasons. The holiday rush is a real thing – and you and your affiliates can make serious money in a short period of time if you're opportunistic.
Certain days like Black Friday and Cyber Monday can seem all but mandatory, and running a sale in the fourth quarter of the year is almost always a significant money-maker. Your sale period may be shorter or longer, depending on the season or holiday at hand.
Be prepared
One of the biggest causes of missed opportunities when it comes to seasonality is a lack of preparation. The fact is, around the holidays, people are just busier. It can take more to stand out with the number of promotions, deals, sales, and action going on at those times.
So, prepare well in advance – and know what strategies you're going to employ before the season is upon you. If you haven't, create a promotion plan and work your seasonal offers into it as soon as you can, so that you and your affiliates have plenty of notice and time to prepare.
It's also crucial to engage your audience year-round, because an audience that's actually interested in what you have to offer will simply be more likely to pay attention to you when their inbox is packed to the brim with seasonal offers!
Don't forget: There are a lot of different seasons, holidays, and special dates that you can take advantage of – but you may or may not want to do every single one. Pick and choose the ones that feel right for your brand and niche; go for maximum impact on those, as opposed to half-hearted efforts on all of them.
How have you used seasonality to your advantage with your own affiliate program? We'd love to hear from you! Comment below and join the conversation.