Registration Forms Just Got 10x Easier to Customize – [New Blocks and reCAPTCHA v3]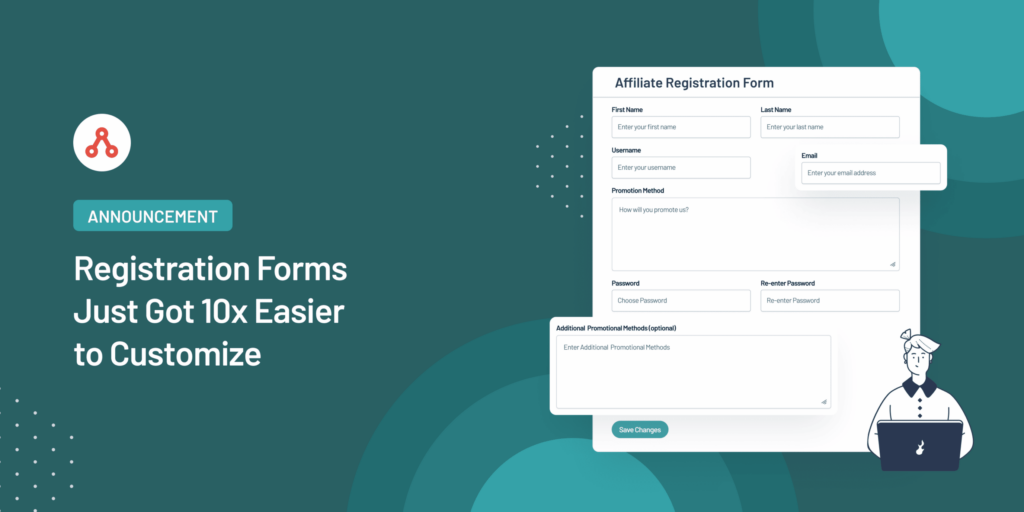 We're making your affiliate registration forms even more customizable with 2.10.0.
Your registration forms are one of your first points of contact with affiliates, so we're ensuring you can optimize them to the max!
A host of new blocks allow you to edit your registration forms, integrate them with your website's theme, and collect all the information you need.
Let's take a look at all the exciting changes we're releasing with AffiliateWP 2.10.0.
Improved Registration Blocks Make it Even Simpler to Customize Registration Forms
Screening affiliate registrations can be time-consuming, but it's very necessary. It's going to help protect you from affiliate fraud, and it can give you important insights for things like affiliate onboarding.
We want to make it as easy as possible for you to collect the information you need, which is why we're expanding our Affiliate Registration Form Blocks.
With 2.10.0, you'll be able to include Dropdown Fields, Single Choice (Radio) Buttons, and Multiple Choice (Checkbox) Fields. This allows you to be more specific about the information you're asking for while making it easy for affiliates to complete their registration.
For example:
Want to know how an affiliate heard about your affiliate program? Add a single choice radio button or dropdown field.
Want to ask which digital marketing methods your affiliate plans on using? Add multiple choice checkboxes.
To start customizing your affiliate registration form with blocks, just head to the Affiliate Area page. Depending on when this page was created, it will either use blocks or a shortcode to generate the affiliate registration and login forms. If your page is using blocks, then you're ready to go (now with greater customization options), but if it's using a shortcode, then you need to delete this and click the "+" button before searching for the Affiliate Area block. You can easily move the fields around and add new blocks by clicking the "+" button.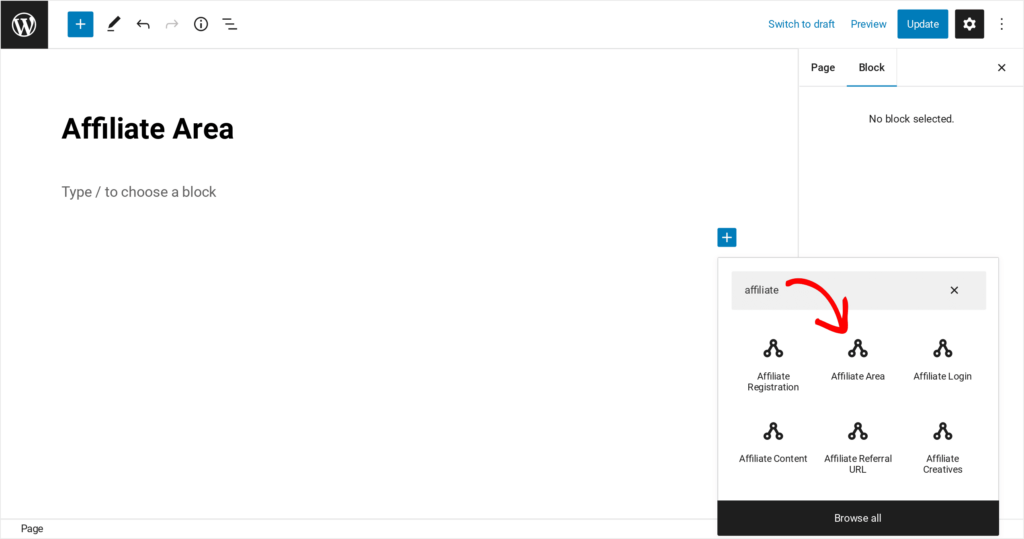 All of the Affiliate Registration Form Blocks are easy to edit, allowing you to ask the questions that matter to your brand, and collect the relevant information you need to perform your affiliate checks.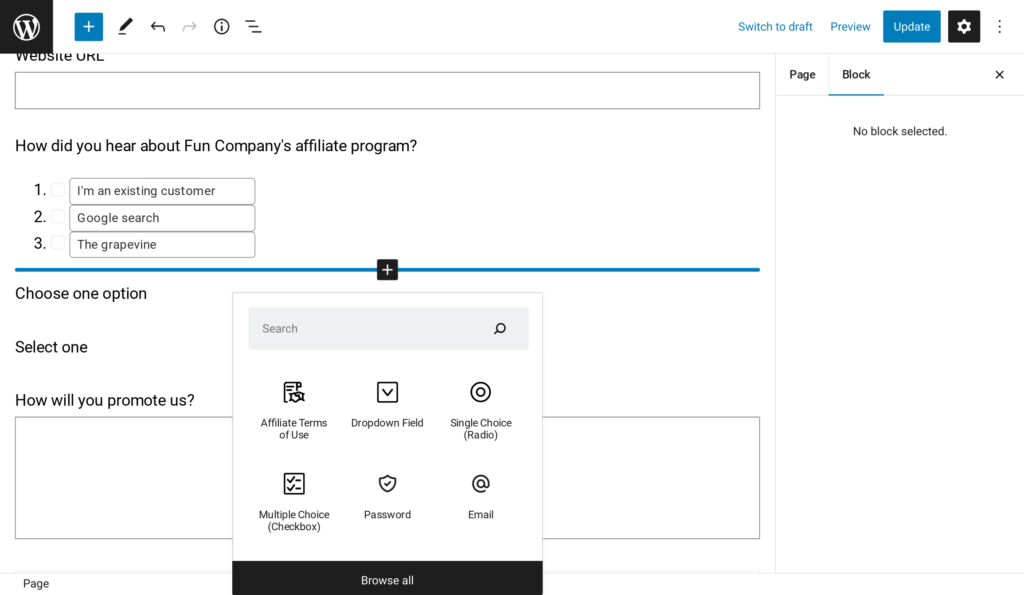 NEW Terms of Use Block for the Affiliate Registration Form
In version 2.9.6 we introduced a Terms of Use Generator, and it's proven to be an extremely popular feature.
With 2.10.0 we're improving the experience further by including a Terms of Use Block as part of the affiliate registration form. This will allow you to select your terms of use page with a click and include a checkbox asking affiliates to confirm they've read the policy.
You'll be able to send affiliates to your terms of use page through a standard link, or, there's an option to show the complete Terms of Use in a scroll box. Keeping people on the same page, rather than sending them to a new tab is a proven way of boosting conversions, meaning more affiliates follow through and submit their applications. This will also drive a lot more engagement with your terms of use page, helping you to set out clear conditions, and screen less serious affiliate applications.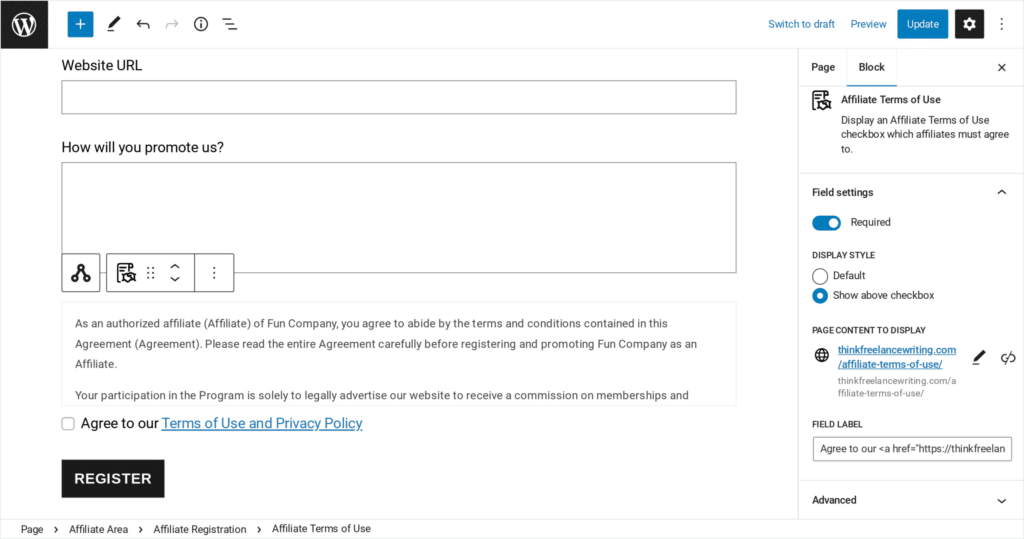 Just head to your Affiliate Area page and click the Registration Form block. As you hover over the block, you'll be able to click the "+" button and bring up the different block options. Choose Affiliate Terms of Use and use the menu in the right-hand sidebar to edit the display style. If you get stuck at any point, check out our detailed documentation on registration blocks.
Filter Out Spam Without Interrupting the User Experience Thanks to reCAPTCHA v3
AffiliateWP is here to make affiliate management easy.
We want you to focus on growing your business, not spend huge amounts of time managing your affiliate program. The affiliate registration process is a key part of this because if you want to minimize affiliate fraud and make sure you're signing top affiliates to your program, then it's got to be done manually.
To make it even easier to manage affiliate applications, our registration forms are now compatible with reCAPTCHA v3. As well as improving the user experience for legitimate affiliates, this will make it much more difficult for spam applications to be submitted.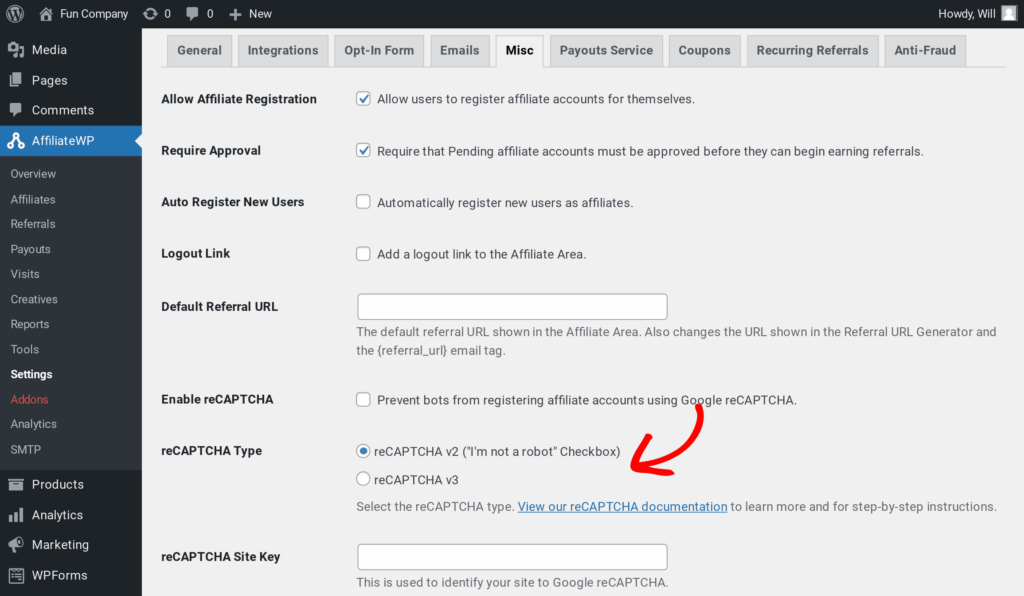 Powerful anti-spam means you can focus all your attention on the legitimate affiliates who are going to grow your business.
You can easily set up reCAPTCHA v3 from the Misc tab in your AffiliateWP settings and immediately cut down on spam entries (here's a detailed guide on how to set up your reCAPTCHA).
More Great Updates in the Pipeline
We're always working to make AffiliateWP easier to use, more customizable, and more powerful.
For 2.10.0, that means updates to Affiliate Registration Form Blocks, but that's just the beginning. We've got lots of great updates planned for AffiliateWP, and they're all created with your business success in mind!
For now, we look forward to hearing your feedback on 2.10.0 and will continue fighting to make AffiliateWP work even better for you.
Not using AffiliateWP yet?