Notice: There is no legacy documentation available for this item, so you are seeing the current documentation.
How to setup reCAPTCHA for AffiliateWP
Would you like to use Google's reCAPTCHA to help prevent spam in your affiliate registration forms? reCAPTCHA can help automatically protect your custom registration forms from spam, and other fraud. We strongly recommend that you set it up and use it.
In this tutorial, we'll walk you through how to set up and use the reCAPTCHA option in AffiliateWP.
---
1. Generating reCAPTCHA Keys in Google
To get started, you'll need to log into your WordPress site and navigate to AffiliateWP » Settings » Misc. Be sure that the Enable reCAPTCHA setting is checked.

Next, to enable reCAPTCHA, you'll need to register your site with Google choosing the reCAPTCHA type you'd like to use.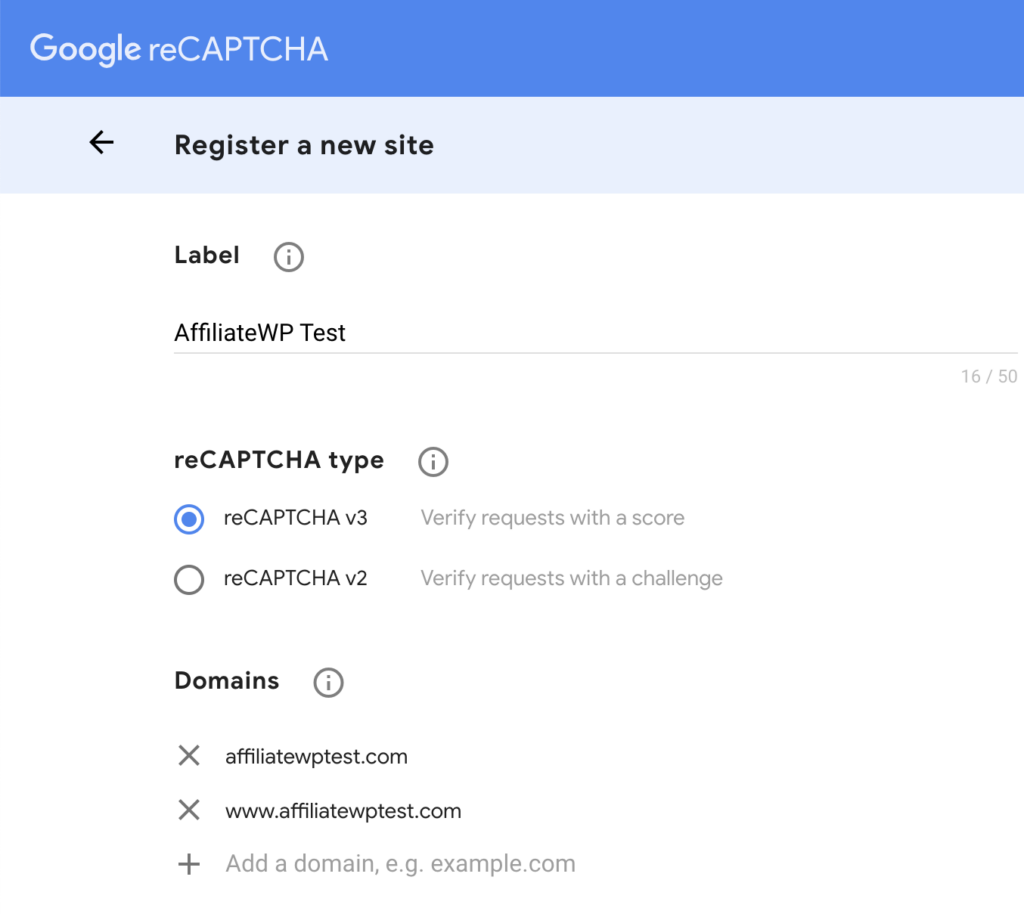 Note: If your website can also be accessed via www. please ensure both domains are added to the list:

www.affiliatewptest.com
affiliatewptest.com
Once the form is complete, go ahead and click the Submit button.
After registering you will be redirected to a page where you can retrieve the necessary credentials to enter into your AffiliateWP settings.

You'll need to copy the Site Key and Secret Key. Then switch back to your WordPress site to paste these keys into their corresponding fields located in AffiliateWP » Settings » Misc.


Note: The reCAPTCHA Score Threshold option will only appear if you choose reCAPTCHA v3.

If you find the Default Score Threshold setting is not reducing spam, you can increase the threshold setting which will be more stringent in its analysis.
Be sure to click on the Save Changes button at the bottom of this page to store your setting changes.
2. Testing reCAPTCHA
The last step is to run a quick test to ensure that reCAPTCHA looks and works as you expect. To test this out, you'll simply need to submit an entry to your form and check for a successful registration. You'll see the reCAPTCHA box above the Register button.
When using reCAPTCHA v3, simply view the registration page on your site and look for the badge in the lower right corner.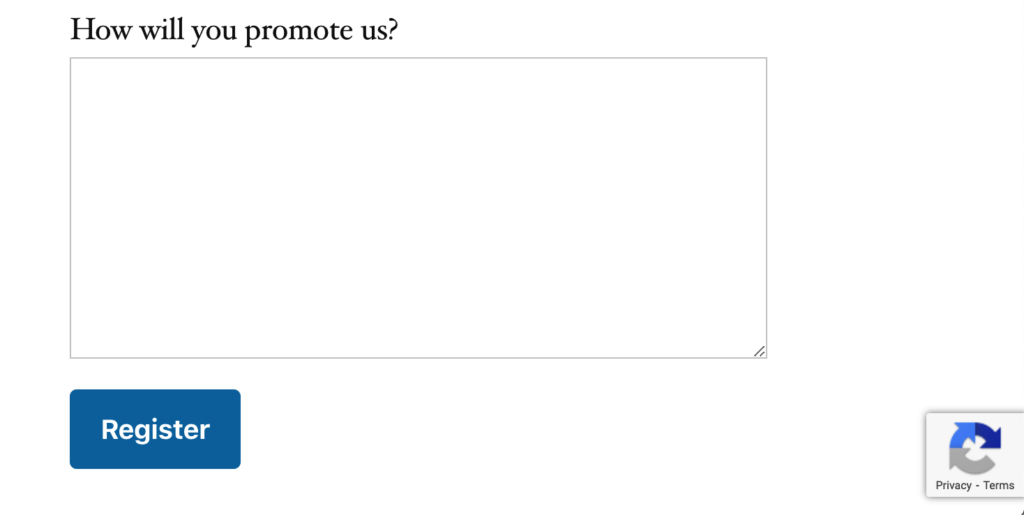 Frequently Asked Questions
Why use reCAPTCHA v3?
Google's reCAPTCHA works by preventing non-humans from interacting with your page, meaning that an attacker's automated system will not be able to use your registration form.
When v3 reCAPTCHA is used, it is similar to v2 Invisible reCAPTCHA which means there won't be any interruption to your users via a checkbox to confirm "I'm not a robot" or image challenges. It only displays a small badge in the lower right corner of the screen linking to Google's terms of service and privacy policy.
That's it! We just showed you how to add Google's reCAPTCHA to your AffiliateWP settings to protect your forms from spam.
Would you like to learn about protecting your affiliate program even more? Check out our tutorial on fraud prevention to learn how you can maximize your return on investment by flagging suspicious affiliate activity.