Pinterest Affiliate Marketing for Program Managers (Complete Guide for 2023)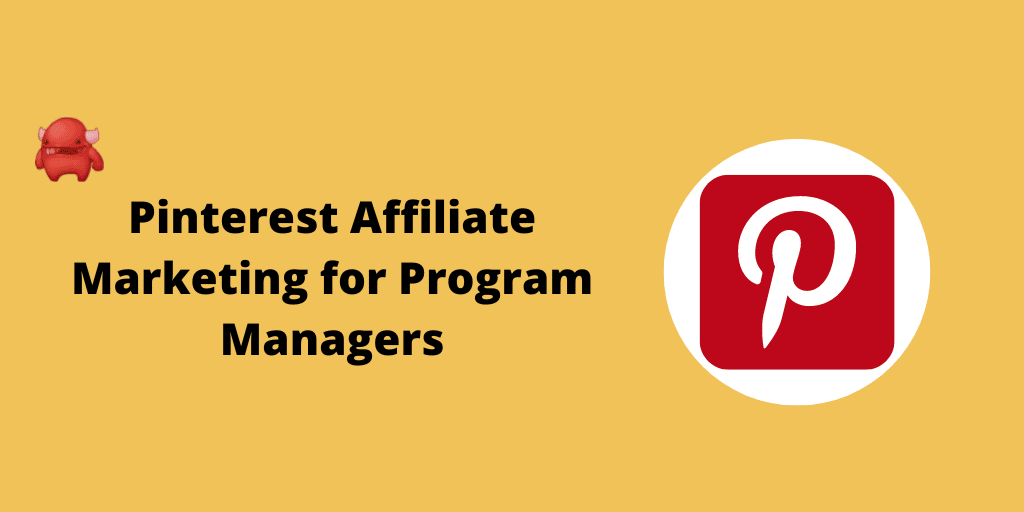 Your affiliate marketing program is missing out on a valuable revenue source: Pinterest affiliate marketing.
You don't need to have a Pinterest profile, work the Pinterest algorithm, or understand group boards, pin descriptions, and hashtags. All you've got to do is set up your affiliate program to provide affiliates and influencers with the tools they need to maximize their Pinterest reach.
We're going to show you exactly how to make money by tapping into your affiliates' Pinterest authority.
Pinterest is a Valuable Platform for Affiliate Programs
For merchants, the world of social media is sometimes overwhelming. There are many different platforms to choose from, all with different target audiences, features, and rules.
One of the biggest benefits of affiliate marketing and influencer marketing is that you can immediately buy into someone else's knowledge and experience. For example, if you talk to merchants, the first social media platform they mention probably won't be Pinterest, but if you talk to influencers, it's going to be pretty high up the agenda.

Why is this?
Its users are very shopping focused, and they tend to have healthy budgets:
Pinterest has over 400 million active users
Pinterest users are 90% more likely to say they're "always" shopping and 30% more likely to say they "love" shopping than other social media users.
83% of weekly Pinterest users make purchases based on the content they see on the platform.
45% of social media users in the US with an income over $100,000 a year are active on Pinterest.
As a merchant and affiliate program manager, this is exactly what you want to hear. For bloggers and influencers, they know how to make money on Pinterest; what they need is the right products to sell.
Pinterest affiliate marketing is the answer for both groups!
What Products are Best Suited to Pinterest Affiliate Marketing?
Different marketing strategies work on different social media platforms, so you want your affiliate products to get maximum exposure on the ones they're best suited to.
Pinterest is like a visual search engine so the best content tends to have two key elements: it's highly visual and it's inspirational. Relevant keywords and Pinterest SEO also factor in, but to the consumer, it's this visual element that sets the platform apart.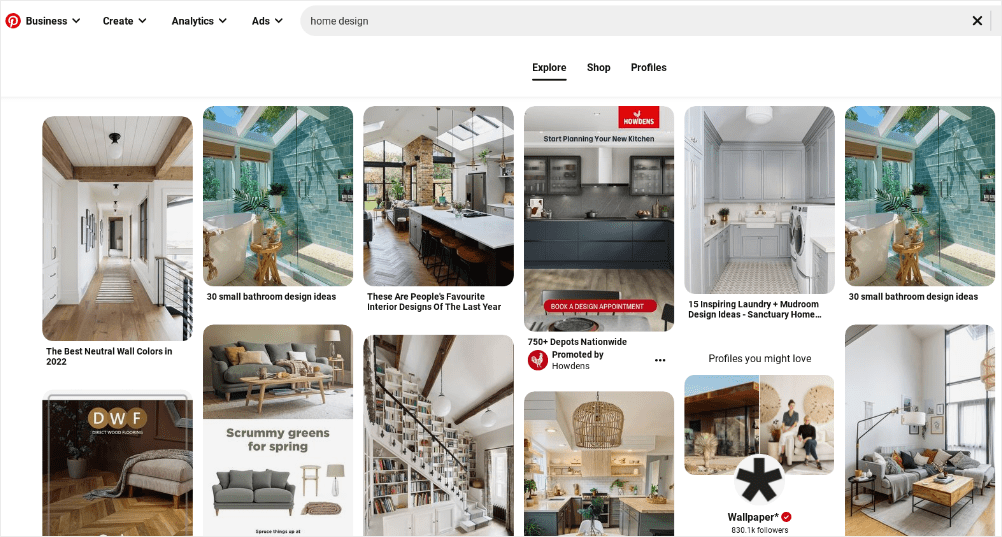 With creativity, you can make (virtually) any product fit these themes, but the niches that have the most success on Pinterest are:
Food and drinks
Travel
Health and fitness
DIY and home decor
Fashion
Beauty
Entrepreneurship
You don't have to be tied to these industries to be successful on Pinterest, but a quick look around the platform and you'll get a good feel of what content works well. You'll also see the viral nature of this social network; it's quite incredible how many repins even simple images get.
Using Affiliate Links for Pinterest to Grow Your Audience
If your products are well suited to Pinterest, then you need to make this abundantly clear to your affiliates.
Talk about it on your affiliate program landing page, highlight your policies in your terms and conditions (be aware of FTC guidelines about affiliate disclosures), and share your knowledge and creatives in your affiliate onboarding.
The thing to remember with Pinterest affiliate marketing is that you're competing with a torrent of pinners with high-quality creatives. If you're going to encourage your affiliates to share their links on Pinterest, then you've got to equip them with top-notch creatives or give them easy access to your products to create their own.
Your affiliates will likely be well versed in using programs like Canva to touch up their images and create pins that engage their audience, but you've got to give them the basics to work with.
Pinterest allows its users to add direct affiliate links to their pins, but it's not so happy about things like pretty links, so another question is how your affiliates can best share their links.
This is where you need to look at the tools your affiliate software offers you, as you want to make use of different affiliate marketing strategies.
Vanity Coupon Codes for Pinterest
One tool that is perfect for Pinterest is Vanity Coupon Codes.
Pinterest is all about beautiful imagery and affiliate links and coupon codes don't fit in with this.
Vanity Coupon Codes enable your affiliates to create their own personalized coupon codes, so rather than something bland like AGT45S, I might choose FROMWILLIAMWITHLOVE. It might seem like a small detail, but it can make a big difference.
When the customer types in my FROMWILLIAMWITHLOVE code at checkout, that sale is then assigned to me and I receive a commission.
It's affiliate marketing that leverages the visual and inspirational aspects that Pinterest runs on.
Optimize Your Landing Pages to Convert Pinterest Traffic
Affiliate marketing is often talked about as a passive income, but this belies the hard work affiliate program managers put in.
Yes, affiliates drive traffic to your site, but you've go to work extremely hard to turn that into affiliate sales. If your conversion rate is low, then you're not going to make money for your affiliates and they're quickly going to lose motivation.
So, how can you make sure your landing pages are perfectly optimized to convert your Pinterest traffic?
Let's go back to the fact that Pinterest is a very visual platform. If Pinterest users are jumping from this beautifully designed page with amazing creatives to something that looks unprofessional, it's really going to stand out.
You've got to offer a similar level of user experience to the one users are used to in their Pinterest accounts, otherwise, traffic is simply going to bounce. The easiest way to ensure this happens is by using SeedProd's perfectly optimized landing page templates.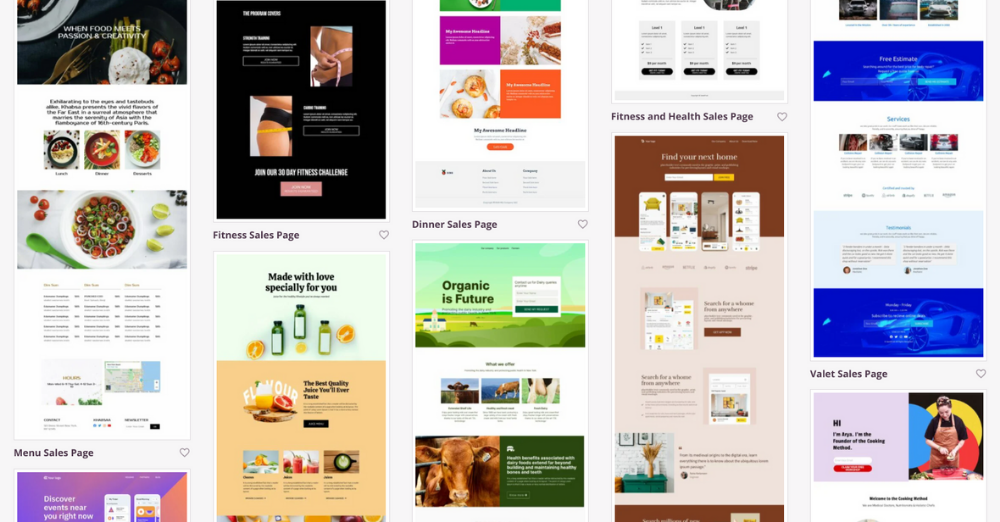 What you do have though, is the opportunity to expand on your offerings and elaborate on detail. As Pinterest is mainly focused on imagery, you've got an opportunity to use your knowledge of your products and your magical words to increase conversions.
Personalized Affiliate Landing Pages for Pinterest
Want to know the best way to increase conversions on affiliate pins?
Personalized affiliate landing pages!
Your affiliate is the social media expert, right?
And you're the one who knows exactly how to sell your products, right?
Well bring the two together and design a personalized affiliate landing page. This will help you:
Build on the relationship the affiliate has already created with the customer
Create a seamless link between the Pinterest experience and your branding
Track affiliate referrals without the need for an affiliate link
This is a great option for any social media platform, but it works particularly well with Pinterest.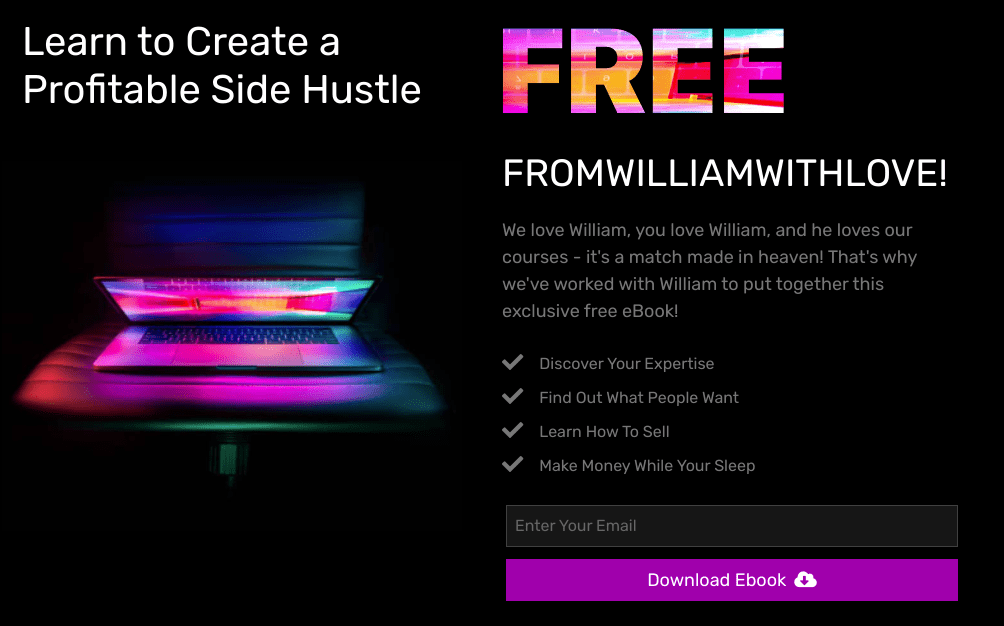 It's also a great way to reward your top affiliates and grow the relationship further. We're not talking about beginner affiliates here, we're talking about experienced marketers who bring a lot to the table. Together, you can create an affiliate landing page that's perfectly adapted to the traffic it brings in.
One of the big benefits of running your own affiliate program is that you're in complete control, and this is the kind of marketing tool the big affiliate networks and programs like Amazon affiliates aren't offering.
Your Target Audience Might Be Hanging Out On Pinterest
Pinterest works!
It has a large audience of engaged users with high purchase intent and this is exactly what you're looking for.
The other big thing is that it's more than likely there are affiliates and influencers in your niche with large followings and a lot of influence. These people are constantly on the lookout for products to sell because they know that's what their audiences crave.
By reaching out to these people and showing them how your affiliate program is set up to maximize the effectiveness of affiliate links for Pinterest, you may find you create some extremely profitable new relationships.
The first step to unlocking Pinterest affiliate marketing is with AffiliateWP, so get started today!