All AffiliateWP customers will soon be able to create custom affiliate registration forms without any add-ons or custom development.
First impressions matter. A lot. Start with your best foot forward by customizing your affiliate registration form. Make it look just how you want. Add and remove fields. Tweak the wording of field labels and placeholder text. Choose required and optional information in a way that perfectly suits your business.
Today we'd like to preview a new way of creating the perfect affiliate registration form. This will be available soon as part of version 2.8.
The challenge
Until now, customizing the affiliate registration form could be cumbersome. You had three options.
Modifying a template file, which gives you all sorts of control, but also requires some knowledge of HTML and/or PHP coding.
Using the Affiliate Forms for Gravity Forms pro add-on, which is powerful, if you use Gravity Forms.
Using the Affiliate Forms for Ninja Forms pro add-on, also powerful, but you need to be using Ninja Forms.
These are all good options. But we've been hearing from many of you that you need other customization options. So we are adding another option!
The solution – another way!
Now we're unlocking the power of Gutenberg to let you easily build customized affiliate registration forms. You won't need to make any edits to template files, hire a developer, or use a form plugin alongside one of our pro add-ons.
This option will be available to all AffiliateWP customers with an active license! 🥳
Introducing the Affiliate Registration block
With the new Affiliate Registration block, you'll be able to build a fully custom form…visually. You won't need coding or add-ons. Let's look at some of the features.
Preview the affiliate registration form
Get a visual representation of how the affiliate registration form looks without needing to exit the WordPress editor.
Add custom form fields
Ask your affiliates for their Twitter account, Instagram handle, company name, phone number or anything else you need!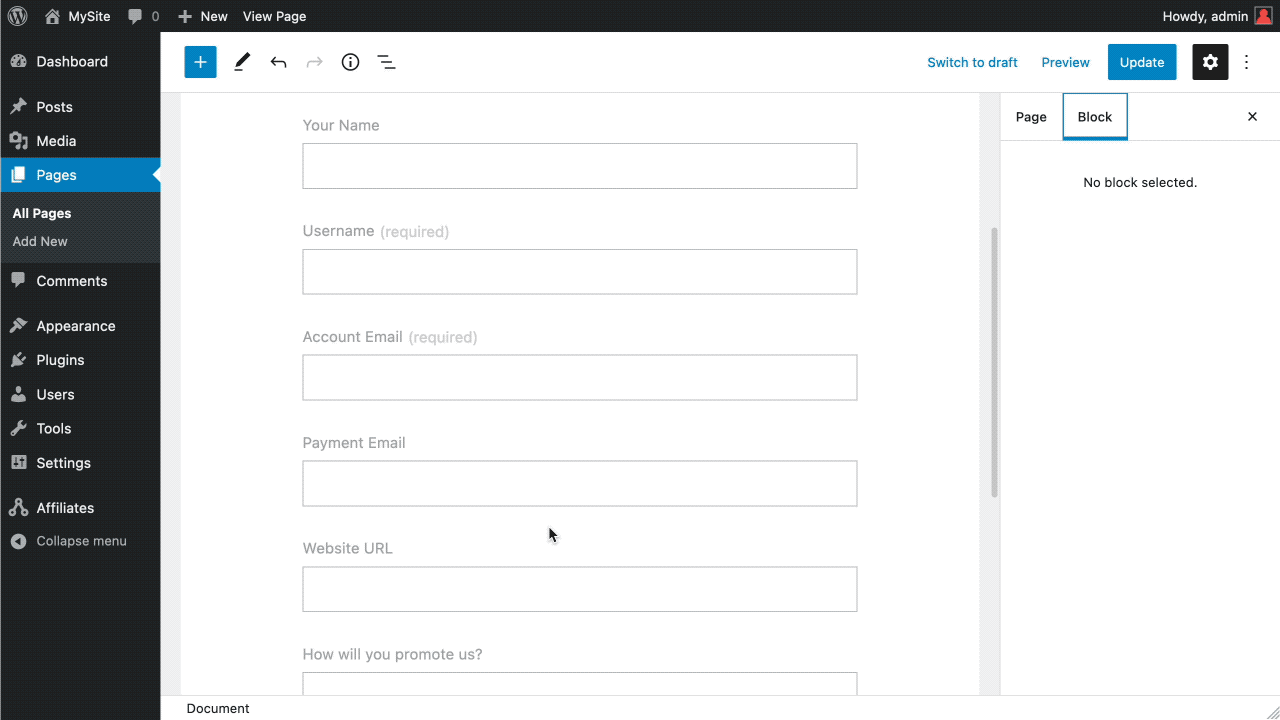 Re-order form fields
Drag and drop form fields, or use the arrow controls to get the order you prefer.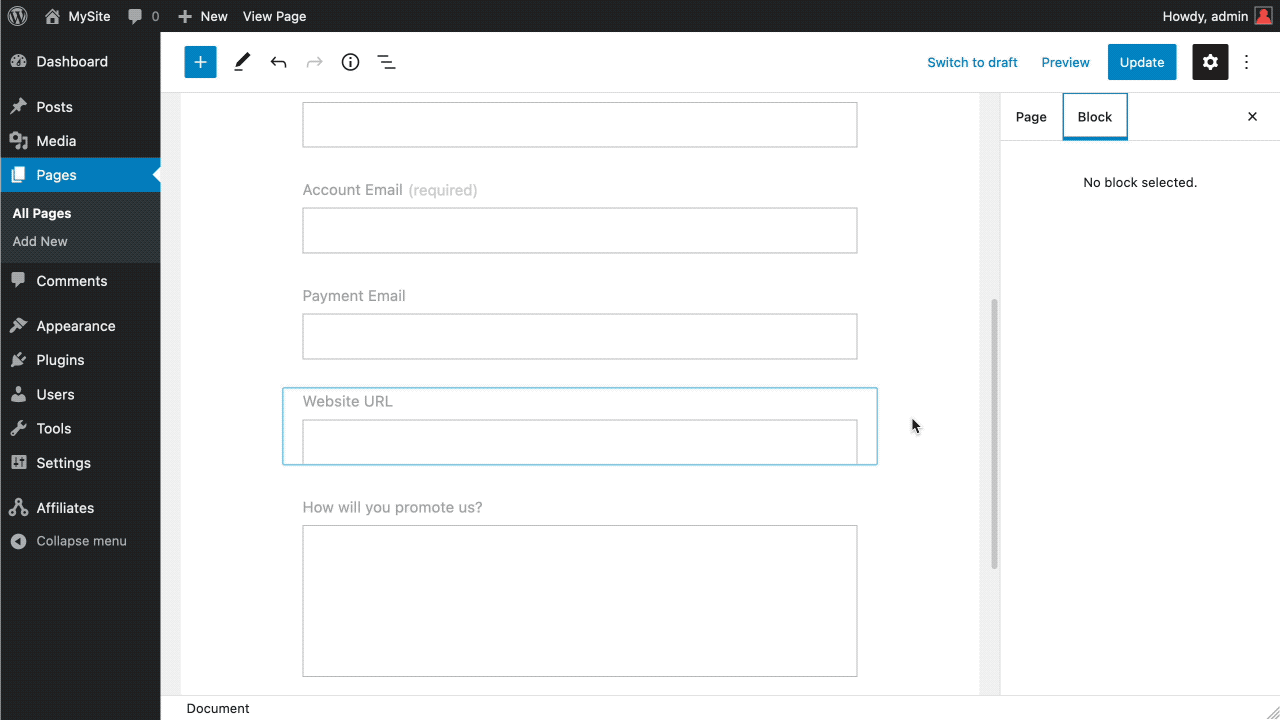 Edit form field labels and placeholder text
Easily change the label text for any form field without needing a translation plugin. We've also introduced placeholder text which you can also edit.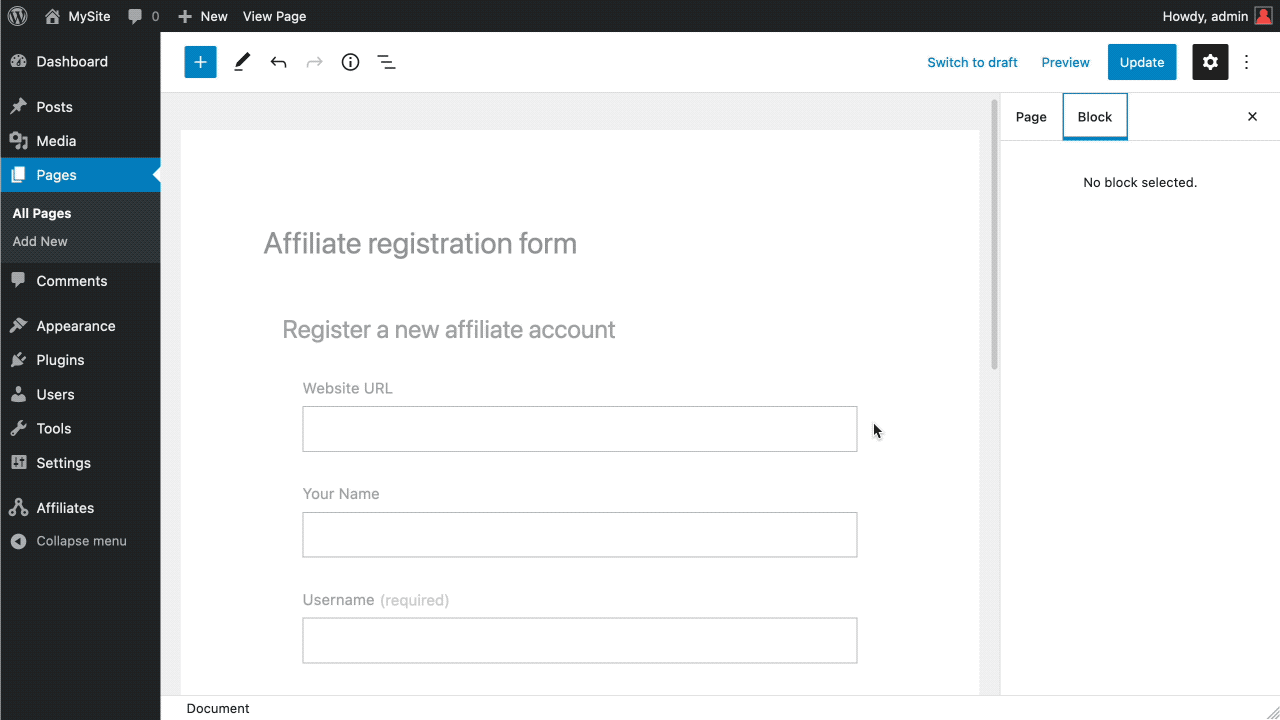 Make fields required/not required
Make almost any field required or not required. The registration form now shows "(required)" text for any required field.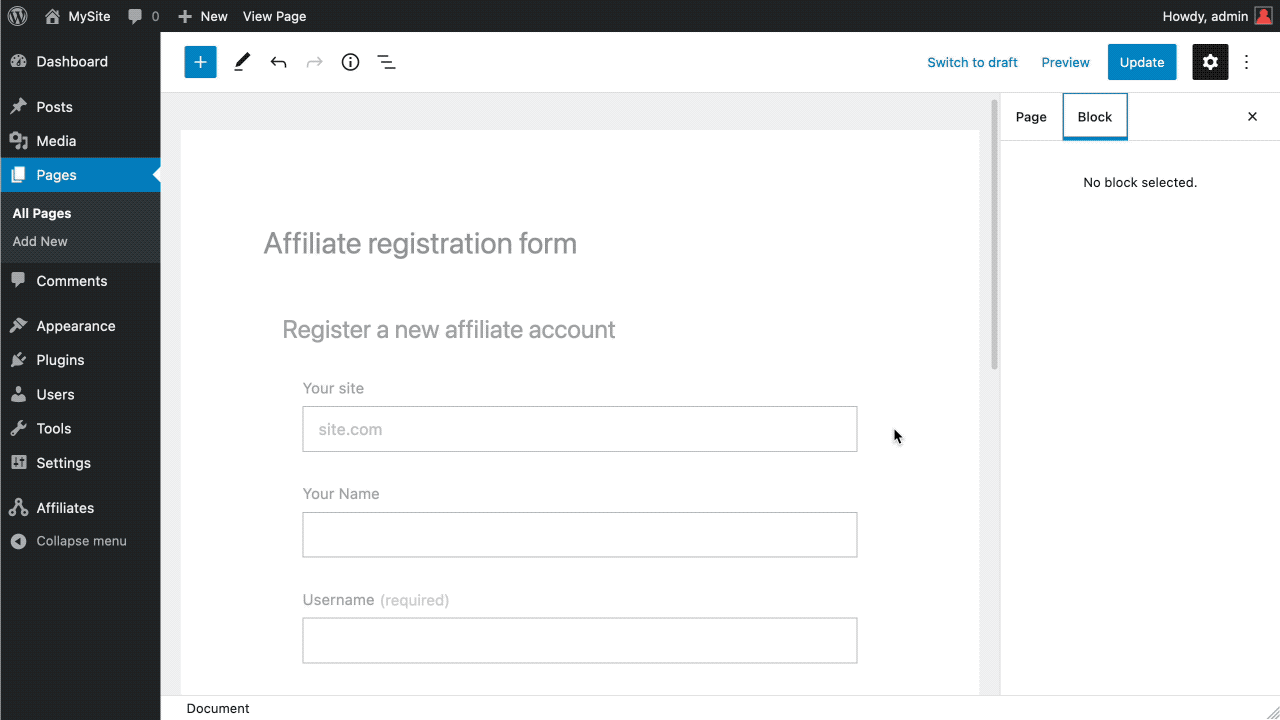 Change the button text
Maybe 'Register' is not the best word for the button at the end of your form. Try 'Join us' or anything else that better matches your brand and voice.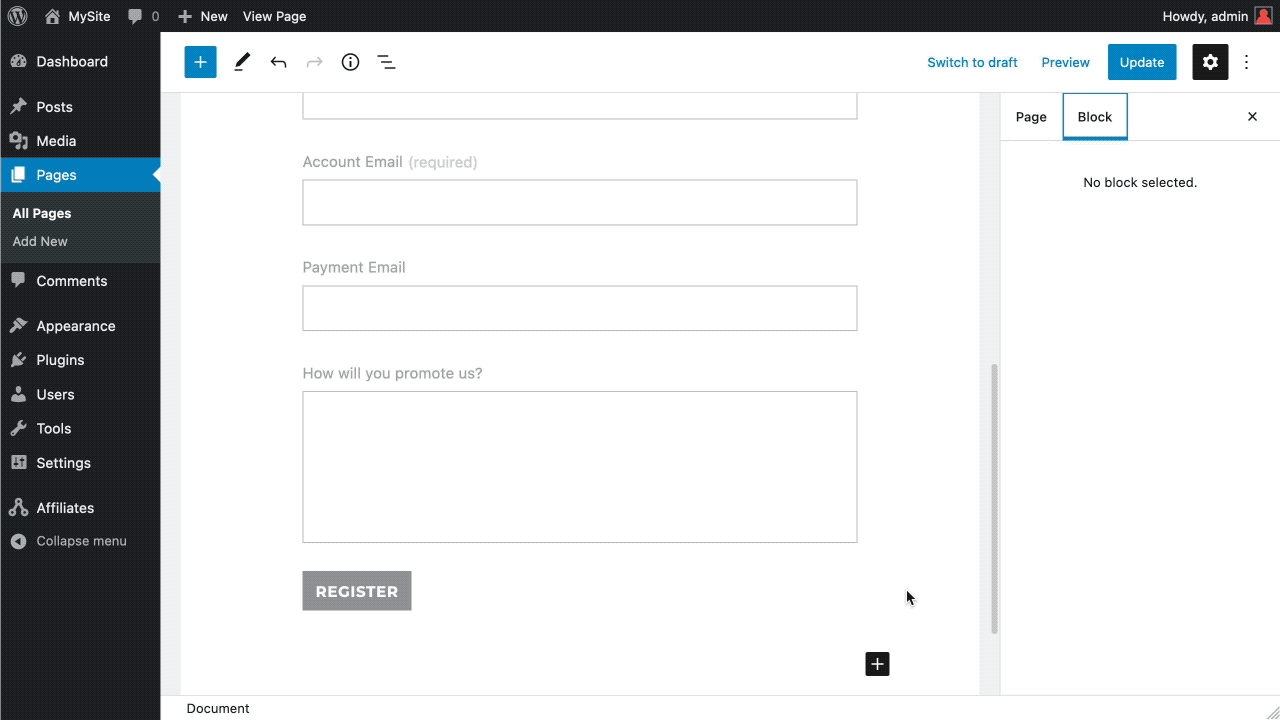 Remove fields
Don't want to ask your affiliates how they intend to promote you? You can now remove that or any other field if you don't need it.
Create multiple affiliate registration forms
Add more than one custom affiliate registration form to your site. You can add a unique form to any page. You may want to do this, for example, if you have dedicated landing pages or are segmenting affiliates based on different events.
In addition, all form data will be available to you when you need to review an affiliate's application.
Coming soon to an AffiliateWP near you
The Affiliate Registration block will be available with the release of AffiliateWP v2.8.
If you'd like to try the block out sooner, and help us test it, it will be available with the v2.8 development release. Opt-in to development releases from Affiliates → Settings → Misc.
➡️ Remember, we do not recommend running a development or beta release on your production website.
What else would you like to see with the affiliate registration block? Drop a comment below!