5 Best Referral Program Software for Small Business 2023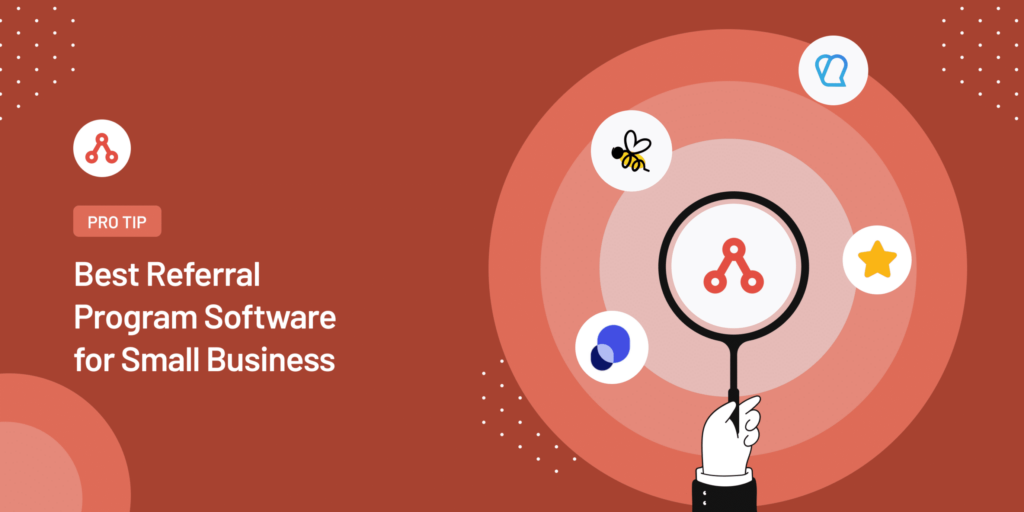 Searching for the best referral program software for your business?
Referral programs are an effective method for increasing product promotion and reaching a larger audience. You can easily create and manage your referral program using reliable referral program software to grow your business.
In this article, we have listed some of the best referral program software options for your WordPress site.
Let's get started!
Why Use a Referral Program for Your Small Business
Trust is a vital component of customer acquisition, and that's the reason why referral programs are essential for any business.
Referral programs harness the strength of word-of-mouth marketing, making it arguably the most trusted form of advertisement.

It's a fact: people are more likely to purchase a product or service when recommended by friends, family, or influencers they follow.
Referral programs catalyze your business's growth by encouraging your existing customer base to become your most influential marketers.
By offering incentives such as discounts, gift cards, or commissions, you create a win-win situation for your customers and your business.
This approach enhances your brand reputation and cultivates a loyal customer base.
However, managing a referral program can quickly become complicated and time-consuming without the right tools. That's why you need to choose the best referral software for your business that suits you best.
So, let's dive into our list of the best referral program software options for WordPress to build a trustful brand and grow your business.
Best Referral Program Software for Small Business
When launching a referral program, the ideal software can significantly streamline the process.
A top-notch referral management tool does more than track referrals – it offers insightful data on their effectiveness and impact on your business.
While putting together this list of the leading referral program software options for small businesses, we've kept in mind the following vital criteria to guide you toward the right choice:
Straightforward installation and configuration
Compatible with the WordPress
Extensive referral monitoring and management features
In-depth analytics and reporting capabilities
Quick and dependable customer support
Let's look at the best referral software for your small business.
When it comes to an all-in-one referral program plugin for WordPress, AffiliateWP is an outstanding choice, especially for beginners.
It provides a seamless setup process to establish an effective referral program in minutes.
With features like affiliate coupon tracking, automatic referral link generator, and real-time reporting, AffiliateWP excels in precisely tracking your referral programs and delivering detailed reports on your WordPress dashboard.
The dashboard offers an extensive review of your affiliate applications, affiliate account management, and a performance metric view for referrals and affiliates.
Moreover, AffiliateWP gives you complete control over your referral partners. You can track referral sales, affiliate amounts, and more from your dashboard.
AffiliateWP integrates seamlessly with popular plugins and tools such as WooCommerce, Easy Digital Downloads, WPForms, MemberPress, and more, providing a comprehensive solution for your affiliate program needs.
Key Features:
Seamless WooCommerce integration
Recurring Referrals
Direct Link Tracking
Detailed analytics for maximizing sales
Advanced affiliate growth tools
Top-notch support
Pricing:
Personal: $149.50/year for the first year, $299.00/year after that (1 site, essential features)
Plus: $199.50/year for the first year, $399.00/year thereafter (3 sites, growth, and essential tools)
Professional: $299.50/year for the first year, $599.00/year thereafter (10 sites, advanced features)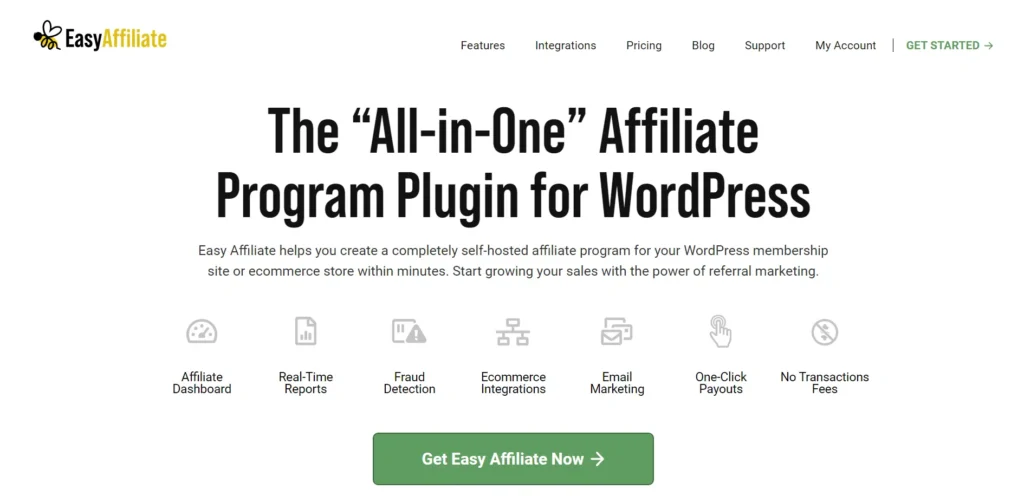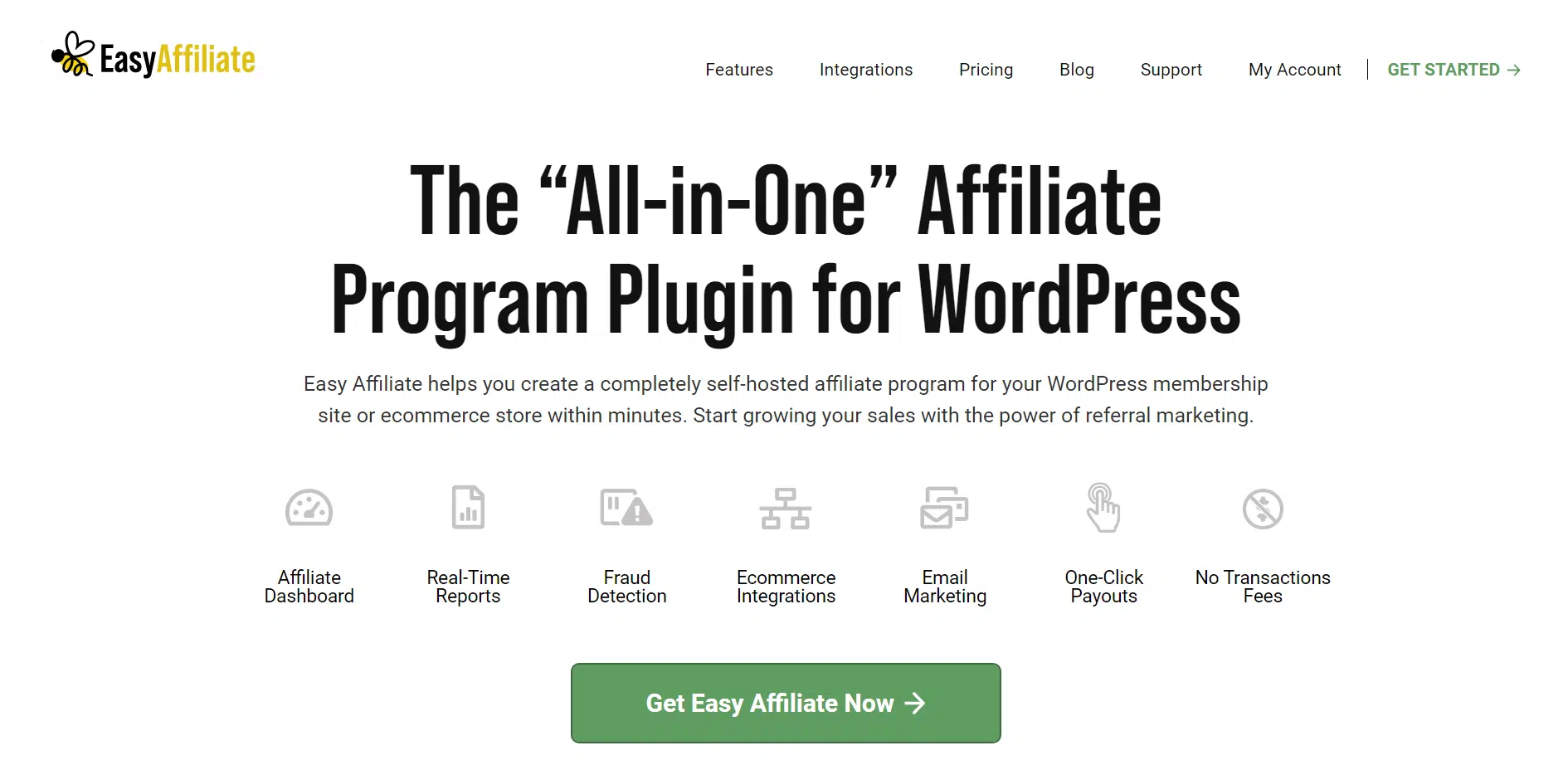 Easy Affiliate is a powerful and user-friendly referral program plugin for WordPress and WooCommerce.
It has all the features to construct, track, and manage your affiliate program.
The dashboard stats widget provides quick insight into your affiliates' performance and who tops the leaderboard.
Easy Affiliate offers built-in fraud detection, one-click affiliate payouts, custom commissions, and no transaction fees.
Moreover, it integrates smoothly with various online store platforms such as WooCommerce, MemberPress, PayPal, and Easy Digital Downloads.
Plus, you can keep your affiliates informed by integrating with top-tier email marketing services like ActiveCampaign, ConvertKit, and more.
Key Features:
Personalized Affiliate Dashboard
Payment Integration
Affiliate Applications
Commission Tracking
Fraud Detection
Pricing:
Basic: From $199/ year
Plus: From $299/ year
Pro: From $399/ year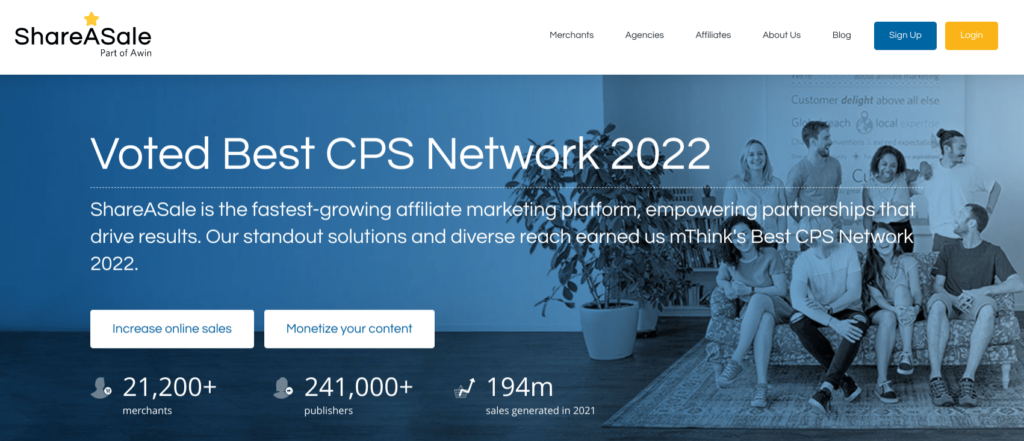 ShareASale is one of the longest-running affiliate networks globally, hosting a highly beneficial referral marketing solution for business owners.
ShareASale provides an in-depth affiliate dashboard and tracking tools for monitoring performance, along with built-in email marketing automation to keep in touch with your affiliates and inform them about sales and promotions.
You also have numerous customization options to design your unique referral and recruitment program.
Key Features:
Offers tailored program diagnostic capabilities
Includes affiliate categorization and segmentation options
Presents application regulation tools
Supports automated promotional emails
Comes equipped with advanced attribution tools for refining affiliate payouts
Grants access to a global network of over 225,000 affiliate partners
Pricing:
One-time network access fee of $550: An upfront deposit of $100. The platform charges a transaction fee each time a valid sale is made. This fee is calculated as 20% of the commission paid to your affiliate partner.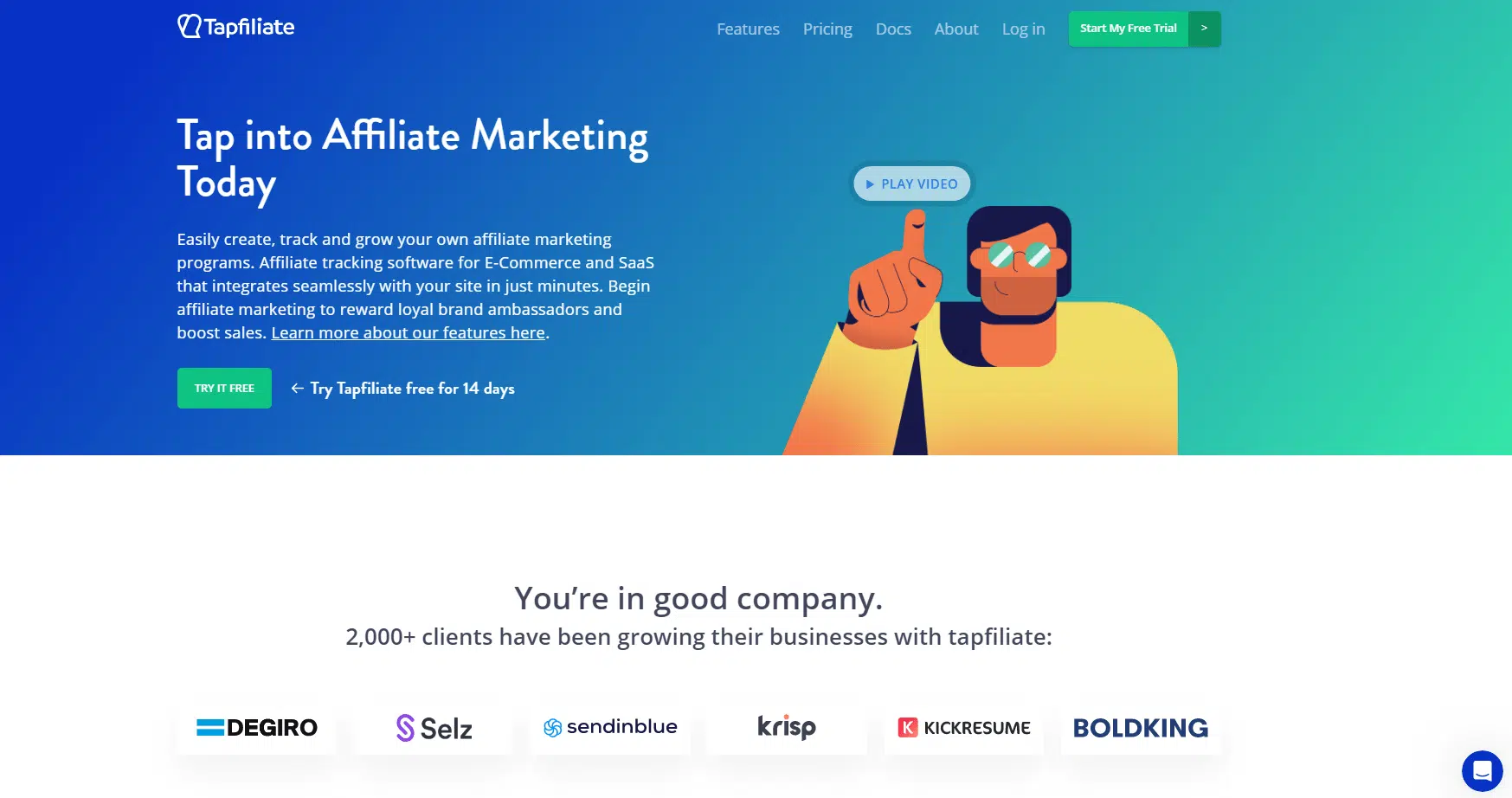 Tapfiliate is a straightforward-to-use referral tracking software that takes the stress out of building your referral marketing program.
With Tapfiliate, you can quickly onboard new affiliates and create a custom-branded dashboard to match your WordPress website and product design.
Additionally, Tapfiliate provides various creative tools, such as banners, text links, videos, and social posts, allowing you to customize your program and improve conversion rates.
There are also integrations with popular tools like WooCommerce, WordPress, Zapier, Shopify, and more. Advanced users can use the REST API integration to create custom automated workflows.
Key Features:
Recruit affiliates
Personal Affiliate Links and Coupon Codes
Branded Dashboard
Custom Sign-up Fields
Variety of Publisher Types
Pricing:
Essential: From $89/month
Pro: From $149/month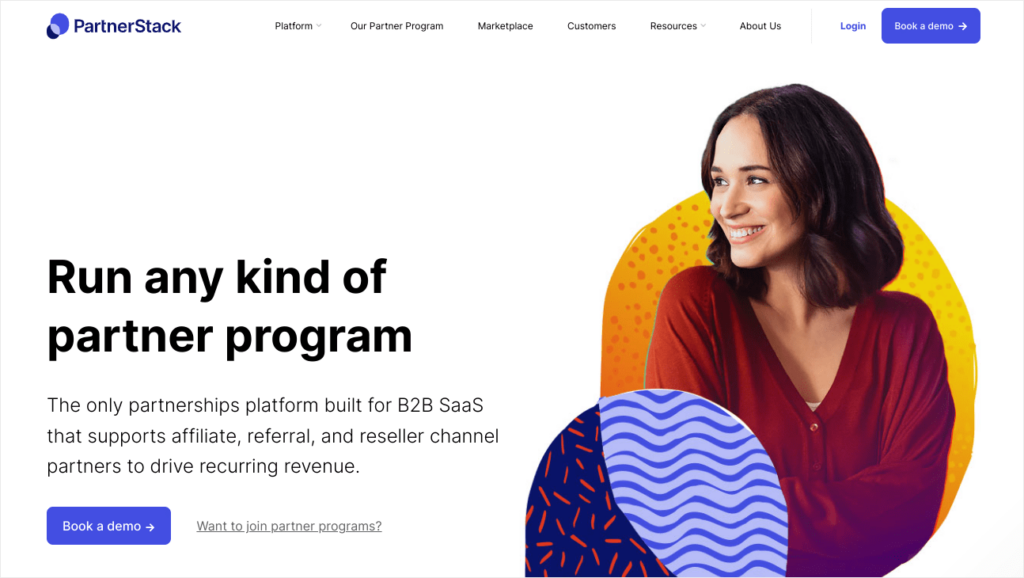 PartnerStack is a powerful referral marketing platform that helps you create and manage your entire referral process.
Designed to aid SaaS companies and new online startups, PartnerStack is used by renowned companies like Drip, Asana, Quickbooks, and Evernote to run their affiliate programs.
The software is highly flexible, allowing you to create different goals for your referral campaigns.
Whether you want to focus on traffic generation, new leads, or total sales, PartnerStack caters to your needs.
It also allows you to build customer loyalty programs directly into your products, automatically bringing customers on as referral partners.
The dashboard is user-friendly and provides a detailed breakdown of partner performance. You can create groups of partners and offer rewards based on different tiers.
Various payment methods, including credit cards, ACH, Stripe, and PayPal, are supported.
Key Features:
Access to B2B-Focused Partners
Partner Analytics
Automated Partner Payments
Detailed Reporting and Stats
Pricing:
Lite: From $500/month
Pro: From $800/month
Which is The Best Referral Program Software for Small Business
After analyzing WordPress's various referral program software options, one platform rises above the rest: AffiliateWP.
With its extensive features, seamless integrations, and intuitive interface, AffiliateWP is the ideal solution, particularly for small businesses.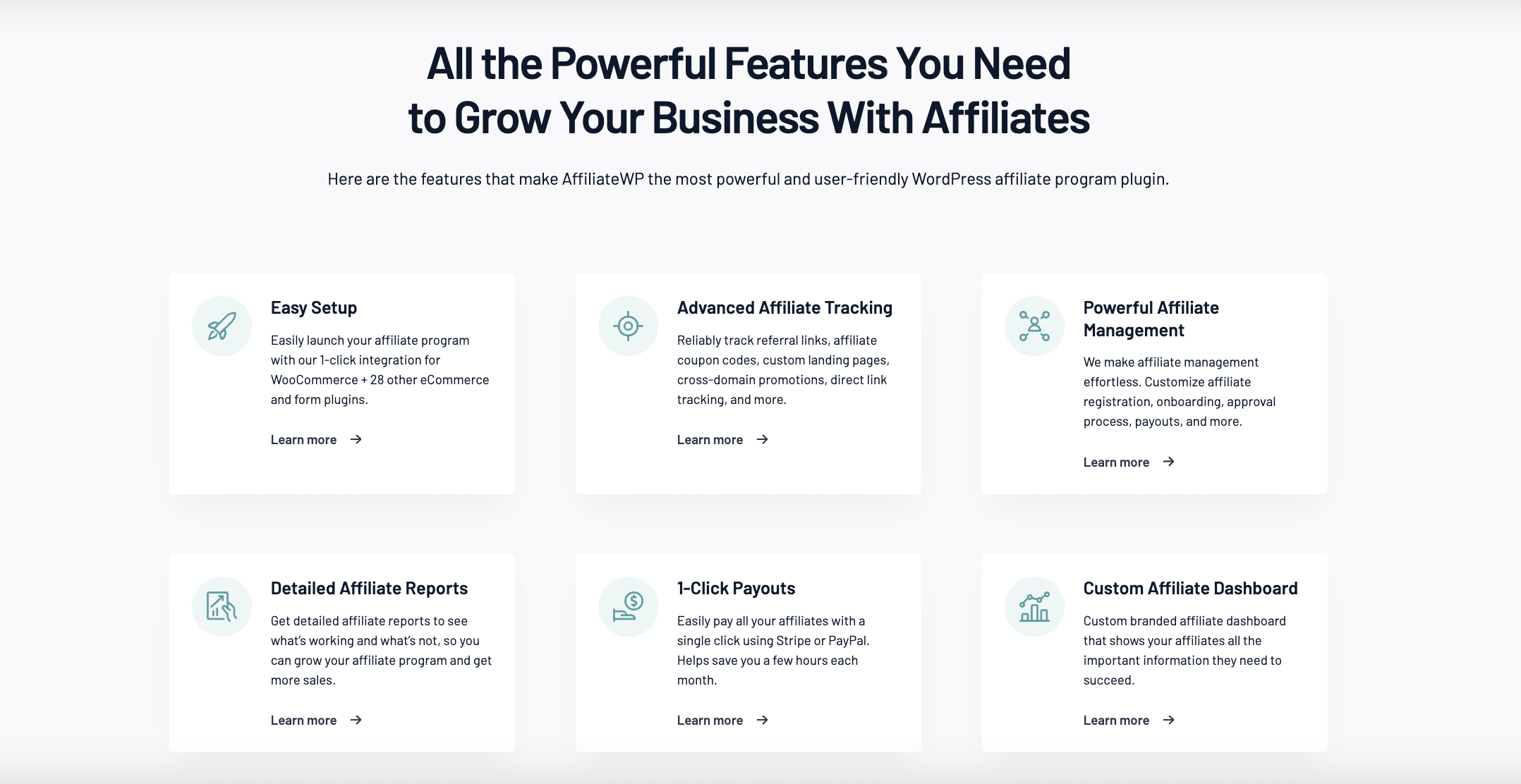 What sets AffiliateWP apart is its emphasis on user-friendliness and versatility.
It's a premier WordPress referral program plugin, enabling companies to establish a referral marketing program on their WordPress site effortlessly.
Integration of multiple platforms like WooCommerce, PayPal, Stripe, WPForms, and more is a breeze with AffiliateWP. Its easy setup wizard walks you through each process step, enabling you to track referrals with just a few clicks.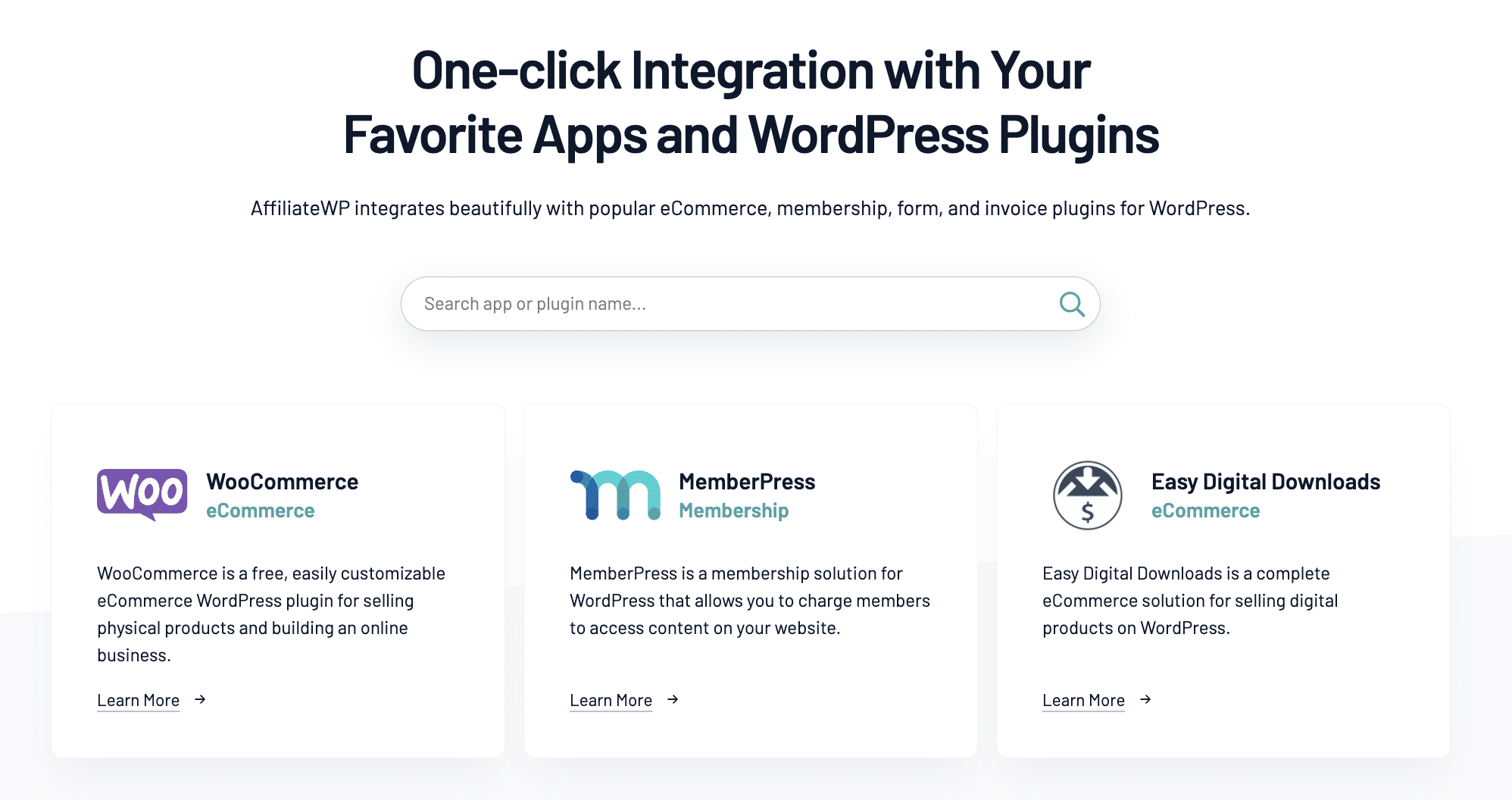 One noteworthy feature of AffiliateWP is its Terms of Use Generator, which significantly simplifies creating terms and conditions for your referral program. This accelerates the setup process and ensures your business is adequately protected.
AffiliateWP also provides a highly customizable dashboard, allowing you to create a referral program tailor-made to fit your business needs. There are no limits on the number of referrals you can sign up, the number of sales, or earnings.
The significant advantage of AffiliateWP, especially for small businesses, is the innovative marketing tools it provides to affiliates.
These tools aid in enhancing referral sales and boosting earnings, playing a significant role in the growth of your business.
Ready to Build Your Referral Program
Setting up an effective referral program might seem daunting, but with tools like AffiliateWP, it becomes a breeze.
AffiliateWP serves as the perfect companion in this journey. It is designed to make your experience of managing referrals efficient and enjoyable.
If you're ready to take your business to the next level, choose the referral program software that best suits your needs from the abovementioned list. Remember, the key is to pick one that fits your current requirements and can scale with your business.
For a more hands-on approach, here are some valuable resources that can guide you through the process:
Now, you're just one step away.
Get started with AffiliateWP, the leading referral program plugin for WordPress and see your small business flourish!