Give affiliates a premium experience with the new Affiliate Portal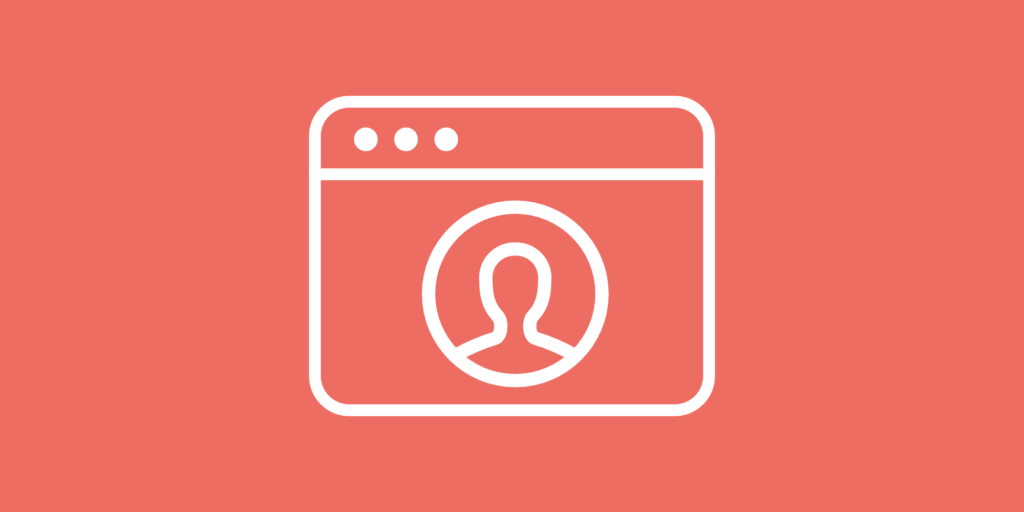 🎉 We have released the Affiliate Portal pro add-on!
The Affiliate Portal
The Affiliate Portal is an alternative to AffiliateWP's standard Affiliate Area. Instead of being an area within the page on your site, the portal is a dedicated full-screen experience for your affiliates.
🚌 Let us show you around!
Dashboard
The Dashboard is an entirely new page for affiliates. Once logged in, they're shown key performance metrics and can quickly access other pages of the portal to see the bigger picture.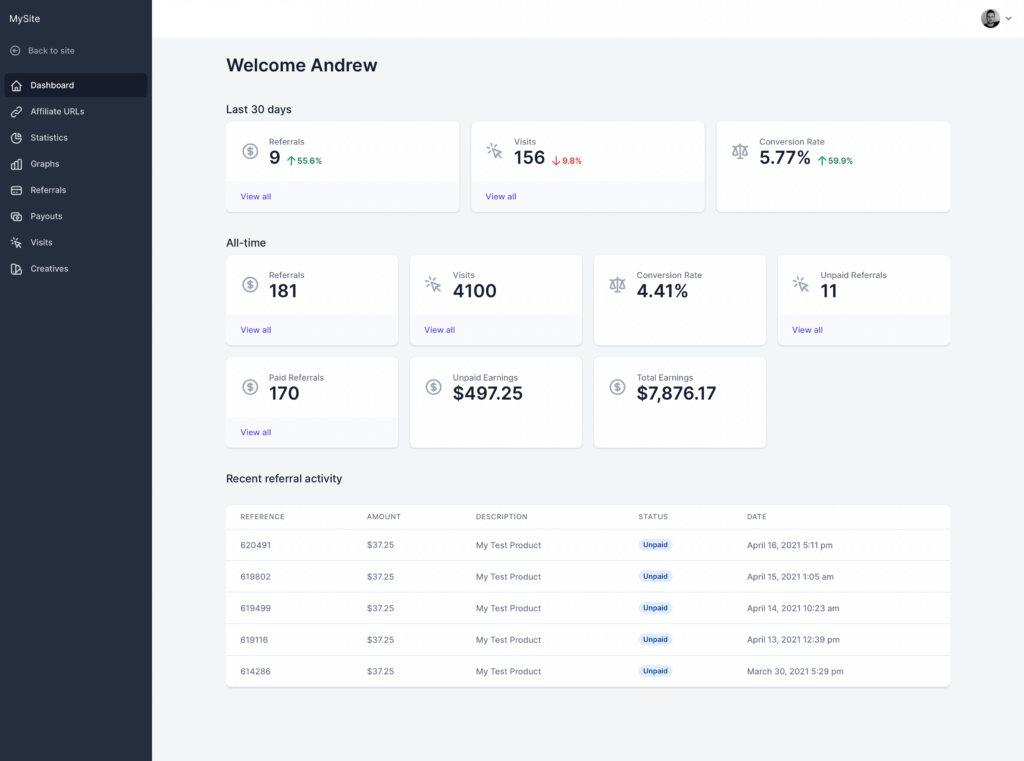 Affiliate URLs
Previously, affiliates needed to highlight referral links and manually copy them to the clipboard. Now they can copy any referral link with one satisfying click.
Generating and previewing referral links is also more intuitive. Changing any input field updates the Generated referral URL automatically. In other words, no more clicking a clunky button for every new preview!
And finally, the sharing options are always visible, allowing for quicker sharing. As a result, you no longer need the Affiliate Dashboard Sharing add-on.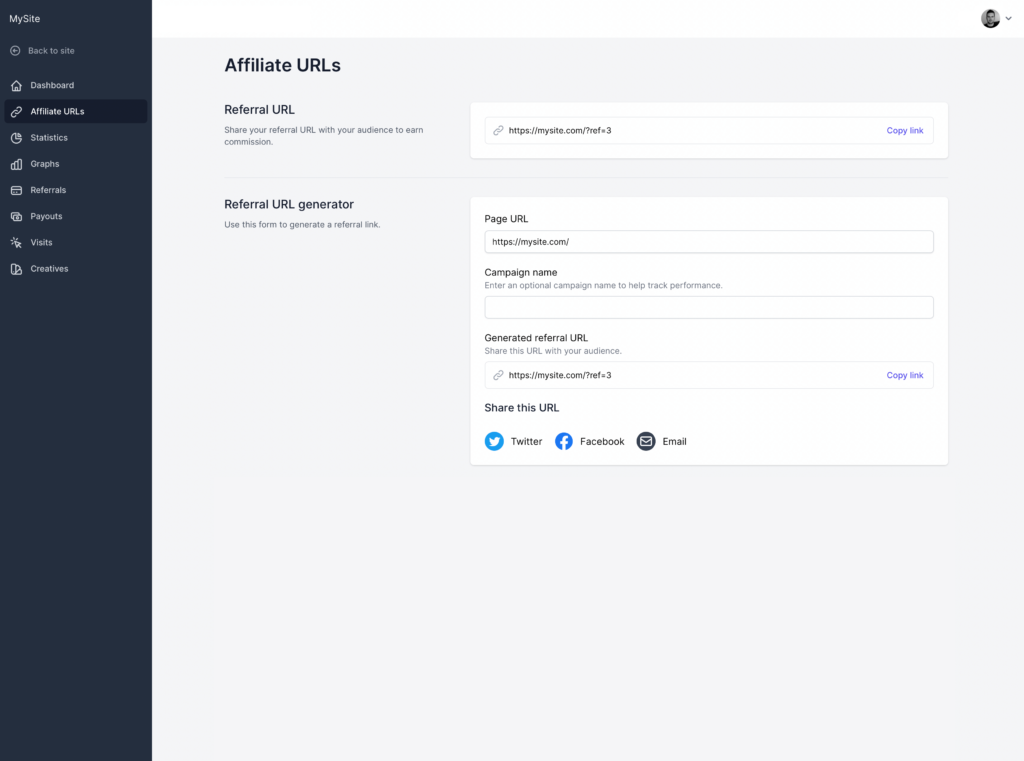 Referrals, Visits & Payouts
The Referrals, Visits and Payouts pages now have sortable table columns. We've also added color-coded labels and icons, making statuses clearer.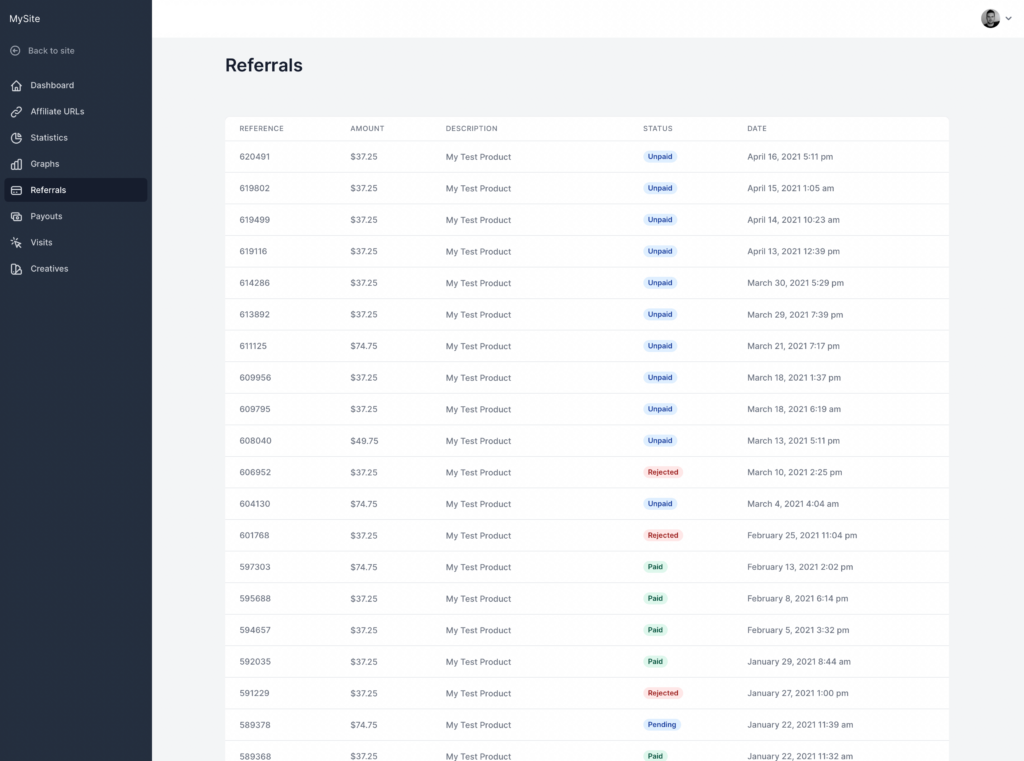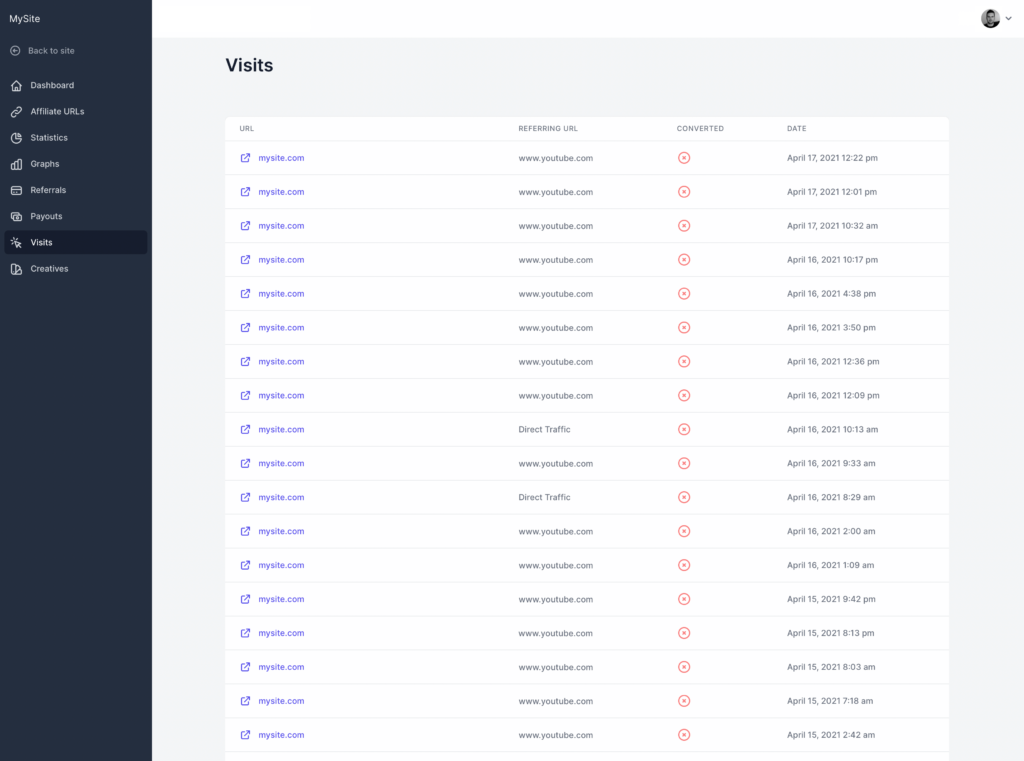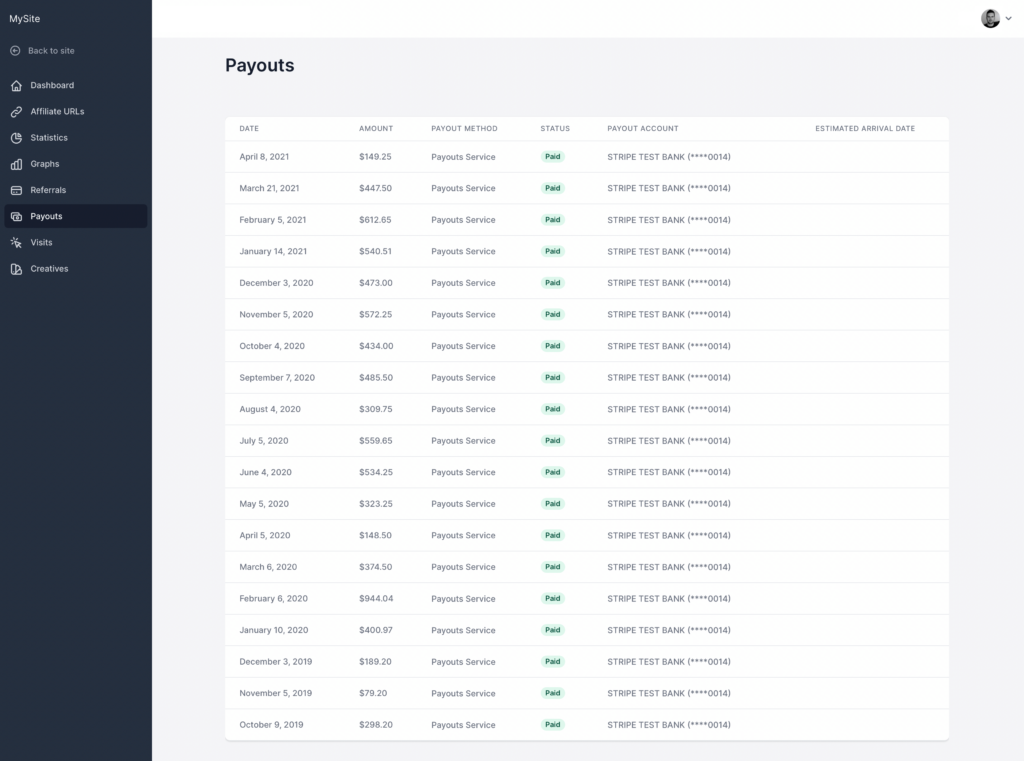 Creatives
The portal makes good use of the generous screen real estate. Thanks to the all-new grid design, more creatives can fit on-screen.
Clicking a creative will show its true preview, along with its description and HTML code.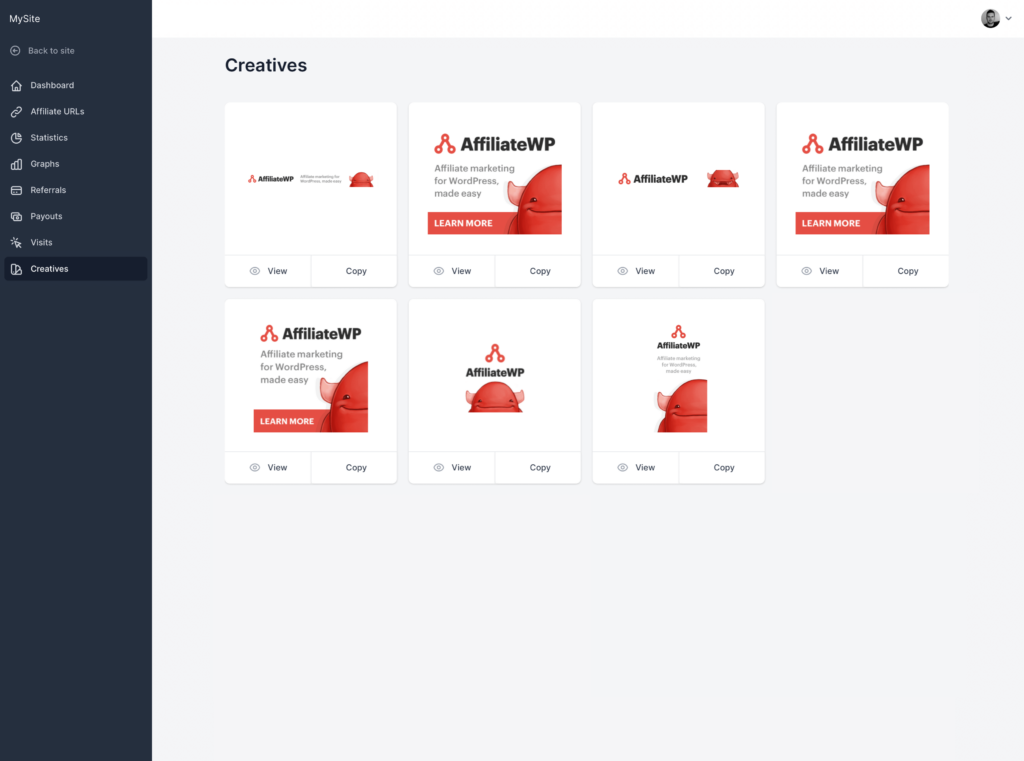 Settings
Finally, we'd like to show you the Settings page. It provides beautiful form styling and naturally integrates with the Payouts Service.
Enhanced with AffiliateWP add-ons
As you would expect, all your favorite AffiliateWP add-ons that interact with the standard Affiliate Area also work with the Affiliate Portal. We have outlined two exceptions in our documentation.
Compatible pro add-ons:
Affiliate Landing Pages
Custom Affiliate Slugs
Direct Link Tracking
Pushover Notifications
Lifetime Commissions
Compatible official-free add-ons:
Store Credit
Order Details for Affiliates
Optimized for your affiliates
Built for speed
Because the portal is independent of your WordPress theme, unnecessary CSS and JavaScript files are blocked from being loaded. This keeps the portal loading fast for your affiliates.
For on-the-go affiliates
Affiliates can access the portal wherever they are. The responsive design ensures it can be comfortably viewed on phones, tablets and desktop computers.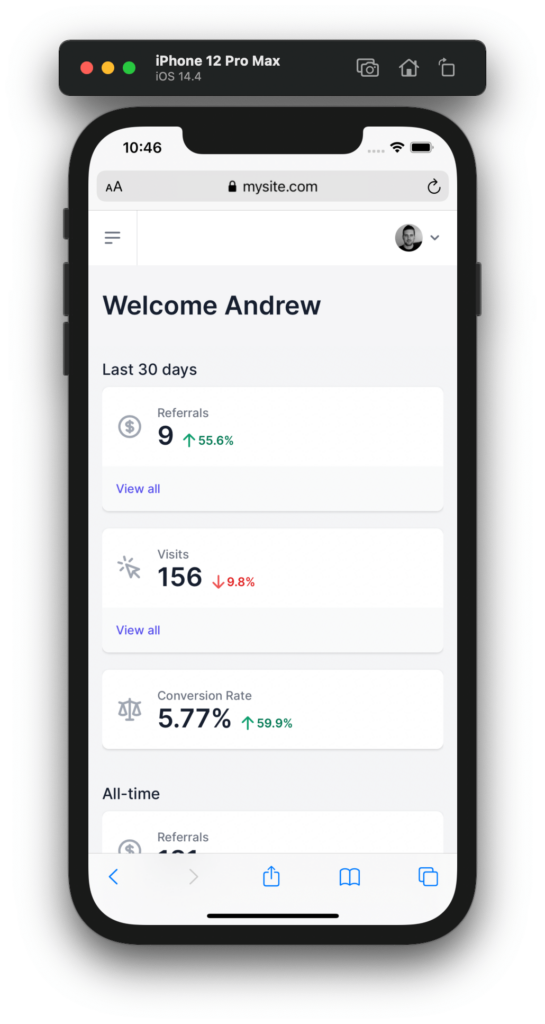 Give your affiliates a premium experience
There's a lot to love with the new Affiliate Portal pro add-on. Later on we'll be making many fine-tune adjustments to make your affiliates' experience even better. If you have any questions or ideas we'd love to hear them. Drop a comment below!
If you already have a Professional license, head over to your account page to download the Affiliate Portal add-on.
Personal and Plus license holders can upgrade with a couple of clicks from your account page.
Don't have a license yet? Visit our pricing page.