How to Effortlessly Add Code Snippets in WordPress in Minutes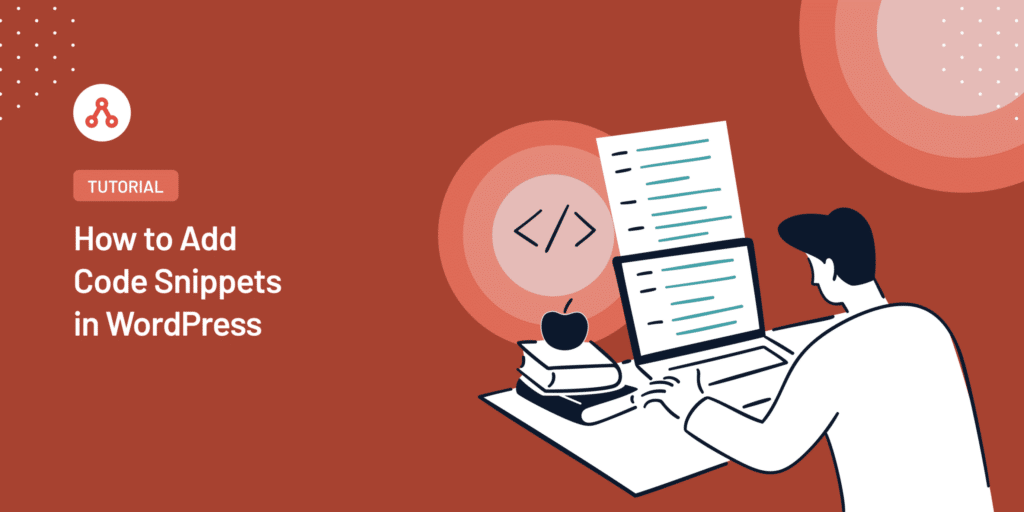 Are you looking to add code snippets in WordPress?
Adding code snippets can significantly improve your website's functionality and tailor it to your specific needs, resulting in a more efficient and user-friendly experience.
In this tutorial, we'll show you how to quickly and easily add code snippets in WordPress using WPCode.
Why Put Code Snippets on Your WordPress Site?
Adding code snippets to your WordPress site can help you unlock new features, enhance performance, and optimize the user experience.
These snippets can also fix common WordPress errors and improve website security, which is good for any website, whether it's an e-commerce store, an affiliate program, or a simple blog.
We understand that not all WordPress users possess technical expertise, which can make manually editing your website's code for even minor adjustments seem challenging.
That's where a user-friendly and efficient code snippet plugin like WPCode comes in handy.
It helps you add code snippets without the problems of manual code editing, making the process seamless and accessible to users with varying levels of technical knowledge.
So, how can you add code snippets using WPCode?
Let's find out.
Step-by-Step Guide to Adding Code Snippets
Adding code snippets to your WordPress website is easy with the WPCode plugin.
It is a user-friendly plugin designed for adding and managing custom code snippets in WordPress without the need to edit theme files.
Follow these instructions to add the code snippet on any WordPress website:
First, you need to install and activate the WPCode plugin on your WordPress website.
If you're not familiar with this process, refer to this beginner's guide on how to install a WordPress plugin.
Once the plugin is activated, navigate to Code Snippets » + Add Snippet within your WordPress admin dashboard and click the Add New button to proceed.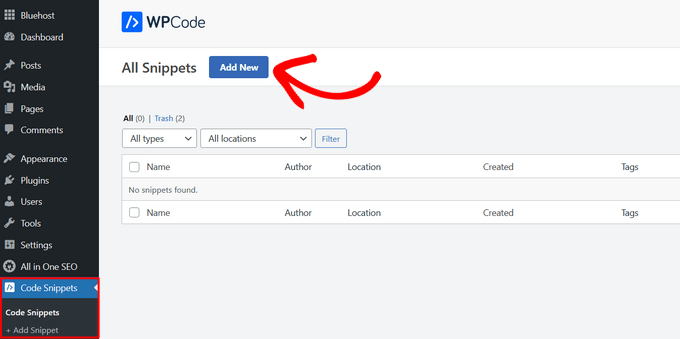 You'll be taken to a screen where you can choose a snippet from the pre-made library or create your custom code.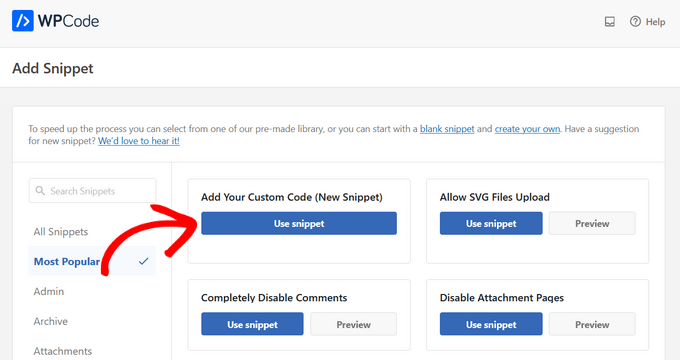 To add custom code, click the Use snippet button under the "Add Your Custom Code option.
On the next screen, give your snippet a name that's easy to remember.
Paste your code into the provided box and select the correct code type from the drop-down menu on the right.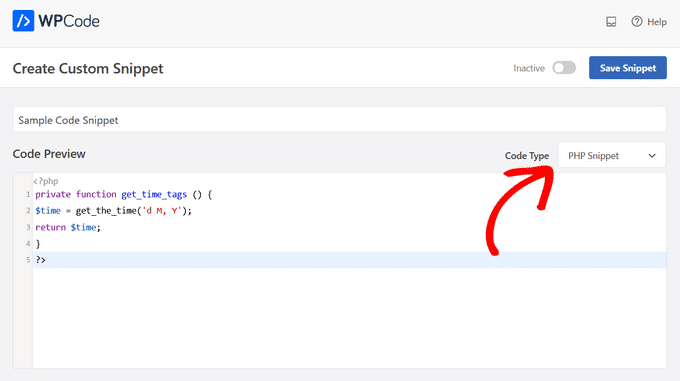 Afterward, scroll down to the Insertion section. Here, you can choose to use the code snippet as a shortcode, which you can manually copy and paste anywhere on your site.

Alternatively, you can select the Auto Insert method and choose a location where the code snippet needs to be inserted automatically.
The WPCode plugin also provides beginner-friendly conditional logic options, allowing you to select when your code should load.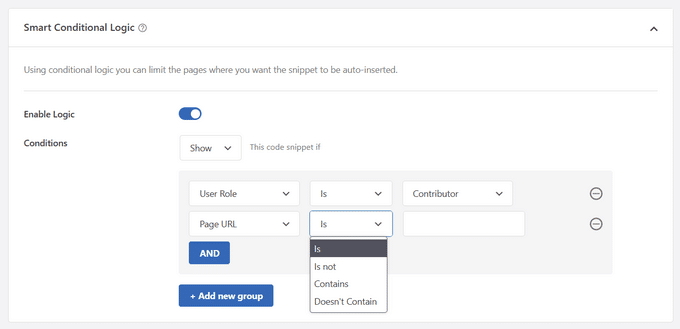 Once you've completed these steps, toggle the switch from Inactive to Active in the top-right corner and click the Save Snippet button.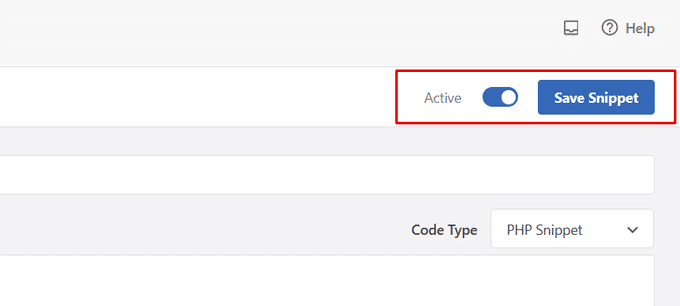 The snippet will now be added automatically or displayed as a shortcode, depending on the insertion method you choose.
In some cases, you might only need to add code to your theme's header.php or footer.php files.
The WPCode plugin can help you with this as well. This method is particularly useful for tracking scripts, custom CSS, and Javascript code.
To add code to the header or footer, go to Code Snippets » Header and Footer and enter your code snippet into the header, body, or footer section of your website.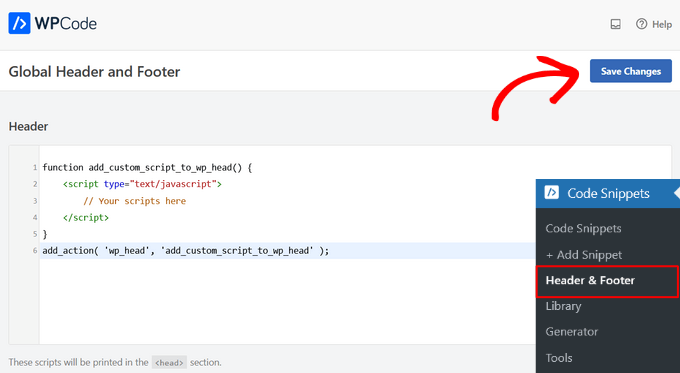 Don't forget to click the Save Changes button.
Your code snippets will now be live on your website. By following these steps, you can easily add code snippets to your WordPress site using the WPCode plugin.
FAQ: Adding Code Snippets in WordPress?
Is it Safe to Use the WpCode Plugin to Add Code Snippets to My WordPress Site?
The WPCode plugin is designed to be a safe and beginner-friendly way to add code snippets to your WordPress site. It comes with smart code validation to help you prevent common code errors and protect your site from potential crashes.
Can I Add Multiple Code Snippets Using the WPCode Plugin?
Yes, you can add and manage multiple code snippets using the WPCode plugin. It allows you to manage all code snippets from a central screen and organize them using tags for easier navigation.
Can I Use the WPCode Plugin to Add Google Analytics or Other Tracking Codes to My Website?
Yes, the WPCode plugin makes it easy to add tracking codes for Google Analytics, Facebook Pixel, Google AdSense, and more to your website. You can add these codes to your theme's header.php or footer.php files using the plugin's dedicated Header and Footer section.
Finally, You Can Add Your Code Snippets Easily On WordPress
As you can see, adding code snippets to your WordPress website has never been easier, thanks to the WPCode plugin. Now you can finally focus on growing your WordPress website or managing your affiliate program and ensuring the long-term success of your business.
Here are some additional resources on affiliate marketing to help you on your journey:
If you have an affiliate website and want to boost your business, consider using AffiliateWP.
This robust WordPress plugin can help you effectively manage and monitor your affiliate program, seamlessly integrating with your site.