Notice: There is no legacy documentation available for this item, so you are seeing the current documentation.
How to Install and Use the Affiliate Dashboard Sharing Add-on for AffiliateWP
Would you like to allow your affiliates to easily share the referral URLs they have generated, right from their affiliate dashboard? By making it easy for your affiliates to share, they are far more likely to promote your products and services.
In this article, we'll show you how to install and set up the Affiliate Dashboard Sharing add-on for AffiliateWP.
Requirements: You will need a Professional license level or higher to access the Affiliate Dashboard Sharing add-on.
1. Installing the Affiliate Dashboard Sharing Add-on
Before we get started, be sure to install and activate AffiliateWP on your WordPress site.
Once you've got AffiliateWP installed and your license is verified you'll be able to quickly install and activate the Affiliate Dashboard Sharing add-on.
After installing the Affiliate Dashboard Sharing add-on, the next step is to configure your settings.
2. Setting up Affiliate Dashboard Sharing
To configure the Affiliate Dashboard Sharing settings navigate to AffiliateWP » Settings and then click on the Integrations tab.
You can then select whether an affiliate can share to Twitter, Facebook, Google+, LinkedIn or via email.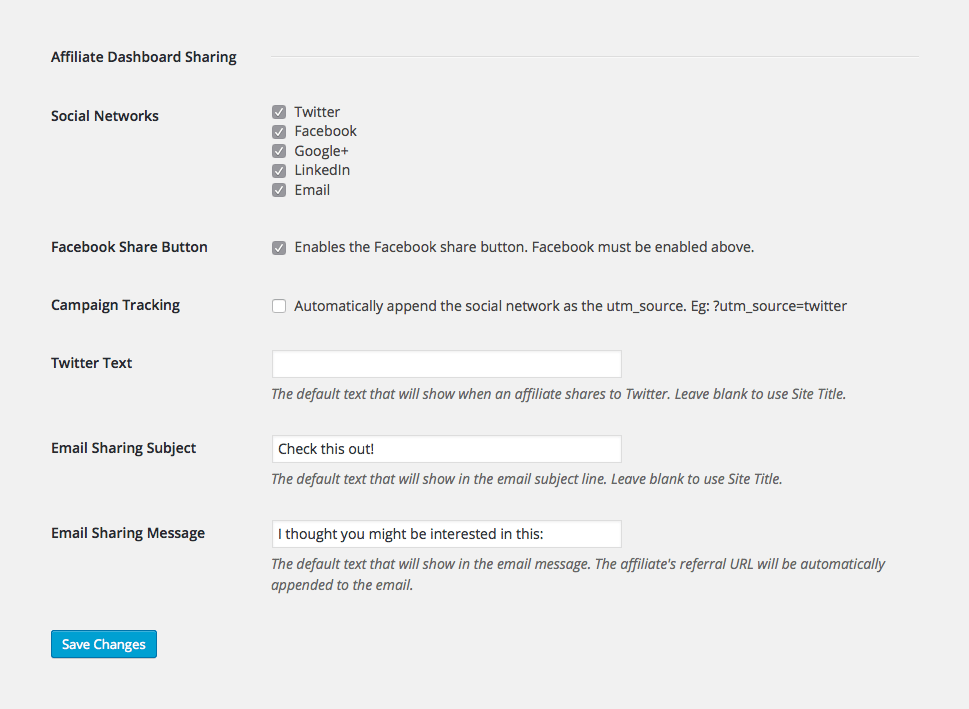 3. Social Sharing
Selecting any or all of the social media share options within the settings will display the appropriate social share buttons to your affiliates from within the affiliate area of their account.
Whenever a new URL is generated by an affiliate, the social sharing networks are also updated to reflect the new URL.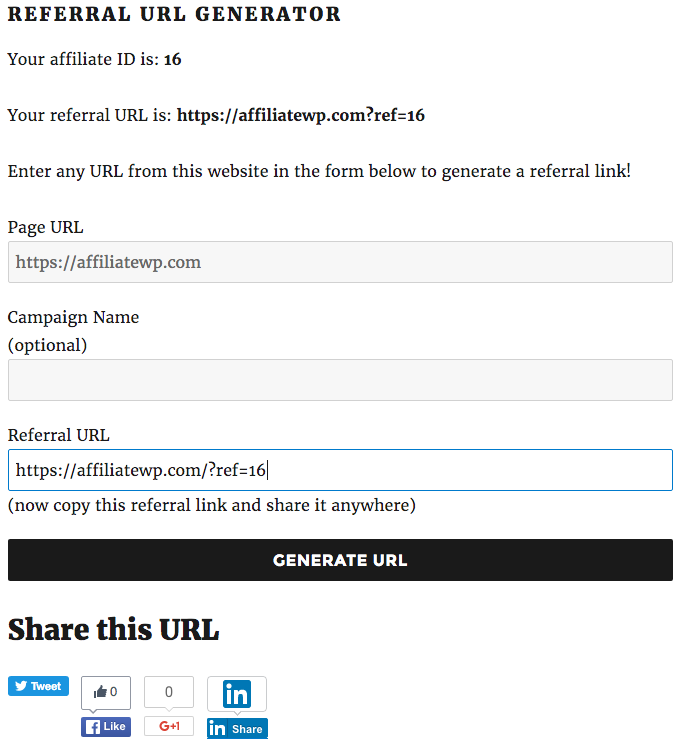 Your affiliates can then select a social media platform to share their referral URL.
Facebook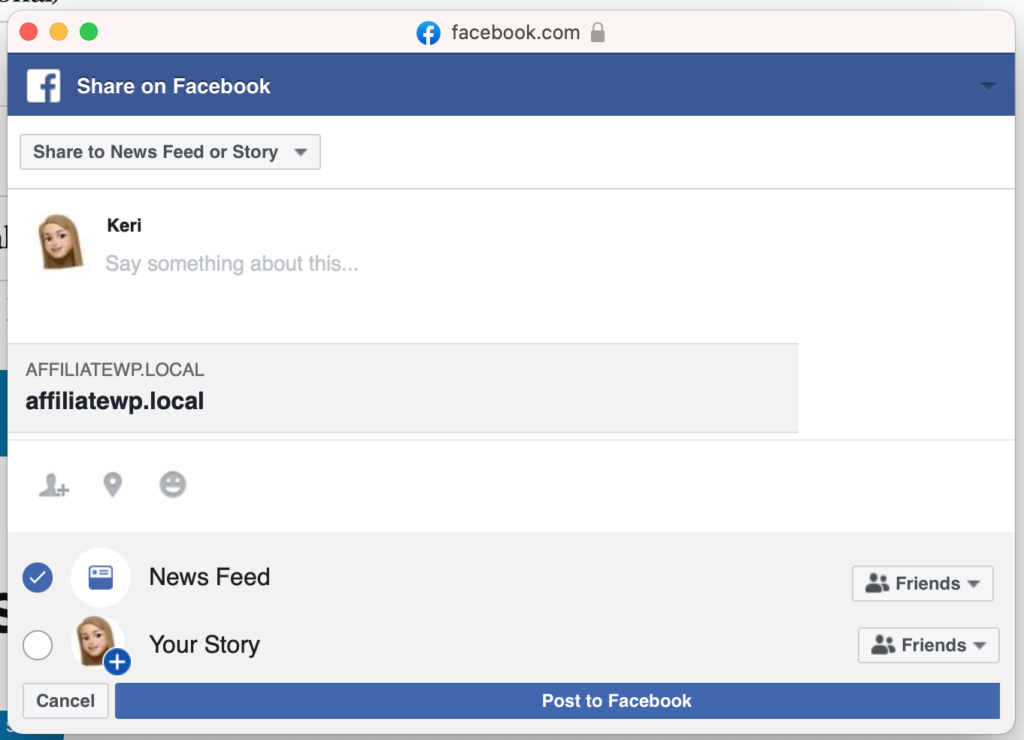 Twitter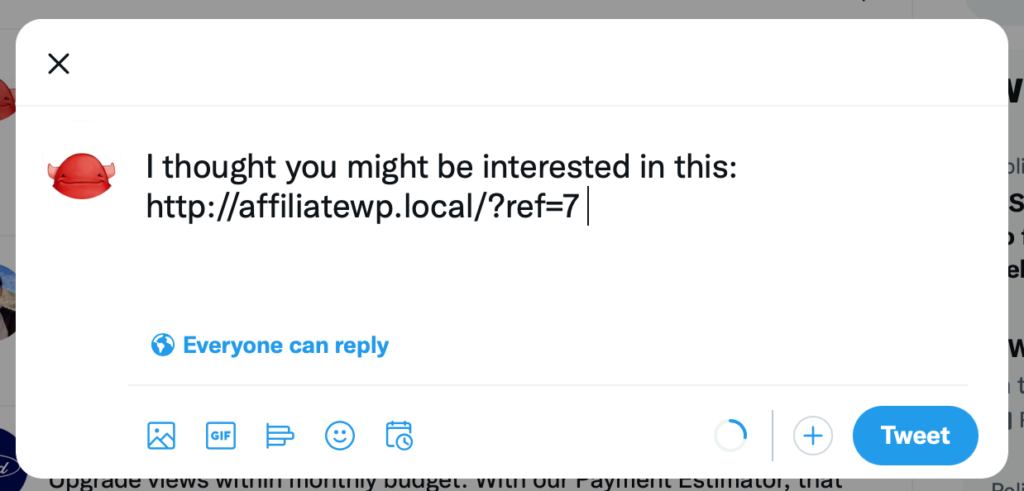 Campaign tracking
If you enable the campaign tracking option it will append the social network to the affiliate's referral URL using the utm_source parameter. If sharing on Twitter for example, the referral URL will look like this:
http://yoursite.com/ref/john?utm_source=twitter
4. Email Sharing
Affiliates can share their referral URL via email using the link underneath the sharing icons. When clicked, it will open up the affiliate's default email program. The email will be pre-populated with a subject line and the affiliate's referral URL in the email body.
There's an option to set the default email subject line and also an option to add a quick introduction to the email body.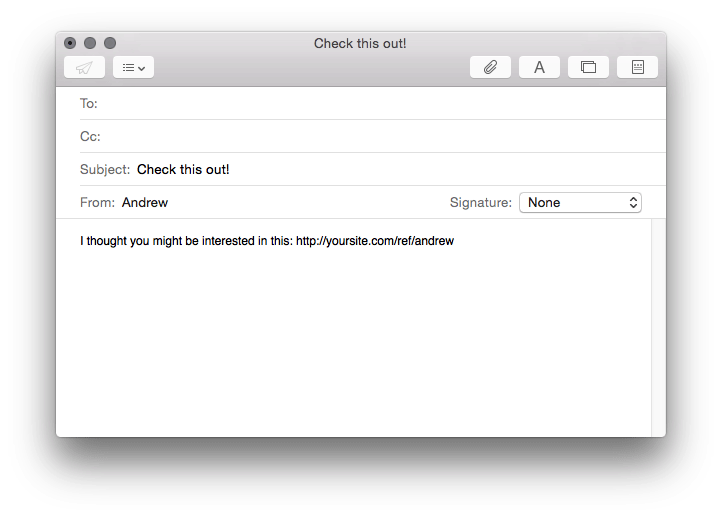 Just like the other sharing methods, the affiliate referral URL shown to the affiliate will depend on what the Default Referral Format and Pretty Affiliate URLs options are set to in the AffiliateWP » Settings » General tab. All affiliate URLs work out of the box, but these 2 settings control how the referral URL is shown to the affiliate.
5. FAQs
If you do not see the social network buttons appear, remember they will show only when a new URL is generated. To do this, enter a valid URL in the Page URL space and click the Generate URL button.
If you have the Affiliate Portal add-on installed and enabled, you don't need the Affiliate Dashboard Sharing add-on since the functionality is built-in to the portal.
Pre v1.1 Note: If you're manually upgrading from a previous version (pre v1.1), delete the old version or remove the add-on's folder via FTP (you won't lose any data) so you don't end up with 2 versions installed. The add-on's folder name in v1.1 has changed from affwp-affiliate-dashboard-sharing to affiliatewp-affiliate-dashboard-sharing