[New] Plugin Notifications: Timely Notifications to Improve Your Program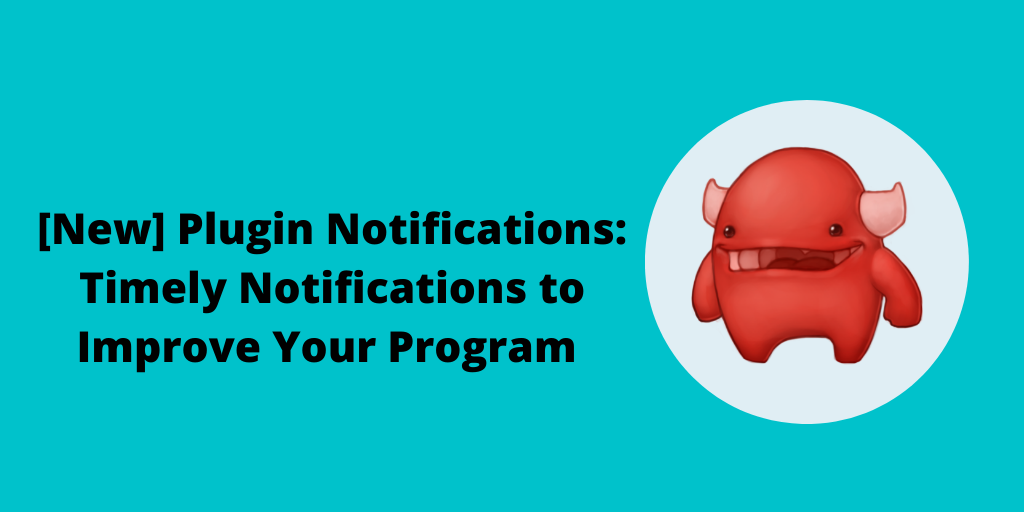 We're always working hard to improve AffiliateWP for you, and today we're excited to announce Plugin Notifications.
Plugin Notifications ensure you're getting the most out of AffiliateWP and using every feature to maximize your growth. They make sure you're the first to know whenever we release a new software update or feature and allow you to be first in line when we run sales.
Essentially, with Plugin Notifications we're going to help keep you one step ahead of the competition!
Plugin Notifications Keep You Ahead of the Game
Why do you want to hear from us?
It's simple: we're constantly making tweaks to our software so that it better serves your needs. With plugin notifications, we can instantly make you aware of these improvements and show you how you can leverage them to improve your affiliate program:
New version releases
New feature releases
Updates to specific add-ons
Future sales and offers
These notifications will be active for all licenses (Professional, Plus, and Personal) and appear in your AffiliateWP dashboard. Each notification will be timely and specific to your license and the add-ons you use.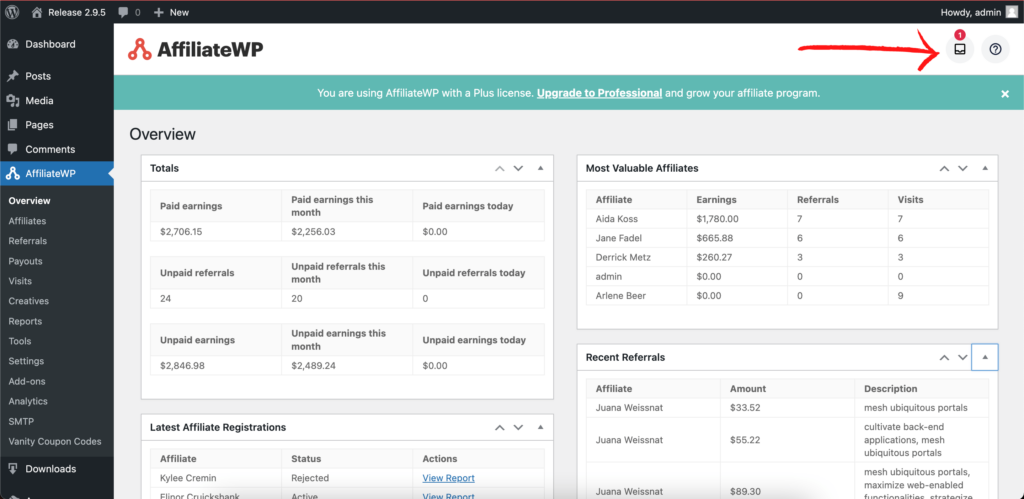 Let's take our last feature release: Vanity Coupon Codes.
This is something that can make an instant impact to your affiliate sales, and all pro license holders have access to it. We sent out an email and posted some articles on how to use it to boost sales, but what if you missed them?
With plugin notifications, you will get an instant notification with information that's relevant to your affiliate program, and it's hard to miss!
For instance, when our Vanity Coupon Code feature was released, we could have displayed a notification in your WordPress admin saying "[New Feature] Vanity Coupon Codes Has Just Released" with a link to our in-depth article on how to use it to grow your business.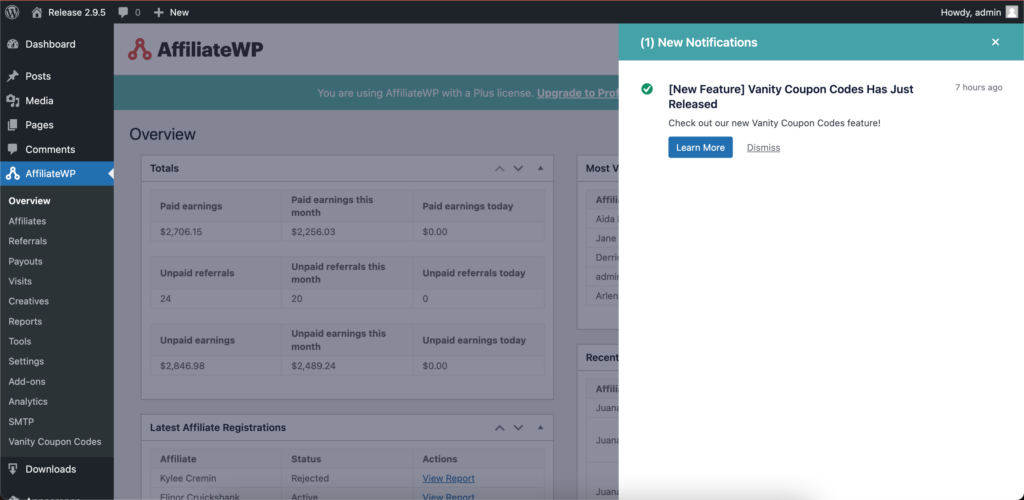 Plugin notifications have a ton of upsides:
Simplify setup so your program starts making sales more quickly
Make sure you're using the features that will help your program stand out from the competition
Give you instant access to the latest tips and tutorials
Keep your affiliate program safe for you, your affiliates, and your customers
Ensure you make the most of discounts and sales to upgrade or renew your license
We love working in a fast-paced industry like affiliate marketing because it's constantly inspiring us to innovate and bring out new features.
Plugin Notifications are going to be a big part of that because they're going to allow you to put those features to use more quickly and more effectively. Now, you'll have all the information you need to grow your business directly in your notifications panel.
Make sure AffiliateWP to version 2.9.5 and keep an eye on your Plugin Notifications!
If you want to take your program to the next level with great features like Vanity Coupon Codes and many others, then it might also be time to upgrade to our Professional plan!
As always, thanks for your continued support of AffiliateWP.