Version 1.6 released!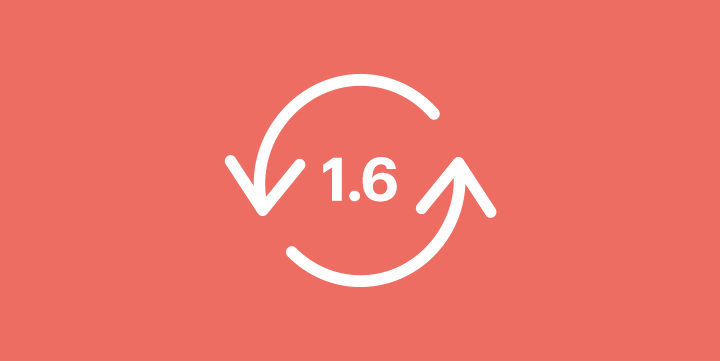 Exactly 365 days ago, we released AffiliateWP version 1.0 to the world. Today, we are excited to announce the release of version 1.6, the next major version of AffiliateWP that introduces new integrations and some excellent new features, along with a few bug fixes that will make managing your affiliates an easier and smoother experience.
Version 1.6 introduces several new features and made some significant improvements to existing features. Let's take a brief look at what has changed:
New integrations
One of the aspects of AffiliateWP that makes it so easy to use is the one-click-to-enable integrations with many of the popular eCommerce and membership platforms for WordPress. With v1.6, we have added four new integrations, making AffiliateWP more accessible and more powerful for a wider audience of users. The following plugins now have direct integrations:
If you use one of these plugins, you can enable affiliate tracking from Affiliates → Settings → Integrations and then AffiliateWP will handle the rest!
Configurable emails
With version 1.6, we have introduced a new tab in the Settings page that allows you to configure all emails that get sent out to affiliates when they register for an account or earn a new referral.
All emails are sent in beautiful HTML templates that can be easily edited at anytime. These template files can be copied to your theme's "affiliatewp/emails" folder to give you complete control over the appearance of the emails.
Referral URL Options
For 1.6, we have added more fine-tuned control over how referral URLs appear to affiliates. Your affiliates can already promote your website using a wide variety of Affiliate URLs. Admins now have much more control over how these referral URLs appear to affiliates on the front-end of your website. You can set a Default Referral Format (ID or username) and choose whether or not to show Pretty Affiliate URLs to your affiliates.
Additional Updates
Affiiate Export Improvements
The affiliate's username is now included in the exported affiliate .csv file.
New Affiliate Meta Class
We've introduced a new metadata API for afiliate accounts that provides developers with a powerful tool for tracking affiliate-specific data.
Creative Improvements
We've made improvements to the way creatives are shown. The description is now shown at the top of the creative and it's much easier for affiliates to copy the necessary code.
Affiliate Dashboard Improvements
Pending affiliates can no longer access the affiliate dashboard until they have been approved.
Template File Changes
Several of the template files for the affiliate area have been updated in order to take advantage of new features. If you do not see the changes in the affiliate area, it is probably due to the template files being copied to your theme's "affiliate-wp" folder. In order for the new changes to show up, you will need to update your modified versions of the files.
AffiliateWP version 1.6 can be installed directly from the WordPress Plugins page for all customers that hold a valid license key that has been activated from the settings page.
If you don't have a license key yet and would like to get one today, you can purchase a license from the Pricing page, starting at $99.
We hope that you find these improvements useful and, as always, if you have any issues or questions, do not hesitate to get in touch with us!