New 3rd-party add-on Affiliate Groups released!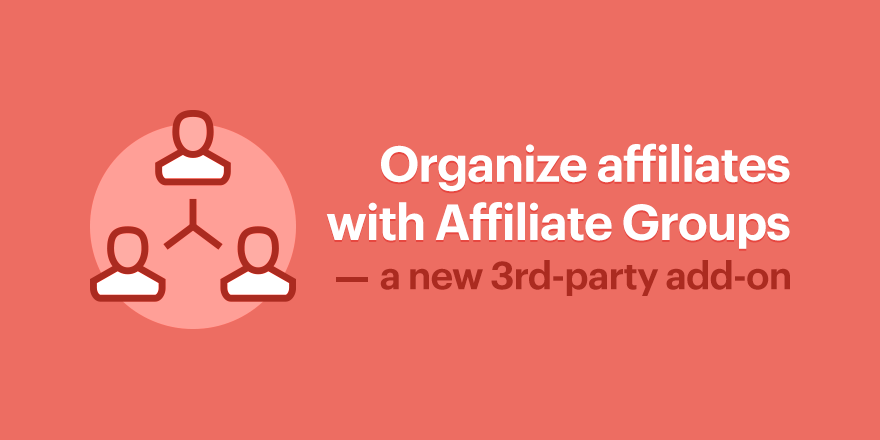 Affiliate Groups is a new 3rd-party add-on by Click Studio for AffiliateWP that allows you to create groups for your affiliates. This add-on makes it easy to manually or automatically add affiliates to specific groups, and set various options and capabilities on a per-group basis.
Do you want to create a VIP affiliate group with higher referral rates, or group affiliates who belong to the same company or NPO? Or perhaps you'd like to separate customer affiliates from affiliate-only users on your site. This 3rd-party add-on will help you organize your affiliates into segments that make sense for your business.
Affiliate Groups is built on top of the WordPress user Role & Capabilities API, and is also compatible with Click Studio's Pay as Points add-on for AffiliateWP.
Pricing for the Affiliate Groups add-on starts at only $19.95 for a single site license, $29.95 for a 3 site license, and $99.00 for unlimited sites.
To celebrate the launch of Affiliate Groups, Click Studio are offering a 20% discount on any pricing level. This discount is valid until Thursday 31st March, 2016. Use this code at checkout to receive your discount: AFFGL20P
Check out the features of the Affiliate Groups 3rd-party add-on:
Enable up to 5 groups
Affiliates can be part of multiple groups*
Set a referral type (flat or percentage) and rate for each group*
Name each group to suit your requirements
Automatically add new affiliates to a specific group/s
Select the affiliate's group/s on the Add New Affiliate & Edit User pages.
*When an affiliate is a member of multiple groups, the highest referral rate will apply by default.
Compatible 3rd-party add-ons (by Click Studio)
Pay as Points (integration)