7 Best Affiliate Plugins for TutorLMS (2023)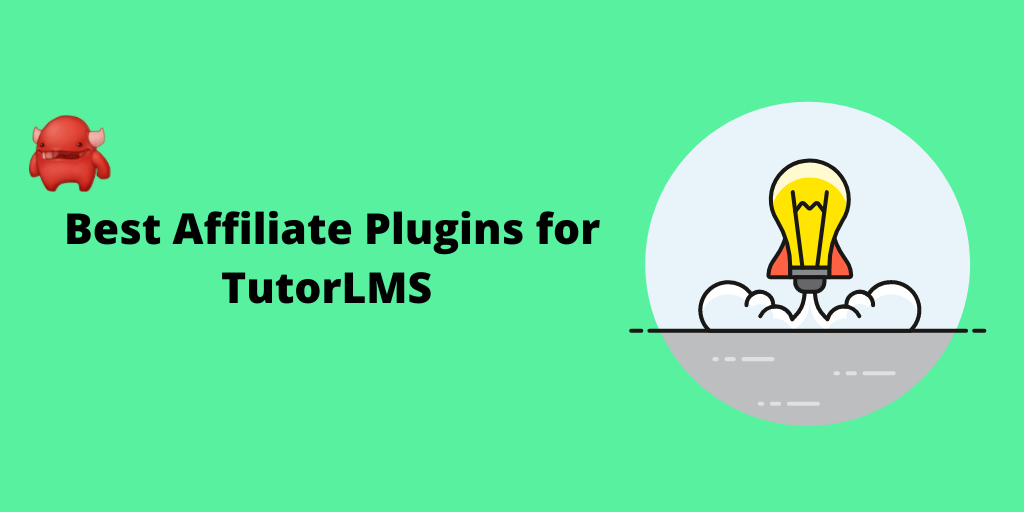 Are you looking to add affiliate marketing capabilities to your TutorLMS courses?
Affiliate marketing can bring your online courses to new audiences and open up untapped revenue streams. The question is, what are the best affiliate plugins for TutorLMS?
We take a look at the best plugins to help you build an affiliate program for your courses.
What to Look for in An Affiliate Plugin for TutorLMS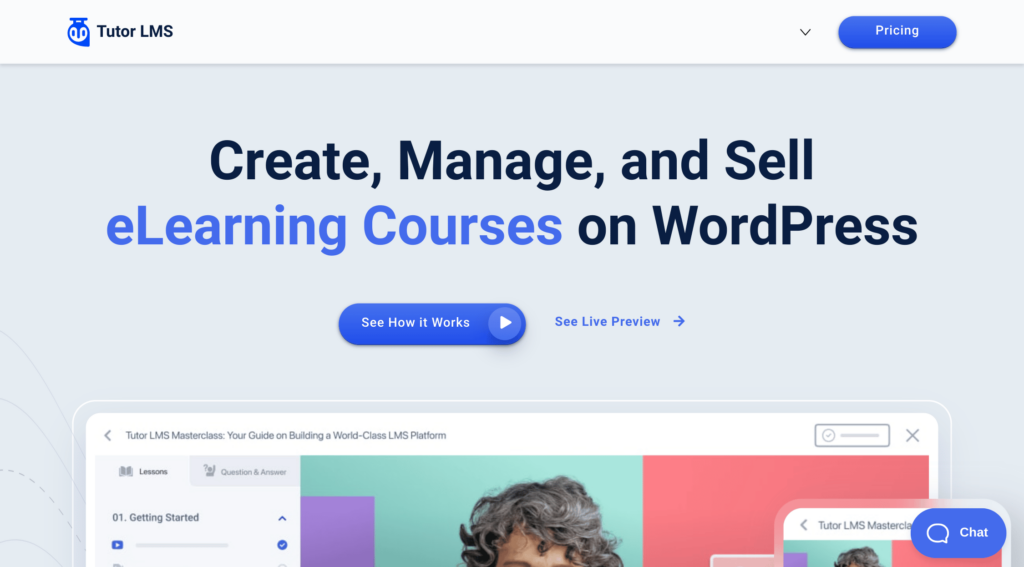 The first thing you've got to think about with your TutorLMS affiliate plugin is which e-commerce shopping cart option you're using. TutorLMS lets you use both WooCommerce and Easy Digital Downloads (EDD) to capture your sales. This means you have two different ways to integrate affiliate software.
Some of the options we'll recommend integrate with both WooCommerce and Easy Digital Downloads, whereas others only integrate with WooCommerce, so keep this in mind.
Whichever shopping cart you choose, you want a seamless integration that's easy to set up. A good affiliate program should grow sales and save time, so it's got to make things straightforward for you.
After that, it needs to give you and your affiliates the tools you need to grow your program.
So, here's what our criteria for the best affiliate plugin for TutorLMS look like:
Ease of integration
Affiliate management tools
Affiliate growth tools
Support
Let's take a look at which affiliate plugins meet these criteria.
7 Best Affiliate Plugins for TutorLMS
TutorLMS gives you lots of affiliate marketing opportunities. As it uses both WooCommerce and Easy Digital Downloads you have two integration options.
Luckily, there are lots of good affiliate software with WooCommerce and EDD integrations. So, let's take a look at the 7 best affiliate plugins for TutorLMS.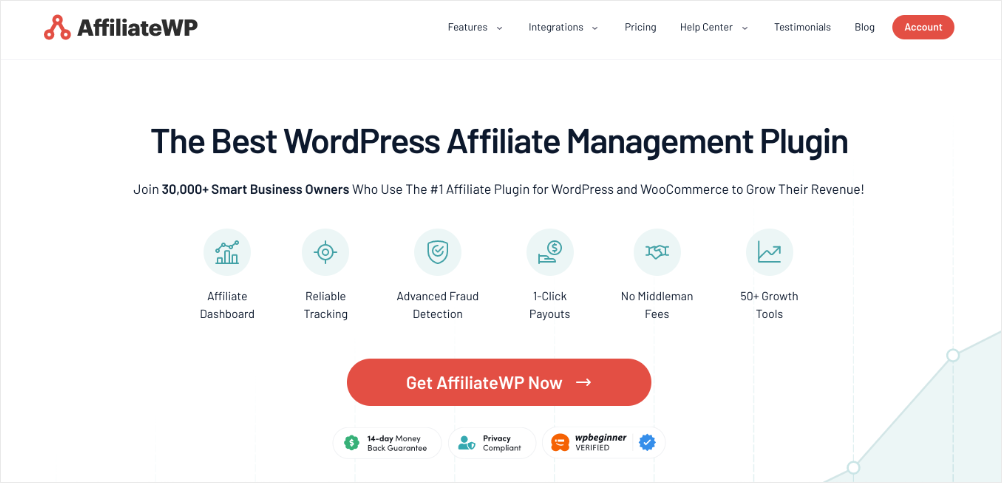 AffiliateWP is the best affiliate management plugin for WordPress sites.
It allows you to set up affiliate marketing for Tutor LMS in under 5 minutes, and it's perfect for TutorLMS because it has one-click integrations for both WooCommerce and Easy Digital Downloads. Whichever shopping cart you choose to run your TutorLMS courses on, AffiliateWP gives you everything you need to grow your business.
Creating your own affiliate marketing program can seem very daunting, but AffiliateWP makes it incredibly simple. With its easy-to-use setup wizard, you can integrate your TutorLMS courses, set your commissions, and choose your cookie policies in just a few clicks.
In fact, you can have your affiliate program up and running in as little as 5 minutes.
It might be simple to set up, but you still get some incredibly powerful features.
Customizable affiliate dashboards
Detailed analytics
Smart fraud protection
Personalized affiliate landing pages add-on
Vanity coupon codes add-on
Integrated payouts service
And much more
These tools are designed with two purposes in mind: to make it easy for you to manage your affiliate program, and to grow sales.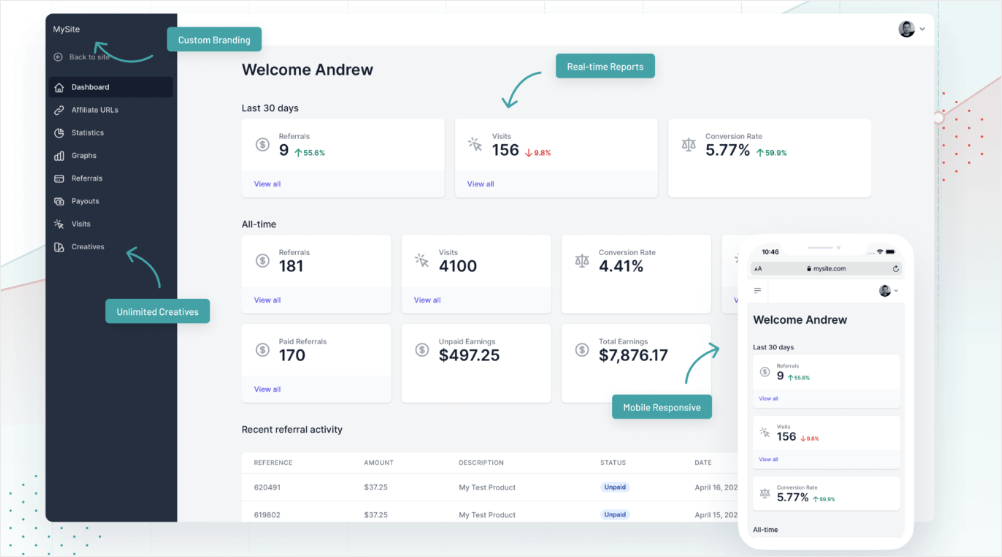 All of this gives you back time to invest in improving your courses and running your business while top affiliates bring your brand to new audiences. There's little risk involved, and the upside can be enormous!
Check out AffiliateWP's pricing!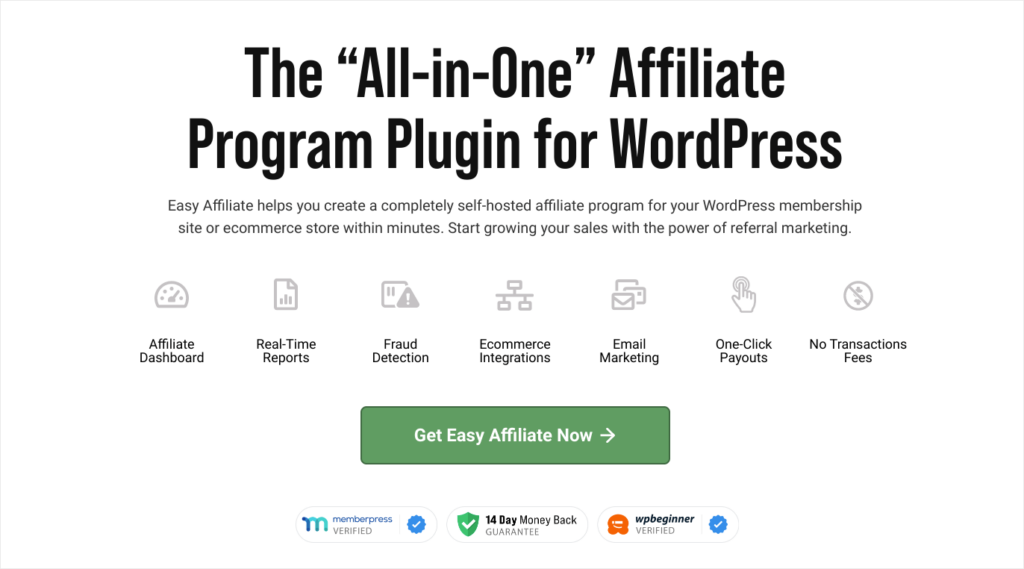 EasyAffiliate is another affiliate plugin that integrates with both WooCommerce and Easy Digital Downloads.
It's a good WordPress LMS plugin and has a range of simple integrations that help you quickly set up an affiliate program. The link tracking is very reliable, and it will make sure all your TutorLMS referral sales are properly tracked.
Like AffiliateWP, it integrates incredibly easily with TutorLMS and has great support, it's just missing some of the additional affiliate growth tools.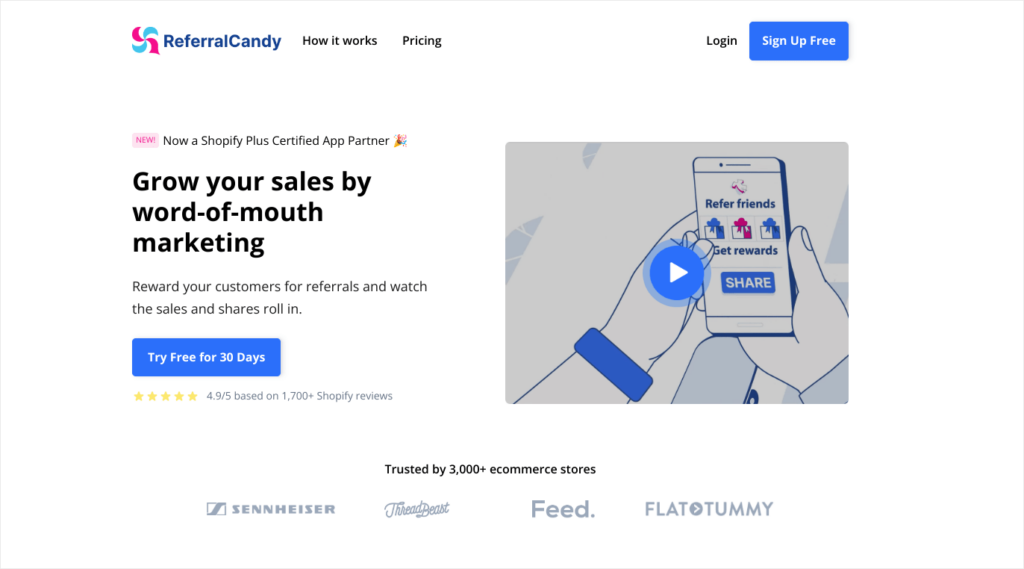 ReferralCandy is a great plugin for TutorLMS (via its WooCommerce integration) if you want to grow customer referrals.
Its WooCommerce integration is quick and easy to use, allowing you to set up a referral program in minutes. It also makes it incredibly easy to attract customers to your referral program and get them to share your products, helping your brand to grow organically.
As it's primarily focused on customer referrals, it doesn't have quite the same level of marketing tools as AffiliateWP or EasyAffiliate, and this is a drawback if you want to attract top marketers to your affiliate program.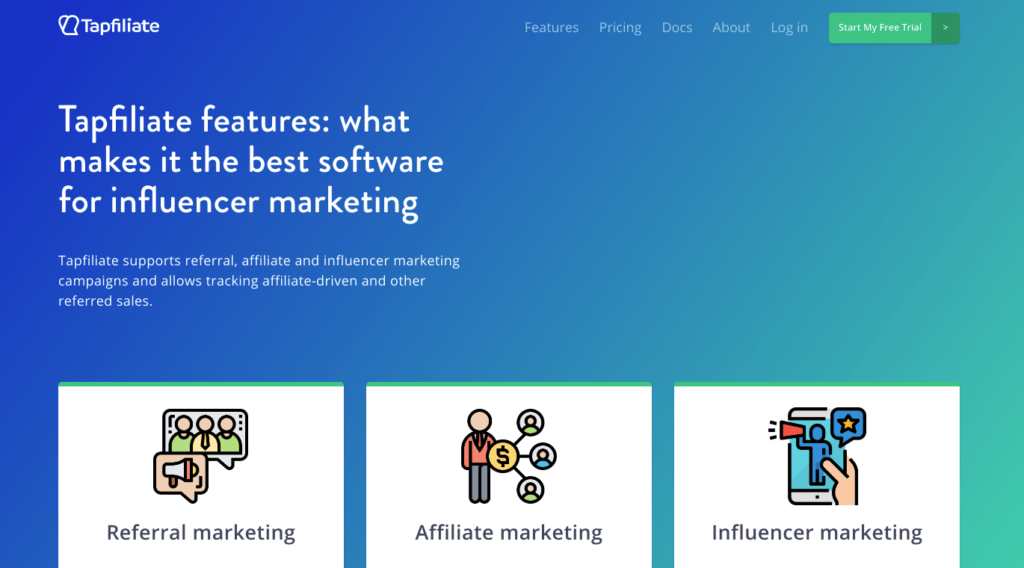 Tapfiliate can help you create an affiliate program for TutorLMS by plugging into WooCommerce. Its integration is fairly seamless and allows you to quickly start building the framework of your affiliate program.
It's got a good onboarding process to help you get your program set up exactly how you want it, and allows you to track both affiliate links and affiliate coupon codes. Like ReferralCandy, it's also got some good features to help you build a customer referrals program, which can be a big bonus.
A few little things do hold it back on the affiliate management side. Namely, it doesn't offer the detailed analytics some of the other software has, and it doesn't offer a way to directly pay affiliates, using external payment gateways like PayPal and Stripe instead.
Unless you're on the enterprise package, you're also limited in the number of affiliates you can sign up, the number of clicks you can get to your site, and total conversions. This might not be a problem for a small affiliate program, but it's worth remembering as your program grows.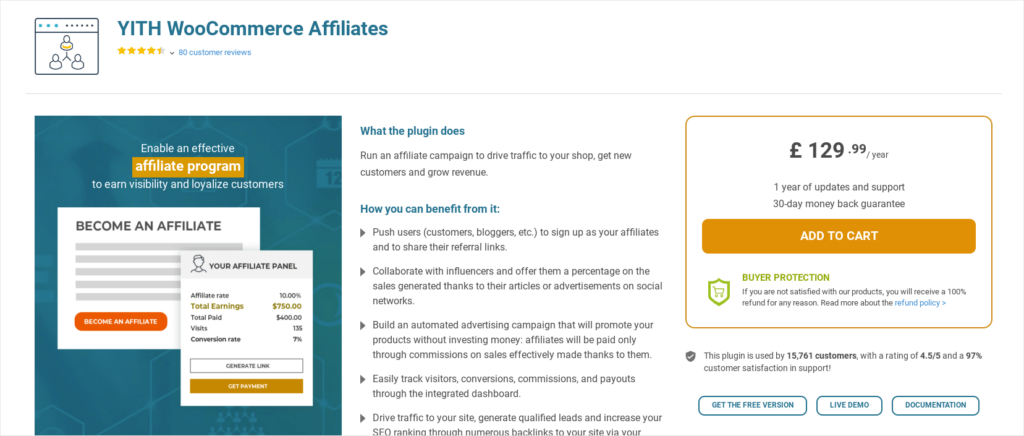 YITH WooCommerce Affiliates is a great option to create a very basic, free affiliate program for TutorLMS.
Although that sounds appealing, it's very difficult to achieve success with the basic functionality of the free version. Most people will realize they have to upgrade to gain access to many of the top features. These are the ones that will really help you grow your program.
When you upgrade to premium, you'll benefit from customizable affiliate registration form templates, commission rules, and good payment options. While the analytics are reasonable, you still don't have the advanced affiliate growth tools that you get with AffiliateWP or even EasyAffiliate.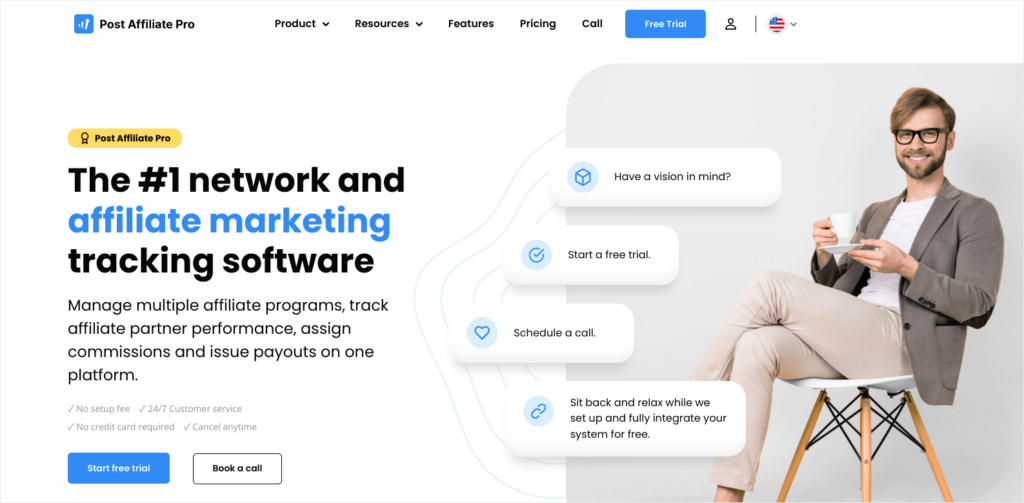 Post Affiliate Pro is another good affiliate plugin for TutorLMS. It has integrations for both WooCommerce and Easy Digital Downloads, allowing you to quickly set up your affiliate marketing program.
The upsides of Post Affiliate Pro are there are a wide range of integrations, and it offers comprehensive analytics and commission rules. This allows you to create strong incentives, and spot the best affiliates to grow your e-learning courses.
It's not quite as simple to use as some of the other plugins that sit in your WordPress dashboard, and the user interface can be a little bit confusing, but all in all, Post Affiliate Pro is a powerful TutorLMS plugin.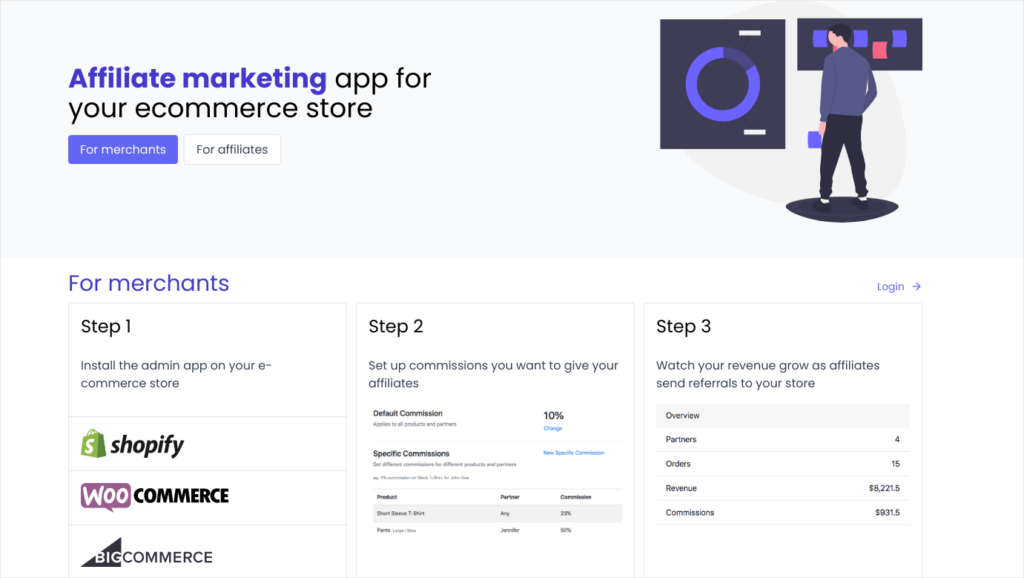 GoAffPro is a great option if you're looking to make a very basic affiliate program for TutorLMS.
The free pricing plan lets you create a TutorLMS affiliate program through its WooCommerce integration and grow your program. Like with all the free affiliate software options, you are quite limited until you upgrade to the premium package, but if you have limited goals that's fine.
We tend to recommend going with more advanced packages because that's where you unlock the true potential of affiliate marketing. But, if you want a free affiliate program for TutorLMS, then GoAffPro works well.
FAQs: Best Affiliate Software for Tutor LMS
What are the benefits of using TutorLMS? The benefits of TutorLMS are: it's easy to integrate with WordPress and it's a good learning management system, with an easy drop course builder. It makes course creation easy, adding interactive elements, and allowing you to create your own digital products. It's a good alternative to LifterLMS, LearnDash, and other LMS software, and allows you to host your own program rather than rely on an external company like Udemy.
What is TutorLMS compatible with? TutorLMS is compatible with WordPress, which means you can make use of many of your favorite WordPress plugins. Integrate with Elementor, Divi, WooCommerce, Easy Digital Downloads, Paid Memberships Pro, GamiPress gamification, and many more to grow your subscriptions.
What TutorLMS alternatives does AffiliateWP integrate with? AffiliateWP also integrates with other membership software like MemberPress, LifterLMS, MemberMouse, and Restrict Content Pro.
Why add an affiliate program to your e-learning platform? Affiliate programs are a great monetization option for learning management systems. They help you bring your courses, tutorials, webinars, and forums to a wider audience and grow sales. They also help you build valuable backlinks for SEO.
Which is The Best Affiliate Plugin for TutorLMS?
If you're looking to create an affiliate program for TutorLMS that can have a meaningful impact on your growth, then the best option is AffiliateWP.
It has one-click integrations for both WooCommerce and Easy Digital Downloads, and powerful growth and management tools. These tools allow you to focus on creating amazing course content while empowering affiliates to sell your products.
With just a handful of sales each year, you're already paying for the software while opening your membership courses up to unlimited growth.
It's low risk with the potential for high reward, and we think every TutorLMS site should have an affiliate program.